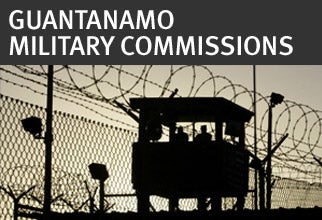 The military commissions at Guantanamo Bay were created by the Bush administration in 2001 to try foreign terrorism suspects in proceedings that lack the due process protections of US federal courts.
When President Barack Obama took office, charges were pending against 13 defendants and had been sworn in an additional nine cases. It was widely expected that President Obama, who had been critical of the military commissions during his run for the presidency, would discontinue the commissions and transfer detainees to US federal court for prosecution.
In May 2009, however, the president announced that he planned to continue to use military commissions — with improved rules — to try detainees for law of war violations. He said that both the commissions and the federal courts would be available as options for prosecuting detainees, and that, where feasible, detainees would be prosecuted in federal court.
Later in the year, Congress passed legislation that improved the military commissions by, among other changes, prohibiting the introduction of some evidence obtained through the use of torture or cruel and unusual punishment, and tightening the use of hearsay evidence. But even with these improvements, some evidence derived from torture and other forms of coercion remain admissible and, the military commissions are still in other respects substandard proceedings lacking independence, fairness, and time-tested procedures of US federal courts.
In November 2009, in an important step forward for justice, Attorney General Eric Holder announced that he planned to transfer Khalid Sheikh Mohammed and his four co-defendants, all charged with planning and organizing the September 11 attacks, to face prosecution in federal court in New York. Holder also announced that five other detainees would be tried by military commission. However, following a backlash from the public and the political establishment in New York, the administration stepped back from that position in April 2011 and announced that it would instead try the alleged 9/11 perpetrators by military commission.
Human Rights Watch is convinced that the continued use of the military commissions is a grave mistake. Given their substandard procedures and tainted history, Human Rights Watch does not believe that judgments handed down by military commissions will be perceived as legitimate, either domestically or internationally.
As of August 2014, only Abd al-Rahim al-Nashiri, Abd al Hadi al Iraqi, and the five men accused of plotting the 9/11 attacks actually face formal charges. Each of these cases are still in the pre-trial hearing phase despite having been initiated years ago, and trial dates are still years away. The delay is the result of the system's use of new rules that have not been tested, the US government's decision to classify important evidence related to the defendants' torture in CIA custody, and the remote location of the commissions, among other things. Human Rights Watch has sent observers to many of the military commission hearings, often writing about the proceedings in various publications. For information about the proceedings against each detainee, including those previously charged, click the individual detainee's name below. (Last updated August 9, 2018)
 
Name
Nationality
Case Summary
Status
 
Mohammed Kamin
Afghan

Mohammed Kamin, an Afghan, was charged with providing material support for terrorism, based on, among other claims, the allegation that he received arms training at Al-Qaeda camps. On December 8, 2009, the charges were dismissed without prejudice.
 

Released
 
Obaidullah
Afghan

Obaidullah, an Afghan, was accused of conspiracy (including conspiracy to commit murder), and providing material support to terrorism. The US alleged that he stored and concealed anti-tank mines and other explosive devices and that he had a notebook with illustrations showing how to wires and detonate them for the purpose of "carrying out a terrorist act." In 2008 a military prosecutor withdrew the cases against him.
 

Released
 
Abdul Ghani
Afghan

The government announced charges against Abdul Ghani on July 28, 2008, accusing him of conspiracy, attempted murder in violation of the laws of war, and providing material support for terrorism. On December 19, 2008 the government dismissed the charges against Ghani without explanation.
 

Released
 
Sufyian Barhoumi
Algerian

Sufyian Barhoumi, an Algerian, was accused of conspiracy to commit terrorism and providing material support for terrorism for providing instruction on building explosives.
 
In 2008 the government withdrew the charges against Barhoumi, saying it would probably file new charges in the future. It did so in 2009 but then dismissed them again. He remains detained at Guantanamo.

Charges withdrawn
 
Ghassan Abdullah al-Sharbi
Saudi

Ghassan Abdullah al-Sharbi is a Saudi with an electrical engineering degree from Embry-Riddle Aeronautical University in Prescott, Arizona. On May 28, 2008, al-Sharbi was charged with conspiracy to commit terrorism and providing material support for terrorism. The US government withdrew these charges on October 21, 2008, only to refile against in 2009 but subsequently dismissed those charges as well. He remains detained at Guantanamo.
 

Charges withdrawn
 
Tarek Mahmoud El Sawah
 

Tarek Mahmoud El Sawah of Bosnian and Egyptian descent had been charged with conspiracy and material support for terrorism for allegedly serving as an Al-Qaeda explosives expert. His charges were dismissed in 2012.
 

Released
 
Jabran bin al Qahtani
Saudi

Jabran bin al Qahtani is a Saudi citizen with a graduate degree in engineering from King Saud University in Saudi Arabia. He was initially charged with conspiracy before the military commissions on December 16, 2005, but those charges were later dismissed.

Released
 
Mohammed al-Qahtani
Saudi

Mohammed al-Qahtani, a Saudi who is accused of being the would-be twentieth hijacker, was taken into US custody in December 2001 and transferred to Guantanamo a few months later. In 2007 al-Qahtani recanted a confession he said he made after he was beaten, abused and humiliated at Guantanamo. On February 11, 2008 the US government charged him with conspiracy to commit terrorism and other crimes in 2008 it withdrew these charges without explanation. In 2009, it was revealed that Susan Crawford, the then convening authority of the military commissions, refused to refer any charges against al-Qahtani because he had been tortured. He remains detained at Guantanamo.
 

Charges withdrawn
 
Faiz Mohammed Ahmed al-Kandari
Kuwaiti

Faiz Mohammed Ahmed al-Kandari of Kuwait had been charged with providing material support for terrorism and conspiracy for allegedly providing training at an Al-Qaeda training camp in Afghanistan and giving advice and assistance to Osama bin Laden. His charges were dismissed in 2012.
 

Released
 
Abdul Zahir
Afghan
Abdul Zahir, an Afghan, was originally charged with conspiracy, aiding the enemy and attacking civilians in connection with a grenade attack that wounded Canadian reporter Kathleen Kenna, but the charges were dismissed in 2006. In 2016 the US government admitted that Zahir had been detained due to a case of misidentification.

 

Released
David Hicks
Australian

David Hicks, an Australian, was the first person to have been convicted by the US military commissions. He pleaded guilty in April 2007 to one count of providing material support for terrorism and was sentenced to seven years. All but nine months of this sentence were suspended. Hicks served seven months in his native Australia and was released on December 29, 2007. In 2015 Hicks' conviction was vacated after a US federal appeals court found that material support for terrorism is not a war crime.

Conviction Vacated
Ibrahim Ahmed Mahmoud al-Qosi
Sudanese

Ibrahim Ahmed Mahmoud al-Qosi, a Sudanese national, confessed to providing, and conspiring to provide, material support for terrorism on July 7, 2010. Al-Qosi admitted that from 1996 to 2001 he served as a driver and cook for Osama bin Laden. He pled guilty to these charges and was sentenced to 14 years imprisonment. In exchange for cooperating with prosecutors he was returned to Sudan in July 2012.

Convicted
Omar Ahmed Khadr
Canadian

Omar Khadr, a Canadian citizen, was just 15 when he was captured and seriously injured in a firefight in Afghanistan on July 27, 2002. He pleaded guilty on October, 25, 2010, to murder and attempted murder in violation of the laws of war, conspiracy to commit terrorism, providing material support for terrorism, and spying, and was sentenced to eight years of imprisonment. In 2012, he was transferred back to Canada to serve out the remainder of his sentence and in 2015 he was released on bail. In 2017 the Canadian government apologized to Khadr for the role Canadian security officials played in his abuse at Guantanamo and paid him a C$10.5 million (USD$8 million) settlement as part of a lawsuit.
 

Convicted
 
Noor Uthman Mohamed
Sudanese

Noor Uthman Mohammed, a Sudanese national, was arrested in March 2002 when US and Pakistani forces raided an alleged Al-Qaeda safe house in Faisalabad, Pakistan. In February 2011 Noor pled guilty to conspiracy and providing material support for terrorism and got a reduced sentence of 34 months for cooperating with the prosecution. He was repatriated to Sudan in 2013. His conviction was vacated in 2015 after a US federal court of appeals found that material support for terrorism is not a war crime.

Conviction Vacated
Ahmed Khalfan Ghailani
Tanzanian

Ahmed Khalfan Ghailani, a Tanzanian, was initially indicted by federal prosecutors in New York in December 1998 for the August 1998 bombings of US embassies in Kenya and Tanzania but was a fugitive at the time. His four co-defendants were tried in US federal court in 2001 and sentenced to life without parole.

Convicted
 
Majid Shoukat Khan
Pakistani

Majid Shoukat Khan is a Pakistani citizen who lived in the United States for several years. Born in 1980, he moved with his family to the Baltimore, Maryland area in 1996. His parents were granted asylum, and Khan lawfully stayed in the US, graduated from high school, and as a teen worked at his father's gas station. Khan was facing a life sentence but in February 2012, Khan pleaded guilty as part of a pre-trial agreement. In exchange for the promise of a reduced sentence, he agreed to cooperate with the prosecution. He remains at Guantanamo.

Convicted
 
Ahmed Mohammed Ahmed Haza al-Darbi
Saudi
Ahmed Mohammed Ahmed Haza al-Darbi was charged with attacking civilians, attacking civilian objects, hazarding a vessel, terrorism, attempted hazarding a vessel, and attempted terrorism based on alleged connections to Al-Qaeda that date back to 1996. He pled guilty to these charges in February 2014 and got a reduced sentence in exchange for his testimony against another detainee. He was repatriated to Saudi Arabia in 2018.
Convicted
Salim Ahmed Hamdan
Yemeni

In August 2008, Salim Ahmed Hamdan, a Yemeni who worked as a driver for Osama bin Laden, became the first Guantanamo detainee to go to trial before the military commissions. In the only full contested trial to have taken place in the military commissions, he was ultimately cleared of charges of conspiracy but convicted of material support for terrorism. With credit for time served, after his conviction he had five months left of his sentence after his case was over. He served four of these months in Guantanamo but was then transferred to Yemen to serve out the remaining one month of his sentence. He was released by Yemeni authorities in 2009. In October 2012, his conviction was vacated after a federal appeals court found that the law only permitted prosecution for war crimes, and that material support for terrorism was not a war crime.

Conviction Vacated
Ali Hamza Ahmad Suliman al-Bahlul
Yemeni

Ali Hamza Ahmad Suliman al-Bahlul was tried by the military commissions and sentenced to life in prison on November 3, 2008, after a military jury found him guilty of 35 counts of conspiracy, solicitation to commit murder, and providing material support for terrorism. US federal appellate courts have overturned his convictions of material support for terrorism and solicitation but upheld his conviction for conspiracy. He remains at Guantanamo.

Convicted
Mustafa Ahmed Adam al-Hawsawi
Saudi

Mustafa Ahmed Adam al-Hawsawi, originally from Saudi Arabia, has been charged with conspiracy to commit terrorism, attacking civilians and civilian objects, murder in violation of the laws of war, destruction of property in violation of the laws of war, hijacking, terrorism, and providing material support for terrorism.

Military commission - referred
 
Abd al-Rahim al-Nashiri
Saudi

Abd al-Rahim al-Nashiri, a Saudi of Yemeni descent, is charged with conspiracy to commit terrorism, murder and attempted murder in violation of the laws of war, and terrorism.

Military commission - referred
 
Walid Muhammad Salih Mubarek bin 'Attash (AKA Khalid al-Mihdhar)
Yemeni

Walid Muhammad Salih Mubarek bin 'Attash, a Yemeni, has been charged with conspiracy to commit terrorism, attacking civilians and civilian objects, causing serious bodily injury, murder in violation of the laws of war, destruction of property in violation of the laws of war, hijacking, terrorism and providing material support for terrorism.

Military commission - referred
Ramzi bin al-Shibh
Yemeni

Ramzi bin al-Shibh, a Yemeni, has been charged with conspiracy to commit terrorism, attacking civilians and civilian objects, causing serious bodily injury, murder in violation of the laws of war, destruction of property in violation of the laws of war, hijacking, terrorism, and providing material support for terrorism.

Military commission - referred
Ali Abdul Aziz Ali (AKA, Ammar al-Baluchi)
Pakistani

Ali Abdul Aziz Ali, a Pakistani, has been charged with conspiracy, attacking civilians and civilian objects, causing serious bodily injury, murder and destruction of property in violation of the laws of war, hijacking, terrorism and providing material support for terrorism, based on claims that he ordered flight training videos and transferred large sums of money to the 9/11 hijackers in the US.

Military commission - referred
Khalid Sheikh Mohammed
Pakistani

Khalid Sheikh Mohammed, a Pakistani who grew up in Kuwait, has been charged with conspiracy to commit terrorism, attacking civilians and civilian objects, causing serious bodily injury, murder and destruction of property in violation of the laws of war, hijacking, terrorism and providing material support for terrorism, for his alleged role in planning the 9/11 terrorist attacks.

Military commission - referred
Abd al Hadi al Iraqi
Iraqi
Abd al Hadi al Iraqi is an Iraqi citizen who was taken into custody in late 2006. He was held by the Central Intelligence Agency just before the agency shut down its detention operations in 2006 and was ultimately transferred to Guantanamo in April of 2007. He has been described as one of 16 high-valued detainees by US government officials. 
Military commission - referred
 
Mohammed Hashim
Afghan

Mohammed Hashim, an Afghan, was charged in 2008 with spying, terrorism and providing material support for terrorism. However, in May 2009 the charges were dropped, and in December 2009, Hashim was transferred from Guantanamo back to Afghanistan.

Released
 
Mohammed Jawad
Afghan

Mohammed Jawad, an Afghan citizen, was taken into US custody when he was somewhere between the ages of 12 to 17 (he does not know his birthday and his relatives have given conflicting accounts). He was charged with attempted murder in violation of the laws of war and intentionally causing serious bodily injury. Jawad told a panel of US military officers that he falsely confessed after being beaten and tortured by Afghan police when first taken into custody in 2002. In 2008, the lead prosecutor in Jawad's case resigned stating that he believed Jawad was innocent and should be releaed. A federal judge ordered Jawad's release in July 2009 and he was repatriated to Afghanistan in August the same year.

Released
 
Binyam Ahmed Mohamed
Ethiopian

Binyam Ahmed Mohamed, an Ethiopian, trained as an electrical engineer in the United Kingdom, where he had been granted refugee status. He was initially charged in the military commissions with conspiracy to commit terrorism and providing material support for terrorism but the United States withdrew the charges against him in 2008 and in February 2009, Mohammed was repatriated to the United Kingdom.
 

Released
 
Fouad Mahmoud Hasan al-Rabia
Kuwaiti

In 2008, the US government alleged that al-Rabia committed the crimes of conspiracy to commit terrorism, attacking civilians, and providing material support for terrorism. However, before formally charging al-Rabia before a military commission, a federal judge granted his habeas corpus petition and ordered the government to release him. He was sent home to his native Kuwait in December 2009.

Released