Human Rights Watch is an independent, nongovernmental organization, supported by contributions from private individuals and foundations worldwide. Human Rights Watch does not solicit or accept donations by governments, directly or indirectly.  This includes governments, government foundations, and government officials.  Indirect donations include those that are, or appear to be, made on behalf of a government or government official through an immediate family member, another intermediary, or a foundation. Contribute today or view Human Rights Watch's financial statements first.
Awarded the Accredited Charity Standard by the Better Business Bureau
The BBB Wise Giving Alliance completes comprehensive, in-depth evaluations of the charity's governance, fund raising practices, solicitations and informational materials, as well as how it spends its money. Review our BBB report.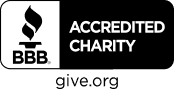 Awarded the GuideStar Platinum Seal of Transparency

GuideStar gathers, organizes, and distributes information about U.S nonprofits in an effort to advance transparency, enable users to make better decisions, and encourage charitable giving. As a platinum-level GuideStar participant, Human Rights Watch has demonstrated its commitment to transparency. Review our report.

Rated by Charity Navigator

Charity Navigator is an independent organization that helps guide intelligent giving by evaluating the financial health and accountability and transparency of charities. Review our rating.