Amid all the carnage, killing, and looting that is tearing apart the Central African Republic, the photographer Jerome Delay stumbled upon an unexpected scene yesterday: a home being looted in the Miskine neighborhood of Bangui surrounded by piles of photo negatives and muddied prints. Curious, he went to investigate further, and froze as he realized what he had found. Scattered all around him was the life's work of one of Africa's most famous photographers, Samuel Fosso.
Fosso is a legend in the world of photography, particularly known for his thoughtful self-portraits reconstructing iconic moments in African and African-American history. Fosso – who is in France – has photographed himself as Kwame Nkrumah, Africa's first post-independence president; as Malcolm X and Dr. Martin Luther King delivering speeches; as Muhammad Ali in boxing gloves; as Bob Marley with dreadlocks; and in countless other historic moments. His work is a profound and beautiful exploration of the African and African-American experience.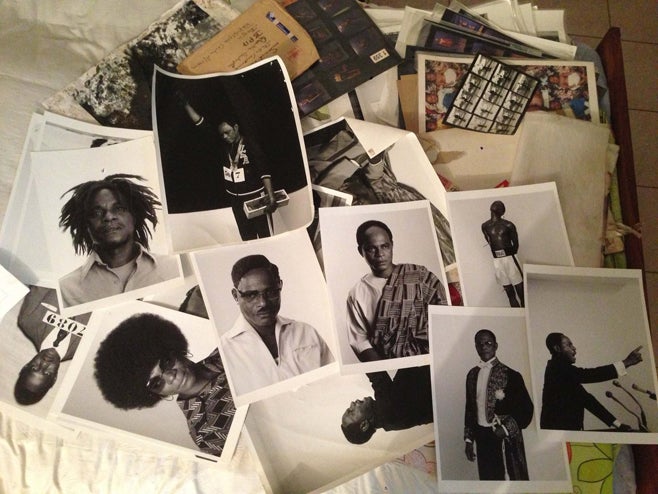 For many months now, my colleague Marcus Bleasdale and I have been documenting and publicizing the horrific crimes being committed in the Central African Republic. It has been exhausting and heartbreaking work. Today, we did something different and spent hours trying to save something of beauty – Fosso's irreplaceable archives.
As we arrived, looters were literally taking down the roof of Fosso's house, while his housekeeper was trying desperately to keep the looters away. Fosso's beloved cameras and furniture were already gone. Young men with grenades were walking around us. Occasionally, French and African peacekeepers entered the neighborhood and fired in the air to disperse the looters, but they usually quickly returned as the peacekeepers were leaving.
A lifetime of negatives was scattered around the house and spread on the ground by looters looking for things of value. The irony, of course, was that some of the signed and numbered prints at our feet could fetch thousands of dollars at auction, while the looters were preoccupied with taking metal sheeting from the roof. We spent hours putting the negatives and prints in boxes, twice filling up our pickup truck to take Fosso's priceless work to safety. The looters found it very amusing to see white people – who they took to be looting – get in on the game.
When we contacted Samuel Fosso on the phone in France to tell him that we had tried to save what we could from his archive, he was elated. He told us that the loss of his cameras was painful, but that his archives, a lifetime of work and memories, meant everything to him.
In the Central African Republic's descent into ever-greater violence, it is not only lives and communities that are being destroyed. As in other conflicts, the very cultural heritage of a nation and a continent is at risk. After months of contending with soul-crushing evil, it was a relief and pleasure to save the work of a very special photographer and to embrace its beauty and humanity.