Governments from around the world met in Nairobi, Kenya recently to negotiate an international treaty on mercury, under the auspices of the United Nations Environment Program (UNEP). Mercury, the silvery liquid metal, known to many from old thermometers, is one of the most toxic substances on earth.
Yet the one million children around the world engaged in artisanal gold mining work with it every day. Inhaling even small doses of its vapor is dangerous. There is no known safe level of exposure.
The content of the mercury treaty, which will be finalized and adopted by 2013, will be of crucial importance for these children. Governments made some limited progress, but the wording isn't nearly strong enough.
Low-tech artisanal mining is common in many parts of Africa, Asia, and Latin America. The childen mix mercury with their bare hands into the crushed ore to create an amalgam, and then burn the amalgam, causing the mercury to vaporize and leaving behind the gold. Under international law, such work is defined as the worst form of child labor, and hence prohibited.
When I recently visited Mali, in west Africa, a boy no older than 6 told me that he handles mercury: "You mix it in a cup and put it on the fire. I do this at the mining site." 
Then he added: "I would like to leave this work."
Several other children described to me how they worked with mercury. None of them knew about the health risks. "I started gold mining at a small age," a 15-year-old girl told me. "I pan for gold, I also work with mercury....I also burn it. I have never heard that this is unhealthy. I work with mercury every day."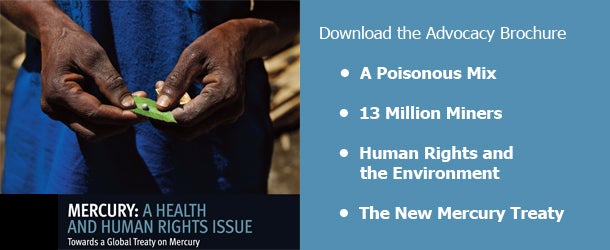 Mercury is particularly harmful for children, as their systems are still developing, and its damage is irreversible. It attacks the central nervous system and several organs, and in higher doses, it can kill. Child laborers working with mercury are at grave risk of mercury poisoning, scientific studies have shown.
Smaller children and even unborn babies are also at risk of getting poisoned from mercury used in gold mining. Artisanal miners in various parts of the world burn the amalgam in the home, with small children right next to them. Mercury can also reach infants through breast milk, and even affect the development of the fetus in the womb.
What is the solution? A complete ban on mercury is unlikely to work, as there are no easy alternatives for artisanal miners to extract gold, and the mining provides a livelihood for millions of people.
What is needed in the mercury treaty is stronger wording that requires governments to stop some of the worst practices, such as child labor with mercury and amalgamation in residential areas. To reduce mercury use by adult miners, governments need to introduce simple technologies such as "retorts"—containers that capture the mercury fumes.
Governments also need to develop a comprehensive way to address the effects of mercury on the health of artisanal mining communities, and on children in particular. The governments will need to engage more actively with people engaged in artisanal mining. They will need to raise awareness of the dangers, build capacity and introduce simple technologies to make improvements and carry out inspections to enforce child labor laws.
That governments have agreed to draft a treaty on this issue is a measure of progress. It is also encouraging that African governments have proposed mandatory national action plans to reduce mercury in artisanal gold mining. But the negotiations addressed health only as a secondary issue.
In the final rounds of review before the treaty is put out for ratification, governments need to press for wording that obliges countries that sign on to take action on both health and the environment. In particular, African, Asian, and Latin American countries should ensure that the new treaty protects the rights of their citizens, including the rights of children to be protected from hazardous labor.
Wealthier countries should stand by their words of concern about the situation and help fund the effort.
That way, they will take mercury out of the hands of children, and help them live healthier lives.