(New York) – Four courageous and tireless advocates for human rights have been selected as 2014 recipients of the prestigious Alison Des Forges Award for Extraordinary Activism, Human Rights Watch said today.
Shin Dong-Hyuk from North Korea, Father Bernard Kinvi from the Central African Republic, Arwa Othman from Yemen, and Dr. M. R. Rajagopal from India are leading voices for justice in their countries, working relentlessly to protect the rights and dignity of others. They will join one past international recipient of the award as they are honored at the Human Rights Watch "Voices for Justice" Annual Dinners held in 20 cities worldwide in November 2014 and March-April 2015.
"The Alison Des Forges Award honors people of extraordinary compassion and courage who work on behalf of some of the world's most vulnerable people," said Kenneth Roth, executive director of Human Rights Watch. "The award winners have spoken out and intervened in the face of opposition, indifference, and at times life-threatening danger."
The award is named for Dr. Alison Des Forges, senior adviser at Human Rights Watch for almost two decades, who died in a plane crash in New York State on February 12, 2009. Des Forges was the world's leading expert on Rwanda, the 1994 genocide, and its aftermath. The Human Rights Watch annual award honors her outstanding commitment to, and defense of, human rights. It celebrates the valor of people who put their lives on the line to create a world free from abuse, discrimination, and oppression.
The recipients of Human Rights Watch's 2014 Alison Des Forges Award for Extraordinary Activism are:
Shin Dong-Hyuk, who experienced brutality and starvation growing up in one of North Korea's forced labor camps and has worked tirelessly to alert the world to these horrors since his escape in 2005;
Father Bernard Kinvi, a Catholic priest who saved the lives of hundreds of Muslim civilians targeted during sectarian violence in the Central African Republic;
Arwa Othman, a leading advocate working to end child marriage and promote equality for women in Yemen; and
Dr. M. R. Rajagopal, a leading palliative care physician from India who, for more than 20 years, has battled conditions that cause patients to suffer severe pain unnecessarily.
Dong-Hyuk will be honored at dinners in Santa Barbara, Los Angeles, and New York; Kinvi in London, Paris, and Geneva; Othman in Munich and Amsterdam; and Rajagopol in Santa Barbara and Los Angeles.
Jacqueline Moudeïna, a recipient of the 2013 award, will also tour North America and will be honored at dinners in Toronto, Silicon Valley, and San Francisco. Moudeïna has worked for more than two decades to hold Hissène Habré, dictator of Chad from 1982 to 1990, accountable for atrocities and to achieve justice for his victims.
Meet the Defenders
Shin Dong-Hyuk, North Korea

Shin Dong-Hyuk is the world's leading advocate for closing North Korea's forced labor camps. He is the only known escapee of Camp 14, one of North Korea's camps for political prisoners, where he was born. While there, he witnessed numerous executions, including those of his own mother and brother, and was beaten, tortured, and routinely starved. Since escaping North Korea in 2005, he has worked tirelessly to alert the international community to the horrors inflicted on his fellow citizens. Human Rights Watch honors Shin Dong-Hyuk for his efforts to expose and end atrocities in North Korea. Photo: © Chip Somodevilla/Getty Images
Father Bernard Kinvi, Central African Republic
Father Bernard Kinvi is a Catholic priest who directs the hospital at the Catholic mission in Bossemptele, Central African Republic. In early 2014, when sectarian violence devolved into coordinated violence targeting Muslim civilians, Kinvi saved the lives of hundreds of besieged Muslims, whom he gathered from their homes and sheltered in the Catholic church. Despite repeated death threats, Kinvi persisted in protecting those in his charge until they could be taken to safety. Human Rights Watch honors Father Bernard Kinvi for his unwavering courage and dedication to protecting civilians in the Central African Republic. Photo: © 2014 Peter Bouckaert/Human Rights Watch
Arwa Othman, Yemen

Arwa Othman is a leading advocate working to end child marriage in Yemen. During the mass protests that erupted in Yemen in 2011, Othman was among the most outspoken activists calling for human rights and gender equality. She is credited with facilitating some of the strongest recommendations produced by the national dialogue conference, tasked with shaping Yemen's new constitution, including enshrining gender equality in law, prohibiting discrimination, and setting the minimum age for marriage at 18. Human Rights Watch honors Arwa Othman for her courageous work on behalf of all Yemenis, including women and children. Photo: © Mai Alnasiri
Dr. M. R. Rajagopal, India

Dr. M. R. Rajagopal is a leading palliative care physician from India who, for more than 20 years, has battled conditions that cause patients to suffer severe pain unnecessarily. As clinician, academic, and activist, Rajagopal is a global force behind efforts to promote and put into practice palliative care as a human right. He built the world's most successful community-based palliative care program, and he and his organization, Pallium India, played a key role in convincing India's government to make morphine accessible. Human Rights Watch honors Dr. M. R. Rajagopal for his efforts to defend the right of patients with severe pain to live and die with dignity. Photo: © Paramount Color Lab, Ulloor, Trivandrum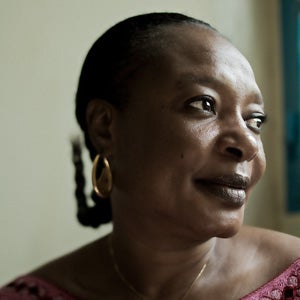 Jacqueline Moudeïna, Chad

Jacqueline Moudeïna is leading the efforts to hold the former Chadian dictator Hissène Habré accountable for atrocities and to achieve justice for his victims. Habré is accused of thousands of political killings, systematic torture, and ethnic cleansing. Despite being injured in an assassination attempt, Moudeïna has pursued charges against Habré and his henchmen, and in 2013 won an important victory when a special court in Senegal indicted the former dictator for crimes against humanity. Human Rights Watch honors Jacqueline Moudeïna for her commitment to bringing justice to Hissène Habré's victims and for protecting human rights in Chad. Photo: © 2009 Victor Affaro for Human Rights Watch