Yehia and Mohamed Shorbaji - Peaceful Political Activists
Yehia Shorbaji is known in his hometown of Daraya as "the man with the roses," because, friends and family said, he came up with the idea of giving flowers to the members of the security forces during the early days of the uprising. Soon Yehia, 34, also offered soldiers bottles of water on hot days.
More than a decade ago, Yehia joined Daraya Youth to study principles of nonviolence and take on projects like street cleanups and antismoking and anticorruption campaigns. As the uprising began in March 2011, Daraya Youth members peacefully protested government tactics. On September 6, 2011, people whom a witness believed to be Air Force Intelligence agents arrested Yehia and his 43-year-old brother Mohamed, a fellow construction worker and member of Daraya Youth, in a safe house they had used for meetings. Security forces also detained three other members of Daraya Youth that day, including a prominent protest leader, Ghiyath Mattar, who was killed in custody and whose body security forces returned to his family four days later.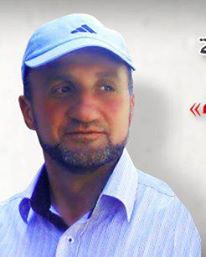 Mohamed Shorbaji - Peaceful Political Activist
"My husband, Mohamed, is a peaceful activist, always against violence, not for a moment promoting the use of force," said his wife, Amani. "We have four children, our youngest was 10 months old when the security forces arrested Mohamed. How do you build a father's image to a baby that has no memory of him? "
Security agents have held the men incommunicado in unconfirmed locations since their arrest, and their whereabouts and legal status remain unclear. A former inmate at Sednaya  Prison  told a relative of Mohamed's and Yehia's that he had seen the brothers there in 2013, although prison authorities refused to confirm they were there.  Another  relative told Human Rights Watch that in March, the family applied at the Military Police station in Qaboun to visit the Sednaya Prison, but officials denied the request.
"Knowing that your husband was arrested is bad, but not knowing where he is and not being able to see him is horrible," Amani said.
Mazen Shorbaji - Peaceful Political Activist
Security agents have detained other family members, also part of Daraya Youth. On August 15, 2011, Air Force Intelligence officers stormed the house of Mazen Shorbaji, arrested him, and threatened to detain his wife as well, a witness said.
A real estate agent and bookstore owner, Mazen made banners calling for peace and advocating peaceful protests in the early months of the Syrian uprising. During confrontations with government forces, Mazen helped wounded protesters find a safe place to receive medical treatment. His relatives believe that security agents detained him as punishment for these peaceful opposition activities.
Working through personal connections, the family finally managed to locate Mazen in Sednaya  in July 2012, and visited him there twice, first during Ramadan in the summer  and then in September. A close relative who visited him said Mazen looked extremely tired and had lost weight.
During the second visit, Mazen told his family that he had appeared before a military field court on September 3 and had signed a document without knowing what it said. Mazen's attorney was not allowed to attend the court proceeding.  A relative who spoke to Mazen about the proceeding said that no evidence was presented except statements from two detainees  that Mazen was an activist. Their wives later told the relative that the two other detainees had confessed under torture. No one informed Mazen of the charges against him. His family does not know what Mazen signed, or whether a judge has issued a ruling in his case.
A close relative said that Mazen's family had submitted at least five requests to see him  to the Justice Ministry  and to the Military Police station in the Qaboun neighborhood of Damascus, which the relatives believed would have information about him. Officials rejected the requests without providing any justification.
"How can we explain to Mazen's 4-year-old son why his father doesn't come home in the evening?" Mazen's relative said. "That child has no understanding of what it means for an activist to be detained, but he keeps asking for his father and wonders why he can't see him."
Nabil Shorbaji - Peaceful Political Activist
 
Security forces arrested another cousin, Nabil Shorbaji, also a Daraya Youth member, before he could fulfill his dream of marrying his fiancée, a family member said. As a journalist, Nabil wrote about the need to fight corruption and encourage free speech, and he invited people to share ideas through discussion.
A family member said that Nabil, 29, had been protesting the detention of activists in front of the Interior Ministry in Damascus when security officials arrested him for the first time on March 16, 2011. They released him 17 days later, but arrested him again on February 26, 2012, at an Air Force Intelligence checkpoint in the neighborhood of Al-Thawra in Daraya as he was driving to a friend's house. Two of Nabil's friends who were with him that day informed his family of his arrest.
Former detainees told Nabil's family that they had seen him in the Air Force Intelligence detention facility in Mezze and that officials moved him on February 2013 to Adra. Members of Nabil's family who were finally able to visit him once in Adra, where he remains, said that his legal status is unclear. Officials told Nabil that he would face trial before a military field court, but he has not yet seen a judge or been informed of the charges against him.
"We are all waiting for Nabil," a family member said. "My old mother is sick, but says she is trying to hold herself together until she sees him. His fiancée is blessed with patience and gets her strength from the dream of being united with Nabil. Thank God we were able to visit him in Adra and see with our own eyes that he is still alive. We only have patience and hope to keep us going until we see him among us again."
UPDATE: A family member told Human Rights Watch February 17 that Nabil was transferred to Sednaya prison after appearing before a judge at the Military Court in Qaboun in December. Security forces at Sednaya prison denied the family's request in December to visit Nabil there.