Just last month, it seemed that the African peacekeeping troops in Bossangoa, Central African Republic, did little more than turn a profit selling cold beers to the local population. But today, those same troops courageously came to the rescue of people caught in an intense battle for control of this city, 300 kilometers north of the capital, Bangui. The day started tense, as we woke up to news of heavy clashes in Bangui between the predominantly Muslim ex-Seleka forces who have ruled the country since March, and the mainly Christian anti-balaka ("anti-machete") fighters seeking to overthrow them. Dozens were killed. The news soon spread that the ex-Seleka commander of Bossangoa, General Yaya, was among those killed in the Bangui fighting.
The tension was palpable. 
Fighting erupted in Bossangoa at about 2 p.m. We were in the Muslim quarter helping a wounded massacre survivor when carloads of heavily armed ex-Seleka fighters arrived, ready for battle. Together with hundreds of civilians, we rushed to the relative safety of the base used by the Multinational Force of Central Africa (FOMAC). Unusually, the peacekeepers kept their doors open. All too often in the past, African and UN peacekeeping troops have done little or nothing to protect nearby civilians from armed attack, closing the doors of their bases and leaving people to their fate when the bullets start flying.
As the fighting intensified, the FOMAC commander, Captain Wilson from the Republic of Congo, rallied his peacekeeping troops with remarkable speed and courage, deploying them around town to safeguard the tens of thousands of displaced people at the Catholic church and at other sites around town.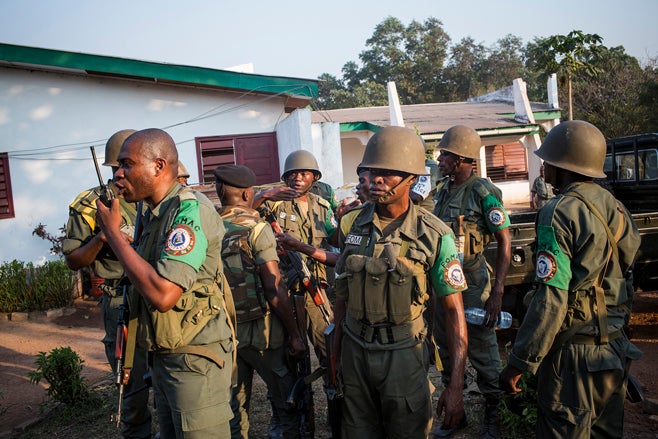 (Photo) Captain Wilson in the FOMAC compound © 2013 Marcus Bleasdale/VII for Human Rights Watch
When I informed him most humanitarian workers were stuck at a compound on the front line of the fighting, he ordered his troops to the scene without hesitation, evacuating the workers just in time.
For hours, FOMAC peacekeepers deployed amidst the heavy fighting acted to keep the combatants away from vulnerable civilians. As the town fell to the anti-balaka fighters, Captain Wilson ordered his troops to cordon off the Muslim quarter, to prevent reprisal killings by the Christian militias. One of the FOMAC peacekeepers was gravely wounded in the chest during the fighting.
With fighting in many parts of the Central African Republic, the dangers faced by the civilian population will only increase. Sadly, tomorrow we will be counting the dead from today's heavy fighting.
But the courageous actions of Captain Wilson and his African peacekeepers give some hope that their effort – expanded into a larger United Nations peacekeeping mission – can effectively protect the civilian population.