The Polish government's efforts to undermine the rule of law and human rights protections continued during the year.
Curbing judicial independence remained a focus, despite growing international criticism. In July, a law entered into effect which reduces the retirement age for Supreme Court judges, forcing 27 judges to retire–well over a third of all Supreme Court judges. The first president of the Supreme Court refused to step down and was, at time of writing, continuing her work. In August, the Supreme Court suspended the application of the law, requesting that the Court of Justice of the EU rule on whether it violates EU law, followed by similar requests in August and September in two cases by common courts. In October, the EU Court of Justice ordered Poland to suspend application of the Law on Supreme Court, following a request by the European Commission for interim measures.
The government's attack on the rule of law began to impact Poland's judicial cooperation with other EU states. In July, the EU Court of Justice ruled that Irish courts were entitled to refuse the extradition of a Polish national to Poland if they concluded there is a real risk of an unfair trial to that individual, citing the article 7 proceedings. In September, the European Network of Councils for the Judiciary suspended Poland over concerns about independence of its judicial appointments body. 
In addition to the referrals to and rulings of the EU Court of Justice, other EU institutions took various actions against Poland during the year (see Rule of Law section).
In June, the government pushed through a law which makes it a crime to ascribe any responsibility or co-responsibility to Poland for Nazi-era atrocity crimes committed on Polish soil.
Following international condemnation, authorities removed the crime's three-year maximum sentence but maintained fines.
In mid-January, the Polish parliament enacted government legislation hampering the rights of environmental activists to protest at United Nations climate talks in December 2018 and allowing authorities to subject them to government surveillance. 
NGOs working on issues related to asylum and migration, women's rights, or LGBT rights reported ongoing difficulties accessing previously available public funding and some were subject to smears in pro-government media.
Summary returns of asylum seekers to Belarus continued, the majority from the Russian republic of Chechnya and Central Asia. In May, the top administrative court found that border guards had failed to conduct a proper assessment of an asylum seeker's intent to seek asylum.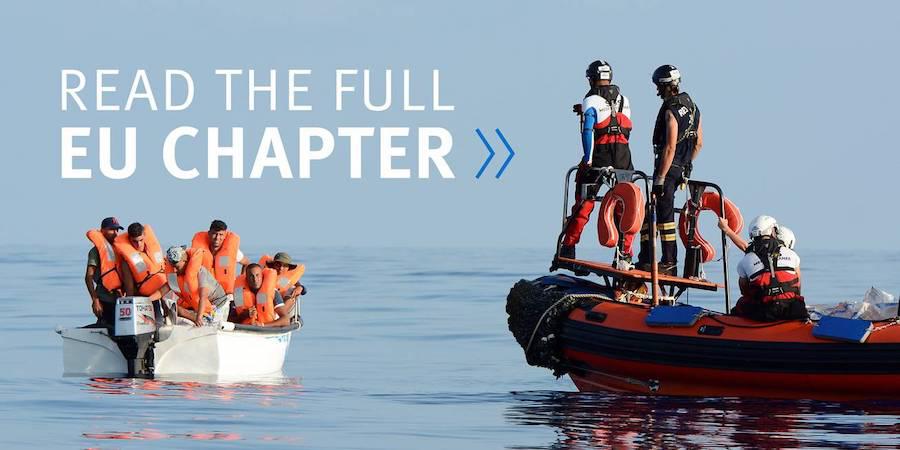 Sections of the EU Chapter: Migration and Asylum  | Discrimination and Intolerance  | Rule of Law  | Terrorism and Counterterrorism  | Croatia  | France  | Germany  | Greece  | Hungary  | Italy  | The Netherlands  | Poland  | Spain  | United Kingdom  | Foreign Policy