Although Greece continued to host large number of asylum seekers, it failed to protect their rights. Overall numbers of arrivals increased compared to the same period in 2017. Deficiencies in the reception and asylum system escalated with severe overcrowding, unsanitary, unhygienic conditions, and lack of sufficient specialized care, including medical care, trauma counseling, and psychosocial support. Physical and gender-based violence were common in asylum camps, and NGOs reported deteriorating mental health conditions among asylum seekers. Most unaccompanied children continued to be placed in camps with adults, in so-called protective police custody or detention or risked homelessness, with authorities failing to resolve a shortage of juvenile shelters or foster care.
Greece's EU-backed policy of confining asylum seekers who arrived by sea to the Aegean islands trapped thousands in these conditions.
While the government transferred 18,000 asylum seekers from islands to mainland Greece following a concerted NGO campaign in November, it refused to implement a binding high court ruling to end the confinement policy for new arrivals, and instead adopted a new law in May to continue it. On Lesbos, a regional authority inspection in September concluded that the Moria camp, the largest of its kind, presented a danger to public health and the environment, and called on the government to address acute shortcomings or close the camp.
Some migrants and asylum seekers trying to cross the land border from Turkey into northeastern Evros region reported being summarily returned to Turkey during the year, sometimes violently. Greece did not address reception needs of newly arriving asylum seekers in the region, despite an increase in arrivals starting in April. As a result, women and girls were housed with unrelated men in sites for reception or detention of asylum seekers and lacked access to essential services.
Less than 15 percent of asylum-seeking children had access to education on the islands, and only one in two on the mainland were enrolled in public schools.
Far-right groups continued to campaign against asylum seekers on the islands, and there were media reports of attacks across the country on persons perceived to be migrants or Muslims. Police statistics for hate crimes for 2017 released in March showed a marked increase compared to the previous year.
The Council of Europe's Committee for the Prevention of Torture visited Greece in April, and issued a preliminary report expressing concerns about inhuman and degrading treatment in psychiatric establishments and migrant detention centers.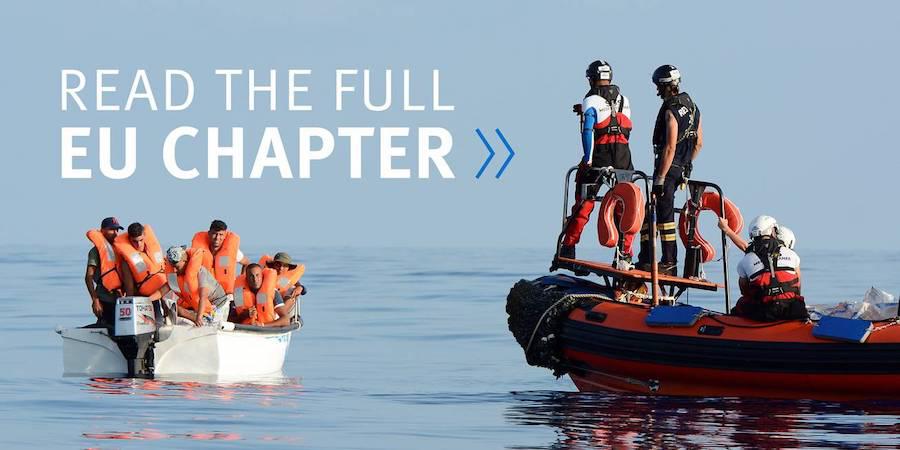 Sections of the EU Chapter: Migration and Asylum  | Discrimination and Intolerance  | Rule of Law  | Terrorism and Counterterrorism  | Croatia  | France  | Germany  | Greece  | Hungary  | Italy  | The Netherlands  | Poland  | Spain  | United Kingdom  | Foreign Policy