Chancellor Angela Merkel announced in October she would not seek a fifth term after a poor showing in several state elections by her Christian Democratic Union party and its sister party, the Christian Social Union (CSU). Efforts by the CSU in the Bavarian elections to emulate the rhetoric and agenda of the anti-immigrant Alternative for Germany backfired as the CSU lost voters to AfD and the Greens, with the latter becoming that state's second largest party.
Arrivals of asylum-seekers and migrants fell for the third year in a row, and federal authorities made significant progress clearing a backlog of asylum claims during the year. By the end of July, 96,644 new asylum-seekers had been registered, decreasing by a sixth from the previous year.
Despite disagreements within the newly formed federal coalition government over Germany's approach to EU asylum and migration policy, Germany continued to play a leadership role in refugee resettlement. In April, the government announced that Germany would accept 4,600 resettled refugees in 2018 and 5,600 in 2019 as a contribution towards an EU program. In July, the government granted admission to up to 300 refugees evacuated to Niger from Libya.
NGOs criticized aspects of Germany's deportation system after reports of a series of cases in which asylum seekers were returned to their home countries while their cases were still pending, including a Tunisian deported despite a court order blocking the transfer on the grounds of risk of torture.
Although fewer than in previous years, attacks on refugees and asylum seekers remained a matter of concern. In the first half of 2018, police recorded 627 attacks on refugees and asylum seekers outside their home, and 77 attacks on refugee shelters.
Xenophobic demonstrations in the city of Chemnitz triggered by the killing of a German man, allegedly by two foreign nationals, in August and the exploitation of the killing by the far-right, saw violent scenes, including attacks on people perceived as "non-German."
In March, a Dresden judge found eight people from a far-right group guilty of terrorism offences and attempted murder for attacks in 2015 on refugee shelters and a local politician supporting newly arrived migrants. In July, a Munich judge found a man guilty of murder, terror offenses, and arson in a case relating to a series of murders carried out by a neo-Nazi group between 2000 and 2006. Four accomplices were found guilty of lesser charges.
The controversial Network Enforcement Act (NetzDG), came into effect on January 1. It compels social media companies to take down hate speech and other illegal content or face large fines. The act came under criticism after several high-profile social media users had their content or accounts blocked, either as a result of NetzDG or the companies' terms of use.
A group of foreign correspondents—with support from German journalists' unions and other press freedom groups—launched a challenge in January before the Federal Constitutional Court to the German domestic intelligence agency's power to surveil the communications of foreign nationals, arguing it infringes their right to free expression and privacy.
German judicial authorities continued their work investigating serious international crimes committed abroad, including in Syria.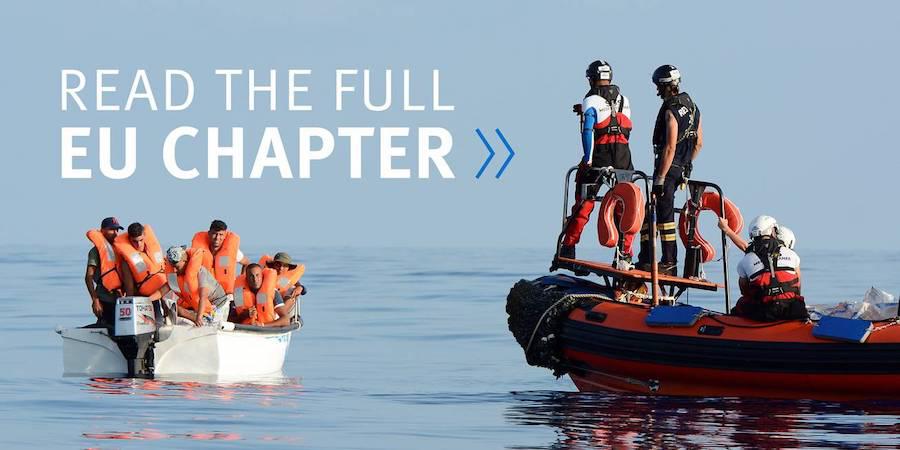 Sections of the EU Chapter: Migration and Asylum  | Discrimination and Intolerance  | Rule of Law  | Terrorism and Counterterrorism  | Croatia  | France  | Germany  | Greece  | Hungary  | Italy  | The Netherlands  | Poland  | Spain  | United Kingdom  | Foreign Policy