A coalition government between the anti-immigrant League and the populist Five Star Movement was inaugurated in June. In March, the UN high commissioner for human rights deplored the racism and xenophobia that characterized the election campaign.
By mid-November, only 22,435 migrants and asylum seekers had reached Italy by sea according to UNHCR, in large part because of measures to prevent arrivals already put in place by the outgoing government. In contrast, during the whole of 2017, 119,369 people arrived.
Almost immediately upon taking power, the new government began blocking disembarkation of rescued persons in Italian ports. In November, a Sicilian prosecutor filed to close an investigation, launched in August, into Deputy Prime Minister and Interior Minister Matteo Salvini for unlawful detention and kidnapping, among other charges, for refusing to allow 177 asylum seekers from an Italian Coast Guard ship disembark, some for as long as 5 days.
In June, Italy began systematically handing over coordination of rescues in the Mediterranean to the Libyan Coast Guard, despite concerns over their capacity and the fate of individuals returned to Libya. In August, parliament approved the supply of 12 boats and training programs for Libyan crews.
In November, parliament approved a government decree limiting humanitarian visas and restricting access to specialized reception centers. One-quarter of asylum seekers in 2017 was granted permission to stay for humanitarian reasons, and up to 28 percent of decisions taken in January-February of 2018 granted humanitarian visas. In October, prosecutors charged the mayor of Riace, in southern Italy, with irregularities in what was widely held as a model integration project for asylum seekers and refugees.
Episodes of racist violence marked the year. In February, one month before the national elections, a former League candidate in local elections shot and wounded six immigrants in Macerata, central Italy. An anti-racism group recorded a sharp increase in attacks in the two months after the new government took power compared to the same period in 2017.
In July, authorities evicted several hundred Roma people from a settlement in Rome, despite an order from the European Court of Human Rights to delay the move. Minister Salvini called in June for a census of all Roma in Italy in order to deport those without Italian citizenship. There was no visible progress in a European Commission investigation, ongoing since 2012, into discrimination against Roma in access to housing and forced evictions.
In December 2017, the UN Committee against Torture urged Italy to ensure that the definition of the crime of torture in domestic law, introduced last year, conforms with international law.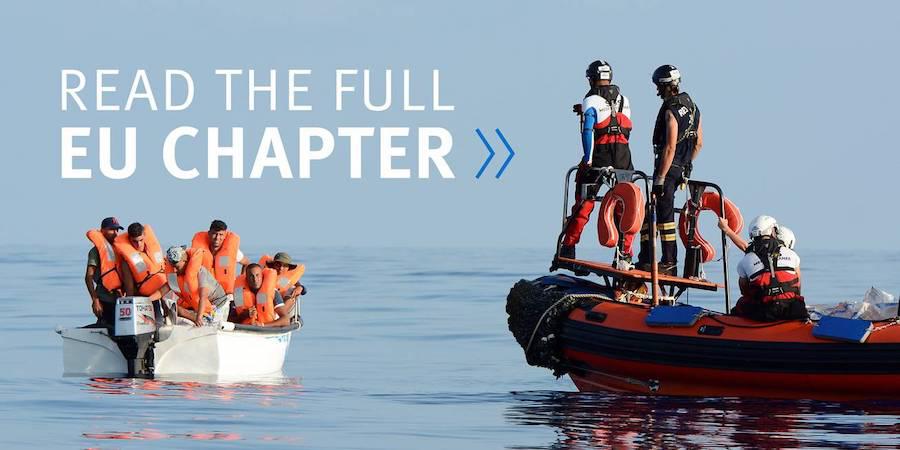 Sections of the EU Chapter: Migration and Asylum  | Discrimination and Intolerance  | Rule of Law  | Terrorism and Counterterrorism  | Croatia  | France  | Germany  | Greece  | Hungary  | Italy  | The Netherlands  | Poland  | Spain  | United Kingdom  | Foreign Policy