Government attacks on the country's judiciary continued in 2019.
Judges and prosecutors were subject to arbitrary disciplinary proceedings for standing up for the rule of law and speaking up against problematic judicial reforms, an interference with judicial independence. The Disciplinary Office, established in September 2018, brought disciplinary proceedings against judges and prosecutors. The European Commission in April initiated legal action against Poland for its disciplinary proceedings against judges.
In May, police arrested rights activist Elzbieta Podlesna over a picture of a religious icon with a rainbow halo on the grounds of offending religious feelings and confiscated her mobile phone, laptop, and memory cards. The investigation was ongoing at time of writing.
In June, Council of Europe Human Rights Commissioner, Dunja Mijatovic, raised concerns about dismissals, replacements, and demotions of judges and prosecutors, and called on Polish authorities to "ensure that disciplinary proceedings are not instrumentalised."
Judges and prosecutors were regularly discredited and smeared during the year by government officials and government aligned media.
In June, the EU Court of Justice ruled a 2018 Polish law that lowered the retirement age for the country's Supreme Court judges that would have forced out some of the judges, breached EU law. The government had already suspended the law in December 2018 pending the EU court ruling.   
In November, the EU Court of Justice ruled in a case referred by the Polish courts that the new Disciplinary Chamber of the Polish Supreme Court can only be competent to rule on judges' retirement cases if its independence and impartiality is guaranteed.
An amendment to the penal code, approved by parliament would criminalize "promotion" or "approval" or sexual activity by minors, putting teachers and sex educators at risk of imprisonment and limiting children's right to health information and care.
NGOs working on issues related to asylum and migration, women's rights, or lesbian, gay, bisexual, and transgender (LGBT) rights were often denied public funding.
During the year, LGBT people became the focus of government and ruling party homophobic attacks. In July, at least 30 cities and provinces in Poland declared "LGBT-free-zones," and Gazeta Polska, a pro-government newspaper, distributed "LGBT free zone" stickers in its publications. A Warsaw district court in July ordered the newspaper to immediately halt distribution of the stickers, pending the outcome of legal challenge by a rights activist.
Poland's Commissioner for Human Rights Adam Bodnar was the target of a smear campaign by pro-government media and public officials for defending the human rights of a murder suspect.
Pushbacks of asylum seekers, most from the Russian republic of Chechnya and Central Asia, to Belarus continued, with inconsistent application of a 2018 Polish court ruling to halt the practice.
In August, the United Nations Committee Against Racial Discrimination called on Poland to prevent hate speech in the media, and to take action against websites promoting racial hatred.
The UN Torture Committee in August called on Polish authorities to provide adequate protection for victims of domestic violence and to consider decriminalizing abortion.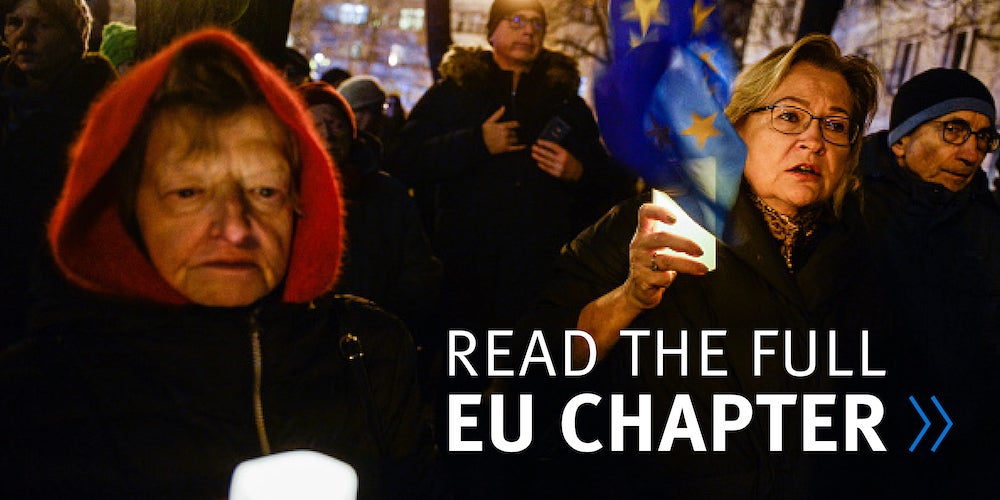 Sections of the EU Chapter: Migration and Asylum  | Discrimination and Intolerance  | Rule of Law  | Terrorism and Counterterrorism  | Croatia  | France  | Germany  | Greece  | Hungary  | Italy  | The Netherlands  | Poland  | Spain  | United Kingdom  | Foreign Policy