French police crowd control and anti-riot tactics, used during weekly demonstrations, injured thousands of people since the end of 2018. Those injured include peaceful demonstrators, high-school students, and journalists. There has been widespread criticism of police action, including by the United Nations and the French ombudsperson.
French authorities opened scores of investigations into excessive force allegations, but as of November, only eighteen had been passed to a judge. In November, the Paris prosecutor announced that two police officers will be prosecuted for violence, the first such cases. At time of writing no officers had been held to account.
France adopted a protest law in April that risks undermining the right to freedom of peaceful assembly. UN experts in February expressed concern about the law and already disproportionate restrictions on the right to protest in France.  
French border police in the Alps summarily returned unaccompanied migrant children to Italy during the year, and some child protection authorities used flawed age assessment procedures on unaccompanied migrant children, depriving some of the protection and care to which they are entitled. These findings were confirmed by the ombudsman in an annual report on children's rights published in November.
The European Court of Human Rights ruled in February that France had subjected an unaccompanied child living in a makeshift camp in Calais to "degrading treatment" for failing to take steps to ensure he was identified as a child and given protection and care.
Aid workers and volunteers providing vital assistance to migrants were harassed by the police in Calais region and around the French-Italian border. Some faced trial and conviction for their humanitarian work. 
In April, after a five-year investigation, the French ombudsman reported discriminatory and illegal orders at a specific police station in Paris, that targeted "black people and north Africans" in the surrounding area for identity checks and "homeless and Roma people" for systematic expulsion. French authorities gave no formal response.
In May, the National Human Rights Consultative Commission, an official body, published a report saying that in 2018, racist acts in France increased by 20 percent compared to 2017, with anti-Semitic acts increasing by more than 70 percent. The same report said that number of racist acts reported to the police decreased by 4 percent. The same month, SOS Homophobie, an NGO said it received 66 percent more reports of physical attacks on lesbian, gay, bisexual, and transgender (LGBT) people for 2018 compared to 2017.
In May, 17 humanitarian and human rights organizations denounced threats to press freedom after three French journalists were summoned by French intelligence services for investigating the use of French weapons by the Saudi-led coalition in the conflict in Yemen.
In September, the government announced measures to step up the fight against domestic violence, including steps to make it easier to report incidents and an increase in shelter spaces. It was criticized by civil society groups for not allocating enough resources to implement the plans. By November, 136 women had been killed in domestic violence in 2019.
In October, the National Assembly adopted a bill allowing lesbian couples and single women to access fertility treatments available only to heterosexual couples. It was before the Senate at time of writing.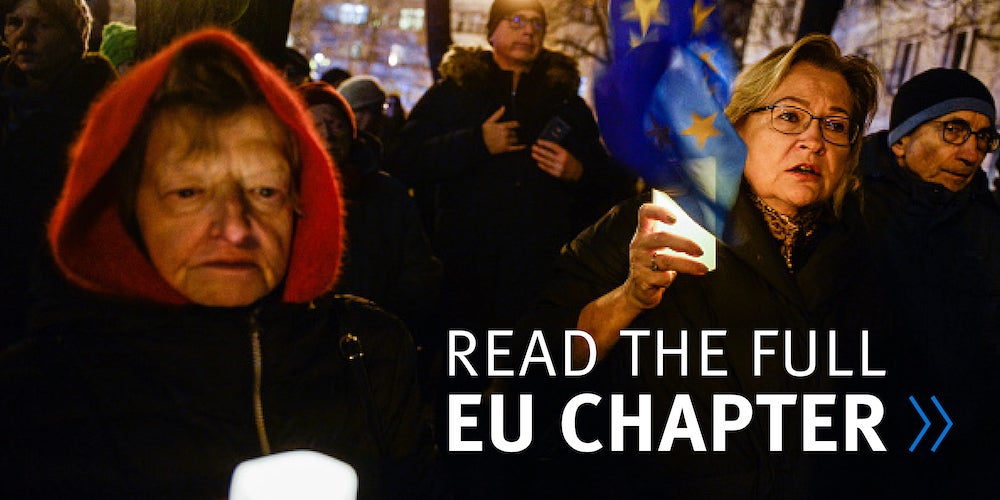 Sections of the EU Chapter: Migration and Asylum  | Discrimination and Intolerance  | Rule of Law  | Terrorism and Counterterrorism  | Croatia  | France  | Germany  | Greece  | Hungary  | Italy  | The Netherlands  | Poland  | Spain  | United Kingdom  | Foreign Policy