Arrivals of asylum-seekers and migrants fell for a fourth year running. In the first 10 months of 2019, 122,225 asylum-seekers had been registered. By the end of June, 56,628 applications were pending.
Germany continued to play a leadership role in refugee resettlement in the EU. By October 30, Germany had accepted 229 refugees who had been rescued at sea. At time of writing, 13 municipalities had signed the "Safe Haven Cities" declaration, launched in April, indicating to the federal government that they were willing to accept resettled refugees rescued at sea.
A package of federal immigration and asylum law changes in June 2019, negatively impacted rights. NGOs criticized reductions in social benefits and the grounds for detaining migrants pending deportation, along with the continued use of prisons for immigration detention. Separate amendments to deportation law, which entered force in August, limited the ability of rejected asylum seekers who cannot be removed to work or study.
Attacks on refugees, asylum seekers and those providing them with assistance, remained a matter of concern. In the first half of 2019, police recorded 609 attacks on refugees and asylum seekers, 60 attacks on refugee shelters, and 42 attacks against relief organizations and volunteers. Police authorities attributed the overwhelming majority of these attacks to perpetrators with a "right wing motivation."
The government disclosed in October that 12,500 "politically-motivated" criminal offences (a category that includes hate crimes) had been committed by members of far-right groups in the first eight months of the year.
Constitutional challenges were pending against laws in Bavaria that allow police to hold people in preventive custody for up to three months, in some instances without access to a lawyer, on the basis they could pose a danger to national security rather than for having committed a crime. During the year, legislators in at least four other German states proposed or passed similar worrying provisions.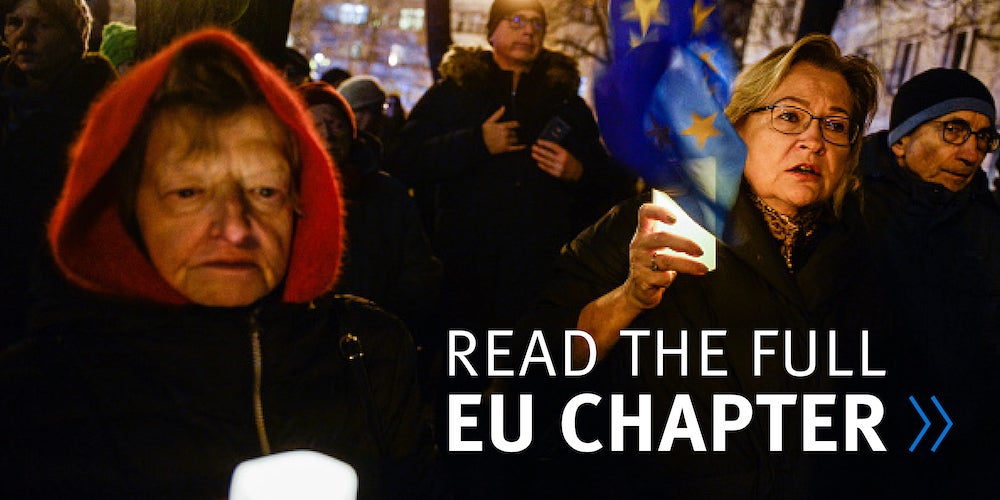 Sections of the EU Chapter: Migration and Asylum  | Discrimination and Intolerance  | Rule of Law  | Terrorism and Counterterrorism  | Croatia  | France  | Germany  | Greece  | Hungary  | Italy  | The Netherlands  | Poland  | Spain  | United Kingdom  | Foreign Policy