As Russian forces intensified their offensive in eastern Ukraine in early April 2022, Alina Kovalenko called her mother, Tamara, 71, and begged her to flee their family home in Kramatorsk. Despite the pressing danger and calls by local authorities to evacuate, Tamara was reluctant to leave the city where she had lived for 40 years.
Finally, on April 7, Tamara relented. "It's too late today, there's already a long line [at the Kramatorsk train station]," she told her daughter. They agreed she would leave the next morning for western Ukraine, and from there perhaps to Poland, where Alina, 48, had been living since January.
Tamara packed her bag, planning to leave early to avoid the long lines for evacuation trains. Alina called her mother before 7 a.m. as Tamara made her way to the station, where hundreds of people were already gathering. The first train wouldn't arrive for a few hours, so Tamara waited. And so did Alina.
Anxious about the trip, Alina called her mother again a few hours later. This time there was no answer.
Suddenly, Alina's phone flooded with messages. "I started receiving messages on social media networks, like Facebook, and I heard there was a missile." Alina frantically scanned the news. Then she saw the pictures. "The first one I saw was a photo of my mother, lying on the ground. I was seeing the photos and I couldn't believe it."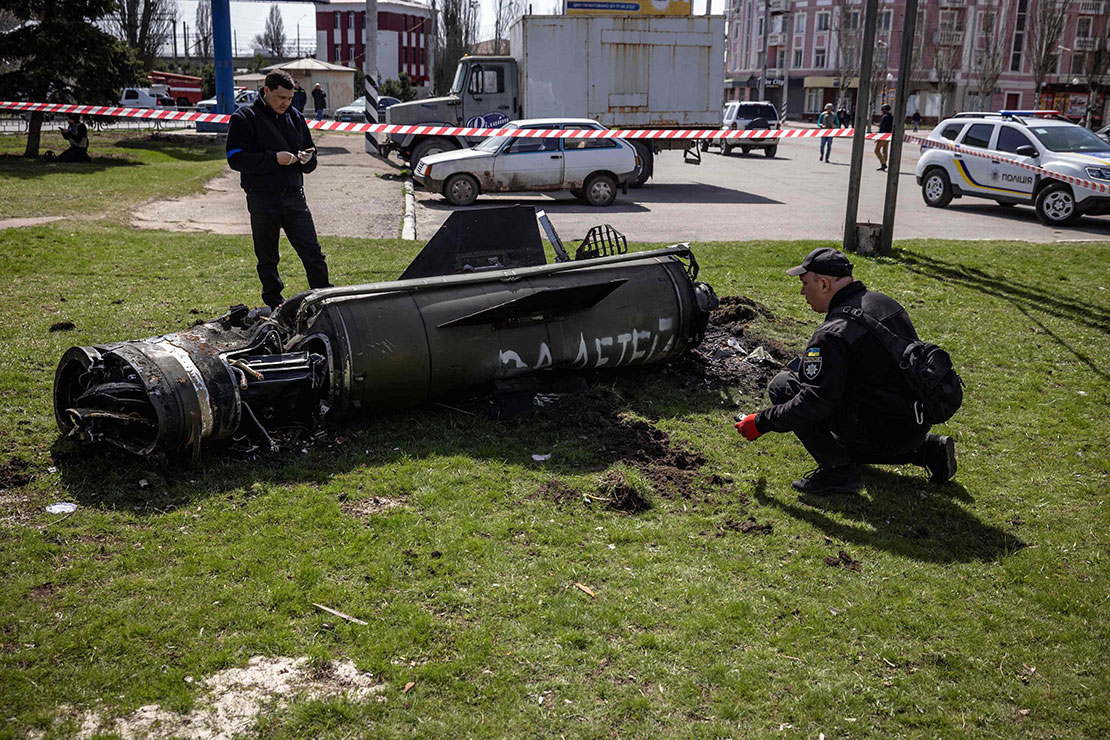 Ukrainian authorities inspect the rocket motor and guidance section of a Tochka-U missile next to the main building of the Kramatorsk train station in eastern Ukraine on April 8, 2022. The phrase "Payback for the children" is painted in Russian on the missile. © 2022 Fadel Senna/AFP via Getty Images
On April 8, at 10:28 a.m., a ballistic missile equipped with a cluster munition warhead dispersed 50 small bombs, known as submunitions, over the train tracks and station in Kramatorsk, where Tamara and several hundred other people were anxiously waiting for evacuation trains to take them to relative safety away from the worst fighting. At least 58 people were killed – all of them to our knowledge civilians – and over 100 others were injured. After Ukrainian officials reported the attack, the Russian government that day denied responsibility, saying their forces did not have or deploy the ballistic missile used, and then blamed Ukrainian forces for the attack. The attack remains one of the deadliest single incidents for civilians since Russia's full-scale invasion of Ukraine began on February 24, 2022.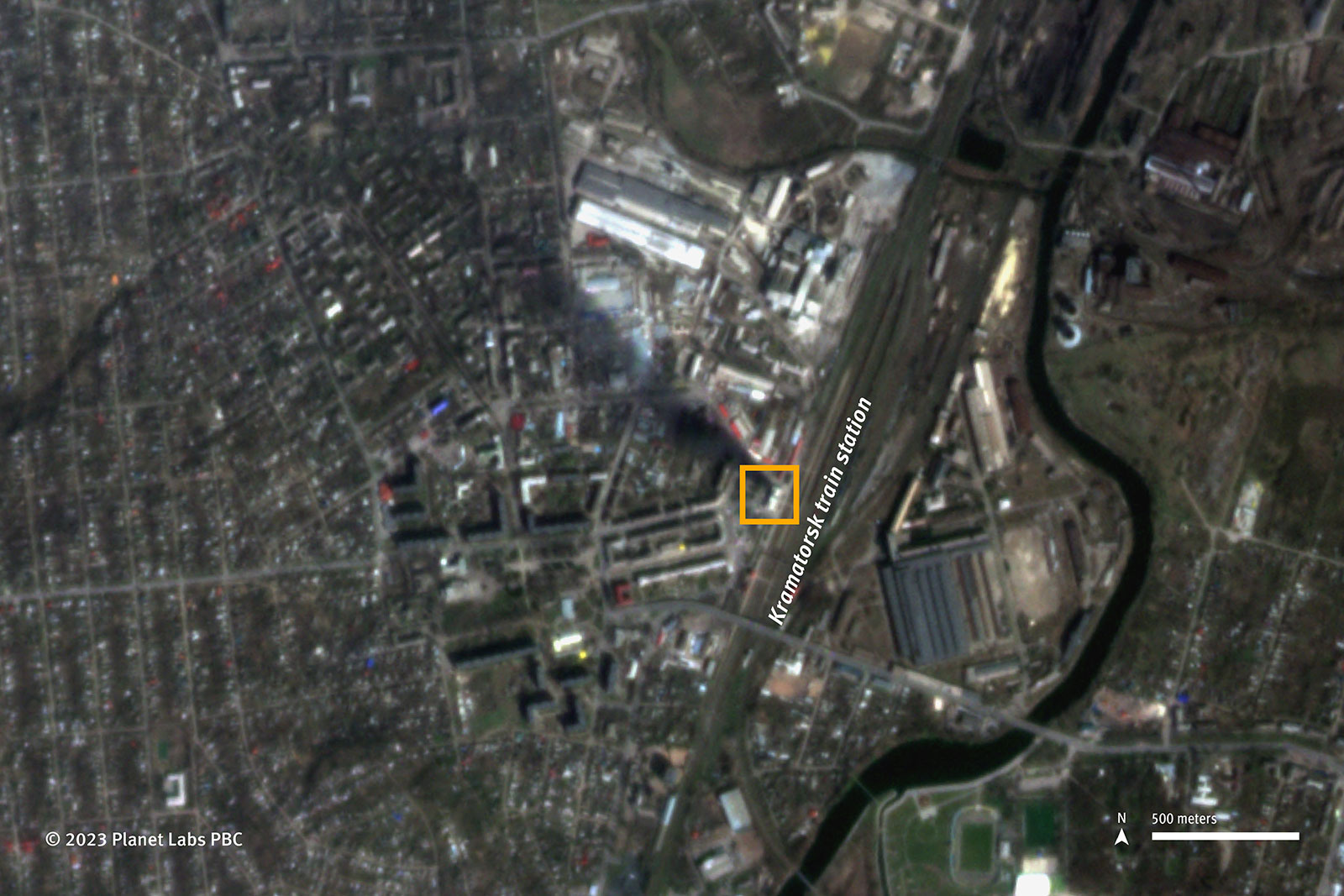 Satellite image showing smoke plume from a burning car in front of the Kramatorsk train station. Image: April 8, 2022 (10:35 a.m. local time). © 2023 Planet Labs PBC
Human Rights Watch researchers visited Kramatorsk from May 14 to 24, 2022 to investigate the attack and its aftermath. SITU Research, a visual investigations practice, and Human Rights Watch analyzed over 200 videos and photographs and conducted a spatial and temporal analysis of the attack. We also reviewed satellite imagery and inspected a former Russian military position near Kunie village in the Kharkivska region, a possible launch location for the attack.
The evidence strongly indicates that the missile that killed and injured civilians at Kramatorsk train station was launched from Russian-controlled territory in eastern Ukraine. The attack was a violation of the laws of war and an apparent war crime.
What follows is the story of the attack and some of those forever affected by it.
An Evacuation Hub
Russian forces carried out an assault on Ukraine's capital, Kyiv, during the initial weeks of the war – which failed. In late March and early April 2022, these forces retreated from Kyivska, Chernihivska, and Sumska regions north and east of the capital.1 The Russian offensive then intensified in the eastern part of Ukraine known as Donbas, made up largely of the Donetska and Luhanska regions. Russia-affiliated armed groups, at times with direct assistance from Russian armed forces, had seized control of parts of these regions in 2014, after which Kramatorsk became the temporary regional center for the Ukrainian government-controlled part of Donetska region.2
As Russian attacks on government-controlled areas increasingly struck homes, schools, and other civilian infrastructure throughout the region, families began to flee in droves.