The following cases are examples of forced recruitment, including abductions in some cases.
Box: Govinda's abduction
"I was returning home from school one afternoon. There was a jungle that I was walking through and they [the Maoists] took me from there. I was completely scared because I thought they would kill me.
I was alone when I was taken away by five Maoists. They were fully armed, one with a bomb. When I was taken away, they said, 'Will you join us?' I said no. They said, 'Why, your uncle is in the police, you have to go with us.' Then they slapped me and I was crying. They slapped me, they asked me, 'Why [are you crying]?' They asked me if I was all right. I said no. Then they slapped me again, so I was quiet. It was Shawran 6, 2062 [July 21, 2005]."49
Slight of build, Govinda cried continuously as he told Human Rights Watch how he had been abducted by Maoists, been forced to participate in combat, and had been captured by government forces. Govinda's story, and accounts of similar kidnappings, are the stuff of many persistent rumors in Nepal and the source of tremendous anxiety for Nepali families. This practice—and stories like that of Govinda—terrified Nepali villagers and seriously disrupted their communities. Thousands of families sent their children, particularly boys, away to escape forced recruitment.
Govinda himself testified about how his family had tried for years to avoid exactly the fate that befell him, ultimately to no avail:
"Initially I was to study in a school close to my home, but later I was scared the Maoists would take me away so I moved to a city area for two years. But [for financial reasons] I had to go back to my original school. I was there for six months before I was taken away [by the Maoists]."50
In fact, nearly all the children we spoke with had been recruited far more brazenly, without the frightening backdrop of a solitary jungle abduction.
Sixteen-year-old Leela, from the far western parts of Nepal solidly under Maoist control, described the pressure exerted by Maoist forces on every family to provide at least one recruit and how they abducted her younger brother:
The Maoists first took my younger brother. He was 14 years old. He managed to escape. He just kept crying and kept saying that he would not go with the Maoists even if they beat him. They made him sentry guard, but he was so young… So we had to decide between us in the family whom to send—otherwise the Maoists would have locked our house. I had to go.51
Most of the children we interviewed said that the Maoists took them from their homes for what they said would be a short-term stint participating in a "campaign"—a period of a month or two. But when the children tried to leave after the initial "campaign" period was over, the Maoists would not let them go, or would recapture them if they escaped.
Seventeen-year-old Sita, who had been with the Maoists for seven months before she was captured by government forces, told Human Rights Watch she was initially taken for a one-month "campaign," and managed to flee after the campaign was over. But the Maoists came back to her house and took her with them again:
They took me by force. The two ladies who came to our house were trying to convince me, but I kept refusing. They said they would kill me, but I still refused. Then they told me I should kill myself, and then they threatened they would make cuts on my body and pour chili pepper in the cuts. Then I was too scared and had to go with them.52
In other instances children were taken from school, despite their resistance and protests by school officials. Sixteen-year-old Maya explained how she had been taken from school despite her teacher's intercession with the Maoists:
I was abducted from school. I was in school, it was lunch break, and we saw several Maoists coming. We were nine girls there, all 16 to 18 years old. The Maoists asked us how we were doing and said that we should join their campaign. We went to our teacher and said we wouldn't go, and the teacher told the Maoists, but they threatened him, and then just grabbed us and took us away. There were 15 or 18 of them so they could easily drag us away.53
Seventeen-year-old Kalawoti said that the Maoists first took some children from her area for their campaign, after which she was allowed to return home, but then they came back to her school to retrieve the children by force.
The Maoists came to my school. There were four or five Maoists, they talked to the teacher and he told us that there is nothing he could do and that we should go with them. The Maoists took some 30 or 40 students. Most students stayed after the campaign.54
In Dailekh district, also in the west, Pradeep, a 16-year-old boy who was 14 when he was recruited, described his experience:
I went to school to grade eight. I left school because I was recruited by the Maoists. They came to my school everyday. They gave a program to attract the children to join. There was singing, dancing and speeches. About three to four hours everyday. I was forced to join. They said, "Come with us." They had guns. They took me from school with five other boys from my class. It was in June 2004. My parents didn't know.55
Shyam, a 14-year-old boy who had been recruited when he was a year younger from Taplejung district in the far east of the country, also described how Maoist forces had abducted him, along with several other children, from school:
I went to school to the sixth grade, then the Maoists took me. They came to school to do programs. Sometimes every five or six days, sometimes once a month.  They sang and danced and gave speeches, I liked the programs…

There were 90 students in my class. I was the only one who joined. I was forced. They took me from school. They said, 'Come with us and we will succeed in war.' There were two Maoists, they both had guns. I was afraid if I did not go, they would shoot me. They also took other students from class seven and class eight; three boys and three girls.56
The Maoists have continued to recruit and train children as soldiers through the ceasefire period. Reports by local and international monitors suggest that incidents of forcible abduction have declined since the ceasefire, as Maoists can carry out propaganda and other recruitment activity openly and do not need to take children forcibly.57 However, the same reports indicated that Maoists have at times relied on subterfuge or fraud to recruit children systematically across the country. Maoist recruitment of children continued at a steady pace until December 2006, after the signing of the comprehensive peace agreement. As this report was being finalized, we continued to receive reports of ongoing recruitment by Maoist forces, albeit at a slower pace.  
The UN Secretary-General's December 2006 report on child soldiers in Nepal, which included information gathered through the end of September 2006, stated that "a further concern is the active recruitment of children carried out by CPN-M since the April 2006 ceasefire." The report provided the following details regarding recruitment after the ceasefire:
A total of 154 new incidents in all five regions were documented from May to September 2006, of which 72 involved recruitments into PLA and 82 into other CPN-M-affiliated organizations, including militias. The total number of newly recruited children is believed to be much higher, as many incidents reported could not be investigated owing to the lack of resources. Among the 154 cases, 2 took place in May, 3 in June, 24 in July, 84 in August and 41 in September.58
An August 2006 report of the Nepali National Coalition for Children as Zones of Peace stated that "still in the various parts of the country, Maoists are abducting and torturing children on various charges, threatening them to join their cultural troupe and army, forcibly associating them in the armed group, etc."59 Since the ceasefire, the coalition has documented dozens of instances of abduction of children from different parts of the country, including Nawalparasi, Banke, and Makwanpur.60 Similarly, the September 2006 report by the Office of the High Commissioner for Human Rights in Nepal presented information about recruitment from around the country:
Since the ceasefire, concerns have been raised that some 50 children—including some as young as 12 years old—were taken away from their families to take part in PLA and militia activities…. In August [2006] alone, allegations of child recruitment were received from Chitwan, Dolakha, Gorkha, Ilam, Nawalparasi, Nuwakot, Ramechhap, Kaski, Baglung, and Kathmandu Districts. In all instances, the CPN (M) denied that the children were forced to join and stated that the recruitment was voluntary. While some children may have consented to accompany those recruiting initially, it is not clear under what conditions. In some cases parents stated that they had not given their consent. In other cases, the parents denied that the recruitment was voluntary.61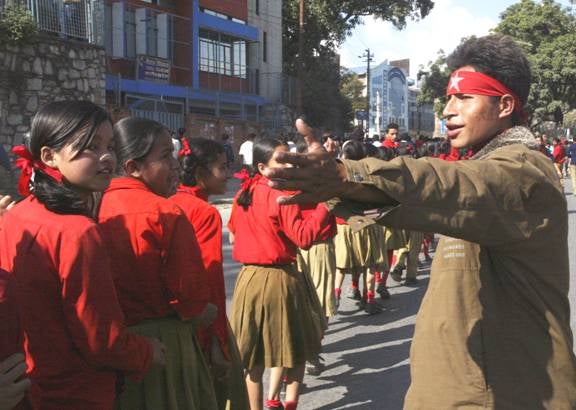 Reports of abductions or forcible recruitment after the ceasefire frequently appeared in the media. To cite just one recent example, on September 16, 2006, Nepal News reported that 19 children between age 14 and 18 were abducted by Maoists after they had attended a conference by the Maoist-affiliated militia Tham Liberation Front in Dolakha district. Three of the children had managed to escape after six days and inform their parents, who had then failed to secure the release of the other children.62 The same newspaper reported in August that Maoist forces abducted three children in Kathmandu in August 2006, and released them only after they promised not to join the Nepali army.63
This same pattern continued through November and even in the weeks immediately after the parties signed the Comprehensive Peace Agreement in late November. A monitoring team from Advocacy Forum traveling through mid-western Nepal in November found that Maoists "in Bardia… had told the children that, they had to fill the [recruitment] form in order to get the 'citizenship card' from the government. The ages filled in these forms were fake. They did ask the children their ages and added either 1 or 2 years or more to the real age."64 On December 6, Somini Sengupta of the New York Times reported from the same area visited by Advocacy Forum, around Dashrathpur in midwestern Nepal, one of the 22 bases where Maoist forces are supposed to place their troops in cantonment and lock away their guns. "In a village called Ramghat, just across the river," she wrote, "schoolchildren recalled that rebel soldiers had gone around the market a couple of weeks before in an effort to enlist new recruits."65
Advocacy Forum monitors documented Maoist recruitment of children, including in some cases through abduction, in late December 2006 and early January 2007.66 At the time of writing, there was no sign that the Maoists had ceased this practice.
---