From September 2005, when the IDF withdrew from the Gaza Strip, through May 2007, Israel fired more than 14,600 artillery shells into the Gaza Strip, primarily in the north, killing 59 Palestinians and injuring 270.136 Human Rights Watch's investigations, and analysis of reports from UNOCHA and non-governmental organizations monitoring the clashes, indicate that the fatalities were primarily if not exclusively civilians: of the 38 Palestinians killed through September 2006, 17 were children under the age of 16, 12 were women, and one was a 60 year old man; Human Rights Watch, in its field investigations, identified 5 of the remaining 8 men as civilians.137 On November 8, 2006, IDF shelling in Beit Hanoun killed or mortally wounded 23 Palestinians and wounded at least 40 more, all of them civilians.138 This incident led to a moratorium on artillery fire.
IDF officials told Human Rights Watch in meetings in June 2006 that the IDF conducted artillery strikes in response to rocket attacks on Sderot and other Israeli communities.139 In several incidents investigated by Human Rights Watch, Israel's use of 155mm artillery in response to these attacks may have violated international humanitarian law because it failed to discriminate between military targets and civilians or civilian objects, or because the shelling could have been expected to cause harm to civilians that was excessive compared to the concrete and direct military advantage anticipated. Israel's unwillingness to verify that targets were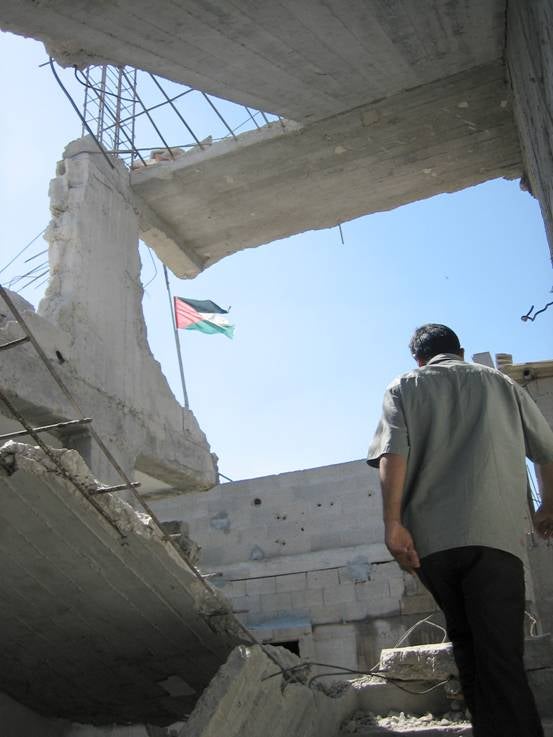 legitimate military objectives or to investigate civilian loss of life in these attacks is indicative of a failure to take all feasible precautions to minimize harm to civilians.
To shell Gaza between September 2005 and November 2006, the IDF used an Israeli-modified version of the US M109A3 howitzer called the Doher. The original US-built M109 was produced in 1963; Israel introduced its model in 1993. Seven crew members man the 28-ton, self-propelled artillery, which has a ground speed of up to 50 kilometers per hour. It is normally fired as an indirect fire (out of the line of sight) weapon. In most cases, the crew fires a marking shell and adjustment shells until they hone in on a target. It normally fires one shell per minute, but can fire up to four shells per minute for up to three minutes.140
The IDF's most common ammunition for these howitzers was a 155mm high-explosive artillery shell, usually the M107. Israel Military Industries, a state-owned arms producer and exporter, produces the M107 shell, although Israel has also imported 155mm shells from the United States. The M107 shell weighs about 44 kilograms and measures about 60.5 centimeters in length and 155 millimeters in diameter at its widest point. It has a range of up to 18 kilometers. If loaded with TNT, the shell spreads about 2,000 fragments in all directions. Some shells do not explode on impact and become potentially explosive duds.141
M107 shells are extremely deadly weapons. The expected lethal radius for a 155mm high explosive projectile is reportedly between 50 and 150 meters and the expected casualty radius is between 100 and 300 meters.142 IDF officials have said that the error radius for a 155mm shell is usually 25 meters.143 Therefore, if shells are lobbed as close as 100 meters to populated areas, as allowed under an IDF policy discussed below, or even closer, as sometimes happened, it greatly increases the likelihood of civilian casualties.
The "definite military advantage" offered by the 155mm artillery strikes against rockets was often dubious.144 It is difficult to strike those who launch the rockets because it only takes a few minutes to set up and position the launcher, fire the rocket, and then dismantle the launcher. Sometimes armed groups linger around to dismantle and remove the launchers, and other times timers are used to fire the rockets after the armed groups have left the scene.145 According to the IDF, "We often know where rockets are coming from after they land and the people [responsible] are long gone."146
The military advantage gained from shelling the sites of the rocket launches was the subject of dispute within the IDF itself. As discussed below, some IDF officials claimed that artillery fire successfully suppressed rocket launches or made the attacks less accurate. A day after the beach bombing discussed in Appendix I, then IDF southern commander Gen. Aviv Kochavi acknowledged that artillery "is not the best solution," but said it had three uses. First, it could "stop or distract the launching teams." Second, it could push teams trying to launch rockets away from the Israeli border towns and into Palestinian communities, making rocket attacks more difficult. Third, he said, "the message we are trying to convey, you can call it deterrence, but it's, 'Ladies and gentlemen, there is an equivalence here: So long as you shoot Qassams at us, we'll shoot artillery at you.'"147 Others in the IDF, including the division commander for the Gaza front, Brig. Gen. Moshe Tamir, argued that artillery did not help to reduce rocket attacks.148
Range is the key element: the closer the Qassam-type rockets can be to their general target, such as a town, the more likely they will be able to hit it. Thus forcing launch sites away from the border, and especially away from heavily populated border areas in Israel, such as Sderot, is the only real means of reducing their ability to strike their general target.
In using artillery in Gaza, the IDF said that it often fired immediately after a rocket was fired in an attempt to strike the launch site and the fighters present.149 In other instances, according to Maj. Gen. Meir Kalifi, the IDF fired at past launch sites and areas that "substantiated intelligence" indicated had from time to time been used to fire rockets.150 The goal was what in military parlance is termed "area denial"—in this instance, discouraging or preventing the armed group from launching rockets effectively by confronting them with the risk of being shelled. IDF lawyers distinguished area denial from "deterrence." "Deterrence is not our policy," said Brig. Gen. Avihai Mandelblit, the IDF's military advocate general. "There can be shelling for preemptive reasons—that Qassams attacks are to be launched from the area. There is no shelling just to let them know we are here… [We] have to be in possession of information on this site."151 However, that policy of area denial reportedly was modified after a December 26 rocket attack injured two Israeli boys, when the IDF was said to have issued a directive calling for "pinpoint action" against launches. According to an account in the New York Times, Prime Minister Ehud Olmert directed the IDF "to strike before, while or after rockets are launched" but not "to fire shells into open areas near the border to deter rocket-launching teams from entering them."152
Area denial—targeting a land area to deny it to the enemy—is a permissible tactic under international humanitarian law, but it remains subject to the prohibitions on indiscriminate and disproportionate attacks. Area denial traditionally concerns closing off land to the enemy to block communications and movement (such as a mountain pass) or for tactical advantage (channeling an attack or guarding a retreat).153 As a leading IHL scholar notes, however, while a specific land area can be regarded as a military objective, "[a]dmittedly, the incident of such locations cannot be too widespread: there must be a distinctive feature turning a piece of land into a military objective (e.g. an important mountain pass; a trail in the jungle or in a swamp area; a bridgehead; or a spit of land controlling the entrance of a harbor)."154 This view accords with the authoritative ICRC Commentary on the Additional Protocols to the Geneva Conventions, which confirms that area denial may be a legitimate military objective, but warns: "Of course, such a situation could only concern limited areas and not vast stretches of territory. It applies primarily to narrow passages, bridgeheads or strategic points such as hills or mountain passes."155
Area-denial bombardment targeting large portions of northern Gaza arguably would not meet this standard. IDF statements given above indicate that the purpose behind many of its strikes was area denial, at least until December 2006, and Human Rights Watch documented artillery strikes from the coast of northern Gaza to eastern Beit Hanoun. Human Rights Watch could not confirm, however, whether those individual strikes represented a pattern of overly broad area denial and thus violated international humanitarian law. We urge further inquiry into this issue.
Regardless of the legitimacy of the target in theory, the limited accuracy of 155mm howitzers, which IDF lawyers acknowledged in interviews with Human Rights Watch, endangered civilians. Brigadier General Mandelblit said, "Because artillery is less accurate, we have rules of engagement especially for artillery that are different from other weapons. We are working with artillery experts on these matters. The potential for artillery is terrible, as you know."156 Lt. Col. Noam Neuman added that artillery is "not accurate enough to target just specific objects."157
While IHL does not require that certain weapons systems be used in attacks, parties to a conflict must take all feasible steps in the choice of means and methods of warfare to avoid civilian loss.158 As one scholar notes:
If it is planned to attack a small military objective surrounded by densely populated civilian areas, the only legitimate modus operandi may be to resort to a surgical raid with precision-guided munitions. This is not to endorse claims, made by some commentators, that (i) there is a duty to use precision-guided munitions in urban settings; or that (ii) countries with arsenals of 'smart bombs' are compelled to use them everywhere
An IDF policy change reportedly instituted in April 2006 that permitted shelling targets closer to residential areas placed civilians at risk still further. Ha'aretz reported that the IDF had reduced its "safety zone"—the distance between the planned impact point of artillery strikes and populated areas—from 300 meters to 100 meters.160 In an interview with Human Rights Watch, Brigadier General Mandelblit would not confirm the safety zone policy: "One hundred meters is what the media said, not us. I can't say more than this. If they [the armed groups] knew our limits, they may go closer to homes."161 As mentioned above, the expected casualty radius of artillery is between 100 and 300 meters. Therefore, an attack only 100 meters from a residential area would increase expected civilian casualties; as noted, Israeli shells sometimes landed even within that margin and directly on civilian structures.
According to Michael Sfard, the lawyer representing six human rights groups in a case before the High Court to overturn the policy, the IDF did not at any point deny the change in safety zone policy, either in the media or in submissions to the court.162 In its response to Human Rights Watch, the IDF wrote, "we cannot provide further detail as this is an operational issue. Nonetheless, the IDF's safety buffers are adequate, and in keeping with the standards required by international law."163 (All of the IDF's written responses appear as appendices to this report.) A simple comparison of the relative inaccuracy of Israeli artillery and the diminished safety zone adopted in April 2006 suggests that the IDF's self-assessment is wrong.
All deaths and the vast majority of injuries caused by IDF shelling between December 2005 and May 2007 occurred after the beginning of April 2006, when the IDF purportedly reduced the safety zone.164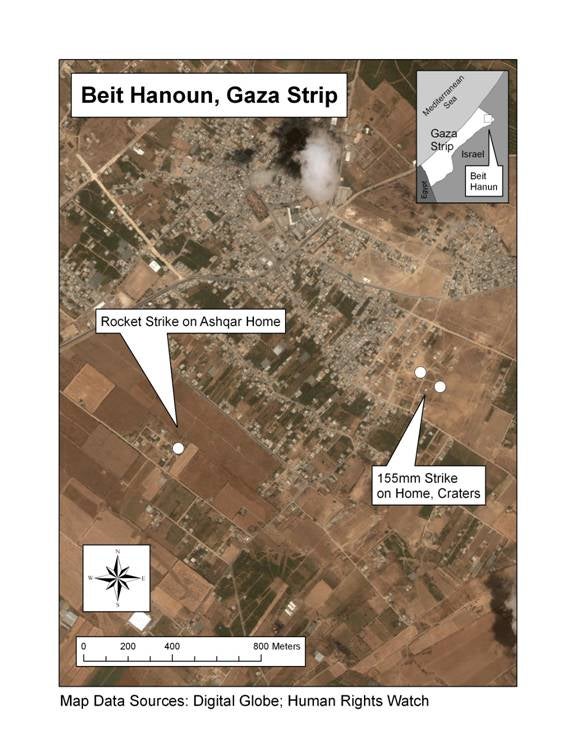 These figures, and Human Rights Watch research, detailed below, suggest that the increased number of civilian casualties in this period was attributable to a combination of the IDF decision to fire artillery at targets much closer to civilian-populated areas and a tenfold increase in the number of rounds fired per month compared to the earlier period. In some of the incidents that Human Rights Watch investigated, IDF artillery shells directly hit civilian residences. The IDF blamed at least some of these hits on the Palestinian armed groups who move "closer and closer to houses" to launch rocket attacks.165
Since the IDF issued a moratorium on artillery in November 2006, the IDF has not used live artillery to counter rocket launchings in the border areas. In the escalation of fighting in May 2007, the IDF relied on more precise air-fired missiles to suppress rocket launchings.166 In the event that the IDF renews artillery attacks, it must learn the lessons of incidents described below and avoid firing near populated areas where attacks may be indiscriminate or disproportionate.
As the scores of casualties indicate, Israeli artillery strikes caused significant harm to Palestinian civilians in Gaza, particularly in the northern towns of Beit Lahiya and Beit Hanoun. The strikes killed and injured civilians, destroyed residential and commercial property, and disrupted the daily life and livelihoods of the civilian population.
The IDF artillery shelling of northern Gaza also contributed to the trauma and pervasive fear that many residents, especially children, experience. "The mental health impact has been greatest from the constant Israeli shelling in northern Gaza," said Eyad al-Sarraj, director of the Gaza Community Mental Health Project. "It's continuous and it affects your state of mind. I can hear [the shelling] in Gaza City. Children are taking sleeping pills."167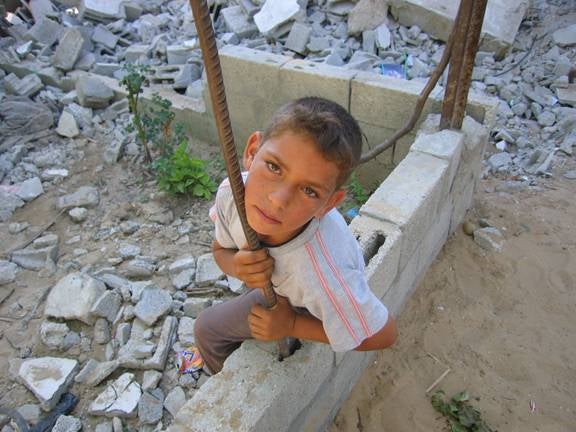 The following case studies are based on Human Rights Watch field research in northern Gaza. In most of the cases, the IDF claimed that it was unaware of the civilian casualties, there was a mistake, or the casualties were regrettable collateral damage justified by the circumstances. Human Rights Watch's investigations of attacks found that they may have been indiscriminate or disproportionate in violation of international humanitarian law. The pattern of casualties should have alerted the IDF to problems in its targeting decisions, that any mistakes took place in a context in which the IDF had loosened its strictures on 155mm artillery use and thus in part were a foreseeable consequence of using a weapon of limited accuracy very close to residential areas, and that it was necessary to give greater attention to minimizing the danger to civilian life and property. Proper investigations would have been especially important for revealing such a pattern, making the IDF's failure to conduct them all the more disturbing. The November 8, 2006, shelling that killed 23 civilians led to a decision by the IDF to impose a moratorium on artillery shelling and Prime Minister Olmert's December 2006 announcement that artillery would not be used close to populated areas. Timely investigations of earlier artillery strikes that harmed civilians could have averted this disaster.
Strikes Hitting Residential Areas
In the following five incidents, Human Rights Watch documented IDF artillery strikes that hit homes and killed and injured civilians. In the first three cases, the IDF responded to queries from Human Rights Watch by saying that it had not fired toward populated areas and that it was unaware of having inflicted any civilian casualties. A military lawyer told Human Rights Watch, "Our policy is not to investigate in every case where a bystander is hurt. The Criminal Investigation Division does not open investigations for cases of fire except where there is gross negligence."168 In the fourth case, Israeli officials publicly admitted that civilian casualties had resulted, but gave differing explanations for why this was so. In the fifth case, Prime Minister Ehud Olmert publicly acknowledged and expressed distress at the civilian casualties, saying that the artillery strike had missed its intended target due to a technical failure, but did not address the IDF's reported failure to adopt standard precautionary measures that might have prevented the technical failure.
Abu Shamas Family
A series of IDF artillery strikes on April 4, 2006, destroyed several homes owned by the Abu Shamas family on the edge of Beit Lahiya. About 50 shells landed in a nearby field over the course of about 30 minutes, starting at around 3:20 p.m. Mahmud Abu Shamas fled at first, but when he learned his house had been hit and collapsed, he ran back to search for his family members. He and two brothers ran into their father's house, next door to his own, and found his brother's wife, Samah Ahmad Abu Shamas, 19, and her six-month-old boy, who were unharmed. Then another shell exploded on that house. Khalid Ahmad Abu Shamas, 22, suffered a head injury from the explosion's shock wave and spent 10 days in a hospital intensive care unit. Mustafa Ahmad Abu Shamas, 30, lost three fingers in one hand and a toe of his right foot; doctors also put a plate in his leg. `Abdullah `Abd al-Datsa, 42, died from shrapnel injuries on the street as he was coming to visit the family.169
Mahmud Abu Shamas told Human Rights Watch he had not seen any Palestinian rockets in the area at the time of the attack, although Human Rights Watch was unable to corroborate his statement. "If we had seen Qassams, we would have evacuated before because we knew [the Israelis] would shoot at us."170 The next day the IDF fired more shells, partially destroying three nearby homes.171 Human Rights Watch was not able to determine whether rockets had been fired from the area at the time in question.
Asked about this incident, the IDF responded: "On April 4th 2006, 6 Qassam rockets were launched from the Beit Lahiya area. The IDF retaliated with artillery fire, in order to disrupt, frustrate and prevent the entry of Qassam launching units to the launching zones. The IDF did not fire towards populated areas, and is unfamiliar with any injury or any allegation of injury to Palestinian civilians."172 The IDF did not report on the distance between the rocket launch sites and the residential areas hit by the IDF shelling, nor did it suggest any shells were errant or there was otherwise any mistake in targeting.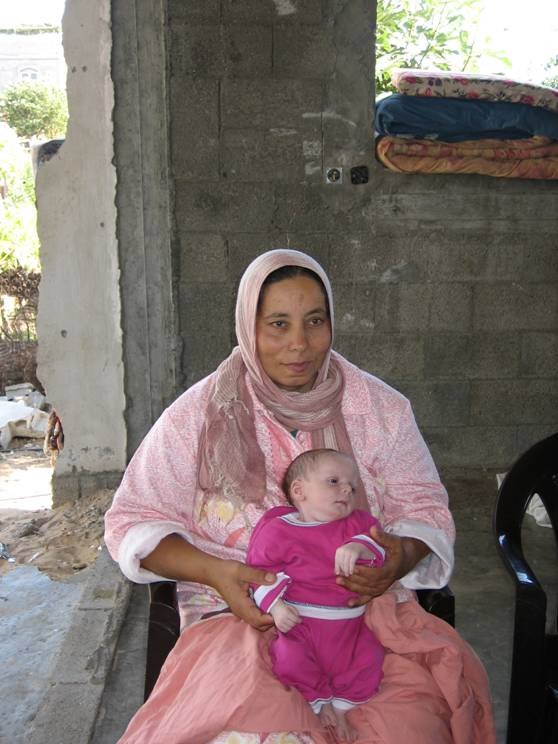 Gabin Family
On April 10, 2006, an Israeli shell killed one person and injured 10 others when it struck the Gabin family home in Beit Lahiya. Thirteen family members and friends were sitting and playing in the courtyard when they heard two shells fall far from the house. Sofia Gabin, 37, recalled, "I told my children to go inside because I was afraid for them. It was the safest place… I told the children to hide by the cupboard, which is made of cement. I was in the corner with a small 13-month-old child."173
A third shell then struck the home, penetrating the roof and demolishing most of the house. Sofia said, "I thought all my children had died because I saw them with blood and the rocks above them. Then I lost consciousness [for three days]."174 The shell killed 8-year-old Hadi and wounded nine other family members: Sofia, who was eight months pregnant, received shrapnel in her hand, side, and back, and suffered hearing loss; Tahrir, 19, sustained injuries to his back and left shoulder; Iman, 16, sustained injuries to her eye, face, arms, and legs; Bassam, 15, sustained injuries to his head and hand; Ghassan, 12, sustained injuries to his back; Munir, 10, sustained injuries to his eyes and legs; Anna, 9, sustained injuries to her head and one leg; Rana, 3, sustained injuries to her legs and face and stopped speaking; Roanne, 13 months, sustained injuries to her head; and Jacqueline Ma`ruf, 8, a friend of Hadi, suffered trauma.175
In its response to Human Rights Watch's request for information about this incident, the IDF wrote, "On April 10th 2006, prior to the stated time, 2 Qassam rockets were launched towards Israel from the northern Gaza strip. The IDF retaliated with artillery fire, but did not fire at the building mentioned. The retaliatory fire was towards open spaces, and no deviation was observed at the time."176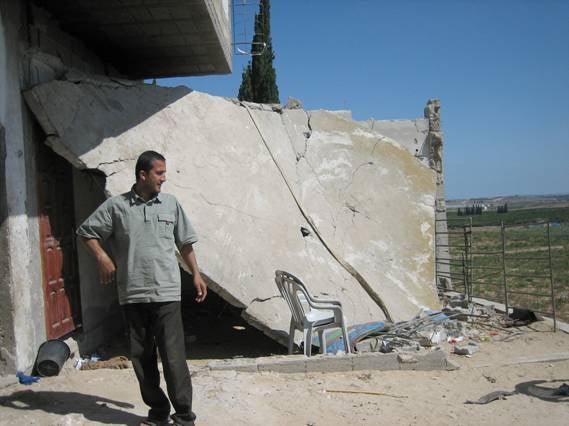 Abu `Oda Family
An IDF artillery shell struck the house of Shadi Muhammad Abu `Oda in Beit Hanoun at 3:30 p.m. on April 29, 2006. It knocked four water tanks off the roof and caused the ceiling of one room to collapse. There were about 35 people inside at the time because his sister was visiting with her children. The shell injured 13-year-old `Abd al-Rahim in his hand and leg and Abu `Oda's 5-year-old nephew Muhammad in the neck. Human Rights Watch found 155mm shell fragments and many shrapnel holes consistent with that weapon. Abu `Oda said he had never seen a Qassam-type launcher in his neighborhood.177 Asked about this incident, the IDF replied: "On April 29th 2006, one Qassam rocket was launched towards Israel from the northern Gaza strip, prior to the stated time. The IDF retaliated with artillery fire, in order to disrupt, frustrate and prevent the entry of Qassam launching units to the launching zones. The IDF did not fire at the building mentioned, but towards open spaces; there was no deviation from the target."178
Nada Apartments Complex
On July 24, 26, and 28, 2006, a series of IDF artillery shells struck a large apartment complex known as the Nada Apartments and the immediate vicinity. The shells killed four Palestinian civilians, including two children, and wounded 14 more. The dead were Sadiq Nasr, 31, Sa`di Ahmad Na`im, 30, Salah Nasr, 16, and Khitam Taya, 11; among the wounded were those who suffered severe torso injuries, loss of fingers, and other shrapnel injuries. The shells also caused serious damage to some apartments and forced hundreds of families to flee.
Palestinian armed groups routinely used a large open area near the complex to fire rockets toward Israel. The large open space, approximately one square kilometer in area, begins on the other side of a paved road that runs along the back side of the apartment complex. The IDF frequently shelled the open area prior to July 24 without causing harm to the residents or damage to the buildings.
According to residents of the apartments, the armed groups generally did not fire rockets from close to the apartments, but in the week or so prior to the Israeli shelling of the apartments they did fire rockets from near a large but unused water storage tank in the open area, about 100 meters and across the road from the nearest residential buildings, and in response, Israeli shelling also crept closer to the apartments.
Residents said that they had prevented armed militants from launching a rocket from the open area close to the apartments on the evening of July 23, some 14 hours prior to the first IDF shelling of the apartments. Nearly all of the residents said that no rockets had been fired from the area on July 24, and none at any prior time from the actual grounds of the apartment complex. One resident Human Rights Watch spoke with said that he heard what he thought was the sound of a Qassam being launched from the roof of one of the buildings in the complex on July 24. Human Right Watch examinations of the roof of the building and adjoining buildings two days later and again one week later uncovered no corroborating evidence of a rocket launch, such as the burn marks typically left by such launches. In its October 12 response to Human Rights Watch, the IDF said on July 24 prior to the shelling, "6 Qassam rockets were fired towards Israel. Some of the rockets were fired from the Officers' residence [sic] and the surrounding area," which the IDF defined as "within a radius of a kilometer and a half."179
On July 24, beginning shortly after 1 p.m., the IDF shelled the apartments five times over a period of about 11 hours. During this period, the Palestinian Security Forces communicated to Israeli counterparts that the attacks were endangering civilians. Speaking to reporters the next day, an IDF spokesperson attributed the strikes to "shells that misfired."180 However, in its responses to Human Rights Watch dated August 6 and October 12, the IDF did not suggest that there had been an error in the shelling.
This case is discussed in more depth in Appendix II.
Athamna Family
According to UNOCHA, at 5:30 a.m. on November 8, 2006, the IDF shelled northwest Beit Hanoun for 30 minutes with about 12 to 15 155mm artillery shells.181 The shells hit an apartment complex owned by the Athamna family and damaged or destroyed seven houses. The attack killed or mortally wounded 23 civilians and injured at least 40 more while the victims were sleeping or running outside to escape. The dead were: Fatima Ahmad Athamna, 80; Mas`ud `Abdullah Athamna, 55; Na`ima Ahmad Athamna, 55; Sabah Muhammad Athamna, 45; Sakir Muhammad `Adwan, 45; Minal Muhammad Athamna, 35; Sana`a Ahmad Athamna, 35; Nihad Muhammad Athamna, 33; Muhammad Ramadan Athamna, 28; Samir Mas`ud Athamna, 23; `Arafat Sa`ad Athamna, 16; Fatima Mas`ud Athamna, 16; Muhammad Sa`ad Athamna, 14; Mahdi Sa`ad Athamna, 13; Mahmud Ahmad Athamna, 13; Sa`ad Majdi Athamna, 8; Maisa Ramzi Athamna, 4; Malik Samir Athamna, 4; and Sa`adi Abu Amsha.182 Four more civilians subsequently died of their wounds.183
Ha'aretz reported the next day that the IDF artillery barrage was prompted by intelligence that Hamas operatives from the Jabalya refugee camp were supposed to arrive in Beit Hanoun, set up rocket launchers, and fire Qassam rockets towards Ashkelon early in the morning in order to target Israeli children on their way to school.184
Prime Minister Ehud Olmert publicly called the strike "a mistake." He said, "I'm very uncomfortable with this event. I'm very distressed…. This particular case…was a mistake. It was not a planned attack. It was a technical failure of the Israeli artillery. I checked it, and I verified it."185 An inquiry ordered by Defense Minister Amir Peretz concluded a day later that a technical malfunction caused the casualties, but did not address the question of whether proper procedures had been followed to ensure the accuracy of the thirty-minute barrage as required by international humanitarian law and, if not, who should be held accountable.186
Ha'aretz investigators suggested a lack of compliance with required procedures:
Veteran artillery men were terrified to discover that the battery had fired at Beit Hanun on the basis of range aiming from the previous night. The corps' artillery procedure demanded that before firing at a designated target, the unit had to reset range and bearing that morning, because changes in the weather and humidity could affect the shell's trajectory.

Without such resetting, a 450-meter deviation from the target is not so radical. Even more troubling are the safety ranges from the houses. In the Gaza Strip, these range from 200 to 300 meters. In Lebanon before the pullout, the range was one kilometer from the villages' outskirts. But in the Gaza Strip, all these rules have been broken.187
Another Ha'aretz military correspondent that day noted:
One question has not been asked: Why was the landing of the shells not monitored by human eyes? No one tracked or saw with his or her eyes the actual landing of the shells. This is, after all, the most logical thing to do when firing at urban areas.

As of now the mystery remains; a one-day-old commission of inquiry is not enough to provide real answers.188
Human Rights Watch called on the Israeli government to launch a comprehensive, independent investigation.189
Other Strikes Harming Civilians
Most of the Israeli artillery strikes in the period under investigation landed in open areas rather than residential areas and the great majority did not result in civilian casualties. Human Rights Watch investigated several cases in which artillery rounds fired into open areas exploded close enough to Palestinian homes, farms, and greenhouses in Beit Lahiya and Beit Hanoun to cause civilian deaths and injuries. These cases further illustrate the civilian cost of Israel's use of artillery in northern Gaza. Whether or not Israel violated international humanitarian law during these attacks depends in large measure on whether the IDF was firing at a valid military objective, which Human Rights Watch was unable to determine.
Beit Hanoun
On January 5, 2006, an artillery strike on the edge of Beit Hanoun killed taxi driver Yasir Abu Jarad, who was outside at the time. The same attack caused damage to adjacent homes and injuries to those inside them. Twelve-year-old Mahmud Salah Abu Harbid suffered shrapnel injuries to his leg. Zayid Sulaiman al-Qafarna, a neighbor who rescued the boy, said, "I heard screaming inside [the house], and entered and found the boy injured."190
Although residents were not able to pinpoint how many meters the explosion was from the houses, the casualty radius of artillery shells suggests that the explosion was no more than 100 to 300 meters from the houses.
In response to a request for comment from Human Rights Watch, the IDF said:
On January 5th 2006, 3 Qassam rockets were launched towards Israel from the northern Gaza strip, at least one of them from the Beit Hanoun area. The day before that, on the 4th, 13 Qassam rockets were launched towards Israel from the northern Gaza strip, at least 3 of them from the Beit Hanoun area. The IDF retaliated with artillery fire to the point of the launch, and not towards populated areas, in order to disrupt, frustrate and prevent the entry of Qassam launching units to the launching zones.191
Al-Qafarna family
In a different attack in Beit Hanoun in February 2006, shrapnel penetrated Zayed Sulaiman al-Qafarna's kitchen at sunset, injuring his wife in the knee so that she could not stand and knocking her unconscious.192 Al-Qafarna could not recall the exact date of the incident but showed Human Rights Watch a bucket of 155mm shrapnel he had collected from the attack on his home as well as holes in his house walls consistent with shrapnel. Al-Qafarna's house is located near the edge of Beit Hanoun but surrounded by other homes. It is not clear where the shell struck, but al-Qafarna's account suggests that it exploded close by. Al-Qafarna said armed Palestinians had launched rockets from the neighborhood two years before but not recently,193 but Human Rights Watch could not corroborate his statement. Given that al-Qafarna could not remember the exact date of the incident, Human Rights Watch did not ask the IDF to respond to this case.
Al-`Awda Tower
At 9:30 p.m. on March 14, 2006, Isma`il Muhammad Basyuni, a 32-year-old economics student, was sitting on a couch in his upper floor apartment in the Al-`Awda Tower between Beit Lahiya and Beit Hanoun. His family called him on his cell phone, asking him to come downstairs for a few minutes. "Ten minutes later, I came up again and found the window broken and shrapnel on the couch [from a nearby explosion]. The phone call saved my life," he said.194 He showed Human Rights Watch an approximately 10 centimeter round shell fragment, which appeared to be from the base of the shell. He also showed Human Rights Watch photographs of the fragment where it landed and the shattered glass behind. He said the IDF fired 15 to 20 artillery shells nearby the same day. He said he was aware of no Palestinian rockets being fired from the area.195 Human Rights Watch could not determine if in fact Palestinians had launched rockets from this area at this time.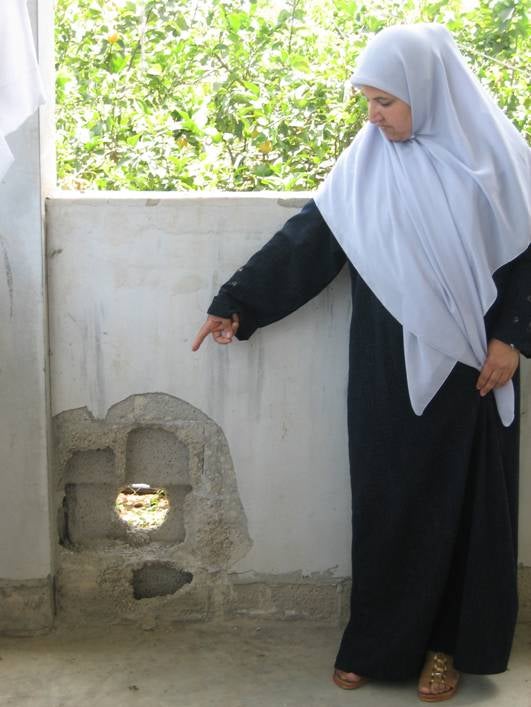 The IDF responded to this incident in typically broad terms: "On March 14th 2006, 8 Qassam rockets were launched towards Israel from the Gaza strip, at least 4 of them from the northern part. The IDF retaliated with artillery fire in order to disrupt, frustrate and prevent the entry of Qassam launching units to the launching zones."196
Al-Masri Family
At 8 a.m. on April 5, 2006, Namit Muhammad al-Masri was preparing breakfast for her family in Beit Lahiya. "I was waking the children up to have breakfast. Some were playing there [in the courtyard]. They went inside. Five minutes later, the first shell landed where they were playing… God saved us," she said.197 A second shell fell just behind the house, shattering the windows and piercing the kitchen walls, leaving clear shrapnel holes behind. Al-Masri said no fighters launched rockets from the area,198 although Human Rights Watch could not corroborate his statement.
The IDF response to this incident, also uncorroborated, stated: "On April 5th 11 Qassam rockets were launched from the northern Gaza strip, causing severe damage to nearby Israeli towns and villages. The IDF retaliated with artillery fire, in order to disrupt, frustrate and prevent the entry of Qassam launching units to the launching zones. The IDF is unaware of any Palestinian allegations about damage to a building."
Al-`Atatra, Beit Lahiya
An artillery attack at around 11:30 a.m. on April 6, 2006, in the al-`Atatra neighborhood of Beit Lahiya, which the IDF hit with multiple shells, injured two farmers inside a greenhouse. Sixty-year-old Rajab Abu Halima suffered arm injuries and 20-year-old Ahmad Ramadan was injured in the leg. "They were about thirty meters away from the explosion. If they had been nearer, it would have killed them," said `Abdullah Abu Halimi, a witness and relative.199 He reported that no one launched rockets from near his farm, explaining that it was an open, exposed area where it would be difficult to find cover from return fire.200 Human Rights Watch could not determine if in fact Palestinians had launched rockets from this area at this time.
In response to Human Rights Watch's query about this incident, the IDF wrote, "On April 6th 2006, prior to the time stated in your query, 2 Qassam rockets were launched from the al-`Atatra area, injuring 2 Israeli civilians and started a fire in a factory that led to severe damage. The IDF retaliated with artillery fire towards the vicinity of the launch. The IDF has warned the Palestinian population not to remain in the vicinity of rocket launching areas and has asked them to refuse to allow the area surrounding their homes to be used by rocket launching units. The terrorists often launch rockets from greenhouses and agricultural fields."201 Contrary to the IDF statement, civilians are not responsible for preventing armed groups from carrying out military operations near their residences, nor may Israel disregard the presence of civilians on the grounds that they should have left because of the fighting.
Shaikh Zayid City, Beit Lahiya
An IDF shelling on April 17, 2006, near Shaikh Zayid City, a large residential complex in Beit Lahiya, killed one boy and injured two more. At about 6 p.m. that day, 15-year-old Mamduh Muhammad al-`Ubaid and about 20 other boys were playing soccer in an open area approximately 300 meters away from the complex. According to his friend, Hamid Hamdi Abu Tabak, 15, the ball rolled away and the two of them ran to get it when a shell fell near the field, hitting them both with shrapnel. "I fell on him," said Abu Tabak. "A third guy [19-year-old Nuradin al-Madjub] came and carried me and left Mamduh. Another four shells fell. When it was calm he [al-Madjub] came to get Mamduh and took him to the hospital."202 Mamduh's brother Ismail, 23, said, "Shrapnel penetrated his chest and spine. One piece was in one calf, two in the other. We could see his kidneys, heart, everything was outside."203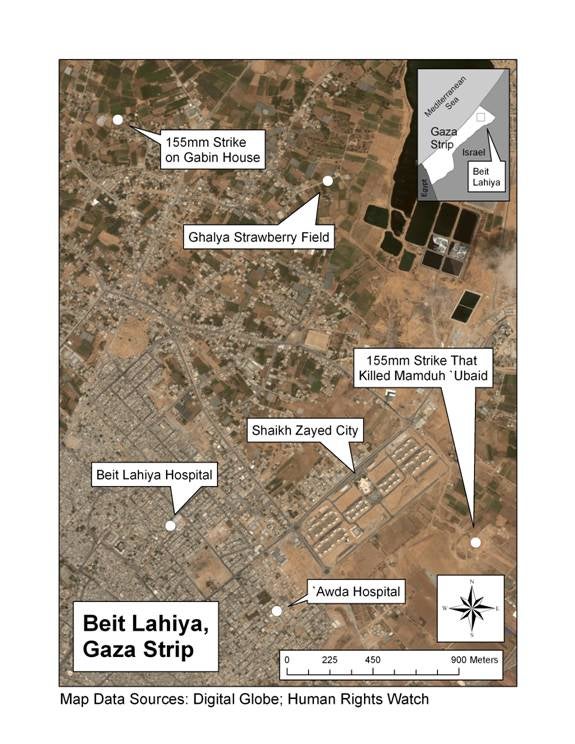 Asked about this incident, the IDF responded, also without corroboration: "On April 17th 2006, prior to the stated time, 2 Qassam rockets were launched towards Israel from the al-Rul neighborhood in the northern Gaza Strip. The IDF retaliated with artillery fire, but did not fire towards populated areas, and is unaware of any injury, or allegation of injury to Palestinian civilians."206 Human Rights Watch has been unable to identify any neighborhood in northern Gaza called al-Rul (or any close phonetic cousin, such as al-Ghul).
Impact on Palestinian Livelihoods
Beyond killing and injuring civilians and destroying property, Israeli artillery shelling badly disrupted the livelihoods of many inhabitants of northern Gaza. Agriculture—tomatoes, cucumbers, strawberries, corn, and watermelon are grown in the area—were particularly hard hit. "Israel says it is only targeting empty fields, but come see our greenhouses…. Our source of living provides us no livelihood. The farm is completely unworkable. We are afraid to reach it, and we can't pay for medicine or gas," said 20-year-old farmer `Atiya Abu Halimi.207 Hosam al-Adar, a 29-year-old farmer, had not tended his fields for three months and returned to them only when Israel briefly halted its shelling after the Gaza beach incident in early June 2006. He found his greenhouse destroyed by Israeli shelling.208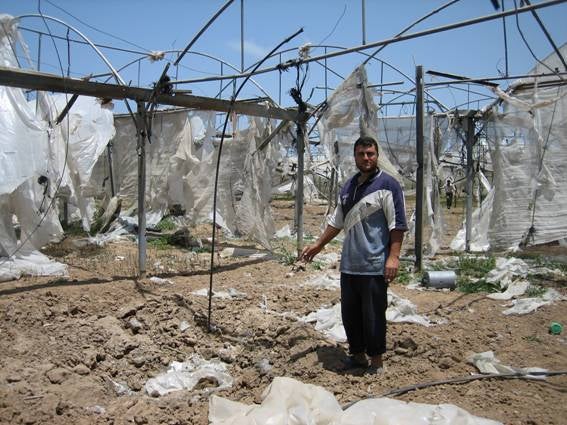 Human Rights Watch visited several farms with dried-out or overgrown greenhouses. It found craters and shell fragments inside some of them, suggesting that Israeli artillery fire was responsible for the destruction. Palestinian officials said they had identified at least 40 artillery shells that remain in the ground unexploded in northern Gaza, rendering some areas unsafe for farming. Clearance has been difficult because Palestinians fear that the affected areas may come under renewed shelling.209
The IDF justified its artillery strikes as an effort to defend Israel against the Palestinian rockets fired at its communities in the western Negev. Military Advocate General Brigadier General Mandelblit said, "It is the right of Israel to self-defense."210 In an October 2006 letter responding to Human Rights Watch questions, the IDF explained, "The purpose of this [artillery] fire is to disrupt, frustrate and prevent the entry of Qassam launching units to these areas…" The response added that artillery fire began "for the most part" in November 2005 and that "thousands of artillery shells have since been fired in retaliation to the Qassam launches."211
The IDF said it focused its attacks "only on military targets." Brigadier General Mandelblit noted that:
Artillery is used only on military targets, zones where Qassams are launched from, taking into account international humanitarian law restrictions. The rules of engagement for artillery are that there is no shooting without a target. Thousands of shells were fired into Gaza and not many civilians were hurt from those shells. If there had been no restrictions on the shelling, the results would have been terrible.212
The IDF appropriately recognized the importance of firing at only legitimate military targets, but as Human Rights Watch's investigations of incidents where civilians were harmed shows, the IDF definition was so expansive as to include any area where Palestinian rockets had once been launched or were expected to be launched. This approach placed civilians at unnecessary risk and raised serious IHL concerns.
The IDF said that sometimes its attacks were immediate and specific. In its November 2006 letter, the IDF said warnings of "imminent" rocket launches required artillery strikes as "operational necessity."213 "We shoot artillery back to places seconds or minutes after Qassams are fired," Brigadier General Mandelblit told Human Rights Watch on June 18, 2006.214
While the IDF responded to rocket launches with immediate return fire targeting rockets and those firing them, the IDF itself acknowledged that its attacks were not limited to such circumstances—nor need they be under IHL. As the IDF states in its October 2006 letter: "[A] site which is used for rocket launches, even if it is not being used to launch rockets at the time of attack, may because of its location, be again used to launch rockets. Such a target makes a substantial military contribution due to its location, making it a legitimate military target."215
The IDF argued that artillery shelling of places that had been used to launch rockets contributed to its efforts to suppress these weapons. "It's a very effective tool. We have lots of statistics. When we fire, the Qassams are much less accurate. The terrorists are afraid to go to these areas. When we stop firing the Qassams are more precise, more targeted," IDF lawyer Lieutenant Colonel Neuman said.216 In May 2006, he said, the IDF stopped shooting for two days and the Palestinian armed groups increased their rocket attacks.217 The IDF Military Advocate General, Brigadier General Mandelblit, echoed Neuman's opinion. "I believe that [the shelling's] effectiveness should be measured in terms of less accurate Qassam attacks," he said.218 Nevertheless, Mandelblit acknowledged that it was difficult "to find out what actually happened" in artillery strikes on rocket sites.219
As discussed above, the targeting of land areas for the purposes of "area denial" can be a valid military objective. However, attacks for the purpose of area denial must abide by the prohibitions against indiscriminate or disproportionate attacks. The weaponry used, even if directed at a location that is a genuine military objective, must not have effects that strike the military objective and civilians and civilian objects without distinction.220 And any expected harm to civilians and civilian structures cannot be excessive compared to the concrete and direct military advantage anticipated.221 The IDF had an obligation to undertake this assessment before firing and, as already noted, appeared not to have properly weighed the likely civilian toll of such strikes.
IDF lawyers recognized the duty to minimize civilian casualties resulting from Israel's artillery. Brigadier General Mandelblit said, "It is our duty to do everything we can not to create civilian damage."222 In conversations with Human Rights Watch, representatives of the IDF legal branch affirmed the cardinal principles of international humanitarian law, including military necessity, distinction, proportionality, and humanity.
The IDF said more specifically in its written response to Human Rights Watch that its use of artillery conformed to humanitarian law.223 It noted that its forces were:
careful to only attack targets when it possesses information to the effect that these targets are legitimate military targets namely, that their nature, location, purpose or use make an effective military contribution. Moreover, the IDF does not attack legitimate military targets when such an attack is likely to cause disproportionate incidental damage to civilians.224
Israeli military lawyers, however, did not vet individual artillery strikes before they were launched. "We review the policy and not each strike," one said.225 Furthermore, the IDF representatives said that the principles of IHL would not necessarily prevent the IDF from firing artillery at military targets near populated areas if this were deemed necessary to counter Palestinian rocket attacks. While IHL does not prohibit all attacks near populated areas, the pattern of civilian injuries and deaths documented here, especially during the period after the IDF increased its shelling and decreased the safety margin and before it imposed a moratorium on artillery, suggests the IDF may not have taken all feasible precautions in assessing whether a particular planned artillery attack would be unlawful under IHL as an indiscriminate or disproportionate attack.
The IDF has argued that the proximity of the rocket launchers to residential neighborhoods in many cases justified artillery attacks in such areas. The IDF's written response to Human Rights Watch noted:
The military effort to stop the rocket launches from within the Gaza Strip is complex. This is, among other things, due to the nature of the activities of the terrorist organizations, and primarily due to the fact that they operate adjacent to and within populated residential areas, using houses as shelter from the IDF forces that operate from the air, sea, and ground in order to locate them and stop the launches.226
Lieutenant Colonel Neuman told Human Rights Watch, "Qassam [launcher]s are getting closer and closer to houses. We might have no choice but to go close…. Maybe some houses are hit by fragments. It doesn't mean the attacks are indiscriminate or disproportionate."227 Another IDF official in comments to the media seemed to deny any IDF responsibility for civilian losses: "Unfortunately, when they [civilians] are being hit, they have to ask themselves why terrorists are exploiting them."228
Placing a military objective, such as a rocket launcher, near civilians is itself a violation of international humanitarian law—at least a breach of the duty to take all feasible precautions to avoid civilian casualties, and if requisite intent is demonstrated, shielding. However, such violations by Palestinian forces did not relieve Israel itself from the legal duty to take all feasible precautions to minimize civilian casualties. When firing 155mm howitzers close to civilian residences, the IDF must take into account the inherent imprecision in the weapon and its wide shrapnel dispersal. It must also ensure that the anticipated loss of civilian life and property is not excessive compared to the expected military gain. The IDF must take these considerations into account regardless of whether Palestinian armed groups themselves violated IHL by placing military objectives near to densely populated areas. Violations of the law by one side do not justify violations by the other.229
IDF lawyers told Human Rights Watch that dropping warning leaflets before shelling rocket launch areas contributed to the legality of a strike.230 Lieutenant Colonel Neuman said, "Warning civilians is what allows us to do this [fire artillery]."231 The IDF written response said, "Frequent calls are routinely made, for the safety of the residents of Gaza, to avoid areas where terrorist activity and Qassam launches take place. This is achieved through the distribution of pamphlets from the air, repeated calls through the DCOs [PA District Coordination Offices], and messages to the Palestinian media."232 In its November letter, the IDF said, "The IDF, in all its operations, takes safety measures in order to minimize collateral damage. The IDF regrets any harm caused unintentionally to civilians or civilian property as a result of operations aimed at preventing the launch of Qassams."233
So long as circumstance permit, IHL obliges parties to a conflict to give effective advance warnings of attacks that may affect the civilian population.234 However, as stated in Customary International Humanitarian Law by the International Committee of the Red Cross: "State practice indicates that all obligations with respect to the principle of distinction and the conduct of hostilities remain applicable even if civilians remain in the zone of operations after a warning has been issued."235 Otherwise, Palestinian armed groups might "warn" the civilians of Sderot to leave and then fire away without regard to those who remained.
Israel's artillery attacks on northern Gaza in cases investigated by Human Rights Watch have violated international humanitarian law prohibitions against indiscriminate and disproportionate attacks. First, the use of 155mm high-explosive artillery shells—with an expected casualty radius of up to 300 meters—primarily to deter and disrupt rocket launches by Palestinian armed groups near populated residential areas cannot be sufficiently discriminate to avoid needless civilian casualties.236 Second, firing 155mm artillery shells at land areas near civilian residences for the purposes of area denial can be expected to cause civilian loss excessive to any military gain. (Attacks designed to push all launch sites out of range of Sderot, for example, must still comply with the prohibition against disproportionate attacks.) Balancing civilian harm and military advantage is a subjective test that requires specific knowledge of the military advantage sought, but based on the facts available, Israel has not shown that the military advantage gained by the artillery fire outweighed the harm it caused to the lives and property of thousands of Palestinian civilians. Third, the failure of the IDF to investigate adequately almost all shelling incidents in which there was a loss of civilian life indicates a failure to take all feasible steps to minimize civilian casualties. Israel must remedy all three of these violations if it ever decides to renew artillery attacks.
That Palestinian militants violate international humanitarian law by firing rockets toward civilian population centers in Israel does not relieve Israel of its obligation to abide by the same law. Nor does the firing of rockets by armed groups from areas close to densely populated areas relieve Israel of its obligations not to launch indiscriminate or disproportionate attacks.
Parties to an armed conflict must find the means and methods to conduct military operations in conformity with international humanitarian law, regardless of whether the other side commits violations of that law. While a number of factors contribute to the fear and hardship experienced by Israeli civilians in towns such as Sderot and by many Palestinians in northern Gaza, the deaths and injuries of civilians brought about by violations of IHL are inexcusable. Both Israeli and the Palestinian forces have an independent obligation to act immediately to bring their practices into conformity with IHL. Serious violations by one side cannot justify serious violations by the other.
---