Palestinian armed groups fired about 2,700 Qassam-type rockets from September 2005 through May 2007.72 The Palestinian groups characterize their rocket attacks as measures taken in response to Israeli abuses committed against Palestinians.73 Because the Palestinian groups fire these weapons at populated areas and the rockets are too inaccurate to aim at military targets with any degree of precision, the attacks violate the international humanitarian law prohibitions against attacks that target civilians or are indiscriminate. Furthermore, the groups have launched rocket attacks from locations close to populated areas in which they failed to take all feasible precautions to protect civilians under their control against the effects of the attacks, including by not deploying military targets near densely populated areas.
The rockets used by Palestinian armed groups in Gaza are relatively simple, unguided weapons that the groups fire mostly from northern Gaza. The rocket has four stabilizing wings at one end, an engine in the middle, and a small warhead. The wall of the rocket cylinder, made of iron, is about three millimeters thick. A rail elevated on two legs serves as the launching mechanism.
Armed groups make these rockets in Gaza using very basic materials. The fuel comes from a combination of potassium nitrate and sugar. The warhead consists of a metal shell. The explosive is a combination of urea nitrate, found in fertilizers, and TNT. The fuse comes from a small arms cartridge.74 The IDF reported that a raided "explosives workshop-laboratory in al-Yamun...contained an improvised Qassam shell casing, seven pipe charges, three sacks of fertilizer, containers of various sizes holding explosives, test-tubes and other laboratory equipment."75 According to Israeli intelligence officials, the tubes of some rockets were made from Israeli-manufactured metal pipes intended for a sewage system in Gaza.76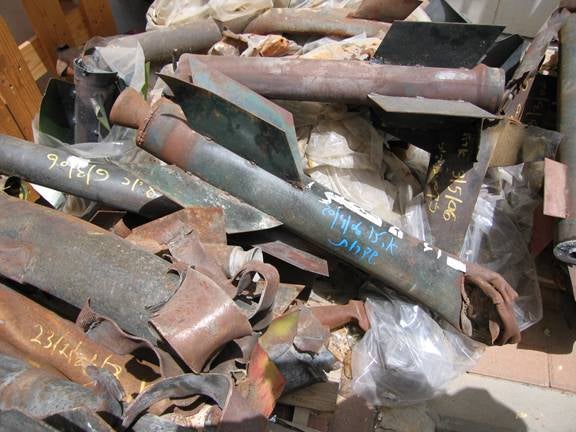 The rockets have become increasingly powerful and able to reach deeper into Israeli territory.77 The earliest version was about 80 centimeters long and 60 millimeters in diameter and weighed 5.5 kilograms. It carried a half-kilogram payload and had a maximum range of 4.5 kilometers. The second generation rocket, developed in 2002 and known as Qassam 2, is 180 centimeters long and 150 millimeters in diameter, weighs 32 kilograms, and has a 5 to 9 kilogram payload and a range of 8 to 9.5 kilometers. The third generation rocket, Qassam 3, is 200 centimeters long and 170 millimeters in diameter and weighs 90 kilograms. First produced in 2005, its maximum range is around 10 kilometers and it carries a payload of up to 20 kilograms.78 "Since 2004, the rockets can reach any point in Sderot," said Shalom Halevi, a spokesman for the municipality.79 Since December 2005, at least three rockets have landed in Ashkelon, one of the largest cities in southern Israel.80 Ashkelon is about eight kilometers from the border with Gaza.81
The rockets rarely cause extensive property damage because they are too inaccurate to be aimed at a specific target and on impact produce a small explosion with little shrapnel, but they can kill and injure people. From September 2005 through May 2007, Palestinian rockets injured 75 civilians and 9 soldiers.82 Over the same period, they killed four Israeli civilians.83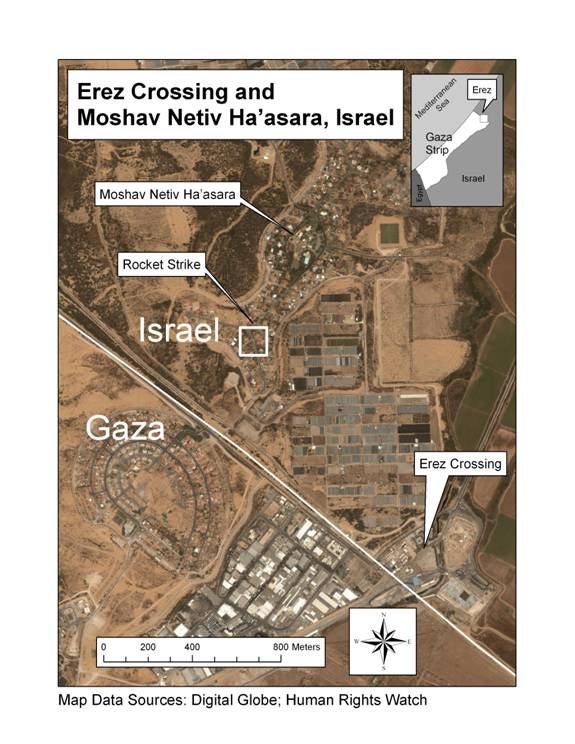 The rockets have created a pervasive climate of fear among people in the areas where they can reach. It is difficult to mount a defense against the rockets because it takes only minutes to load one into a vehicle, drive to a launch site, mount the rocket on a highly portable launcher, and fire. Sometimes the groups use timers to fire the rockets, allowing them to be away from the site at the time of attack. Israel has developed for use in Sderot and in the industrial zone of Ashkelon an early warning system, called the Red Dawn; IDF surveillance spotters trigger it when they visually identify a rocket launch, releasing the code message ("red dawn," shachar adom) over public address systems and giving residents around 15 seconds to find shelter.
The Palestinian armed groups typically launch these rockets from fields or other open areas of northern Gaza toward Israeli towns. In some cases, the launch sites are close to populated areas. In the Nada Apartments incident in late July 2006, for instance, those firing the rockets apparently moved their launching sites closer to the densely populated residential buildings that month (see Appendix II).
These attacks have occurred on a weekly and sometimes daily basis. According to their websites, the armed groups sometimes fire rockets at IDF posts, such as the crossing terminals and checkpoints at Sufa or Kerem Shalom, but in most cases they appear to aim the rockets at a city or town, usually Sderot, and not any military target.84 Two rockets landed in Sderot and two in nearby Moshav Netiv Ha'asara during Human Rights Watch's visit to the Israeli border area on June 8, 2006. In one case, after the early-warning siren sounded in Moshav Netiv Ha'asara, two dogs dashed into a shelter, showing how conditioned they had become to the rocket attacks.
In June and again in early August 2006, Human Rights Watch visited Sderot, where Palestinian rockets have killed 10 Israeli civilians. "Everyone bears the emotional scars," the municipal spokesman Yossi Cohen said.85 A rocket landed just in front of a Sderot nursery school on June 28, 2004, killing 4-year-old Afik Ohion Zehavi and Mordechai Yosepov, 49. Another rocket killed Dorit (Masarat) Benisian, 2, and Yuval Abebeh, 4, when it landed in front of their home on September 29, 2004. A rocket fired on January 15, 2005, killed 17-year-old Ayala Haya Abukasis. A rocket fired on July 14, 2005, killed 22-year-old Dana Galkowicz when it landed in the house of a friend she was visiting in Moshav Nativ Ha'asara.86 On November 16, 2006, a rocket killed 57-year-old Faina (Fatima) Slutzker on a path near Minister of Defense Amir Peretz's home in Sderot. 87 On November 21, a rocket mortally wounded Yaakov Yaakobov, 43, when it penetrated the roof of a poultry packing plant in Sderot at which he worked.88 The latter two were the first fatalities that Palestinian rockets caused since Israel's withdrawal from Gaza in September 2005. Rockets killed two more civilians the last two weeks of May 2007. On May 21, 32-year-old Shirel Friedman was killed in downtown Sderot.89 On May 27, also in Sderot, a rocket landed next to the car of Oshri Oz, 36; he suffered a shrapnel injury to the neck and his car crashed.90 From September 2005 through May 2007, rocket attacks have also injured 75 Israeli civilians and 9 soldiers.
Human Rights Watch documented two rocket strikes that caused major property damage and barely missed inflicting civilian casualties. On June 6, 2006, 17-year-old Rafael Karahtarov left for school in Sderot just a few minutes before a rocket blasted through his bedroom on the top floor of his family home. "I was really bothered by the event. It was a difficult time for me right during matriculation exams, and I had enough going on without things falling through the roof. A few minutes earlier and—well, I was lucky not to be home," he told Human Rights Watch two days later.91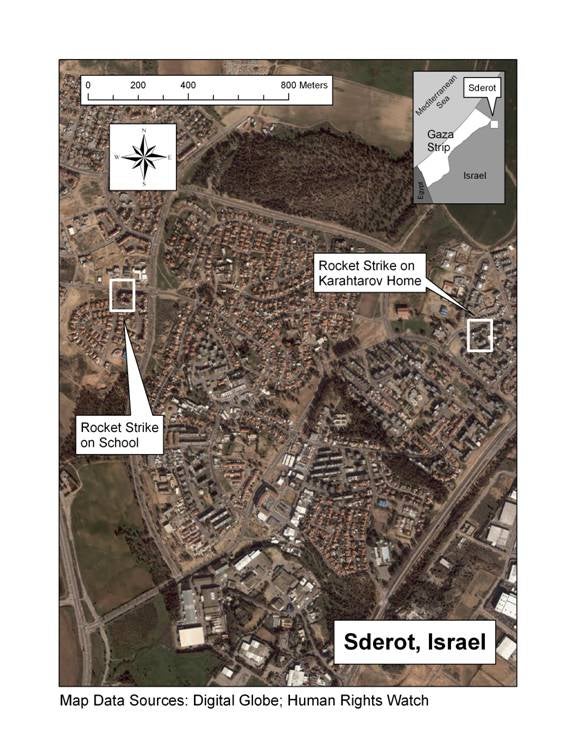 Human Rights Watch also investigated the site of a November 2005 attack on Moshav Netiv Ha'asara. Eshel Margalit said that the Red Dawn warning sounded at 6:45 p.m., indicating a rocket launching. His daughter was upstairs in the family study working on the computer. "I yelled to her but she was not eager to leave the computer, she was 18, you know," Margalit said. "She came down and we were running to the secure room when the Qassam hit the house." The rocket penetrated the roof and exploded in the study. "We went up, opened the door, and saw the room was destroyed. When my daughter realized what could have happened she burst into tears and it took a week to get over the trauma," Margalit said.92 The strike damaged the roof and walls and destroyed the solar water heater.
In a third case, reported by the Israeli press, a Palestinian rocket crashed through the roof and into a classroom of a high school in Sderot at around 8:35 a.m. on May 21, 2006. Because students were at a nearby synagogue for morning prayers, they just escaped being hurt or killed by the strike. "It was very frightening, but we are used to these kinds of emergency situations here in Sderot," said principal Eli Edri. "We immediately called in the social and psychological services. Terrified parents arrived at the school, and we had to attend to them as well."93
Local officials say that the rockets have disrupted daily life in the affected Israeli cities and communities. They cite the fact that young people are afraid to play outdoors, residents sleep in protected rooms with no windows, and property values have declined.94 "The Qassams have changed our lives. There is a lot more stress and anxiety," Eshel Margalit said.95 Cohen, the spokesman for the Sderot municipality, concurred. "The attacks have had a negative impact on the people. They are in a constant state of anxiety…. When the kids are at school there is the constant fear that anything can happen to them at any moment."96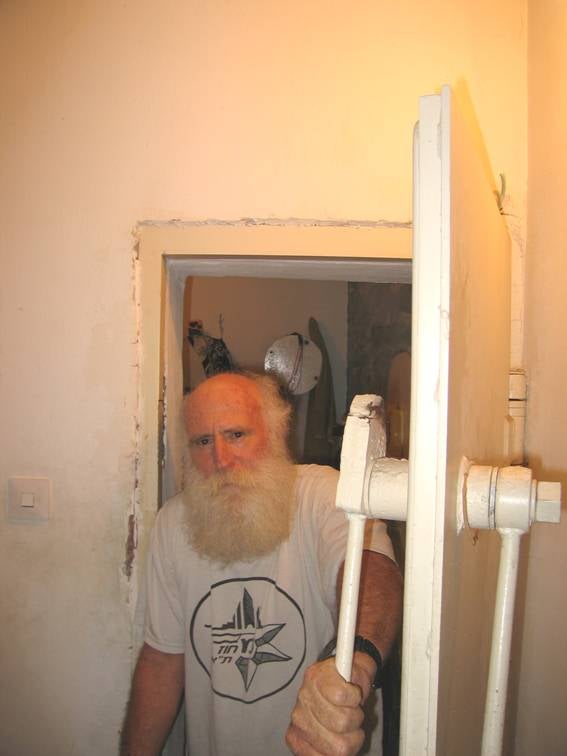 Some Palestinian rockets do not make it across the border and have killed at least two and injured at least 21 Palestinian residents of Gaza. At around 8 p.m. on August 2, 2005, members of the Ashqar family were in their courtyard in Beit Hanoun having dinner with some visitors when a rocket exploded in their midst. It killed 6-year-old Yasir `Adnan al-Ashqar. `Adnan Mustafa al-Ashqar, his 45-year-old father, died the next day from the wounds he sustained. `Adnan's 12-year-old son, `Ala', was injured in the abdomen, neck, and face by shrapnel. Five-year-old Jihad Hisham `Abd al-Raziq, a cousin's son, lost a hand and a leg. The rocket explosion also maimed Musa Mustafa al-Ashqar, `Adnan's 50-year-old brother, who was visiting from Saudi Arabia.97 Other injured civilians included: Huda `Abdullah al-Ashqar, 55; Fatin `Abd al-Raziq, 11; Nisma Hisham `Abd al-Raziq, 8; Basma Hisham `Abd al-Raziq, 10; and Nisrin Hisham `Abd al-Raziq, 6.98 Although Islamic Jihad denied any involvement, a witness told Human Rights Watch that the shell itself bore the words "Saraya al-Quds," the name of the party's armed wing.99
There have been other incidents of rockets injuring Palestinians. A rocket fired east of Beit Lahiya injured six Palestinian construction workers on February 21, 2007.100 Another rocket wounded five Palestinians, including three young children, when it hit a house in Beit Hanoun on December 21, 2006.101 On September 16, 2006, a rocket missed its target and landed in a Beit Hanoun street, injuring two Palestinian girls.102 At around 6:30 p.m. on February 8, 2006, a stray rocket hit the home of Sabr Muhammad `Abd al-Dayim in Beit Lahiya, damaging the living room. There were no casualties because the room was empty at the time.103
On June 8, 2005, rockets fired at the Israeli settlement of Ganei Tal in Gaza killed two Palestinian workers and one Chinese worker in a packing plant.104
Palestinian armed groups also endanger Palestinian civilians by firing rockets from close to populated areas, placing civilians at unnecessary risk. Parties to a conflict have an obligation to take all feasible precautions to protect civilians from the consequences of military operations, including by not deploying military targets in densely populated areas. For example, Palestinian armed groups regularly have fired rockets from a large open area near the Nada Apartments complex in northern Gaza, between Beit Hanoun and Beit Lahiya. The IDF says that the groups launched rockets from the complex as well, a claim the residents deny, although the residents did say that in July 2006 the groups fired rockets from as close as 100 meters from the complex and on one occasion at least attempted to do so from the road that passes behind the apartments. (The IDF artillery shelling of the Nada Apartments on July 24, 2006, and days following, is discussed in detail in Appendix II.) On July 28, after the IDF shelling commenced, several members of an armed group apparently tried to set up a rocket launcher in the parking area of the complex. Remaining residents told Human Rights Watch that they objected and drove the militants away.
Other Palestinians told Human Rights Watch how they physically fought to keep those who fire the rockets out of their neighborhoods. A man in Beit Hanoun said his neighborhood had organized itself against those attempting to fire rockets. "We guard the area to prevent Qassams. Yesterday we opened fire at the Qassam [launchers]."105 A farmer from nearby Beit Lahiya said that people there also have challenged those attempting to fire rockets from the area. "We prevent the Qassams. We make trouble. We strike them [the armed militants] with our hands. They've come one or two times, but they don't come here a lot. They listen and don't come back," he said.106 Asked if rockets were launched from his neighborhood, a middle-aged Palestinian in the Maghazi Refugee Camp in central Gaza responded, "Are you crazy? We don't allow them to launch their rockets from inside the camp. They wouldn't do that and we wouldn't let them."107
Palestinian civilians seemed well aware of the risks created by the rockets being fired in their vicinity. Some told Human Rights Watch that they had not themselves confronted the armed groups who fired rockets but that they opposed the rocket attacks because they knew a launch from a location near their homes could provoke a barrage of Israeli artillery shells. Forty-five-year-old farmer Hamid `Adil al-Masri said, "If Qassams were launched from here, we wouldn't sit here. We would leave the area."108 Another Gaza resident said that his uncle, whose property lies close to Gaza's northern border with Israel, has found rockets on his land set to be fired by timers, which he dismantled.109
Key Palestinian leaders appear to be doing nothing to stop the rocket attacks. Indeed, Hamas leaders often do just the opposite and publicly defend the attacks on Israeli civilians as justifiable self-defense measures or reprisals for Israeli abuses. They argue that rocket attacks on Israel are the only way to counter Israel's policies and operations, including artillery strikes. Such justifications do not overcome the illegality of the attacks under international humanitarian law. Illegal actions by one party to a conflict do not legitimize attacks on civilians by the other.
In interviews with Human Rights Watch, Palestinian leaders across the political spectrum characterized the rocket attacks as measures taken in response to Israeli attacks against Palestinians. Ghazi Hamad, spokesman for the Hamas-led government, said, "We really need someone to exert pressure on Israel. They kill the leaders of Hamas in the West Bank and of Islamic Jihad in Gaza."110 Sami Abu Zuhri, spokesman for the Hamas movement, said, "Because Israeli shells are firing on us for no reason, naturally we have to defend ourselves."111 In a press interview, Hamas parliamentarian Salah Bardawil said, "We know we can't achieve military equality. But when a person suffers huge pain he has to respond somehow. This is how we defend ourselves. This is how we tell the world we are here."112 `Abd al-Hakim `Awad, spokesman for Fatah, PA President Mahmoud Abbas's party, said, "They [Israelis] say they have the [right] to destroy homes in the West Bank, but we have no right to a reaction in Gaza. They ask us not to have a reaction… We have the ability to [be patient], but not forever."113 The Hamas government spokesman argued that Israel's abusive conduct both in Gaza and the West Bank justified the rocket attacks, insisting that the two regions form "one geographic unit."114 Some claimed that the Qassam attacks would stop if Israel stopped its abuses. Abu Zuhri said, "Stop [Israeli] assassinations, aggression, and arrests. After there are no problems, there can be a ceasefire."115
The armed groups typically claim responsibility for firing rockets into Israel and post information about such attacks on their websites. They usually state that the reason for an attack is to respond "to the crimes of the occupation against our children, women, and elderly," or to an IDF attack against members or leaders of the group itself.116 When Hamas ended its self-imposed "calm" and resumed rocket attacks in June 2006, after an IDF artillery shell killed seven members of the Ghalya family on a Gaza beach (see Appendix I), the Qassam Brigades distributed leaflets saying: "The earthquake in the Zionist towns will start again and the aggressors will have no choice but to prepare their coffins or their luggage."117 In a Qassam Brigades statement dated a few days later, June 11, 2006, the group announced that an Israeli helicopter had fired precision-guided missiles at a group of militants in the open area near the Nada Apartments (see Appendix II), killing one and wounding others. The statement said that in response the group had carried out a rocket attack against Sderot and that the group would continue attacking Sderot "until its residents flee in horror…. We will turn Sderot into a ghost town."118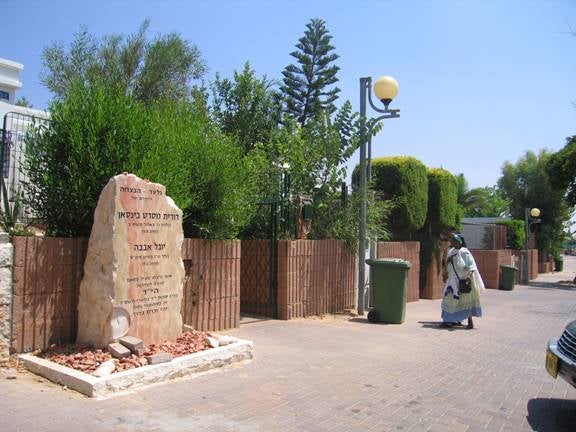 At times, Palestinian armed groups claim that rocket attacks target military objects or Israeli military leaders. Israel's Minister of Defense Amir Peretz lives in Sderot, and on November 15, 2006, rockets that landed on a street near his home seriously injured one of his bodyguards. The 24-year-old bodyguard, who was on duty at the time, sustained shrapnel injuries that required amputation of both his legs. One of the Palestinian armed groups that claimed responsibility for the November 15 attack, the Hamas-affiliated Qassam Brigades, stated, "Our Mujahideen had targeted the area around the house of the Zionist Minister of War [Peretz] inside Sderot, using the latest developments in targeting technology."119 Given the inaccuracy of the rockets, this may have been an ex post facto justification. Indeed, the broadly dispersed pattern of rocket landings in Sderot and the frequent statements made by the armed groups to the effect that they fired rockets in order to sow fear among the Israeli public suggest that they are targeting the town's residents generally. Even if they had been aiming at Peretz's home, the rockets' inaccuracy means that there was a strong likelihood they would hit civilians or civilian structures elsewhere in Sderot rather than the intended target. Furthermore, rockets have been fired at Sderot since 2002 while Peretz became minister of defense in only March 2006.
Rabah Mo'ahanna of the PFLP, a secular leftist party that also conducts armed attacks against Israel, was less supportive of the rocket attacks, but said he understood their origins.120 He said, "These helpless stupid rockets convey the message that there is no way they [Israelis] can extract ideology from the Gazan mind, especially if they continue to neglect our rights."121
Some Palestinian leaders have publicly opposed the rocket attacks. Mahmud Abbas, when he was campaigning in Gaza to be president of the PA, said, "Someone asked me today about my opinion on the rocket attacks. I replied that I condemn them, regardless of who is responsible for them."122 At a news conference in Gaza City on July 8, 2006, President Abbas said, "The rocket attacks from the Gaza Strip must stop."123
The leading Palestinian human rights organization in Gaza, the Palestinian Center for Human Rights, has also criticized the rocket attacks. "This is illegal and we have called for them to stop," said Hamdi Shaqqura, a leader of the group.124
Human Rights Watch could find little evidence that Palestinian security forces were making efforts to prevent rocket attacks or to hold responsible the militants who launch them. Indeed, in some cases Palestinian security officials themselves acknowledged they were not acting to stop the attacks. A Western official in charge of security for an international humanitarian organization in Gaza told Human Rights Watch that Palestinian security services have made no serious efforts during the fighting in 2006 to prevent or disrupt the rocket-launching activities of Palestinian armed groups.
Palestinian security officials told Human Rights Watch that the National Security force— the name of the security service that carries out Palestinian border police functions—was chiefly responsible for dealing with armed groups' attacks against Israel. Most acknowledged that the National Security force was doing little if anything to halt the rockets. Some blamed the IDF for preventing them from taking action against the armed groups, saying it had forced the National Security force to evacuate areas close to the borders.125
When Human Rights Watch spoke with Gen. Tawfiq Abu Khussa, the spokesperson for the National Security force, he was equivocal about his organization's role and responsibility, but acknowledged that neither National Security nor other Palestinian security forces were addressing this issue. He said that National Security has "no role in residential areas." Law enforcement responsibilities there, he said, fall to "internal security agencies," but "because of the situation" National Security forces nevertheless play a role. "We do act, certainly, we try our best," he said. "Sometimes this is fruitful, but sometimes we fail."126
General Abu Khussa also said that there was "no way to stop" Palestinian rocket fire by force, and that halting those attacks "would have to come as a result of a political solution." As to why Palestinian security forces did not attempt to prevent armed groups from launching rockets from near densely populated areas, like the Nada Apartments, General Abu Khussa stated, "All Gaza is heavily populated…. This is not Siberia, you will not find any open space." When reminded of the open area near the Nada Apartments and the responsibility of the security forces to protect Palestinian civilians, General Abu Khussa said, "Frankly the security services cannot protect themselves."127
The Preventive Security Service (PSS) is the main Palestinian internal security force. A high-ranking PSS official based in northern Gaza said that preventing rocket attacks against Israel was a "shared responsibility" of the different Palestinian security services, but that it was not a priority of his because militants "fire rockets in response to Israeli shelling. So it would not make sense to go out and prevent them from acting in self-defense." He added, "If the IDF stops shelling, then the rockets will stop." 128
Palestinian armed groups routinely violate international humanitarian law when using Qassam-type rockets to attack Israel. They are unlawfully launching strikes that either are directed against civilians129 or are indiscriminate because they are not directed at a specific military objective.130 In addition, some statements of the groups responsible for carrying out rocket attacks indicate an intent to use the weapons primarily to spread terror among Israeli civilians, which is also prohibited under international humanitarian law.131
The assertion by Palestinian groups that the rocket attacks are lawful because they are reprisals for Israeli attacks that kill and injure civilians is an incorrect statement of international humanitarian law. Reprisals have been defined as an otherwise unlawful action "that in exceptional cases is considered lawful under international law when used as an enforcement measure in reaction to unlawful acts of an adversary."132 But reprisals against civilians are prohibited.133 International law has outlawed any direct attack on civilians, whether in reprisal or not, in part for reasons that the rocket-artillery exchanges demonstrate: even attacks ostensibly launched as reprisals often spur counterattacks by the other side, yielding an endless cycle of civilian injury and death. As the leading treaty in this area provides, one side's targeting of civilians or civilian objects can never justify like targeting by the other side.
The launching of rockets near inhabited apartments or other residential structures also raises serious concerns under IHL. While IHL does not prohibit fighting in urban areas, it does require parties to an armed conflict to take all feasible precautions to protect civilians from the dangers of military operations.134 More specifically, IHL requires parties to an armed conflict "to the extent feasible" to "avoid locating military objectives within or near densely populated areas."135 Palestinian groups are unnecessarily placing civilians at risk of Israeli attack by firing rockets close to such populated areas.
---