<<previous | index | next>>
The conflicts in Plateau State and Kano in 2004 have illustrated the grave consequences of the Nigerian government's persistent neglect of communal tensions and of its failure to take action to prevent longstanding grievances from turning into violence.  Both the federal and state governments failed to respond to three years of intermittent fighting in Plateau State, until the situation had spun out of control.  Had the government acted much earlier on, notably by bringing to justice those responsible for the violence, hundreds of lives might have been saved.  Specifically, the massacres in Yelwa in 2004 and the revenge killings in Kano might have been prevented.   When government forces did finally intervene, their intervention either came far too late, as in Yelwa, or contributed further to the violence by shooting people on sight, as in Kano.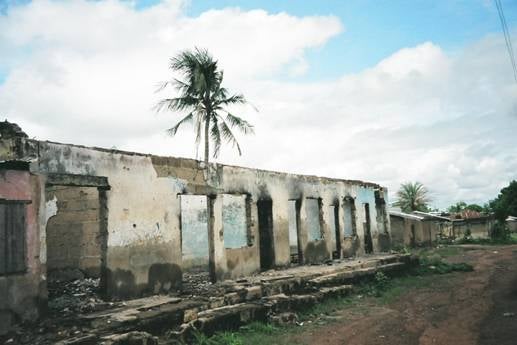 Houses destroyed in the May 2004 attack in Yelwa, Plateau State. © 2004 Human Rights Watch
Human Rights Watch is urging Nigerian federal and state government authorities to seize the momentum of the relative peace in Plateau and Kano since these events to set in place long-lasting measures to protect human rights, particularly the right to life. These must go beyond the short-term gains which may have been achieved since the imposition of the state of emergency.   The government must put in place a comprehensive and long-term program to prevent further violence in the affected areas.  Justice and security should be the priorities in the government's initiatives in Plateau and Kano states, and in other parts of Nigeria affected by similar conflicts.  The dialogue which has been launched between religious and communities is also critical, but is likely to lead to only superficial or short-term improvements unless justice is done for the serious crimes committed by both sides. 
Human Rights Watch also urges the federal government to review the notion of "indigeneship" and to eliminate this status, in the light of the discrimination which has resulted from the distinction between "indigenes" and "non-indigenes" and in recognition of the fact that this has been the root cause of much of the violence in Plateau State and other parts of Nigeria.