<<previous | index | next>>
The attack on Muslims that took place in Yelwa on May 2 and 3, 2004 was part of a bitter cycle of retaliation that, if left unchecked, could continue to threaten the lives of thousands of Nigerians.  Less than ten days after the attack in Yelwa, the gravity and scope of this threat were starkly illustrated by a related outbreak of violence and killings in Kano, in northern Nigeria.
On May 11, Muslims in Kano began rioting and attacking Christian residents of the city, in direct response to the news of the killings of Muslims by Christians in Yelwa.  More than two hundred people were killed on May 11 and 12 in Kano.   The majority were Christians killed by armed Muslims seeking revenge for the events in Yelwa.  When the security forces eventually intervened, supposedly to quell the riots, the death toll rose even further, as police and soldiers killed dozens more people, most of them Muslims.
Kano, the largest city in northern Nigeria and the capital of Kano State, is a predominantly Muslim city but is home to many different groups, including a large Christian minority, many of whom have settled there for trade. Kano is viewed as one of the main centers of northern political opinion and, to some extent, acts as a barometer of the mood across northern Nigeria.  Like Kaduna, the other large northern city, Kano remains one of the more volatile towns in the north, where violence is most likely to erupt when there are tensions elsewhere in the country.135  There have been recurring explosions of violence in Kano, particularly in July 1999 and October 2001, when scores of people were killed in ethnic or religious clashes. 
Historically, the "indigene" issue has been less contentious in Kano than in Plateau State.  In Kano, the Muslims, in particular the Hausa, are seen as the "indigenes" whereas the Christians and other ethnic minorities are seen as the "settlers." Some witnesses of the violence in Kano interviewed by Human Rights Watch did describe the predominantly Christian victims of the violence as "non-indigenes," rather than Christians.  However, inter-communal tensions in Kano have more often been expressed in terms of religion or politics than in terms of "indigeneship." 
The manner in which the attack in Yelwa sparked off an almost immediate reprisal in Kano, hundreds of kilometers away, is not unusual in Nigeria, but illustrated more than ever the speed with which people seize upon religious identity to justify retaliation and their readiness to use violence to settle scores.  A human rights activist described how each side had developed its army of youths, and that this had resulted in "a balance of terror".136 
After the attack on Yelwa on May 2-3, a number of northern state governments offered assistance to displaced Muslim residents of Plateau State in the form of shelter, protection, or humanitarian assistance.  Among them was the Kano state government.  The governor, Ibrahim Shekarau, welcomed at least five hundred displaced Muslims from Plateau State and provided them refuge in Kano State.  He visited some of the displaced people from Yelwa in Bauchi State and provided a significant amount of relief assistance.137  Some residents of Kano have pointed to this initiative as one of the factors which increased tensions in Kano, as Muslim residents, who may have heard about the Yelwa killings through the media, were then confronted with the reality as they heard the testimonies of victims and survivors at first hand.  Some Christians went as far as accusing the Kano state governor of inciting violence by welcoming the displaced from Plateau into Kano State.  Certainly the emotions of Kano Muslims about the Yelwa massacre were heightened after listening to survivors who spoke in the mosques in Kano soon after their arrival there.  The Kano State Governor said that around ninety percent of the sermons during this time, which coincided with the month marking the birth of the Prophet Mohammed, were on the subject of events of Yelwa.138  Imams denied having invited the survivors of Yelwa with a view to inciting violence against Christians, and said they had asked them to testify simply in order to raise money to assist the victims from Yelwa and to call for an end to the violence there.
On May 11, Muslim leaders in Kano organized a large but peaceful demonstration of several thousand people to protest against the Yelwa attack.  The Muslim leaders had written to the police and the state government asking for permission to hold the demonstration and stating that they wanted to present the state governor with a protest letter addressed to the President.  The police and the federal government advised the governor not to allow the demonstration to proceed, in view of the tension which had been building up in the city for several days.  However, the governor said he supported people's right to express their views and gave his guarantee that the demonstration would remain peaceful.  The demonstrators were granted permission to hold the rally but only within the confines of the mosque compound.  Some observers speculated that the governor may not have wanted to refuse the permission for the demonstration because it would have set him against the Muslim leaders, a powerful element within his own political constituency.139 Subsequently, the governor came under serious criticism for allowing the demonstration to take place. 
On May 11, from around 9 a.m., a large crowd of Muslims gathered at the Aliyu Ibni Talib mosque, on Zaria Road, which is situated one or two kilometers from Government House (the state governor's office). They held their prayers at the mosque, then dispersed.  A group of them, numbering several thousand, led by the ulama (religious scholars), went to Government House to hand the governor their protest letter to the President.  They gave the President a seven day ultimatum to end the killings in Plateau State, warning that if he didn't, he would have himself to blame for the consequences.  Some time between 11a.m. and 12 noon, the governor came out to address the crowd.  Some witnesses alleged that he said that even though Muslims were peaceful, when pushed to the wall, anything could happen.  The governor also told the crowd not to take the law into their own hands and not to attack people who had not been involved in violence. Other witnesses said the governor had sympathized with the crowd's grievances, but asked the demonstrators to disperse peacefully, as he had promised President Obasanjo that the rally would not degenerate into violence.140
At around midday, while the demonstrators were meeting the governor, violence suddenly broke out in several areas of town located some distance away from Government House.  Groups of Muslims started attacking Christians, and the violence escalated quickly.  Killings and destruction took place in several parts of town, starting in Gyadi-Gyadi Court Road and Hausawa Zoo Road, then spreading to other areas, including Sharada and Shagari Quarters, Challawa, Panshekara, Doreyi, Ja'en, Tukun Kawa, Riyijar Lemo, Kabuga, and BUK Road (the road leading to Bayero University Kano). 
It is not clear to what extent the demonstration and the subsequent violence were linked, but the demonstration provided a focus and an excuse for those wanting to unleash chaos.   Human Rights Watch received contradictory testimonies on the role of Muslim leaders in inciting violence.   Some sources, including people who were present during the speeches at the mosque, claimed that some of the ulama had incited violence through "fiery preachings."  According to one source, the day before the demonstration, on May 10, those preaching at the mosque had told Muslims to wake up, that there was no more trust between Muslims and Christians, and that Muslims should no longer give Christians shelter.  It was alleged that some of the speeches on May 11, delivered in front of a large gathering, were even more explicit in calling for violence.  In particular, the chairman of the council of the ulama, Sheikh Umar Kabo, had delivered a speech in which he allegedly stated that they were waging a war in which there was no going back and, in his capacity as commander-in-chief of the hisbah (enforcers of Islamic law), urged everyone to get their weapons.141  Another witness, however, who was also present during the speeches on May 11, claimed that Sheikh Umar Kabo threatened the government but did not encourage people to engage in violence.142
During two days of violence in Kano, Christians were hunted down and killed; their houses, churches and other buildings were burnt.  A Muslim journalist commented that unlike previous outbreaks of violence in Kano, some of which had been more economically than religiously motivated, this time "they were just out to kill.  The primary aim was killing.  Looting was incidental."143 
The attackers used a variety of weapons including knives, machetes, axes, and locally-made guns.  Most of them were young men, in their late teens or in their twenties.  Witnesses referred to them as yandaba, a term used to describe gangs of unemployed youths in Kano.144 The gangs also included younger boys, some as young as 10 or 12, thought to be almajiris.145  A witness explained how the older ones were leading the groups of attackers and were carrying out the killings, while the younger ones were shouting and intimidating people.  A man who was injured by a group of around eighteen attackers said only the older ones had weapons and were using the smaller boys "as instruments."  Another witness said the young boys pursued people and starting attacking them, then the older ones joined in.146 
Witnesses described how the attackers, some of whom appeared intoxicated, rampaged through the town.  Dead bodies were left lying in the streets.  A witness said: "On Tuesday [May 11] I saw about ten bodies along the road to the university.  Some were still burning.  Vehicles were also burning.  I saw a man in his twenties swaggering with a machete in his hand […] I saw a team of five police and military arrest a youth with a big machete in a sheath; he looked drunk […] I saw a young Christian woman stabbed several times on the back on a motorbike.  A man rescued her from a mob in the Gidan Murtala area."147
The victims were from many different ethnic groups, reflecting the diversity of the population of Kano. Most were Christians originally from different states in Nigeria, but who had been living in Kano for some time.  There were also a few Muslims among the victims.  In Kabuga, on May 12, a group of attackers stopped a Muslim man because he was dressed in a T-shirt and jeans, rather than traditional Muslim clothes.  They asked him if he was a Muslim.  He said yes.  They asked him to recite the Qur'an.  When he asked why, they killed him straightaway.148  The victims also included non-Hausa Muslims, in particular some Yoruba who were assumed to be Christians, even though many Yoruba are Muslim. In one incident in Tukun Kawa, on the morning of May 12, attackers killed a Muslim man from Kogi State.  Even though he was shouting that he was a Muslim and reciting the Qur'an, they said they did not trust him because they had never seen him praying.149
There were numerous reports of Muslims protecting and saving Christians from the attackers, or warning them in advance that there was likely to be violence and they should leave the area. In some cases, Muslims gave their Christian neighbors headscarves so that they could disguise themselves as Muslim women while fleeing to safer areas.  In some instances, Muslims who had protected or tried to protect Christians were threatened by attackers. 
The attackers put pressure on people to join them.  A man told how on May 11, a group of about ten to fifteen people aged between 13 and 25 stopped him and his friend in the Hausawa Zoo Road area and asked them to identify themselves.  They then asked them: "do you sympathize with people in Wase?" (referring to Muslims in Plateau State) and "are you for us or not for us?"  The same day, a group of attackers tried to force their way into a private secondary school in Gadan Kaya.  The teachers prevented them from entering.  When some of the students, most of whom were Hausa and Muslim, came out of the school, the attackers made them chant a slogan "we are with you" to show they sympathized with them.150 
It was several months before the total number of people killed in Kano on May 11 and 12 was officially confirmed.  In the aftermath of the killings, figures quoted by residents of the city (some Christian, some Muslim) ranged from 150 to around 1,000.151  The Kano State Commissioner of Police told Human Rights Watch that the police had recorded a total of 84 deaths and 160 injuries; these figures were based on reports by divisional police officers.152  When Human Rights Watch met the Kano State Governor three months after the events, he said that thirty-four or thirty-five people were killed, but indicated that he was not sure and referred us back to the police for the exact figures.153  The Kano state government set up a panel of inquiry to investigate the killings.  Its conclusions, announced in December 2004, tallied with those of the police and stated that 84 people had been killed and 160 injured.154
On the basis of its own research, Human Rights Watch believes that around 200 to 250 people, and possibly more, were killed in Kano on May 11 and 12. Most of the victims of the violence were men, but a number of women and children were also killed, as illustrated by the testimonies in this report.  A document compiled by CAN lists the names of more than 200 people who were killed, including more than 25 women, and others who were missing.155  Journalists who went to Murtala Mohammed Hospital on May 11 and 12 reported that the mortuary, which has a capacity of around thirty, was full; a further ten to fifteen bodies were lying in the street outside.  In addition, bodies burnt beyond recognition were loaded onto vehicles and taken away.
Almost immediately after the fighting stopped, police and government officials carried out mass burials.  Many people were therefore unable to recover, or even to see, the bodies of their dead relatives. Witnesses saw two or three trucks full of dead bodies. One witness saw two tipper trucks full of burnt bodies driving past the police station in Sharada on May 12, at around 3 a.m. The trucks were coming from Sharada Phase 3 and heading towards Sharada Phase 1.  They were escorted by two police vehicles and two station wagons, one from the anti-crime patrol team.156  Another witness saw three trailers full of dead bodies driving past the police station in Sharada; he estimated that there were around forty people in each trailer.157
In the aftermath of the killings on May 11-13, tensions remained high.  Several months after the riots, Christian residents of the city still felt threatened and fearful.  A Christian man who had witnessed killings during the riots told Human Rights Watch in July:  "The future of Kano is dark.  When the troops are withdrawn, we will not be safe.  They [the Muslims] say themselves they will attack us again."158  In the year that has followed, there have been no further outbreaks of violence in Kano, but as in Plateau State, this is a fragile peace, since all the components which gave rise to the violence in May 2004 remain in place. 
One of the areas most seriously affected by the violence was Sharada, an industrial area which includes housing compounds for industrial workers.159  Although Sharada is a religiously mixed area, many of those working and living there are Christians from different parts of Nigeria, including Plateau and other Middle Belt states.  The attack in Sharada was particularly fierce.  Initially, people fled to the premises of the companies they worked for. Then a large number of terrified Christians fled to the local police station for safety, but the attackers chased them there; they easily overpowered the police and almost invaded the police station. The attack culminated in a showdown between the attackers and the military, and the military eventually repelled them and evacuated the civilian population to the safety of the police barracks.
Human Rights Watch interviewed many people who had been displaced from Sharada, who were living in a camp for the internally displaced in the grounds of the Bompai police barracks.  Some of them said the first signs of violence had started on May 10, the day before the riots began. 
A man from the Kanuku ethnic group, originally from Kaduna State, who lived in Sharada Phase 3, Angwan Lali, described how the violence started, and how it escalated over the following two days:
It started on 10 May.  I came back [from work] at about 8 p.m.  I heard people shouting "Allahu Akbar".  They broke shops in my area […] Nobody was killed. 
On Tuesday morning […] the fighting started.  I went to bring my family from our house.  The Hausa people blocked me on the road.  We ran and I reached my house.  I saw eight dead bodies, all Christians.160  I saw them kill Ado.  They cut him with a knife and a machete… They were in groups.  Some had guns, others had weapons and sticks.  It was a very big gang, several thousand.  I saw them burn bodies.  They were carrying petrol.
They killed my two brothers near the market, in Sharada Phase 1.  I saw their burnt bodies.  Just their legs were sticking out.  I recognized one of them by his shoe and one leg which hadn't burnt […]
The youths were shouting "Allahu Akbar" and waving knives around.  They pursued us to the police station.  We stayed in Sharada police station on Tuesday evening. 
On Wednesday morning, all the groups (of attackers) teamed up and came to the police station […]  The police pursued them but couldn't push them away.  Some police were injured.  The police didn't have orders to shoot.  The police had no guns, just sticks.  The police said they had not been given orders to go out.  They told us this in the police station.  The youths were provoking the police because they knew they couldn't do anything […]  Then the soldiers came and shot into the air.  The boys ran back.  It was not safe to stay in the police station so the soldiers us carried us here [to the police barracks in Bompai].
I saw dead bodies burnt at Gado Kaya junction, on the road to Sharada.  A girl was killed in front of us.  I saw her dead body.  The fighting stopped at Gidan Murtala.  I saw a woman cut in pieces at Estate Junction, in Sharada, about 1 kilometer from the police station.  I walked on her as I was running.  A baby was also killed.
A Yoruba man, aged forty-five, was among those injured in Sharada on May 12.  Like many other survivors who spoke to Human Rights Watch, two months after the events, he was visibly shaken by what he had experienced:
My four brothers and I wanted to check our house.  We were on our way.  I was the first, leading the others.  The attackers were hiding.  I heard them shout "arrest!"  They trooped out with cutlasses.  I called out for the police.  They cut me on my back, shoulder and leg.  They were shouting: "Areni!"(infidel).  I didn't understand the language.  Up to 18 of them attacked us […] It happened at Ja'en, opposite Kano Sugar, in Sharada Phase 3.  Only I was caught, as I was in front.  The other four escaped. 
There were no police around when I was attacked.  We went to Sharada police station and reported it.  I went to the hospital.  Then we went back to our house.  The door was broken and they had carried everything away.  They burned everything they couldn't carry. 
I saw many dead bodies.  Men with their heads cut.  I saw up to ten bodies, all in Sharada, along the road […] I saw many wounded people.  I will never forget this in my life.
A twenty-eight-year-old man from the Lunguda ethnic group, originally from Adamawa State, who had been living in Kano for fifteen years, also witnessed extensive violence in Sharada.  After a Hausa neighbor warned him on May 10 that there would be a demonstration and that people might be armed, he and his family left the Sharada area.  They returned the following day: 
On Tuesday we went back home, at about 12.00.  I saw a big group with daggers, knives and big sticks.  Everywhere was dark.  They were burning houses.  We ran to the company and hid there. 
In Sharada they cut people and burned them.  They pursued people from their homes.  I saw three people killed, all Christian men, from different tribes.  They overtook the first person and killed him.  The second person was killed close to the company.  The third person was surrounded.  They started throwing stones at the company where we hid.  We stayed there till the next day.
There were more than 200 people in the group, carrying knives, daggers and big sticks.  I didn't see any guns.  They were mixed ages.  The young ones were 12, 13, 15.  Some were older than 40. 
They jumped into the premises [of the company].  They were shouting something in Arabic which I didn't understand.  When they gathered, there was someone in the middle directing them and pointing.  I saw four leaders, all adults.  They were pointing at people running.  The others followed. 
We slept in the company.  The next day we left and went to Sharada police station.  There were about 10,000 of us there as refugees. We gathered there at about 10/11am.  We saw the gang again coming towards the police station. They didn't succeed in attacking the police station.  A group of soldiers arrived and pushed them back, then they brought us here [to the police barracks].
In our house, everything was burnt.  I just had the clothes I was wearing […] I have no money for a place to live.  My wife and I wanted to set up a shop.  We had bought the sewing machines and other equipment.  It was all burnt […] I don't want to stay in Kano.  I want to go back home to Adamawa.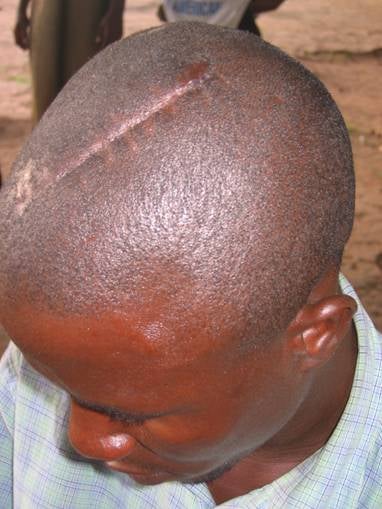 Man with a machete wound on his head, Bompai Barracks, Kano, July 2004. © 2004 Human Rights Watch
Another man, who worked as a tanner and lived in Sharada, was also warned by a Muslim neighbor that there would be a fight:
At 8 a.m. on Tuesday 11 May, I went to visit my friend in Sharada.  A neighbor, an Igala Muslim, told me there will be a fight today.  I went straight to my house to get my belongings, but before I could reach home, I saw Muslim men in my house.  I tried to escape but more men came, about twelve of them.  As I was running, they hit me on the legs with a stick.  Then they hit my head twice with a machete.  As they tried for the third time, I defended my head with my hand.  I couldn't see anything, as blood was pouring from my head.  The attackers ran away.
He managed to run to the premises of a factory, where the director took him and some of his employees to the police station, from where he and others who had been injured were taken to Sharada hospital. 
Then on Wednesday, at 11 a.m., around fifteen Hausa men came to the hospital with petrol, wanting to set the place alight.  They were saying: "we will burn!"  The doctor, who was a southern Muslim, called the police and at noon, eight mobile police and soldiers came.
He and other patients were evacuated by the security forces.  He was taken to hospital in Bompai where he spent eight days before being discharged.
Human Rights Watch researchers spoke to several other residents of Sharada who had been seriously injured.  One, a twenty-three-year-old man from Kaduna State, was attacked on the afternoon of May 11, near the Coca Cola factory, as he was running through the area to escape the violence.  He tried to get into the Coca Cola premises for safety but the security guards refused to let him in.
Five yandaba came and starting cutting me with cutlass.  My hand was bleeding.  I lost my finger.  I fell down and they thought I was dead.  All the while there was an armed policeman who didn't do anything while I was being attacked.  When I fell down, he opened the gate for me.  I was taken to the clinic inside Coca Cola […] then to the national orthopaedic hospital, Kano.  At the hospital they wanted to remove my remaining fingers because they are so badly damaged, but I didn't want them to.  I still can't move my hand.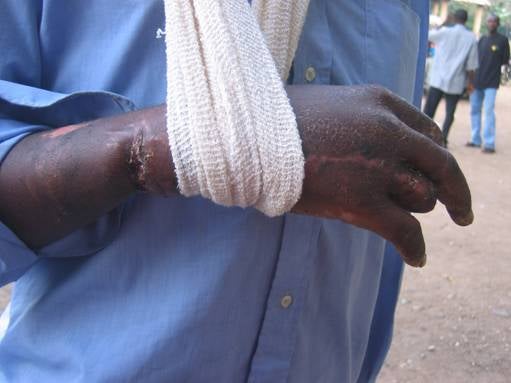 Man whose fingers were injured during the violence in Sharada on May 11. Bompai Barracks, Kano, July 2004.
© 2004 Human Rights Watch
Many other residents of Sharada witnessed killings at close hand.  A woman who lived in Sharada Phase 3 first chased away two Hausa youths who were unarmed but who warned her "today will be the last day for you."  Around thirty minutes later, a Muslim neighbor, sensing trouble, advised her to move out of the area.  She took her three grandchildren to her daughter's house, then returned to collect her own belongings.  "When I came back to collect my property from the house, I saw a group of around thirty Hausa men, armed with cutlass, sticks, iron bars and axes.  They were pursuing a man I knew called Emmanuel, a Christian from Benue State.  They killed Emmanuel with cutlass and knives, then poured petrol over him and set him alight."
Another woman, who lived in Sharada Phase 1, was injured on May 11 and narrowly managed to escape several different groups of attackers.  She was confronted with the first group when she went home to look for her children:
Just as I was leaving my house, a group of around 30 Hausa men, armed with sticks, surrounded the house. They beat me on the head and back and I fell down, bleeding from the nose and mouth. A Muslim man, who was not a Hausa, came over and talked to the attackers and persuaded them to go away.
I managed to get up and went to a Hausa neighbor's compound to hide. The neighbors wouldn't let me in so I sat and hid in the corridor between the houses. Outside the compound I saw a different set of Hausa men, again around 30 in number and armed with cutlass and knives.  They were pursuing another woman. The woman was shouting: "I am a Muslim!" The attackers cut this woman on her hands and the tops of her legs. She was bleeding very seriously.
When the attackers saw me hiding in the corridor, I ran to another neighbor's house, also Hausa Muslims. As I entered the gate to the house, I saw the attackers pursuing another man, whom I did not recognize. They caught the man, cut and killed him with a long curved cutlass and then put his body on a pile of property they had looted from my house, and set it on fire.
I stayed with my Hausa neighbors for four days, hiding under their bed. Twice (at 2 p.m. on Tuesday 11th and 1 a.m. on Wednesday 12th) attackers entered the house to look for me.  While I was hiding, I wrote a letter to my husband's workplace to tell him I was alive. His work place must have passed it on to the barracks because mobile police eventually came to get me on Friday 14th.
A twenty-eight-year-old man who worked at a plastics factory was attacked in Sharada and survived by pretending he was dead:
About twenty people attacked me.  They asked me: "are you Hausa?" Then they started to beat me.  They had sticks, cutlasses and knives.  I didn't see them at first.  Then they came out from behind the house.  They asked: "are you Muslim or Christian?" They said they would kill me.  I felt to the ground.  Then they saw no sign of breath […] I used my hand to defend my head.  My hand is cut with a cutlass, I can't bend my fingers.  They dropped me.  I didn't move.
Another factory worker, aged forty-five, lost his wife and four of his children, aged between two and nine, to the attackers:
On May 11, people gathered around my house.  There were around 100 of them, with knives, cutlasses and sticks. It was at around 11.30a.m […]  They killed four of my children, they killed my wife […]  I saw them jumping over the fence.  They shouted in Hausa "arna!"  "You're not a Muslim.  We will kill you!"  They hit me on the head with a cutlass […]  When I woke up, I saw dead people […]  All my family are lost.  Later, they burned my house.  Now, it is ashes.
The area of Panshekara was also badly affected by the violence.  A forty-five-year old man from Delta State who had been living in Panshekara for twenty-four years fled from the area after his colleagues told him riots had started on May 11.  He returned to his house the following day, on May 12, at 10 p.m. to find his seventy-year-old brother lying on the ground, dead.  He had been cut with machetes or knives and his body had been set on fire. His house and belongings had all been burnt.161
Another resident of Panshekara, a twenty-seven-year-old man from Cross River State who worked at a textile company and ran a provision store, saw several of his relatives and acquaintances killed: 
My younger brother (aged twenty-one) and I went outside the house to see what was happening.  We saw about 50 people, all Hausa, armed with cutlass and local guns. They asked me where I was from and I told them Cross River. They asked me if I am ready to go back there. I said I am ready to go back, but my brother said no, he is not ready to go back. They hit my brother on the head with a cutlass.  He was cut and fell down. I ran inside a Muslim neighbor's house but they pursued me out. I called my brother and held him. He woke up and I carried him away.
On the main road, at Panshekara Bus Stop we saw a crowd of twenty or more people with cutlass, knives and sticks. I could not recognize any of them but they were all Muslim. By this time, I could not carry my brother anymore so I left him and ran to the Police Academy Barracks to get the MOPOL (mobile police) to help.
When I came back with eight MOPOL, I saw the body of my brother burning. Then I fell down and fainted. MOPOL rushed me to the clinic inside the Police Academy Barracks where I was treated. 
Three or four hours later, at around 7 or 8 p.m., I woke up and went back to my house. There I found three of my relatives from my mother's side. They are all Christians from Kogi State […] All three had cuts across their bodies.  One had gunshot wounds and was unconscious; the other two were dead. I didn't want to touch them and ran away back to the Police Academy.
There I called my elder brother who is a policeman, and told him they killed our younger brother. We went together back to Panshekara to look for other relatives. At three corner junction we saw the body of a Yoruba doctor we knew. They had put him on top of his vehicle and burnt him. I could recognize him because the flames were still only at his legs; they had not reached his face. At Bus Stop Panshekara, we saw another man dead, in the gutter.
[…]  I went with my friend together to Panshekara market to check my provision store. Just opposite the store was the dead body of Francis, who was a customer at my store.  He was aged forty-two, an Angwa by tribe, from Nasarawa State.  His body was badly cut.
At around 11 p.m., we made our way back to the Police Academy but before we could get there, about five meters from the entrance, I saw the dead bodies of three of my brothers (aged ten, thirteen, and sixteen) […] Later, I saw my mother and she told me she witnessed the attackers killing my brothers with cutlass, knife and sticks at 10p.m. that evening.
Another man described how he was almost killed by his neighbor in Panshekara:
On Tuesday 11 May, I was in my house with my family and friends. At around 1 p.m., I saw people outside running and shouting and then I saw a nearby house burning. I locked the door. My neighbor, a Hausa Muslim man, tried to pour fuel inside my house. His father was shouting to bring more fuel. Then ten men, with their faces painted blue or black, tried to break the metal [grill] door to my house. They eventually broke the slide doors of my sitting room and threw more fuel in my house and set it on fire. My neighbor's father was shouting "Allah will bless you!"
At around 1.30 p.m., as the house started burning, we ran into the toilet to escape the smoke. We were eight people: my wife, my one-year-old daughter, a friend's two year-old child, and four adult friends. We hid in the toilet for twenty minutes but the smoke was too much and the fire increasing. We managed to escape through the kitchen door, round the side of the house and into the back yard, where we hid until 7.30 p.m.
During this time a yandaba came. I knew he was a yandaba because he was wearing their red uniform. He was speaking in Hausa to my neighbor's father. I could hear them from where we were hiding and see them through the cracks in the garden wall. The yandaba asked my neighbor's father why the other house (the neighboring building) was not burning and why this one (he pointed to my own) was.  The father replied that I was an unbeliever and that I was inside with my family. The yandaba then fired his gun in the air.
At around 5.30-6 p.m., I witnessed the attackers kill a man I knew who runs a provisions store in the area. On the path on the other side of my garden wall, they killed him with an axe, cutlass and machetes […] At 7.30 p.m. it was call for prayer and the attackers left.162
The attackers killed a number of people inside their own houses.  A woman described how a group of attackers entered the house of a relative where three people were hiding:  "There was nowhere for them to escape.  The boys [attackers] came into the house.  He [the relative] begged them to please leave him alone.  They started beating him […] They killed him inside the room, then dragged him outside […] They found his wife's brother hiding under the bed.  They killed him with machetes.  They poured petrol over both the bodies and burned them completely to ashes."163
Another man, who lived in Panshekara but worked in Sharada, fled from his office on the morning of May 11 after seeing houses burning and crowds of people running:
I returned to my house in Panshekara.  Twenty-four of us hid in a small room […] in my house until 1.30 pm, when we had to flee.  I was the second last to leave.  As we were running, in my presence the yandaba caught my wife on the street and hit her on the head with a stick.  I was carrying my one-year-old daughter as the yandaba were pursuing me.  They caught me, at the back of Market Square, very near my house, and cut me over the head with machetes and an axe.  I was left for dead.  My daughter was cut on her back with a knife.  Luckily she is OK now.164
The rioters also attacked the university and killed two people there:  retired chief stores officer Mr. Adoyi, a Christian in his early sixties, who was burnt in his house, and a mechanic called Raphael, who had come to do some work on the site. More than twenty houses belonging to Christians were burnt at the university campus.  However, most of the violence took place outside the gates of the campus, along BUK Road.165
It was not until May 12 that police and military reinforcements were finally deployed to restore order to Kano, despite the fact that the violence had been taking place in full public view, in the center of this large densely populated town.  Senior police authorities stated publicly that police officers had been given orders to shoot on sight.  Kano State Commissioner of Police Ganiyu Dawodu was quoted as saying: "I had to give the shoot on sight order as the killing and mayhem was getting out of hand."166 
Police and soldiers carried out a number of extrajudicial killings during their attempts to restore order in Kano.  The victims, almost all of whom were Muslim men, included people who were not involved in the violence, according to testimonies gathered by Human Rights Watch. The actions of the police and soldiers in these cases appeared to be unprovoked.  A witness of an extrajudicial killing by soldiers told Human Rights Watch:  "It was gruesome.  This shouldn't have come from people who are supposed to protect lives.  How can you shoot defenseless citizens? […] Is this way things will be run here?  That question is still in my head."167 
The conduct of the police and military in Kano is typical of the security forces' approach towards restoring law and order in situations of inter-communal conflict across the country.   The role they played in Yelwa was, in this sense, an exception to the rule.  Their response to almost every other outbreak of inter-communal violence in Nigeria has been characterized by violence and brutality. Strikingly similar cases were recorded in Jos following the violence in 2001, in Kaduna following the violence in 2002, and in other areas.168   The police and the army are both federal agencies, yet the federal government has expressed no concern for this pattern of extrajudicial killings, either in Kano or in any of these other situations, and has failed to ensure that the perpetrators are brought to justice. 
The conduct of the police and military in the cases documented below was in clear violation of Nigeria's international obligations, including the International Covenant on Civil and Political Rights and the African Charter on Human and Peoples' Rights (both ratified by Nigeria) which guarantee the right to life.  Their conduct also violates the U.N. Code of Conduct for Law Enforcement Officials and the Basic Principles on the Use of Force and Firearms by Law Enforcement Officials.  Article 3 of the Code of Conduct states: "Law enforcement officials may use force only when strictly necessary and to the extent required for the performance of their duty."  General provisions 4 and 5 of the Basic Principles state: "Law enforcement officials, in carrying out their duty, shall, as far as possible, apply non-violent means before resorting to the use of force and firearms […] Whenever the lawful use of force and firearms is unavoidable, law enforcement officials shall: (a) exercise restraint in such use and act in proportion to the seriousness of the offence and the legitimate objective to be achieved; (b) minimize damage and injury, and respect and preserve human life; (c) Ensure that assistance and medical aid are rendered to any injured or affected persons at the earliest possible moment; (d) ensure that relatives or close friends of the injured or affected person are notified at the earliest possible moment."  General provisions 7 and 8 state:  "Governments shall ensure that arbitrary or abusive use of force and firearms by law enforcement officials is punished as a criminal offence under their law.  Exceptional circumstances such as internal political instability or any other public emergency may not be invoked to justify any departure from these basic principles."
On the basis of information received from a variety of sources, including eye-witnesses, Human Rights Watch believed that dozens of people were killed by police or soldiers in Kano.  Some of the cases documented by Human Rights Watch are described below.  The areas in which people were killed by the police or the military included Doreyi, Sharada, Panshekara, Kabuga, and Hausawa Zoo Road. 
Many of the people injured during the riots had gunshot wounds.  Their injuries were different from those inflicted by the gangs of attackers.  Observers concluded that they were almost certainly inflicted by the police or the military, as witnesses consistently affirmed that the rioters had used local weapons and machetes, knives, and axes, but not firearms. 
On May 11, a taxi brought four people with gunshot wounds to the general hospital casualty unit in Kano. The people who brought them to the hospital said they had been shot by the police.  Two of them had been shot in stomach.  The other two had been shot in the legs and had to be carried into the hospital.   Two had been shot in Panshekara.  It is not known where the other two were shot.169  In two separate incidents, the bodies of two people who had reportedly been shot by the police were brought to Government House, one on May 11, the other on May 12.  The circumstances in which they were shot are not known.170
Several independent sources reported that around thirty people were brought to hospital with gunshot injuries on May 12; all of them were believed to have been shot by the police.  They reportedly included a twelve-year-old boy who was shot in the stomach.  However, hospital staff were under strict instructions not to divulge information about the patients they were treating and barred local journalists from entering the hospital.171
A number of sources in Kano described the killing of Lawal Rufai Rogo by soldiers on May 13.  Lawal Rogo, aged forty-two, was deputy director in the ministry of commerce in the Kano state government and was well-known in his community.  He and a number of friends and relatives had gathered to mourn the death of a young man who had been killed during the riots two days before.  At around 5.30p.m, two soldiers came near the house where they had gathered to escort a Christian neighbor who was fetching her belongings.  Lawal Rogo had a conversation with the two soldiers; he told them that the Christian woman should not fear because he himself had prevented Muslim youths from attacking Christians during the riots.  He also told them that the sight of soldiers could provoke local youths and escalate tension.  The soldiers said they were not causing trouble and the conversation ended.  A witness explained what then happened:
Ten minutes later, three army jeeps came with about 30 soldiers.  We saw they were in killer mood.  We knew there would be trouble.  We decided to go quietly into the house.  Three minutes later, five soldiers ran towards the house with their guns cocked.  The rest stayed outside.  We had locked the gate but they broke it.  Three of them entered the house, shooting sporadically all over.  There were bullets everywhere.  Women and children were there as we were having the funeral.  At first they shot randomly.  But Lawal Rogo may have been the target because of a misunderstanding about his earlier conversation with the soldiers.  He was wearing purple clothes so he was a clear target.  When they were shooting, Lawal was in a room.  He came out and went towards the well but tripped and fell down accidentally.  A female officer sprayed him with bullets.  As soon as they killed him, they left.  Somebody heard them say:  "they got him."  They fired about four bullets.  The first bullets did not hit him.  The officer waited until the blood was gushing out, then left […] Lawal was lying down on his front.  He was shot in the chest, thigh and foot.  Another man was also injured. He was shot on the leg and was taken to hospital.172
Witnesses reported that this particular group of soldiers, including the female officer, was notorious in the area and that they also entered other houses in the area, shooting.  They said the red pick-up van in which they were traveling was easily recognizable.  They were all carrying AK 47s. There were reports that the same group killed a number of other people in the Doreyi area.  
After the killing of Lawal Rogo, representatives of the government and the State Security Service (SSS, the intelligence services) began an investigation and interviewed some of the victim's relatives.  His relatives also wrote about the case to the commissioner of police and the government.  By July 2004, neither the police nor the army had interviewed the family and it was not known whether they were carrying out their own investigations. Human Rights Watch has not been able to obtain any further update on this case.
There were several cases of killings by the police and soldiers in the Hausawa Zoo Road area.  In one of the most serious cases, twenty-two-year-old Mohammed Abdurrahman, a student at Gandun Albasa secondary school, was beaten to death by the police;  his family only found out he had died several days later.  On May 11, at around 11 a.m., Mohammed Abdurrahman had gone to visit friends in a tailor's shop when several policemen arrived and arrested him.  According to witnesses, police had tear-gassed the area earlier, causing many people to run away, but because Mohammed Abdurrahman had not run away, the police arrested him.  Witnesses said the police punched him, hit him with their gun butts and kicked him, then dragged him into a bus in which there were seven or eight policemen, and took him away.173  
His relatives tried to find out where he was detained.  For three days, they made repeated inquiries with the police but were unable to find him.  One of his relatives eventually discovered that he was dead, not through information provided by the police but through his own persistent inquiries at the hospital and the mortuary.  The day before he found out that Mohammed was dead, he had raised the case with a police officer in the motor traffic division.  The policeman told him he didn't care, that the police had advised against the demonstration in support of the victims from Yelwa, so they had "asked for it."174  One of Mohammed's brothers went to the police station after learning about the death of Mohammed to request the identity of the policemen who had taken him to the mortuary.  They refused to tell him and said the family should just forget about it.175 
On May 11, Isa Tanko, a thirty-five-year old hawker who sold perfume, was shot dead by soldiers in the Hausawa Zoo Road area.  His relatives described what happened:
On Tuesday, we were sitting [in our house].  We saw people running into their houses.  Isa stood up and wanted to see what was happening.  We followed him.  We saw him trying to run back.  Midway, beside the Abba clinic, he stopped to see what was happening.  The soldiers had arrived.  Suddenly, a soldier cocked his gun and shot.  He was hit in the arm and stomach. 
The soldiers were on the main road, patrolling Zoo Road, then moved into this area.  When people saw them, they panicked and started running.  There were about 12 soldiers.  They may have suspected there was a crisis here but there wasn't.  At about 12 noon, the soldiers came.  At first, they didn't do anything, so people came out again.  The soldiers thought they had arms but nobody had.  The soldiers said nothing and just shot.  They didn't shoot into the air.  They shot directly at people.  Only one soldier shot, randomly […] 
There were over 20 people in the crowd including women, but only Isa was hit.  The bullet hit him on the arm.  It broke his arm and pierced his stomach.  It was just one bullet.  He didn't die on the spot.  We brought him here and took him to the Aminu Kano teaching hospital.  They said we had to pay 3,000 naira [approximately U.S. $23].  We came back and people gathered 7,000 naira.  We took the money to the hospital.  They removed the bullet and stitched his arm and stomach.  There was an improvement, but after two days, he died in hospital, on Thursday.176 
Another man in Hausawa Zoo Road told how his twenty-six-year-old nephew, Shehu Garba, a student who also worked in a barber's shop, was shot dead by a soldier on May 12, at about 1.15 p.m.:
He was going to see his friend.  He went to pray and was shot while saying his prayers.  They aimed at him and shot him.  There were many soldiers there but one soldier shot him.  He got a bullet in the chest and died instantly.  He was praying within the mosque, which is next door to his barbing saloon.   Some people said the soldier aimed at him, others said they shot randomly. 
[…]  I don't know why they shot him. We [the family] were informed and collected the corpse.  Some people took it to Government House to notify the governor.  We met the governor and told him what had happened.  He said we should bury the corpse and be patient.  He expressed concern but didn't say he would investigate.177 
Another resident of Hausawa Zoo Road described the conduct of soldiers in the area as "horrible.  They behaved as if we were animals.  They shot at boys playing football.  One was shot in the back, on Wednesday [May 12].  We were sitting and we heard the guns.  We took the boy to the hospital at about 5 p.m.  He was fourteen years old.  He survived."178
Abdulaziz Abdussalam, a twenty-year-old student at Kano State Polytechnic school of technology, was shot dead on May 11, at about 11 p.m., in Rijyar Zaki.  The identity of the perpetrators has not been confirmed, but some witnesses believe they were soldiers.  Abdulaziz Abdussalam was walking past a parked car when someone inside the car shot him twice.  The bullets hit him in the neck and chest. He died a few minutes later.  Witnesses said there was one man and two women in the car but did not see who fired the shots.  The car then sped off towards the barracks.179
A number of people were seriously injured by police and soldiers in Doreyi on May 12.  A twenty-two-year-old student described how he was shot in both legs:
I was returning from school at around 12 noon. The driver refused to bring us here as he saw soldiers.  He dropped us at the BUK gate and we had to walk from there.  Another bus came up behind and also refused to drive here.   Soldiers came and started shooting at the other bus.  I tried to run away.  They shot someone in the other bus.  He was shot in the chest and died about four hours later. They asked me to help carry him to the teaching hospital.  We put him in the bus.  The soldiers started shooting again.  I was hit.  All of us carrying the body dropped our things and ran away as the soldiers started shooting […]
It was a combination of military and normal police.  The military were armed but the police were not.  There were two policemen and eight soldiers.  I don't know why they shot us […]   I was shot near the mosque.  I just heard the shooting.  After shooting, the soldiers brought us to their vehicle.  They kicked my leg.  They threatened to kill us.  They said: "Since you didn't allow us to sleep, you won't sleep either."180
Three other men, all in their twenties, were injured in the same incident.  A fourth, in his early thirties, was badly beaten.  The soldiers took him to the military commander in Panshekara, where they beat him with gun-butts and whips, kicked him and insulted him.  He tried to run away and fell into a gutter.  He was then taken to the police and released later the same day.181
When Human Rights Watch raised the issue of extrajudicial killings in a meeting with the Kano State Commissioner of Police, the Commissioner replied that he did not believe such reports.  He said "a policeman is not a madman" and stories should be taken with a pinch of salt.  He admitted that the police had shot at rioters, especially on May 12,  but said he did not know the number or if any of them had died.  He gave the example of a situation where the attackers were standing outside a house which had been set on fire, so the police had "had to shoot at people".  He said: "there may have been dead bodies on the ground but I don't know who killed them."182
A number of people were arrested in connection with the violence in Kano on May 11 and 12.  Most were arrested very soon after the events but a significant proportion were released within a short period for lack of evidence. According to the police, by early July 2004, 228 people had been arrested in connection with the riots.  45 of them had been charged, 61 were under investigation, and 102 had been released.183 
Human Rights Watch is not aware of the arrest of any police or military officers in connection with extrajudicial killings during this period.  The Kano State Governor told Human Rights Watch that the government had received a number of complaints about extrajudicial killings which had been referred to the brigade commander.  He said most of them concerned the military, and they had not received formal complaints about killings by the police.  He said he understood investigations were still ongoing and would be dealt with under military procedures.184  In April 2005, the police public relations officer in Kano was unable to give a local activist any information on action taken by the police in response to reports of extrajudicial killings.185  The absence of prosecutions of police and military responsible for extrajudicial killings in Kano mirrors the absence of such prosecutions in other conflicts in Nigeria where members of the security forces have also been able to get away with such abuses with complete impunity. 
Since 1999, successive waves of inter-communal violence in Kano have caused many Christian families to leave the city, although some have since returned.   One of the effects of the May 2004 riots appears to have been the more permanent departure of Christian residents who lost relatives in the attack and whose homes and livelihood were destroyed. 
The May 2004 violence in Kano caused large-scale displacement of Christians.  An estimated 30,000 people sought protection in a number of sites in the city, mostly in the grounds of police or military barracks. The largest sites for the displaced were the Bompai police barracks and the police academy in Panshekara, which held several thousand people each.  Others stayed in Bokabo barracks, Zone 1 police barracks, Mobile barracks, Janguza barracks, Our Lady Fatima Catholic church, and a number of other churches.  When Human Rights Watch visited Kano in July 2004, there were still an estimated 4,000 internally displaced people in the main barracks in the city.  Much of the assistance to the internally displaced was being provided by the churches.  Some of the displaced complained that they were receiving little or no assistance from the government.  The state governor, however, claimed that relief was being provided both by the state and the federal government.  A committee coordinated by the Secretary to the State Government had been given the task of ascertaining the amount of assistance required.186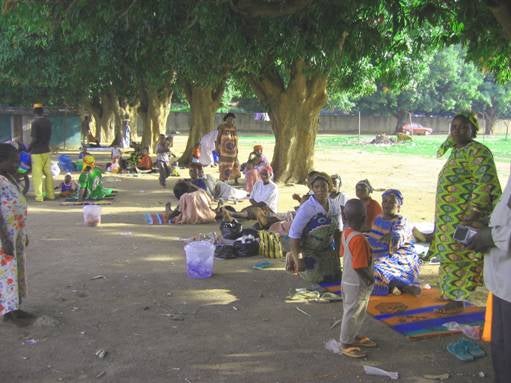 Christians displaced by the violence in Kano, Bompai Barracks, Kano, July 2004. © 2004 Human Rights Watch
Unlike the internally displaced in Plateau State, almost all the Christians displaced by the fighting whom Human Rights Watch interviewed in Kano in July said that they did not want to remain in Kano and were planning to leave for their areas of origin—in some cases a long distance away—or other destinations as soon as they had the means to do so.  Some of them had been living in Kano for more than fifteen or twenty years, and they and their families had settled there and found work, but the latest violence had persuaded them that it was no longer safe for them to remain.187 
In the months that followed the violence, the police and military barracks and other sites used to house the internally displaced emptied.  The displaced populations have since returned to their homes or have relocated to other areas. 188
---
[135]  For details of large-scale violence in Kaduna in 2000 and 2002, see Human Rights Watch report "The 'Miss World riots':  continued impunity for killings in Kaduna," July 2003.
[136]  Human Rights Watch interview, Abuja, July 1, 2004.
[137]  Governor Shekarau told Human Rights Watch that he had provided 10 billion naira worth of assistance, the equivalent of around U.S.$ 76 million.  Human Rights Watch interview with Kano State Governor Ibrahim Shekarau, Kano, August 17, 2004.
[138]  Ibid.
[139]  Human Rights Watch interview, Abuja, June 29, 2004.
[140]  Human Rights Watch interviews, Kano, July 4 and 5, 2004.  There were contradictions between the testimonies of different people who listened to the speech.
[141]  Human Rights Watch interview, Kano, July 4, 2004.
[142]  Human Rights Watch interview, Kano, July 5, 2004.
[143]  Human Rights Watch interview, Kano, July 4, 2004.
[144]  For background information on the phenomenon of yandaba, see Y.Z.Ya'u, "The youth, economic crisis and identity transformation: the case of the yandaba in Kano," in Attahiru Jega (ed.), Identity transformation and identity politics under structural adjustment in Nigeria (2000).
[145]  The almajiris are boys from poor families, some as young as four or five, sent to study in Qur'anic schools situated far from their family homes.  The schoolteachers are supposed to take care of the children but often abuse them and send them out on the streets to beg.  The almajiris, who are very numerous in large northern cities such as Kano, end up living on the streets, in extreme poverty.  They are sometimes recruited to join larger gangs of older boys and men when there are outbreaks of violence.
[146]  Human Rights Watch interviews, Bompai police barracks, Kano, July 4, 2004.
[147]  Human Rights Watch interview, Kano, July 4, 2004.
[148]  Human Rights Watch interview, Kano, July 4, 2004.
[149]  Human Rights Watch interview, Kano, July 5, 2004.
[150]  Human Rights Watch interview, Kano, July 5, 2004.
[151]  Even higher figures were mentioned by some Christian leaders in statements to the media immediately after the riots; these claims do not appear to have been based on accurate information. 
[152]  Human Rights Watch interview with Commissioner of Police Ganiyu Dawodu, Kano, July 6, 2004.
[153]  Human Rights Watch interview with Kano State Governor Ibrahim Shekarau, Kano, August 17, 2004.
[154]  See "84 killed in Kano reprisal attacks, says panel," Guardian, December 20, 2004.
[155]  "Names of the victims killed during the May 11th 2004 religious violence in Kano" by the CAN Compilation Committee, Christian Association of Nigeria, Kano State Chapter.   CAN also made a list of 24 churches burnt in Kano.
[156]  Human Rights Watch interview, Bompai police barracks, Kano, July 5, 2004.
[157]  Human Rights Watch interview, Bompai police barracks, Kano, July 4, 2004.
[158]  Human Rights Watch interview, Kano, July 5, 2004.
[159] All testimonies quoted in this section are from Human Rights Watch interviews in Bompai police barracks, Kano, July 4 and 5, 2004, unless otherwise indicated.   All the witnesses quoted are Christian.
[160]  The eight victims, all male, included Dodo (aged 28), two men called Marcus (in their thirties) Christopher (aged 21), all from Kaduna State, Sule (aged about 20) and Ado (aged about 30), both from Adamawa State, and Damon, a 40-year-old Igbo man, who sold medicines.
[161]  Human Rights Watch interview, Bompai police barracks, Kano, July 4, 2004.
[162]  Human Rights Watch interview, Kano, July 5, 2004.
[163]  Human Rights Watch interview, Bompai police barracks, Kano, July 4, 2004.
[164]  Human Rights Watch interview, Kano, July 5, 2004.
[165]  Human Rights Watch interviews, Kano, July 4, 2004.
[166]  "Nigerian Muslims take revenge in bloody riot," Reuters, May 12, 2004.  See also "Death toll in Nigerian riot rises to 30: police," Agence France-Presse, May 12, 2004, and "Shoot-on-sight order in Kano as death toll hits 30", Vanguard, May 13, 2004.
[167]  Human Rights Watch interview, Kano, July 5, 2004.
[168]  See Human Rights Watch reports "Jos: a city torn apart," December 2001, and "The 'Miss World riots': continued impunity for killings in Kaduna," July 2003.
[169]  Human Rights Watch interview, Kano, July 4, 2004.
[170]  Ibid.
[171]  Human Rights Watch telephone conversations, May 14, 2004, and interviews in Kano, July 4 and 5, 2004.
[172]  Human Rights Watch interview, Kano, July 5, 2004.
[173]  Human Rights Watch interview, Kano, July 6, 2004.
[174]  Ibid.
[175]  Ibid.
[176]  Human Rights Watch interviews, Kano, July 5, 2004.
[177]  Human Rights Watch interview, Kano, July 5, 2004.
[178]  Human Rights Watch interview, Kano, July 5, 2004.
[179]  Human Rights Watch interview, Kano, July 5, 2004.
[180]  Human Rights Watch interview, Kano, July 5, 2004.
[181]  Ibid.
[182]  Human Rights Watch interview with Commissioner of Police Ganiyu Dawodu, Kano, July 6, 2004.
[183]  Ibid.  Human Rights Watch tried to update these figures in April 2005, but the police public relations officer told a Kano-based activist that he did not have more recent figures and could not provide up to date information on the progress of prosecutions. 
[184]  Human Rights Watch interview with Kano State Governor Ibrahim Shekarau, Kano, August 17, 2004.
[185]  Human Rights Watch telephone conversation, April 29, 2005.
[186]  Human Rights Watch interview with Kano State Governor Ibrahim Shekarau, Kano, August 17, 2004.
[187]  Human Rights Watch interviews, Kano, July 4-5, 2004.
[188]  Human Rights Watch telephone interview, Kano, April 26, 2005.