<<previous | index | next>>
Gold, one of the richest resources in the Congo, offers the potential to contribute to financial reconstruction after a war that has cost millions of lives and has left countless others in desperate poverty.  But in recent years it has enriched only a fortunate few, many of whom have won control over the gold by use of force.  Gold has contributed little to the overall prosperity of the nation; on the contrary it has been a curse to those who have the misfortune to live in regions where it is found.
In 1996 Rwandan and Ugandan forces invaded the Congo, ousted long-time ruler Mobutu Sese Seko, and installed Laurent Desiré Kabila in power. In July 1998 Kabila tried to expel the Rwandan troops, but they and the Ugandan forces instead engaged Kabila's government in the second Congo war, one that eventually drew in Zimbabwe, Angola, Namibia (supporting Kabila) and Burundi (allied with the Rwandans and Ugandans).  Often termed as Africa's first world war, the conflict resulted in the deaths of 3.5 million people, the great majority in eastern DRC. Many victims were displaced people who died from exposure, hunger, or lack of medical assistance.1  A first peace agreement, signed in Lusaka in 1999, had little effect but the U.N. agreed to establish a peacekeeping force known as the U.N. Organization Mission in the Democratic Republic of Congo (MONUC) in November 1999.  Through continued international pressure, the national government and major rebel movements eventually signed a power-sharing agreement at Sun City in April 2002 that allowed for the establishment of the Global and All Inclusive Peace Agreement which set up the transitional government in June 2003.  Despite this agreement and other bilateral and regional security agreements, insecurity continued in large parts of eastern Congo.
The war in northeastern Congo, specifically in Ituri, sprang from the larger Congo war, and became a complex web of local, national, and regional conflicts.  It developed after a local land dispute in 1999 between Hema and Lendu ethnic groups was exacerbated by the Ugandan army who occupied the area and by national rebel groups keen on expanding their power base. The availability of political and military support from external actors, notably Uganda and Rwanda, plus growing extremists' sentiments, encouraged local leaders in Ituri to form more structured movements.  Armed groups were born, generally based on ethnic loyalties, including the predominately northern Hema group the UPC2, the predominately Lendu FNI3, the southern Hema group PUSIC and the more mixed FAPC.4   Each of these groups received military and political support from either the DRC5, Ugandan or Rwandan governments at different times turning Ituri into a battleground for the war between them.6
Between 2002 and 2004 these Ituri armed groups attempted to gain recognition on the national scene, hoping for positions in the Kinshasa based transitional government and in the newly integrated army.  In this scramble, local militia leaders frequently switched alliances between themselves and other backers as their interests dictated.  They attempted to control huge swathes of territory and strategic sites, including gold mines and lucrative customs posts, in order to enhance the importance of their movement.  The strategic sites also provided much needed finance for the armed groups and favor with their backers.  A U.N. special report on the events in Ituri published in July 2004 underlined that the competition for control of natural resources, particularly gold, by these armed groups was a major factor in prolonging the crisis in Ituri.7
Gold was first discovered in the Agola River in northeastern Congo in 1903 by two Australian prospectors.  They named the area after the local chief Kilo8 and shortly thereafter made a similar discovery in the Moto River just to the north, from which the name Kilo-Moto derives.  Exploitation of the gold started in 1905 and continued on an increased scale.  During the first half of the twentieth century, colonial entrepreneurs exploited gold through private companies that introduced large-scale or industrial mining. After independence in 1960, the state nationalized many of these companies, including, in 1966, the Société des Mines d'Or de Kilo-Moto (SOKIMO) that worked the lodes of northeastern Congo. It granted the large SOKIMO concession in Ituri and Haut Uélé Districts of Orientale Province to a new state-owned Office of the Gold Mines of Kilo-Moto (OKIMO).  To date, OKIMO officials estimate that more than 400 tons of gold have been extracted from their concession and that much more remains, though there is no precise estimate of how much.9   Many industry experts agree that the OKIMO concession is one of the most exciting, and potentially the largest, unexplored gold reserve in Africa.10  In the early 1990s OKIMO entered into arrangements with multinational corporations to exploit the large mines of northeastern Congo using industrial methods (discussed below) and also licensed local miners to work other areas by artisanal methods.
In 2000, the U. N. Security Council expressed concern that Congo's natural resources such as gold, diamonds and other minerals were fuelling the deadly war.  They appointed a panel of experts11 to look into the matter who published four separate reports between April 2001 and October 2003.12  In these series of reports, the U.N. panel of experts reported that Rwandan, Ugandan, and Zimbabwean army officers as well as members of the Congolese elite were growing rich from the wealth of the Congo. They showed how extraction of these resources helped fund armed groups, thus fueling the war.  They further documented how the minerals of the Congo were fed into the networks of international commerce. The panel concluded in its report of October 2002 that the withdrawal of foreign armies would not end the resource exploitation because the elites had created a self-financing war economy.13
In 2002, following heavy international pressure, in part because of the U.N. panel reports, both the Rwandan and Ugandan governments agreed to withdraw their soldiers from Congo.  Uganda subsequently arranged with the Congolese government to keep some forces in northeastern Congo until 2003 when the last of their troops withdrew.
This report, focused on control of gold in northeastern Congo, shows that the pattern of exploitation of natural resources described by the U.N. panel of experts, does indeed continue as of this writing, resulting in widespread abuses of human rights.  The trade in gold is just one example of a wider trend of competition for resources and resulting human rights abuses taking place in mineral rich areas throughout the Congo.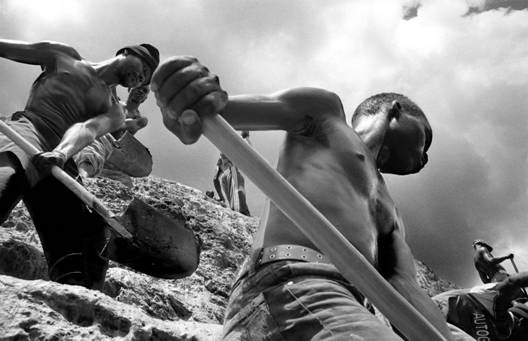 Gold miners working in an open pit mine in Durba.  © 2004 Marcus Bleasdale
In August 1998, shortly after the start of the second Congolese war, Ugandan troops occupied gold-rich areas of Haut Uélé, including the town of Durba, (Watsa Territory, Haut Uélé District, Orientale Province), site of three important gold mines: Gorumbwa, Durba and Agbarabo.  According to estimates of engineers and geologists familiar with the area, nearly one ton of gold was extracted from this region during the four-year period of Ugandan occupation.14 Based on prices at the time, this would have been valued at some $9 million dollars. 
Ugandan troops were supporting the advance of their Congolese allies, the rebel Rally for Congolese Democracy (Rassemblement Congolais pour la Démocratie, RCD) and the Congolese Liberation Movement (Movement pour la Liberation du Congo, MLC), but according to local observers, the Ugandans took Durba primarily for the wealth it offered. Within weeks of the second war, the Rwandan and Ugandan backed RCD rebel forces quickly announced their "control over the OKIMO mines" and in a written decision prohibited any illicit mining stating that the RCD was going to "economically reorganize the territory under its control."15   One witness in Durba who witnessed the Ugandan army enter said, "The Ugandans were only here for the gold. . . There was no military reason [to be here] and they never fought any battles here."16 Officials of the state-owned gold mining agency OKIMO had been left in charge of the Durba mines after the flight of the expatriate staff of the Barrick Gold Corporation, a mining company which held a concession from OKIMO. A former OKIMO employee present when the Ugandans arrived said, "We understood that they came to our area only for economic interests.  The moment they arrived they were more interested in OKIMO than anything else."17 
In the early days of the occupation, Ugandan soldiers, including a Ugandan officer called Major Sonko, came by helicopter to try to start gold production.18 Finding it too difficult and costly to operate the mines on an industrial scale, they decided to use artisanal miners, (orpailleurs), although Congolese mining regulations prohibited such miners from working in industrial mines and restricted them to smaller-scale holdings. According to one former OKIMO employee, the decision to get gold immediately and cheaply by using artisanal miners led to the reckless mining practices that would destroy Gorumbwa mine, the most important in the area.19
Local sources said that Ugandan Lieutenant DavidOkumu gave the initial order to start mining in Gorumbwa.20  According to a report prepared by OKIMO officials that provides further details, Ugandan soldiers took over mine security, chasing away OKIMO guards and the local police in order to benefit from the gold mining.21  Local miners went to work in the mines, even though they were required to pay an entrance fee to Ugandan soldiers or to give them a portion of their ore when leaving. Witnesses reported that Ugandan soldiers beat local miners who refused to work under these conditions or who failed to deliver the expected amount of gold.22   To speed extraction of the ore, Ugandan soldiers directed miners to use explosives taken from OKIMO stocks. Local residents said that there were more than fifty explosions in the mines during the month of December 1999, some of them severe enough to shake nearby housing. Even the rock pillars that supported the roof in the mine were blasted to extract any ore that might be inside them.23
On several occasions OKIMO officials protested to Ugandan army commanders about the illegal mining, the theft of fuel and explosives from their stock, and the possible damage to the mines through the explosions.24 Ugandan soldiers beat, arrested, and threatened some of those who protested. Lieutenant Okumu arrested the local OKIMO Director Samduo Tango and had him publicly beaten.  A witness at the scene of the beating said,
[Samduo Tango] was arrested and taken to "Les Bruns" [a house in the OKIMO concession] by Commander Okumu and he was beaten.  He was protesting against how the Ugandans were doing things.  It happened a few months after the Ugandans arrived.  They also beat other workers who were against them.  Samduo had to pay to be released and then he fled.  Another person who was beaten was Aveto as he witnessed the Ugandans taking dynamite from the warehouse.  He was arrested along with Samduo and also publicly beaten.  Commander Okumu beat them himself and he asked other soldiers to also beat them.  I saw this myself.25
Another OKIMO official told a Human Rights Watch researcher,
I had many meetings with [Commander Okumu] to make him understand that they must not destroy the mine.  But these meetings only put us more at risk.  I myself was threatened because of all this.  One time I was taken to their military camp for questioning.26 
Lt Okumu left the Durba area in early 1999 but other Ugandan commanders continued with similar practices and took no actions to stop the illegal mining. In June 1999 OKIMO officials reported again on the situation and asked Commander Sula based in Isiro to intervene. He ignored the request and soon after the Durba-based Ugandan officer Freddy Ziwa arrested one of the OKIMO officials.27  According to an internal OKIMO memorandum, Commander Sula met with local miners and Ugandan soldiers on July 12, 1999 in Durba and ordered them to organize more extensive mining in the OKIMO concession.  On July 29, 1999 artisanal miners and Ugandan soldiers began work in the second largest mine in the area, the Durba mine.28  The miners were reportedly transported to work in army vehicles.29 
In December 1999, OKIMO officials met with two other Ugandan army officers heavily involved in the mining, Commanders Bob and Peter Kashilingi. They sought an end to the mining and warned again that Gorumbwa mine might collapse if the practice of blasting the supporting pillars continued. According to OKIMO officials, no action was taken by Ugandan commanders.30 
In late 1999 the Gorumbwa mine collapsed killing a reported one hundred miners trapped inside and flooding the area.31  According to one local engineer:
The Ugandan army were responsible for the destruction of Gorumbwa mine.  They started to mine the pillars.  It was disorderly and very widespread.  People were killed when the mine eventually collapsed.  It was not their country so they didn't care about the destruction. They kept promising to help stabilise the mine, but they never did.32 
Another engineer thrown out of work by the collapse of the mine explained, "Gorumbwa mine was the most important. It was ruined by the Ugandans and this has halted development here.  It has caused social degradation."33 
In December 1998, an epidemic of Marburg hemorrhagic fever killed more than fifty people in Durba, the majority of them miners.  The outbreak was believed to have begun in Gorumbwa mine.34  According to a team of medical experts sent to the area by the U.N. several months later, the unhealthy conditions in the Gorumbwa mine increased the risk of workers contracting this fever.35   
Ugandan soldiers had no authority to extract gold from mines in the Durba area. Possibly aware of the illegal nature of their exploitation, they sought once in May 1999 to create a semblance of legitimacy for their activities. Working through their local Congolese proxy the RCD, the local Congolese Brigade Commander, Mbanga Buloba, held a meeting questioning OKIMO's legal title to the mining rights in the area and claiming it was the new rebel administration who were entitled to manage the artisanal gold exploitation.  The effort, described in a memorandum by OKIMO officials, came to nothing.36
Nor did Ugandan soldiers have any military imperative to exploit or destroy the gold mines in the Durba area.  As an occupying power they were responsible under international law for protecting civilian and non-military state assets, including mines, and had an obligation to properly maintain them. Their systematic and abusive exploitation of the gold mines represented an immediate loss to state assets and their destruction of the infrastructure and damage to the Gorumbwa mine decreased the value of the state assets for future use, all in violation of international law.37
In 2001 the U.N Panel of Experts on Illegal Exploitation in the DRC reported on the involvement of Ugandan officers in mining activities in Durba.38  Their reports were followed-up in 2002 by the Ugandan government appointed judicial commission of inquiry led by Justice David Porter, commonly known as the Porter Commission, who were instructed to respond to the allegations made by the panel.39   The Porter Commission interviewed various Ugandan officers about their involvement in illegal gold mining in Durba including Lt Okumu, Major Sonko and Lt Col Mugeny amongst others.  All of them denied any involvement in such activities.  The Porter Commission found the officers were lying and declared there had been "a cover-up" inside the UPDF to hide the extent of such activities.40   
Despite the findings of the Porter Commission, no arrests were made of officers responsible for the wide-scale and abusive looting, nor was any compensation provided to OKIMO or the Congolese state for such activities.  In September 2004 the DRC government demanded $16 billion in compensation from the Ugandan government for the plunder of natural resources by its forces while they occupied parts of the DRC, in violation of international law.41  In newspaper reports, representatives from the Ugandan government acknowledged some responsibility for the killings, plunder and looting the DRC suffered at the hands of their troops, but made no commitment to pay compensation stating the amount demanded was "colossal."42 
In 2002 under international pressure Ugandan forces started to withdraw from parts of the DRC and moved their troops out of Durba leaving the area to a breakaway faction of the original RCD, this one known as the RCD-ML and its armed group, the APC.  After the Sun City agreement in 2002, RCD-ML became allied also with the national government. In the following two years, this gold mining region changed hands several times between rival national movements and local armed groups. Each time there was one constant. "Every time there was a change of armed group," said one witness, "the first thing they did was to immediately start digging for gold."43 With the establishment of the transitional government in mid-2003, Kinshasa supposedly reasserted control over the region, but in fact formerly rebel military forces continued to play a role in exploiting the gold though they now claimed to be part of a newly integrated national army.44 
With the withdrawal of all – or most – of the Rwandan and Ugandan soldiers from eastern Congo in 2002 and 2003, local armed groups became the main direct contenders for control of areas rich in gold. In Ituri District the most important of these groups were affiliated with either the Hema or the Lendu, ethnic groups that had been battling over land and fishing rights since 1999.45   Because the ethnic conflict became intertwined with the struggle over gold, the fighting in Ituri District drew in far larger numbers of civilians than was the case around Durba, in Haut Uélé District. Both areas had significant gold mines but Durba suffered less historical ethnic tensions between the Hema and Lendu.  Controlling sites rich in gold assured armed group leaders the means for buying guns and other supplies to carry on the conflict and also guaranteed political importance to the leaders, increasing the possibility that they would earn recognition and coveted posts at national level.46
Although local armed groups moved to center stage as the major actors, Ugandan and Rwandan soldiers continued to play a role, providing arms and advice to leaders of these armed groups, sometimes directly, sometimes through one or the other of the Congolese rebel movements with which they were allied. These supporting actors had their own agendas and were ready to shift alliances with local actors as circumstances changed. By 2002 Rwanda and Uganda had fallen out, a split highlighted by combat between their forces at Kisangani in May 2002. The division between them added further complexity to the dynamics of local alliances, sometimes increasing opportunities for local groups to play off one powerful backer against the other. A third armed group of mixed ethnicity, the FAPC led by Commander Jérôme Kakwavu, a Congolese Tutsi and former RCD-ML commander, joined the struggle in support of the Hema. Local armed groups, rebel movements, and Rwanda and Uganda all juggled multiple interests, but always important among them was desire to control the gold.
During this period, the Congolese government had little influence in Ituri, leaving local affairs largely to its ally, the RCD-ML. In an attempt by the international community to find a political solution to the ongoing fighting in Ituri, the U.N. chaired dialogue between the Congolese government, armed groups and the Ugandan government resulting in the establishment of an ad hoc Ituri Interim Administration (IIA) in April 2003. When this body proved ineffective, the national government and MONUC in May 2003 pressured representatives of six armed groups to pledge in writing to cooperate with the peace process.  The Foreign Affairs Commissioner of the FNI showed no intention of honoring the pledge, saying, "We were forced to sign the document.  It means nothing to us."47 Leaders of other groups apparently felt the same way and fighting has continued since then between militia themselves and between militia and MONUC peacekeeping troops. In February 2005, after the killing of more U.N. peacekeepers in Ituri, MONUC renewed its pressure on the armed groups.  Some of the militia leaders declared again they were prepared to participate in disarmament operations, though at the time it writing it was unclear if this time they would stick to their commitments.
Poorly funded by the international community and not supported by MONUC, the interim administration accomplished little and was dissolved in June 2004. The transitional government restored local administrative structures, and appointed administrators with little or no connection to the armed groups.  The new functionaries remained largely unpaid and had no means to exercise control over armed groups. 
In an attempt to resolve the security problems, President Joseph Kabila, who succeeded as president after the death of his father Laurent Kabila in 2001, signed a decree in late 2004 granting six leaders of the Ituri armed groups positions as generals in the newly integrated Congolese army and a further thirty-two militiamen positions as lieutenant-colonels, colonels and majors.  Despite divisions within the transitional government about these appointments, the generals were welcomed into army ranks in January 2005.  The government provided no assurances that the newly appointed generals would not be returned to Ituri nor did it make any commitments to starting judicial investigations into serious allegations of war crimes and crimes against humanity allegedly carried out by the new appointees.  The integration of alleged war criminals into senior army ranks was denounced by Human Rights Watch and international diplomats.48  In the aftermath of the killing of nine U.N. peacekeepers in Ituri in February 2005, the transitional government arrested Floribert Njabu, Thomas Lubanga and a handful of other senior Ituri commanders though at the time of writing they had not yet been charged with any crimes or brought to justice.
---
[1] International Rescue Committee and Burnet Institute, Mortality in the Democratic Republic of Congo: Results from a Nationwide Survey, December 2004.
[2] The northern Hema group is often referred to as Gegere, a sub-clan of the Hema.
[3] This included temporarily the southern Lendu group known as the Ngiti, who had formed the FRPI miltia.
[4] Another group, the Popular Forces for the Democracy of Congo (FPDC) was also born but it has played only a minor role.  PUSIC has not been active in the gold mining areas of Mongbwalu and Durba and so goes largely unmentioned in this report. 
[5] Assistance was received from the pre-transition Kinshasa government before mid-2003, though support allegedly continued from certain components of the transitional government after mid-2003.
[6] Human Rights Watch, "Ituri: 'Covered in Blood' – Ethnically Targeted Violence in North-eastern DRC", A Short Report, July 2003.
[7] Letter from the U.N. Secretary General to the President of the Security Council, "Special Report on the Events in Ituri January 2002 – December 2003", July 16 2004, p. 5.
[8] The local chief was actually called Krilo, but the Australians mistook the name for Kilo.
[9] Pasteur Cosma Wilingula Balongelwa, General Director of OKIMO, "Written Presentation on OKIMO", Kinshasa, January 31, 2004.
[10] Human Rights Watch interviews, gold industry experts, Bunia, Kampala, London, February – May 2004.  Industry experts use the term 'ore body' instead of the lay term gold reserve.
[11] Known as the U.N. Panel of Experts on the Illegal Exploitation of Natural Resources and Other Forms of Wealth of the Democratic Republic of Congo; hereafter the U.N. panel of experts.
[12] See reports from the U.N. Panel of Experts on the Illegal Exploitation of Natural Resources and Other Forms of Wealth of the Democratic Republic of Congo, April 12, 2001 (S/2001/357), May 22, 2002 (S/2002/565), October 16, 2002 (S/2002/1146), October 23, 2003 (S/2003/1027) plus other addendums.
[13] Ibid., U.N. panel report (S/2002/1146), October 16, 2002.
[14] Human Rights Watch interview, OKIMO engineers and geologists, Durba, May 13, 2004.  Estimates were based on regular observation and monitoring.
[15] Rassemblement Congolais Pour La Démocratie (RCD), Cabinet du Coordinateur, Décision No. 004/RCD/CD/LB/98, Goma, October 28, 1998.
[16] Human Rights Watch interview, Durba, May 11, 2004.
[17] Human Rights Watch interview, OKIMO employee, Durba, May 13, 2004.
[18] Ibid.
[19] Ibid.
[20] Human Rights Watch interviews, Congolese miners and other sources, Durba and Watsa, May 10 - 13, 2004.
[21] OKIMO Internal Memorandum to General Management, "La sécurité au Groupe d'Exploitation Moto", March 17, 2000.  Further details also provided in internal OKIMO memos of September 9, 1999 and May 29, 2000.  Documents on file at Human Rights Watch.  See also, William Wallis, "Warlords and Adventurers in Scrambles for Riches,"  Financial Times, July 15, 2003.
[22] Human Rights Watch interview, Durba, May 13, 2004.
[23] Ibid., OKIMO Internal Memorandum, March 17, 2000,  Also Human Rights Watch interview, OKIMO engineer, Durba, May 13, 2004.
[24] Ibid., OKIMO Internal Memorandum, March 17, 2000.
[25] Human Rights Watch interview, Durba, May 13, 2004.
[26] Human Rights Watch interview, OKIMO employee, Durba, May 13, 2004.
[27] Ibid., OKIMO Internal Memorandum March 17, 2000.
[28] Ibid.
[29] Ibid.
[30] Human Rights Watch interview, Durba, May 13, 2004.  See also OKIMO Internal Memorandum, March 17, 2000.
[31] Wallis, "Warlords and Adventurers in Scrambles for Riches".
[32] Human Rights Watch interview, engineer, Durba, May 13, 2004.
[33] Human Rights Watch interview, former engineer, Durba, May 11, 2004.
[34] Human Rights Watch interview, Watsa, May 12, 2004.  There have been previous outbreaks of Marburg fever in the area in 1992, 1994 and 1997.  See also medical papers by Dr Matthias Borchert.
[35] Office for the Coordination of Humanitarian Affairs, "Rapport de mission du Conseiller Humanitaire: Epidémie de Fièvre hémorragique de Durba/Province Orientale," May 1999. Also Human Rights Watch interview, medical professional, Watsa, May 13, 2004.
[36] Ibid., OKIMO Internal Memorandum March 17, 2000.
[37] Article 55 of the Hague Regulations (Convention IV) respecting the Laws and Customs of War on Land and its annex:  Regulations Concerning the Laws and Customs of War on Land, The Hague, October 18, 1907.
[38] U.N. Panel of Experts, Report (S/2001/357), April 12, 2001, p. 11.
[39] "Final Report of the Judicial Commission of Inquiry into Allegations into Illegal Exploitation of Natural Resources and Other Forms of Wealth in the Democratic Republic of Congo 2001 (May 2001 – November 2002)", November 2002.  Hereafter, this will be referred to as the "Porter Commission report".  
[40] Ibid., p. 69 and 70.
[41] Article 55 of the Hague Regulations (Convention IV).
[42] David Musoke and A. Mutumba-Lule, "DRC Wants $16 billion for Plunder by Uganda, Rwanda," East African, September 27, 2004.
[43] Human Rights Watch interview, Durba, May 13, 2004.
[44] Human Rights Watch interviews, Durba and Watsa, May 11 – 13, 2004.
[45] Human Rights Watch, "Ituri: 'Covered in Blood'" and "Uganda in Eastern DRC: Fuelling Political and Ethnic Strife", A Short Report, March 2001 and "Chaos in Eastern Congo: U.N. Action Needed Now," A Briefing Paper, October 2002.
[46] United Nations Security Council, "Special Report on the Events in Ituri", July 16, 2004, p. 5.
[47] Human Rights Watch interview, Floribert Njabu, President of the FNI and Lonu Lonema, Foreign Affairs Commissioner FNI, Kampala, July 3, 2004.
[48] See Human Rights Watch, "D.R. Congo: Army Should Not Appoint War Criminals," Press Release, January 14, 2004.