Background on the Crisis in Iraq


On this page:
Press Release, April 24, 2003


HRW Letter to Gen. Jay Garner on Human Rights Priorities During Iraqi Reconstruction
Letter, April 23, 2003


Post-War Oil Management Should Bolster Rights, Benefit Iraqis
Press Release, April 18, 2003


The War in Iraq and International Humanitarian Law
Frequently Asked Questions on Occupation
Backgrounder, April 15, 2003


U.S./Iraq: Rights Monitors Barred From Court Martial
Q & A on the Prisoner-of-War Status of Saddam Hussein
Press Release, May 19, 2004


Saddam Hussein as a P.O.W.
Q & A on the Prisoner-of-War Status of Saddam Hussein
Backgrounder, January 22, 2004


Saddam Hussein's Trial
Bringing Justice for the Human Rights Crimes in Iraq's Past
Backgrounder, December 24, 2003


Memorandum to the Iraqi Governing Council on 'The Statute of the Iraqi Special Tribunal'
Memorandum, December 17, 2003


Iraq: Law Creating War Crimes Tribunal Flawed
Press Release, December 11, 2003


Ensuring Justice for Iraq: Evidence Preservation and Fair Trials
Policy Paper, September 12, 2003


Iraq: Security Council Must Ensure Justice
Press Release, September 5, 2003


Answer 'Chemical Ali´ with a tribunal
Commentary, August 25, 2003


Iraq: "Chemical Ali" Should Get Fair Trial
Press Release, August 22, 2003


U.S. Should Take Saddam Hussein Alive
Press Release, August 12, 2003


Iraq: Justice Needs International Role
Press Release, July 15, 2003


Avoiding War Crimes in Iraq
Commentary, July 8, 2003


Iraqi Suspect in Mass Killings Released
U.S. Fails to Address Past Crimes Systematically
Press Release, May 30, 2003


Iraq: Witnesses Link Mass Graves to 1991 Repression
U.S. Failure to Protect Sites, Establish Exhumation Process
Press Release and Report, May 29, 2003


Allies' Postwar Panic Puts Justice in Jeopardy
Commentary Published in International Herald Tribune, May 23, 2003


Digging Up the Past in Iraq's Killing Fields
Commentary Published in New York Times, May 16, 2003


Iraq: U.S. Unresponsive on Mass Graves
New Information on Site North of Baghdad
Press Release, May 13, 2003


Iraq: Mass Graves Still Unprotected
Press Release, May 11, 2003


Iraq: Protect and preserve mass grave sites
Commentary, April 30, 2003


Mass Graves Hide Horror of Iraqi Past
Commentary, April 27, 2003


Letter to US Regarding the Creation of a Criminal Tribunal for Iraq
Letter, April 15, 2003


U.S. Plans for Iraq Tribunals "A Mistake"
Press Release, April 7, 2003


UK Foreign Secretary Suggests Immunity for Saddam
Press Release, March 19, 2003


Egypt: Prosecute Visiting Iraqi Officials Involved in War Crimes
Press Release, March 1, 2003


Prosecute Iraq's "Chemical Ali"
Press Release, January 17, 2003 (Persian)


"Chemical Ali" in his own words
Human Rights Watch transcripts of audiotapes, July 1993


Justice For Iraq
Briefing paper, December 17, 2002


U.S. Needs to Screen Iraqi Opposition Allies
Denmark's Charges Against Iraqi General Welcomed
Press Release, November 21, 2002


Threat of War Crimes in Iraq Calls for Strong U.S. Message
Commentary by Peter Bouckaert, USA Today
December 1, 2002


Indict Saddam
Commentary by Kenneth Roth, The Wall Street Journal,
March 22, 2002

Related Page:

Off Target: The Conduct of the War and Civilian Casualties in Iraq
Report, December, 2003


Hearts and Minds: Post-War Civilian Deaths in Baghdad Caused by U.S. Forces
Report, October, 2003


Climate of Fear: Sexual Violence and abduction of Women and girls in Baghdad
Report, July, 2003


Violent Response: The U.S. Army in al-Falluja
Report, June, 2003


Basra: Crime and Insecurity under British Occupation
Report, June, 2003


The Mass Graves of al-Mahawil: The Truth Uncovered
Report, May, 2003


"Who Was Ali Hassan Al-Majid ("Chemical Ali") ?
Press Release, April 7, 2003


Iraq: Soldiers Describe Mistreatment by Commanders
Press Release, April 4, 2003 (French)


Impending Inter-Ethnic Violence in Kirkuk
Press Release, March 28, 2003 (Turkish)


Considerations For the Management Of Oil In Iraq
Background Briefing, March 28, 2003


Expulsions of Kirkuk Region Minorities Continue
Press Release, March 14, 2003


Iraq: The Death Penalty, Executions, and "Prison Cleansing"
Background Briefing, March 11, 2003


International Humanitarian Law Issues In A Potential War In Iraq
Briefing Paper, February 20, 2003


Ansar al-Islam in Iraqi Kurdistan
Backgrounder, February 5 2003


Iraq: Devastation of Marsh Arabs
Press Release, January 25, 2003

Related Pages:


Investigation in Iraq, April-May 2003
Video slideshow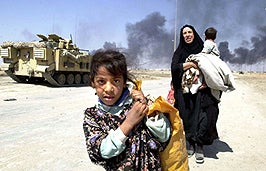 Civilians flee Basra in southern Iraq, March 28, 2003. © 2003 Agence France Presse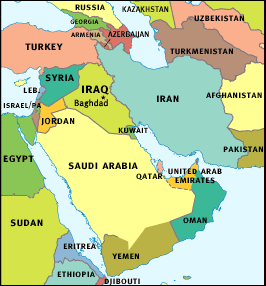 Click map to view Human Rights Watch research on a country.