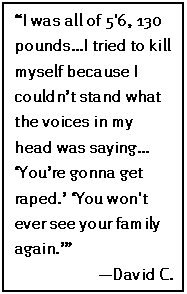 In California, teens sentenced to life without parole are not placed in adult prisons until they turn 18 years old. When they are transferred to state prison, they serve their time in maximum security prisons among the most violent adult criminals in the state. The majority of individuals serving life without parole for crimes committed as teens told Human Rights Watch that the fear of entering adult prison—especially given the striking physical differences between themselves and the older prisoners—was overwhelming. "I felt like, 'What am I doing in prison with all these grown men?'" Robert C. recalls of entering prison as an 18-year-old.127 Anthony C. remembers riding in the prison transport van as it pulled up to the prison where he would spend the rest of his life. "I was scared. I was really young. When I first saw the outside of the prison, my stomach was hurting. My stomach started cramping. I had heard all the stories about the violence."128 David C., now 29, was sent at age 18 to one of California's highest security prisons: "[I was] scared to death. I was all of 5'6", 130 pounds and they sent me to PBSP [Pelican Bay State Prison]. I tried to kill myself because I couldn't stand what the voices in my head was saying…'You're gonna get raped.' 'You won't ever see your family again.'"129
David C. was not the only one who said he had tried to kill himself. A number of others told us they had considered or attempted suicide when they entered prison. Yekonya H. wrote, "I felt scared not knowing what would become of me, nor what to expect. I was alone, in desperate need of guidance. I thought about killing myself to escape the pain and frustration I felt, for not being a better child."130 Several of those interviewed described watching other inmates commit suicide. "Prison life is a lot harder than it's made out to be. Especially when a juvenile is placed in a grown man's prison. There are no friends in prison. It's every man for himself in prison. Many don't make it," Jason E. said.131
Small physique and the status of being newly incarcerated heighten the risk of being sexually victimized. At 17, when Billy G. was convicted, he was tiny: "At trial, I was 5'5" and 119, 120 pounds." Upon first entering adult prison, he said, "I was scared, confused, and intimidated."132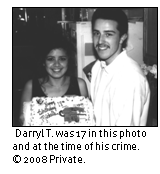 For many, violence becomes a daily reality. Fifty-nine percent of survey respondents who answered questions about victimization in prison reported that they have been physically or sexually assaulted.133 "Someone tried to cut my throat with a razor knife," Gary J. told us.134 Nearly every survey respondent reported witnessing violent acts.135 Their descriptions make clear that the violence they encounter is not simple fist fights: nearly half reported witnessing stabbings; some described witnessing murders, rapes, strangulations, and severe beatings.136  "I've seen more death in here than I did when I was living in the inner city," Rudy L. said.137 Bilal R. wrote, "I have seen stabbings, rapes, robberies, and many other things. I've been stabbed more than once."138
For youth in California, a sentence to life without parole has consequences beyond experiencing daily violence. Educational, rehabilitative, vocational, and other self-improvement programs ordinarily available to most inmates are often denied to those serving life without parole, including those sentenced as juveniles. Thirty percent of survey respondents said no programming was available to them at the prison where they were housed. Among those who said programs were available, 47 percent said prison-imposed barriers prevented them from attending. There are several reasons why inmates serving life without parole are denied access to existing programs and work opportunities: inmates with shorter sentences have priority, security classifications not necessarily related to individual behavior make them ineligible, or they must contend with frequent system "lock-downs" that are not the result of their individual behavior.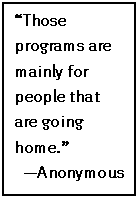 First, prison practice and regulations give persons sentenced to life without parole the lowest priority for accessing programs. Interviewees told Human Rights Watch that their sentence puts them on the lowest rung of waiting lists for GED classes and substance abuse rehabilitation groups like Alcoholics Anonymous (AA), with priority being given to inmates with a set number of years on their sentence. "Those programs are mainly for people that are going home," one individual told us, echoing the conclusion of many.139 For example, Bill C. was 22 years old when we interviewed him. He said he had been in prison five years and during that time had just one month in a GED class. "I wanted to get my diploma," he told us. "I did everything I could to get into the GED program and I was working hard in the class." But after a month, he said, he was removed from the class and told there was no room for lifers.140 Ross Meier, the CDCR Facility Captain in the Classification Service Unit, told us that the programs offered vary from prison to prison and availability is limited. "We have 173,000 inmates. There are limited spots in programs." 141 He confirmed that those who will be released from prison are likely to be given priority for certain types of programs.142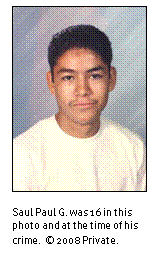 Second, security levels assigned to prisoners limit participation in existing programs. Every prisoner is classified and given a security level. Different types and quantities of programs are available at each security level, with the fewest opportunities at the highest level. Typically the security level is based on several factors, including the inmate's sentence and behavior. For those serving life without parole, behavior is not counted: Meier clarified that state regulations mandate a level IV assignment.143
Level IV places significant restrictions on inmates, limiting how long they can be out of their cells, what types of jobs they can perform, and where they can move within the prison. Most prisoners can reduce their security level over time through good behavior, but those serving life without parole—no matter how exemplary their behavior—are at stuck at level IV for years. Interviewees said that despite a clean disciplinary record, they believed inmates serving life without parole sentences cannot be moved from a Level IV to a medium or low security unit.144 "There's a point system…. [You get points for bad behavior]," said Saul Paul G., "I have zero points," explaining that he has had no behavioral problems and not received a single infraction since he entered prison in 1995. Despite this he remains in a high security setting.145 A number of those interviewed had experiences similar to Saul Paul.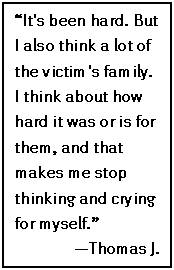 Meier told Human Rights Watch that individuals serving life without parole are allowed to petition to have their level lowered. However, for those serving life without parole, a change in security classification to a level III requires a decision by the Deputy Director after review by a classification committee.146 Meier refused to speculate as to how often an inmate serving life without parole has his or her classification reduced.147 None of the 135 individuals who have communicated with Human Rights Watch said they had had their classification reduced from a level IV to a level III.
Third, when inmates do get into programs, frequent "lock-downs" of facilities impede their ability to participate. Lockdowns are a method of controlling prisoners and are usually in response to violence or feared violence. The lock-downs confine inmates to cells for 23 hours a day. "I'm enrolled in education and I can attend AA/NA (Narcotics Anonymous) when it comes around but most of the time we're [on] lockdown so it's almost impossible to get any certificates," said Cesar B.148 Most California state prisons are at double or nearly double the population capacity for which they were built. 149 Violence is more common in overcrowded conditions.150 "See, there's no time for program," wrote Jose Luis C. "It's a continuous thing, [we're] always locked down…I've been here since last March 2006 and [in those 17 months I've] only been [able to go outside or go to programs] for a total of maybe two and a half months. You do the math."151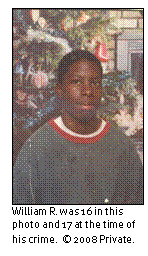 The lack of educational and other rehabilitative opportunities is particularly disturbing for youth sentenced to spend the rest of their lives in prison. Regardless of their sentence, young people should be provided basic educational and self-improvement opportunities.152 By virtue of their age, most had not finished high school at the time of arrest. For many, substance abuse and other problems that gave rise to their criminal behavior need to be addressed. More than half of survey respondents reported that mental health, drugs, or disability played a direct role in their crimes.153 An overwhelming majority—86 percent reported that they were abusing alcohol or drugs during their teen years, with 64 percent using drugs or alcohol at least four times a week and many using every day. Only 14 percent had received counseling or substance abuse treatment before their arrest.154 For example, Leo T. said he was drinking alcohol every day when he was 16 years old and arrested for the crime that sent him to prison for life. He had no intervention as a teen, and when he entered prison he wanted to change. "I couldn't get into AA, there's a waitlist," he said.155
Those sentenced to life without parole as juveniles describe their daily prison life in terms of hell, nightmares, and loneliness. "[It's] a terrible dream that I can't wake up from. No matter what I say or do in my dream, I can't wake up," wrote William R., now 28 years old.156 John D., now 31, says, "I feel like I am dead. My life doesn't even matter."157 "There's no words to describe this experience. I'd rather be dead," said 22-year-old Jesse A.158 Many describe the pain of being separated from family, especially as parents and other loved ones die during their incarceration. Others write of trying to keep a positive attitude and make the best of their situation.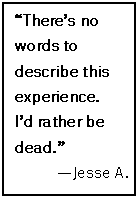 Youth sentenced to life without parole are sentenced to die in prison before they've really begun life. As a result, the frustration—and in certain cases despair—regarding the futility of their lives is intense. "It makes you feel that life is not worth living because nothing you do, good or bad, matters to anyone. You have nothing to gain, nothing to lose, you are given absolutely no incentive to improve yourself as a person. It's hopeless," wrote Jason E.159
Because California prisons offer little help or tangible incentives for rehabilitative change, and youth who are able to change do so by virtue of their growing maturity in combination with sheer will and determination. In describing his choice to not be violent and focus his energies on studying history, Saul Paul says, "It takes a lot of patience. I guess God has been good to me. I live and survive how I can."160
---