Human beings change, in dramatic ways, over time. It is a singular theme that resonates through the personal experiences of the individuals Human Rights Watch interviewed for this report and an empirical fact supported by scientific data on human development. It has particularly emphatic implications for young people, as experience and science both confirm change naturally occurs during the years leading up to adulthood. "As a transitional period," reports a study by Temple Professor of Psychology Laurence Steinberg and others, "adolescence is marked by rapid and dramatic [individual] change in the realms of biology, cognition, emotion, and intrapersonal relationships and by equally impressive transformations in the major contexts in which children spend time."85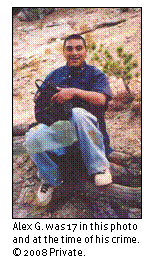 Teens are not adults. Their limited life experience, immaturity, and under-developed psychological and biological constitutions led the US Supreme Court to recognize that youth are not as culpable for their crimes as adults, when it held the death penalty unconstitutional for offenders under age 18: "The case for retribution is not as strong with a minor as with an adult. Retribution is not proportional if the law's most severe penalty is imposed on one whose culpability or blameworthiness is diminished, to a substantial degree, by reason of youth and immaturity."86
This is not to say that youth's actions should go unpunished. In fact, not a single one of the individuals serving life without parole for crimes committed as teens suggested that he or she should not be held responsible for his own actions. "We are humans. We make mistakes. We sometimes do really bad things," said Eduardo E. "I'm not trying to say that we shouldn't be punished for what we did."87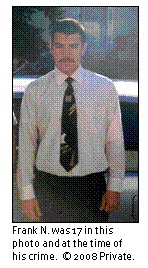 Additionally, no one interviewed denied the tragedy that their actions have caused. Some interviewees explained that they believe punishment is deserved and expressed evident remorse for actions they can now view through the sobriety of adult eyes. Many who communicated with us pinpointed when they really began to understand the significance of having taken a life. "The human factor, of being involved in taking someone's life. It's hard to put into words, something of that magnitude," said Billy G., now 32, who wept when discussing his involvement in the crime with a Human Rights Watch researcher. He described an awareness growing over a number of years about what he had done. "As a kid, you don't realize how fragile life is or how fragile it becomes."88 Thirty-three year old Roland T. described the process of beginning to understand what he had done, and his feelings of remorse. "My thoughts about what I had done to them—I've been thinking about the crime, my case, and the victims a lot," he told us. "I didn't realize my situation until I was about 24 or 25 years old. I started thinking about my whole life, what my whole family went through—their pain and suffering. I started waking up. I started regretting… Just me really accepting what I had done to them," said Roland. 89 
Recent scientific findings reveal dramatic structural growth in the brain during teen years. These findings, advanced with the use of increasingly sophisticated MRI image analysis, overturns assumptions regarding the completion of brain development at early adolescence.90 Much of the focus on this relatively new discovery has been on teenagers' limited comprehension and inability to act with adult-like volition. Just as important, however, is the conclusion that teens are still developing. These findings suggest that young offenders may be particularly amenable to change and rehabilitation.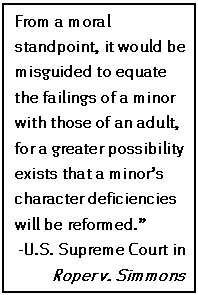 Research has shown that the most dramatic difference between the brains of teens and young adults is the development of the frontal lobe. 91 The frontal lobe is responsible for cognitive processing, such as planning, strategizing, and organizing thoughts and actions. Researchers have determined that one area of the frontal lobe—the dorsolateral prefrontal cortex—is among the latest brain regions to mature, not reaching adult dimensions until a person is in his or her twenties.92 This part of the brain is linked to "the ability to inhibit impulses, weigh consequences of decisions, prioritize, and strategize."93  The decision-making process leading up to teen criminal acts is shaped by impulsivity, immaturity, and an under-developed ability to appreciate consequences and resist environmental pressures—attributes characteristic of children and adolescents. Some researchers have further clarified that it is not just a cognitive difference between adolescents and adults, but a complex combination of ability to make good decisions and social and emotional capability that result in a difference of maturity of judgment.94
While the precise relationship between brain growth and behavioral change is not yet clear, the malleability of a youth's brain development implies that teens through their twenties may be particularly amenable to change as they grow older and attain adult levels of development.95  "The reality that juveniles still struggle to define their identity," noted the US Supreme Court in its 2005 Roper v. Simmons decision, "means it is less supportable to conclude that even a heinous crime committed by a juvenile is evidence of irretrievably depraved character. From a moral standpoint, it would be misguided to equate the failings of a minor with those of an adult, for a greater possibility exists that a minor's character deficiencies will be reformed."96
Furthermore, changes that occur during the teen and early adult years tend to be significantly more dramatic than change during later adult years because of the marked mental, physical, psychological, and emotional growth associated with this period.97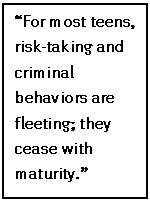 In the context of criminal behavior, changes that occur in the late teens and early twenties are significant. For example, compared with adults, risk-taking behaviors for teens can be short-lived.98 According to Professors Steinberg and Scott, "For most teens, these [risky or illegal] behaviors are fleeting; they cease with maturity as individual identity becomes settled. Only a relatively small proportion of adolescents who experiment in risky or illegal activities develop entrenched patterns of problem behavior that persist into adulthood."99 These behaviors are for most people part of a temporary, experimental period during which teens generally engage in risky activities such as drug use, unsafe sex, alcohol use, and antisocial behaviors.100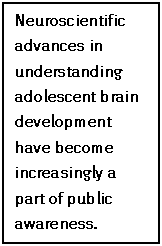 No parent of a teenager needs a brain scientist to tell them that teens are likely at times to, for example, fail to consider the consequences of their actions or resist impulses. However, neuroscientific advances help define the significance of these factors. A deeper understanding of adolescent brain development has become increasingly a part of public awareness, with discussions occurring in popular magazines such as Time and Newsweek, newspapers, and on television shows. 101 The far-reaching significance of this information is beginning to permeate different sectors. "Why do most 16 year olds drive like they are missing a part of their brain? Because they are," concludes a full-page ad for Allstate car insurance. "Even bright, mature teenagers do things that are 'stupid'," it continues, with a discussion of the underdeveloped part of a 16-year-old's brain that deals with decision-making, problem-solving, and understanding future consequences.102
In the vast majority of over 130 written and in-person communications with Human Rights Watch, people serving life without parole for crimes committed as youth described themselves as fundamentally different from what they were at the time of their crime—when they were 14, 15, 16, or 17 years old. Many described a major shift in how they viewed themselves, their actions, and their ability to control and manage their emotions. Reflection rather than impulse and an increasing awareness of the consequences of their actions versus present-oriented thinking were typical ways that individuals said they matured during their latter teen years stretching into their early twenties. It could be argued that anyone serving time is likely to claim that he or she has changed. However, these individuals are reflecting on a period in life that is a time of tremendous individual change and growth for most people. 103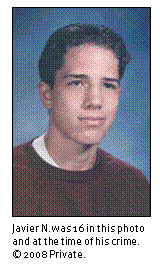 When asked about whether he still remained involved with gangs in prison, Jay C. said, "No, I left everything when I turned 24 or 25. My mind started working for some reason. I started thinking about life."104 Others marked a changing point in their early to mid-twenties as well. Looking back, they describe how they are different than they were at the time of the crime. For example:
I was a dumb, ignorant kid who was pretty self absorbed. I've become a caring man that understands where I went wrong. Now I find pleasure in helping people. I love my family and would do anything for them.

–Billy G.105

As a teenager, you seem at the whim of social pressures and peers and what MTV tells you to do or whoever else. But maturing is learning that you have to listen to yourself.

–Michael A.106

I know who I am now. My life is not ruled by my insecurities and childhood fears. I know I can tell someone "no," and it doesn't make me a bad person.

–Reggie Y. 107

I had no sense of responsibilities or conscience of my actions because I was gangbanging on the streets. Now I am a man who knows right from wrong, who will take responsibility for my actions.

–Cliff D.108

I feel I am much different now because I now rationalize and think before I act, as well as consider the pros and cons of everything I do.

—Willis E.109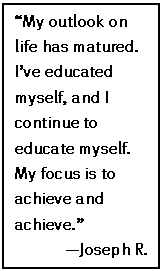 The reality that criminal behaviors are likely to be transient for youth is evidenced by the concrete changes in identity displayed and described by interviewees. Despite the hardship of maturing in prison, individuals interviewed by Human Rights Watch for this report have developed into young adults with a settled identity that prioritizes family, education, and self-improvement.
Two people serving life without parole for crimes committed under age 18 interviewed by Human Rights Watch earned placements in an elite prison unit called the Honor Yard—the only one of its kind in the state—reserved for exemplary inmates who have remained completely clear of any disciplinary issues, and have committed to drug-free and violence-free living.110 Many others we interviewed said they had actively pursued education or self-help programming, had assumed leadership positions in extracurricular activities, or had maintained outstanding disciplinary records. Despite various institutional barriers to participating in prison programs, 70 percent of respondents to our survey said that they have availed themselves of programs such as General Education Development exam (GED) classes and Alcoholics Anonymous meetings.111 Others listed their top interests as reading, writing, and studying.112 Jay C. described how he spends his time: "I seldom watch T.V. I'm almost always reading something, newspapers, books, magazines."113 Joseph R. said he had passed his GED exam and had not had an incident on his disciplinary record in years. "My outlook on life has matured. I've educated myself, and I continue to educate myself. My focus is to achieve and achieve."114
Ray J., aside from becoming a librarian while in prison, has also been a participant in a program in which inmates counsel and advise troubled teens. 115 Brian C. was engaged in the same program until he was moved to a prison that did not have it.116 Richard P. told us that prison staff invited him to speak to kids from the outside about how to change their lives in a program called "Changing from Within." Only seven or eight inmates are allowed to participate, he said. He speaks to as many as 20 kids at each session, and he can see that some of them come from the same violent background that he did. "Some listen to me. But if they go through what I did, it's hard to go back to their lives. One kid said he didn't even have school clothes. He ran out of a store [stealing] clothes. I heard that and broke down [crying]." Richard explained that he had renounced gang ties, "dropping out" of the violence and chaos of prison life. "I just want to help somebody," he says. Speaking of the youngsters, his voice caught. "I owe these dudes this."117
Chris D., who wrote and performed music before entering prison, said he continues to compose songs.118 Saul Paul G. said he reads history, draws, and prays.119 Nick V. has become an ordained Buddhist minister and prison staff trusts him to officiate over Buddhist services.120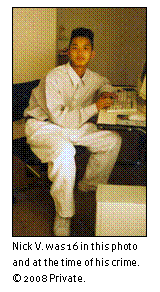 Several noted that their prison experience, however bad, had helped them change. Brock I. said he had just turned 31 and had been locked up since age 17. "To be honest, I gained perspective on life that would not have happened on the streets. I've become an adult in here. It's crazy how different you think at 31 compared to when I was 21 let alone 17."121 Several, such as Thomas J., reflected on the pain they had caused in their crimes: "It's been hard. But I also think a lot of the victim's family. I think about how hard it was or is for them, and that makes me stop thinking and crying for myself."122
Others we have communicated with have not been as successful in evading the pressures and politics of prison life. "[W]hen I first came to the CDCR, I came with the knowledge that I would be here, literally, forever and chose to make a name for violence, with a belief that many people are abused and mistreated inside prison walls every day but people make a wide path for the convict with a knife in his pocket who isn't afraid to use it," wrote Thomas H.123 Several interviewees described continued involvement with gangs while in prison and the sense that there was no other choice but to choose violence in such a violent setting. "In some ways I'm better, in other ways I'm worse than I was at 17. We segregate ourselves here. Violence is a way of life in prison," Robert D. told us.124
Overall, prisoners who serve a sentence for murder and are released prove to be the least likely of any type of offender to commit new crimes. Following their release, convicted homicide offenders are less than half as likely be convicted of any new crime than released assault, burglary, or drug offenders.125
Some suggest that people sentenced as juveniles are different from other prisoners. Chris D. opined, "The majority of kids who come in here are people who got caught up in the streets. They're not bad people. It's a mixture of things that the street throws at you—peer pressure, circumstances, lots of things that a young mind can't conceive."126
Michael A.
At the time of his crime, Michael was attending high school, participating in an ROTC-like program, and living a typical teenage life in an affluent suburb. "I was a fairly normal middle class kid. Wanting to impress my peers—these were worries and concerns at the time." Before being sentenced to life without parole, Michael had never been in trouble with the law.

Michael shot and killed someone in the course of what, he said, was supposed to be a robbery/drug deal. Following his conviction for murder, Michael was placed in a particularly violent yard to begin his life without parole sentence. He described what it was like: "When you arrive there are all these difference forces. Everyone tries to talk the younger kids into their camp—the skinheads, the Nazi Low Rides, or whatever other group. That's why these guys fall into it."

Michael said he decided not to engage with people he thought would negatively influence him. "I really wanted not to fall into that. I constantly tried to put myself far from situations that could get me in trouble. I very carefully separated myself from drugs." In such a violent environment, however, he said he was nonetheless faced daily with the threat of attack. "There was constant tension in the C-Yard—is there going to be a race war today? There would be 20 guys in that corner who have knives, and 20 guys over there with knives—and you were always wondering—what's going to happen?"

Indeed, Michael said, despite his determination to distance himself from corrosive influences, it was a challenge to mature in the prison environment. "It's a struggle to be able to mature here," he said. "Here, it's like an overcrowded, violent locker room of gang members and drug addicts. You have all these guys—even those who don't want to reform—all together." Grappling with the reality of the sentence, as well, is often overwhelming. "The years are just stretched out in front of you."

Yet Michael's efforts were so exemplary that he was chosen out of over 170,000 inmates in California prison to be placed in the Honor Yard, the only one of its kind in the state. "The change I've gone through is self-evident. If I was violent, I wouldn't be in the Honor Yard, I'd be in shackles," he explained. Michael insists change and growth—especially as a teen entering prison—is inevitable. "To say that someone doesn't change over time is a bizarre concept because everybody knows they are different from when they were younger—it's too obvious."

—Human Rights Watch interview with Michael A., serving life without parole in California, June 29, 2007
---