After the demonstrations began on November 2, 2007, each subsequent night a small group of demonstrators stayed on the steps of the Parliament building, including some individuals who had announced a hunger strike on November 4. On the night of November 6-7, they numbered approximately 70, including 41 hunger strikers.42 A few policemen as well as three or four television journalists and a few cameramen also remained in front of Parliament through the night. 43 A section of Rustaveli Avenue in front of Parliament remained closed by police, who had barred traffic from entering the area since the protests started on November 2.
Because it had been raining for several days, a blue plastic tarp, approximately 20 meters long and three meters wide, had been propped up on poles taken from protestors' flags and on metal police barricades to shelter those spending the night on the steps of Parliament.44 There was also a wooden platform and sound equipment used during the day by opposition leaders. There were no tents or other structures on the steps of Parliament or on the sidewalk in front of Parliament.
Several witnesses interviewed separately by Human Rights Watch consistently described the same sequence of events on the steps of Parliament on the morning of November 7. Sometime shortly after 7 a.m. approximately 10-15 city garbage trucks and street cleaning vehicles arrived on Rustaveli Avenue and on the sidewalks in front of the Parliament building. Men in sanitation worker uniforms quickly collected garbage from the sidewalk.45
As the men cleaned the sidewalk, two buses drove down Rustaveli Avenue and appeared prepared to enter the section of Rustaveli Avenue in front of Parliament that had been closed to cars since the demonstrations began on November 2. Soon thereafter, at approximately 7:50 a.m., a large number of police officers in long yellow raincoats began to approach the front of Parliament from the direction of Freedom Square. The police began to file into rows on Rustaveli Avenue facing Parliament.46 Some police coming from this direction placed metal crowd control barriers along Rustaveli Avenue and the sidewalk in front of Parliament, apparently in order to prevent people from going into Rustaveli Avenue.47 
At the same time, a large number of police came along Rustaveli Avenue from the direction of the Marriott Hotel Tbilisi and Republican Square, and amassed on the sidewalk in front of Parliament. This group wore jeans, black coats, and masks.48 Witnesses interviewed by Human Rights Watch could not determine the exact number of police gathered on Rustaveli Avenue, but they appeared to number in the hundreds.49 The garbage and street cleaning trucks that had arrived earlier appeared to be parked in such a way as to create a corridor for the police to approach the front of Parliament.50
After amassing, the police officers divided into three groups and quickly began to approach the hunger strikers, demonstrators, and journalists on the steps of Parliament. According to multiple witnesses, the police made no audible demand for anyone to disperse nor gave any indication that force would be used to disperse people who did not do so willingly.51
The first group of police rushed at the hunger strikers and other demonstrators, and without any warning began to pull them off of their makeshift beds and punch and kick them. This group of policemen made no attempt to arrest anyone.52 Bidzina Gegidze, a former professional rugby player and opposition supporter who had spent the night on the steps of Parliament, described the actions of the police:
Without any warning, without any announcement from a megaphone or anything else, they came rushing towards us. I could only think of one thing, that the other hunger strikers were still sleeping and did not know what was happening. I yelled out, "Don't do it! Don't touch them!" Two or three of us tried to stop some of the police. We put our arms around them, but they burst past us and made a circle around the sleeping hunger strikers. I again ran toward the police and shouted, "I am also a hunger striker, don't touch them!" The police started to pull people off of their blankets and pads [for sleeping] and to punch them and throw them down the steps.53 
Other witnesses similarly described the police attack on the hunger strikers. According to one journalist, who declined to be named out of concerns for his safety,
The hunger strikers were asleep and they were just waking up. The police just attacked and started to disperse people.…  Several policemen ran at us [journalists] and at the hunger strikers. The police were hitting people.… They demolished the covering over the hunger strikers and turned it upside down. They were punching and kicking people.… People shouted and screamed, "Leave us alone! What are you doing?" I was also at a loss for what to do. It happened so fast. People were scared and screaming and shouting.54
Witnesses described seeing the police beat Levan Gachechiladze, a member of Parliament from the New Right Party and one of four opposition leaders participating in the hunger strike. According to Tinatin Khidasheli, a Republican Party leader, who arrived at Rustaveli Avenue just as police began to approach the protestors, "The police grabbed Levan Gachechiladze and beat him even as he lay on the ground."55 Bidzina Gegidze also described the police attack on Gachechiladze: "They were beating a lot of people, but they especially went after Levan. They hit him hard and he fell. He couldn't stand up. Five or six guys descended on him, kicking him. [A few of us] went to try to protect him. …  I wasn't resisting anymore. I was just trying to protect him…. Some of our supporters dragged Levan away in order to protect him."56 Witnesses described other instances in which demonstrators or those who had just arrived on the scene attempted to protect hunger strikers or other demonstrators, interfering with the actions of police.57
The second group of police approaching the steps of Parliament immediately went towards the eight to ten journalists and cameramen who were already filming the attack on the demonstrators. Some of this footage was later broadcast on television. One journalist told Human Rights Watch,
[The police] didn't say anything… they came at us and grabbed the camera [from our station's cameraman], our microphone, and the tripod for my microphone. One of them hit me. He had grabbed my microphone and as I pulled back on it, his fist came forward and hit me in the lip. I shouted, "Leave us alone! We are doing our job!"58
The same witness reported that a journalist and cameraman from Russia Today fled the steps as the groups of police approached and were pursued by policemen for several hundred meters but managed to escape. Police confiscated the cameras and other equipment from all of the other journalists and cameramen present.59
Without their equipment, journalists were prevented from documenting the police attack on the demonstrators, which continued for approximately another 10 minutes. One journalist told Human Rights Watch, "The very reason I went into journalism was this idea to be where I was needed. … What happened [on November 7] was really awful for me. They took away our right to do our job."60  Police returned the journalists' equipment an hour after confiscating it.
At the same time as groups of police launched attacks on demonstrators and journalists, a third group of police moved directly towards opposition leader and former Minister of Conflict Resolution Giorgi Khaindrava. Khaindrava told Human Rights Watch that he did not resist the six men who surrounded him in order to detain him. "I put my hands behind me. They grabbed me and picked me up from behind by the belt of my pants and pushed my head down. They forced me forward and into a car. I was immediately taken to court," he said.61 According to his lawyer, Khaindrava was initially charged with hooliganism, resisting arrest, and use of narcotics. The first two charges were dropped when the judge learned that the police officers filing the report and testifying at the court hearing were not present during Khaindrava's arrest.62 Khaindrava was fined 400 lari (US$235) for refusing to submit to a drug test and then released.63
Government officials gave conflicting accounts of police actions on that morning. One Ministry of Interior official told Human Rights Watch that in the early morning of November 7, police had come to set up barriers to prevent protestors from entering Rustaveli Avenue from the sidewalk in front of Parliament. According to this official, because some of the demonstrators resisted police efforts to block access to the street and open the street to traffic, there were "minor clashes" between police and protestors, and Giorgi Khaindrava was arrested for resisting police.64 Witnesses acknowledged scuffles with police, as described above, but none said they tried to stop police from blocking access to Rustaveli Avenue. Bidzina Gegidze said, however, that demonstrators verbally protested when they saw the approaching buses.65
Another Ministry of Interior official denied that police took any action with respect to demonstrators, but only that patrol and neighborhood police cleaned up garbage from the area in front of Parliament and on Rustaveli Avenue and opened the road to traffic.66
On the day of the events, Tbilisi Mayor Gigi Ugulava stated that the authorities had acted in the early morning of November 7 in response to opposition plans to set up tents, which he viewed as an indication of their intention to continue demonstrations until their demands would be met. He also stated that the small number of demonstrators remaining justified the government's desire to reopen Rustaveli Avenue to traffic.67
After the early morning police actions on the steps of Parliament, opposition party leaders and others went to the nearby office of the Republican Party where they publicly called for a demonstration at 2 p.m. in front of Parliament. Many people did not wait until 2 p.m. to gather, instead arriving in front of Parliament almost immediately. Some had seen on television some footage of the police dispersal of protestors earlier that morning.68 
At about 11 a.m. leaders of the opposition parties returned to the front of Parliament. Several hundred police in long yellow raincoats remained on Rustaveli Avenue. According to the Ministry of Interior, these police officers were unarmed, except for a few who had truncheons.69 By approximately 11:30 a.m. there were three lines of police surrounding the demonstrators and containing them on the sidewalk in front of Parliament, which holds at most a few thousand people, and preventing them from entering Rustaveli Avenue. The demonstrators were unarmed.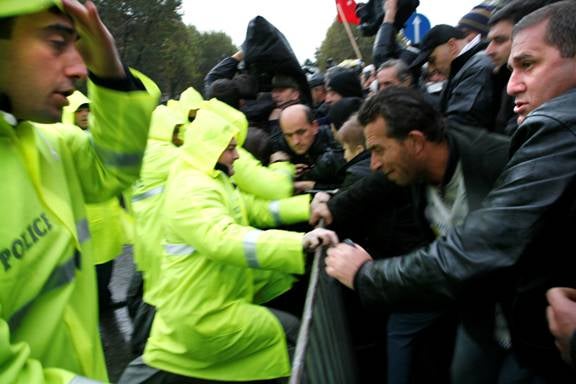 Demonstrators break through the police line
As the number of demonstrators grew, to approximately 3,000-5,000 people,70 it became increasingly difficult for police to contain them on the sidewalk. According to one witness, "There was a huge flood of people coming very quickly. There were so many people that they could no longer fit on the territory in front of Parliament."71 Some individuals, including some opposition leaders, were talking to police and demanding that they allow the demonstrators to move into the street. Individual demonstrators also pushed policemen, who pushed back as necessary to maintain the police line. There were some scuffles between police and protestors.72 Police made some arrests. At the same time, demonstrators continued to approach Parliament along Rustaveli Avenue and some of them amassed behind the police line.73 
At approximately 12 p.m. the Ministry of Interior ordered the police to retreat from the cordon they were maintaining in front of the Parliament.74 Individual police officers moved away and the police lines broke apart and the crowd flowed into Rustaveli Avenue. As this happened, there were individual clashes between police and demonstrators.75 One witness told Human Rights Watch, "I saw two policemen in yellow coats holding a young man by his arms and dragging him, while a third policeman punched him on the head. The boy was not resisting. I shouted, 'Don't beat him!' They saw that I was filming them with my mobile phone and they let him go."76 A senior Ministry of Interior official told Human Rights Watch that four police officers were beaten by demonstrators and a police car was damaged. When asked to elaborate, the official stated that one policeman was struck in the back by a demonstrator using a flag pole, but did not provide detailed information about the other three.77
Nugzar N., a 19-year-old opposition supporter who had moved with the crowd onto Rustaveli Avenue, said that around 20 men dressed in black coats with hoods, whom he believed to be law enforcement agents, but who could not be identified, came and started fights with some of the protestors. Together with a friend, Nugzar N. started to move across the street and the men in black pursued him, grabbed him, and started kicking him. He told Human Rights Watch that he did not resist, as he was outnumbered and "it was nonsense to fight [back]."78
As the crowds continued to move through the police line, two policemen grabbed an employee of the Office of the Ombudsman who was in the midst of the crowd moving onto Rustaveli Avenue. When she told them that she was a representative of the Ombudsman," the policemen responded, "We don't care who you are!" and started to push her back toward the Parliament building.79 A journalist approached and shouted to the policemen, "She is from the Ombudsman's Office. You don't have any right to touch her!"80 In response, the police let her go.81  
As they moved into Rustaveli Avenue, protestors pulled the metal barriers that the police had set up in front of Parliament to help control the crowd and formed a barricade line approximately from the corner of Chichinadze Street near School No. 1 across Rustaveli Avenue to the front of the Kashueti church.82 Several thousand protestors amassed behind this line along Rustaveli Avenue towards Parliament facing in the direction of the Marriott Hotel Tbilisi.83
Deployment of riot police and other law enforcement personnel
When the patrol police were ordered to retreat from their line, riot police and other law enforcement personnel, who had been mobilizing at Republican Square and elsewhere, were called in.84 They moved towards Parliament from the direction of Republican Square and established their own line across Rustaveli Avenue stretching approximately from the corner of Lesia Ukrainka Street and the edge of School No. 1 to the front of the Blue Gallery. Police also brought in two large blue trucks labeled "Police," at least one equipped with a water cannon apparently designed for crowd dispersal. There were also ambulances and fire trucks behind the police line on Rustaveli Avenue.
The first line of law enforcement personnel consisted of riot police in plastic helmets and holding plastic shields and truncheons. Behind them were other personnel in various types of dress. Many were in camouflage uniforms; some of those wearing camouflage had helmets, some had black cloth ski masks, and some were also wearing black plastic body armor. Others were dressed in all black and wearing black ski masks, typical of Georgian special forces troops. Yet another set of forces wore jeans, black jackets, and black ski masks; some of the black jackets had "Criminal Police" written across the back. The police in yellow raincoats also gathered near or behind the police line. No witnesses whom Human Rights Watch interviewed said they saw any of the law enforcement personnel wearing any visible form of identification such as a name or number badge.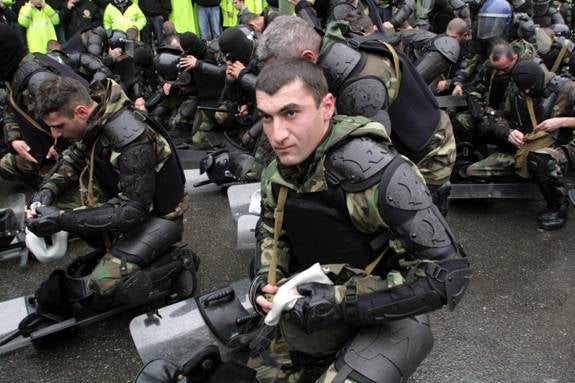 According to Shota Utiashvili, head of the Ministry of Interior's Analytical Department, only two types of law enforcement personnel were deployed on Rustaveli Avenue that day: riot police in full crowd control gear, who made up the front lines, and regular patrol police, including many from outside of Tbilisi. When asked about the lack of uniforms on some law enforcement personnel and the various forms of dress, Utiashvili replied that the black uniforms were used for patrol police and criminal police brought in from the regions as reinforcements for whom uniforms were not available.85 Another Ministry of Interior official stated that there were only riot police engaged in the operations on November 7, after patrol police were pulled aside.86  Both officials also claimed that black face masks were typical for police engaged in riot control in all countries.87
It was not possible for Human Rights Watch to determine the exact composition of law enforcement personnel operating on Rustaveli Avenue. However, a doctor interviewed by Human Rights Watch told us that one law enforcement officer admitted to City Hospital No. 1 stated that he was a member of the special forces of the penitentiary department, which are under the authority of the Ministry of Justice.88 Many witnesses referred to the law enforcement officers as "special forces" and some witnesses speculated that some of those participating were not officially part of any force structure.
Warnings to disperse
At approximately 12:30 p.m., using a loudspeaker, police began to demand that the crowd clear the street and to warn that if people did not disperse, police would be required to use all legal means to disperse the crowd. According to witnesses, the announcement was repeated several times.89 The Ministry of Interior maintains that the announcement was made for 10 minutes.90 Some witnesses told Human Rights Watch that the announcement was difficult to hear, as there was a great deal of noise from the crowd itself.91 Human Rights Watch could not determine whether some protestors began to disperse in response to the announcement, but video evidence and witness testimony confirm that at least the front lines of demonstrators did not make any attempts to disperse.92
Witnesses told Human Rights Watch that some protestors remained standing in place with their hands up.93 Video and photographic images confirm this.94 According to one witness, some people also said, "Let's get on our knees so that they won't take any action against us."95 Opposition party activist Nuzgar N., who stood at the front of the crowd of protestors, told Human Rights Watch, "My friends and I stood behind the metal barriers [facing the riot police] and put our hands up. We shouted, 'We are all Georgians, don't use force against us.'"96 A senior Ministry of Interior official described the "crowd of 5,000 people" as "very violent," although he was not himself present.97
Immediately following the warnings for the crowd to disperse, law enforcement personnel began firing bursts of water from the water cannon at the front line of protestors. A few demonstrators were knocked down by the force of the water. Some demonstrators began to move away from the water.98 However, most protestors remained in place, defying the police orders to disperse. Some waved their fists and shouted at the police.99 The Ministry of Interior claimed that "the water cannon was not effective in dispersing people,"100 although witnesses testimony and video evidence reveal that law enforcement officials used the water cannon for a very short time and only at the very front line of protestors.101
Use of teargas and rubber bullets
The evidence available to Human Rights Watch strongly suggests that law enforcement officials did not fully exhaust the use of warnings and water cannons to disperse demonstrators before resorting to more severe methods of crowd dispersal, including use of more extreme force. When many protestors refused to clear the street after verbal warnings and a limited use of water cannons, riot police began to use force, initially firing teargas into the crowd and firing rubber (or plastic) bullets at demonstrators.102 They gave no warning that these methods would be used.
In using teargas and rubber bullets simultaneously against protestors, the government failed to implement a measured escalation in its response to the demonstrators. That law enforcement officials were authorized or chose to use rubber bullets at all, when at most there was sporadic violence from few demonstrators, and most demonstrators fled quickly as a result of the overwhelming effects of the teargas, raises serious concerns. Because rubber bullets may in certain circumstances have lethal force, they must be treated for practical purposes as firearms. They should be used strictly in accordance with the UN Basic Principles on the Use of Force and Firearms by Law Enforcement Officers, which state that "law enforcement officials must not use firearms against persons except in self-defence or defence of others against the imminent threat of death or serious injury."103
Human Rights Watch was not able to fully document injuries resulting from the use of rubber bullets. A detailed forensic examination into the number and type of injuries documented as a result of the use of rubber bullets should be a key aspect of the Georgian government's investigation into the use of force on November 7, as should accountability for those using and ordering the use of rubber bullets in a manner inconsistent with the UN guidelines.104     
One witness who stood at the front of the demonstrators and had refused to move even after the official requests told Human Rights Watch that immediately after the water cannons were used, "I saw [law enforcement officers] put on gas masks and I realized that they would use teargas.… Without any announcement they began to shoot the gas canisters over my head [into the middle of the crowd]."105 Paata Zakareishvili, a Republican Party activist and prominent political analyst, went to the demonstration with his wife and two children. He confirmed there were no warnings before teargas or rubber bullets were fired into the crowd. Another participant called the use of the teargas "completely unexpected."106
People fled immediately in response to the teargas and rubber bullets. Many people panicked, and the atmosphere became chaotic as people ran in all directions,107  suffering burning eyes and throats and other effects of the teargas. Most people ran onto the side streets leading away from Rustaveli Avenue. Others sought shelter in the Parliament building, in the Kashueti Church, and in School No. 1.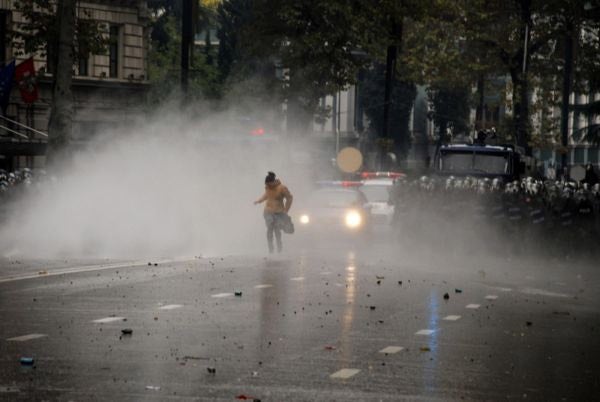 A Human Rights Watch representative who monitored the events saw that the large volumes of teargas left several hundred meters of Rustaveli Avenue almost completely covered in gas.108 Witnesses reported that the teargas caused the eyes, nose, and throat to burn severely and left many people nauseated and short of breath, often making it difficult for them to disperse.109 The Human Rights Watch representative and others witnessed many people vomiting, including many policemen who, unlike the riot police and other law enforcement officials, had not been given gas masks or any other gear to protect them from the teargas.110
The large number of demonstrators and limited exits for dispersal made it difficult for people to flee quickly, causing them to be further exposed to the large amounts of teargas. According to one witness, "I ran to the small street in between Parliament and School No. 1. A large number of people also wanted to go up the same street, and it was packed. As a result, I could not run fast and had to breathe more of the gas.  I fell down as I could not run."111
Former State Minister of Georgia Avtandil Jorbenadze, who is 56 years old, went to Rustaveli Avenue after seeing television footage of the events earlier that morning. He described to Human Rights Watch his experience:
[After they shot the teargas] the results were strong and immediate. My eyes burned, I felt as if I was suffocating. I tried to help two young women who were sick, but then I felt very sick myself [and could no longer help them]. The crowd divided and one wave of people swept me and others towards Parliament. People were screaming and shouting. People were climbing the Parliament gates trying to escape the gas.112
The guards eventually opened the gates of Parliament to allow people inside, as the gas was accumulating in the doorway and causing people to become increasingly sick.113
Many people sought medical help after inhaling the gas, although most or all were treated and released after a few hours, including several children.114 Typically, the effects of nausea, vomiting, eye irritation, and difficulty breathing would last for one to two days.115 The Ministry of Interior did not name or identify the composition of the gas in any public statement, nor would it do so to Human Rights Watch.116 A statement posted on the Ministry of Interior website on November 7 stated only that the gas is widely used in crowd control in many countries and is not lethal.117
One official claimed that the Ministry of Interior had informed the Ministry of Health about the use of teargas, but claimed that no hospital requested information about the chemical composition of the teargas.118 A medical doctor interviewed by Human Rights Watch stated that it was "a big mistake" for the authorities not to make available information on the type or composition of the teargas that they planned to use. He said that ambulances on the scene and hospitals were unprepared to treat those suffering from the effects of the gas. 119
Many people already suffering from the effects of the teargas entered School No. 1 in search of breathable air. Law enforcement officials pursued demonstrators fleeing into the school. One witness told Human Rights Watch that the door of the school was too small to accommodate the large group of people trying to enter and in desperation some young men broke windows in order to enter the building.120 One witness reported that there was a large amount of gas in the school.121
During the operation on Rustaveli Avenue, law enforcement officials used long-range acoustic devices (LRAD), large round dishes that emit a strong, shrill noise that is apparently intended to disorient anyone within range of hearing it. Two police pickup trucks drove along Rustaveli Avenue equipped with these devices. The Human Rights Watch representative observing the events on Rustaveli Avenue described the noise as "unbearable," and one witness stated that the unbearable noise very much contributed to the initial panic among protestors.122
Attacks on fleeing demonstrators
Immediately following the initial use of teargas and rubber bullets, the police line advanced along Rustaveli Avenue toward the dispersing protestors who were fleeing in all directions. The Ministry of Interior maintains that "in only a few instances did police or riot police use violence against protestors," and that many small groups of demonstrators attacked policemen.123 Human Rights Watch could not confirm the attacks on policemen during this particular period of the events on Rustaveli Avenue; witnesses did not elaborate on this and none of the video and photographic evidence viewed by Human Rights Watch provides corroboration for the allegations.
We did confirm, however, that dozens of individual law enforcement officials scattered to pursue protestors. In doing so, they also attacked and beat dozens of individuals, using truncheons, fists, and kicks. Some also shot rubber bullets at fleeing protestors at close range. Law enforcement officers attacked those demonstrators who continued to linger on Rustaveli Avenue, as well as those who were not able to flee or had already moved away from Rustaveli Avenue towards School No. 1, Parliament, the Kashueti church, or onto side streets. Witness testimony and video and photographic evidence confirm these attacks by police officers, riot police, and other law enforcement personnel on demonstrators and journalists.
Nugzar N. told Human Rights Watch that immediately after riot police launched teargas into the crowd, he ran from Rustaveli Avenue and entered School No. 1, but quickly came out again because the gas inside was so thick that he could not breathe. As soon as he emerged from the school, "Six policemen in yellow raincoats grabbed me and said, 'We saw you [supporting the opposition].' One of them hit me on the head with a truncheon. I was trying to run away. They dragged me across Rustaveli and said they wanted to take me to the police station," he told Human Rights Watch.124
Only when another policeman intervened on his behalf was Nugzar N. released. Nugzar N. found an ambulance nearby and was taken to hospital. He received several stitches in the top of his head, but did not suffer a concussion or any other physical injuries. Nugzar N., a law student, told Human Rights Watch that he will not file a complaint against the police who attacked him. "I think that making a complaint would be in vain. I do not trust the judiciary in Georgia," he told Human Rights Watch.125
Vakho Komakhidze told Human Rights Watch that he, too, sought shelter in School No. 1 and immediately ran up the stairs to the second floor, where he stayed for several minutes. Looking out the window, he witnessed how five or six riot police in gas masks dragged a young man, about 25 years old, from the front of the school building and began to beat him: "They threw him to the ground and kicked him. The man managed to stand up and appeared to beg that they stop beating him. Another policeman intervened [and the beating stopped]. But as soon as this policeman left, the others started beating the protestor again."126 Komakhidze left the school at that time and did not see what happened to the young man.127
Avtandil Jorbenadze had fled toward Parliament but as the gas cleared he returned to Rustaveli Avenue, where he was attacked by masked law enforcement officers. He told Human Rights Watch, 
I saw that Rustaveli Avenue was mostly clear, and I saw a Public Television reporter with a camera and I thought I should make a call for the authorities not to continue the attack [on demonstrators] because there could be very negative consequences. I made my way across Rustaveli to the cameraman. I was halfway across Rustaveli Avenue when I was attacked.128
           
Photo evidence shows a law enforcement officer in a black mask and blue jeans approaching Jorbenadze from behind and striking him several times with a wooden stick, approximately one meter long, as Jorbenadze made his way across the street. Jorbenadze described to Human Rights Watch what happened as he moved away from this attacker and made it to the other side of the street. He was in the yard in front of the Kashueti Church when
… six or eight people attacked me. Unfortunately I fell down. They beat me very severely … with sticks, fists, and kicks … and continued to beat me even while I was down [on the ground]. Some people who came to assist me were also beaten. I think that when they saw that I was lying still, they stopped beating me.129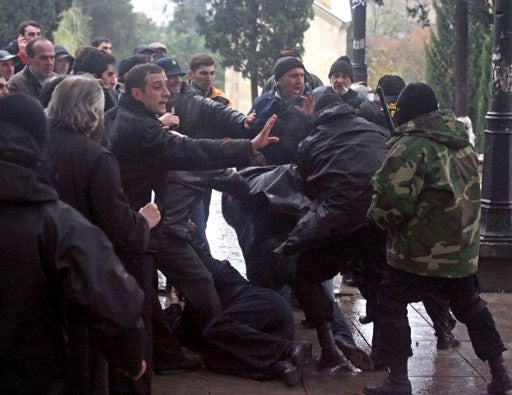 Photos show a crowd gathered around Jorbenadze as he lies on his side on the ground trying to protect his head and face with his hands and arms as law enforcement officers in black masks kicked him. Law enforcement officers said nothing to Jorbenadze during the attack and made no attempt to arrest him. As a result of the attack, Jorbenadze suffered a concussion, a broken finger on his right hand, and multiple contusions all over his body, including on the back of his head, on his neck, shoulders, sides, arms, and hands. His eyesight was affected for several days as a result of exposure to large amounts of teargas. He told Human Rights Watch that he did not file a complaint regarding his attack.130 
Nino Soselia, a 60-year-old pensioner who is not affiliated with any political party, was attacked by law enforcement officials immediately following the initial use of teargas. Soselia had seen the protestors gathering while watching television. She told Human Rights Watch, "I decided to go [to Rustaveli Avenue] because I wanted to be with my people."131 When she arrived, Soselia joined the crowd, standing near the corner of Rustaveli Avenue and Chichinadze Street, in front of School No. 1. She considered leaving the demonstration when she saw riot police arriving on Rustaveli Avenue, but other demonstrators persuaded her to stay: 
People were calling out, "Don't disperse. Don't be scared. Let's stay together." We raised our hands and continued to stand. [After the teargas was launched], a wave of people moved up Chichinadze Street and pushed me towards School No. 1. It was a completely chaotic environment. People fell down. When the [law enforcement officers] started to attack people, they did so mercilessly. They did not distinguish between man, woman, big, small, child. I tried to protect a boy who was shouting "Georgia! Georgia!" He was about 14 years old. He wasn't swearing or anything. Riot police were coming to attack him.

A riot policeman in a white gas mask started hitting me on the head with a rubber truncheon. I shouted, "Tell me! What do you want?" He didn't answer my cries for him to stop.… I hit the policeman back. I resisted.… After he hit me, he grabbed me and threw me into the wall of School No. 1. I hit my right shoulder and my back and even now I still have pain in my shoulder when I try to move it. After I hit the wall, I felt very bad. Some demonstrators helped me across Rustaveli and towards the opera and I went home.132 
Soselia did not immediately seek medical attention, but she had headaches and felt very ill, so on November 8 she went to hospital. She was diagnosed with head trauma and severe bruising. At the time of her interview with Human Rights Watch Soselia continued to complain of headaches, was bedridden, and had difficulty moving or sitting up in bed.133   
Soselia witnessed policemen in yellow raincoats beating the teenage boy whom she had tried to protect. She told Human Rights Watch that a large number of policemen dragged the boy and other boys away. As she was being assisted and led away by other demonstrators, she also witnessed policemen beating others. "Police even beat those who had fallen down and were helpless, including the elderly who had fallen down after being pushed by the waves of running people," she said.134
Nikoloz N., age 36, also described to Human Rights Watch the severe beating he received by several police officers near the April 9 Park: 
I was running as fast as I could.  Several police [and law enforcement officers] came after me. One dressed all in black grabbed me and after a few more steps I fell down. They jumped on me. They beat and kicked me. I tried to protect my head. There were probably 15 people kicking me. There were so many of them who wanted to kick me, they were saying to each other, "Move over, I also want to [kick him]. Give me a shot!" Only after two priests and a woman appeared and started screaming did these guys move away from me.

I could hardly breathe. I thought I had broken a rib. [Someone] put me in a taxi and I went to the hospital. I had damage to the pleura [the membrane surrounding the lung].135
Nikoloz N. received surgery on his lung. He also had severe bruising over much of his body and pain in his liver, kidney, and sides.136
One journalist who was covering the events on Rustaveli Avenue described an attack on an elderly woman on the steps of Parliament. This witness stated,
By that time the square was mostly empty of [demonstrators]. I saw an elderly woman collapse near the fountain [in front of Parliament]. She [appeared to be] sick from the teargas. Some special forces in black plastic body armor hit her with a truncheon on the back several times. An ambulance drove up and took her away.137
A Human Rights Watch representative also witnessed police beatings of demonstrators well after the area in front of Parliament had been cleared. He saw several groups of five or six policemen each beating demonstrators near the Kashueti church. At least two of the victims were lying on the ground while police kicked them.
At least two witnesses described law enforcement officers' use of rubber bullets against fleeing protestors. One of them, Giorgi Gotsiridze, an employee of the Ombudsman's Office, told Human Rights Watch, "[After running from Rustaveli Avenue], I went behind Parliament to Chitadze Street. I saw about 100 protestors running, and they were being chased by riot police, shooting rubber bullets at their backs at close range. There were about 30 riot policemen. Several of them were shooting rubber bullets, directly aiming at the backs of fleeing people."138
Human Rights Watch received reports of several attacks on journalists covering the demonstrations and the police response on November 7.139 A Ministry of Interior official was quoted as saying that "every officer had clear instructions not to touch … journalists."140 After the first dispersal of protestors, law enforcement officers in black masks attacked Imedi journalist Levan Tabidze near School No. 1. He and his cameraman had sought shelter from the teargas by going into School No. 1 for about 15 minutes. When they left the school, Rustaveli Avenue had been mostly cleared of people, but Tabidze and his cameraman started filming riot police chasing fleeing protestors up Chichinadze Street between the school and Parliament. Tabidze told Human Right Watch,
It was one of the worst things I saw that day. A man was walking up the street between Parliament and School No. 1. Riot police were coming down the street. Without any apparent reason they attacked him one by one. As each [policeman] passed him, they would hit him. I remember his face very well. I was at a loss. I could not believe that this was happening to him. We were filming this all.

I started to walk up the side streets. We weren't filming at that point. People were gathering in groups. All of a sudden some [law enforcement officials] came at me and were yelling, "Badri [Patarkatsishvili], Fuck your mother!" They saw that I had an Imedi microphone and they came at me, swearing at me, yelling, "Badri's puppies—this is what you get!" I was yelling, "I am just working!" Then they started to beat me.

I put both of my hands up and continued to hold the microphone in one hand. I repeatedly said, "I am just doing my job!" Another Imedi journalist was there shouting and swearing, saying "Leave him alone!" One of the policemen hit me with a truncheon from behind on my left leg. They continued to swear at me. I also remember very clearly that one of the policemen said to me, "This is nothing. We will come to you [Imedi] this evening and fuck you all."

A man who seemed to be a commander or leader of these policemen ran down and intervened. He said, "What are you doing? Why him?" He seemed very angry. After this the beating stopped. The pain in my leg was very bad. I couldn't move my leg. I sat down for about 15 minutes before I could get up and leave. I continued to limp the next day.

I couldn't understand this aggression against me because we weren't even filming them anymore. I understood that this was not personally against me but against the television station and me as a journalist of this television station. I think that the logo on the microphone made me a target of the attack, but I also feel that maybe they didn't go as far as they could have because of the microphone and they could see that I was a journalist.141
Police did not attack the Imedi cameraman who was with Levan Tabidze at this time.
The Ministry of Interior denied that there were attacks on fleeing demonstrators. When asked about the approved use of a truncheon, a senior Ministry of Interior official told Human Rights Watch that truncheons are used only as a defensive weapon by riot police attempting to maintain a police line.142 When asked about the wooden stick that was used by a law enforcement officer to attack Avtandil Jorbenadze, a senior Ministry of Interior official denied that such a stick is part of the approved equipment for riot police or others engaged in crowd dispersal. He stated that any object of that description was probably a flag pole taken from the flags being carried by the demonstrators.143 Other witnesses described seeing law enforcement officers wielding these wooden sticks and using them as weapons.144
During the operation many law enforcement officials used highly intimidating and threatening language, mainly directed against Badri Patarkatsishvili, apparently because of his financial support for some opposition parties. When attacking Imedi journalist Levan Tabidze, phrases used by law enforcement officers indicated they were targeting him because he was employed by Imedi, which was founded by Patarkatsishvili. Video footage shows law enforcement agents in all black marching on Rustaveli Avenue chanting, in the military style of a rhyming question and response, "What [do we have] for Badri?" "[We're gonna] fuck Badri's mother!" This kind of language directed against a person with strong links to Georgian opposition parties is deliberately threatening and intimidating to anyone who would wish to support the political opposition or participate in opposition-organized public demonstrations.
After the dispersal of people on Rustaveli Avenue in front of Parliament, as described above, some riot police, police in yellow raincoats, and other law enforcement personnel walked along Rustaveli Avenue in front of Parliament and others pursued demonstrators and beat many. Further down Rustaveli Avenue in the direction of Republican Square, a line of riot police stretched across the avenue in front of the Marriott Hotel Tbilisi. This cordon had apparently been established to protect from behind the riot police and other law enforcement officials engaged in the dispersal of the demonstrators in front of Parliament.
Very soon after the riot police started dispersing the demonstrators in front of Parliament, crowds began to gather along Rustaveli from the direction of Republican Square and approached this rear guard of riot police, who turned to face them. The crowd most likely consisted of some of the same demonstrators who had been dispersed from the front of Parliament and had circled around using small side streets to reach Rustaveli Avenue again as well as additional demonstrators just arriving from the direction of Republican Square.
As the crowd continued to gather, the front lines of protestors moved directly to the line of riot police, separated by only a few meters. Photographic evidence shows protestors damaging a police car on Rustaveli Avenue, near the Drama and Ballet Theatre. A few protestors threw stones and swore at police, although some witnesses reported that other demonstrators attempted to subdue those who were acting aggressively.145 Otherwise, most demonstrators were not aggressive.
Around 1:15 p.m., opposition leaders made their way to Rustaveli Avenue. Tinatin Khidasheli told Human Rights Watch that she and other opposition leaders sensed the crowd might press forward into the police line and so used a megaphone to tell people to stop moving forward.146 Paata Zakarieshvili confirmed this, saying people were moving toward the riot police and were cursing and yelling. He said he and several opposition leaders stood between demonstrators and the riot police. Zakarieshvili told Human Rights Watch, "This was a very nervous situation. We stood like this for maybe about 10 minutes. We really didn't want people to clash with police."147 Khidasheli stated that she spoke with the riot police on the front line and explained to them that the crowd would not act against them.148
At approximately 1:30-1:45 p.m. riot police started to push forward into the demonstrators. They again fired a volley of teargas into the crowd and opened fire against demonstrators using rubber bullets. Multiple witnesses told Human Rights Watch that no warning was given.149 Tinatin Khidasheli, who was standing at the front of the crowd, told Human Rights Watch that a teargas canister hit a tree branch above her and both the branch and the tear gas canister fell down on her, knocking her unconscious. Others later told her that after she collapsed, law enforcement officials in black masks kicked her. "I don't know what happened," she said, "But I am covered in bruises on my back and legs."150 Khidasheli also had a severe allergic reaction to the teargas, which engulfed her.
The Human Rights Watch representative witnessed how following the launching of the teargas and rubber bullets, many protestors fled. However, several hundred people continued to linger on Rustaveli Avenue, and, because the wind blew much of the teargas back towards the riot police maintaining the cordon across Rustaveli, the air would clear and demonstrators would again steadily advance toward the riot police line. Ambulances standing along Rustaveli Avenue amidst the protestors had handed out surgical masks to help people cope with the teargas. Several witnesses confirmed that protestors retaliated against the police at this point.151 According to one witness, "The protestors cursed the police and yelled, 'What are you doing? Why are you beating people?' Some protestors threw the teargas canisters back at the riot police. Others threw whatever was at hand: rocks or pieces of brick from the sidewalk [which was under repair]."152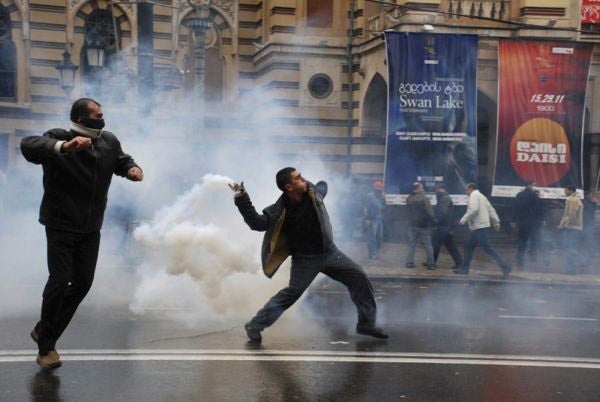 Meanwhile, other law enforcement officers again pursued the protestors who fled. Some continued to fire teargas canisters at people who fled while others swung truncheons and attacked individual protestors. One witness said that he ran into the courtyard of a building off of Rustaveli Avenue and sought shelter in a small shed located in the yard. He told Human Rights Watch,
After about five minutes I came out of the shed and looked out onto the street. One special forces officer saw me and turned and started to shoot at me with rubber bullets. I ran into the courtyard again and another special forces officer chased me and threw a gas canister at me. The smoke was so strong that I felt I was losing consciousness, and again ran into the shed. After 10-15 minutes, I ran out again, but the [teargas] smoke was still so thick that I went back into the courtyard and stayed another 30-40 minutes before I left.153
As had happened previously, law enforcement officials, particularly those in black masks, pursued the fleeing demonstrators and beat them.
Among those beaten was Georgia's ombudsman, Sozar Subari, who had arrived on Rustaveli Avenue at approximately 10 a.m. and was monitoring the demonstration and police response. In an interview with Human Rights Watch, Subari described the attack:
[Law enforcement agents] in blue jeans and black masks were beating one young man. They were kicking him. I bent over to help him and they started to beat me. There were three or four of them. They used truncheons and wooden sticks. I told them, "I am the Ombudsman!" They seemed to beat me even harder after that. I simply stood. They beat me on my arms, back, and legs. One of my employees yelled, and eventually they stopped beating me.154
Subari did not seek medical attention, but he complained of bruising on his back, shoulders, sides, arms, and legs.155 Human Rights Watch representatives documented extensive bruising on Subari's legs.
Another official from the Ombudsman's Office told Human Rights Watch, "I saw three or four police in black masks beating a man. He was 45 to 50 years old. He fell and they continued to beat him with truncheons and started kicking him. I've never seen anything like this in my life."156 Another witness told Human Rights Watch that he saw men he described as special forces pursuing demonstrators down Rustaveli Avenue. "I was standing [on the edge of the street] and I saw how they attacked several people with truncheons. There were even women. The women started cursing them and saying, 'We are your daughters and your mothers.'"157 Paata Zakareishvili, who fled from Rustaveli Avenue, told Human Rights Watch that the police pursued him and others and shot rubber bullets and teargas canisters as the demonstrators fled.158
Crowds assemble
Although some people left Rustaveli Avenue following the second attack on protestors, witnesses reported that the majority of the crowd seemed unwilling to completely disperse. Opposition leaders took a decision to encourage everyone to go to Rike (pronounced REE-khay), a large open area several kilometers from the Parliament building and located on the other side of the Mtkvari River, which flows through the center of Tbilisi. Rike is a partly paved and partly grassy area that is regularly used for drivers' education classes and had been used in the past for large concerts. It is approximately 500 meters long (from north to south) and 200 meters wide (from west to east) with a large rock outcrop rising directly on the eastern side. It is accessed by the Baratashvili Bridge and the Metekhi Bridge from the western (river) side and by three roads rising steeply on the east side on either side of the outcrop.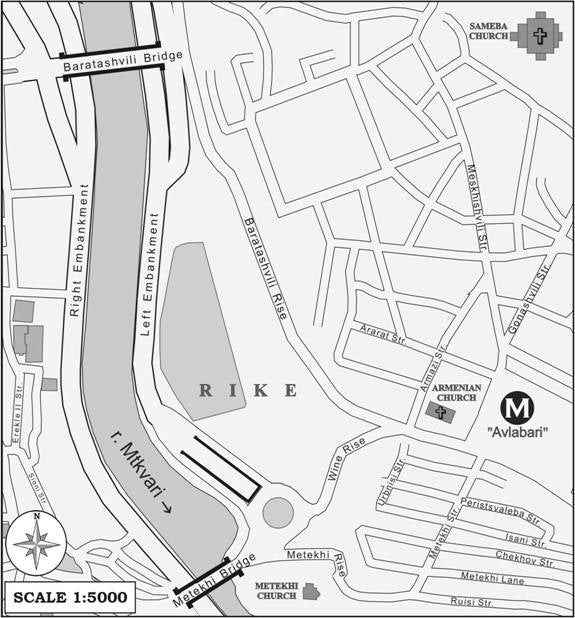 Hundreds, perhaps thousands, of demonstrators walked from Rustaveli Avenue to Rike, and several thousand more joined this group at Rike. Because the government has claimed that opposition leaders were calling for the crowd to march to Parliament it is important to describe the setting of this demonstration.  According to one witness, at Rike, "Opposition leaders gathered on a stage-like structure on one side of Rike, with their backs to the River and addressed the crowd through a single megaphone."159 Giorgi Khaindrava, who was among the opposition leaders addressing the crowd, told Human Rights Watch, "We only had one megaphone, so what really could we say to people? Opposition leaders made a few short speeches. We didn't know what to do. We were talking to each other about what to do."160
Video footage shows Dato Berdzenishvili, a member of Parliament from the Republican Party, saying to the crowd, "Speaker of Parliament Nino Burjanadze requests a meeting [with us] in her office," to which the crowd responds, "No! No!" Zviad Dzidziguri, a Conservative Party member of Parliament, shouts, "We will wait for another hour for the entire Georgia at Rike and we know what we will do then," but does not elaborate as to what, specifically, will be done.161 One witness reported that a prayer was read at one point by someone on the stage.162 According to other witnesses in the crowd at Rike, few people could actually hear what was being said by the opposition leaders, as the sound from the megaphone did not carry very far.163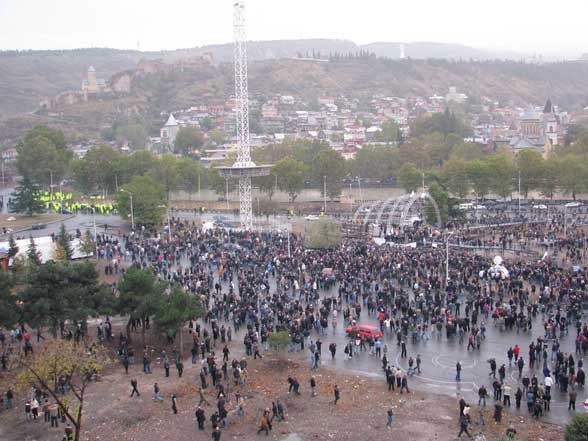 By approximately 5:00-5:15 p.m., approximately 40 minutes to one hour after protestors began to arrive at Rike, thousands of people had assembled. Witness estimates of the number of people present varied widely, but a Ministry of Interior official stated that there were "up to 10,000 people" at Rike and most of them "were very angry and were young and unemployed. Many had criminal records." He also claimed that initially unarmed patrol police were present at Rike before any operation to disperse protestors took place and that some demonstrators started attacking these policemen without any provocation.164 Human Rights Watch could not confirm this from witnesses or photographic or video evidence.
Police arrive
Multiple witnesses told Human Rights Watch that some time around 5:15 p.m. they saw large numbers of law enforcement officers arrive at Rike from multiple directions almost simultaneously. Two large military trucks full of men in camouflage uniforms, who appeared to be soldiers, parked along the Left Embankment, which runs along the river side of Rike.165 A few hundred police or other law enforcement agents in yellow raincoats and armed with truncheons approached Rike from across the Metekhi Bridge followed by others dressed all in black and behind them a few rows of riot police in full gear.166
At the same time, several lines of riot police approached Rike by crossing the Baratashvili Bridge accompanied by a blue and white police vehicle equipped with a water cannon.167 A journalist who was on Baratashvili Bridge at the time estimated that there were over 500 law enforcement officers crossing the bridge. She also told Human Rights Watch that other law enforcement officers followed the riot police, including men in jeans and black coats, men all in black, and men in camouflage all wearing black masks, as well as others in yellow raincoats.168
Police disperse and attack the crowd
As riot police and others approached from the Baratashvili Bridge, they effectively blocked access to the bridge and to Baratashvili Rise. As they continued onto Rike they also blocked the Left Embankment.169 They moved steadily at first but then moved quickly towards the crowd and began firing water cannons, teargas, and rubber bullets into the crowd. The government claims that they issued warnings for people to disperse for approximately 15 minutes.170 However, witnesses consistently described the actions of the riot police coming across the Baratashvili Bridge and confirmed that they did not hear any demands for the crowd to disperse or any warnings that force would be used.171  
One witness who was in the center of Rike near the stage described the approach of the riot police: "We had been at Rike for about 30 minutes. Some people started to scream. We saw special forces coming across the Baratashvili Bridge. A huge wall of special forces with shields came towards us. People began to panic … [and cried], 'Where do we go?' … [Riot police] had already begun shooting tear gas and rubber bullets."172  Another witness stated, "The special forces came from all sides; they were surrounding people [and] shot water and teargas at us."173 Other witnesses told Human Rights Watch that "[t]here were rubber bullets going in all directions. There were huge numbers of bullets,"174 and that "Rike was almost completely covered in gas."175
Seeing the riot police coming from the Baratashvili Bridge side of Rike, most demonstrators, the majority of them running, began to head in the direction of the Metekhi Bridge and the Wine Rise and the Metekhi Rise, two small streets that sharply ascend away from the traffic circle, called Europe Square, at the south end of Rike.176 Some demonstrators stood briefly with their hands up to show that they were unarmed. Riot police continued to shoot gas and rubber bullets at the fleeing demonstrators.177
Witnesses consistently described the panic and fear that they felt when riot police approached them using force, particularly given the lack of exits for them to leave Rike. Although the Ministry of Interior maintains that the goal of the operation was to disperse people,178 the absence of easily accessible exits created a strong sense for the demonstrators of being surrounded. One said, "We were trapped.… People panicked. People already had the experience of being dispersed on Rustaveli."179 Another witness told Human Rights Watch, "People started to run, but we were in a sack. [It seemed] there was nowhere to run." 180 Another stated, "People were so shocked. We felt there was no escape," and described some people jumping into a small boat docked on the bank of the river. "The captain shouted at people 'Don't jump! The boat will sink!' but people didn't have anywhere else to go," he said.181
Some 100-150 protestors rushed into the group of police coming across the Metekhi Bridge apparently in an attempt to flee Rike. Initially, most police retreated across Metekhi Bridge, and some people managed to flee across the bridge. Law enforcement forces quickly regrouped on Metekhi Bridge and again advanced on the crowd at Rike.182
At Rike many witnesses reported numerous confrontations between protestors and law enforcement agents. This happened particularly near and on the Metekhi Bridge, in some instances as people attempted to flee in that direction,183 as well as on the Left Embankment.184 In addition to a number of individual fist fights, some groups of young men attacked policemen or law enforcement agents who had separated from the police lines.185 The Ministry of Interior also states that demonstrators threw stones at police vehicles.186
Widely distributed television footage shows a group of about 20 young men attacking a young law enforcement agent in camouflage uniform. Some others appear to try to assist the young man by calling off the attackers, although their intentions are not entirely clear. The video shows that the young man's face is bloodied, and he runs from his attackers along the underpass under Metekhi Bridge.187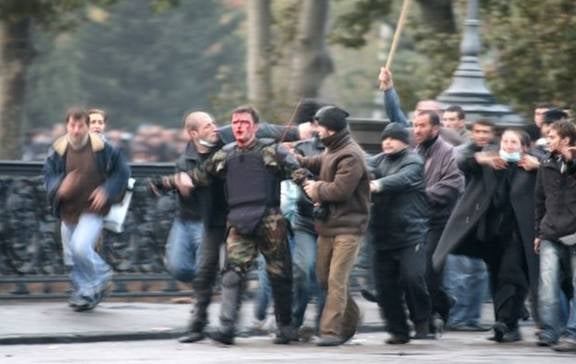 As had happened earlier in the day on and near Rustaveli Avenue, riot police and other law enforcement agents also attacked demonstrators, often without provocation. Almost as soon as riot police began firing teargas and rubber bullets into the crowd, they also began chasing people and attacking them with truncheons or one-meter wooden sticks, and punching and kicking them. The Ministry of Interior claims that law enforcement officers chased individuals only as necessary to disperse them.188
Gela Nikoleishvili, who sought shelter in his car which was parked at Rike, reported seeing approximately 20-30 separate incidents in which individual law enforcement officers or small groups of them attacked individual protestors. He told Human Rights Watch, "They beat mostly men, but they didn't really distinguish. People were swearing at the police. The police beat people with large flashlights and truncheons."189
Nana Kakabadze, who was in the car with Gela Nikoleishvili, described one particular attack:
I saw a young man, 18 or 19 years old, standing and filming [the operation] on his mobile phone. Three or four police came up behind him, grabbed his phone and started to beat him. They beat him with a long wooden stick … and rubber truncheons. The man fell and was lying on the ground … They continued to beat him and kick him. He was completely alone. After a while they just left him there. He wasn't moving. I don't know what happened to him.190
As people fled Rike by moving up the small Metekhi Rise and Wine Rise streets, police continued to pursue them, firing rubber bullets and teargas and beating those whom they could catch.191 Vakho Komakhidze fled in the crowd along Wine Rise toward the Avlabari metro station. He told Human Rights Watch,
When I got to the metro I saw two armed men in gas masks. Suddenly there was a huge amount of gas … I couldn't breathe and looked for a place to get away. I saw people running into the small shops [near the metro] to get away from the gas. Men in camouflage uniforms stood outside one small shop. Someone inside was forcing people to leave the shop. As people were forced out of the shop, these men in camouflage hit them with the butt of their guns. I maybe saw seven or ten people hit like this.192
Video evidence also shows law enforcement officers attacking demonstrators with truncheons and pursuing fleeing protestors with rubber bullets and teargas.193 Police also broke the windows of parked cars, and in at least one case broke the windows of a vehicle and beat the young man who was sitting inside.194
Police attacked a journalist and cameraman filming the events at Rike. Imedi journalist Natia Mikiashvili and her cameraman were on the Baratashvili Bridge filming the law enforcement officers making their way towards Rike. She told Human Rights Watch,
They started to shoot rubber bullets at us.  I started to run and I took cover behind a truck that had been parked on a small road near the start of the bridge. My cameraman also came with me.… They threw at least two teargas canisters toward us. The cameraman continued to film from underneath the truck. As the riot police started to cross the bridge, two riot police came toward us. One of them stopped behind me and started to shoot directly at me. He was only five or six meters away. A few bullets hit me. They did not say anything to us. We ran away farther from the bridge.195
Law enforcement officers continued to patrol Rike and to mobilize at the Avlabari metro station, along the small streets near the metro station, and above Rike. Many people fled towards the Sameba (Holy Trinity) Cathedral, and several hundred sought shelter in the church and in its yard for many hours.196 By 7:30 p.m. the operation to disperse demonstrators from Rike was over,197 but people remained afraid to leave the cathedral grounds, as there were rumors that police were waiting to attack or detain people who left Sameba.198 
The Ministry of Interior maintains that certain opposition leaders planned a march from Rike back to Parliament, making it necessary to disperse the crowd.199 Opposition leaders deny that this was their intention. They maintain that they encouraged demonstrators to gather at Rike specifically to move demonstrators away from government institutions and eliminate further confrontation with law enforcement officers intending to open streets. According to Paata Zakareishvili, the opposition leaders chose Rike as a gathering place because "it is an open space, it is not near any government buildings, and there are no through streets that demonstrators could obstruct."200 No opposition leaders were arrested at Rike or subsequently for making calls to attack Parliament. 
After opposition leaders had decided to assemble at Rike, People's Party leader Koba Davitashvili volunteered to go to the Eliava market before going to Rike to buy necessary equipment for them to set up a sound system. Davitashvili described to Human Rights Watch in detail the attack he suffered as he attempted to purchase the equipment:
I was in a shop with three other party members. As we were ready to go out, a group of about 20 men approached the shop. About seven of them came into the shop and without saying a word attacked me. They were in civilian clothes, but in all black and in black coats.… The three party members who were with me were beaten and forced out of the shop. Then they started a serious physical assault on me. I don't know how long it lasted… they used whatever they could find in the shop, [such as] chairs to hit me. Several of them had some kind of weapon, like a metal truncheon.

Then they dragged me out of the shop and continued to beat me outside. I cried out and asked people for help.  There was a priest there and I cried out, "Father, can you help me?" Some people started to intervene to help me. [For some reason] the attackers couldn't get to their own car so they found another, a white van.… They threatened the driver, "Drive or else see what's going to happen to you!"

The van was full of packs of [new] tires. They [the attackers] stuffed me inside the back of the van, and two or three got in the back with me. One sat in the front with the driver.… I could hear people banging on the van, pounding on it.

They told the driver that they were heading to Gori via Gldani. They continued to beat me inside the van. They twisted my arm behind my back and dislocated my shoulder. I actually wouldn't even call it a beating, but torture. They used all means possible. [One thing they did was to] pinch my finger between two hard objects. It was very painful. They said, "We will never see your face on television any more."

I was very worried at the beginning because they did not hide their faces when they beat or kidnapped me. I believed the goal was to ultimately kill me.…

[As I lay in the van] I could feel blood gushing from my head. I knew I was losing a lot of blood. I started to pray because I thought I was dying. That is when the situation changed a bit. Some human nature woke up in them. They drove the car into a wooded area. They stopped the car and cleaned my face with a handkerchief. 

They left me in the van and were talking on the phone.… I couldn't walk because I felt very weak … but they dragged me out of the van and put me into a black Toyota jeep. Nearby there was a black BMW with [what appeared to be] a military officer in it. The license plate had the numbers 735.…

At least one of my attackers plus two additional people got in the jeep with me. They took me towards Gori. Periodically one of them would make a phone call and let the person on the other side of the line listen to my groans [of pain]. The one holding the phone then seemed very happy to hear the response of the other side of the line to me groaning. But they told me, "You have nothing to worry about now. We will take you to the hospital."

Indeed, I was taken to Gori, to the military hospital there. [Although] the military hospital is a closed institution … the jeep went immediately through the gates without any problem. When I was taken out of the jeep, I was put on a stretcher and taken into the hospital.  The nurses … were very surprised to see me, [but] the doctor who met me seemed well informed that I was coming.201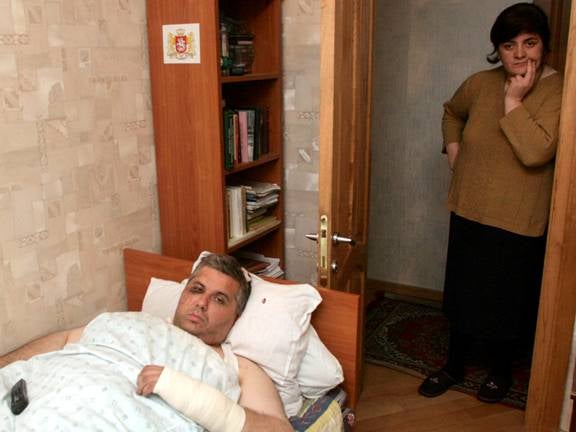 Davitashvili was essentially held in custody at the Gori Military Hospital for two days. He was diagnosed with a concussion and received four stitches in his head. He also suffered severe bruising over much of his body. He was not allowed to leave the hospital, use his mobile phone, or make a phone call, but with the help of some members of the hospital staff, Davitashvili made a few clandestine phone calls, including to the speaker of Parliament, Nino Burjanadze. According to Davitashvili, Burjanadze secured his release from the hospital on November 8, by speaking with the minister of defense.
Although Davitashvili stated that immediately after his arrival the Gori Military Hospital submitted the necessary documentation describing the nature of his wound to the Gori police, he was questioned only on November 14, one week after his attack and kidnapping. Although he claimed to be recovering very quickly and to be in "high spirits," Human Rights Watch representatives interviewing Davitashvili documented extensive bruising to his right eye more than a week after his assault and kidnapping. 202   
Irakli I., who was at Eliava market on November 7, confirmed that seven or eight men in black clothing pulled Davitashvili out of a shop and beat him as they dragged him toward the entrance of the market. He attempted to assist Davitashvili, and told Human Rights Watch, "I followed Koba and the attackers. I begged them to stop, but they wouldn't let me get close to Koba." Then, at one point, "Koba fell down. I could see that he had fallen on his face on the pavement. A small pool of blood formed around his head," Irakli I. told Human Rights Watch. Irakli I. also witnessed how the men put Koba into a white van without windows and drove away.203 
Throughout the day on November 7, all major television stations including Rustavi 2, Imedi, and Mze as well as other stations, broadcast footage—much of it live—of the demonstrations on Rustaveli Avenue and Rike and the government's attempts to disperse protestors. Although in numerous incidents law enforcement officials interfered with the work of journalists, none of the television stations were prohibited from broadcasting extensive footage.
However, at approximately 8:45 p.m., without warning and without possession of a court order, hundreds of troops armed with automatic weapons forcefully entered the Imedi television station, detained at least 300 Imedi staff members and several members of Parliament preparing for an upcoming live broadcast, and forced the station off the air.204 According to Lewis Robertson, CEO of Imedi television, who was at Imedi during the raid, "[Special forces] did not present a warrant; neither did they offer any explanation."205 Robertson stated that had an official warrant come to Imedi at any time, "We would have turned off the TV station immediately. We, Imedi and News Corporation, obey laws. We are a business and we do not break laws."206
Special forces entering the Imedi studios were heavily armed, and many sought to intimidate journalists. In a press interview immediately following the raid, Imedi General Director Bidzina Baratashvili stated that the troops forced Imedi staff members onto the floor and made them put their hands behind their heads. He also stated, "Some [special forces] are behaving in a very restrained manner, but one of them promised to put a bullet in my forehead."207
Human Rights Watch interviewed several journalists present in the Imedi station when the raid took place who similarly described the actions of special forces troops. Maia Asatiani, who worked as a journalist for the analytical show "Droeba" [Times], was in the basement cafeteria when the special forces stormed into the building. She described the raid to Human Rights Watch:
We heard horrible cries from upstairs. … Special forces ran into the basement and [Imedi staff] people were running all over [out of fear]. They pointed their guns at us and yelled at us to lie down on the floor. They yelled, "Put your heads down!" Everyone went down on the floor. I was hysterical. I started crying. They took all of our mobile phones and put them on the table. They forced us to lie on the floor for about 20 minutes.208
Twenty-three-year-old Anna Gochiashvili was working in the studio, located on the second floor, when the raid started. As she recalled,
[One of my colleagues] came in to say that she was going home [for the day]. The next thing I know, this young woman ran back into the studio, yelling, "Special forces are in the building!" We were completely shocked. We closed the door to the studio and told our anchors who were on live television that we have been attacked but that we will continue to work in an emergency situation. The announcers made this announcement.209
Video footage shows the two evening news anchors, Levan Javakhishvili and Sopo Mosidze, announcing that the building had been raided by special forces. They glance upwards several times, apparently watching special forces standing at the windows on the third floor that overlook the studio. They are silent for many seconds, apparently uncertain about what is happening or what to say to viewers.210
Gochiashvili described what happened to her next: 
I told my boss that I will go to find a cameraman who can film what is happening in Imedi. As I ran down the stairs to the first floor, I saw our staff [members] on the floor with their hands behind their heads. There were [about] 100 special forces troops with their guns directed at our staff. I got very scared and started to run back up the stairs.

Some special forces troops ran at me and yelled, "Lie down immediately!" But I didn't lie down. I said, "You have no right to order me to lie down. I am not a criminal or a suspect." Five of them with truncheons threatened me, [saying], "Lie down or we will hit you." Another one said, "It's OK, it's OK, she's a girl, don't make her lie down." So I sat on the stairs.… They confiscated my phone.

When I asked them [several times], "What do you want from us?" They all had the same answer: "You are agents of Russia. You are Badri [Patarkatsishvili]'s slaves. You are trying to make chaos in the country."

They took us all to the newsroom and held us there [for several minutes]. We wanted to use the phones to call our families because our families had seen on live television that Imedi was raided. They threatened to beat us when we tried to use the phones. They kept us in the newsroom [for several minutes] before ordering us to leave the territory and forcing us outside and into the yard.211
Giorgi Targamadze, "Droeba" anchor and head of Imedi's political programming, also described the events to Human Rights Watch: 
I was preparing to go on at 9 p.m. for the "Kronika" program. We had invited seven or eight members of Parliament and representatives of civil society, including human rights activists, writers, and artists. I was in the green room when I heard someone yell, "They [government forces] are coming!" I ran downstairs to the first floor to tell the guards not to resist, when I saw our [staff] people lying on the floor. One of them came running at me aiming a pistol at my head. It was a man wearing all black and with a machine gun across his body and holding a pistol. He put the gun to my head. I looked at him and said, "Don't you know me?" …

He let me go back up to the second floor to the studio. I told the technicians to close the door to prevent [the special forces] from entering. I went on the air and started describing what was happening. I said that the closure of the television station violated the [Georgian] constitution. I said that I hoped that none of our staff members would be hurt. From the third floor windows that overlook the studio, [the special forces] surrounded me from above, holding weapons. I continued to speak, thinking that they would not shoot me on live television.212
Video footage shows Targamadze enter the studio and the two anchors leave the news desk.  He describes the raid on the television station and then says, "I really hope, really do hope that they will not attack people physically. But there is loud noise at the television station and something terrible is happening. So far we are still on the air, but the guests have arrived. Goodbye, and don't worry. Everything will be all right."213 He glances upwards towards the windows from the third floor which overlook the studio several times.214
I heard shouts from the control room. [I later learned that] special forces came into the control room.… [T]hey were beating the operators who had prevented them from coming in. Even once the special forces broke down the door … the operators refused their requests to stop filming. They shouted, "We won't turn [the cameras] off for anyone!" The special forces then started smashing the equipment because they did not know how to turn the equipment off.

Six special forces troops came into the studio and said to me, "Don't move! One word and you are finished." Three men in masks detained me on the spot. They said, "One step to the left or to the right and we don't guarantee your life."

They took [all of] us downstairs and I saw everyone on the floor, including a journalist who was eight months pregnant … There were so many of them [special forces], we could barely pass them in the hallway. … At this point they started to be calmer and act more correctly. They took some of us [back] up to the technical room to turn everything off. To shut everything down completely. They said, "Thank you," and we went out and they took us all outside. For one hour they stood with me outside [before allowing me to go].215
Targamadze told Human Rights Watch that there appeared to be conflicting orders about whether to release him. Eventually he was allowed to go home in his car.216
After forcing the journalists out of the building, special forces troops destroyed much of Imedi's television equipment and its video archive. In an interview with EurasiaNet, Andrew Butcher, a spokesman for News Corp., said, "Every piece of electrical equipment was smashed or broken … We estimate the extent of damage is so severe it will take at least three months to become operational again… Everything's down; TV, radio, internet … there simply isn't the equipment to do anything."217 Photographs and video taken by mobile phone and widely distributed on the internet show equipment toppled and broken in at least two station rooms.218 Georgian officials deny that any equipment was destroyed.219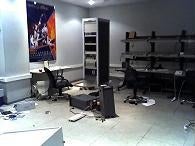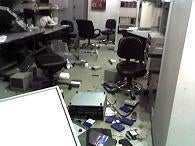 Imedi supporters assemble
As the raid on Imedi took place, several dozen people gathered outside of the side and main gates to the property where the Imedi studios and are situated. Many of them were friends and relatives of Imedi journalists who had witnessed the raid on live television. Others were simply Imedi supporters. Television video footage shows some of those gathered outside of the side gate on Akhmeteli Street pulling on the gate and some of them shouting at the law enforcement officers amassed in the courtyard.220
Rustavi 2 television footage also shows a police attack on one of the men who had been standing outside the Imedi studio gates. The video shows him in a crowd of patrol police who are in gray pants and yellow raincoats with "Police" written on the back; some are wearing surgical masks. Two policemen raise their truncheons and strike the man two or three times. The man starts to run away, but police follow him. One policeman catches up to him and punches the man on the back of the head, causing him to fall down. Two other policemen also begin to attack the fallen man, one of them by kicking him. The man makes one attempt to kick at a policeman, but then curls into a fetal position with his hands and arms protecting his head and face. One policeman kicks him while another strikes him aggressively with a truncheon on the man's side and hip several times.
Another man, apparently a civilian, runs over and lies on top of the fallen man in order to protect him from the police. One police officer begins to punch this second man in the back and kidneys repeatedly. Another policeman punches the two men on the ground and yet another strikes them with a truncheon. A third man, again apparently another civilian, comes to protect the first two on the ground. At the same time a police officer steps in and stops the others engaged in the beating from continuing and encourages them and others to step away. People are seen shouting at police and others are trying to assist the fallen man. Altogether there were at least five or six policeman engaged in the beating and at least 12 other policeman watching. The attack lasted approximately 30 seconds.221
The attack on Lubliana Street
Many journalists and Imedi staff members who had been forced to leave the Imedi studios building went initially to the gate on Akhmeteli Street. Some Imedi journalists spoke with people in the crowd on the other side of the gate and some gave interviews to a Rustavi 2 journalist and others. However, they were not allowed to leave through this gate. Law enforcement officers redirected them to the main gate on Lubliana Street, where only a few people, including friends and relatives of Imedi journalists and staff members, had gathered.222 Imedi journalists and others stood outside of the gate for a brief period and spoke with those gathered, and then some of them started walking down Lubliana Street.  Imedi journalists interviewed by Human Rights Watch consistently said that Lubliana Street was usually well lit at night but on that evening it was completely dark, and there were numerous ambulances parked on the street, leaving little room.223
Anna Gochiashvili said that she had spoken to her father using the mobile phone of a bystander gathered outside of the main gate and was on her way to meet him. As she turned to walk down Lubliana Street, without warning, an unknown number of riot police who had gathered at the end of the street started making their way towards the small group of people gathered outside of the Imedi studio gate. They shot rubber bullets and launched teargas canisters at the group. Gochiashvili told Human Rights Watch, "During my stay in the [Imedi] building during the raid I was not scared for a second, but when this happened, I really became very scared. And everyone started to panic."224
One group of journalists and others ran down Lubliana Street away from the approaching riot police, and another group ran away from the Imedi property across Lubliana Street into an empty lot. Riot police pursued people down Lubliana Street, continuing to shoot rubber bullets and teargas. According to Anna Gochiashvili, a young woman who had been an intern at Imedi was hit in the head by a rubber bullet at close range. "The young woman fell to her knees, and as a man reached down to help her, a policeman hit him on the head with a truncheon."225 Gochiashvili and others continued to run down Lubliana Street with the young woman and took her into the nearby Iashvili Children's Hospital, where she waited until her relatives came to take her home.226 
Inga Grigolia, anchor of the "Reaktsia" [Reaction] program, also stood among the group outside the Imedi gate on Lubliana Street. She and some of her colleagues started to walk down Lubliana Street, hoping to join the people gathered on Akhmeteli Street. She told Human Rights Watch,
All of a sudden a large number of riot police marched towards us. People were screaming. There were car alarms going off. The riot police fired teargas and rubber bullets and were using rubber truncheons to attack people. All I remember was [turning] and running on Lubliana [in the other direction], towards the hospitals.

I have health problems. One year ago I had an operation on my lung. Because of the running or because of the teargas I felt that I couldn't breathe.… We ran into an empty lot and found an apartment building. We ran inside and begged that they call an ambulance. I was given an injection and oxygen and … [spent the night] in the Republican Hospital.227
Natia Mikiashvili came out of the Imedi main gate after special forces had already begun approaching. She told Human Rights Watch,
I came out of the gate and a large group of riot troops in plastic gear were less than one meter away. I was all by myself and I was terrified. One of the riot police shoved me with his [plastic] shield.  He simply hit me without saying anything.  Some rubber bullets hit me and there was a lot of gas all around. Lubliana is a narrow street and [the riot police] were coming in a big group and shooting [rubber bullets] all around and at people [already fleeing] farther down on Lubliana.

I was terrified. I ran up to a parked car [with someone inside it] and demanded that they open the door, but they wouldn't open the door. Then I grabbed one policeman and said, "Please get me out of here, I'm scared!" He said nothing to me, and he grabbed me and threw me over a parked car and I landed on the sidewalk.

Then I stood up and ran [back towards the gate]. At the gate I found a man in black from the special forces and I said, "Please let me into the television [station] or get me out of this place." I couldn't breathe, my eyes were watering [from the gas].  They continued to shoot the teargas. I begged the man to help me. I yelled, "I am afraid, I am afraid!"228
When an acquaintance in the police force came out of the main gate and Mikiashvili asked him for help, he escorted her from the main gate and Mikiashvili found a neighbor to take her away.
Maia Asatiani was also outside the Imedi studios' main gate on Lubliana Street after the raid. She described seeing "a huge number" of riot police coming towards them, and told Human Rights Watch, 
They were coming towards us with shields and truncheons. They started shooting teargas and rubber bullets. They started chasing people and I heard some awful screaming. Together with one other journalist we ran into the empty lot [across the street from the main gate of Imedi]. We ran into some bushes and crouched down and hid like little children. 

But the riot police had large flashlights and were looking for people and they found us. One of them said, "Beat them!" But another said, "No! Leave them alone!" We were crying and started begging them to please take us out of here.  One of them escorted us to [an official] car and we got in.  They drove us to the corner [to where it was safe]. 

I was in a panic all night. My profession has always protected me in the most extreme situations. But not that day. Before this I always believed that my [public] persona as a journalist protected me. For the first time, I was afraid of my persona as a journalist.229
The Ministry of Interior claims that it was necessary to disperse the crowd gathered outside of Imedi so that "they would not create further problems."230 "There was … the danger that it would not be possible to control them and they would march on government buildings," said Shota Khizanishvili, chief of staff for the Ministry of Interior.231 Khizanishvili flatly denied that there were any attacks on the journalists leaving the Imedi studios courtyard.232
The Georgian Ministry of Health reported on November 7 that 508 people were treated for injuries, some of them serious, as a result of the day's events.233 The Office of the Ombudsman maintains that the number of people who sought medical attention on November 7 and on subsequent days was much higher. Human Rights Watch could not gain comprehensive information regarding the types of injuries sustained or medical treatment rendered. However, Dr. Levan Labauri visited three hospitals on the evening of November 7 and told Human Rights Watch the types of injuries he documented in those institutions; his descriptions provide some indication about the numbers and types of injuries. Hospitals supposedly maintained lists of all patients admitted for injuries sustained during the demonstrations, although in at least one case a hospital reluctantly registered a woman as having sustained injuries during the demonstration only after she insisted repeatedly that they do so.  
City Hospital No. 1 reported to Dr. Labauri that at least 38 patients with injuries sustained during the demonstrations were admitted. Dr. Labauri described seeing four patients who sustained injuries caused by trauma from an unknown source that hospital doctors had difficulty explaining. Dr. Archil Talakvadze from the Office of the Ombudsman also described the same patients to Human Rights Watch.234 One patient believes that a gas canister exploded on the ground near him and the pressure and the debris from the exploding capsule caused the severe damage to his knee. A complex surgery will be necessary and the patient may face amputation or serious risk of other disability. Two other victims sustained broken leg bones apparently by the same trauma and one a fracture of a finger on his right hand.
A Ministry of Interior official told Human Rights Watch that one law enforcement officer, whom he described as a "riot policeman," received knife wounds to his stomach and thigh and received surgery.235 The stabbing occurred during the clashes at Rike. Dr. Labauri described a case of an officer with incision wounds who underwent surgery in City Hospital No. 1. The officer told officials from the Ombudsman's Office that he was from the special forces of the penitentiary department.236
At Central University Hospital, more than 350 people had been admitted after participating in the demonstrations. Here there were mostly light wounds, including bruises, cuts, light bleeding, and affects of teargas. One patient with serious injuries—a ruptured liver and serious injuries to his abdomen and head—was admitted to the intensive care unit. He underwent neurosurgery and was in a coma sustained on life support.
At the pediatric hospital, six children were treated and released for poisoning by "an unidentified gas."  A colleague of Dr. Labauri reported that the Mikhailov hospital treated 120 outpatient cases and one individual with chest trauma. The Gudushauri hospital admitted four—three law enforcement officers and one demonstrator—in serious condition.237  
The General Prosecutor's Office stated that several criminal investigations had been opened with respect to the events of November 7. The Tbilisi Main Division of the Ministry of the Interior opened a criminal investigation into the alleged physical assault on Ombudsman Sozar Subari, and both questioned him and conducted a forensic medical exam on November 24, 2007.238 Although the investigation was opened in response to a television interview during which Sobari accused law enforcement officials of attacking him, a Ministry of Interior division, rather than the prosecutor's office, is overseeing the investigation, suggesting a presumption that a citizen rather than a police official was involved:  Georgian law states specifically that departments of the Ministry of Interior shall not be responsible for investigating cases of alleged crimes committed by police and provides for exclusive jurisdiction of the prosecution service in investigating such crimes.239
On November 8, 2007, the Tbilisi City Prosecutor's Office opened an investigation into alleged participation in mass disorder on November 7, 2007. According to the General Prosecutor's Office, "On the basis of the investigation around 37 individuals were arrested as suspects in the criminal case on November 13-14. The relevant investigative measures further identified that the conduct of 30 persons did not involve criminal elements." Criminal charges against 30 of them were dismissed, and 28 were subjected to administrative, or misdemeanor, proceedings. Charges were brought against seven individuals for "participation in mass disorder." Two were released on bail and five were remanded to pretrial detention.240
The General Prosecutor's Office claims that administrative charges were brought against 75 people under articles 166(petty hooliganism) and 173 (disobedience to the lawful order/request of the representative of law enforcement organs) of the Code of Administrative Violations. Fifty-four people were fined for administrative violations in the amount of 100-400 lari (US$57-227) and 21 were given administrative detention of up to 30 days.241
The Zveli Tbilisi District Prosecutor's Office opened an investigation into the alleged physical abuse of protesters on November 7, 2007. The case was transferred to the Tbilisi City Prosecutor's Office on November 10. The General Prosecutor's Office supplied information regarding only 12 cases of alleged abuse, all of which had been forwarded by the Office of the Ombudsman to the General Prosecutor's Office. Despite the fact that one of the victims of alleged assault by law enforcement agents remains in the Republican Hospital in the intensive care unit as a result of injuries, the investigation was only opened under article Article 118 (3) of the Criminal Code "intentionally inflicting less serious injury."242  No law enforcement officers have been charged in connection with the events on November 7 and none has been suspended pending the investigation.243
Human Rights Watch has received reports of law enforcement agents detaining numerous demonstrators in the days and weeks since November 7, often identifying them by photographs or video. Most were charged with administrative violations.244  
---