In early 2006 and again in August and November 2006, Nkunda's troops fought against soldiers of the national army, making plain their continued autonomy and refusal to enter the integrated force under the brassage arrangement. In an effort to avoid further military operations, Congolese army soldiers and Nkunda reached a compromise at the end of December 2006 involving a form of limited integration called mixage.This compromise collapsed by mid-2007, leaving Nkunda in a far stronger position militarily and politically than he had been at the end of 2006. The failure of the attempt at a political solution also undermined the efforts of national authorities to reassert administrative control in the region, and increased ethnic tensions.
After military operations in November 2006 produced substantial losses for both sides and no clear winner, Gen. John Numbi, then head of the Congolese air force, arrived in Goma and began talks with Nkunda. The discussions were moved to the Rwandan capital, Kigali, on December 31 where they were facilitated by high-ranking Rwandan military officers, including Chief of Staff Gen. James Kabarebe.19
Nkunda and Numbi reached agreement in the first days of January 2007, but the terms of the accord were not put in writing or made public. According to well informed Congolese and Rwandan military officers, it provided that:
Nkunda's troops would be integrated—mixed—with the Congolese army troops present in North Kivu.
The mixed troops would be deployed locally rather than sent elsewhere in the Congo.
Eventually all these troops would be fully integrated with the rest of the Congolese army and would be deployed outside North Kivu.
The mixed brigades would conduct military operations against the FDLR.
The anticipated defeat of the FDLR and restoration of local security would make possible the prompt return of Congolese refugees from Rwanda.
Nkunda was to leave Congo for a year or so in South Africa, on the pretext of pursuing further military training.20
The limited and gradual integration with other units, meant to guarantee the security of Tutsi soldiers in the national army, the campaign against the FDLR, and the anticipated return of refugees from Rwanda appeared to meet the objectives of Nkunda's political movement, the CNDP.21
Implementation of the mixage agreement began through January and February. Within months the arrangement would collapse, but even before that happened participants presented different versions of what had actually been agreed between the parties. Nkunda told Human Rights Watch, for example, that he had never agreed to go to South Africa, an assertion backed in part by a Rwandan officer who said that it had been left unclear whether Nkunda would leave or would instead be appointed to a command in the national Congolese army, with the warrant for his arrest being withdrawn.22 On another disputed point—the supposed agreement to attack FDLR forces—Congolese military officers said that any such operations were to have been subject to the prior agreement of national authorities. As one Congolese observer concluded, it may have been that neither party to the mixage agreement was being completely transparent in their intentions.23
Civilians' misapprehensions about mixage
In many cases Nkunda's troops operated, post-mixage, nominally as part of the national army in the same regions where they were previously known as renegade soldiers. And in many of these places, some of the same soldiers who committed serious human rights violations (see below) were supposed to be providing security to residents. In the village of Jomba, Rutshuru territory, for example, a woman who fled an attempted rape by Nkunda's soldiers in December returned to find soldiers from the same unit deployed in her town. She said, "I have been back for one week, but when I see the same soldiers passing I don't feel safe…. People are scared. They just come here in the day, then they sleep in the forest, or they cross to Uganda."24 Similarly in nearby Rutshuru town where Nkunda's troops committed human rights violations while trying to seize the town in January 2007, a community leader told a Human Rights Watch researcher that people were distressed to see Nkunda's troops there as part of the national army. "People are very, very disappointed," he said, "and they don't know how to carry on. A few people are even leaving and some are too scared to go to their fields."25
Mixage abandoned
Reflecting the failure of mixage to bring Nkunda's forces under control, in August 2007 Lieut. Gen. Kayembe Mbandakulu Tshisuma, now chief of staff of the Congolese army, announced at a press conference that all soldiers must go to brassage.Kayembe declined to say when that would happen, but said that it was impossible for soldiers in a national army to decide to stay in their home regions to protect their "aunts and uncles," and that any who did not want to be integrated in the national force and serve wherever posted had no choice but to resign.
It is claimed that hundreds of those once under Nkunda's command left the units to which they had been assigned under mixage and rejoined Nkunda's forces once fighting resumed between Nkunda and Congolese army troops in August 2007.26
By the end of May it was clear that the mixage agreement had failed and that, far from leaving, Nkunda was staying and had used the mixage process to increase his military strength and political clout.27
Nkunda had previously controlled two brigades. Mixage produced five new mixed brigades—Alpha, Bravo, Charlie, Delta, and Echo (formation of a sixth, Foxtrot, was never completed)—and many soldiers under Nkunda's command before mixage retained their ultimate loyalty to him even after their transfer to mixed brigades under the authority of the Congolese army (they are hereafter referred to as "Nkunda-affiliated"). An Nkunda-affiliated commander was named to one of the top two leadership positions within each of the five mixed brigades. Lower down, some officers shifted their units of command, but the ordinary soldiers remained in their previous formations. Thus, within the mixed brigades, the battalions previously under Nkunda remained as units, often sharing a continued allegiance to him. In the Bravo brigade, for example, two of the four battalions, the 2nd and 4th, were entirely made up of Nkunda-affiliated troops. (The issue of officers continuing to consult with and even report to Nkunda, and his apparent retention of a sense of responsibility for the conduct of his men, is discussed in Chapter VII, "Justice and Accountability.")
Nkunda wanted to present the highest possible numbers for men under his command, in part to ensure the maximum amount of resources allocated to his units, and in part to ensure the greatest possible number of places be reserved for his officers in any distribution of posts in the integrated units. Given the inadequacies of the registration process, he may have succeeded in registering the same men several times over in different units.28
Furthermore, during the reorganization process there was scant verification of the identity or credentials of men who presented themselves for registration in the newly constituted brigades, thus making it possible for Nkunda to enroll men not previously part of Nkunda's forces or Congolese army units.29 For months Nkunda's representatives had been actively pressing young men to join his ranks. In some cases Nkunda's recruiters used force or the threat of force to enlist men, including those who had previous military experience.30
Military officersoverseeing the registration, some from the Congolese army and others from South Africa (present in Congo to assist in creating an integrated national army) reportedly appeared in some cases to turn a blind eye to the enrollment of civilians. According to one MONUC observer present at the formalities for establishing Foxtrot brigade, for example, about one quarter of the candidates for enrollment appeared in civilian dress. Despite initial protests by overseeing officers, the candidates were hastily issued uniforms at the insistence of officers close to Nkunda.31
Nor did officers in charge closely examine the citizenship of potential enrollees, with the result that persons of Rwandan nationality, some of them previously demobilized from the Rwandan army, were registered in the new brigades and hence in the Congolese national army. Sources as varied as MONUC officers, Congolese army officers, and soldiers close to Nkunda agreed that such integration of Rwandans into the Congolese army had been one result of mixage.32 The deputy military commander of Goma region estimated the number of such persons at 480,33 and a United Nations source similarly reported that hundreds of demobilized Rwandan soldiers have been recruited into units loyal to Nkunda.34  A senior Rwandan official has also confirmed that demobilized Rwandan soldiers have crossed the border to join Nkunda, a development he said could have destabilizing consequences for the region.35
According to several of the Rwandans pressed into military service with Nkunda, they had been recruited in Rwanda by persons who promised them civilian work in Congo with a salary of US$100-200 a month. After transit at regrouping sites in Ruhengeri or Gisenyi (northwestern Rwanda), the recruits crossed into Congo, following an established route from Nkamira in Rwanda to Runyoni just across the Congolese border in Rutshuru territory. From there they were taken across the Virunga national park to join Nkunda's forces in Masisi. The recruits said they received between one and three weeks' military training before they were deployed.36
Military officers in charge of registering candidates into the new units enrolled hundreds of children and on occasion intervened to prevent child protection agents from the UN or NGOs from verifying the age of enrollees who were obviously underage (see below).
In his two original RCD brigades Nkunda had commanded some 2,200 men. With the uncertainties of the mixage registration process it was difficult to ascertain how many soldiers saw Nkunda as their effective commander, both at the time the new units were formed and afterwards. According to estimates by Congolese military authorities in Goma, Nkunda could count on 8,000 to 8,500 men loyal to him in late May, though others, including MONUC, put the estimate much lower.37 At present, since the resumption of hostilities between Nkunda and the Congolese Army in August, it is unclear how many troops he controls, but (as noted above) hundreds are claimed to have left mixed brigades and rejoined Nkunda's forces.
Before mixage began, Nkunda's forces effectively controlled parts of Masisi territory, stretching northwest of Goma through the town of Sake, and the areas of Kirolirwe and Kitchanga—Nkunda's heartland—towards regions further north and west. With the increased number of men at his disposal through the mixage process, Nkunda expanded his area of control through a wide swathe of territory in Masisi and Rutshuru territories: his authority reached much further north and east of Goma than it had previously, stretching up to the Congolese border with Uganda.
According to Gen. Ngizo Saitilo Louis, the then local commanding officer, newly formed mixed brigades were given orders to establish their territorial control in North Kivu.38 For Nkunda this meant attacking the FDLR.39 The FDLR controlled a significant part of the territory of both North and South Kivu as of late 2006, but diminished somewhat in the early months of 2007 as Nkunda expanded his zone of dominance and pushed the FDLR further towards the west. According to one analyst, the FDLR controlled some 20 percent of the Kivus and exercised influence over 30 to 40 percent more. His data generally reflected the situation prior to Nkunda's expansion in early 2007 and showed also that the FDLR controlled more territory in South Kivu than in North Kivu. While Nkunda controlled the richer and more populated areas of Masisi and Rutshuru, the FDLR has its greatest strength in the less peopled areas of Walikale.40
Since the recent resumption of hostilities between Nkunda's forces and the Congolese army, the situation on the ground in terms of territorial control is not clear.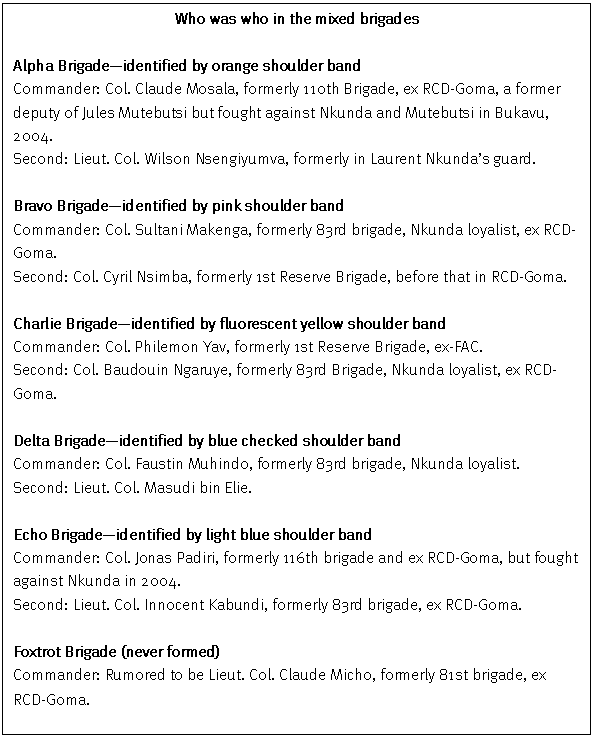 ---