<<previous | index | next>>
Insurgent groups have attacked journalists with bombs, abductions, executions and targeted killings. The vast majority of victims are Iraqis working as local journalists or as reporters, drivers, cameramen and translators for international media. Foreign journalists have also lost their lives. Insurgents have sought to justify some of these attacks on the grounds that the journalists were collaborating with foreign forces as informants or spies, or that all foreigners in Iraq are legitimate targets.
According to the Committee to Protect Journalists, in 2004 and the first five months of 2005, insurgent groups had abducted thirty journalists.241 As of June 12, 2005, the groups had released twenty-eight of these journalists and killed two (Enzo Baldoni and Ra'ida Wazzan).242
According to Reporters Sans Frontières, as of May 2005, twenty-nine journalists and media assistants (twenty-three men and six women) had been kidnapped since the war began, six of them Iraqis. As of August 2005, insurgents had released twenty-five of these people unharmed and executed four others (Enzo Baldoni, Ra'ida Wazzan, Hussam Hilal Sarsam and Ahmad Jabbar Hashim)243 Insurgent groups killed additional journalists in armed attacks.
The precarious situation faced by journalists kidnapped by insurgents is evident from an incident in al-Falluja on October 24, 2004, when unidentified armed men detained an Iraqi translator and French freelance photographer. According to the translator, who spoke with Human Rights Watch but wished to remain anonymous, five armed men held them for five to six hours at a cement factory in the town's industrial zone. "We don't usually kill people who haven't done anything," he said his captors told him. "We only deal with people who work with the Americans or the Iraqi National Guard." The armed men, who did not identify themselves, said they would hand the two journalists over to the "Consultative Council of the Mujahadin," headed by Abu Ahmad, who also ran Muhammad's Army. Instead they released them unharmed.244
Other abducted journalists were not so lucky. On May 29, 2004, gunmen in Baghdad abducted and killed two staff members of the Iraqi daily al-Sabah al-Jadid ("The New Morning"). According to the paper's editor, Isma'il Zayir, a group of men arrived at his home in a police car and two civilian cars, asking him to come to the police station for questioning about a crime. He went inside to change his clothes and, when he returned, his driver and bodyguard, Samia `Abd al-Jabbar and Mahmud Da'wud, were gone. Police found the bodies of both men later that day in another part of Baghdad. Zayir had previously been editor of al-Sabah ("The Morning"), a newspaper established with U.S. government funds.245
On August 20, 2004, the Italian Enzo Baldoni, a freelance writer working for Diario news magazine, went missing as he was driving to the southern city of al-Najaf, where U.S. forces were battling Mahdi Army forces. In a video broadcast August 24 on al-Jazeera, the Islamic Army in Iraq said they could not guarantee Baldoni's safety if Italy did not withdraw its 3,000 troops from Iraq within forty-eight hours.246 Two days later, al-Jazeera reported that it had received two photographs that showed Baldoni dead, saying it did not air the images out of respect for his family.247
On February 20, 2005, masked gunmen in Mosul abducted Ra'ida Muhammad Wazzan, aged thirty-five, a news presenter for the Iraqi state television al-`Iraqiya, together with her ten-year-old son. The abductors released her son on February 23 but, two days after that, Wazzan's body was found on a Mosul street with multiple gunshot wounds to the head. According to her husband, insurgents had threatened Wazzan with death several times, demanding that she quit her job. The week before her abduction, the al-`Iraqiya station was struck by mortars, wounding three technicians. According to press reports, al-Qaeda in Iraq claimed responsibility for the mortar attack, but it is not clear who killed Wazzan.248
In some cases, insurgent groups have killed Iraqi journalists on the street. On October 14, 2004, gunmen in a car shot and killed Dina Muhammad Hassan, aged thirty-eight, a reporter for al-Hurriya Television. According to a colleague who was with her at the time, three men in a blue Oldsmobile drove by and opened fire as Hassan and he waited to be picked up for work outside Hassan's Baghdad home. "Collaborator! Collaborator!" they yelled as they shot. Al-Hurriya is the station of the Patriotic Union of Kurdistan, one of the two main Kurdish political parties, and the party of Iraq's current president Jalal Talabani. According to colleagues, Hassan had received three letters warning her to quit her job.249
The next day, October 15, gunmen in Mosul killed a twenty-two-year-old Iraqi photographer named Karam Hussain, who worked for the European Press Agency and the Italian ANSA. According to Reporters Sans Frontières, four masked gunmen shot him outside his home.250
On October 30, 2004, a car bomb exploded at the Baghdad bureau of al-`Arabiya, a Dubai-based twenty-four-hour television news channel, killing seven persons, including five staff members: `Ali `Adnan, a security guard, Hassan Alwan, an engineer, Ramziyya Mushi and Alahin Hussain, kitchen staff, and Nabil Hussein, a gardener. According to al-`Arabiya, fourteen other employees, including five journalists, were hurt. Two other Saudi-owned news stations also used the office, the satellite channel al-Akhbariya and al-`Arabiya's sister channel, Middle East Broadcasting (MBC).
In a statement on the Internet, the group Thawrat al-`Ishrin Brigades (1920 Revolution Brigades) at first claimed responsibility. However, in a video later broadcast by al-Arabiya, four masked gunmen from the group denied they were behind the attack.251 On October 31, a previously unknown group called Sarayya al-Shuhada' al-Jihadiyya fi al-`Iraq(Jihadist Martyrs Brigade in Iraq) said in an Internet statement that it had conducted the attack for the station's "cooperation with the Americans and their allies." The group said it would "punish those who work with these news agencies and channels one after the other or we will kidnap them and slaughter them like sheep if they side with the infidel American occupiers."252
Al-`Arabiya's general manager, the prominent Saudi journalist `Abd al-Rahman al-Rashid, has spoken publicly against insurgent attacks on civilians. "We cannot tolerate in our midst those who abduct journalists, murder civilians, explode buses," he wrote in the London-based newspaper Al-Sharq Al-Awsat. "We cannot accept them as related to us, whatever the sufferings they claim to justify their criminal deeds. These are the people who have smeared Islam and stained its image."253
On June 18, 2005, gunmen shot and seriously wounded al-`Arabiya's Baghdad correspondent, Jawad Kazim, aged thirty-seven. Gunmen tried to abduct Kazim as he left a restaurant in Baghdad, his colleagues said.254 According to the station, a group calling itself Jund al-Sahabah fi al-`Iraq (Prophet's Companions Army in Iraq) claimed responsibility for the attack because of al-`Arabiya's editorial policy and Kazim's alleged anti-Sunni bent.255 According to Reuters, the group that claimed responsibility called itself Jama`at Jund al-Sahaba (Soldiers of the Prophet's Companions). "We claim responsibility for the assassination attempt of the evil Shi'ite Jawad Kadhim," a statement posted on a website often used by militants reportedly said. "Al-`Arabiya channel has harmed Sunnis in Iraq and is the tongue of Americans and dirty Shi'ites in [Iraqi Prime Minister Ibrahim] Ja`fari's government."256
Many of the Iraqi journalists and support staff who have died in attacks were working for international media as drivers and translators, but also as reporters and fact-finders who could more easily navigate Iraq's dangerous terrain. On January 27, 2004, for example, gunmen opened fire on a two-car convoy of CNN, killing an Iraqi driver and a translator/producer. According to CNN, the vehicles were headed north toward Baghdad from al-Hilla when a rust-colored Opel approached from behind. A single gunman opened fire on one of the vehicles from the sunroof with an AK-47 assault rifle. Yassir Khatab, the driver, aged twenty-five, and Duraid `Issa Muhammad, a twenty-seven-year-old father of two, died of multiple gunshot wounds. A bullet grazed the head of CNN cameraman Scott McWhinnie.257
On March 24, 2004, gunmen fatally shot an Iraqi translator and fixer working for Time Magazine. Omar Hashim Kamal, aged forty-eight, was shot four times as he drove to work, Time said. He died two days later, leaving a wife and four-year-old son.258
Insurgent groups have also targeted foreign journalists in Iraq, often using them to pressure their government to leave Iraq. The three most recent abduction cases have all ended in the journalists' release after lengthy periods of illegal detention. On March 4, 2005, insurgents freed the Italian journalist Giuliana Sgrena from Il Manifesto after one month in captivity. Just after her release, U.S. soldiers near Baghdad Airport opened fire on her car, killing an Italian intelligence agent who had negotiated her release. The U.S. military said the car failed to stop as it approached a checkpoint. Sgrena disputed that account.259
A group called the Islamic Jihad Organization said it had kidnapped Sgrena and threatened to kill her if Italian forces did not leave Iraq. "We call upon our brothers in the Association of Muslim Scholars to be careful in their call to release the Italian POW," a statement posted on the Internet said. "We are still investigating the POW and the judicial committee in the organization will take its decision on that soon." The Association of Muslim Scholars had previously called for Sgrena's release, saying, "she was doing a humanitarian job in Iraq and has nothing to do with the occupation forces."260 Other Iraqi organizations and media also had called on insurgents to release Sgrena, along with the French journalist Florence Aubenas, who was being held at the time (see below). In an appeal on February 7, al-Jazeera stated that, "kidnapping journalists while doing their job is considered a blatant violation of human rights."261
On May 22, an armed group released three Romanian journalists and their Iraqi-American guide after nearly two months in captivity—the reporter Marie Jeanne Ion and cameraman Sorin Miscoci for Bucharest-based Prima TV, reporter Ovidiu Ohanesian for the daily Romania Libera and their guide Muhammad Monaf.262 The four had gone missing in Baghdad on March 28. On April 23, a previously unknown group calling itself Mu`adh bin Jabal263 claimed responsibility for the abduction in a video broadcast on al-Jazeera, in which they demanded that Romania pull its 800 troops out of Iraq.264 Romania did not agree to withdraw its troops, but the group later said it had freed the hostages after an appeal by Romania's Muslims and a prominent Saudi preacher. U.S. authorities in Iraq are reportedly holding the guide Monaf under suspicion that he participated in the abduction, and Romanian authorities have arrested an alleged accomplice, `Umar Hayssam.265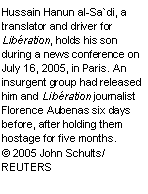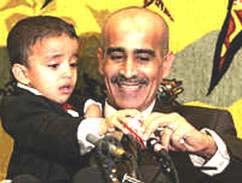 On June 11, unknown insurgents released the French journalist Florence Aubenas of the newspaper Libération and her Iraqi translator and guide Hussain Hanun al-Sa`di after 158 days in captivity.266 The insurgents had abducted Aubenas, a veteran war reporter, and al-Sa`di, a colonel in the Iraqi Air Force until 1991, after they left the Melia Mansour Hotel in Baghdad on January 5, 2005. Aubenas was working on a story about Iraqis displaced by the latest U.S. offensive in al-Falluja.267 On March 1, a released video showed Aubenas pleading for help. "My name is Florence Aubenas. I'm French. I'm a journalist with Libération," she said, looking frail and distraught. "My health is very bad. I am very bad psychologically also."268 Upon her release, she told reporters that her conditions in captivity had been "severe." Most of the time she was held in a basement wearing a blindfold and her wrists and ankles tied.269After her release, the three Romanian journalists released on May 22 said they had been held together with Aubenas, but Aubenas declined to comment on their claim.270
Some insurgent groups have conducted armed attacks against foreign journalists. On May 27, 2004, insurgents killed two freelance Japanese journalists, Shinsuke Hashida and Kotaro Ogawa, an uncle and nephew team, with their Iraqi translator, Muhammad Najmuddin, as they returned to Baghdad from the southern town of al-Samawa, where they had visited a Japanese military base. According to press reports, gunmen in al-Mahmudiyya opened fire on the car, which then crashed into a tree and caught fire.271
On May 7, 2004, gunmen shot and killed a leading Polish war correspondent, Waldemar Milewicz, and his Polish-Algerian colleague, Mounir Bouamrane, both from Polish state television. Gunmen opened fire on their car as they drove through al-Latifiyya south of Baghdad. According to the driver, who survived, a car chased them down from behind and gunmen opened fire into the car. The journalists' car spun around and stopped, but the attacking car turned and opened fire again.272 "Suddenly we found ourselves under heavy machine-gun fire," recalled Polish cameraman Jerzy Ernst, who was injured in the attack. "All of us crouched. The driver didn't stop but the windows were shattered." He continued, "Mounir and the driver jumped out of the car and were trying to pull out Milewicz but then they started shooting again."273 The team was driving to a Polish military base south of Baghdad, Ernst said. At the time, Poland had about 2,400 troops in Iraq.
International humanitarian law protects from attack both civilian journalists and "war correspondents" who accompany a state's armed forces, so long as they are not taking a direct part in hostilities.274 Protocol I of the Geneva Conventions, which applies during international armed conflicts and occupations, states that journalists in areas of armed conflict "shall be considered as civilians."275 Likewise, journalists during internal armed conflicts are considered to be civilians as a matter of customary international humanitarian law.276
This protection extends to journalists who are embedded with an armed force. According to ICRC Commentary to Article 79 of Protocol I, "a journalist, who is undoubtedly a civilian, does not lose this status by entering an area of armed conflict on a professional mission, even if he is accompanying the armed forces or if he takes advantage of their logistic support."277 Journalists in war zones, embedded with a military force or on their own, are putting themselves in danger. Their accidental death as collateral damage in an attack on a military target is not a violation of international humanitarian law, unless the attacker made no effort to discriminate between combatants and civilians.
---
[241] "Journalists in Danger: Facts on Iraq," Committee to Protect Journalists, available at http://www.cpj.org/Briefings/2003/gulf03/iraq_stats.html, as of August 17, 2005.
[242] "Abductions of Journalists in Iraq in 2004 and 2005," Committee to Protect Journalists, available at http://www.cpj.org/Briefings/2003/gulf03/iraq_abducted.html, as of August 17, 2005.
[243] The War in Iraq: The Mostly Deadly One for the Media Since Vietnam, Reporters Sans Frontières, May 3, 2005, available at www.rsf.org/IMG/pdf/Etude_Irak_Eng_PDF.pdf, as of August 17, 2005.
[244]Human Rights Watch interview with anonymous translator, Arbil, Iraq, January 26, 2005.
[245] "Iraqi Editor Says Driver, Guard Killed," Associated Press, May 30, 2004, and "Media Workers Killed in 2004," Committee to Protect Journalists (http://www.cpj.org/killed/killed_media_wrkrs_04.html, accessed March 5, 2005).
[246] "Italian Journalist Seized in Iraq," al-Jazeera.net, August 26, 2004, http://english.aljazeera.net/NR/exeres/ECA5FF8D-E659-4586-9BCD-6C492EECEB23.htm, accessed March 6. 2005.
[247]"Group Kills Italian Journalist in Iraq," al-Jazzera.net, August 28, 2004, http://english.aljazeera.net/NR/exeres/BEED6CD4-AE97-400F-8B34-40A225A88B81.htm, accessed March 6, 2005. According to an article in Iraq's al-Zawra newspaper, two brigades are believed responsible for Baldoni's death: Khalid bin al-Walid Brigades and the Iraq's Martyrs Brigade. (See Samir Haddad and Mazin Ghazi, "Who Kills Hostages in Iraq," al-Zawra, September 19, 2004.)
[248] Patrick Quinn, "Insurgents Blow Up Oil Pipeline in Iraq," Associated Press, February 26, 2005, "Iraqi Female TV Reporter Abducted in Mosul," Reuters, February 21, 2005, and "Iraq Journalist Found Dead Five Days After She Was Kidnapped," Reporters Without Borders, February 26, 2004. (http://www.rsf.org/article.php3?id_article=12680, accessed March 5, 2005).
[249] Normitsu Onishi, "How Many Iraqis Are Dying? By One Count 208 in a Week," New York Times, October 19, 2004, and "Gunmen Killed Iraqi Woman Journalist in Baghdad," Reuters, October 14, 2004.
[250] "Iraqi Photographer Shot Dead in Iraq," Agence France-Presse, October 16, 2004, and "ANSA Photographer Killed in Iraq," ANSA, October 15, 2004, "Two Iraqi Journalists Gunned Down Outside Their Homes in Separate Shootings," Reporters Without Borders, October 15, 2004.
[251] Charles Clover, Steve Negus, and Dhiya Rasan, "Arab Media Under Pressure After Iraq Bomb," Financial Times, November 1, 2004, and "Arabiya TV Denies Militant Accusation of U.S. Bias," Reuters, October 31, 2004.
[252]Maamoun Youssef, "New Militant Group Claims Responsibility For Deadly Al-Arabiya Car Bombing in Baghdad," Associated Press, October 31, 2004.
[253] Abdel Rahman al-Rashed, "A Wake Up Call: Almost All Terrorists are Muslims,"
[254] "Wounded al-Arabiya Reporter Moved From Iraq to Jordan," Agence France-Presse, June 21, 2005.
[255] Al-Arabiya Television, June 20, 2005, as translated by the United Nations Assistance Mission for Iraq, Arabic and Regional Media Review, June 21, 2005, and al-Zaman, June 19, 2005, as translated by the BBC, Iraqi Press Highlights 19 June 2005, June 20, 2005.
[256] "Iraqi Militants Say They Tried to Kill Journalist," Reuters, June 20, 2005.
[257] "2 CNN Employees Killed in Attack," CNN News, http://www.cnn.com/2004/WORLD/meast/01/27/sprj.nirq.cnn.casualties/, accessed March 5, 2005, and "Journalists Remember Slain CNN Colleauges," CNN News, http://www.cnn.com/2004/WORLD/meast/01/28/cnn.colleagues/, accessed March 5, 2005.
[258]Romesh Ratnesar, "Omar Hashim Kamal," Time Magazine, April 5, 2004, http://www.time.com/time/archive/preview/0,10987,993770,00.html, accessed March 5, 2005.
[259] Angela Doland, "Ex-Hostage Disputes U.S. on Iraq Shooting," Associated Press, March 6, 2005, and Gabriele Polo, "La Vita e La Morte," Il Manifesto, March 5, 2005. See also Human Rights Watch statement, Iraq: Shooting of Italian Civilians by U.S. Forces, March 6, 2005, available at http://www.hrw.org/campaigns/iraq/shooting/.
[260] "Purported Kidnappers of Italian Journalist Issue Final Warning to Rome to Withdraw Troops From Iraq," Associated Press, February 6, 2005.
[261]Group Vows to Free Italian Journalist," al-Jazeera.net, http://english.aljazeera.net/NR/exeres/4705B7F9-AB22-448F-95B1-51E2D2E1FF0D.htm, accessed March 5, 2005. For the full statement, see the Il Manifesto website at http://ilmanifesto.it/pag/sgrena/en/420dc1262b13d.html, accessed March 5, 2005.
[262] Alison Mutler, "Freed Romanian Journalists Arrive Home," Associated Press, May 23, 2005.
[263] Mu`adh bin Jabal was a friend of the Prophet Muhammad—one of a group of six who collected the Qur'an during the prophet's lifetime.
[264] Alexandru Alexe, "Romania Hostages Said Victims of Bad Plans," Associated Press, June 6, 2005.
[265] "Romanian Journalist, Held Hostage in Iraq, Plans to Sue Kidnappers," Associated Press, June 11, 2005.
[266] "French, Iraqi hostages freed, 20 bodies found elsewhere," Agence France-Presse, June 12, 2005. For more information and background on Aubenas and al-Sa'di, see the "For Florence and Hussein" website at www.pourflorenceethussein.org/english/index.shtml, as of June 12, 2005.
[267] "Joy Sweeps France as Journalist Returns Home From Captivity in Iraq," Agence France-Presse, June 12, 2005.
[268] Michael Georgy, "French Hostage in Iraq Pleads for Help," Reuters, March 1, 2005. The video can be viewed at www.pourflorenceethussein.org/english/index.shtml, as of March 6, 2005.
[269] "Freed French Journalist Thanks Public, Media for Campaign of Support," Agence France-Presse, June 12, 2005.
[270] Elaine Ganley, "Former Hostage Describes Endless Wait During 157 Days in Baghdad Cellar," Associated Press, June 14, 2005, and "Romanian Secret Agents Helped Free French Hostage in Iraq: PM," Agence France-Presse, June 14, 2005.
[271] "Third Body Found in Iraq Where Japanese Died," Reuters, May 28, 2004, and "Kyodo Agency Details Attack on Japanese Journalists," BBC Monitoring Asia Pacific, May 28, 2004., and "Two Japanese Journalists, Iraqi Translator Killed in Iraq: Hospital," Agence France-Presse, May 28, 2004.
[272] "Algerian, Polish Journalists Killed in Iraq Drive-by Shooting," Agence France-Presse, May 7, 2004.
[273] Monte Morin and Ela Kasprzycka, "Foreign Journalists Killed in Ambush South of Baghdad," Los Angeles Times, May 8, 2004.
[274]See ICRC, Customary International Humanitarian Law, rule 34 ("Civilian journalists are not to be confused with 'war correspondents'. The latter are journalists who accompany the armed forces of a State without being members thereof.").
[275] Protocol I, article 79.
[276] See ICRC, Customary International Humanitarian Law, rule 34.
[277] ICRC, Commentary on the Additional Protocols, p. 920.