<<previous | index | next>>
Since the summer of 2003, some insurgent groups in Iraq have targeted foreign and Iraqi staff of humanitarian organizations and U.N. agencies that provide health care, food and other assistance to Iraq. They have used suicide bombers against offices and committed abductions and summary executions.
The insurgent groups responsible consider foreign aid organizations and the U.N. to be part and parcel of the foreign forces in Iraq and therefore legitimate targets for attack. The broad-based and apparently indiscriminate nature of the attacks has resulted in the departure of most foreign humanitarian workers in Iraq.
According to international humanitarian law, aid workers, whether foreign nationals or citizens, are civilians who are protected from attack. Moreover, international law imposes additional obligations on governments and armed groups to facilitate the work of impartial humanitarian organizations that aid the victims of the conflict.207
The threats and violence have forced countless Iraqis working for foreign aid organizations to abandon their jobs, and sometimes the country. Especially after the spate of abductions of foreigners in 2004, international humanitarian organizations sharply scaled down operations or stopped their operations in Iraq altogether. Many of these groups were providing desperately needed services and aid to the population in the fields of sanitation, health care and education.
One of the first large-scale attacks was on August 19, 2003, when insurgents detonated a massive truck bomb outside the U.N. headquarters at the Canal Hotel in Baghdad, killing twenty-two people and wounding more than 150. U.N. Special Representative to the Secretary-General Sergio Vieira de Mello was among the dead.
While the United Nations is not a humanitarian organization per se, agencies like UNICEF, the High Commissioner for Refugees (UNHCR) and the United Nations Development Program (UNDP) were providing essential services for the population, such as education, health and nutrition, water and environmental sanitation, and child protection.208
From June 1 to mid-July 2003, there were fifteen security incidents that affected the United Nations, including rocket-propelled grenade attacks on the World Food Program (WFP) and International Organization for Migration (IOM) offices in Mosul and gunfire at the UNDP office in Baghdad.209 At 4:30 p.m. on August 19, a suicide bomber driving a flatbed truck drove unhindered up the service road next to U.N. headquarters and detonated an estimated 1,000 kilograms of high explosives under de Mello's office on the third floor.
Rasha al-Kaisy, a personal assistant at the United Nations in Iraq since 1998, was sitting in her office when the bomb went off. She told Human Rights Watch:
I did not hear the sound of the bomb. All of a sudden it happened that all the glass shattered. At first I thought it was something small, but when I came out and saw the destruction, I realized it was big. At first people didn't know what it was. Later we were told it was a car bomb. Of course the building was without security. I saw a lot of injured people, people screaming, people on the ground. You didn't know if they were alive or dead. So many injured people were on the ground.210
Another U.N. staff member, Layla al-Mulla, was an administrative assistant to de Mello's chief of staff, Nadia Yunis, who was also killed. Al-Mulla was sitting in her office across the hall from de Mello's office when the bomb exploded:
It was exactly 4:30 because I looked at my computer. I felt nothing at that moment; I just heard something. We were used to heavy bombs and explosions, and this sounded far away—like a thump. I was near the window, actually the whole wall was window, and I felt something come down on me from behind. I just lowered my head instinctively and everything came crashing down on me. The whole place was upside down. My mind didn't register, so I left my desk and stood next to a column. I looked down and saw a black cloud growing up towards me. I tried to leave the room, but I made it a few steps, and it was completely dark. I waited for it to clear, but it was dusty, and debris was everywhere, filling my lungs. I saw a crack in the concrete ceiling, and the building was tilting. It was clear that the door to Sergio's office was crushed. I tried to get out.
I didn't know what to do. I went down and saw the injured people, the blood, the dust all over the place. People were stuck under rubble. The more I moved out of the building, the more destruction I saw. It was chaos. There were people dead all around, people screaming out in pain.211
Twenty-two people died in all. Fifteen of the victims worked for the United Nations—five Iraqis and ten international staff. Of the non-U.N. employees, three were Iraqis and four were foreigners.212
Responsibility for the bombing of the U.N. headquarters remains unclear because three armed groups have claimed to have committed the attack; the CPA and Iraqi government alleged a fourth. On August 21, a previously unknown group called the Armed Vanguards of Muhammad's Second Army, al-Ramadi branch, claimed responsibility in a statement sent to the al-`Arabiya television station, where it was viewed by other news agencies.213 "Where was the United Nations when the United States and Britain waged war on Iraq and killed Iraqi children, elderly men and women?" the statement said. "As to its work in helping Iraq, all it is doing is paying monthly salaries to its employees from our oil." Two days later, Lebanese LBC Television reported that Jaysh Muhammad, which may be the same group, had claimed responsibility. In an audio taped statement the station received, members of the group's `Abdullah Bin-Iyad Brigade said they had bombed the United Nations as well as shelled the Presidential Palace, occupied by the Multi-National Force, numerous times.214
In May 2004, a reporter for the Institute for War and Peace Reporting (IWPR) interviewed a man "credibly claiming" to be a spokesman for Jaysh Muhammad. When asked about his position regarding the bombing of the United Nations, the man replied, "There is no real United Nations…. It is an organization completely controlled by the United States and its resolutions always serve U.S. interests."215 On August 25, 2004, the London-based al-Hayat newspaper reported a statement by the Abu-Hafs al-Masri Brigades, a group affiliated with al-Qaeda that claimed responsibility for the bombing as "a lesson to the United States." The U.N. headquarters was working "in collaboration with the criminal Saddam Hussein, the main U.N. center for starving the Iraqi people for twelve years," the statement said.216
In February 2004, Coalition Provisional Authority officials and the U.S. military said they had obtained intelligence and evidence that linked al-Qaeda and Abu Mus`ab al-Zarqawi to the U.N. bombing, but they did not provide information to support their claim.217 The U.S. State Department later accused al-Zarqawi's Jama`at al-Tawhid wal-Jihad for the attack, again without providing evidence.218 Finally, on January 15, 2005, the Iraqi authorities arrested Sami Muhammad Ali Said al-Jaaf, also known as Abu Omar al-Kurdi, who they claimed was a top lieutenant in al-Qaeda. According to an Iraqi government statement, al-Jaaf confessed to preparing thirty-two car bombs, including the car used in the U.N. attack.219
One month after the U.N. bombing, on September 22, 2003, another bomb exploded in a parking lot approximately fifty meters from the Canal Hotel gate, killing a U.N. security guard and two Iraqi policemen. By November, the U.N.'s international staff had withdrawn from Baghdad.
The attacks have greatly limited the United Nation's ability to work. The U.N. Assistance Mission for Iraq (UNAMI), established by Security Council Resolution 1500 in August 2003, moved to neighboring Jordan. The international staff that returned to Baghdad was restricted to the U.S.-protected Green Zone. And the Baghdad office was burdened by the exorbitant costs of security and logistics. Of 256 staff in Baghdad in February 2005, more than 200 were security.
Insurgents have also targeted the International Committee of the Red Cross, which has been in Iraq since the start of the Iran-Iraq war in 1980. Around 11:00 a.m. on July 22, 2003, gunmen shot and killed ICRC communications technician Nadisha Yasassri Runmuthu just north of al-Hilla and seriously wounded his Iraqi driver, Mazin Hamid Rashid.220 On January 13, 2005, an ICRC driver went missing near Abu Ghraib, and his body was found the following day. The unnamed victim was an Iraqi national in his forties who had four children, the ICRC said.221
On the morning of October 27, 2003, a vehicle with explosives detonated at the ICRC headquarters in Baghdad, killing twelve, including two local ICRC staff, Zuhair `Abdullah Ahmad al-Shaikhli and Dekran Gregor Dekran Hagopian.222 An ICRC driver was present at the headquarters during the attack. He told Human Rights Watch what he saw:
We were sitting in the ICRC building and were outside the reception. I saw how the car bomb entered. You know what happens. I was surprised that a big vehicle could get so close. One guy named Omar was at the reception. He shot at the car. Then it exploded. I saw all the body parts on the wall. I was outside the building. Eight guys in the reception were killed… The bodies were all over. It was terrible, very awful. You can imagine if you see a body covered in blood and some parts are stuck on the wall and the ground is covered in blood.223
The bombing severely affected the ICRC's work, forcing it to reduce its international staff, which made up about thirty of the organization's 600 employees in Iraq.224 "In view of the direct attacks on the ICRC in 2003 and of the general security situation in Iraq, the organization was forced to adapt to an exceptional modus operandi there," the ICRC said. The organization maintained a presence of only Iraqi staff, supported by a team of foreign staffers operating out of Kurdish-controlled northern Iraq and Jordan.225
The attack against an established independent organization like the ICRC, which had provided services in Iraq for the past twenty-three years, forced other humanitarian organizations to question whether they could operate safely in Iraq. Many took the bombing as a message, even though no one claimed responsibility for the attack, that all organizations providing assistance were susceptible to attack.
"This and earlier attacks seriously put in doubt the very possibility of providing independent humanitarian aid in Iraq," said the organization Doctors Without Borders/Médecins Sans Frontières (MSF). The statement continued, "deliberately targeting civilians and independent aid agencies is a war crime. The perpetrators of this attack on the ICRC, an organization with a long history of providing humanitarian assistance to Iraqis, confront us with the question whether all aid organizations could be targets. The attack was an assault on the very heart of humanitarianism."226
Since the ICRC attack, insurgent groups have threatened, attacked, abducted and killed staff members of various humanitarian organizations. While the most publicized cases are of foreigners, most notably the CARE country director Margaret Hassan (see below), the vast majority of victims have been Iraqi employees.
Human Rights Watch spoke with three Iraqi staff of international organizations who fled to other countries after receiving threats from armed groups, either in writing or in person. Each of these people knew colleagues and friends who had also fled after receiving a threat. In some cases, the threats were criminal rather than political, because gangs apparently believe that Iraqis working for foreign organizations can afford to pay a ransom. The family of one United Nations employee, for example, received a note that said, "give us $5,000 or we will kill all your sons and [your] daughter."227
But in some cases, the threats were clearly political and, when unheeded, resulted in the murder of a humanitarian worker. Muhammad Hushyar Salim Ahmad Dizayi, aged thirty-four and single, for example, was Mosul head of the humanitarian aid organization, World Vision, a U.S.-based Christian relief and development organization that was working on school rehabilitation (see photos).
Unknown individuals in the city warned him to quit his job, his family told Human Rights Watch, but Dizayi decided to continue working with the organization. On September 29, 2004, unknown gunmen shot and killed him while he sat in a Mosul café.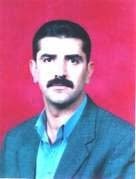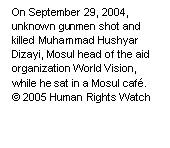 According to Dizayi's father, who was in Arbil at the time of the murder, a witness told him that two cars drove up and shot his only son in a café near the university. He went to the Mosul hospital and police the next day, but found no officials willing to help. "No one was at the hospital. I even went to the police," he said. "They said we cannot come with you because we are afraid of the terrorists. They said they will attack you again if you come to talk with us about this." At the hospital there was only one cleaner, who said, "Don't cry or shout because the terrorists will come again."228
Another targeted killing occurred on November 3, 2004, when gunmen shot and killed an employee of Caritas Iraq, a Roman Catholic church-based organization that helped underprivileged families with medicine, social counseling and food.229 The victim was `Ala' Andraus, director of the organization's Baby Well Center in Baghdad's al-Dura neighborhood. A pupil at the al-Batul secondary school for girls in the Mekanik section of al-Dora, who knew Andraus because he had given food to a poor family in her building, told Human Rights Watch:
We were studying in the courtyard when we heard the screeching of tires, the crashing of the fence and the confusion of shooting. We were about to go inside because we thought the school was under attack—the school had been threatened before. We had received messages that Christian girls must wear veils. One of the cars came into the school yard, knocking down part of the wall. The other car just shot and sped away. The police guarding the school shot back.
The first car had a driver and a guy named `Ala'. His wife and child were in the back. The driver died. `Ala' was injured, and he died that night. From upstairs through the window I saw them taking the bodies out of the car. The driver was dead, and 'Ala' had been hit in the jaw, and it was blown apart. His wife had fainted from the shock.230
Caritas was forced to close the Baby Well Center in al-Dora, which had treated malnourished children. "There was an immediate impact. There was tension—fear among the staff. They were all shocked," Sebastian Deschamps, the Caritas Desk Officer for the Middle East, told Human Rights Watch. "When one of your colleagues is shot dead, it's traumatic."231
By April 2004, insurgents launched a spate of abductions of foreigners working in Iraq, including some humanitarian workers. On September 7, armed men abducted Simona Pari and Simona Torretta from the Italian organization Un Ponte per Baghdad ("Bridge to Baghdad"), as well as two Iraqi staff, Dr. Ra`d al-`Ali and Mahnaz Bassam. They released them unharmed three weeks later in circumstances that remain unclear, and it is possible their abduction was criminally motivated rather than political.232
The case that generated the most international attention was the abduction and killing of CARE country director Margaret Hassan, who had married an Iraqi man, become an Iraqi citizen and lived in Iraq providing humanitarian assistance for twenty-five years. CARE had been active in Iraq for the previous fourteen years, with Hassan as the organization's local director since 1996. She was among the very few expatriate humanitarian workers who stayed in Baghdad throughout the 2003 U.S.-led invasion.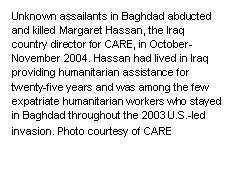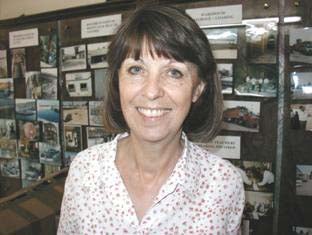 According to CARE, armed men abducted Hassan in Baghdad at 7:30 a.m. on October 19, 2004, as she was being driven to work. A video later broadcast on al-Jazeera showed a terrified Hassan calling for the withdrawal of British troops and the release of female prisoners in Iraq. "Please help me. Please, the British people, ask Tony Blair to take the troops out of Iraq, and not to bring them to Baghdad. That's why people like Mr. Bigley and myself are being caught, and maybe we will die like Mr. Bigley. Please, please, I beg you," she said, referring to Kenneth Bigley, a British engineer who had been beheaded on October 8.233
On November 5, al-Qaeda in Iraq issued a statement calling for Hassan's release, "unless there is proof of her being an agent." If her captors "hand over this hostage to us we would release her immediately unless it is proven that she plotted against Muslims," the statement said.234
On November 16, CARE announced that they believed Hassan was dead, although no body had been found. "It is with profound sadness that we have learnt of the existence of a video in which it appears that our colleague Margaret Hassan has been killed," a short statement said.235
In May 2005, Iraqi and U.S. forces said they had arrested eleven men suspected of involvement in Hassan's death. Five of the men admitted complicity in the murder, the Iraqi police said.236
Hassan's killing sent further shockwaves through the humanitarian community. Despite regular attacks on humanitarian workers since summer 2003, humanitarian organizations active in Iraq had assumed Hassan was safe due to her long-standing family and professional ties to the country. The murder showed that no one, even a woman with deep ties to Iraq, was beyond reach.
CARE announced the closure of its Iraqi operations on October 28, 2003.237 "It's sad to close such an operation that had been there for so long and had helped so many people," said `Alia Khalifa, the program support coordinator for CARE Iraq, now based in Amman. "All our activities had to be stopped, and it was going directly to the people."238
Other international humanitarian organizations followed suit. On November 9, the International Rescue Committee (IRC), which had been in Iraq for eighteen months working on water systems, sanitation and health facilities, vaccinations and rebuilding schools, announced it was phasing its Iraq programs out by the end of the year. "Regretfully, we had to recognize the reality that due to security constraints, we are less and less able to address Iraq's needs," said IRC's director for the Middle East and Asia, Mark Bartolini. "The deteriorating security conditions reveal a trend toward attacks against Iraqi civilians who associate themselves with international agencies, as well as against the international staff of those organizations."239
That same month, World Vision, which had lost its director in Mosul six weeks before, announced it too was ending operations in Iraq. In Iraq for eighteen months improving schools, hospitals, clinics and water supplies, World Vision said it was too difficult to maintain security. "We have realized that you can't have twenty-four hour security guards, and even now humanitarian agencies like ours, like CARE—even the Red Cross with its studied neutrality for 150 years—are being targeted," said Tim Costello, chief executive of World Vision Australia.240
---
[207] ICRC, Customary International Humanitarian Law, vol. I, rules 55 & 56; see also Protocol I, Article 81(4).
[208] The United Nations had been present in Iraq for more than forty years, with an enlarged presence in the mid-1990s to administer the Oil-for-Food Program. In anticipation of hostilities between Iraq and the United States, the United Nations evacuated its 387 international staff members on March 18, 2003. They stayed out of Iraq during the U.S.-led invasion and returned to Baghdad on May 1, 2003.[208] De Mello arrived with his staff and security detail one month and one day after that.
[209] Ibid.
[210] Human Rights Watch interview with Rasha al-Kaisy, Amman, Jordan, February 13, 2005.
[211] Human Rights Watch interview with Layla al-Mulla, Amman, Jordan, February 13, 2005.
[212] "Colleagues Killed in Baghdad Example of UN Family 'At Its Most Committed and Most Courageous', Says Secretary-General to Memorial Service," U.N. Press Release, September 19, 2003.
[213] "Shadowy Group Claims Baghdad UN Bombing, Vows More Attacks," Agence France-Presse, August 21, 2004, and Dexter Filkins, "Inquiry in U.N. Bombing Focuses On Possible Ties to Iraqi Guards," New York Times, August 22, 2004.
[214] "Iraq: 'Muhammad Army' Group Says It Bombed UN Headquarters," BBC Monitoring Middle East, Report by Lebanese LBC Sat TV, August 23, 2003.
[215] Ali Kais al-Rubai, "Islamists Pledge Continued War on Coalition," IWPR, May 14, 2004.
[216] "Statement Said From al-Qa'idah Claims Responsibility for UN HQ Attack in Iraq," BBC Monitoring Middle East, Muhammad Salah, "Al-Qi'diah Claims Responsibility for Blowing Up UN Headquarters in Baghdad," al-Yat, August 25, 2003.
[217] Coalition Provisional Authority Briefing With Daniel Senor and Brigadier General Mark Kimmitt, Baghdad, Iraq, February 12, 2004.
[218] Foreign Terrorist Organization: Designation of Jama'at al-Tawhid wa'al-Jihad and Aliases," U.S. Department of State press statement, October 15, 2004. (See http://www.state.gov/r/pa/prs/ps/2004/37130.htm, accessed March 9, 2005.)
[219] Bassem Mroue, "Iraq Forces Arrest Top al-Qaida Lieutenant," Associated Press, January 24, 2005.
[220]"Iraq: One ICRC Staff Member Killed and One Wounded," ICRC press release, July 22, 2003, and "Nadisha: "Not a Victim of War—a Victim of Murder," ICRC press release, July 30, 2003.
[221] "Iraq: ICRC Staff Member Killed," ICRC press release, July 15, 2005.
[222] Baltasar Staehelin, "Iraq: Indiscriminate Violence Increases Civilian Distress," ICRC press article, October 27, 2004. (See www.icrc.org/Web/Eng/siteeng0.nsf/iwpList74/927D51C2698B002AC1256F390047EB87, accessed June 9, 2005.) The article was first published in Al-Hayat newspaper on October 27, 2004.
[223] Human Rights Watch interview with Ahmad, full name withheld, Sulaimaniyya, Iraq, February 3, 2005.
[224]"Red Cross to Cut Iraq Staff," BBC News, October 29, 2003. (See http://news.bbc.co.uk/1/hi/world/middle_east/3224723.stm, accessed March 4, 2005.)
[225] Iraq: ICRC Operations in 2004, ICRC operational update, December 31, 2004. Available at http://www.icrc.org/Web/Eng/siteeng0.nsf/html/693L9H?OpenDocument, as of June 9, 2005.
[226] "Iraq: Independent Humanitarian Aid Under Attack" Médicins Sans Frontiers statement, November 10, 2003. Available at http://www.doctorswithoutborders.org/publications/other/iraq_11-10-2003.shtml, as of March 4, 2005.
[227] Human Rights Watch interview with U.N. employee, Amman, Jordan, February 13, 2005.
[228] Human Rights Watch interview with Hushyar Salim Ahmad Pasha Dizayee, Arbil, Iraq, February 6, 2005.
[229] The killing of 'Ala' Andraous was not the first violence Caritas had directly experienced in Iraq. One year before, on November 12, 2003, a suicide bomb struck Italian police headquarters in al-Nasiriyya, killing eighteen Italians and nine Iraqis, and wounding more than 105. The bomb damaged the Caritas Iraq office, which lay a few hundred meters away, and seriously wounded the director of its Well Baby Center. According to Caritas, "the force of the blast blew out windows," and twelve staff members were injured. "This attack happened in a quiet residential area, and it has caused utter devastation," the director of Caritas Iraq said. (John F. Burns, "At Least 26 Killed in a Bombing of an Italian Compound in Iraq," New York Times, February 13, 2003, "Death Toll Rises to 27 at Italian Base Bombing in Southern Iraq," Agence France-Presse, November 13, 2003, and "Caritas Iraq Workers Injured in Nasiriya Suicide Bombing, Caritas press release, November 13, 2003.)
[230] Human Rights Watch interview, 'Ain Kawa, Iraq, January 29, 2005.
[231] Human Rights Watch telephone interview with Sebastian Deschamps, February 10, 2005.
[232]Richard Owen, "Once They Knew We Weren't Spies They Treat Us Well, Say Italian Aid Workers," The Times, September 30, 2004, and "Italian Hostages Freed in Iraq: Al-Jazeera," Agence France-Presse, September 28, 2004.
[233] Kim Sengupta, "Harrowing Footage Shows Hassan Pleading for Her Life," The Independent, October 23, 2004.
[234] Kim Sengupta, "Al-Zarqawi Groups Calls for Irish Hostage to Be Set Free," Irish Independent, November 6, 2004, and Adam Nathan and Tom Coghlan, "Terror Group 'Urges Release' of British Hostage," Sunday Times, November 7, 2004.
[235] "CARE Profoundly Saddened by the Apparent Death of Mrs. Margaret Hassan," CARE press release, November 16, 2004.
[236] "Iraq Raids Seize Men Linked to British Woman's Death," Reuters, May 1, 2005, and Anne Penketh, "Five 'Confess' to Murder of Aid Worker," The Independent, May 2, 2005.
[237] "CARE Closes Operations in Iraq," CARE press release, October 28, 2004.
[238] Human Rights Watch interview with Alia Khalifa, Amman, Jordan, February 14, 2005.
[239] "IRC Programs in Iraq to Conclude at Year's End," International Rescue Committee press release, November 9, 2004.
[240] "Major Aid Organization Quits Iraq," BBC News, November 19, 2004. (http://news.bbc.co.uk/1/hi/world/middle_east/4025171.stm, accessed March 5, 2005.)