<<previous | index | next>>
Incidents in which Israeli forces have killed Westerners are investigated more frequently than the deaths of Palestinian civilians. This is partly because the Israel Defense Forces (IDF) and Israeli government are highly sensitive to the media impact of such killings. It is also because the victims' families have greater access to financial, media, and technical resources. But even investigations into the deaths of prominent foreign victims show clearly how the IDF's delays, equivocation, and lack of transparency result in investigations that fall badly short of the "effective remedy" required by international law.
Tom Hurndall was shot by an Israeli soldier late in the afternoon of Friday April 11, 2003. At the time he was shot, there were no ongoing armed hostilities. Children were playing in the area, and he was wearing a fluorescent yellow vest to alert the IDF to his presence. It appears that he was shot intentionally.
The Hurndall family's quest for an impartial investigation shows clearly the gap that exists between the image of investigations portrayed by the IDF's public relations unit and the reality.
A twenty-one-year-old British university student, Hurndall had traveled to Gaza five days before the shooting as a member of the International Solidarity Movement (ISM).192 On the day of the shooting, Hurndall and other ISM members had been planning to erect a tent in the Yibna district of Rafah to protest the repeated shooting by IDF forces into the area, including the shooting of two children on the two previous days, April 9 and 10.
Hurndall, ten foreign ISM members, two local contacts, and two photographers met at a house in Yibna at 4.15 p.m. A U.S. volunteer, Laura, and Mahmud Mansur, a local assistant, went ahead to check whether an IDF tank had taken its usual position close to the intended tent site. The others followed, approaching a "T" junction at the intersection of Kir Street and Salah al-Din Road. Several group members, including Hurndall and Laura, were wearing fluorescent yellow vests to alert the IDF to their presence. An IDF watchtower and concrete pillbox some 150 meters away directly overlooked the intersection. A mixed sand and rubble mount some 1.5 meters high had been placed at the Kir Street edge of the junction, partly blocking the mouth of the street. Children were playing in the street, including around the earth mound.
Human Rights Watch interviewed separately six witnesses to the shooting, four days after it took place. Their testimony was consistent. Laura and Mahmud met with warning shots from the IDF watchtower as they reached the Tawhid mosque, several streets away. They returned to the main group, which was standing a few meters in behind the earth mound. Shortly afterwards, a series of shots was fired into the wall of the building on the left hand side of the earth mound, possibly hitting the mound itself. Human Rights Watch counted six distinct impact craters in the building wall. According to Mahmud Mansur,
The shots were constant: One shot, a short pause, another shot. Tom was standing in between me and Laura. There were two girls playing behind the barrier, very frightened; they did not know how to speak. So Tom walked forward and led them back down the street. Then he returned. He saw a boy behind the barrier. I saw him too, Salim Barhum. I wonder if I could have helped him more... . Tom went towards the boy, about two to three meters forward. The boy was stunned, petrified. Tom went to carry him, bent towards him with his arms out. Then he fell as a bullet hit him, and blood and brains began to pour onto his chest.193
There were no more shots. Hurndall, still wearing his fluorescent jacket, was carried by his companions down the street, where a fellow ISM member administered first aid. He was put into a local car and taken to the Yusuf al-Najjar Hospital in Rafah, and then to the European hospital in Khan Yunis. After diplomatic intervention, he was transferred several hours later to an Israeli settlement and flown to Soroka hospital in Israel. He spent the next nine months in a non-recoverable condition in hospitals in Israel and London. He died on January 13, 2004.
Two days after the shooting, Israel radio reported the IDF's reaction: "The IDF says that soldiers spotted a young man wearing camouflage attire moving towards an IDF position while shooting. The Israeli troops returned accurate fire and the man was hit."194 When Human Rights Watch contacted the Office of the IDF Spokesperson, the officer said, "I don't have any specific information about this case. As you're aware, in such cases the IDF always opens up an investigation. I'm sure something will be opened up."195 An Israeli human rights group, the Public Committee Against Torture in Israel, formally requested that the case be investigated.
It was another six months before the IDF opened a Military Police investigation into the case. It did so in large part because of relentless efforts by the Hurndall family and the ongoing media attention their efforts attracted. Hurndall's parents and siblings immediately flew to Israel and arranged, via the British embassy, to visit the site of the shooting in Gaza. Anthony Hurndall, Tom's father, and a solicitor, attempted both before and after his Gaza visit to meet with an IDF representative. He was unsuccessful. He told Human Rights Watch:
My first contact with the IDF was when I was shot at [in the] Abu Huli crossing. No one from the Israeli government or defense force or any military official tried to contact us. The [British] embassy had contacted the IDF and MFA and tried to set up a meeting. They made several attempts, without success. They said the IDF declined to meet with us.
We made it clear that we were not out to blame, but to investigate. We wanted to be open with them and have them be open with us, with a view to finding out the truth.
After six weeks of refusing, they realized the publicity was so adverse [that] eventually the embassy got a meeting the day after we were supposed to have gone back [to the U.K.]. We met in Jerusalem with the Ministry of Foreign Affairs and two representatives of the IDF. There was no agenda. By that stage I had gotten to the point where I felt there was no point. I had an idea what had happened, and felt they were just trying to recapture the public relations ground they had lost.196
Before this May 26 meeting, the IDF had conducted an "operational investigation" into the shooting and released a summary of results to the British embassy. Reportedly supervised by Major-General Giora Eiland, at that time head of the IDF Planning Office,197 the operational inquiry was carried out by soldiers of the Southern Command, submitted to the division commander, and then accepted by the OC Southern Command, Major-General Doron Almog.198
The inquiry found that the IDF post commander had fired a single bullet with the help of the telescopic lens of an M-16 I-3 rifle at an armed Palestinian man dressed in camouflage.199 The Palestinian had supposedly emerged from a house, followed by a second bearded man and two children, then pulled out a pistol and fired three shots in the air and two shots towards the observation post. The inquiry found the commander had acted according to the rules of engagement, and that "it is impossible to establish with certainty the cause of the injuries sustained by Mr. Hurndall."200 Despite the abundance of witness statements, the findings were based on the testimony of only two people: the commander who shot Hurndall and a soldier who was with him.201
When asked on a Channel Four (U.K.) documentary what independent witnesses the IDF had approached to establish that the observation post had been fired on, an IDF representative replied: "We don't need witnesses... ."202 Another IDF spokesperson, asked the same question, confirmed that no outside witnesses had been approached: "[T]he field investigation is done at a field level[,] in other words with the soldiers and with the commanders there. It doesn't bring in other people."203
Human Rights Watch obtained an English-language copy of the investigation summary. More than half of the twenty-two-page document is devoted to statistics regarding Palestinian attacks, tunnels used for smuggling, and criticisms of the ISM. Most noticeably, the report specifies the wrong location of the shooting, placing it in front of two houses located not on Kir Street, but closer to the IDF outpost.
The Hurndalls eventually met with Ministry of Foreign Affairs and IDF representatives on May 26. By this time Anthony Hurndall had already made preliminary inquiries in Gaza, and the IDF had been told that the location of the killing was incorrect. The Hurndalls asked that the "operational investigation" be revised. "But they said no, it is closed, and will not be re-opened."204 Requests the family made to visit the observation post or view closed circuit television records from the site were rejected. Frustrated with the IDF's lack of accuracy, Hurndall consulted an independent military expert and sought the advice of Avigdor Feldman, a prominent Israeli human rights lawyer. He compiled a dossier of relevant information, including thirteen witness statements, area maps, media transcripts, and detailed photographs. He submitted the dossier to the Foreign Office in early July 2003, which conveyed it via the embassy to the Israeli Judge Advocate General's office.
Anthony Hurndall told Human Rights Watch that the family had "wanted to be part of a process of truth telling."205 Deciding Tom had been intentionally killed was "not a conclusion I came to willingly. It took a long time."206
The IDF opened a Military Police investigation some three months after the incident – after continuing foreign media coverage, ministerial intervention, and the receipt of Anthony Hurndall's dossier.207 In the final week of 2003, the Military Police arrested and questioned Tom Hurndall's killer, Sgt. Taysir, a member of a Bedouin patrol battalion.208 Although he at first maintained he returned fire after being shot at by an armed Palestinian, he later admitted to firing "in proximity to an unarmed civilian as a deterrent."209 The soldier was initially charged with "infliction of pre-meditated, aggravated bodily injury"; a second soldier was also arrested for "having made a false declaration concerning the events of that day."210 The defendant's lawyer and the Hurndall family both voiced concern that the soldiers facing charges were being used as scapegoats to avoid scrutiny of a wider culture of impunity that exists in the IDF.211 After Tom Hurndall died in January 2004, and with pressure from the Hurndall family and the British Foreign Office, the investigation was re-opened, and Sgt. Taysir was charged with manslaughter. During trial proceedings in December 2004, Sgt. Taysir admitted he had lied when he said Tom Hurndall was carrying a gun, but said he was under orders to open fire even on unarmed people.212 The closing arguments in Sgt. Taysir's trial were presented on May 22, 2005, and a verdict is expected in late June.
Shadin `Abd al-Qadir al-Salah Abu Hijla was a Palestinian, but her four children are all American-trained English-speaking professionals, two of them U.S. citizens, and she herself was a prominent social activist and advocate in Nablus. The sixty-one-year-old grandmother was shot by an IDF soldier on the afternoon of October 11, 2002 while sitting with her husband on their front porch. Much of Nablus was under curfew. Her killing did not occur in circumstances of armed hostilities.
Abu Hijla and her husband lived in the upper-middle-class area of Rafidiyya. At approximately 5:45 p.m., two IDF jeeps stopped in the street, forty yards from where Hijla was sitting. A soldier opened the door, and fired fourteen times towards the house. Sa`id Abu Hijla, Shadin's son, was standing in the doorway. He told Human Rights Watch:
There were two jeeps, one waiting at the speed bump. I was wondering why they stopped, maybe they were waiting for another two. Then, without warning, without any kind of event, I felt a blast from the glass door explode into my face, and suddenly I was thrown on the floor. I said "I'm injured!" and went to the mirror and saw my neck and face bleeding, especially my neck. I didn't know what it was. My father is an ear, nose, and throat doctor. He came and started looking for a wound. He walked to the door and opened it. I was standing facing the door and then saw the body of my mother, stretched across the steps. I ran to her shouting. Her eyes were wide open; it was her last breath. I lifted her head and my hand was covered in blood. I thought she was injured in the head, so I said the shahada [prayer for the dying]. My father stood in front of us in shock.213
Shadin Abu Hijla died not from a head wound, but a bullet that pierced her left side. Her husband was grazed by a bullet on the top of his skull. Her son was injured by fragments from the six bullets that penetrated the door.
The IDF knew of the killing immediately. As he went to hospital, Sa`id encountered a jeep of Israeli soldiers in his street. He waved and shouted at them not to shoot. They stopped, opened the jeep door, and stood in front of it. One soldier raised his weapon. Sa`id shouted "You killed my mother! Why, why did you kill my mother?" The soldier motioned Sa`id back with his gun, stepped back, and shot in the air. Sa`id shouted again, then the soldiers got back into the jeep, drove around him and away.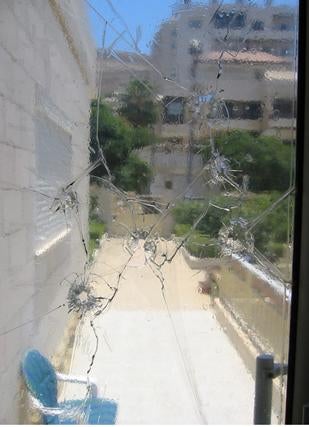 The front door of the Abu Hijleh family house, Nablus. Shaden Abu Hijleh was killed and two family members injured after an IDF soldier fired fourteen times at the house on October 11, 2002. Although the Abu Hijleh family carefully preserved the scene of the crime, no Military Police visited to investigate. In February 2005, two commanders of the brigade operating in Nablus at the time were ordered to appear before a disciplinary tribunal, but no criminal charges were filed.
© 2002 Miranda Sissons/Human Rights Watch
Shadin Abu Hijla was one of at least forty-one Palestinian civilians killed by Israeli forces that October.214 Unlike other victims, however, her family decided immediately to insist on an investigation:
We sat down as a family and said "We won't let this go. This is murder and they think Palestinian blood is cheap." ... We started first with the media, with Joel Greenberg of the New York Times. Then [Israeli newspaper] Ma'ariv came during the condolences... . I think we were the first family to really test them; they are not really accountable. My mother will not come back, but maybe we will make the next soldier hesitate a little before killing another mother.215
The army initially explained that Abu Hijla had been shot as a result of disturbances, a description that bore no relation to the incident's time, place, or other factual circumstances.216
The family quickly hired an Israeli lawyer to officially request an investigation. The Israeli human rights group B'Tselem made the same request in a letter to the chief military prosecutor on October 14. As a result of media pressure and familial connections, the Abu Hijla case was raised at the highest levels, including by President Bush when Israeli Prime Minister Ariel Sharon visited Washington later that month. On November 24, the IDF chief military prosecutor replied to B'Tselem that the army would investigate.
The first investigation conducted into Abu Hijla's death was not conducted by the Military Police, but by other IDF soldiers ­— that is, colleagues of the possible perpetrator, subject to the same chain of command. Although it is difficult to find specific details, the Criminal Investigation Division of the Military Police told Human Rights Watch that they were instructed to investigate only in March 2003, nearly six months after the incident.217 The soldiers investigating did not contact eyewitnesses or visit the site, but determined that Abu Hijla had been killed by a single stray bullet – ignoring the injuries to her husband and son, the widely available witness statements, and the physical evidence carefully preserved by the family. This evidence included fourteen cartridge cases gathered from the site immediately after the shooting by a respected Western diplomat.218 The "investigation" findings reportedly reached the desk of IDF Chief of Staff Moshe Ya'alon in December 2002.219 Alerted of the existence of the bullet casings by an article by Ha'aretz columnist Akiva Eldar, who followed the case closely, Ya'alon ruled out the stray bullet theory and ordered the case reopened.220
Early the next month, the IDF made its first site visit. At about 8 a.m. on January 6, 2003, three soldiers arrived without notice at the Abu Hijla house. One was military commander of the Nablus area, another an officer from the District Coordination Office. Sa`id Abu Hijla opened the door, and later summarized the conversation in a memo to his lawyer. He told Human Rights Watch:
These were not the Military Police. These were the people that did it... . They said, "We have come to investigate the killing of Shaden Abu Hijleh," in Arabic. I said, "I have a lawyer, speak to him." They said, "No, can we speak with you?" I said, "Excuse me," went and got a notebook, and asked them to write their names. He wrote Doron. I said, "[w]hat is this? There are three of you. I do not know who you are. Write all your first and last names in Hebrew." There was Captain Doron and Captain Aharon, military commander of all the troops in the area. He gave me his phone number, and I said, "So now you're coming, after three months. Are you under pressure? After Bush, the Christian Science Monitor, and Ha'aretz?" The captain said, in English, "We came because we investigate all civilian deaths." I said, "[b]ut first you said in the media that she was killed in disturbances at Friday prayers!" And the captain said, "No, we have come because we want to know the truth."221
Sa`id and his father told the soldiers what happened and showed the soldiers the bullet holes in the door and porch wall, as well as his mother's bloodied embroidery. During the conversation, the commander told Sa`id that they had interviewed the perpetrator, who said he had "opened the passenger door and fired into the air."222 According to Abu Hiljeh, the officers agreed that the neighborhood was quiet, that the Abu Hijla family had not been breaking curfew, and that they should not have been shot at. The soldiers left after reportedly confirming that detailed witness statements were available with Sa`id's lawyer. Another group of soldiers visited the site again on January 14, but did not knock on the door or ask questions.
The JAG's office decided to open a Military Police investigation sometime between late January and March 2003. The IDF released an outline of the investigation findings to the media on June 22, 2003.223 The inquiry found that Shadin Abu Hijla had been hit by gunfire from an army patrol in Nablus that was enforcing the curfew. "The force spotted a man leaving the front of a house in the city, and conducted deterrent fire toward the house wall, and as a result, the woman who was sitting inside her courtyard, was killed."224 As a result, the chief of staff reportedly forbade the opening of fire for curfew enforcement, an order that, had it been given earlier, would have saved scores of civilian lives.

The Military Police investigators reached this finding without ever visiting the site. The circumstances undermine the IDF's assertion that it is the unwillingness of Palestinian witnesses to cooperate that makes investigations so difficult.
Sa`id Abu Hijla said that Allon Steinl, the MP investigator appointed to the case, telephoned him three times between January 29 and February 3, 2003. In his first call, the investigator asked Sa`id Abu Hijla and his father to visit the Israeli District Coordination Office (DCO) at Hawarra, a checkpoint on the outskirts of Nablus notorious for incidents of abuse of Palestinians. Sa`id said he would be happy to arrange for witness testimony, but that the Military Police should visit the crime scene. The investigator called back and said he could not visit the site for security reasons. Sa`id objected again, saying, "We want to help, but you should come. If you can come to the street to kill my mother, you can come to investigate. Bring a Merkava [tank]! Or bring civilian clothes and we will give you coffee." Sa`id's father explained, "I could not protect my wife even here in my own house. How can I protect myself [getting] to Hawarra?"225 Steinl said he would check with his superiors, and called back on February 3. He again said that the men would have to come to Hawarra. Sa`id told Human Rights Watch
I said, "I cannot give myself a permit to get safely to Hawarra, to be humiliated to reach you. You are more secure than me." Then the investigator asked, "There is a bullet from the wall. Can you bring it to me?" I said, "This is not an investigation! This is not the right way to do it!" Imagine a victim trying to convince an investigator just to visit the crime scene. I said, "Captain Doron came twice, why can't you? It is a very safe neighborhood, that is why the event is so shocking."226
According to Abu Hijla, Allon concluded by saying, "OK, OK, it will take time but we will do it right."
Sa`id Abu Hijla recorded one of his conversations with Allon and played it back to Human Rights Watch. Between calls, he forwarded the Military Police a site map, drawn to scale by an official surveyor, a compact disc of photographs of the physical evidence and the site, a panoramic video of the area, and the witness statements. Abu Hijla was aghast at the reported findings, which he learned from the Israeli media:
What really hurts is that after all this they have the audacity to say that the soldiers spotted a man leaving a house and they applied deterrent fire – and that a woman sitting inside was killed by accident! And they said this without even visiting the site... .We could have chosen not to give them the stuff, but we gave it. It is their duty, not ours, because the work has to be impartial. But we wanted to cooperate to the maximum with the investigation so they would do it well, but they did not. They cannot raise their eyes in front of the court.
In a July meeting with the Criminal Investigation Division of the Military Police, Human Rights Watch asked the Military Police how it was that Military Police investigators had still not visited the Abu Hijla site. Colonel Shami Cohen replied:
I think we gathered all the facts in this case, and much of the case is pretty clear. We were nearby. We have the shell cases, we investigated the soldiers. There were in this case restrictions... limitations due to firing. If we do not gather the shells [cartridge cases] the same day, they are unclear. We have to check the same day with the same weapons. The Shaden Abu Hijla case is not a classical case. They came to us on March 5, and it happened in November[sic]. And after the IDF force was there, after the internal investigation was unsuccessful, they ordered us [to do it]. It is a problem when we are not there. Now we know the soldier involved, the face exactly.227
When Human Rights Watch interviewed Sa`id Abu Hijla in July 2003, he was convinced that, despite the family's best efforts to assist the investigation, the IDF was acting unprofessionally and not in good faith. "The Israelis are only acting under pressure. It highlights the importance of the pressure you put on the Israeli government. At least then they have to show there is some kind of accountability."228 Many human rights groups and journalists interviewed by Human Rights Watch agreed. As of February 2004, the IDF had still not contacted the Abu Hijla family or their lawyer to inform them of investigation outcomes, nor had any Military Police representative visited the site.229 In response to a letter from Human Rights Watch, the IDF Spokesperson's wrote on February 17, 2004: "A decision has not yet been taken regarding how to proceed in the matter."230 In February 2005, the Military Advocate General, Brig. Gen. Avihai Manelblitt, ordered that the commanders of the Samaria Brigade and the company operating in Nablus at the time be brought before a disciplinary tribunal, "in light of the orders regarding the rules of engagement that were given by them and which overstepped the rules of engagement that applied in that area at the time."231 The two officers will not face criminal charges. According to Ha'aretz reporter Akiva Eldar, the state "rejects any 'causal relationship' between the actions of the IDF soldiers and the shooting in the direction of the Abu Hijla family."232
Apart from the question of individual accountability, Shadin Abu Hijla's case also highlights another danger. If investigations into deaths or injuries are not carried out, then the IDF has no mechanism for detecting unlawful or problematic patterns of behavior. The IDF's use of lethal force as a first resort when enforcing curfews is a clear example of such a pattern. Use of lethal force while performing a law-enforcement function when there is no immediate threat to soldiers is illegal.
While it is not possible to calculate how many civilians have been killed or injured as a result of curfew enforcement since September 2000, human rights groups documented at least eight civilians killed as a result of curfew enforcement in the eight-week period of September and October, 2002.233 Human Rights Watch raised this issue with Israeli officials in May 2002 when requesting investigations into civilian deaths in Jenin refugee camp.
British cameraman James Miller was shot to death in Rafah, in the southern Gaza Strip, on May 2, 2003. He and his colleagues had made themselves conspicuously visible when they left the house in which they were staying. There had been no shooting in the area for at least an hour. Miller was the sixty-fifth journalist to be injured or killed in the Occupied Palestinian Territories since September 2000.234 He was experienced in conflict conditions and had spent sixteen days in the area.
Miller and three colleagues visited a house in the al-Brazil area of Rafah to interview one of the subjects, a child, for a documentary they were preparing. For several hours Israeli soldiers in nearby armored personnel carrier had been playing Arabic music loudly and shouting at them in Hebrew and Arabic. Miller's co-producer, Dan Edge, told Human Rights Watch, "They had been playing Fairuz, asking us if we liked it, telling us to go to bed. They were in high spirits, they sounded like kids."235 Although there had been occasional shots fired earlier in the evening, by 11 p.m. the situation had been quiet for at least an hour. Miller, his colleague Saira Shah, and translator `Abdullah Rahman `Abdullah decided to leave the house by the most visible manner possible. The three left by the front door, wearing protective clothing with "TV" marked in fluorescent letters. Rahman held a white flag, Miller shined a flashlight on the flag, and Shah held a British passport in her upraised hands. Much of the incident was filmed by Dan Edge and viewed by Human Rights Watch. The three walked towards where they believed the nearest armored personnel carrier (APC) to be, shouting in English and Arabic that they were journalists. An unseen Israeli soldier fired once towards the group. Shah cried out, "We are British journalists." Thirteen seconds later, a second shot hit Miller. Five more shots followed.
The next day the IDF Spokesperson's office said Miller had walked into an exchange of gunfire, and "most likely been shot in the back by Palestinian terrorists."236 He said IDF soldiers had risked their lives to go Miller's assistance. "An IDF doctor who was on the scene shortly after Miller was shot stated that the bullet entered into Miller's rear left shoulder."237 Three days later, the autopsy results established conclusively that Miller had been shot through the front of the neck.
Miller's friends, family, and employers worked to gather all possible relevant evidence. Within three days, they had met with the U.K. ambassador, retained a prominent Israeli human rights lawyer, hired an independent military expert to examine all evidence, and sent out an independent pathologist to witness the autopsy, accompanied by a police photographer. On May 15, British Foreign Secretary Jack Straw raised the case with his Israeli counterpart, Silvan Shalom. Two weeks later the Miller family sent ballistics expert Frederick Mead to examine the fatal bullet – a 5.56 mm shot at short range. The family, via their lawyer, asked the JAG on June 2 to secure the weapons of the unit operating in the area the night of the shooting. After several reminders, the JAG ordered the weapons be secured three weeks later, on June 24. Ballistics tests were due to be carried out on July 13, when Mead discovered that only nine of fifteen guns had been secured. The family halted the tests until they could be sure that the correct weapons had been secured for testing.238 The international media reported regularly on the case throughout this period.
The IDF conducted an "operational investigation," although it is not clear whether it was ever officially completed.239 The JAG opened a Military Police investigation at the end of August 2003, three-and-a-half months after Miller's death. Senior army officials outside of the JAG office followed the issue closely. By mid-November, Maj.-Gen. Giora Eiland had reportedly received an "interim" Military Police report, but said the authors "had not considered all the available evidence" and so the investigation would require more time.240 Saira Shah and Daniel Edge were officially interviewed in January 2004, some six months after a first "unofficial" meeting with JAG staff. Miller's family had been informed that they would not receive a copy of the final investigation report – a rule that applies to Israelis as well as foreigners. After ambassadorial intervention, Maj.-Gen. Giora Eiland reportedly agreed to let the family read a copy of the investigation report in an IDF office in Israel.241
Miller's family, friends, and colleagues went to enormous lengths, with abundant credible evidence, to ensure that Miller's death was investigated. Few Palestinians have such resources, contacts, or journalistic skills. Nor should anyone have to go to these lengths to ensure that a disciplined military force take the first and most basic step towards accountability: namely, investigate.
On March 9, 2005, the IDF released the JAG conclusions regarding Miller's death. Miller's family said that Brig. Gen. Avihal Mandelblitt had told them that because there was no match between the fatal bullet and an IDF weapon, the officer involved would not be prosecuted, although he would be disciplined for breaking the rules of engagement and for changing his story during the investigation. The IDF's public statement said that the investigation found that an IDF lieutenant and commanding officer at the site "allegedly fired his weapon in breach of IDF Rules of Engagement," but that the forensic evidence "leads to the conclusion that the evidence available does not provide a reasonable chance for conviction as required under criminal law."242 Miller's widow, Sophy, criticized the investigation, saying, "[a]lthough they strongly suspect one soldier, they cannot make a ballistics match. This is not surprising to us, as they failed to collect the weapons for eleven weeks." The family said they would request an Israeli court to review the findings.243
In a subsequent disciplinary hearing, the officer, a first lieutenant in the Bedouin Desert Reconnaissance Battalion, was acquitted of charges that he had violated open-fire regulations. The IDF said that Brig. Gen. Guy Tzur decided the shooting was "reasonable" in light of prevailing conditions, including "frequent terrorist attacks, thick darkness and earlier that same day the soldiers were fired at by anti-tank missiles."244 Ha'aretz quoted the IDF Spokesperson as saying that the investigation into the shooting was "unprecedented in scope," and included ballistics checks, examinations of satellite imagery, and polygraph tests.245 Prior to Brig. Gen. Tzur's decision, on April 7, a 79-page report by the chief lawyer of the IDF Southern Command reportedly stated that soldiers questioned in the investigation had changed their testimonies during the inquiry, and that the barrel of the rifle alleged to have been used in the shooting had been changed. The report also said that May 3, 2003 videotapes from the IDF observation system that may have filmed the shooting had disappeared and that attempts to locate them had not been successful.246
IDF soldiers shot Brian Avery on April 5, 2003 from an APC on a Jenin street. The shooting was unprovoked and did not occur in circumstances of active hostilities. Avery's case highlights the problems when an untrained soldier conducts a field investigation.
Avery had traveled to the West Bank as a U.S. volunteer with the International Solidarity Movement and had spent about two months in Nablus before going to live in Jenin at the end of March 2003. Avery told Human Rights Watch that the day before he was shot, on April 4, the IDF had declared a curfew in Jenin in the aftermath of a large demonstration marking the first anniversary of the IDF military operation in the town and camp a year earlier.247 He said that ISM volunteers made a point of being on the streets during curfews to observe incidents, and that this had not previously caused problems with the IDF. "We would even chat with the soldiers," he said. "It was no big deal."248 That night, April 4, he worked "the ambulance shift" with a Red Crescent medical team and returned home to sleep during the day of April 5. When he awoke in the afternoon, he went to the roof of his apartment with an ISM colleague, Tobias Karlsson, and two Palestinian visitors. Avery and Karlsson left the ISM apartment just after 6 p.m. to investigate sounds of gunfire in the center of Jenin.249 Avery said he put on a red nylon vest with a white stripe designed to be visible at night, and Karlsson was in a white t-shirt. After they walked about two blocks, he said, they heard the sound of one or more armored vehicles approaching them from behind. Avery said that when he turned to look he saw an APC in front, followed by a tank.250 Four other ISM colleagues -- Lasse Schmidt, Martin Johansson, Jens Sandvej Grandin, and Eva Jasciewitz -- were walking towards them from the other direction. "We moved to the side to let [the IDF] pass and stuck out our hands showing we weren't holding anything. We weren't alarmed, it was an everyday occurrence. They were moving slowly, maybe about fifteen kilometers an hour, and when the APC was about thirty-five meters from us it seemed like it paused and just opened fire, twenty or thirty rounds."
Avery told Human Rights Watch that there was no voice warning or warning shot. The gunfire came from a mounted heavy weapon controlled from inside the APC; the soldiers remained within the armored vehicles throughout the incident and were not visible. Avery was shot in the left cheek, and the bullet exited on the right side of his face. He suffered extensive injuries to his cheekbones, jaw, teeth and one eye. Karlsson and the others moved away and were not hit. The APC and tank moved past Avery without pausing—"a drive-by shooting," Avery said. The incident occurred at about 6:30 p.m. "It was just becoming dusk," Avery said, "but there were streetlights and the headlights of the armored vehicles. It wasn't like they couldn't see us." According to Jens Sandvej Grandin, one of the ISM volunteers present, "We were all clearly visible; it wasn't dark but it was twilight, and Brian even had a reflective vest and was highly visible. There was also a street lamp at the intersection so there's no doubt in my mind that they knew we were internationals."251
Avery's ISM colleagues gave him first aid and called an ambulance as well as the U.S. embassy and his parents. Martin Johansson, one of Avery's ISM colleagues who was present, described Avery's condition in an affidavit dated April 7, 2003, two days after the incident:
I kneeled down beside Brian. He had his hands up by his face, and a puddle of blood was forming around his head…. Lasse removed his white t-shirt and placed it under Brian's head in an attempt to stop the bleeding. When doing this Brian moved his arms and I was relieved to know he was still alive. When the ambulance arrived just a couple of minutes later it became clear in a gruesome way that Brian had been seriously injured. The lower part of his face was a complete mess and his left cheek and jaw were hanging by strips of flesh from his face.252
Doctors determined that neither the Jenin nor Nablus hospitals had the surgical capacity to treat Avery. After several hours of negotiations between the Palestinian doctors, U.S. embassy officials, and Israeli officials, permission was given to move Avery to Rambam hospital in Haifa, Israel. The Palestinian ambulance was nevertheless stopped at the border for about an hour until an Israeli ambulance arrived to take him to Afula and then by helicopter to Haifa, Avery said. He remained in the hospital about nine weeks and had several surgeries there before returning to the U.S.
The IDF opened an "operational investigation" into the incident at the request of U.S. Ambassador Daniel Kurtzer, who had met with Avery's father the week after the shooting.253 In this case, a member of the investigative team did conduct a videotaped interview with Avery in the hospital, but did not interview the other ISM witnesses despite being provided with affidavits and their contact coordinates. "They claim they asked me for witnesses and I refused to provide them, but the [video]tape shows this is not true," Avery said.
The investigation found that:
four known events surround injury incident. None of the events match that of Mr. Avery's injury, as detailed in ISM website and Avery's interview. In all four events, IDF force acted in accordance with standing orders and ROE [rules of engagement]... .
No findings indicate that Mr. Avery was injured by IDF fire in any of the above-mentioned events. Medical assistance not given because IDF force did not identify casualties at any stage. Despite in-depth inquiry, IDF did not reveal any conclusive findings regarding the circumstances of Mr. Avery's injury. Mr. Avery's injury is an unfortunate incident. ISM activists knowingly endanger themselves by operating during curfew, in combat situations, seeking clashes and friction with IDF forces.254
The logic of the IDF's findings was based on the assumption that the time of the incident given by witnesses of Avery's shooting—around 6:30 p.m.—did not match that of any of the four events recorded by the IDF for Jenin that day. Yet the IDF inquiry appears not to have acknowledged one simple but vital fact, widely known to anyone who has had contact with Palestinian areas. From March 28 to April 6, Israel had switched to daylight savings time, but Palestinian areas had not. The time in Jenin remained one hour behind Israeli time. When this difference is taken into account, the discrepancies diminish. One of the incidents mentioned in the IDF report, shooting at unidentified "suspects," was recorded as taking place at about 7 p.m. Israeli time, Avery said, which he thought was likely the shooting that aroused Avery and the others to go down to the street in the first place. Avery said that the armored vehicles they encountered were probably leaving from that incident, and did not bother to record the shooting that gravely wounded him.
Avery told Human Rights Watch that he received a copy of the findings while he was in the Haifa hospital. The IDF, he said, despite disclaiming responsibility for the shooting, did cover his medical expenses in Rambam hospital, although they also made clear that once he left Israel they would not pay for additional medical costs. At the time he spoke with Human Rights Watch in March 2005, he had undergone six operations to rebuild the bone structure of his face, and required five or six additional operations for cosmetic purposes and to help his breathing. His lawyer in Israel, Michael Sfard, twice filed petitions with the Military Prosecutor's office to open up a criminal investigation, including sworn affidavits of the five ISM witnesses to the shooting, without response. He then petitioned the High Court of Justice, which on February 28, 2005 declined to order a Military Police investigation but did order the IDF to reopen the field inquiry by taking the testimony of the five ISM witnesses.
Rachel Corrie, a twenty-three-year-old American university student, was killed by an Israeli bulldozer on March 16, 2003, while she was attempting to block it from demolishing a home. Her death, captured on camera by her colleagues, briefly attracted considerable media attention. She had undoubtedly placed herself in a dangerous situation, but the incident did not take place in the context of active hostilities, and did not threaten the safety of IDF personnel or other persons at the site. Under pressure from the U.S. government and the media, Israel conducted operational and Military Police investigations into Corrie's killing. But the investigations fell far short of the transparency, impartiality, and thoroughness required by international law.
Corrie also had traveled to the Gaza Strip as a member of the ISM. She had spent roughly one month in Rafah, the southern-most town in Gaza, on the border with Egypt. During much of this period, she had slept at the house of a local pharmacist, Dr. Samir Nasr Allah, who lived in the Hai al-Salam area adjacent to the Egyptian border. Many of the surrounding houses had been bulldozed by the IDF.255
Just after 2.45 p.m. on March 16, an ISM member who was helping Dr. Nasr Allah saw two bulldozers and a tank approach an open area at the rear of the house.256 Worried that the house might be demolished, she called Corrie and others to come. Eight ISM members met at the Nasr Allah house.
Over the next two hours, the eight foreigners shouted at them through megaphones, raised a banner, and stood in front of the bulldozers as they approached the structures to destroy them. They followed a routine, crouching as the bulldozer approached, then standing on the approaching wall of earth until the bulldozer stopped or the activist moved.257 The bulldozers demolished telephone poles, house foundations, a water tank, a low wall, and part of a garden shed. The IDF twice used tear gas, once fired a set of warning shots, and also shouted at the activists. Both groups of people, the ISM eyewitnesses said, were highly aware of one another: one of the soldiers in the tank even called to Corrie by name, shouting obscenities in broken English.258 She was wearing an orange fluorescent jacket.
Human Rights Watch interviewed separately three eyewitnesses to Corrie's death and visited the site. All witnesses gave consistent testimony. By 4.45 p.m., the bulldozers and tank had moved closer to the Nasr Allah house. Corrie had moved with them. She was walking some fifteen to twenty yards from her closest colleagues, who were scattered around the area. The ground was flat. Thomas Doyle was standing at the corner of a pile of rubble, with a direct line of sight. Doyle saw one of the bulldozers turn to face the Nasr Allah house. He told Human Rights Watch:
Rachel moved forward, walking. She saw the bulldozer and crouched, and at the point she did that the bulldozer was relatively far, about twenty meters away. The bulldozer kept advancing towards her with a massive mound of earth rearing up in front of it, and the blade stuck on the ground [i.e. sweeping the ground]. The earth came quite close, within a few meters, and she stood up.259
Corrie stood and balanced on the rising mound. The bulldozer continued without changing pace, and Corrie tried to get down.
She seemed to be turning to the side – she really had to do it, she started to turn around to get down, but slid instead into the pile of earth. When she was standing on top she was standing quite high, so when she slid down she slid on her side and her right calf was out of view. She slid and then she fell and the earth went vooomsh. . . totally over her.
At the point where her calf disappeared and she disappeared, everyone was going crazy, yelling, shouting, motioning, screaming. I had my megaphone. The driver would have had a pretty good full view if he was looking at us... The bulldozer kept going on, forward, and then stopped a few meters after she disappeared. Her point of disappearance was underneath the cockpit. The bulldozer waited for what seemed like some time but was probably a few seconds, and then started to withdraw.260
Doyle's account is corroborated by that of Nicholas Durie, who told Human Rights Watch:
Rachel was kneeling on one leg. She got up on the rubble as the bulldozer approached, five miles per hour, at a steady pace. It did not change. Rachel probably noticed it would not stop, and she tried to get off the mound. Her foot caught in the mound, and she was carried over frontaways onto the ground, and the earth was piled on top.
The bulldozer moved forward another five meters or so, despite us shouting and being visible to the others, and never lifted its blade or altered its course. It reversed at a steady pace, not lifting its scoop, and moved back some twenty to thirty meters, a bit further than its original distance.261
Corrie came into sight again as the bulldozer reversed. Her companions ran to her; she said, "My back is broken."262 Some gave first aid, others called an ambulance and took photographs. The bulldozer and two tanks left shortly afterwards without attempting to communicate. Corrie was evacuated to al-Najjar hospital in a local ambulance, and died shortly afterwards.
The news and photographs of Corrie's death received wide international publicity.263 President George W. Bush raised the case with Prime Minister Sharon the following day. Sharon reportedly promised that a "thorough, credible and transparent" investigation would take place.264 The IDF described the death as a "very regrettable accident," adding, "We are dealing with a group of protesters who are acting very irresponsibly, putting everyone in danger - the Palestinians, themselves and our forces - by intentionally placing themselves in a combat zone."265
The Israeli military quickly opened an "operational investigation," conducted by the Southern Command. Within ten days, a copy of the findings - reached without contacting any witnesses – was given to the U.S. ambassador to Israel. The U.S. government, unsatisfied, asked for additional information.266 When the summary findings of the "operational investigation" were released to the media on April 15, a State Department spokesman said, "We do not consider this matter closed with the reception of the internal IDF report. We are going to press for a full and transparent investigation."267
Human Rights Watch obtained a copy of the summary of the IDF "operational investigation" into Corrie's killing. Like other investigation summaries seen by Human Rights Watch, the document is laden with generalities and emotive commentary, and contains major factual errors. Chief among these is the statement that "no signs substantiate assertion that Ms Corrie was run over by a bulldozer," a statement apparently based on a highly selective interpretation of the preliminary autopsy report.268
The report concludes:
Contrary to allegations, Ms. Corrie was not run over by a bulldozer, but sustained injuries caused by earth and debris which fell on her during bulldozer operation. At the time of the incident Ms Corrie was standing behind an earth mound and therefore obscured from bulldozer crew's view, whose line of sight was inherently limited. The irresponsible and dangerous conduct of ISM activists blatantly refusing IDF warnings to leave the area and purposely putting themselves in harm's way is a major factor leading to the tragic result of this incident.269
The report found that there had been no wrongdoing or negligence, and took no measures against the bulldozer crew. The army announced it would make operational changes to reduce the possibility of future incidents. These findings were again widely reported.270
The claim of the "operational investigation" that Corrie was not killed by a bulldozer is directly contradicted by the findings of the final autopsy report, conducted only four days after Corrie's death released on April 24 at Israel's National Center of Forensic Medicine. The author of the autopsy report stated:"Based on the results of the autopsy which I performed on the body of RACHEL ALIENE CORRIE, age 24, I hereby express my opinion that her death was caused by pressure on the chest (mechanical asphyxiation) with fractures of the ribs and vertebrae of the dorsal spinal column and scapulas, and tear wounds in the right lung with hemorrhaging of the pleural cavities."271
Eyewitnesses interviewed by Human Rights Watch, other human rights organizations, and the media stated that the bulldozer crew could and did see Corrie. They noted that two other incidents had taken place on the same afternoon in which ISM members had been at the point of serious injury, but the bulldozer drivers had stopped at the last moment – indicating they could see the activists even when in close proximity, balancing on the rising earth that the bulldozers pushed before them.272 They said that the activists had regularly had eye contact with the bulldozer driver in the last moments before jumping off the earth mound. One ISM member described it thus:
To stop them, what we would do would be to stand on mounds. There was visual communication – he [the driver] would signal I was crazy with his hands. I was trying to look in the driver's face, eyes very directly and communicate [that] I would not leave. I was fighting, feeling really sad . . . I didn't want to be there, but I had no choice. I could see a blurry face and could make out facial expressions, but I'm not really good at describing people's faces.
This is kind of going on, repeating, I am trying to communicate with him that I'm not going to move, standing in various places and then he stops. Basically we have to scramble up the sand as he pushes this big load of sand in front, you have to scramble up it to stay in the same place. So you scramble up and rise to the top and you can then look over the huge blade, look him in the face, and then he'll stop. 273
The possibility that the bulldozer operator could not see Corrie cannot be ruled out, however. Thomas Doyle and Nicholas Durie, as noted earlier, both said that she had been crouching or kneeling when the bulldozer was twenty meters away and that she stood up after the machine had come closer. This uncertainty is precisely why a credible and impartial investigation into this incident is essential.
In addition to the "operational investigation," the IDF also opened a Military Police investigation into Corrie's killing. The behavior of the Military Police investigators reveals how problematic IDF procedures can be even when responding to high priority cases.
The Palestinian Center for Human Rights Gaza (PCHR) was one of many groups that formally requested that an investigation be opened. It obtained detailed testimony from all eyewitnesses. Palestinian lawyers in the Occupied Palestinian Territories cannot practice in Israeli, nor can they travel outside of the Occupied Palestinian Territories. Because of these restrictions, when the Military Police began their investigation, the PCHR contacted Orna Kohn, an experienced Israeli lawyer with an Israeli-registered human rights group, Adalah. Kohn agreed to act on behalf of the witnesses to Corrie's killing for the PCHR.
Kohn dealt with the head of the special investigations team of the Southern Command CID, Shalom Mikhaili. She contacted Mikhali to give him witness details and stipulated that the witnesses would be accompanied by a lawyer, the interviews would be given and written in English, and copies of all written documents would be given to the witnesses before leaving the interview. Mikhaili objected, saying "[t]his is unusual. They do not have this as an automatic right." Kohn said:
Mikhaili was very surprised about the terms and it was very clear it was very unusual, but I said take it or leave it. He was upset, but the next day he agreed. It was very clear that he had been ordered to facilitate the testimony whatever the price. They could not look like they had blocked it.274
Kohn was troubled by the investigators' behavior and seeming lack of preparation.
I had expected that they would be prepared, that they would ask questions, would show each witness a map or a photo to ask them to place the incident location. But they had nothing. I have the impression that they had heard the soldiers and believed the soldiers. There was even a rude comment from one of the investigators. It was April 1, so when he started taking something from the first witness, swearing them under oath, saying "you have to tell the truth" and so on, he added "But this is April Fool's day, so why bother?" He told the translators not to translate it.275
In addition, the investigators asked what Kohn considered to be hostile and irrelevant questions, such as "So you know by being there you were breaking the law under X or Y. You do understand that you can be indicted for this?" Kohn reminded them that they were taking testimony from the eyewitnesses to a crime and threatened to end the proceedings. The commander eventually told the investigators to drop the questions. Kohn suggested several times that the Military Police officers ask witnesses to draw maps, but they did not – a potentially crucial omission.
A week or so after the testimony, Kohn received a call from Mikhaili. The investigators now needed to get the witnesses to define incident locations on a map, so they could check the bulldozer driver's field of vision. Kohn explained that some of the witnesses had already left Israel and attempted to arrange an interview for the others in the Rafah area. This failed because she was not permitted to enter Gaza, and the investigators would not consent to the presence of a local lawyer. Mikhaili then said he would send Kohn a copy of the witness affidavits and a map, and Kohn would ask witnesses to indicate the relevant locations and return them to him. Kohn agreed, but never heard from Mikhaili again, nor did he return her calls. "My feeling is that he got orders not to finish it. To leave something unclear on the testimonies, because to clarify them would not be in the interests of the army."276
Human Rights Watch interviewed separately three witnesses to Rachel Corrie's death who gave testimony to the Military Police. They described the incident in a manner similar to Kohn's. One described it as "…slapstick. They did not seem very interested. Their investigators kept getting told off by their boss because their questions were inappropriate. It was mostly accusatory, such as did I know Hai al-Salam was a frequent area for sniper fire and our work obstructed their work?"277 Another witness described it as "…banal. They did not really seem to care."278
The Military Police investigation was reportedly closed shortly before July 1, 2003.279 No wrongdoing or negligence was found. No one outside the IDF, however, is able to evaluate the quality of the investigation: neither the family nor the U.S. government has received a copy of the full investigation report. In March 2004, Corrie's mother wrote:
Despite promises of a transparent investigation, only two American Embassy staff members in Tel Aviv and my husband and I were allowed to "view" the full document. While it refers to evidence gathered by the Israeli military police, no primary evidence is included. Commenting on the report on July 1, 2003, Richard LeBaron, U.S. Embassy deputy chief of mission in Tel Aviv, stated, "there are several inconsistencies worthy of note."
For our family, the report raises questions and fails to reconcile differences between Israeli soldiers who say they could not see Rachel and seven international eyewitnesses who say she was clearly visible.280
Human Rights Watch's own research indicates that the impartiality and professionalism of the Israeli investigation into Corrie's death are highly questionable.
---
[192] The International Solidarity Movement is dedicated to raising awareness of and ending Israel's occupation of the West Bank and Gaza Strip. It is well known for its direct actions against Israeli forces and policies and organizing the presence of international activists in the West Bank and Gaza Strip. Israeli officials and media have repeatedly sought to block the entry of ISM members to Israel and have accused them of supporting terrorism after ISM offices in Gaza were visited by the perpetrators of the April 29, 2003 suicide bombing attacks on civilians in Tel Aviv. Two ISM members were killed by the IDF and one seriously injured in 2003.
[193] Human Rights Watch interview, Mahmud (Anis) Muhammad Hassan Mansur, Rafah, April 15, 2003.
[194] "Israeli Army Gives Reaction to Serious Wounding of UK Peace Activist," Voice of Israel, Jerusalem, in Hebrew 0500 GMT April 13, 2003. BBC monitoring Middle East, bbcmep0020030413dz4d000rt.
[195] Human Rights Watch telephone conversation with Maj. Sam Wiedermann, head, International Organizations Unit, Public Relations Section, Office of the IDF Spokesperson, April 14, 2003.
[196] Human Rights Watch interview, David Anthony Hurndall, London July 19, 2003. See also, Cahal Milmo "Israelis Fire on Parents of Injured British Peace Activist," The Independent, May 6, 2003.
[197] David Anthony Hurndall, Investigation of Shooting of Tom Hurndall – Interim Findings – 3rd July, 2003. Copy on file at Human Rights Watch.
[198] Alex Fishman and Guy Leshem, "Poorly Investigated, Forgotten and Buried," Yedioth Ahronoth, January 23, 2004, p. B10.   English translation on file at Human Rights Watch.
[199] Ibid.
[200] IDF document, Thomas Hurndall's Injury 11 April 2003, undated, on file at Human Rights Watch.
[201] Alex Fishman and Guy Leshem, "Poorly Investigated, Forgotten and Buried," Yedioth Ahronoth, January 23, 2004, p. B10.   English translation on file at Human Rights Watch.
[202] Transcript of Interview Between  Major Sharon Feingold, IDF Representative, Rodrigo Vasquez, and Sandra Jordan, Undated, Tape 87. Exhibit DAH3, submitted by Anthony David Hurndall to the British Foreign and Commonwealth Office, July 9, 2003.
[203] Transcript of Interview With Jacob Dallal, IDF Representative, Rodrigo Vasquez, Exhibit DAH3 submitted by Anthony David Hurndall to the British Foreign and Commonwealth Office, July 9, 2003.
[204] Human Rights Watch interview, David Anthony Hurndall, London, July 19, 2003.
[205] Human Rights Watch interview, David Anthony Hurndall, London, July 19, 2003.
[206] Human Rights Watch interview, David Anthony Hurndall, London, July 19, 2003.
[207] The exact date is not clear. See, Amos Harel, "Military Police Arrest Soldier Who Shot Briton in Rafah," Ha'aretz, January 1, 2004.
[208] Ibid.
[209]Ibid., and Jocelyn Hurndall, "What Price a Life?", The Guardian, January 10, 2004.
[210] Letter to Human Rights Watch from Major Sam Wiedermann, head, International Organizations Section, IDF Spokesperson's Unit, February 17, 2004. The second soldier received a five-and-a-half month sentence. See, "Defense says British activist died of malpractice by his British doctors," Reuters, May 22, 2005.
[211] Jocelyn Hurndall, "What Price a Life?" The Guardian, January 10, 2004.
[212] Chris McGreal, "Soldier who shot Briton admits lying," The Guardian, December 16, 2004.
[213] Human Rights Watch interview, Dr. Sa`id Jamal Abu Hijla, Nablus, July 6, 2003.
[214] Tracy Wilkinson, "Israeli Army Probes Slaying of Palestinian Grandmother," Los Angeles Times, December 30, 2002.
[215] Human Rights Watch interview, Dr. Sa`id Jamal Abu Hijla, Nablus, July 6, 2003.
[216] Nicole Gaouette, "Attention Builds Over A Slain Civilian," Christian Science Monitor, January 10, 2003.
[217] Human Rights Watch interview, Captain Roni Stoller and Colonel Sami Cohen, Criminal Investigation Unit, Military Police, Tel HaShomer Military base, July 13, 2003.
[218] Human Rights Watch interview, Dr. Sa`id Jamal Abu Hijla, Nablus, July 6, 2003. The diplomat wished to remain anonymous. He is also quoted directly in Nicole Gaouette, "Attention Builds Over A Slain Civilian," Christian Science Monitor, January 10, 2003.
[219] Akiva Eldar, "People and Politics/Too Close A Shave for Justice," Ha'aretz January 2, 2003.
[220] Akiva Eldar, "The 'road map' has been folded up," Ha'aretz, November  14, 2002, and  Akiva Eldar, "If Only the Bullets Could Talk," Ha'aretz, March 4, 2003.
[221] Human Rights Watch interview, Dr. Sa`id Jamal Abu Hijla, Nablus, July 6, 2003.
[222] Ibid. 
[223] Akiva Eldar, "People and Politics/Cause of Death: The army's rules of engagement," Ha'aretz, June 23, 2003.
[224] Ibid.
[225] Human Rights Watch interview, Dr. Sa`id Jamal Abu Hijla, Nablus, July 6, 2003.
[226] Ibid.
[227] Human Rights Watch interview, Capt. Roni Stoller and Col. Sami Cohen, Criminal Investigation Unit, Military Police, Tel HaShomer Military base, July 13, 2003.
[228] Human Rights Watch interview, Dr Sa`id Jamal Abu Hijla, Nablus, July 6, 2003.
[229] Communication from Dr. Sa`id Jamal Abu Hijla to Human Rights Watch, February 17 2004.
[230] Letter from Maj. Sam Wiedermann, head, International Organizations Section, IDF Spokesperson's Unit, February 17, 2004.
[231] Akiva Eldar, "Military mumbo-jumbo versus the morality of occupation," Ha'aretz, February 24, 2005.
[232] Ibid.
[233] A detailed list of Palestinians killed is available on the B'Tselem website, www.btselem.org.
[234] At the time of Miller's death five journalists had been killed and sixty injured.  Reporters Sans Frontiers, "RSF report criticizes botched Israeli army investigations, lack of follow-up into deaths of two journalists in Occupied Territories," July 30, 2003. Available at http://www.rsf.org/article.php3?id_article=7664, (accessed April 9, 2004).
[235] Human Rights Watch interview, Daniel Edge, New York, November 23, 2003.
[236]  "IDF: Initial Evidence Indicates British Journalist Shot by Terrorists," Jerusalem Post, May 3, 2003.
[237] Ibid.
[238] Human Rights Watch interview, Daniel Edge, New York, November 23, 2003; Human Rights Watch  telephone interview, John Miller, July 21, 2003. All dates are posted on the internet at http://www.justice4jamesmiller.com/timelines.htm  (accessed February 10, 2004).
[239] Human Rights Watch interview, Daniel Edge, New York, November 23, 2003; Human Rights Watch  telephone interview, John Miller, July 21, 2003.
[240] Email newsletter "James Miller – December Update," December 23, 2003.
[241] Email newsletter "James Miller – December Update," December 23, 2003.
[242] The IDF statement is available at www1.idf.il/DOVER/site/mainpage.asp?sl=EN&id=7&clr=1&dpcod=38446.EN.
[243] "IDF rules on UK filmmaker's death," Associated Press as published in Jerusalem Post Online Edition, March 9, 2005 [online].
[244] Donald Macintyre, "Israel clears officer of killing journalist who had white flag," The Independent, April 15, 2005 [online].
[245] Amos Harel, "IDF officer acquitted of killing UK journalist in Rafah," Ha'aretz, April 14, 2005 [online].
[246] Mark Townsend, "Israeli army 'lied' about Miller death," Observer, April 24, 2005.
[247] See Human Rights Watch, "Jenin: IDF Military Operations," May 2002.
[248] Human Rights Watch telephone interview with Brian Avery, March 17, 2005.
[249] According to Avery's ISM colleagues, there had been a number of incidents in previous weeks in which the IDF opened fire in response to boys and young men throwing stones at tanks and APCs, resulting in several injuries and the death of a 15-year-old, and the ISM volunteers would try to be present at such times in the belief that their presence would restrain Israeli forces from responding with lethal force (affidavits of Jens Sandvej Grandin, dated April 7, 2003, and Lasse Schmidt, written "four days since Brian was shot," provided to Human Rights Watch by Brian Avery in March 2005.
[250] Ibid. Grandin, in his April 7, 2005 affidavit, wrote that while he thought the second vehicle was a tank it may have been another APC.
[251] Ibid.
[252] Affidavit of Martin Johansson, April 7, 2003, provided to Human Rights Watch by Brian Avery, March 2005.
[253] Susan Broili, "Violence in Israel Alters Local Man's Life," Chapel-Hill Herald-Sun, June 23, 2003.
[254] Undated IDF document, The Injury of ISM Activist Brian Avery Jenin -  5 April 2003. On file at Human Rights Watch. The text is presented as a series of bullet points.
[255]  For an analysis of IDF home demolitions in Rafah, see, Human Rights Watch, Razing Rafah: Mass Home Demolitions in the Gaza Strip (New York, October 2004).
[256] Human Rights Watch Interviews, Alice (full name withheld on request), Rafah, April 15 2003 and Jerusalem, May 5, 2003.
[257] Ibid., and Human Rights Watch interviews with Thomas Doyle and Nicholas Durie, Rafah, April 15, 2003.
[258] Human Rights Watch interview, Alice (full name withheld on request), Jerusalem, May 5, 2003.
[259] Human Rights Watch interview, Thomas Doyle, Rafah, April 15, 2003.
[260] Ibid.
[261] Human Rights Watch interview, Nicholas Durie, Rafah, April15, 2003.
[262] Human Rights Watch interviews with Nicholas Durie, Rafah, April 15, 2003, and Alice (full name withheld on request), Jerusalem, May 5, 2003.
[263] A number of photographs are available on the website of the Palestinian Center for Human Rights (Gaza), www.pchrgaza.org/images/2003/rachel/rachel.htm
[264] Cindy Corrie "Seeking Answers from Israel," Boston Globe, March 18, 2 004.
[265] Chris McGreal and Duncan Campbell, "Bulldozer Crushes US Protester," Guardian, cases where IDF use of lethal force results in Palestinian civilian deaths, thus delaying or foreclosing the possibility of a proper impartial investigation.March 17, 2003.
[266] "US dissatisfied with Israeli probe into death of American peace activist," Agence France-Presse, April 15, 2003.
[267] Ibid.
[268] The document reads, "[a]utopsy conducted on Ms Corrie's body – final autopsy report has not yet been completed. Pressure on her chest and back probably due to compression between two solid objects. Pressure caused rib fractures and lung puncture causing respiratory difficulties. No additional signs of injury or other physical trauma. No signs substantiate assertion that Ms Corrie was run over by a bulldozer." Undated IDF document, The Death of Rachel Corrie, Military Installations Area (Philadelphi Road – Gaza Strip) 16 March 2003, on file at Human Rights Watch, p. 25, emphasis in original.
[269] Undated IDF document, The Death of Rachel Corrie, emphasis in original.
[270] Connell Urquhart, "Israeli report clears troops over US death - Peace activist killed by bulldozer acted 'illegally and dangerously,'" The Guardian, April 14, 2003.
[271] "Expert Opinion (Opinion 3/459/2003)" of physician and pathologist Professor Yehuda Hiss, March 24, 2003, National Center of Forensic Medicine. Translation by U.S. Department of State done at the request of the Corrie family and provided to Human Rights Watch by Craig Corrie.
[272] In one incident, a woman became trapped by a piece of metal in an oncoming pile of sand and could not move away. The bulldozer stopped shortly afterwards. In the other, William Hewitt was pushed onto a pile of debris and barbed wire by the oncoming bulldozer, and could not break free. Again, the bulldozer stopped shortly before crushing him. Human Rights Watch interview, Alice (name withheld), May 5, 2003 and Human Rights Watch interview, Nicholas Durie, Rafah, April 15, 2003. See also, the eyewitness affidavits given to Palestinian Centre for Human Rights, available at http://electronicintifada.net/cgi-bin/artman/exec/view.cgi/7/1674.
[273] Human Rights Watch interviews, Alice (full name withheld on request), Jerusalem, May 5, 2003 and Nicholas Durie, Rafah, April 15, 2003.
[274] Human Rights Watch interview, Adv. Orna Kohn, Adalah, Haifa, July 13, 2003.
[275] Ibid.
[276] Ibid.
[277] Human Rights Watch interview, Nicholas Durie, Rafah, April 15, 2003.
[278] Human Rights Watch interview, Thomas Doyle, Rafah, April 15, 2003.
[279] Cindy Corrie, "Seeking Answers from Israel," Boston Globe, March 18, 2004.
[280] Ibid.