<<previous | index | next>>
V. "Lowest Priority": Deaths of Palestinian Civilians
In August 1990, Human Rights Watch published a detailed examination of Israel's criminal investigation system in the Occupied Palestinian Territories.129 That report defined seven major deficiencies, including inadequate efforts to obtain Palestinian testimony; inadequate cooperation with NGOs and other intermediaries; the slow pace of investigations; and the appearance of partiality.130
More than a decade later, many of these criticisms are still valid. The higher frequency since September 2000 of incidents involving live fire has increased the practical difficulties. The difference in administrative arrangements in Areas A and B may also play a role, particularly with access to medical records. But in the cases examined by Human Rights Watch, these two factors do not appear to have been the main obstacles to conducting thorough, professional investigations. Instead, reluctance to investigate, a problematic attitude toward Palestinian victims, and bureaucratic foot-dragging have played the most important roles.
In an interview with the Israeli daily Yedioth Ahronoth published in January 2004, an unnamed veteran reserve investigator summed up the situation as follows:
Investigations are influenced by public pressure. There is a sense we are pressured to reach a conclusion every time a bag blows up in the media... . The distribution of funds is imposed, and is not creative. Investigators deal with several cases at once, and cases dealing with the death of civilians take the lowest priority. However, one cannot clearly say that things are white-washed over. The objective circumstances are the very problematic ones. Despite the fact that on the professional level these are murder investigations in every way, but in actuality, we treat investigations of the murder of Palestinians like regular criminal investigations... . If we were talking about an incident where Israelis were shot by IDF soldiers, or a soldier shot by another soldier, the level of investigation would be entirely different. This is the reality.131
Without a doubt, the greatest contributor to impunity is the reluctance of the JAG office to investigate alleged abuses. The JAGs are able to act on complaints received or, at their own initiative, open a preliminary investigation in any case where, in their opinion, there is an offense that a military court is competent to address.132 Three Israeli human rights groups — the Public Committee Against Torture in Israel, the Association for Civil Rights in Israel, and B'Tselem — told Human Rights Watch that they believe the JAG's office has shown clearly that there are some abuses, such as sexual violence, that it will not tolerate. In these cases, it acted quickly and effectively to identify and locate the perpetrators and bring proceedings against them. Action in these cases contrasts strongly with those involving the alleged wrongful use of lethal force, in which case the default response is to whitewash or ignore possible abuses. In several cases, families and employers of victims have conducted their own witness interviews and hired professional ballistics and forensics experts, before finally convincing the JAG that an investigation should be opened. Those who lack the skills or resources to take these extraordinary steps have fared less well.
The IDF, in a written communication dated May 10, 2004, told Human Rights Watch that the JAG's office had opened investigations into seventy-four alleged cases of unlawful killings since September 30, 2000.133 There is no way to assess the total volume of complaints against police and security forces: the IDF does not keep statistics regarding disciplinary proceedings. The CID told Human Rights Watch that the JAG had received some 1,000 complaints from September 2000 to July 2003, and investigated 330. 134 This number is far lower than the volume of complaints received in other countries in conditions of ongoing clashes. For example in Northern Ireland, some 7,148 complaints were filed with the Police Complaints Authority between April 2001 and March 2002, almost one quarter of which resulted in some kind of disciplinary or legal action. 135
The IDF response to one case pursued by the Israeli human rights group B'Tselem exposed the shallow and superficial manner in which the Israeli military investigates itself in matters of alleged unlawful killings. Following the July 7, 2001 shooting death of eleven-year-old Khalil al-Mughrabi and the injury of two young companions in the Rafah area of the Gaza Strip, B'Tselem requested an investigation by the chief military prosecutor. In its response to B'Tselem, the IDF included, by mistake, the operational de-briefing file concerning the incident in question, and written responses to the debriefings of the southern command judge advocate and the chief military prosecutor. The fatal incident occurred at around 7 p.m. The judge advocate determined that alleged warning shots fired by a tank crew had been in breach of open-fire regulations, but neglected to connect this firing to the death and injuries of the children. Apparently on the basis of IDF claims that there had been violent incidents in the area earlier in the day, the judge advocate characterized the event as being of a "combat nature" and concluded, "I do not think that there is cause to open a Military Police investigation."136 In her internal memo, the chief military prosecutor rejected the judge advocate's assessment and concluded that the children were struck by tank fire that was unjustified or had happened in violation of regulations. The prosecutor nevertheless wrote to B'Tselem, "Under the circumstances we have not found any suspicion of criminal behavior on the part of the IDF soldiers, or that there is just cause to open an investigation."137
In international law, the standard is that every incident in which there is credible or prima facie evidence of a possible violation of international humanitarian law should be investigated. The U.S. Operational Law Handbook reflects that standard in stating:
WHEN IN DOUBT REPORT. Report a "reportable incident" by the fastest means possible, through command channels, to the responsible CINC [commander-in-chief]. A "reportable incident" is a reported, suspected or alleged violation of the law of war... .138
This fundamental principle is essential in situations such as the Israeli occupation of the West Bank and Gaza Strip, where the military engages in law-enforcement and policing functions far more frequently than in armed hostilities, with a lower threshold for what constitutes unlawful use of lethal force.
In law enforcement situations, when there is a death as a result of the use of lethal force, there must be an investigation to determine if the death resulted from an accident, a homicide, negligent behavior, self defense, or natural causes, and if the use of force was legitimate, strictly necessary, and proportional. But the investigation needs to take place.
Munib Abu Munshar was killed by IDF gunfire on November 11, 2000, in non-combat circumstances. His case shows clearly the barriers that the relatives of Palestinians victims face when trying to have the killings of their loved ones investigated.
Abu Munshar, aged eighteen, had been unloading construction supplies in Shalala Street, the downtown commercial center of Hebron. His father, fifty-six-year-old Muhammad Abu Mushar, told Human Rights Watch that a local shopowner, who was also a friend, had ordered the supplies but urged Abu Manshar to deliver them only when the area was free of incidents of stone-throwing and the like. At about 4 p.m., Muhammad Abu Munshar said,
He called for the goods, he said the situation is very quiet, no clashes... . So we loaded the metal on the smaller lorry, the bars were sticking out over the front. When they reached Bab al-Zaweya, Munib and [his co-worker] climbed on the truck to unload the metal, one on each side. According to [the co-worker], they unloaded the first piece of metal when [the co-worker] was shot in the leg. He told Munib, "I'm injured, get down from the lorry." But Munib didn't have time to get down from the lorry.139
At the time of the incident, `Abd al-Rahman Shabeni, Hebron bureau chief for the Arabic daily Al-Quds, was at his office just across the street. He told Human Rights Watch:
I was standing by the window; it was about 4 p.m. The sweets shop across the way was being reconstructed and Munib had parked his truck and was unloading building material. Munib and another worker were on top of the lorry.
I opened the window and started talking to him. I didn't know him. I told him to be careful and not to fall down... . A friend came, and we were readying to go to the mourning for Ra'ed Muhtasib [killed November 10]. I went out of the office and reached Shalala Street. I saw that [Munib] was shot dead and his body was lying on top of the lorry. I didn't hear any gunshots. I was shocked to see him shot dead. According to my experience in the area and as a reporter, I expect that the shooting came from [the IDF position] at Shalala Street, from a distance of about 100 meters.
There were no clashes at all in the area; it was very quiet. There were about five or six people in the street. Hours before, there had been clashes.140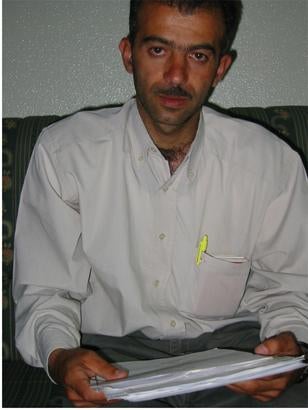 The brother of Munib Abu Munshar holds legal documents requesting an investigation into is brother's killing by IDF gunfire on November 11, 2000. Although an IDF colonel at the scene had told the family that he would testify that there was no reason to open fire, the IDF declined to open an investigation.
© 2002 Miranda Sissons/Human Rights Watch
The Abu Munshar family is well-known, established in business, and reputed to have helped save Jewish residents of Hebron from severe violence in 1929.141 Although the area was a well-known site of clashes, the military governor of the Hebron area, who met with the Abu Munshar family a few days later to express his regret about the shooting, acknowledged that the day had largely been quiet. The District Coordination Office (DCO) called the Abu Munshar family and apologized for the incident. According to Muhammad Abu Munshar, they said that if the Abu Munshar family wished to go to court, they would publicly confirm that the soldier had fired for no reason. A few days later Muhammad Abu Munshar went to meet with Colonel Noam Tibon at the Hebron DCO. Two other Israeli officials were also present. According to Abu Munshar, Col. Tibon confirmed that "if you want to open a case, we will testify that there was no reason to open fire." In June 2003, Abu Munshar showed Human Rights Watch a brief letter of sympathy, written in Arabic and Hebrew and faxed to him the same day by the DCO.142
Since November 28, 2000, the Abu Munshar family has tried in vain to have the killing investigated. The family hired an Israeli lawyer, who complained to the chief military prosecutor, and lodged a petition before the High Court of Israel, for which they were required to pay a 2,300 shekel deposit (approximately $500). Human Rights Watch wrote to the JAG with details of this and ten other cases on March 15, 2001. Although the family had difficulties staying in contact with their lawyer, they had given him all relevant documents, including a list of seven eyewitnesses and the letter from the DCO. On December 16, 2001, the family received a letter from the military prosecutor saying the killing would not be investigated because it was a situation of armed conflict and there had been an exchange of fire. The family's lawyer replied, pointing out the IDF's acknowledgement of responsibility and eyewitness statements. In June 2003, the family's lawyer told them the IDF had asked for more information. Six months later, Human Rights Watch asked the IDF for information on the case. On February 17, 2004, the IDF replied that "the incident is unknown to us."143 As of early June 2005, the IDF had not responded to a Human Rights Watch request in February 2005 for additional or updated information.
Nineteen-year-old Nidal `Abd al-Ra'uf Abu Muhsin was killed on August 14, 2002 when the IDF forced him to do its own dangerous work: to go from house to house and search for a wanted man. The forced use of civilians in military operations breaches numerous provisions of international humanitarian law (IHL), including the principle of distinction, and Israel's obligation to protect and respect civilians under Article 27 of the Fourth Geneva Convention.144
Nidal Abu Muhsin was at home in the village of Tubas when IDF soldiers arrived during the afternoon. They had come to arrest Nasser Jarrar, an acknowledged member of the Hamas military wing. Abu Muhsin's uncle, `Ali Daraghmeh, was at home on his second-floor balcony. A fieldworker with the Israeli human rights group B'Tselem, Daraghmeh watched as soldiers surrounded the neighboring houses and spoke outside with Muhammad Fathi, his thirteen-year-old next-door neighbor. Fathi then walked to the house of Nidal Abu Muhsin, who came out with Yunis, a relative. Daraghmeh saw the soldiers speak to Abu Muhsin and Yunis. The men raised their shirts, and the soldiers tied Yunis's hands behind his back. Daraghmeh then watched as Abu Muhsin went from house to house telling the people to leave.
After some twenty minutes, Nidal came to Daraghmeh's house and knocked loudly on the door. Daraghmeh told him to calm down, that he would upset the baby. Nidal replied, "The soldier demanded that I go to every house and get the people out, loudly. He told me that if I didn't do it, he'd shoot me."145
Daraghmeh left his house and spoke briefly with the soldiers, one of whom took Daraghmeh's mobile phones and video camera, and put the videotape in his pocket. They then told Daraghmeh to go sit at the side with the other families who had been removed from their houses. Daraghmeh went and sat down, his hands tied by soldiers. Some time later, the wife of Muhammad Abu Muhsin and her child joined the group. She told Daraghmeh, "I saw the soldiers with Nidal, he was wearing a bulletproof vest and was with a black dog and a dog's chain, walking in front of five soldiers."146 The woman's child said, "Yes, I saw him."
Shortly after this, Daraghmeh saw five soldiers crouch forward and fire four or five times towards the house of Muhammed Abu Muhsin, a cousin; there, unbeknownst to Daraghmeh, a wanted man from the Hamas military wing, Nasr Jarrar, had been hiding. Later, a soldier called Daraghmeh and told him to go and search his sister's house. Daraghmeh refused until the soldier told him, "If you do not answer, I will blow it up." Daraghmeh searched the house, accompanied by a soldier, and returned to the group. Nidal was nowhere to be seen.
The operation ended at approximately 5 p.m., after a bulldozer destroyed Muhammad Abu Muhsin's house. Daraghmeh went to all the houses, looking for Nidal. Unable to find him, Daraghmeh called B'Tselem and told them Nidal had disappeared. Half an hour later, B'Tselem called back to say that an IDF source had told them that Nidal was dead, killed by mistake.
Nidal Abu Muhsin was the first known person to be killed as a result of the IDF's forced use of civilians for military or policing operations. This practice, as well as the use of civilians as human shields, had been widely reported in the preceding months, and in May 2002 the IDF had agreed to alter them after seven human rights groups petitioned the High Court of Israel.147 Because of the issue's prominence, Abu Muhsin's death was widely publicized in the local and foreign media. A summary of Daraghmeh's testimony is available on the B'Tselem website. Daraghmeh gave detailed affidavits to B'Tselem, who officially requested an investigation on August 15, 2002. Daraghmeh also gave the same details to a lawyer whom the family hired to pursue the case.
Abu Muhsin's killing formed the basis for a successful High Court petition by Israeli and Palestinian human rights groups requesting a temporary injunction to prohibit the army from using its "neighbor procedure." The policy was modified, but the practice has not been abandoned entirely. Despite the publicity that Abu Muhsin's killing received, and despite the IDF's written statement that "[a]ny claim of prohibited violations is examined seriously and with necessary thoroughness,"148 when Human Rights Watch interviewed `Ali Daraghmeh almost a year later, no one from the IDF had contacted him. Daraghmeh told Human Rights Watch
I do not know if the Israelis are investigating, but I don't think so because no one has spoken to me – and I was the only witness. Someone inquired about my video camera, because it came back to me. But no one, no one has contacted me to give an affidavit."149
When Human Rights Watch checked whether Daraghmeh would still participate in a military investigation, he told them: "I would go to the end of the world to give an affidavit if there were an opportunity to do so. But there hasn't been one."150
On July 8, 2003, the day after Human Rights Watch interviewed Daraghmeh, a Human Rights Watch observer attended an Israeli High Court hearing on the IDF's forced use of civilians. The state attorney assured the three-judge panel that all cases submitted by human rights groups to the court were under investigation. The next day, the IDF wrote to B'Tselem and informed the organization that the JAG office had decided not to open a Military Police investigation into the case, since the commanders in question had not thought that forcing Nidal Abu Muhsin to assist them would endanger his safety.
The case of Nidal Abu Muhsin illustrates the reluctance of the JAG to investigate even when witnesses are accessible, the event is immediate, and the breach of IHL is absolutely clear. It also shows the gap between the IDF's public statements and the reality of their actions. Finally, it illustrates the conflict in the JAG's overlapping role –working with IDF commanders to continue to justify the use of the neighbor procedure, on the one hand, and punishing soldiers who disobey the terms of the policy, on the other.
Ahmad al-Quraini worked with the Nablus municipality. He was shot and killed on the afternoon of August 10, 2002. There is no claim that he was killed in circumstances of armed hostilities.
Al-Quraini was shot while driving with his colleague, Ahmad Sama`na, to the main electrical station. As essential municipality workers, both men were permitted to move even during curfew. On this day, they had stopped at Faisal Street under orders from the IDF, and slowly resumed movement when a soldier motioned them to do so. A soldier then fired two shots: one hitting the headlight, and the other hitting al-Quraini in the forehead. According to Sama`na, an officer at the site realized what had happened, and a Captain Kamal from the district coordination office telephoned the municipality the same day and spoke with Sama`na about what had taken place.151
Three days later, B'Tselem wrote to the chief military prosecutor, providing witness testimony and requesting that she open a Military Police investigation. The prosecutor replied on September 10. According to B'Tselem's summary translation,
She stated that, during an army patrol enforcing the curfew in the center of Nablus, the soldiers saw a commercial vehicle approaching them. The vehicle suddenly stopped about 150 meters from them, which "raised suspicion." The soldiers did not identify the truck as a municipal vehicle because it did not have a blinking orange light on it. They thought that the driver was trying to evade the soldiers, so they fired two warning shots into the air. Because the vehicle "stood at the edge of a moderate incline," one of the bullets that was fired "at a relatively flat trajectory penetrated the windshield, and possibly caused the death of the driver." Therefore, the Chief Military Prosecutor held that the soldiers "did not deviate from the domain of reasonable conduct expected in actions by military forces in the relevant area and circumstances," and that there was no justification for an investigation by the Military Police.152
By this time, however, B'Tselem had been given an AP videotape of the incident scene, filmed immediately after the shooting occurred. The tape shows that al-Quraini's vehicle was equipped with an orange flashing light. B'Tselem wrote to the prosecutor a second time, on October 8, 2002, queried the logic of someone stopping in a "suspicious manner," and informed her of the existence of the video. Shortly afterwards, B'Tselem researcher Ronen Schnaydermann participated in a public discussion on the killing of children in Tel Aviv, attended by a member of the JAG's office, where he showed the tape. On November 3, 2002, the prosecutor wrote to B'Tselem and requested a copy of the video. A Military Police investigation was opened shortly afterwards.153 In February 2004, nearly a year and a half later, the IDF told Human Rights Watch that the investigation was "currently in the process of being concluded."154 As of early June 2005 the IDF had not responded to a February 2005 Human Rights Watch request for additional or updated information.
Ruwaida al-Hajin was the mother of twelve. The al-Hajin family lives in Jabalya refugee camp, but owns a small plot of grape vines in the Shaikh Ajlin area, near Gaza City. Their land is between 250 and 400 yards from the route of the IDF tanks that patrol the perimeter of the Israeli settlement of Netzarim. She was killed by flechettes from a tank-fired round, a weapon that risks indiscriminate harm when used in a built-up area such has Shaikh Ajlin.
Ruwaida al-Hajin had gone to the family plot with her children and husband on the night of August 28, 2002, to escape the heat and enjoy the beginning of the weekend, as they frequently did during the summer. Shortly after the dinner prayers, al-Hajin, her husband, and youngest son were lying on mattresses outside their small shed. Her sons Ashraf and Nihad had invited their cousin Muhammad to come along. The three older boys were sitting in a group with the younger children, under a canopy in the grapevines some fifteen yards away.
Ruwaida's husband `Uthman told Human Rights Watch:
A tank came from the east; it came every day. It was far away, maybe four hundred meters. [This day] it opened fire at the structure with the boys, and of course it exploded with a huge noise. My wife had been sleeping. I ran to the west, but my wife ran towards the boys to see if they were OK. And they shot her. Sa`id [their four-year-old son] was with her, and she died, and he was also injured in the shoulder.
I went to my cousin's place [next door] to get help. There were three shells fired straight at the boys, then six general bursts of gunfire. We wanted to get to the place, to the victims, but the tank was searching with a huge light. So we were lying on our stomachs, and they fired bullets, automatic fire, continuously.
I pulled my son towards me, strips of his leg had been torn off. But he could move, so together we got to the car.155
Each shell the IDF fired at the family contained thousands of flechettes, tiny metal dart-shaped objects, capable of penetrating dense foliage with a kill radius some 300 meters long and ninety meters wide.156 Ruwaida al-Hajin, Ashraf, Nihad, and Muhammad were killed almost immediately. The four other children were injured by flechettes embedded in their torsos, arms and legs; one of them, Salah, was wounded in the chest, arms, and legs. The weapon punctured his lung and fractured his teeth. Another child required seven months' hospital treatment. The family showed Human Rights Watch their X-rays and medical reports, as well as flechette shards and shrapnel collected from the site.
Thirteen civilians were killed by IDF forces in three separate incidents during the week the al-Hajin family was targeted.157 Gideon Levy, an investigative journalist at Ha'aretz, traveled to Gaza to meet the al-Hajin family and visit the site. In the glare of the accompanying publicity, the minister of defence apologized to the family, arranged for medical care for the children, and ordered the creation of a "special investigation" to examine all three incidents. The panel, headed by Major-General Yitzhak Harel, took one week to come to its conclusion: the IDF had acted appropriately in every case. With regard to the al-Hajin family,
IDF sources say that more than two weeks earlier the commander of the IDF platoon in the area met with local Palestinians and warned them not to approach IDF posts at night. The IDF tank spotted suspicious movement in its area, and responded. The committee found that the tank unit carried out a few warning measures before opening fire.158
Findings were based on "interviews with officers and soldiers who were involved in the incidents, and on reviews of footage filmed by drones in the area, and intelligence material compiled by the GSS and military intelligence."159 No effort appears to have been made to interview the victims, even though an Israeli official had visited them and apologized, a visit coordinated by the Palestinian Preventive Security Service. Nor does any part of the inquiry appear to have touched on the IDF's use of flechettes in a civilian area, a choice of weapons system that appears to have been both disproportionate and indiscriminate.
Family members disagree strongly with the army view that their activities on the evening of the killing were in any way different from those on any other night in the many years they had been visiting their land. They point out that the army was so used to them that some two weeks before the killing, a Druze IDF soldier had come on foot to speak to them. According to the surviving children, the soldier checked that they were the family who lived on the property and warned them not to climb up the rise to play around the army's patrol route. The eyewitnesses also strongly dispute that any warning measures were carried out: they told Human Rights Watch that the first they knew of any incident was when a shell burst overhead.160
The IDF's investigation into the killing of the al-Hajin family served a useful media purpose for the Israeli government, but utterly failed to satisfy Israel's duty to the victims under international human rights law. It was neither impartial nor thorough, and so cannot be considered to have established the truth about what happened. `Uthman al-Hajin has hired a lawyer to pursue a compensation claim through the Israeli courts.
Beatings, ill-treatment, and torture are never permitted under IHL or human rights law. Tha'ir Khalil Salih al-Samudi, aged twenty-seven, was beaten so badly while under the control of Israeli forces that he lost an eye. His case was followed in the media and by the Palestinian human rights group Al-Haq. Even though he was in the custody of Israeli officials and they were aware of the alleged beatings, no attempt was made to investigate.
Tha'ir al-Samudi was a member of the PA civil police. Living in al-Yamun village, he worked in Jenin. Tha'ir's cousin, Iyad al-Samudi, was from the same village and worked for the Palestinian Authority (PA) drug police in Ramallah. Mustafa al-Samudi was uncle to both men. The Oslo Accords permit PA police and security officials to be issued firearms. Following the outbreak of violent clashes in September 2000, this became a dubious privilege: carrying weapons reportedly allowed IDF forces to shoot the Palestinian bearer, including security forces, on sight. This policy was only modified in late April or early May 2005.161
In the early morning of June 23, 2002, Israeli forces raided al-Yamun. Iyad was worried that his police employment and firearm would make him vulnerable to arrest. At approximately 5.30 a.m., Iyad, Tha'ir, and Mustafa left the village to walk to a neighboring village. After some fifteen minutes, the three men were in a hilly open area, when they heard a soldier's voice ordering them, in Lebanese-accented Arabic, to "Stop! Raise your hands! Come here!"162 The men obeyed. They walked a few steps forward, side by side. They were surprised by the sound of shooting. Tha'ir told Human Rights Watch:
First my uncle fell down, and he said "Look at my blood – they've killed me!" I saw red lights passing me on either side, whoosh, whoosh. Then my uncle fell and I saw the bullets. My uncle said, "Run, run! They want to kill us, they do not want to talk to us!"163
The three men tried to run, crouching, back to the road. Mustafa, who had been hit in the shoulder, was hit a second time in the leg. He fell and crawled behind rocks and long grass to hide. Iyad and Tha'ir separated and kept running. The shooting continued. After several hundred meters, Tha'ir reached Iyad, who had fallen after being shot in the shoulder. Tha'ir continued on, but ran into a group of soldiers at the top of the rise. They ordered him on his knees. He knelt and, obeying instructions, took his identity card and threw it to the soldiers with his left hand. Then the soldiers who had been pursuing him arrived. Both Tha'ir and Mustafa say they heard one of the soldiers referred to as "Morris."
From this point, the sequence of Tha'ir's recollections becomes confused. He remembers being picked up by the arms and legs, heaved forward, and falling heavily onto the rocky ground. This happened six or seven times, until he began to lose consciousness. When he revived, he was being kicked and beaten, including by a soldier of Ethiopian origin (Falasha), who was hitting him on the head. Tha'ir told Human Rights Watch:
As they lifted and threw, and I fell, there was a tree branch. They were kicking and beating me. Another soldier found a piece of burned wood and hit me with it on and around my face, and I lost my eye. After that I lost consciousness. When I regained it, I saw the officer from the reserves and he smiled at me because I was still alive. They put me on a stretcher and took me to a military ambulance. After he [the officer] left, the falasha kicked me with his boots, put me on the ground, and kicked the top of my head... . After he kicked me, I do not remember, I lost consciousness.
While he was being beaten, Tha'ir heard the sound of a single shot, corroborated in a separate interview with Mustafa al-Samudi. Later, while waiting to be transferred to an ambulance, Tha'ir saw Iyad's body, shot in the head. Both men believe Iyad was extra-judicially executed.
The soldiers did not keep Tha'ir in custody. Instead, they transferred him to the main road some time before 9.30 a.m., where he was picked up by a Palestinian ambulance and taken first to the Jenin government hospital, then to al-Shifa private hospital in Jenin. According to his medical report, Tha'ir arrived with (among other injuries) severe nasal bleeding, multiple facial fractures, and a ruptured right eye. His eye was removed during six hours of surgery. When Human Rights Watch interviewed Tha'ir al-Samudi in July 2003, he also had partially lost his hearing, had restricted movement of his neck and upper body, was injured in the right leg, and suffered from frequent involuntary trembling.
During Tha'ir's recuperation, the events in Yamun were well publicized. Tha'ir al-Samudi was interviewed by journalists, television crews, and the Palestinian human rights group al-Haq.164 Al-Haq also interviewed Mustafa al-Samudi and Dr. Ahmad Hamun, a doctor who examined the corpse of Iyad al-Samudi. Tha'ir also told Human Rights Watch he had met with an Israeli man who came to interview him with a Palestinian cameraman from the neighboring village, although he did not know the man's exact function. At least one eyewitness spoke to his father and offered to testify if required.165
Tha'ir al-Samudi was arrested two months later, on August 19, 2002. He was taken for questioning to an Israeli base at Salem, near Jenin. Tha'ir's captors asked him several times about his injuries and appeared to have heard of his case. But they did not, to Tha'ir's knowledge, ever suggest the case be investigated or refer the information to investigators. "I have never heard that the Israelis were going to investigate. When the Israeli army took me to prison, they wanted me to say I had fallen from a wall."166
Both in Salem and later in detention at Kishon, Tha'ir's captors were aware of his case, but told him several times he had been injured by falling from a roof.167 Tha'ir's strong impression was that both interrogators wanted to intimidate him into accepting their version of events: "They already knew what had happened to me, but they wanted me to confess what they wanted me to say."168
The first time he was asked about it was during his initial interrogation at Salem, where he was given a chair and some tea, and asked questions about other villagers. Then the interrogator asked about his injury:
"What is this?" he said, pointing to my eye. I said, "You know what happened," and he said, "I want to hear it from you." OK, so I told him the story from beginning to end, and he said, "No, it wasn't like that!"169
The interrogator asked Tha'ir why he had run away from the soldiers. Tha'ir objected, saying

"I did precisely what their directions said. I stopped, raised my hands, and so did my uncle and my cousin." He said, "You ran away, you were scared, and you fell down from a four-meter roof." And I said, "But there isn't anything that high in the area where I was arrested! There is nothing taller than thirty centimeters." He said, "No, you were scared, you fell, you are lying!" I said, "There are witnesses!"
Human Rights Watch visited the place of Tha'ir's arrest with Mustafa and Tha'ir, where both reenacted the events of June 23. The area behind the village is sparsely covered with grass, trees, and nettles. There are no buildings of any kind.
Tha'ir told Human Rights Watch that he spent twenty-three days in isolation before a fellow prisoner told the International Committee of the Red Cross (ICRC) of his medical situation. After the ICRC intervened, Tha'ir was transferred to Rambam hospital in Haifa before being returned to Kishon detention center and, finally, Megiddo prison. Tha'ir told Human Rights Watch he had been expecting to face trial before a military court, but instead was released as soon as his hearing commenced. He then traveled to Austria for two months of medical treatment, arranged by the PA. After his return he faced ongoing difficulties in continuing essential treatment because of the severe restrictions on freedom of movement in the West Bank.
Like many Palestinian victims, Tha'ir is deeply skeptical about the possibility of an investigation into his case. Although his injuries are severe, he is so pessimistic he has not tried to apply for compensation. "We did not get a lawyer because the Israeli High Court is not making any efforts for us. The High Court is not really looking at compensation cases. I am not going to use a lawyer when I already know that there will be no compensation."170 Human Rights Watch asked the IDF if they had ever opened an investigation to Tha'ir's case. The IDF replied that "[t]he incident is unknown to us."171 As of early June 2005, the IDF had not responded to a Human Rights Watch request of February 2005 for additional or updated information.
Husni `Amir, a forty-five-year-old sanitation worker from Jenin refugee camp, was beaten to death while in the custody of Israeli forces. Husni and his brother Muhammad were taken into custody on April 7, 2002, during one of the mass round-ups of men that occurred during Israel's major operations in the West Bank in April 2002.172
According to interviews with Ha'aretz and later testimony taken by B'Tselem, shortly after 7 a.m., Muhammad `Amir heard loud knocking and opened his door. Outside stood Husni, with a large group of soldiers. The soldiers searched Muhammad's house and garden, then took both men to Husni's house. A chalk drawing on the wall showing houses and trees attracted the soldiers' attention; they alleged that it was a "terrorist map." According to Muhammad `Amir's interview with Ha'aretz,
Husni tried to explain that it was children's artwork. The soldier handcuffed both of the men. Then he started to beat Husni. Young Mustafa was sent to bring the hoe with which his father was beaten. While the beating was going on, Mohammed was standing handcuffed by the door, surrounded by soldiers and helpless to do anything. According to Mohammed, an officer in the room ordered the soldier to administer the beating. The soldier beat Husni in the back of the neck, the stomach and the back. Mohammed says it lasted about 45 minutes, maybe an hour. Every once in a while, they stopped and asked Husni about the drawing on the wall. "Say that these drawing are for the hoodlums and we'll stop the beating," he was told... .
Muhammad says that Husni kept shouting, "My stomach, my stomach!" and "My back, my back!" until the beating stopped. Then the soldiers ordered the brothers to leave the house. Husni leaned on Mohammed and they walked toward the entrance to the camp as directed. There, they were put into an armored personnel carrier that ferried them to Kafr Sa'adi, west of the town. There, they were again made to sit on the floor, and stayed that way until the afternoon. The whole time, Husni complained about the pain from his injuries. Every so often, he screamed or burst into tears. His stomach seemed to hurt the most. They were taken to the detention facility at Salem where many other detainees were being held.
Muhammad was blindfolded and handcuffed, but continued to hear his brother's distress. After a while, he heard Husni being taken aside. Muhammad was taken to speak with the Shin Bet interrogator, and afterwards was taken to sit next to Husni
Suddenly, Husni's head dropped on the shoulder of the prisoner next to him. Soldiers came and moved all the prisoners away and they started to take care of Husni. Muhammad managed to shift his blindfold enough to get a peek at what was happening. An Israeli ambulance soon arrived and took Husni away. Muhammad asked one of the soldiers how his brother was. "His condition is very serious," was the reply. That night, they slept on the gravel and in the morning Muhammad was sent home. Before he left, he again asked the soldiers about his brother. "Wait a minute," said one soldier, who went to check. When he returned, he told Muhammad: "No one knows where he is or what his condition is."173
Husni `Amir died the same day. His body was taken to Abu Kabir Forensic Institute on April 8, where an autopsy reportedly found that he had died as a result of "serious contusion injuries, caused by beatings."174 Despite intensive efforts to find Husni `Amir, his family learned of his death only in early June, when a friend showed them an IDF website that listed Husni's name, date of death, and reportedly alleged that "[b]efore he died, he told those present and those who tried to help him that he had been beaten by Arabs."175 A few days later, the Palestinian DCO contacted the `Amir family to notify them of his death and arrange for the transfer of the body, which had been lying in Abu Kir for the entire period.
B'Tselem wrote to the Office of the Judge Advocate General with details of Amer's death on June 3; Gideon Levy's Ha'aretz article was published nine days later. Both Levy and B'Tselem asked the IDF whether `Amir's case would be investigated, and both were told an investigation was underway.176
One year later, Human Rights Watch visited the `Amir family in Jenin. They told Human Rights Watch that after the barrage of media interest following publication of the Ha'aretz article, no one from the IDF, Israeli government, or DCO had attempted to contact them regarding the case—whether for witness interviews or to inform them that an investigation had taken place. Human Rights Watch wrote to the IDF Spokesperson's office in January 2004 to ask about the investigation's progress. The IDF replied: "The incident is unknown to us."177 As of early June 2005, the IDF had not responded to a Human Rights Watch request of February 2005 for additional or updated information.
Nuha al-Muqadama lived with her family in Block Three of Bureij refugee camp in Gaza. The al-Muqadama home was one of four contiguous homes, each attached to the other. Almost nine months pregnant, she was killed when the IDF destroyed the house of a neighbor as a form of collective punishment.
At midnight on the night of March 3, 2003, Nuha al-Muqadama, her husband Shukri, and her nine children were all at home. Shukri and their son were cooking the next day's food for the family's small restaurant. Shukri suddenly heard shooting nearby, along with the sounds of a helicopter. Nuha and several of the children woke up, frightened. The family sat together, drank soft drinks, and tried to calm the children. They turned on the television and watched the news footage of the incursion. Shukri told Human Rights Watch "I tried to turn the television off, but [Nuha] said 'No, keep it on. At least we know what's going on.' "178 After they watched for a while, Shukri said:
"If you want to go into the other room you can, because I want to sleep." She was sitting on the bed and tried to get up holding Muna, our little two-year-old girl. Before that we heard something like knocking on the wall. We thought the neighbors were preparing food or doing something in their house. At the time she was trying to leave the room, there was a voice announcing that there was a curfew, four or five times. "Man` al-tajawwul" [curfew]was coming from the street. Even [my son] Majid was trying to calm her down – he joked and said everyone over sixteen years would have to leave their houses. So I threw my packet of cigarettes at him because he was joking and scared his mother more.179
The electricity failed, and the entire family stayed in the same room, sitting on the bed and lying on mattresses. When the electricity returned, Shukri said he told the children to go into the other room to sleep. He continued:
I was lying on my stomach. Suddenly I heard the loud noise of an explosion and saw the walls buckling back and forward. So I threw my hands on my head and lay forward. Then I heard shouts of "Help me Shukri!" twice. [Nuha] had been sitting on the bed. I wish she had gone to the other room. When I stood up from under the rubble I saw the mess of the collapsed walls, but none of my kids. Not a hand or a leg.

In shock and badly injured, Shukri al-Muqadama wandered in the dust and shouted to his neighbors for help. None came: there was still shooting on the street. Eventually Shukri went inside again and began to dig through the rubble. As the hours passed, his neighbors appeared to help. Together they dug up the children, three of whom were badly injured. Shukri found his wife, unconscious and with bad abrasions on her face and body. They took her to a nearby storeroom to give first aid: forty-five minutes later his neighbors wrapped her in a blanket and carried her through sporadic gunfire to a nearby clinic. Shukri waited in shock in the UNRWA clinic, expecting to hear that his three injured children had died. Eventually a friend told him that his wife had been killed. 180
Nuha al-Muqadama had been killed when IDF sappers demolished the adjoining house of `Adil `Abdullah `Abd al-Salam. `Abd al-Salam's son had carried out a suicide attack against Israeli soldiers on February 9, 2003, in the name of Islamic Jihad. Earlier during the same incursion, the IDF had demolished the house of arrested Muhammad Hassan Taha and his sons, who were Hamas members.
Nuha al-Muqadama's death occurred during a period of heightened violence and civilian casualties in Gaza. It was widely reported, and both the U.S. and the U.K. governments cited it in calling on Israel to minimize civilian casualties, end indiscriminate actions, and abide by international law.181 One week later, the Israeli newspaper Ha'aretz reported that the IDF admitted al-Muqadama had been killed as a result of a house demolition:
[T]he IDF now admit that the pregnant woman who was killed in the operation in the El-Burej refugee camp in the central Gaza Strip some days ago, was hit as a result of the demolition of the nearby home of the Taha family, several members of whom are Hamas operatives. Although army sappers are instructed to comb residences near areas marked for demolition, in this case, the force came under heavy fire and the commanders - with the authorization of senior officers - decided to make do with calling on residents to vacate their homes. It seems that the woman and her family failed to hear the call.182
The soldiers who blew up the Taha residence claimed that the quantity of explosives used should not have caused such widespread damage to the neighboring houses. The IDF believes that the force of the explosion was compounded as a result of bombs stored in the house by Hamas operatives.183
This version of events clearly confuses the separate Taha and `Abd al-Salam demolitions. Shukri and Majid al-Muqadama gave separate detailed testimony to Human Rights Watch. They were emphatic: they did not hear any kind of warning to leave their house, which had only one cooking gas canister in the kitchen. In contrast, the `Abd al-Salam family later said that the Israelis had given them five minutes to evacuate the area.
Both B'Tselem and the Palestinian Center for Human Rights (Gaza) notified the JAG's office with details of the al-Muqadama case, and Shukri Muqadama's testimony was placed on the Internet. The chief military prosecutor wrote to B'Tselem on April 30, 2003 that she would notify them if a Military Police investigation was opened. When Human Rights Watch interviewed Shukri al-Muqadama two months later, he had not been contacted by the IDF, nor did he know whether any investigation was taking place. When Human Rights Watch tried to confirm the status of the case in January 2004, the IDF responded that "the incident is unknown to us."184 As of early June 2005, the IDF had not responded to a Human Rights Watch request of February 2005 for additional or updated information.
Nahla `Abd al-Rahman `Abdullah `Aqil was killed on December 8, 2002, as she left her home to visit relatives to celebrate `Id al-Fitr, the feast at the end of Ramadan. There are no indications that armed hostilities were taking place in the vicinity at the time she was killed.
`Aqil's family, including her husband and seven children, had moved into a new house in Tel al-Sultan, a neighborhood just west of the center of Rafah, a few months earlier. The development, part of an UNRWA project to rehouse refugees whose homes had previously been destroyed, is located opposite the sand dunes that separate Palestinian homes from the Israeli settlement bloc of Gush Katif, although the bloc's perimeter is not visible from the houses.
Human Rights Watch interviewed separately `Aqil's husband, `Adil, and her eldest daughter Shirin, at a relative's home in Khan Yunis. The day had been quiet, with no incidents, violence, or outside noises. No incidents in the area are listed on the IDF website.185 Shirin, a twenty-year-old education student, told Human Rights Watch:
It was on Sunday, about 6.30 p.m. We had decided to visit relatives... . We were walking in a line in front of my neighbors' [front wall]. We were walking on the pavement; it was still unfinished, still rubble, a little bit lower than the rest of the ground. Mom was walking in front, she had a plastic bag with presents in it, and the small kids were around. She was in front of me and a gap had opened up a little [between us] as we reached the neighbor's house.
Suddenly as we walked, a light shone on us. I did not take any notice. It was a spotlight....it came from the direction of the settlement area. I do not know exactly [where from], but it was the first time I had seen such a light. Then there were shots, they came like rain, I don't really know how to tell you. I was shocked. We stopped. We threw ourselves down. My mother was in front of me then the kids, and I was in front of my father. After a short time, it [the shooting] lightened. I stood up in order to see what happened, because my face was not towards them, then the firing started again. It seemed like a long time. Nivin [her sister] told me she was injured in her leg, and she said, "Mom is hurt," but of course no one knew what it was. Nivin was closest to her, and the blood was spreading all around.186
Finally the firing stopped. Shirin stood up, crouching, and went over to her mother. Shirin turned her over and saw blood all over her torso. She spoke to her, but her mother did not reply. Her father took `Aqil to a neighbor's house, and Shirin rode from there in a car with her mother to the ambulance. By the time the ambulance staff examined her mother, Shirin knew she was dead.
In all, the `Aqil family experienced three intervals of automatic fire. Both Shirin and `Adil `Aqil were clear: there was no warning, no sound, before the shooting began.187 Nahla `Aqil was killed by a bullet to the neck; her children `Ali (ten), Tamar (fourteen), and Nivin (sixteen) were injured.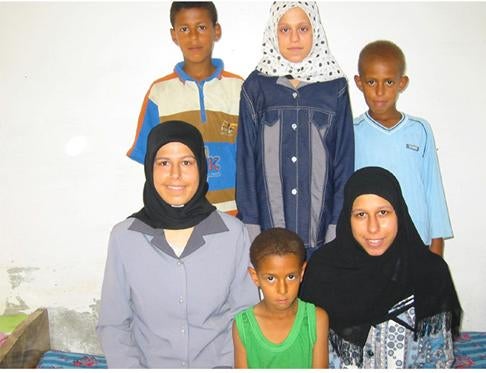 The children of Nahla `Aqil, who was shot to death on December 8, 2002. All were with her at the time of the incident and three were injured. As of June 2005 the IDF had not responded to a request from Human Rights Watch to learn if an investigation had been completed.
© 2002 Miranda Sissons/Human Rights Watch
The following day, December 9, 2002, an IDF official said the IDF would investigate the incident.188 As of June 15, 2003, no one from the IDF had contacted the family, nor was the family aware of any IDF visit to the site. `Adil `Aqil told Human Rights Watch that he had heard from relatives and the media that
the Israelis were saying at that time that there were six people trying to infiltrate the settlement. They said they killed three, and three escaped. It's just an excuse. Relatives told us, and there was something in the newspapers saying they were sorry - the guy from B'Tselem told me.
Despite their skepticism, the `Aqil family gave testimony to two human rights groups, and, two months later, gave medical records, affidavits, and other documents to the Gaza-based Palestinian Center for Human Rights to pursue a court case. When asked if he would be prepared to assist an IDF investigation, `Adil `Aqil said yes: "I cannot lose anything more than I have already lost."189
On February 17, 2004, the IDF wrote to Human Rights Watch, saying, "The investigation of this incident has not yet been completed."190 When Human Rights Watch contacted `Adil `Aqil two months later to check whether he had been interviewed regarding the incident, or updated as to the progress of the investigation, `Aqil told Human Rights Watch he had still not been contacted by the IDF.191
As of early June 2005 the IDF had not responded to a Human Rights Watch request of February 2005 for additional or updated information.
---
[129] Human Rights Watch [Middle East Watch], The Israeli Army and the Intifada: Policies that Contribute to the Killings, August 1990, pp. 57-152.
[130] Ibid. Other deficiencies were understaffing at the CID, inadequate response to requests for information about investigations and failure to seek medical evidence when autopsies were not possible.  
[131] Unnamed "veteran reservist investigator" quoted in Alex Fishman and Guy Leshem, "Poorly Investigated, Forgotten and Buried," Yedioth Ahronoth, January 23, 2004, p. B10.   English translation on file at Human Rights Watch.
[132] Article 178 (4), Military Justice Law.
[133] Response of the IDF Spokesperson to Human Rights Watch inquiry, with cover letter from Maj. Sam Weidermann, May 10, 2004.
[134] Members of the CID told Human Rights Watch that of some 330 investigations conducted by July 2003, thirty-five were related to killings and eighty were related to looting. Human Rights Watch interview, Military Police, July 13, 2003. In August 2004, outgoing Judge Advocate General Menachem Finkelstein said that his office had undertaken twenty-two investigations into cases involving use of lethal force that killed or wounded Palestinians (Gideon Alon, "IDF probing 600 suspected cases of abuse of Palestinians," Ha'aretz, August 18, 2004). According to a follow-up account, "an IDF captain convicted of killing a child was sentenced to six months in jail, while a soldier convicted of taking bribes at a roadblock was sentenced to ten months in jail." (Gideon Alon, "Critics scorn IDF statistics on abuse probes," Ha'aretz, August 19, 2004).  
[135] US Department of State Country Reports on Human Rights Practices 2002: UK and Northern Ireland, March 31, 2003.
[136] Response of Chief Military Prosecutor Col. EInat Ron, dated October 31, 2001, in B'Tselem,"Whitewash: The Office of the Judge Advocate General's Examination of the Death of Khalil al-Mughrabi, on 7 July 2001," [n.d.], Appendix C, p. 23.
[137] Ibid.,  Appendix E, p.30.
[138]  Berger, Grims, Jensen (Editors) Operational Law Handbook, 2004, p. 34. Emphasis in original.
[139] Human Rights Watch interview, February 19, 2001, in Human Rights Watch, The Center of the Storm: Human Rights Abuses in the Hebron District, May 2001, p. 54.
[140]  Ibid., Human Rights Watch interview, Hebron, February 18, 2001.
[141] The family cited this information in its compensation application to the High Court of Israel.
[142] Human Rights Watch interview, Muhammad Barakat  Abu Munshar (al-Hajj Ahram), June 30, 2003.
[143] "IDF Spokesperson's Response regarding your Request for Statistical Information," with cover letter to Human Rights Watch from Maj. Sam Wiedermann, head, International Organizations Branch, IDF Spokesperson's Unit, February 17, 2004.
[144] See Human Rights Watch, In a Dark Hour: The Use of Civilians During IDF Arrest Operations, Vol. 14, No. 2 (E), April 2002.
[145] Human Rights Watch interview, `Ali Daraghmeh, Nablus, July 7, 2003
[146] Ibid.
[147] HC 3799/02, Adalah et al. v. Yitzhak Eitan, IDF Commander in the West Bank et. al., (case pending) available at http://www.adalah.org/eng/humanshields.php (accessed February 11, 2004). In its "Response on behalf of the Respondents," dated May 21, 2002, the Ministry of Justice stated: "the IDF has decided to issue immediately an unequivocal order to the forces in the field. The command states that forces in the field are absolutely forbidden to use civilians of any kind as a means of "living shield" against gunfire or attacks by the Palestinian side, or as 'hostages'." A translation of the state response is available at the same URL. See also, Human Rights Watch, In a Dark Hour, the Use of Civilians During IDF Arrest Operations, April 2002, Vol. 14 No. 2(E).  Available at http://www.hrw.org/reports/2002/israel2/.
[148] Letter from Captain Anrietta Levi, Public Relations Branch, IDF Spokesperson's Office, to Attorney Yael Stein, B'tselem, November 14, 2002, reproduced in B'Tselem, Human Shield: Use of Palestinian Civilians as Human Shields in Violation of the High Court Order, November 2002, p. 18. Available at www.btselem.org.
[149] Human Rights Watch interview, `Ali Daraghmeh, Nablus, July 9, 2003.
[150] Human Rights Watch interview, `Ali Daraghmeh, Nablus, July 9, 2003.
[151] Human Rights Watch interview, Ahmad Dib Ahmad Sama`na, Nablus, July  9, 2003.
[152] Human Rights Watch interview, Ronen Schnayderman, B'Tselem, Jerusalem, April 29, 2003. The abbreviated translation is available at http://www.btselem.org/English/Open_Fire_Regulations/Al_Qureini.asp (accessed February 19, 2004).
[153] Ibid.
[154] Letter to Human Rights Watch from Maj. Sam Wiedermann, head, International Organizations Branch, IDF Spokesperson's Unit, February 17, 2004.
[155] Human Rights Watch interview, `Uthman Mahmud Hussain al-Hajin, Jabalya, June 18, 2003.
[156] For background on Israeli flechette use in Gaza, see, Human Rights Watch press release, "Israel: Stop Using Flechettes in Gaza," April 28, 2003. Available at http://www.hrw.org/press/2003/04/israel042903.htm.
[157] The other incidents included the killing of four children during an attempted assassination by the IDF in Tubas on August 31, 2002, and the alleged extra-judicial execution of four quarry workers in the town of Beni Na'im on September 1, 2002. See, Amos Harel, "IDF Finds No Blame In Deaths of 13 Palestinians; Soldiers Acted Properly," Ha'aretz, September 9, 2003.
[158] Ibid.
[159] Ibid.
[160] Human Rights Watch interview, `Uthman Mahmud Hussain al-Hajin, Jabalya, June 18, 2003.
[161] On May 15, 2005, the IDF announced that the decision had been taken several weeks previously. See, "No peace without Palestinian state: Abbas," Agence France-Presse, May 15, 2002.
[162] Human Rights Watch interview, identity withheld, al-Yamun, July 5, 2003.
[163] Human Rights Watch interview, Tha'ir Khalil Salah al-Samudi, al-Yamun, July 5, 2003.
[164] The case was first published by al-Haq in 2002. It was published in its final form as al-Haq, Beating and Willful Killing in Yamoun Village, al-Haq Case Study, June 2003. Available at http://www.alhaq.org/publications/Yamoun%20Village.htm, (accessed February 13, 2004).
[165] Human Rights Watch interview, Khalil Salah al-Samudi, al-Yamun, July 5, 2003.
[166] Human Rights Watch interview, Tha'ir Khalil Salah al-Samudi, al-Yamun, July 5, 2003.
[167] Ibid.
[168] Human Rights Watch interview, Tha'ir Khalil Salah al-Samudi, al-Yamun, July 5, 2003
[169] Ibid.
[170] Human Rights Watch interview, Tha'ir Khalil Salah al-Samudi, al-Yamun, July 5, 2003.
[171]  Letter to Human Rights Watch from Maj. Sam Wiedermann, head, International Organizations Branch, IDF Spokesperson's Unit, February 17, 2004.
[172] In late March 2002, in response to a series of devastating Palestinian suicide bombing attacks in Israeli cities, the IDF mobilized some 30,000 troops for an offensive in the West Bank that was reportedly its largest military operation since the 1982 invasion of Lebanon. The operation included indiscriminate and excessive use of force, unlawful killing of civilians, use of Palestinians as human shields, and detention of at least 4,500 Palestinian men and boys, many of whom reported ill-treatment during arrest and interrogation.
[173] Gideon Levy, "The Twilight Death of Husni Amer," Ha'aretz, June 12, 2002.
[174] Ibid.
[175] Ibid. The website URL is given in the Ha'aretz article as www.idf.il/english/news/jeninkilled/stn. The URL was not functioning when Human Rights Watch tried to access it in late 2003.
[176] Ibid, and Human Rights Watch interview, Ronen Schnayderman, June 10, 2003.
[177] Letter to Human Rights Watch from Maj. Sam Wiedermann, head, International Organizations Branch, IDF Spokesperson's Unit, February 17, 2004. Human Rights Watch supplied the victim's name, date of death, place of death, and alleged cause of death.
[178] Human Rights Watch interview, Shukri Salman Hussein al-Muqadama, June 19, 2003.
[179] Ibid.
[180] Ibid.
[181] Jack Straw "Israel Must Act Within International Law," March 4, 2003. Available at http://www.fco.gov.uk/servlet/Front?pagename=OpenMarket/Xcelerate/ShowPage&c=Page&cid=1007029391638&a=KArticle&aid=1046455333900; Adel Zaanoun, "Palestinian shepherd, 85, killed after US rebukes Israel for civilian deaths," Agence France-Presse, March 4, 2003.
[182] Amos Harel, "Inquiry: Palestinian bomb, not tank fire, caused Jabalya deaths," Ha'aretz, March 11, 2003.
[183] Ibid.    
[184] Letter to Human Rights Watch from Maj. Sam Wiedermann, head, International Organizations Branch, IDF Spokesperson's Unit, February 17, 2004.
[185] The December 8 announcement instead announces an operational forum that included discussions on how to minimize civilian casualties. See, http://www.idf.il/english/announcements/2002/december/8z.stm
[186] Human Rights Watch interview, Shirin `Adil Muhammad `Aqil, Khan Yunis, June 15, 2003.
[187] Ibid, and Human Rights Watch interview, `Adil Muhammad `Abd al-Hadi `Aqil, Khan Yunis, June 15, 2003.
[188] Molly Moore, "Israeli Forces Kill 3 Palestinian Civilians," Washington Post, December 10, 2002, p. A18.
[189] Ibid.
[190] Letter to Human Rights Watch from Maj. Sam Wiedermann, head, International Organizations Branch, IDF Spokesperson's Unit, February 17, 2004.
[191] Human Rights Watch telephone interview, `Adil Muhammad `Abd al-Hadi `Aqil, April 16, 2004.