<<previous | index | next>>
This section describes events that contributed to a rise in tension in 2004 between ethnic communities with Rwandan origins (Hutu, Tutsi and Banyamulenge) and other ethnic communities in eastern Congo prior to the events of December in North Kivu. 
The military engagements and abuses against civilians of December 2004 and early 2005 took place following months of increasing tension between ethnic communities with Rwandan origins (Hutu, Tutsi, and Banyamulenge1) and other ethnic groups in eastern Congo.
Disputes between groups of Rwandan origin and Congolese of other ethnic groups, already serious in the early 1990's, grew worse after the war between Hutu and Tutsi in Rwanda spilled across the border into Congo in 1994.  The Hutu-led Rwandan government carried out a genocide of Tutsi civilians in 1994 and then was defeated by the Tutsi-led Rwandan Patriotic Front (RPF) which drove soldiers of the former army and members of a genocidal militia, the Interahamwe, into exile in the Congo and other neighboring countries. The army of the RPF-led government invaded the Congo in 1996 and in 1998 to attack these former soldiers and militia, saying they posed a continuing threat to Rwandan security.   The second invasion sparked a war that caused the loss of an estimated 3.8 million people, the great majority in eastern Congo.2
Rwanda withdrew its troops in 2002 and the Congolese government promised to disarm the armed Hutu groups, but failed to do so. In 2004 Rwanda intervened or threatened to intervene in the Congo three times, each time contributing to aggravating disputes between Congolese with Rwandan origins and Congolese of other ethnic groups.
In May and June 2004 Rwanda supported troops loyal to RCD-Goma, led by Congolese Tutsi and Banyamulenge officers, when they mutinied against their FARDC commanders and briefly took control of the important South Kivu town of Bukavu. Some RCD-Goma soldiers committed widespread abuses against the civilian population before leaving the town and the province in the face of opposition by other FARDC troops and pressure from the international community. 3 With this military withdrawal from South Kivu, RCD-Goma lost political and administrative control over the province and became increasingly determined to retain its hold over North Kivu, the last bastion of its power.
FARDC troops also committed abuses during the fighting, including summary executions of Banyamulenge civilians. Fearing further attack and feeling vulnerable after the departure of their RCD-Goma protectors, thousands of Banyamulenge fled to Burundi or Rwanda.
In August 2004, more than 160 of these refugees, most of them Banyamulenge, were massacred at Gatumba in Burundi by Burundian Hutu rebels, possibly with the assistance or support of others. 4
In November 2004 the Rwandan government threatened to send its soldiers into Congo again to disarm Rwandan armed groups, many of them by this time formed into the Democratic Forces for Rwandan Liberation (Forces démocratique de liberation du Rwanda, FDLR).5  
Congolese of Rwandan origin living in North Kivu were frightened by the killings of Banyamulenge at Bukavu and Gatumba and by reports that FARDC soldiers of other ethnic groups had summarily executed Tutsi and Banyamulenge soldiers elsewhere in the Congo. They had also heard that FARDC soldiers had attacked Hutu in South Kivu, causing the forced displacement of tens of thousands of people.
Thus concerned about possible future abuse by the transitional government and FARDC soldiers loyal to it, some people of Rwandan origin supported the RCD-Goma determination to preserve a zone of autonomy from central control. Under the direction of Governor Serufuli and other RCD-Goma leaders, these people—including previously hostile Hutu and Tutsi—increasingly identified themselves as part of a single group, calling themselves Rwandophones because they speak Kinyarwanda, the language of Rwanda.  As people of Rwandan origin increasingly feared and resented national government attempts to control them—carried out by people of other ethnic groups—so people like the Hunde and Nande in North Kivu increasingly feared and resented Rwandophones and the RCD-Goma authorities who controlled that province. Decades of migration by the Hutu had made the originally predominant Hunde a minority in Masisi and policies of the RCD-Goma government increasingly deprived them of local political power. Governor Serufuli replaced customary Hunde authorities by Rwandophones and others loyal to himself.6 The Hunde often looked to local militia, known as Mayi-Mayi, for protection. In 2004 many of the Mayi-Mayi had also been supposedly incorporated into the FARDC but other units retained considerable autonomy. In some situations (see below) Mayi-Mayi fought against troops loyal to RCD-Goma, another example of combat within the ranks of the supposedly unified FARDC. 
Integration of the army was stalled throughout 2004 and the first part of 2005 because leaders of the former politico-military groups who made up the transitional government were reluctant to surrender real control over troops loyal to them.  Equally important, the transitional government failed to disburse the funds needed for military re-organization to the military hierarchy and to the National Commission on Demobilization and Reinsertion (CONADER).  Although army integration sites finally opened in North and South Kivu provinces in March 2005, few RCD-Goma forces reported to the centers and some other groups who arrived deserted soon after because of the lack of adequate housing and sanitary facilities.7
In 2004 and early 2005 officials subordinate to Governor Serufuli distributed arms to thousands of Hutu civilians in Masisi and probably also in Rutshuru.  This created a new reserve of armed civilians available to implement the governor's orders and to help retain control of North Kivu in the face of possible advances by the transitional government and its troops.  Hutu used the weapons in some cases to commit crimes against their neighbors and later to participate in attacks and pillaging during the fighting in December 2004 (see below).  Not all Hutu were happy to take arms, and those who resisted the distribution were threatened and in at least one case killed.  The presence of the weapons also exacerbated fear and tension between Hutu and other ethnic communities, leading some to flee their communities even before shots were fired.  When Serufuli became governor of North Kivu in 2000, a state-organized paramilitary group known as the Local Defence Forces (LDF)8 already existed. He expanded its size, at one time claiming the force numbered more than 30,000, and recruited primarily among Hutu civilians. Although the force was supposedly only a quasi-military institution under the control of local administrative officials rather than military officers as such, elements of the LDF were demobilized or integrated into the FARDC in early 2004. Serufuli, however, was said to retain considerable control over them. 
Administrative and security officials handed out firearms in the Masisi countryside in October 2004, according to information provided to Human Rights Watch researchers by local officials, church leaders, civil servants, former RCD officers, and villagers from both the Hunde and Hutu ethnic groups.9  One of those who organized and armed Hutu civilians in the Banyungu area was Captain Munyamariba, a Hutu administrative official and FARDC officer from the former RCD-Goma troops who had once been part of the LDF.10  Dusabe Kashemare and Rukeri Nyange, middle-ranking security agents,11 and Munaba Rukebesha, another administrative official,12 also participated in the distribution there.  Many persons also reported seeing the vehicle of Robert Seninga, an advisor to the governor and organizer of his defunct Local Defense Forces, transporting guns into Masisi.13 
Officials explained to Hutu civilians that the weapons were for their protection, and sometimes spoke specifically of the need to resist possible attacks by FARDC General Budja Mabe, who was accused of massacring Hutu in South Kivu in July 2004.  In other cases, Hutu believed the weapons were intended to defend themselves against the FDLR and other Rwandan Hutu armed groups. When officials did not identify the source of threat specifically, some civilians concluded that the distribution of arms almost exclusively to Hutu signaled a coming ethnic war. 
The first large delivery of firearms was in mid-October at Kibabi, Masisi, with distribution carried out from there to numerous villages. According to one Hutu resident:
They [youths] were requisitioned to go pick up arms at Kibabi.  The interim chef de localité of Banyungu, Rukara Shamba, put together the list….  They came back with guns and. . . the chief gave the weapons to us individually in our houses….  About fifty young men in the four villages of Biholo and many others in the surrounding areas took weapons.14
A Hunde from one of three villages at Showa, also in Banyungu, confirmed that Rukara went "door-to-door" to tell Hutu youth to come to a meeting near Kibabi in October, where they were given weapons. He said that fifteen youth from his village left in October, with Munaba and Rukara, and in November they came back armed.15
Another Hutu villager said:
Almost all the population of young men of Kazinga was called early one morning to go to Kibabi.  We arrived there at 9.30 p.m.  We saw a truck filled with sand; then they removed the sand and underneath were guns…. 150 people got weapons that day.  Each person got five guns.  They were about one meter long . . .  with bayonets.  The 150 people were from Kazinga, Katahandwa, Luke, Nyamumbuke, Kitengere, Katchinga, and Mufa.  This was the first distribution.  After two days, one hundred others from the same villages went.  They were given fifteen heavy weapons, destined for the civilian population…. Dusabe and Munaba carried out the distribution….  When we went to get the weapons, we were carefully watched.  We left Kazinga with all the people on the list of names; they took us to a classroom and called us by name.  I took four guns on my head and one for me slung across my chest.  The other four were [to be transported] to the Kazinga depot.  They told us to keep our weapons well because they were for our protection and use during the war we bring to the Hundes….16
According to witnesses, officials gave weapons to boys as young as ten years old, and to men as old as fifty-five years old.17  Those who received firearms were not well-trained and integrated into a command structure and as a result, insecurity increased in areas where firearms had been distributed. Civilians who had received weapons shot them into the air, initially to show their joy and later to demonstrate their control of this new source of power. Some of them committed armed robberies against their neighbors.18  According to a local official, a young woman at Ngomashi was shot multiple times in the arm and killed by one of the newly armed civilians on October 13.19  Some villagers, both Hutu and Hunde, took to spending the night in the forest instead of at home. A Showa villager said, "There was shooting at night because they were pillaging and stealing animals.  During the day we would stay in the village, but at night we stayed in the bush."20 Others who felt threatened moved to larger population centers. 
The problems caused by the arms distribution were sufficiently serious that in some cases soldiers loyal to RCD-Goma had to intervene to bring the armed civilians under control. In one incident at Mashaki on October 16, 2004 soldiers exchanged fire with armed civilians and several persons were killed, including civilians not participating in the fighting.21 In another case, a small detachment of RCD-Goma soldiers was deployed to Kishonja to control armed civilians, with the understanding that the local population would have to feed them.22
According to some local Hunde leaders, the newly armed Hutu civilians instigated a campaign of "disobedience" against them, telling people, for example, not to bring disputes to Hunde leaders for resolution.23  Facing erosion of their authority, several Hunde local authorities left their posts. "When I understood I had no control, I left," said one of these leaders.24  According to another Hunde, the newly armed said that they could not be ruled by "others."  "They said to us, 'You Hunde say the locality belongs to you, but from today your limit is the Lwashi river [just west of Masisi town].'"25 
Other officials stayed in their posts and made some efforts to bring order back to their villages.  According to a local development worker, the territorial administrator of Masisi attempted to restrict the movement of armed men at night.26 
In some areas local officials targeted or permitted armed civilians to use violence against Hutu who refused to take firearms. According to one administrative official, the same people who gave out the firearms pillaged property and burned the homes of Hutu who resisted the distribution at Manfe village, resulting in the flight of some Hutu families.27
Another Hutu explained how his family was punished when he refused to take arms:
I said "no" [to the local chief distributing weapons] and he said, "OK, soon I will send my men to arrest you."  I left for Masisi town the next day….  Because of the hunger here, I asked my wife to go back and get food.  She was captured by armed men, civilians who had recently received arms from the local chief, who kept her for one week.  I went to tell the Territorial Administrator hoping he would save my wife, but nothing happened.  When the local chief went on his regular patrols, he found my wife in the hands of his people.  He said to release her; but with the message that unless I come back, no one in my family can go into the fields….  She was kept at the post of a man there.  I took my wife to the hospital when she got here.  She had been beaten so that she would submit to becoming their "wife."28  I think it was several men.29 
In another case, Firigi Zabandora, a Hutu police officer who had been a bodyguard for a Hunde customary leader and who had received a weapon in the distribution, was killed on October 20 when he tried to return his weapon to Dusabe. Dusabe also threatened to arrest other Hutu who had joined Zabandora in trying to return their weapons. When they learned that Zabandora had been killed, they fled the area.30 At the end of December, a MONUC team came to another village in Masisi to investigate the arms distribution.  After their departure, at least one person was accused of having given information about the distribution and was arrested.  He was released, but after being threatened, he fled his village.31 
Arms were distributed to civilians again at Luhanga, Masisi, in January 2005 by the local chief, Francois Gahamani and by Major Ngayaberura, the military commander, who were both Hutu, according to a witness. Following losses to RCD-Goma troops in combat in Walikale and Masisi, they recruited Hutu youth and sent them to a small camp where they were given ideological training.32  Governor Serufuli had named Gahamani in 2002 to replace a former Hunde chief who had fled the area during earlier ethnic conflict.  One of the recruits said that the chief and commander distributed Kalashnikov AK-47 assault rifles to thirty people, including boys less than sixteen years old.  According to the recruit,
They said we would fight Hundes, not just Mayi-Mayi but also civilians; we would fight Colonel Akilimali, [a Mayi-Mayi commander] who had captured heavy weapons from RCD-Goma, and we would keep control of North Kivu.  I was a cultivator.  I had no way to refuse.  Major Ngayaberura is all-powerful in our area.33 
Almost half of the recruits fled the small training camp within a week, but did not go back to their village because they were afraid to be punished for desertion.34
The U.N. Group of Experts investigating violations to the U.N. arms embargo on eastern DRC concluded in a January 4, 2005 report that Governor Serufuli had created an armed militia through a "highly organized and systematic" arms distribution organized by his administration. They believed that arms had been distributed in Rutshuru as well as in Masisi.35 At about the same time, a MONUC human rights investigation team found that officials had been distributing arms in Buramba since the first week of January.36 
In an interview with a Human Rights Researcher, Governor Serufuli denied that his subordinates had distributed arms to civilians. He claimed instead that Rwandophone civilians had spontaneously taken up arms to protect themselves against the threat posed by the possible deployment of Congolese soldiers of other ethnic groups in North Kivu.  He also said it was possible that some lower-level officials had distributed arms without his knowledge. 37
Rwanda threatens to intervene
At the time of the Bukavu mutiny in May-June 2004 and the Gatumba massacre in August 2004, Rwandan government authorities had voiced strong support for Congolese Tutsi and Banyamulenge, whom they called the "victims of genocide."  Many Congolese of other ethnic groups believed that Rwanda had also supported the Bukavu rebels militarily38 and many knew that Rwanda threatened to act militarily to protect the Banyamulenge after the Gatumba massacre. The possibility that Rwanda had again intervened or might shortly intervene in eastern Congo increased fears among Congolese who had twice suffered Rwandan occupation and caused some of them to accuse Rwandophone Congolese of favoring such a return of Rwandan control. 
With these events as a backdrop and with reports circulating of the recent distribution of arms to Hutu in North Kivu, Rwandan threats to send troops to Congo caused serious concern both locally and at the national level. At the end of November Rwanda asserted that it might already have troops in the Congo, and confidential sources within the U.N. confirmed that Rwandan troops had been entering the country since November 6.39  In late November, community leaders claimed that Rwandan troops had killed some civilians and had burned twenty-one villages in eastern Walikale.40  Several thousand civilians fled to neighboring Lubero territory or simply to the surrounding bush.41  U.N. staff confirmed that several villages had been burned and that some civilians had been summarily executed. Local witnesses said Rwandan army troops had committed these crimes.42  A Rwandan-Congolese joint verification mission later confirmed that Rwandan troops had been present in DRC but said that reports of burned villages had been exaggerated.43
After the Bukavu crisis in mid-2004, RCD-Goma was split between those who, broadly speaking, supported the Congolese transitional government and those who opposed the extension of central government control.  Those who resisted central control used the concept of "Rwandophone" identity to rally both Hutu and Tutsi to their cause. Claiming to be the object of "exclusion and discrimination never before seen in our country,"44 they stressed the unity of Hutu and Tutsi interests in Congo and the need for Rwandophones to defend themselves against discrimination and physical abuse by officials of the central government. In a region where Hutu and Tutsi had been at bitter odds, the "Rwandophone" movement portrayed itself as the protector of both.   North Kivu Governor Serufuli, one of the most powerful figures in RCD-Goma, led this movement.  A Hutu himself, he was closely linked to the Tutsi-dominated government of Rwanda and to Congolese Tutsi business and political associates.
With elections approaching, RCD-Goma leaders—many of them Tutsi—intent on keeping power recognized the importance of creating closer ties with Hutu who greatly outnumber Tutsi in North Kivu. But many Hutu resisted being drawn into a "Rwandophone" community with Tutsi, who were often labeled agents of the Rwandan government and who were more widely resented by other Congolese ethnic groups than were Hutu. They saw few shared interests with Tutsi and far more with other Congolese or in some cases with their Rwandan Hutu "brothers," including those who were part of Rwandan armed groups. 
The Hutu of North Kivu split into two groups over the decision of the transitional government to deploy troops in RCD-Goma territory. Those incorporated in Serufuli's Rwandophone movement organized protests against their arrival.45  Local RCD-Goma officials and soldiers joined protesters in Goma on December 9, chanting "No to unmixed troops," meaning those not incorporating soldiers loyal to RCD-Goma. In an interview with a Human Rights Watch researcher, Governor Serufuli said that the Rwandophone population saw the deployment of FARDC troops to North Kivu as dangerous to them.46 He said that he had warned President Joseph Kabila to that effect and that the government should reassure the Hutu of North Kivu by ensuring the safe return home of Hutu who had fled South Kivu earlier in the year before deploying its troops in North Kivu.47 
Other Hutu—as well as many people of other ethnic groups—willingly accepted the arrival of FARDC troops from Kinshasa.  The mayor of Goma, a Hutu, refused to authorize the protest against the troops, although it had been organized by his immediate subordinate, one of Goma's two burgomasters and president of the Rwandophone community.48  Residents in favor of the arrival of the new troops organized a countermarch which turned violent, with soldiers firing on the demonstrators, killing two and injuring four others.  Soldiers continued to fire shots throughout the day.49  In Kiwanja, Rutshuru, where Hutu are considered an "autochthonous" ethnic group, many Hutu did not participate in the protest march against the arrival of FARDC troops. Some of them circulated a tract urging Hutu not to participate, saying the resistance to FARDC troops was a manipulation of Tutsi that would never benefit Hutu.50 Witnesses told a Human Rights Watch researcher that organizers brought in vehicles full of unknown people to bolster the number of protesters.51   In December, some representatives of the Hutu section of an important North Kivu coalition for dialogue and reconciliation between communities (the Barza Intercommunautaire) published a letter saying that the Hutu supported the arrival of troops from the central government and were loyal to the Congolese transition process.52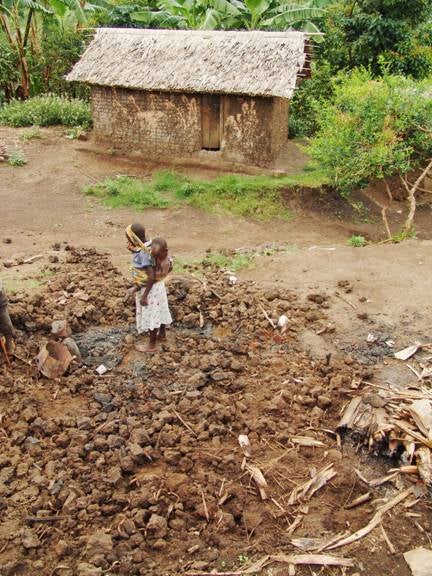 Munchinya Ndeene's two daughters, 10-year-old Shukuru and three-year old Rachel, return home to collect their few belongings after armed militants destroyed their house in Bweremana in North Kivu province.
© 2004 Jeff Barbee
---
[1] "Banyamulenge" means literally "the people of Mulenge," an area of South Kivu.
[2] International Rescue Committee and Burnet Institute, "Mortality in the Democratic Republic of Congo: Results from a Nationwide Survey", December 2004.
[3] See Human Rights Watch Briefing Paper, "D.R. Congo: War Crimes in Bukavu", June 2004.
[4] See Human Rights Watch Briefing Paper, "Burundi: The Gatumba Massacre: War Crimes and Political Agendas", September 2004.
[5]Although known in the area as ex-FAR (ex-Rwandan Armed Forces, the former Rwandan national army that lost power after the genocide) and Interahamwe (the Rwandan Hutu militia who assisted in carrying out the Rwandan genocide), the majority of Rwandan Hutu rebels in eastern Congo did not participate in the Rwandan genocide; many were recruited from among Rwandan refugees or even from among the Congolese population.  In 2004 the Ralliement-FDLR (RFDLR) split off from the main group; as of mid-2005 both groups operated in eastern DRC. See Human Rights Watch Briefing Paper, D.R.Congo: Civilians at Risk during Disarmament Operations, December 2004.
[6] Human Rights Watch interviews, Goma, September 24 and October 10 2003.
[7] Human Rights Watch interviews, Goma, Bukavu and Mushaki, March and April 2005.
[8] Generally known as LDF, the groups are officially called Unités d'autodéfense et de développement (UAD). The same kind of force, known as LDF, exists in Rwanda.
[9] Human Rights Watch interviews, Goma, October 20, November 9, 22 and 23, 2004, February 4, 2005 and Masisi, January 26 to 29, 2005.
[10] Captain Munyamariba was Chef de Poste d'Encadrement de Mianja.  Human Rights Watch interviews, Masisi, Jan. 27, 2005.
[11] Human Rights Watch interview, Masisi, January 29, 2005.  See also Société Civil du Nord Kivu, "Le Nord Kivu à la Dérive", December 2004; and RODHECIP, "Appel à Action Urgente N° 001/2004 : Le territoire de Masisi en province du Nord Kivu/RDC de nouveau à feu : Distribution illicite d'armes à feu aux populations civiles", November 6, 2004 (on file with Human Rights Watch). Albert Semana, a Tutsi from RCD-Goma who is close to Governor Serufuli, is director of the provincial security service and a powerful figure in North Kivu.
[12] Human Rights Watch interviews, Goma, November 9, 2004, and Masisi, January 26 and 29, 2005.  Munaba was the secretary of the Poste D'encadrement at Ngomashi.
[13] Human Rights Watch interviews, Goma, November 9, 2004.  See also Société Civil du Nord Kivu, December 2004; and RODHECIP, November 6, 2004.
[14] Human Rights Watch interview, Masisi, January 29, 2005.
[15] Human Rights Watch interview, Masisi, January 29, 2005.
[16] Human Rights Watch interview, Masisi, January 29, 2005.
[17] Human Rights Watch interviews, Masisi, January 29, 2005.
[18] Human Rights Watch interviews, Masisi, January 26, 29 and 30, 2005.
[19] Human Rights Watch interview, Goma, November 9, 2004.
[20] Human Rights Watch interview, Masisi, January 29, 2005.
[21] Human Rights Watch interviews, Goma, November 9 and 22, 2004, Masisi, January 29, 2005.  The reason for the fighting was unclear but observers believed it might be related to an attempt by some military and civilian officials to control the newly armed Hutu after receiving complaints from the local population, e.g. to prevent them from patrolling at night.
[22] Human Rights Watch interview, January 26, 2005.
[23] Human Rights Watch interview, Goma, November 22, 2004; Masisi, January 29, 2005.
[24] Human Rights Watch interview, Masisi, January 29, 2005.
[25] Human Rights Watch interview, Masisi, January 29, 2005.
[26] Human Rights Watch interview, Masisi, January 26, 2005.
[27] Human Rights Watch interview, Goma, November 21, 2004.
[28] This is a common euphemism for rape in eastern Congo.
[29] Human Rights Watch interview, Masisi, January 29, 2005.
[30] Ibid. Human Rights Watch interviews, Goma, November 9, 2004; Masisi, January 29, 2005.
[31] Human Rights Watch interview, Goma, February 21, 2005.
[32] Human Rights Watch interview, Goma, April 5, 2005.
[33] Ibid.
[34] Ibid.
[35] Group of Experts on the DRC, to Chairman, Security Council Committee established pursuant to Resolution 1533 (2004), January 4, 2005 (UN Doc S/2005/30, Jan 25, 2005) [hereafter U.N. Group of Experts Report on the Arms Embargo, January 2005].
[36] Electronic communication to Human Rights Watch, February 3, 2005.
[37] Human Rights Watch interview with Governor Serufuli, Goma, March 15, 2005.
[38] Such was the conclusion also of the U.N. Group of Experts Report on the Arms Embargo, January 2005.
[39] Human Rights Watch interviews with U.N. sources, Goma, December 5, 2004.  See also Human Rights Watch backgrounder, "Democratic Republic of the Congo – Rwanda Conflict", December 4, 2004.
[40] See for example, Société Civile de Butembo, Letter to the Special Representative of the Secretary-General, December 2004.  Human Rights Watch telephone interviews with staff of MONUC and the U.N. Office for the Coordination of Humanitarian Affairs (OCHA), Kinshasa and Beni, December 1, 2004.
[41] Human Rights Watch interviews with staff of MONUC and OCHA, Kinshasa, Beni, Lubero and Goma, December 1, 4, 5 and 9, 2004.
[42] Human Rights Watch telephone interview with MONUC staff, Beni, December 9, 2004.
[43] Human Rights Watch interview, Goma, March 17, 2005.
[44] In the original: "une exclusion et discrimination jamais encore vu dans notre pays."  Memorandum of the Congolese Rwandophone Community to their Excellencies the Ambassadors of Members of the International Committee to Accompany the Transition in the DRC, Memorandum de la Communauté des Congolais Rwandaphones à Leurs Excellences Messieurs les Ambassadeurs Membres du Comité International d'Accompagnement de la Transition en RDC, Goma, December 15, 2004.
[45] Human Rights Watch interview with Francois Gachaba, President of the Rwandophone community, Goma, January 21, 2005.
[46] Human Rights Watch interview with Governor Serufuli, Goma, March 15, 2005.
[47] Ibid.
[48] Human Rights Watch interview with Francois Gachaba, President of the Rwandophone community, Goma, January 21, 2005.
[49] Human Rights Watch telephone interviews with human rights organizations and MONUC staff, Goma, December 9 and 10, 2004.
[50] Document in Swahili, on file with human rights organizations in Rutshuru.
[51] Human Rights Watch interviews, Goma, Kiwanja (Rutshuru), December 14, 2004.
[52] Human Rights Watch interview, Goma, December 15, 2004.