Defending the Human Rights of Migrants and Asylum Seekers in Western Europe
I entered the Fuerteventura camp on September 12, 2001.... It's a prison. We don't even see the sun. For twenty-four days I did not see the sun.
—Human Rights Watch interview with male migrant from Guinea Bissau detained at the Fuerteventura detention facility in Las Palmas, Spain, November 2001. According to testimony gathered by Human Rights Watch from former detainees and aid workers who had visited the facility, it was severely overcrowded; had substandard sanitary conditions; and restricted access to basic health care. Officials in the facility prohibited detainees from exercising or having access to fresh air; limited access to lawyers and other outside communication; provided no information regarding detainees' rights; and severely impeded the right to seek asylum.
I paid a man 350 German marks (approximately U.S. $162) to go to Greece since I had no papers. Instead, he brought me to Greece and sold me to a bar. He told me he would kill me if I left. We could not leave the house. There were twelve women, all of us from fifteen to twenty years old. We slept with a lot of men, ten men a day. We were beaten if we tried to leave. I was beaten with a belt. I was hurt. The others, too. The police came and arrested all of us women and brought us to a small prison. I stayed for four months in prison. After that I went to court. Because I did not have papers, the court gave me three months [suspended sentence and immediate deportation] and told me I could not return to Greece for five years.
—Human Rights Watch interview with Bulgarian trafficking victim in Korydallos Women's Prison, Athens, Greece, November 2000.
Human Rights Watch is engaged in a multi-year research and advocacy project on the human rights of migrants in Western Europe. The project involves conducting research in a number of West European countries, with an eye toward influencing both national and European Union law and policy on the human rights of migrants. Our research began in 2000 and has thus far revealed a range of migrant rights abuses in several European Union members states, including arbitrary detention; gravely substandard conditions of detention; procedural violations in criminal and administrative law proceedings, and in the asylum system; racial and ethnic discrimination; police abuse; arbitrary and collective expulsions; violations of children's and women's rights; abuses of migrants and asylum seekers at the hands of human traffickers, and economic and social rights violations.

The documents on this web page reflect the research, advocacy, law and policy work undertaken in Greece, Spain, the Netherlands, and the United Kingdom. It also includes analyses of select European Union laws and policies with respect to the human rights of migrants, both generally and with regard to the impact of counter-terrorism measures on non-nationals in Western Europe since the September 11 attacks in the United States:




European Union
Closed-door Immigration Policy Is Shameful Vision
"European immigration policy has to do more than simply try to bar the door to migrants and asylum-seekers," HRW's Ken Roth and Julia Hall argue in European Voice.
Commentary, September 16, 2004

European Union: Asylum Proposal Violates Basic Rights
The European Union's proposal on asylum procedures violates international human rights and refugee law and should be withdrawn, a group of leading nongovernmental organizations said today. In an unprecedented move, refugee and human rights organizations across Europe are jointly calling on the European Union to scrap one of the key elements leading to the proposed Common European Asylum System.
Press Release, March 29, 2004

European Union: Letter Calling for the Withdrawal of the Asylum Procedures Directive
In an unprecedented move, Human Rights Watch and other human rights and refugee organizations across Europe call on the European Union to withdraw proposals for new asylum procedures. The groups contend that the proposals violate member states' obligations under international law.
Joint Letter, March 22, 2004

E.U. Network of Independent Experts in Fundamental Rights
Human Rights Watch Submission to the E.U. Network of Independent Experts in Fundamental Rights, on the occasion of its hearing on October 16, 2003

OSCE meeting on Racism, Xenophobia and Discrimination
Joint statement by Amnesty International, Human Rights Watch and the International Helsinki Federation for Human Rights, Vienna, 4-5 September 2003

OSCE Conference on Anti-Semitism
Statement by Amnesty International, Human Rights Watch, and Lawyers' Committee for Human Rights, Vienna, 19-20 June, 2003

Counter-Terrorism Measures and the Prohibition against Torture and Ill-treatment
Submission by Human Rights Watch to a European Parliament Hearing on Human Rights in the European Union, April 24, 2003 PDF, 5 pages
Human Rights Watch is concerned about four areas in which safeguards against torture appear to be vulnerable in the European Union: the promulgation and implementation of anti-terrorism laws that can facilitate acts of torture and cruel, inhuman or degrading treatment (CID); conditions of detention for suspected terrorists that can amount to torture/CID; the repatriation/refoulement of terrorist suspects to countries where they could be subject to torture; and the use of E.U. member states' territory for interrogations that could subject detainees to torture/CID.
Submission by Human Rights Watch, April 24, 2003 PDF, 5 pages

Fix It First: A Human Rights Agenda for Extending E.U. Asylum and Migration Policy
Statement of Elizabeth Andersen, Human Rights Watch, on the Occasion of the CEPS/ERA/Sitra/Transcrime Conference: "Extending the Area of Freedom, Justice and Security through Enlargement: Challenges for the European Union"
Statement, August 20, 2002

Treating "Illegals" Legally: Commentary regarding the European Commission Green Paper on a Community Return Policy on Illegal Residents PDF, 11 pages
Briefing Paper, August, 2002

Commentary on the European Commission Proposal for a Council Directive "on the short-term residence permit issued to victims of action to facilitate illegal immigration or trafficking in human beings who cooperate with the competent authorities" PDF, 11 pages
Briefing Paper, July 1, 2002

Seville Summit: Serious Abuses Against Migrants and Asylum Seekers Detailed
Press Release, June 13, 2002

E.U.: Protect the Rights of Migrants and Asylum Seekers in Seville Policy Proposals
Letter to E.U. Heads of State, June 13, 2002

Seville Summit: European Union Must Protect Migrants' Rights
Press Release, June 6, 2002



European Union: Human Rights Watch Statement, "The Human Rights Dimension of E.U. Immigration Policy: Lessons from Member States," on the Occasion of the Academy of European Law Conference: "State of Play on European Immigration and Asylum Policy: Patching Up Tampere," Trier, Germany
April 2002

European Union: Euro-Med Partners Should Address Migrant Rights en español en français
April 2002

European Union: Letter to the Ministers of Foreign Affairs of the Euro-Mediterranean Partnership on the Occasion of their April 22-23 Meeting in Valencia
April 2002

European Union: The Aftermath of September 11—The Tightening of Immigration Policies, Statement by Human Rights Watch on the Occasion of the Euro-Mediterranean Civil Forum
April 2002

European Union: Security Proposals Threaten Human Rights
November 2001

European Union: Human Rights Watch Recommendations regarding the Proposal for a Council Framework Decision on Combating Trafficking in Human Beings
February 2001





Spain
Spain: Immigration Laws Applied Unfairly Español Rapport en français July 5, 2002 Response to Issues Raised by the Canaries' Government on the Rights of Migrants and Asylum Seekers
June 19, 2002



Spain and Morocco: Nowhere to Turn: State Abuses of Unaccompanied Migrant Children by Spain and Morocco Español Français Arabic
May 2002

Spain: Dialogue Sought on Migrants' Rights: Letter to Minister Mariano Rajoy and Government Delegate Fernández-Miranda en español
March 2002

Spain: The Other Face of the Canary Islands: Rights Violations against Migrants and Asylum Seekers en español
February 2002




Greece
To request these documents in Greek please contact Human Rights Watch's Europe and Central Asia division at hrwdc@hrw.org.

45 Rights Groups from 21 Euro-Mediterranean Countries Decry Frequent and Grave Violations of Foreign Detainees' Rights in Greece
15 June 2002



Greece:  Recommendations Regarding the Draft Law for the "Fight against Trafficking of Human Beings and the Provision of Aid to the Victims of Crimes related to the Financial Exploitation of Sexual Life"
March 2002

Greece: Trafficking of Migrant Women for Forced Prostitution into Greece
July 2001

Greece: Human Rights Watch Letter to Members of the Greek Parliament on the Proposed Immigration Bill
February 2001

Greece: Urgent Concerns: Conditions of Detention for Foreigners in Greece
December 2000
The Netherlands


Safety of Failed Asylum Seekers at Risk
February 13, 2004

Dutch Asylum Policies Breach Rights
April 2003 (Dutch)

THE NETHERLANDS
Fleeting Refuge: The Triumph of Efficiency over Protection in Dutch Asylum Policy
April 2003


United Kingdom
New Approaches to Asylum in the U.K. Must Respect Rights
September 22, 2003

New Approaches to the Asylum Process
Human Rights Watch's submission to the UK House of Lords, September 22, 2003

Human Rights Watch Commentary on the U.K.'s "New Vision" Proposal for the Establishment of Refugee Processing Centers Abroad
June 17, 2003

United Kingdom: Commentary on the United Kingdom Home Office White Paper: Secure Borders, Safe Haven: Integration with Diversity in Modern Europe
March 2002

United Kingdom: New Anti-Terror Law Rolls Back Rights
December 2001

United Kingdom: Commentary on the Anti-Terrorism, Crime and Security Bill
November 2001




International


The International Organization for Migration (IOM) and Human Rights Protection in the Field: Current Concerns
Submitted by Human Rights Watch during IOM Governing Council Meeting 86th Session, November 18-21, 2003, Geneva

Human Rights Watch's engagement with IOM arises from our concern that IOM has no formal mandate to monitor human rights abuses or to protect the rights of migrants and other persons, even though literally millions of people worldwide participate in IOM-sponsored programs and projects. We began to monitor and document IOM operations in the field in the early 1990s. In 1993, we documented IOM's role in the asylum determination system imposed on Haitian asylum seekers by the United States and concluded that the determination procedure violated the right to seek asylum. Ten years later, we continue to find IOM complicit in situations that threaten people's human rights in many countries, as detailed in this paper.

World Report 2002: Refugees, Asylum Seekers, Migrants, and Internally Displaced Persons
events of November 2000-November 2001

No Safe Refuge: The Impact of the September 11 Attacks on Refugees, Asylum Seekers and Migrants in the Afghanistan Region and Worldwide
October 2001

UNHCR Global Consultations on International Protection: NGO Background Paper on the Refugee and Migration Interface, Co-authored by Human Rights Watch, International Catholic Migration Committee, and the World Council of Churches, and in consultation with other Nongovernmental Organizations, Geneva
June 2001

For more information on the migrants' rights project or to obtain any of the documents listed above, please contact Human Rights Watch's Europe and Central Asia division at hrwdc@hrw.org.




More Human Rights Watch documents on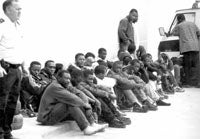 Migrants in Fuerteventura
© 2002 La Provincia.



Related Material
The Global Campaign for the Ratification of the Convention on the Rights of Migrants
The Rights of Aliens under the International Covenant on Civil and Political Rights
Protocol to Prevent, Suppress and Punish Trafficking in Persons, Especially Women and Children, Supplementing the United Nations Convention Against Transnational Organized Crime
Protocol Relating to the Status of Refugees
Other UN instruments from December 18