Human Rights Watch returned to Qana to re-examine its initial findings on the ambulance attack in light of the "hoax" claims.
Human Rights Watch is always willing to correct its findings upon discovering new and inconsistent evidence. For example, soon after its initial report of the attack on a civilian home in Qana on July 31, Human Rights Watch revised its death toll downward, based on a revised count of bodies brought to the Tyre public hospital's morgue.
To establish exactly what happened to the Qana ambulances on the night of July 23, Human Rights Watch on September 13 visited the Tibnine Red Cross office (the origin of ambulance 782) and on September 15 visited the Tyre Red Cross office (the origin of the second ambulance, number 777). The wounded were first transported by ambulance 782 and then transferred to ambulance 777; the vehicles met in Qana, the half-way point between Tibnine and Tyre, so that the second ambulance could take the wounded to Tyre hospital.
Between September 13 and 16, Human Rights Watch researchers conducted detailed, separate interviews with four of the six ambulance workers, as well as with all three of the wounded persons in the ambulance. While the ambulance staff and the wounded were aware that their claims had been challenged as a "hoax," they were not aware of the specific claims of falsehoods made against them. Human Rights Watch researchers also conducted a detailed examination of both ambulances that were reported hit. On September 14, Human Rights Watch researchers visited the scene of the alleged attack and found physical evidence there corroborating the accounts of the eyewitnesses. Human Rights Watch has also met with representatives of the ICRC to discuss their role in the incident.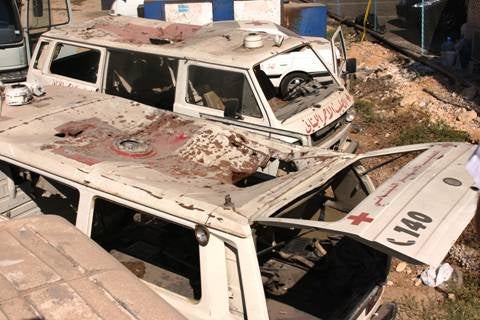 This second on-the-ground investigation of the July 23 ambulance attack in Qana, which relied on a review of physical evidence and eyewitness accounts, has confirmed and reinforced Human Rights Watch's view that the initial account of an Israeli attack on the ambulances was accurate. The attack documented by Human Rights Watch and reported by the international media was no "hoax."