Saving Lives at Sea
A two-week rescue mission with SOS MEDITERRANEE
By JUDITH SUNDERLAND Photographs by ANTHONY JEAN/SOS MEDITERRANEE
Men dangle their legs off the side of an overcrowded rubber dinghy in international waters off Libya. October 11, 2017.
Metal towers of lights reached out of the sea and flames belched into the midnight sky as the Aquarius reached Bouri Field, the largest oilfield in the Mediterranean, about 65 nautical miles north of Libya. I had been sitting cross-legged on deck of this rescue ship, listening to a group of West African men telling unbearable stories of captivity and brutality in Libya, the country they had just fled. Amadou concluded, to earnest nods all around, "God left Libya a long time ago."
The Aquarius, chartered by the nongovernmental organization SOS MEDITERRANEE to rescue migrants while heading for Europe, had motored to the oilfield to collect 36 people—mainly Syrians and Egyptians— picked up earlier by an oil company supply ship. From the bridge of the Aquarius, a spotlight revealed the tiny wooden boat, tethered to the stern of the supply ship, bobbing like a toy in the black water.
This spectacular backdrop exposes a cruel reality. The Mediterranean is the deadliest migration route in the world, with over 15,000 deaths recorded since 2014. So far this year almost 3,000 have gone missing or died, including 26 Nigerian girls in one tragic incident. That so many are willing to risk their lives is a testament to their desperation and determination to escape persecution, violence, and hardship at home. And it speaks volumes about the brutality asylum seekers and other migrants face in Libya.
Most of the women, men, and children crossing this sea are from sub-Saharan Africa, but Syrians, Bangladeshis, Moroccans, Algerians, and, increasingly, Libyans try the treacherous journey. Some are escaping violence and repression at home, including forced marriage and genital mutilation. Others are seeking economic opportunity and freedom to support their families. Many end up as victims of trafficking and abuse in Libya; the staggering level of violence there convinces many who might otherwise have stayed to flee again.
I spent two weeks on board the Aquarius, patrolling international waters near Libya. I had time to talk with the crew about the European Union (EU) policies that prompted this Mediterranean mission. While sailors kept the ship running, the SOS MEDITERRANEE rescue team and the Médecins sans Frontières (MSF) medical and humanitarian specialists from Europe, Australia and the US conducted drills to stay ready to save lives at sea.
For 10 long days in early October, I wondered whether we would make any rescues. I didn't want people to be at risk, I just wanted our ship to be there if they needed it. Then the Aquarius rescued 606 people in 36 hours.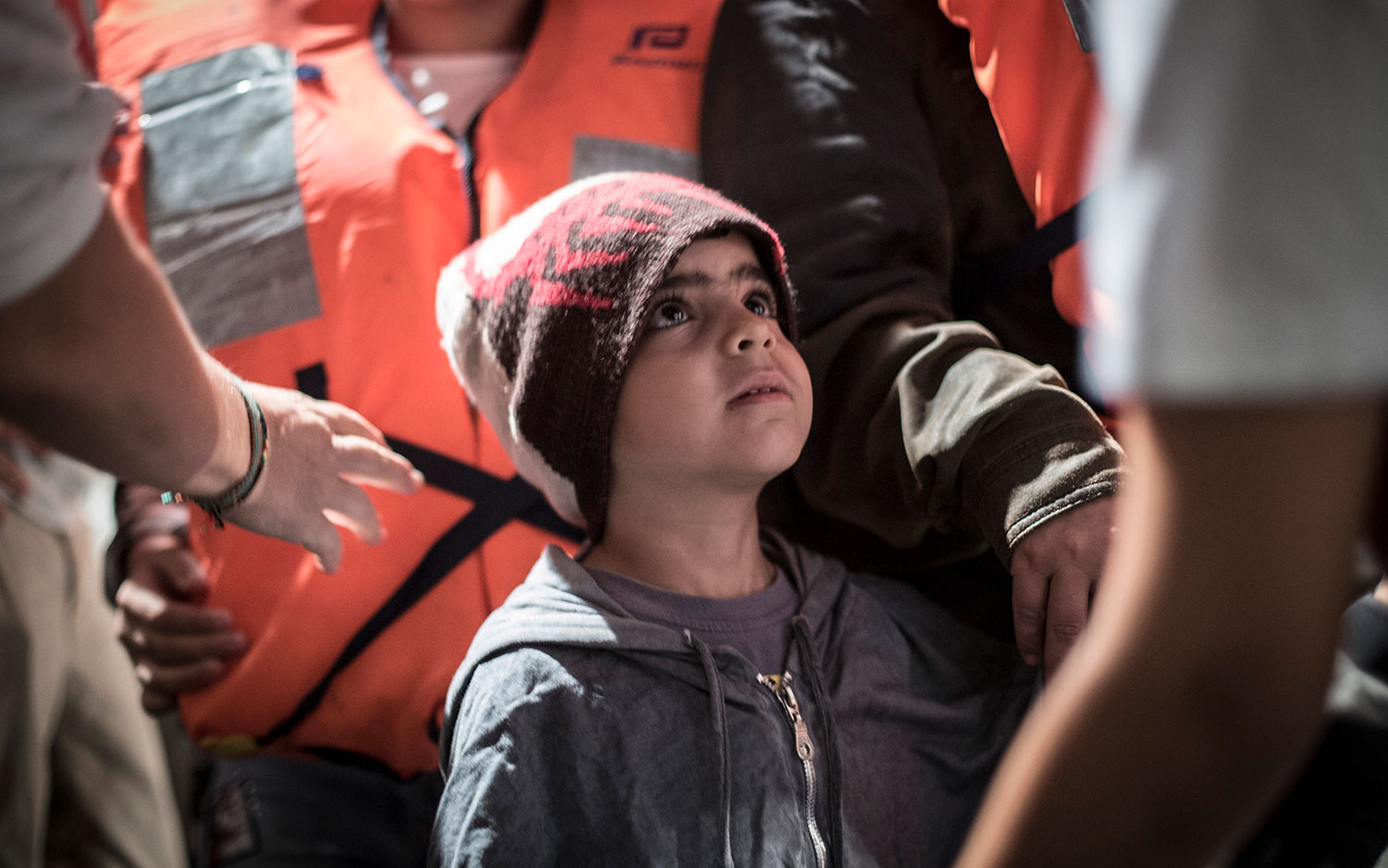 A child arrives on board the Aquarius. October 11, 2017.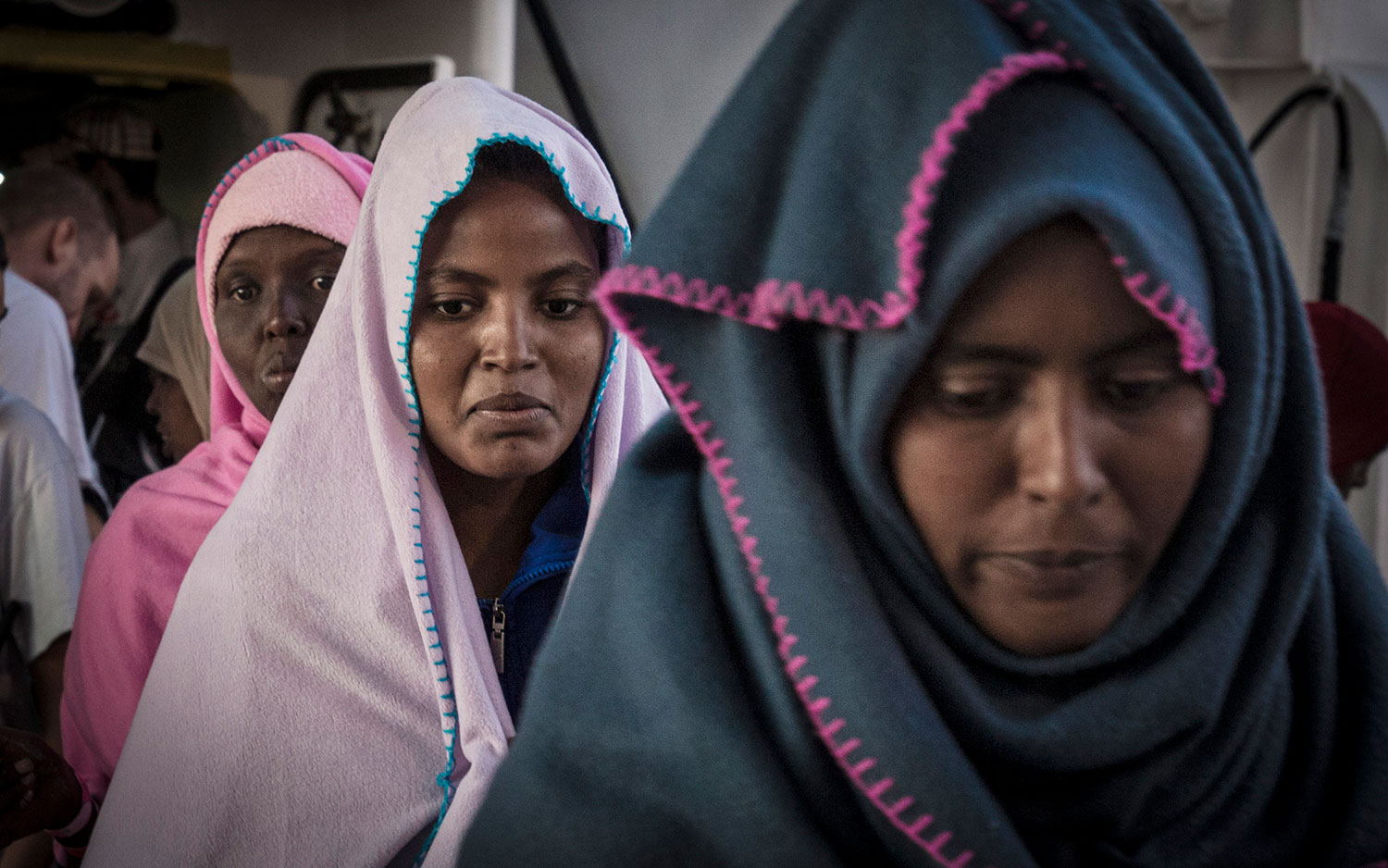 Women on board the Aquarius following their rescue in international waters off Libya. October 12, 2017.
On Patrol in the Mediterranean
Since 2014, nongovernmental organizations (NGOs) have filled a deadly gap in maritime rescue operations, patrolling in international waters close to the 12-nautical-mile line that marks Libyan territorial waters – the area where over-crowded, unseaworthy boats are most likely to be in need. In the first five months of 2017, nine NGOs performed 40 percent of rescues in the area, under the coordination of the Italian government's Maritime Rescue Coordination Center. Most European government vessels, on military or border patrol, tend to stay farther away from the Libyan coast; they perform rescues, as required by the law of the sea, but it's not their priority.
NGOs patrol in international waters, far from the 12-nautical mile line that marks Libyan territorial waters, where over-crowded, unseaworthy boats are most likely to be in need.
Between October 10 and 11, the Aquarius conducted six rescue operations, taking on board 606 new people from 25 countries.
Now Libyan coast guard forces, backed by Europe, are asserting control in international waters, even though they're unable to operate a rescue coordination center, as required by maritime law.
By the time I sailed on the Aquarius, SOS MEDITERRANEE was one of only three NGOs left out there. The NGOs had been forced by policy decisions in European capitals and Tripoli to patrol much further away from Libyan waters, and NGO staffers were increasingly concerned about security in one of the world's most volatile seas. Major groups, including Médécins Sans Frontières, the Migrant Offshore Aid Station (MOAS), and Save the Children, have suspended operations, citing security concerns and restrictions on independent humanitarian assistance in the Mediterranean.
Determined to stop asylum seekers arriving by boat after a surge in 2015, European governments enacted plans that trap people in abusive conditions under the guise of saving lives. In October 2016, European forces began training Libyan coast guard forces aligned with the Government of National Accord (GNA), one of the two competing alliances claiming to rule in Libya. In February, Italy (with EU support) accelerated efforts to empower Libyan forces to intercept boats and return people to Libya. Cruelly, they also sought to limit the NGOs' ability to perform vital search-and-rescue operations.
Click to listen

Madeleine Habib
Search and Rescue Coordinator, Rescue Ship Aquarius,
SOS MEDITERRANEE
Madeleine Habib, search-and-rescue (SAR) coordinator. Photograph © 2017 Judith Sunderland/Human Rights Watch
Italy delivered four patrol boats to the GNA, which is backed by the United Nations and based in Tripoli, and signalled its willingness to hand over coordination of rescue operations to Libyan forces and deployed Navy ships to Libyan waters to help stop the migrant boats. Then the Italian government imposed a code of conduct on NGOs – a PR effort that implied they needed managing and also restricted their ability to operate effectively. This came amid a concerted smear campaign led by anti-immigrant groups and some media, emboldened by the assertion by the EU border agency Frontex that NGOs served as an attraction, a "pull factor," for migrants. Two Italian prosecutors insinuated that NGOs were colluding with smugglers; one opened an investigation, leading to the seizure of a German NGO rescue vessel.
Soon after, the GNA declared a search-and-rescue area extending out 74 nautical miles, well beyond its territorial waters, and warned NGOs they would need authorization to patrol the area. Days later, a Libyan coast guard vessel approached a Spanish rescue ship in international waters and threatened to "target" it unless it sailed towards Tripoli. Most recently, the German NGO Sea-Watch said that it witnessed at least five people drown due to Libyan forces' "violent and reckless behaviour" during a rescue operation on November 6.
The European Union backs these forces knowing that the GNA does not control all the Libyan units operating along the western coast, and despite evidence of collusion between armed militias, coast guard units, and people-smuggling networks. A United Nations panel of experts documented extensive links between these groups in in Sebratha, Zawiyah and Zuwara, the main departure town on Libya's western coast. Since August, Italy is providing support to Libyan forces in their territorial waters.
I spoke with several people on the Aquarius who had been thwarted in previous attempts to flee Libya, though few knew who had blocked their departure or intercepted them at sea.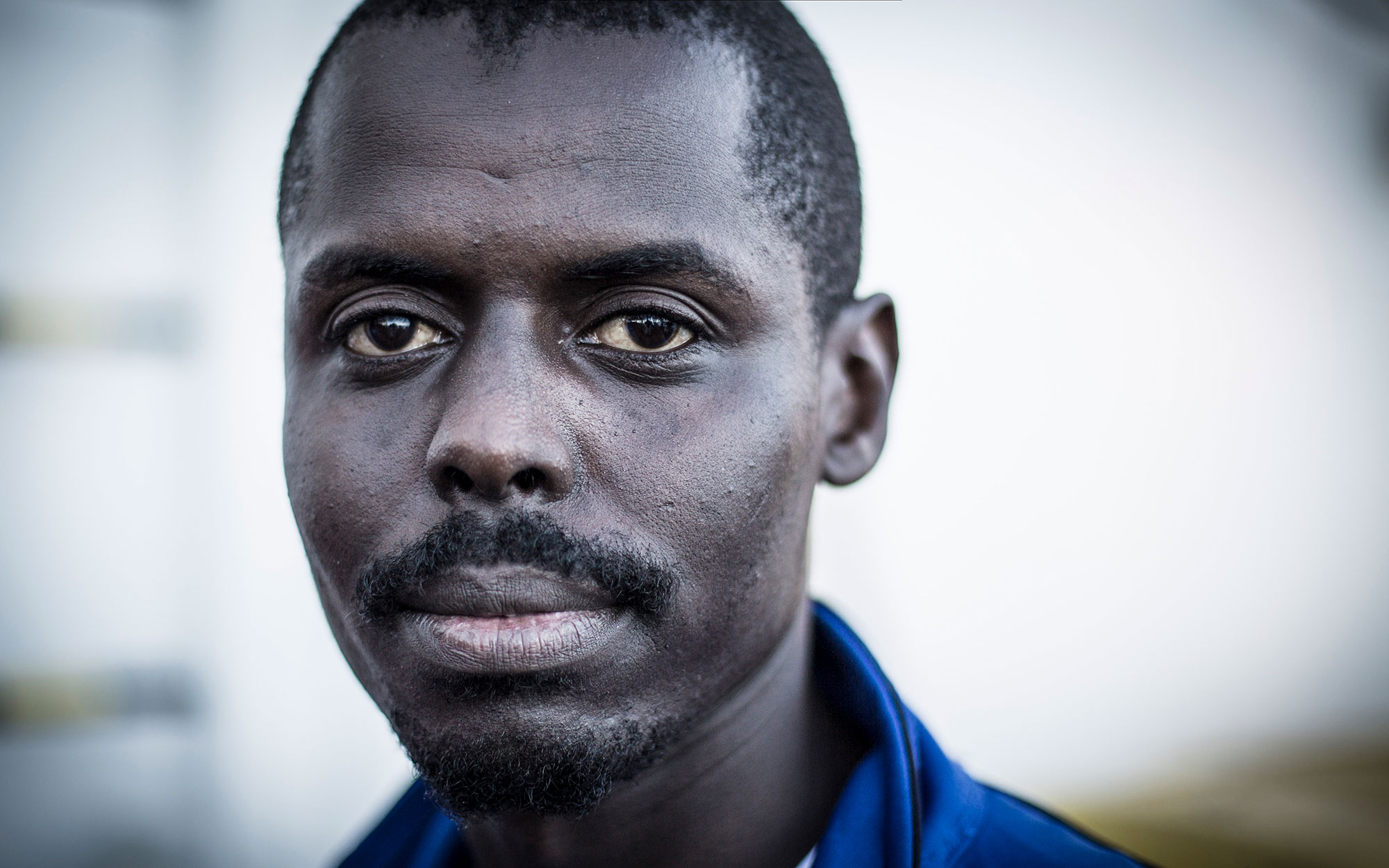 Adam, a 24-year-old from Sudan, on board the Aquarius. October 12, 2017.
Adam, a 24-year-old from Darfur, was captured on a Libyan beach in March, before his boat could launch. "The coast guard came out from everywhere and they start to shoot… We tried to get away but we can't because they're firing from everywhere. They are saying they are coast guard." He was held for 25 days in a prison – he thinks it was Sebratha or Zuwara – and was suspended upside down and tortured with electric shocks until he was able to pay for his release. When he tried again in April or May, his boat was intercepted soon after launching from Sebratha. This time, the men wore blue uniforms with "Libyan Army" in Arabic. That time, he spent a month in captivity before paying his way out.
On the Aquarius a big question was whether we would run into Libyan coast guard forces. In September, the ship performed four rescues under Libyan rather than Italian coordination. According to Madeleine Habib, search-and-rescue coordinator on board the Aquarius, the Libyan forces could not perform the rescues, so the Aquarius was allowed to take people on board and to disembark everyone safely in Italy.
Crew said rescues under Libyan coordination took more time; the Aquarius, which launches rigid-hulled inflatable boats (RHIBs) to safely take people on board, had to wait for permission to initiate the rescue. Max Avis, lead SOS MEDITERRANEE rescuer, said it was nerve-wracking to wait out there on the RHIBs near the overcrowded rubber dinghies, trying to prevent people panicking, not knowing whether those rescued might be taken back to Libya.
On October 31, two weeks after I had disembarked, the Aquarius crew was forced to stand by as Libyan coast guard forces stopped two rubber boats with almost 300 people. "Sickening," was how Habib described the experience in an email. "We could have easily taken these people to safety, instead we watched helplessly while they were returned to what we know to be cruel and inhumane detention."
There were events before and after in which European vessels stood by while Libyan coast guard forces performed interceptions in international waters.
CLICK TO LISTEN

"Our greatest concern is about the people who are trapped in incredibly abusive situations in Libya."
— Judith Sunderland,
Associate Director, Europe and Central Asia Division,
Human Rights Watch
The high risk of human rights violations upon return to Libya is precisely why it is unlawful for EU-flagged ships to take people back there. And yet in 2009, Italy struck a deal with then-Libyan leader Muammar Gaddafi to intercept migrant boats in the Mediterranean and hand them over to Libyans at sea. The European Court of Human Rights would, in 2012, confirm what human rights groups insisted at the time: this was a flagrant violation of the rock-solid international ban on sending anyone to a place where they could be tortured or ill-treated.
Italy and other European powers seem to think they can get around this legal and moral obligation by creating the illusion that the Libyans are capable of stopping the boats humanely. European policies are dressed up as building Libya's capacity to save lives and exert sovereignty, despite abundant evidence that Libyan forces behave recklessly and that those sent back face horrific abuses.
These arguments are wearing thin, and it increasingly seems like Europe is willing to be complicit in Libyan abuses. If you stitch together the laws of the sea, on refugees and human rights, you get a very simple principle: it is wrong to abet harm. It is wrong to limit rescues by capable professionals. It is wrong to give responsibility for lives at sea to people you know to be reckless and unreliable. It is wrong to help send women, men, and children to almost certain pain and suffering. It is not only wrong but unlawful for one government to aid and abet another to commit wrongful acts.
"No Mercy in Libya"
At a summit in Brussels in mid-October, EU leaders celebrated what they boasted was evidence their approach was working, with EU council president Donald Tusk announcing boldly, "We have a real chance of closing the central Mediterranean route." They pointed to a dramatic 70 percent drop in departures compared with summer 2016. There was no acknowledgement that fewer departures mean thousands more people trapped in lawless, conflict-ridden Libya.
CLICK TO LISTEN

"The way they were talking about Libya, and the way they were being treated there… It really sounds like slavery."
—Marcella Kraay,
Project Coordinator on board the Aquarius, Médecins Sans Frontières
Armed conflicts have raged in Libya since 2014, causing a breakdown in the country's economic, political, and judicial systems. Two rival authorities compete for legitimacy, international recognition, and territorial control: Tripoli's GNA and the Interim Government, based in the eastern cities of al-Bayda and Tobruk. The GNA has limited control over key institutions and only nominal control over forces aligned with it.
Over the years, colleagues and I have spoken to hundreds of asylum seekers and other migrants who faced arbitrary detention, torture, rape, and forced labor in Libya. They are subjected to this violence in official detention centers nominally run by the Directorate to Counter Illegal Migration (DCIM) under the GNA interior ministry, and in warehouses operated by militias and smuggling networks. Often, there are only two ways out: paying ransom or risky escapes. Increasingly, we hear about people being "sold" from one militia or smuggling network to another – a textbook definition of human trafficking.
Many I spoke with on the Aquarius had horror stories of brutality and forced labor in smuggler captivity.
Others had paid smugglers to get them through Libya and on to boats for Europe but were locked up and tortured until they paid more money. Mustafa, a 20-year-old Somali, spent eight months in captivity in Bani Walid and was tortured and isolated: "No visits, no interviews, no mercy. Ever," he said.
We know that official DCIM centers are places of deprivation and abuse. Wilfred, a poised, gentle man from Benin, told me police beat him and other Africans in Tripoli, took their cell phones, arrested them as undocumented migrants and locked them up in Tajoura Center, an official detention facility under the GNA Judicial Police. Wilfred said MSF medical teams and journalists sometimes visited, but that guards beat him and others who spoke with them.
The Long Arm of Europe
European powers spend tens of millions of euro to support migrant projects in Libya, mostly through the UN refugee agency and the International Organization for Migration, who face considerable constraints on entering detention sites. They need far more resources and political commitments from European and other governments to end arbitrary detention and help evacuate at least the most vulnerable.
Italy, a former colonial power in Libya with interests in gas and oil in the country, has taken the lead in forging new partnerships and policies in Libya. The reprehensible pushback policy of 2009 was redeemed in late 2013, when Italy began a vast naval rescue operation called Mare Nostrum, credited with saving tens of thousands of people in the central Mediterranean. The EU did little to fund the 100-million euro operation, or accept rescued refugees. Facing domestic and European criticism, Italy suspended Mare Nostrum at the end of 2014.
But since then it has still coordinated virtually all search-and-rescue operations in the central Mediterranean, designating Italian ports the safe place of disembarkation for tens of thousands of people—180,000 in 2016, over 114,000 so far in 2017. I watched from the bridge of the Aquarius as an Italian Coast Guard ship rescued dozens from a rubber dinghy.
Click to listen

Judith Sunderland
Associate Director, Europe and Central Asia Division,
Human Rights Watch
An Italian Coast Guard ship performs a rescue of a rubber dinghy in international waters off Libya, October 2, 2017.
Italy has been left to cope without much help from the EU, and the arrival of so many has strained the country's reception system and fuelled a political debate marred by xenophobia. EU asylum rules mean that Italy bears responsibility for processing most who reach its shores. In 2015, the EU adopted a plan meant to move around 35,000 asylum-seekers to other countries; by November 2017, only 10,456 people had been relocated from Italy to other member states.
With national elections on the horizon in the spring, the government seems determined to stem the flow at all costs, including by enabling Libyan coast guard forces to take people back to harm. In December 2016, the UN published a damning report on abuses against migrants in Libya. The UN's human rights chief, Zeid Ra'ad Al Hussein, recently said the situation had "if anything grown worse" and called European support for Libyan coast guard forces "inhuman."
The World on the Aquarius
Life on board the Aquarius changed dramatically on October 10. It started with a phone call at 4:30 a.m. from the Italian coordinator instructing the ship to assist a wooden boat with 29 people on board, mostly Syrians. A few hours later, the Aquarius rescued 144 from a rubber dinghy and was then instructed to head to the Bouri oilfield for the midnight transfer.
At around 6:45 a.m. on October 11, a crew member spotted an overcrowded rubber dinghy as he scanned the horizon with binoculars. By 9 a.m., another 130 people had been taken on board; the Italians alerted the Aquarius to two other rubber dinghies in need. About two hours later we reached them and rescued 218 people, including several with serious medical conditions. Later that afternoon, the Aquarius transferred 47 people from the Vos Hestia, the rescue ship operated by Save the Children.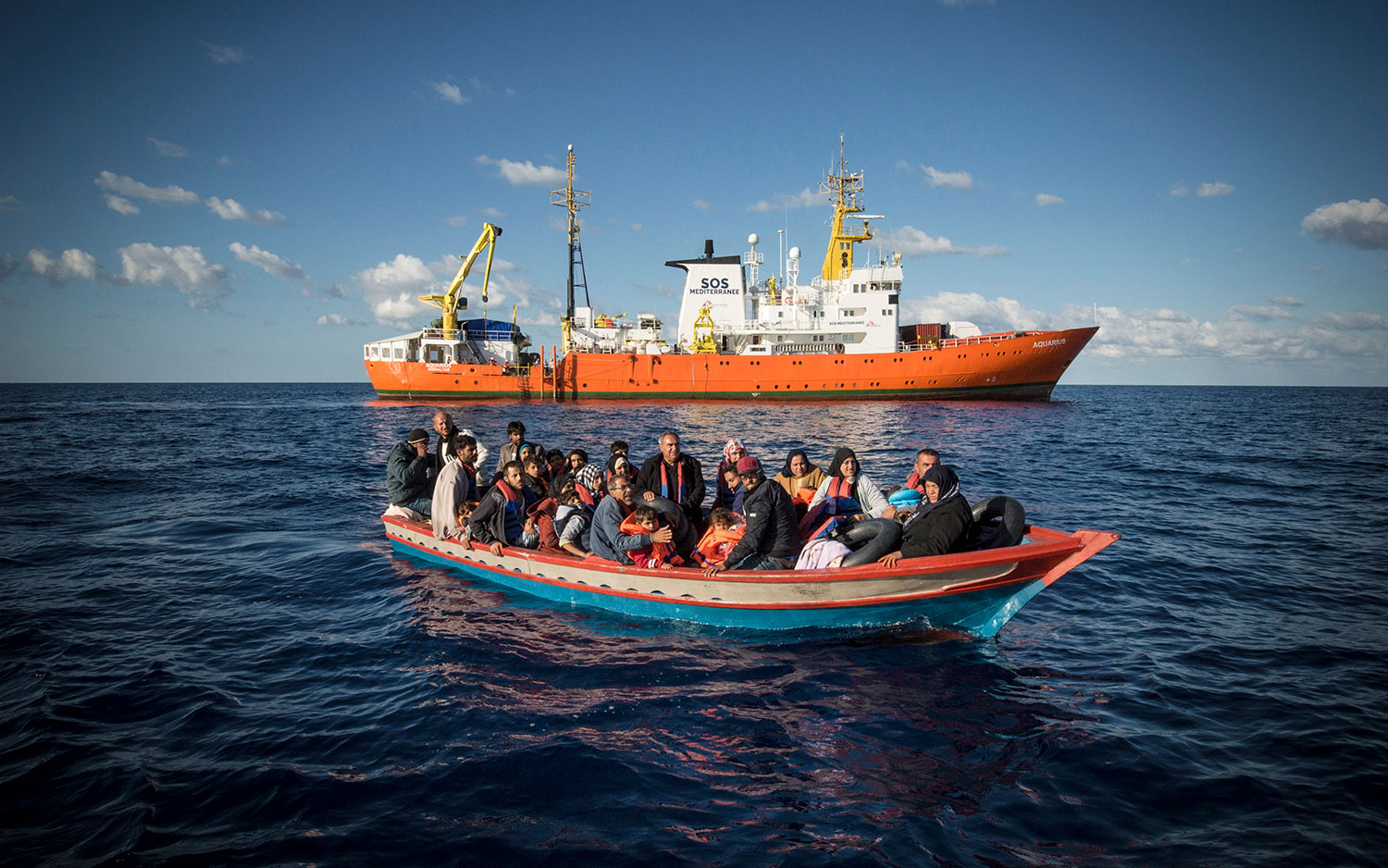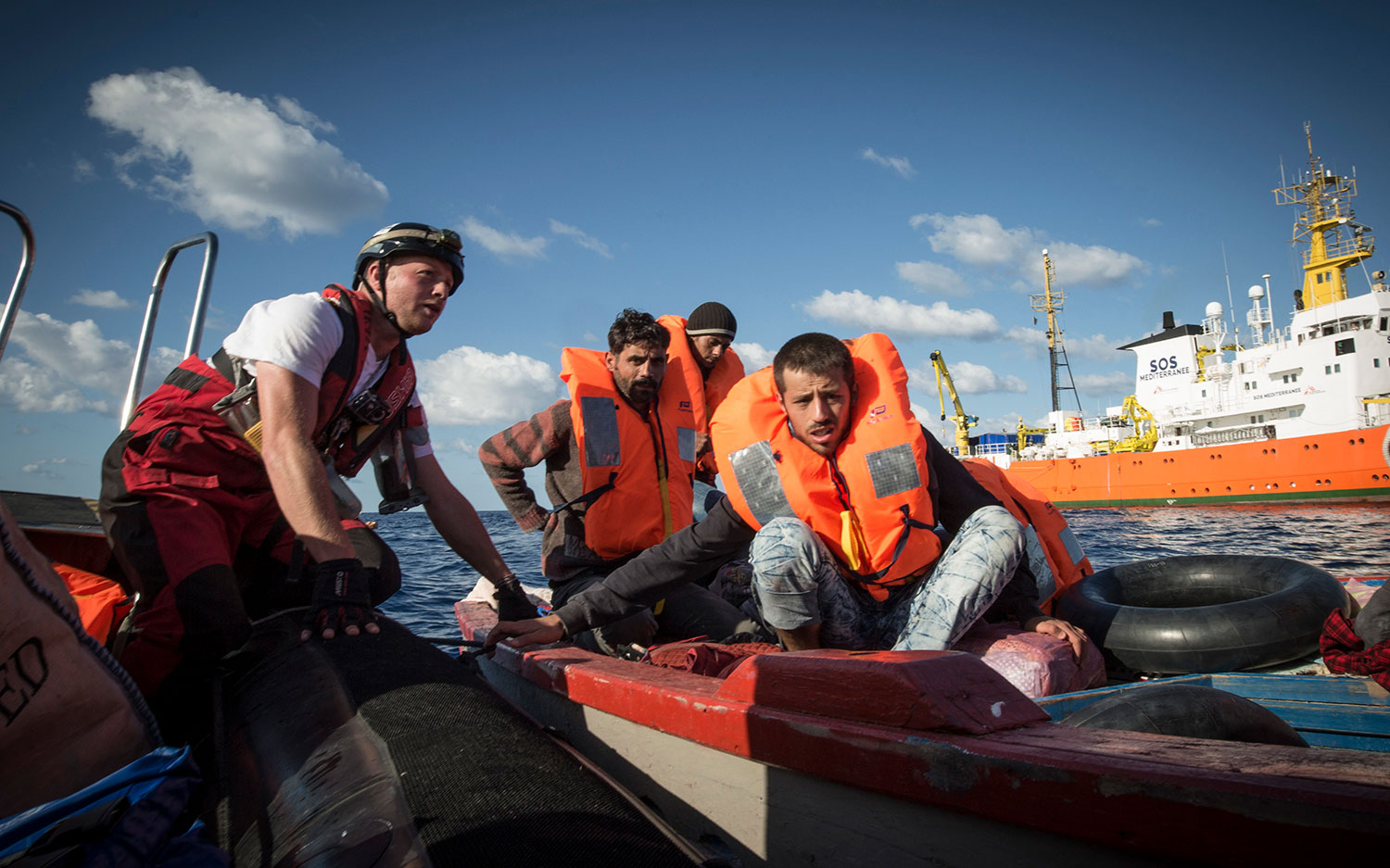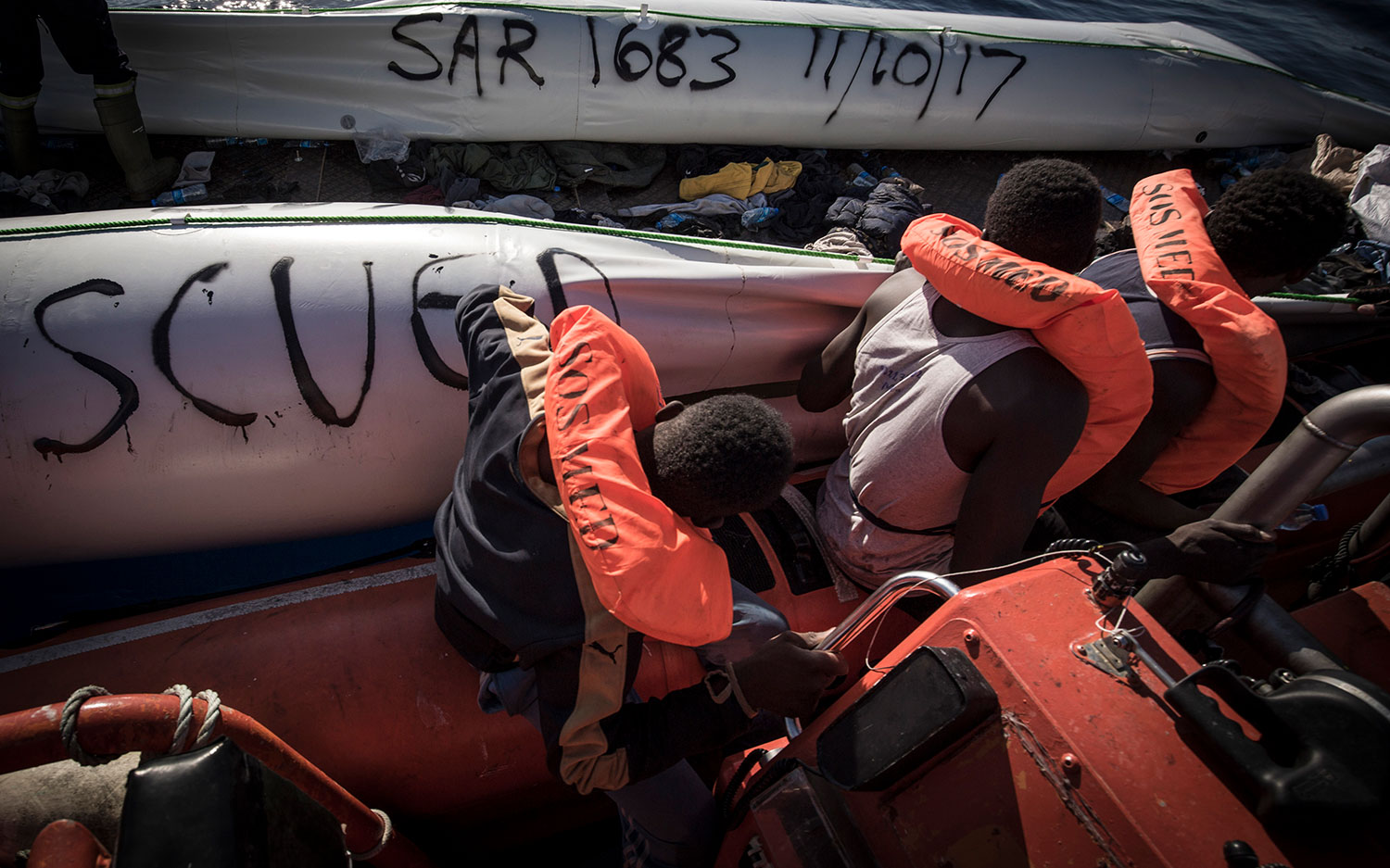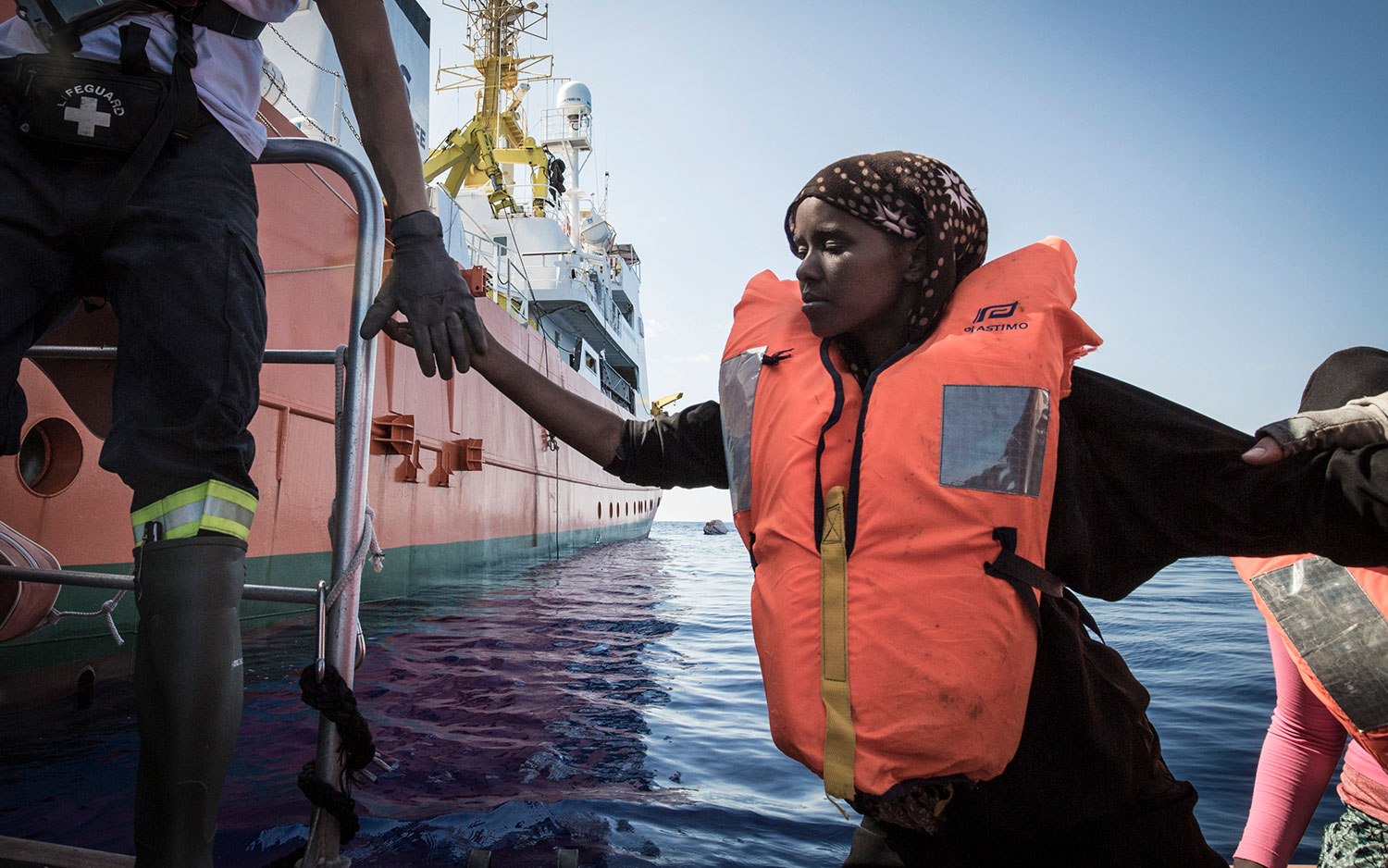 CLOCKWISE FROM TOP LEFT: A wooden boat carrying 29 people, mainly Syrians, just before their rescue and transfer to the Aquarius. October 10, 2017; A young Syrian man who was traveling with his pregnant wife prepares to get on the SOS MEDITERRANEE speedboat for transfer to the Aquarius. October 10, 2017; SOS MEDITERRANEE crew mark the rubber dinghy with the search-and-rescue (SAR) case number and date. October 11, 2017; SOS MEDITERRANEE rescuers help a Somali woman off their rigid-hulled inflatable boat (RHIB) so she can board the Aquarius. October 11, 2017.
By the end of that second day of relentless rescues, there were 606 new people from 25 countries on board.
Rescues at sea are charged with emotion. Even the most hardened are affected. It is extraordinary to witness the joy and relief of women, men, and children who realize they are finally safe. Men and women weep openly, others grin incessantly, a few fall to their knees in prayer and thanks.
Aquarius crew members help a man onto the ship after a rescue. October 11, 2017.
SOS MEDITERRANEE rescuer Dragos Nicolae puts a life jacket on a young child during a rescue operation in international waters off of Libya. October 11, 2017.
Two men hug following their rescue by SOS MEDITERRANEE. October 10, 2017.
The obviously sick are taken to the ship's clinic. On deck, the team registers all the men and checks also for medical conditions like scabies. Women and children are ushered into the women's shelter where a midwife registers them, making sure to identify pregnant and breastfeeding women. Everyone is tracked through colored wristbands – yellow for unaccompanied minors, blue for vulnerable, pink for scabies – so that MSF can flag them to relevant agencies on shore.
When I wasn't pitching in with basic tasks – handing out diapers, controlling traffic to the toilets – I navigated the crowded shelter and deck to talk to as many people as I could. So many had fled deeply distressing situations back home – violence-ridden countries like Syria, Sudan, Somalia, and Eritrea. Everyone had experienced traumatic journeys and unspeakable abuse in Libya. Some were brief, snatched conversations, giving me sketches of vulnerability and resolve rather than hard facts. Timnit (a pseudonym), a 17-year-old Eritrean boy smiling joyously as he arrived on board, told me in very broken English that he had left Eritrea when he was 15 to avoid obligatory military conscription.
Many of those rescued on October 11 were Somalis and Eritreans who had been in captivity in Libya for very long periods.
Fawzia (a pseudonym), a 17-year-old Somali, spent only two months in smuggler captivity but said others in the same camp had been there for one year, two years, even three. She said that a severely emaciated Somali woman who had fled Libya on the same boat had been in captivity for a year-and-a-half or two years. A young Somali with a kind face wandered about the ship with a vacant look apparently unable to speak. Fawzia said he had become like that following lengthy captivity and torture.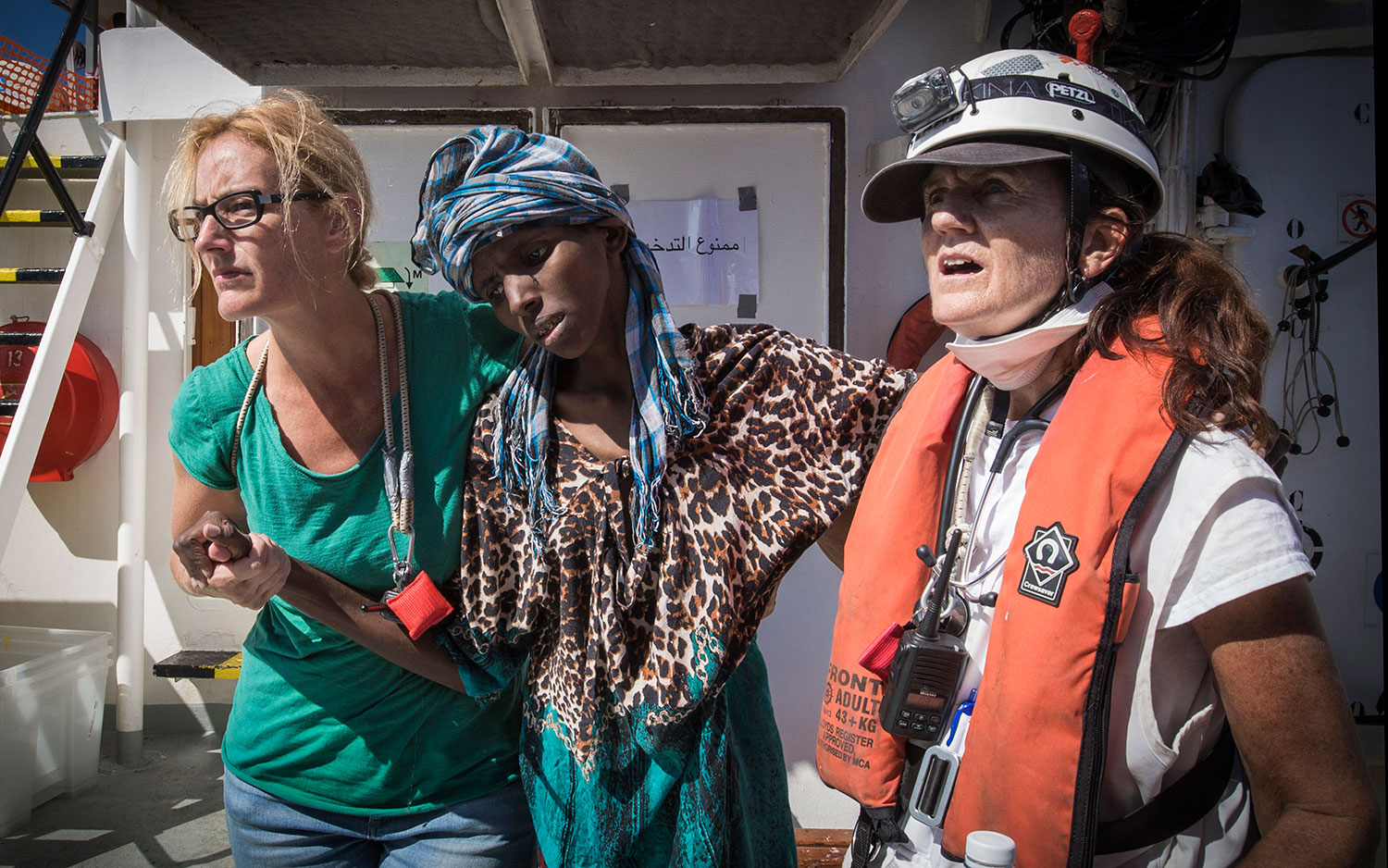 A severely emaciated Somali woman is helped into the ship's clinic. October 11, 2017.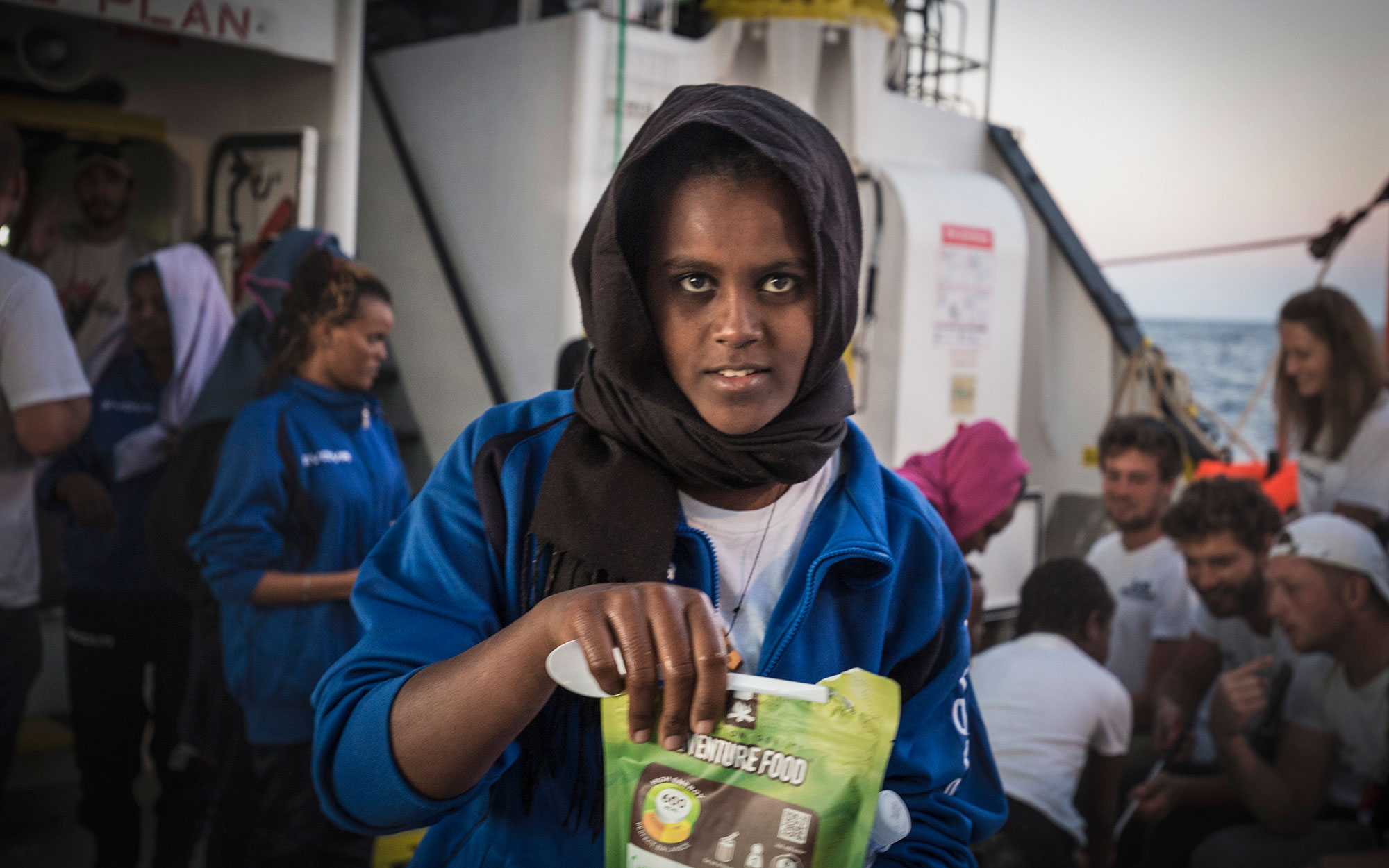 A woman holds a ready-to-eat meal packet as members of the SOS MEDITERRANEE crew chat with other rescued persons on board the Aquarius. October 12, 2017.
After she was widowed, Fawzia father forced her to re-marry, so her mother helped her to escape, pregnant, but without her 21-month-old daughter. "I want to study, I want to change my life. Because there is no good life in Somalia. Fighting, no work, no respect for women," she said.
Mustafa told me he left because, "Not a future. Always fighting. People dying." Two days after we spoke a double car bombing in Mogadishu killed at least 358 people.
I spent a lot of time in the women's shelter, a safe space, with walls papered in colorful drawings, with the midwife's private consultation room at the back. With 106 women and girls on board, it was incredibly crowded, at times boisterous, every centimeter occupied by women sleeping, breastfeeding, and talking, and children giggling. A lovely space, but not conducive to painful conversations about the specific threats that women face on these journeys.
Women and children sit in the "green room," an indoor space leading to the women's shelter. October 13, 2017.
Hanan, a Syrian woman, sits in the women's shelter on board the Aquarius while children from her family and other Syrian families play. October 13, 2017.
The MSF midwife examines a one-week old baby girl named Salimata, from Ivory Coast, rescued with her mother from an overcrowded rubber dinghy in international waters off Libya. October 10, 2017.
A few days before I embarked on the Aquarius, I spoke with Raissa (a pseudonym), a 23-year-old Ivorian woman who had recently been rescued and brought to Italy. She wept as she told me the smugglers who kept her captive for a month in Bani Walid repeatedly raped her and the other women there. They couldn't gather the money the smugglers demanded. They beat her husband to death in front of her, then poured oil down her arm and lit it. She was taken to Tripoli and handed over to a different group that gang-raped her.
None of the women on the Aquarius told me they had been raped in Libya. They all said they knew of other women who had.
Bikou, 20, said she had left home in Ivory Coast because her uncle insisted she must undergo female genital mutilation and marry a 40-year-old man of his choosing. "I want to do so many things. I want to be independent," she said. She paid to get to Sebratha, but en route in Sebha, a major transit city in southern Libya, her smuggler sold her to another group. "A Libyan tried to rape me. I told him it was better if he killed me. Maybe that's why he sold me."
She made it to Sebratha, where she was also held captive with hundreds of people. "When the lights went out at night, voices would whisper, 'Women, hide. The… boys are coming.'" Bikou said the violence she witnessed had a profound effect. "I was ashamed of my skin, I felt like I wasn't worth anything."
Fawzia said she escaped the fate of many women detained with her in a smuggler warehouse in Bani Walid. "If I hadn't been pregnant, they would have done that [raped her]. I'm lucky. So many girls, yes, but you know, they are afraid to speak." She asked if others in her group would be willing to speak with me; they all preferred not to. Shame and fear of stigma or reprisals often block women and girls from speaking out about sexual violence.
I hope, against evidence to the contrary, that these women will end up in shelters where trained, sensitive professionals will help them heal.
A Place of Safety
On October 13, the Aquarius docked at Palermo. There had been a festive air on board the night before, people singing and chatting excitedly on deck. At around 6 a.m. almost everyone was awake, looking out as the Sicilian coastline sharpened in the distance.
As the ship docked, people on board and many waiting on the busy pier applauded. Disembarkation took hours, with everyone organized into groups. Volunteers handed out clothing and food, Red Cross personnel conducted medical checks, UN refugee protection officers gave out information about applying for asylum, while Save the Children staff cared for unaccompanied minors. Then a preliminary registration with the police before boarding buses for reception centers and the full registration procedure.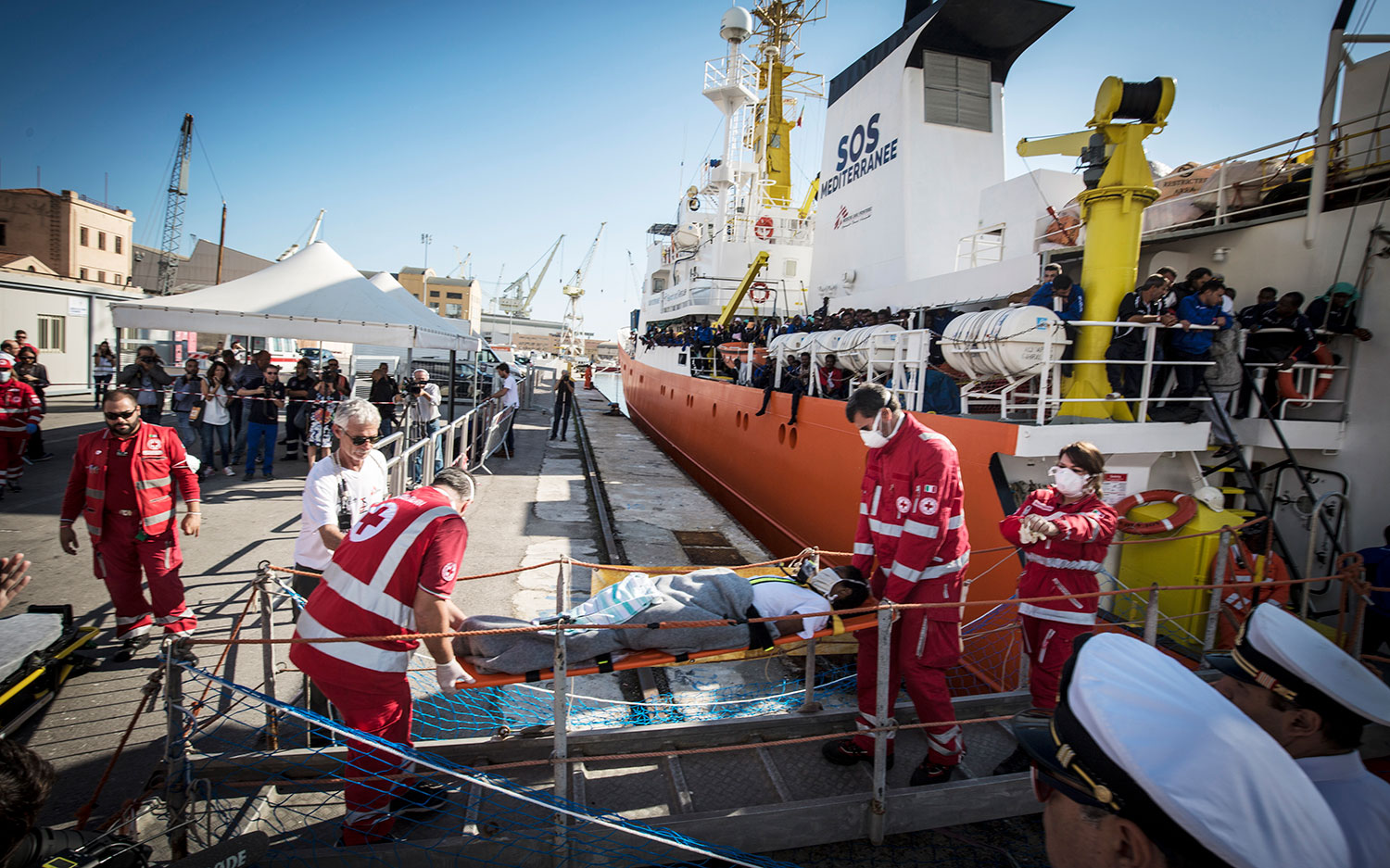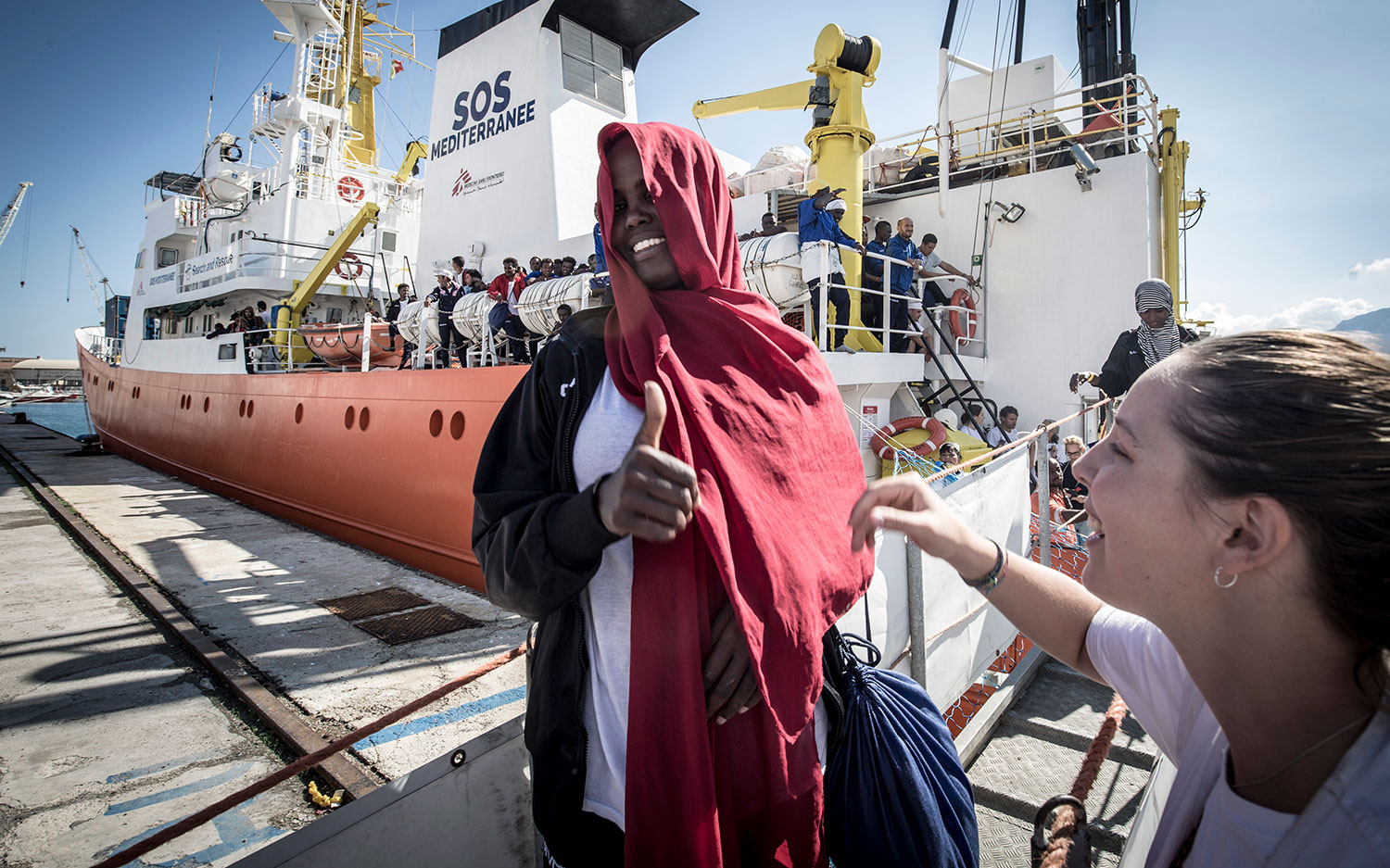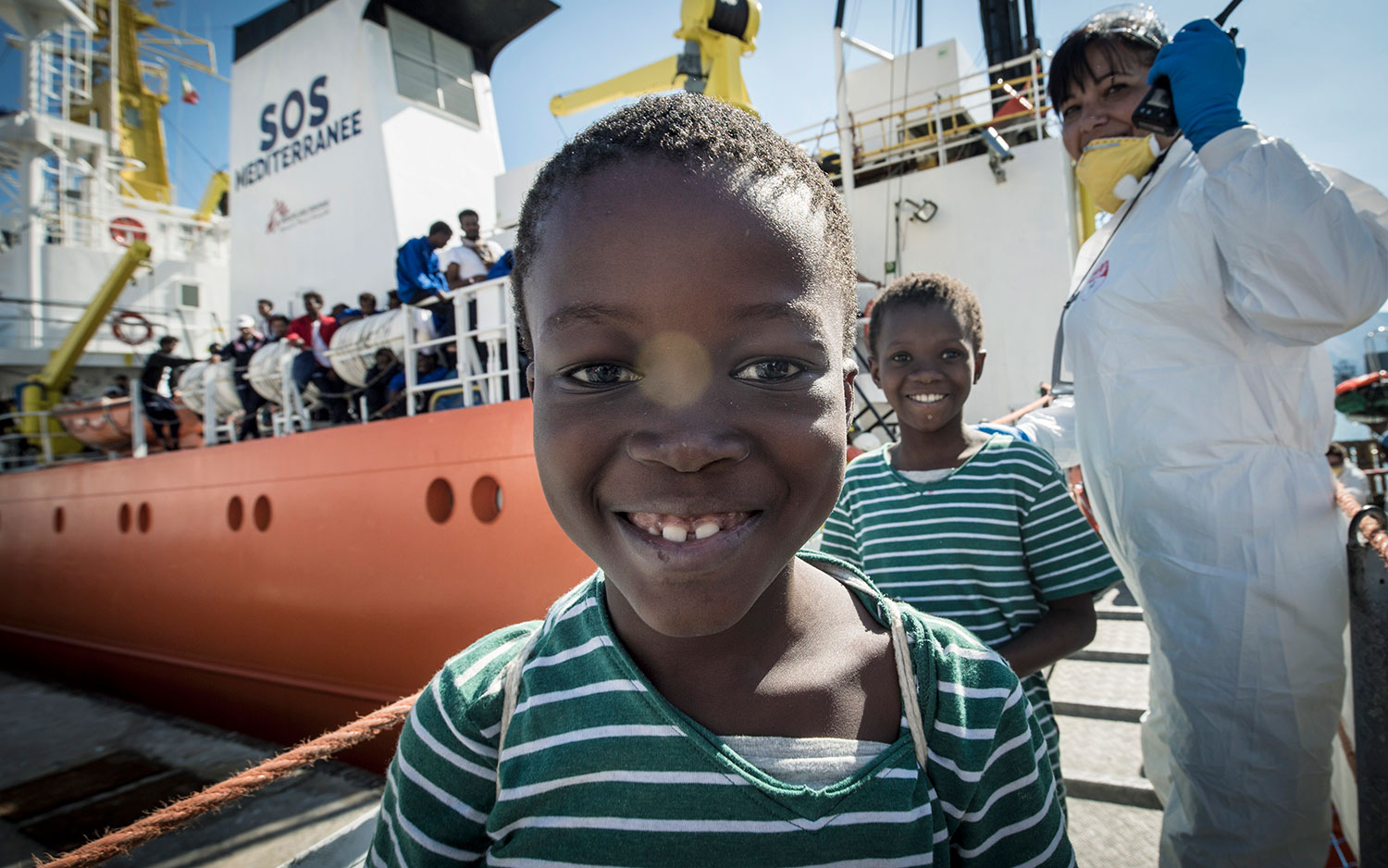 CLOCKWISE FROM TOP LEFT: People with medical conditions, including this man in a stretcher carried by Italian Red Cross workers, were the first to disembark the Aquarius in Palermo, Italy. October 13, 2017; A Somali woman gives the thumbs up as she disembarks in Palermo, Italy. October 13, 2017; Children smile as they disembark the Aquarius in Palermo, Italy. October 13, 2017.
Although they had reached safety, they still have a long road ahead. Those who apply for asylum in Italy have no guarantee of receiving the legal, psychological and integration support they are entitled to and fewer than half will probably be granted a right to stay (including for humanitarian reasons because of what they endured in Libya). Others will be ordered to leave, but more often than not will stay and join the ranks of undocumented migrants vulnerable to exploitation, in Italy or elsewhere in Europe.
Seeking Solutions
It's easy to be carried away by the intense joy of those rescued, and to be moved by their suffering at home and along the way. It's harder to come up with solutions that consider domestic political issues, anti-immigrant sentiment in Europe and the logic of international relations. I believe that the premise of human rights – respect for the dignity of every person – can help guide the way.
Saving lives at sea and making sure people are taken to a safe place needs to be the priority. NGOs doing vital work should be supported, not restricted. I saw first-hand how the Italians continue to rescue people professionally and take them to safety. Italy can't keep doing this alone; the rest of Europe needs to help.
Click to listen

Judith Sunderland
Associate Director, Europe and Central Asia Division, Human Rights Watch
Aquarius rescue and humanitarian crews commemorate the 2013 Lampedusa tragedy, when at least 368 people died when their boat caught fire and broke apart in waters off the Italian island in the central Mediterranean. October 3, 2017.
Now is not the time to hand over more responsibility for search and rescue to Libyan forces; the risk of abuse, at sea and on land, is too high. Europe should assume greater responsibility for saving lives in the central Mediterranean. Training Libyan coast guard forces is a long-term effort that should be carefully monitored to make sure it's having a measurable, positive impact and not simply a pretext for sending people back to almost certain harm.
Helping people reach Europe safely has to be a bigger part of the answer. Hanan, a Syrian refugee I met on the Aquarius, searched in vain for legal routes before she set out in a wooden boat with her husband, their six-year-old daughter and eight other relatives. She said, "We tried to get visas from Germany because all of us have close relative there. But they were rejected. We tried even to go to Turkey to live there. But also we were rejected. My family tried to get visas to Tunis, to leave Libya and live in another Arabic country… But also we were rejected. We tried to go to Sudan. But also we were rejected… We didn't find another country to go to, and we can't go back to Syria."
On Hanan's first attempt, in 2014, her brother and niece drowned. Since then they had been living in Zuwara, but decided to risk the journey again after Hanan's 16-year-old nephew was attacked and stabbed seven times.
Returning people to face violence in Libya is unacceptable. European leaders should demonstrate that the money they spend in Libya actually improves life for migrants there. The priority should be liberating people from arbitrary detention and abuse, and helping those most in need to be resettled in countries that can protect them, and to assist others to get back home safely and humanely.
We can do more to help people avoid these dangerous journeys. We can't quickly solve the war, persecution, deprivation, and abuse that drive people from home, but we can create safe, legal options for people on the move.
Listen to the full ship's logs from Judith Sunderland's time on board the Aquarius
On Board
4' 05"
Libya Captives
4' 00"
Rescues
7' 03"
To Italy
8' 40"