Human Rights Watch interviewed several victims and eyewitnesses around the country who implicated ZANU-PF supporters, "war veterans," CIO agents and soldiers in the abduction of scores of known MDC activists. Victims of the abductions informed Human Rights Watch that they were taken to military bases or "war veteran" bases and camps where suspected ZANU-PF supporters, "war veterans" and soldiers beat and tortured them, including by mutilation. Other victims reported that the perpetrators would take them into the bush or deep into the hills and mountains of the countryside, and beat and torture them before leaving them for dead.
The abductions have taken an even more disturbing turn with at least five incidents of abductions and killings of known MDC activists recorded in May. In one particularly horrifying incident, at least 12 suspected ZANU-PF supporters abducted, beat, tortured and murdered three MDC activists on May 7.
Human Rights Watch interviewed witnesses and relatives of the dead men who said that ZANU-PF supporters ambushed the car of four MDC activists as they were driving to Murehwa in Mashonaland East. One escaped, but Beta Chokururama, Godfrey Kauzani and Cain Nyevhe were pulled from the car and taken away. Chokururama's body was found on May 11 in a river in Murehwa, while the bodies of Kauzani and Nyevhe were found some kilometers away in Goromonzi district on May 17. The eyes of the victims had been gouged out, and their tongues and lips cut off.56 Human Rights Watch spoke to medical doctors who confirmed that the men were beaten and tortured.57 
On May 21, the body of another MDC activist, Tonderai Ndira, was discovered at a mortuary in Parirenyatwa Hospital, Harare. According to relatives who spoke to Human Rights Watch and witnessed the abduction, in the early hours of May 14, 10 armed men, some in police uniform, took Ndira from his home in Mabvuku, Harare and bundled him into a truck.58 One relative who identified the body of Ndira at the hospital told Human Rights Watch that his eyes had been gouged out, and his tongue and lips cut off. He also had extensive injuries to his head and face, and suspected stab and bullet wounds. Police refused to release his body into the custody of his family for an independent post mortem to be done to ascertain the cause of death. The body was only handed over to Ndira's family for an independent post mortem and burial after the intervention of lawyers, Zimbabwe Lawyers for Human Rights, who secured a court order compelling police to release the body.59
On May 22, four persons suspected by eyewitnesses to be CIO agents reportedly abducted the losing senatorial MDC candidate for Murehwa North in Mashonaland East. His body was found in the Goromonzi Mountains, Mashonaland East two days later.60
Victims and eyewitnesses from Mashonaland East, Mashonaland West and Mashonaland Central, Manicaland and Masvingo told Human Rights Watch about the establishment of torture camps throughout the provinces in the immediate aftermath of the parliamentary and first presidential elections. The camps are used to beat and torture victims to punish for voting for the MDC, to extract information from the victims on the whereabouts of other MDC activists and supporters, and finally to force victims to denounce the MDC and swear allegiance to ZANU-PF.
One 36-year-old MDC activist who was tortured at a base in Mashonaland East on April 10 told Human Rights Watch:
About 35 people came to my hut around 2 a.m. led by our village headman who is also a "war veteran." They forced their way into my hut and they dragged me, my mother and my wife from the hut and took us about two kilometers away into the nearby bush, to their base, where they begun to beat us, accusing us of being MDC. They used thick wooden sticks, open palms, clenched fists and booted feet to beat and kick us. We were finally rescued by our colleagues from the MDC who heard our cries and came to our rescue after more than an hour of beatings.61
A 32-year-old man from Uzumba in Mashonaland East told Human Rights Watch that he was taken to a base called Karimbika on April 11 where he was handcuffed and beaten for a whole night with iron rods, barbed wire and logs. He told Human Rights Watch:
At the base they were nearly 200 ZANU-PF youths. They said "You people have sold the country to white people, now we are beating you to cleanse you, after this you must repent and apologize because our country cannot go to [UK Prime Minister] Gordon Brown." I was then ordered to give them all the names of MDC polling agents and I did because I feared for my life. I was released at 11 a.m. the following day and told to go back to my house and not leave.62
Another man abducted by "war veterans" on April 11 in Mashonaland East told Human Rights Watch, "I was taken to a base at Benson Mine. There I saw uniformed soldiers, 'war veterans' and ZANU-PF youths. They beat me for an hour and poured water on me and said, 'Now you are baptized for re-admittance into ZANU-PF, your sins are forgiven.'"63
Human Rights Watch was able to establish that there were at least 11 bases in Chipinge East and Central districts—eight bases in Chipinge East and three in Chipinge Central64 in the province of Manicaland.
According to victims and eyewitnesses to the violence, Odzi Country Club in Mutare, Manicaland province was also converted into a base. The base was visited by a Human Rights Watch researcher who witnessed scores of youth militia going through marching drills.
Victims and eyewitnesses informed Human Rights Watch that financing and food for the bases in Manicaland came from the army, and "war veterans" and ZANU-PF supporters raiding villages and local communities for goats and cattle to slaughter. For example, one victim tortured by "war veterans" at a base in Makoni North told Human Rights Watch that his torturers boasted they had stolen nine of his goats and the animals of other victims to maintain their camp.65Other victims told similar stories of finding looted goods and animals at the camps or bases.
A 41-year-old man who was tortured at a base in Makoni North, Manicaland on April 16, told Human Rights Watch that youth militia, "war veterans" and ZANU-PF youths had converted former tobacco barns into torture chambers. He was taken to one of these chambers and told Human Rights Watch:
At this base called Dzete the ZANU-PF youths took turns beating me throughout the night. They put me in leg irons and handcuffs and stretched me on the ground and in that position they begun to ask me, "Who did you vote for?" I said I am a community police officer under the police forces so I voted for ZANU-PF.

They begun to beat me saying, "You are lying, we know some of you have betrayed the country." After supper they continued to beat me. They whipped me 12 times on my back. I was released at around 3 a.m. They told me that I was now an informer and agent of ZANU-PF. They said, "You must tell us who all MDC members and cadres are." I said I would do it. They said, "Now go but report back here at base at 3 p.m. with a comprehensive list of MDC names. I fled to Harare instead.66
Human Rights Watch also received information of the existence of at least five camps or bases where beatings and torture of MDC activists and perceived activists took place in Nyanga district, Manicaland. These bases were located in the following areas: close to Barenga army camp, in ward 23, at Nyanga Country Club, in ward 15 and at the Ruwange business center.67
Human Rights Watch gathered similar evidence of torture bases and camps in the provinces of Masvingo, Mashonaland West, Mashonaland East and Mashonaland Central.68
In one incident, a man from Mashonaland East province who was abducted by "war veterans" and later saved by the police, told Human Rights Watch that police took him to five bases around the province as they tried to prevent "war veterans" from carrying out acts of violence, an attempt which failed. He told Human Rights Watch:
When the police came and rescued me they took me to Dumuyera shopping center where there is a base. A war veteran leader called Masango was there beating a lot of people and trying to burn the home of a businessman. At Luckydip there was also a base there and police tried to get the war vets to disperse. There were also bases at Jani, Chitugazuwa, and Rukado. At Chitugazuwa base I saw people who were beaten so badly. I saw a lady who couldn't walk she was severely beaten up. It was around past 7 p.m. People were being brutally beaten.69
On May 13, the Herald newspaper reported that police had dismantled camps in Bikita and Gutu in the province of Masvingo.70 However, the police did not carry out any arrests or take any other action against those responsible for setting up the camps. Further, Human Rights Watch has evidence of the continued existence of other camps in Masvingo, as well as in other provinces around the country.
Some of the worst violence has taken place during "re-education" meetings conducted by ZANU-PF, "war veterans," youth militia and the army. The sole purpose of these meetings has been to coerce the population into voting for ZANU-PF and denouncing the MDC through beatings and torture. Villagers have informed Human Rights Watch that the meetings take place on a daily basis with ZANU-PF and its allies visiting areas and villages in the provinces where they believe they suffered significant losses to the MDC or where they won by very narrow margins. The posting of results outside polling stations has enabled the party to target these areas with little difficulty. Victims told Human Rights Watch that people are forced to chant ZANU-PF slogans and swear allegiance to the party at the meetings.
Local ZANU-PF officials have also used these meetings to incite people to punish those who voted for the MDC in the general elections and to ensure that in the event of a presidential runoff people would be too afraid to vote MDC again. Those who are suspected of voting for the MDC are beaten and tortured before the rest of the village.
For example, in Karoi district, covering the constituencies of Hurungwe East, West, North and Central, in Mashonaland West province, witnesses told Human Rights Watch that on April 6 winning politicians from ZANU-PF addressed party faithful in Karoi in Chikangwe Hall, and said that people had voted the wrong way, and that this must be corrected ahead of the presidential runoff election. The people gathered were told that what was about to be done was called Operation Makavhoterapapi?71
Witnesses told Human Rights Watch that Peter Tapera Chanetsa, ZANU-PF winning Member of Parliament for Hurungwe North, and Rueben Marumahoko, ZANU-PF Senator for Hurungwe, addressed ZANU-PF members on April 6 and said, "People voted the wrong way, so people must be beaten thoroughly so that no one will ever vote MDC again,"72 The first incidents of violence against MDC supporters and members in Karoi occurred the next day. Since then Human Rights Watch has documented several incidents of violence by ZANU-PF supporters against people perceived to have voted for the MDC in this area.
The army also played a role in systematically targeting village heads and chiefs and ordering them to call for meetings in different parts of Karoi. Everyone was required to attend these meetings without fail, and according to eyewitness accounts the soldiers repeated one message to the people: No one should dare vote for MDC in the event of an anticipated presidential runoff election.
Those summoned to the meetings told Human Rights Watch that all meetings in villages around Karoi and Hurungwe took the same form, chiefs and headmen summoned their people to the meeting, which was addressed by uniformed members of the army who intimidated villagers by brandishing rifles in the air and displaying live ammunition to villagers. Each villager would be given a bullet to hold in their hands, then a soldier would say, "If you vote for MDC in the presidential runoff election, you have seen the bullets, we have enough for each one of you, so beware."
According to the eyewitnesses, soldiers and war veterans used new Mitsubishi pickup trucks, many of them without number plates, but some had logos of the national electric company, ZESA.73 Such meetings were held on April 19 at Karereshe School, on April 20 at Doro, on April 21 at Chisape Scho ol and on April 22 at Kanyati and were reported to be planned for Nyamhunga, Chidamoyo and Munjinga. In a clear example of government involvement in the "re-education" meetings, eyewitnesses informed Human Rights Watch that their vehicles were refueled each morning at Hurungwe Rural District Council Offices.74
In another case from Mudzi, a 33-year-old man told Human Rights Watch of his ordeal at the hands of ZANU-PF supporters on April 11:
At around 6 p.m. ZANU-PF members called for a ward meeting and one ZANU-PF member came to summon me to attend the meeting. He said, "You are wanted at the meeting, you have to answer for your crime." At the meeting the ZANU-PF ward chairperson said to me, "We know you voted MDC so now we shall proceed to punish you. You must know that in the coming runoff election no one will vote for MDC in the entire Mudzi area,"… they beat me on the buttocks using thick sticks and iron bars. During the beatings I fainted two times. I was beaten so much that I sustained a huge open wound on my left buttock.75
Six Deaths During a "Re-education" Meeting in Chiweshe
The brutal nature of the ZANU-PF "re-education" meetings was seen in Chiweshe, Mashonaland Central on May 5 when ZANU-PF officials and "war veterans" organized a meeting at Chaona primary school and brutally beat and tortured over 70 villagers, leaving six men dead. Human Rights Watch spoke to eight victims of the violence and several relatives of the dead men.
On the night of May 4, villagers in Chiweshe noticed groups of people being trucked to Chaona Primary school in the center of Chiweshe. The villagers identified the people as being youth militia from Border Gezi camp in Mt. Darwin, Mashonaland Central (they wear a distinctive olive green uniform) as well as ZANU-PF youths and "war veterans" from surrounding villagers. Up to 300 of these people arrived at the primary school. An announcement was then made that on the following day people should go to a meeting at the primary school. In the early hours of May 5, ZANU-PF youths went knocking door-to-door calling people to attend the meeting. When the people got there they were addressed by a person who was identified as Retired Major Cairo Mhandu, a former soldier and "war veteran."
The villagers told Human Rights Watch that Mhandu told the crowd, "This community needs to be taught a lesson. It needs re-education. We want people to come forward and confess about their links and association with the MDC and surrender to ZANU PF. This is what we want." No one came forward. After a brief pause one of the ZANU-PF youths grabbed a 76-year-old woman and made her lie in front of the crowd on her stomach. They said, "We will beat this woman if people don't come forward." They started beating her with logs on her buttocks. After 10 minutes, three men came forward and said they were MDC just to stop the youth from beating the woman. Cairo Mhandu said this is what he wanted, more people to come forward.
The ZANU-PF supporters also had a list of about 20 MDC activists who they called out. They proceeded to beat these people and demand that they each reveal the names of at least five other activists. In pain, the victims would shout out the names of any people and they too would be called out and beaten.
The ZANU-PF youths and supporters would bring forward three or four people at a time. They tied the legs of the victims and handcuffed their hands, before forcing them to lie prone on their stomachs. Three ZANU-PF youths with thick sticks would stand on either side of the victim and take turns beating the victims on the back, back of the legs and buttocks. The ZANU-PF youths and supporters either stripped the women naked or down to their underwear before beating them. In some incidents the perpetrators tied barbed wire around the genitals of the men and tied the other end of the wire around logs. The perpetrators then forced the men to use their genitals to pull the logs as they continued to beat them. Several men sustained serious injuries to their genitals as a result.
The beatings continued all that afternoon and evening. More than 70 people were beaten, of which 30 were hospitalized at Howard and Concession hospitals in Mashonaland Central, while others were transferred to Avenues clinic in Harare. The beatings only ended that evening when five police officers arrived. The 300 assailants dispersed but police caught and beat one of the assailants before releasing him. To date no arrests have been made.
Six men subsequently died from the horrific beatings and torture that took place that day. Two of them, Alex Chirisiri and Tapiwa Meda died on the spot after the beatings. Joseph Madzuramhende died later that day. Geoffrey Jemedze and Wilson Emmanuel died at Avenues clinic on May 9, Jemedze from renal failure. Fushirai Dofu died on May 10 at Howard hospital.76
A government doctor who spoke to Human Rights Watch confirmed that three of the men who died had severely mutilated genitals, beaten and swollen testicles, one had crushed testicles. Many of the men he treated had damaged genitals. The doctor also confirmed that many of the women beaten on that day sustained severe injuries to the buttocks requiring skin grafts.77
Killed for Owning a Radio: the Death of Joseph Madzuramhende
The relatives of Joseph Madzuramhende, one of the three men who died on May 5, told Human Rights Watch about how he was beaten and tortured. According to relatives who witnessed the beating, when the six ZANU-PF youth started beating Madzuramhende they made him lie on his stomach like the others but later turned him onto his back, and stuffed a cloth in his mouth to prevent him from shouting out. They allegedly said to him: "Your particular crime is that you have a radio at your place and other villagers were coming to your home to listen to Studio 7 (Voice of America program which airs in Zimbabwe) and to listen to election results and this is your crime."
They took barbed wire and tied his genitals and tied the other end of the wire to a log. They said: "We will beat you until you move the log with your penis." He attempted to do so and the wire was cutting into his genitals as they continued to beat him. They then took another log, put his genitals on the log and begun to beat the genitals. Later they tied another wire around his genitals and started dragging him until a part of his genitals came off. After the beatings Madzuramhende's relatives put him on an ox cart. He was still talking. He died in his home at around 8 p.m. that night in a leaning position because he couldn't lie on his stomach or his back due to his injuries.[1]
A 33-year-old woman, an MDC supporter, told Human Rights Watch about how a group of "war veterans" beat her with logs and sticks on that day. She sustained serious injuries to her buttocks:
The chief called out the name of me and my husband and we were made to stand to one side with other people called from the list. We were told that we had been called because we were from the MDC. We were taken aside and beaten with sticks in front of everyone. They made us lie down and tied our hands with handcuffs and beat us with thick sticks. They were counting as they beat us and taking turns. I was beaten 115 times on each buttock. They were many of them. I knew some of them.78
ZANU-PF supporters and "war veterans" have created "no-go areas" across broad swathes of the countryside in the provinces of Mashonaland East, Mashonaland West and Mashonaland Central to prevent victims from leaving the provinces, and to prevent foreign journalists and local human rights organizations from reporting on the violence. They have placed barricades across roads leading to villages hit by the violence making the areas inaccessible.
Thousands of people are unable to flee the violence and have been left without food, water or shelter. In a deliberate attempt to punish those it suspected of having voted for the MDC, ZANU-PF supporters and their allies have blocked and threatened victims of violence in need of medical treatment.
For example, in mid-April, a man from Mudzi, in Mashonaland East told Human Rights Watch that he received severe wounds to his buttocks after being beaten with logs by people he believes were ZANU-PF supporters. His attackers told him that if he went to the hospital for treatment, they would come back and kill him. By the time he managed to find medical treatment in Harare four days later, his flesh had begun to rot.79
Medical personnel in Harare informed Human Rights Watch that the problem of victims presenting with infected torture wounds had grown worse as threats against doctors increased and roadblocks set up by ZANU-PF prevented people from accessing treatment in the capital.80
Doctors and medical personnel in the provinces of Mashonaland Central, Mashonaland West and Mashonaland East report that ZANU-PF supporters and "war veterans" have routinely intimidated and threatened them in an attempt to prevent them from treating victims of violence in the provinces. One doctor informed Human Rights Watch that three of his colleagues had fled Mutoko district in Mashonaland East after receiving threats from ZANU-PF supporters and "war veterans."81
The acute lack of medicine and medical supplies in rural hospitals means that victims who cannot access treatment in Harare are left untreated in the rural hospitals. Medical personnel in Harare also informed Human Rights Watch that "war veterans" and suspected CIO agents had prevented ambulances from Harare from picking up victims hospitalized in the provinces of Mashonaland East, Mashonaland West and Mashonaland Central on at least seven occasions.82
In urban areas, particularly in and around Harare, incidents of political violence have taken two particular forms: First, indiscriminate beatings of people by police and army following the imposition of an unofficial curfew in some of the high density suburbs. Second, a targeted campaign against known MDC activists that mainly takes place at night and is carried out by armed and uniformed members of the army aided by ZANU-PF supporters. Armed and uniformed soldiers frequently use supporters of ZANU-PF as informants to compile lists of names and addresses of known or perceived MDC supporters. The soldiers and ZANU-PF supporters then raid the homes of known MDC activists at night, and abduct and beat them in the bush on the outskirts Harare.
For example, an MDC activist from Dzivaresekwa Extension in Harare told Human Rights Watch that on April 20, 12 armed soldiers in uniform came to his house at 3 a.m. while he was asleep. They beat his private security guard who was guarding his cars in the yard, before proceeding to beat his 18-year-old son. He explained to Human Rights Watch what followed after the soldiers found him:
They handcuffed me, hands at the back, then they dragged me naked to their waiting truck, they blindfolded me (using my t-shirt) and took me to their truck. In the truck they ordered me to lie on the floor of the truck, face down, and they used my body as a foot stool, they all put their feet on my body and the truck drove away, l had no idea where to since l was blindfolded.

After some time the truck stopped and l was dragged out of the car and they began to beat me using batons and chains, they beat me for more than 30 minutes, all over my body, in my hands, on the soles of my feet, on buttocks, everywhere, and the chains ripped flesh from my body and left open wounds, l was bleeding profusely. When the soldiers were beating me they said, "We are beating you because you belong to MDC and you used your lorry to ferry MDC supporters to rallies in this area." This was true; l had used my lorry to carry MDC supporters to meetings and rallies during the campaign period in March. After beating me severely, they removed the handcuffs and left me in the bush, still with the blindfold on.83
In the immediate aftermath of a "stay-away" organized by the MDC on April 15, in protest of the delay in the release of the presidential election results, the violence in the urban areas of Harare got worse.
Evelyn Masaiti, MDC MP for Dzivaresekwa where some of the worst violence in Harare took place, told Human Rights Watch:
People were being beaten on Wednesday, April 16 at night accused of barricading roads and organizing the "stay-away" by soldiers who came in a truck and attacked everyone at the Dzivaresekwa 4 shopping center including vendors and children. Around 20 people were attacked. Soldiers were in military regalia and in an army truck. Some were in police uniform.

In the early hours of April 18 a ZANU-PF official identified where an MDC security officer stays. They, the army, police and ZANU supporters beat him up and forced him to show the homes of other MDC activists including the ward 39 chairperson Mr Chipindu. It was early morning. They beat him up and forced him to chew and swallow my [campaign] posters. The people who went to his home told me that there was a lot of blood at his home.

Then they went to other MDC activists homes and started beating them up. If they couldn't find the activists they would beat up their families. Another group of MDC activists from Dzivaresekwa 4 were taken and are now in police custody. As they were being beaten they were being accused of barricading roads and burning a bus (which we believe had an electrical fault). The man forced to chew my posters is also in police custody. There is a presidential guard camp based in Dzivaresekwa. They are trying to intimidate people and instill a lot of fear so that when there is a runoff people won't vote or will vote ZANU-PF.84
In Chitungwiza, Harare, 56-year-old Arthur Taderera, Chitungwiza Residents Association Chairperson and chief election agent for an MDC MP, was assaulted by soldiers on April 16 around 7 p.m. in the evening. He told Human Rights Watch of his ordeal:
I was driving towards St. Mary's in Chitungwiza when l noticed four soldiers in uniform beating up somebody on the side of the road. He was lying down helpless as they beat him. I slowed down to investigate but was stopped by one of the soldiers who had a gun. He then ordered me out of the car at gunpoint. Without warning the soldiers started beating me with batons, booted feet and a fan belt. They beat me on the buttocks. Now my buttocks are heavily swollen and blackened.

Another group of 10 soldiers came and accused me of being an MDC member and belonging to Tsvangirai. As I was being beaten they were ransacking the car. I had a letter which Tsvangirai wrote to the business community in my car and that is when it became worse. They kept beating me. They beat me for 20-25 minutes. One soldier, who identified himself as Black Jesus did much of the beatings. They said "You belong to Tsvangirai and you want to give the country to the whites." They said "We will murder you." They were boasting of being given a three-day assignment to "bring hell" to the people of Chitungwiza.

I didn't report to the police. Today I heard some guys had been beaten up around C section in Chitungwiza by soldiers. They bragged about how they can murder, torture and rape. They only let me go when they stopped another car and started beating the drive that car. I did not bother to make a police report because l know from experience that no action is ever taken, in fact l feared the police would end up arresting me.85
In a clear indication of the systematic and targeted nature of the violence, in the Glen View high density suburb of Harare, uniformed and armed soldiers moved around with a list of suspected MDC activists at night. At one house they arrived around 2 a.m. on April 18 and asked for a man who was on their list but was not at home. When the man's younger brother opened the door after the soldiers threatened to break it down, he found three soldiers pointing their guns at him. He told Human Rights Watch:
One of the soldiers began to beat me on the shoulders with a baton. l was dragged to the front of the house where three other men were lying on their stomachs after they had already been beaten. The leader of the soldiers asked me if l was employed. l said, "yes, l am a lorry driver." They said, l know my crime, and must state it, already the soldiers had seen Tsvangirai's portrait on the wall, so l confirmed that l support MDC. The soldiers said someone had informed them that me and my brothers support MDC, they had received a mobile text message indicating that we are MDC members.

I did not know my assailants, but only know that they were armed and in army uniform, and drove an army truck. Two people were taken away by army, l fear for their lives. I did not make a police report, it's a waste of time, they take no action, and otherwise they may arrest me.86
At times the violence was random and indiscriminate but nonetheless targeted at neighborhoods suspected of supporting the MDC. For example, on April 17 soldiers descended on a popular nightclub in Warren Park and beat up everyone in the night club. One of the patrons narrated his ordeal:
Around 2 a.m. on Thursday 17 April 2008, a group of uniformed soldiers came into Club M5 in Westlea, Warren Park and ordered the DJ to switch off the music. All the people in the night club were ordered to surrender their mobile phones and other personal effects such as handbags and wallets, and then commanded to lie down on their tummies.

For the next three hours we were beaten up. The soldiers used the butts of their guns to randomly assault us. The victims included a patrons, staff and a dancing group called Malaika. The soldiers wore hoods over their helmets to cover their faces. They accused us of supporting the opposition Movement for Democratic Change and celebrating their victory in the March 29 elections. We were accused of selling the country to the West. Ladies were beaten more than the men. Because they were skimpily dressed the dance group was accused of being in the process of making pornographic material for use to please the whites.87
In addition to the violence and torture perpetrated by the army, the police also embarked on a series of arrests of hundreds of MDC activists and supporters. In the immediate aftermath of the "stay-away" on April 15 police arrested more than 100 MDC activists.
Human rights lawyer Tafadzwa Mugabe, who defended many of the accused, told Human Rights Watch:
People are being beaten up and taken to the nearest police station on charges of disorderly conduct or public disorder. Some people have been released and fined while known MDC activists have been detained. A bus was burnt on April 15. This is the excuse the police are using for the arrests. Police descended on Warren Park with the assistance of ZANU youth and they picked up MDC officials. They even picked up the relatives if they couldn't find who they were looking for. All these people have been put together and are now being charged with attempted murder. Our understanding is that the bus is supposed to have developed an electrical fault.88
On April 25, more than 40 armed riot police raided the headquarters of the MDC in Harare and arrested 250 people who had fled violence in the rural areas and had taken refuge in the building. Police accused some of them of carrying out attacks against ZANU-PF supporters in Mashonaland East.89
The ongoing violence has led to the internal displacement of more than 3,000 Zimbabweans around the country. Human Rights Watch believes that ZANU-PF is deliberately displacing thousands of people from their homes in the rural areas both in an effort to change the political landscape of these areas and to prevent MDC supporters from exercising their rights to vote during the presidential runoff. The ruling party appears to have orchestrated this mass displacement to ensure that those affected by the abuses cannot return home. It has done so through a campaign of beatings, burning of huts and homesteads, the deliberate slaughter of livestock, and the looting of property.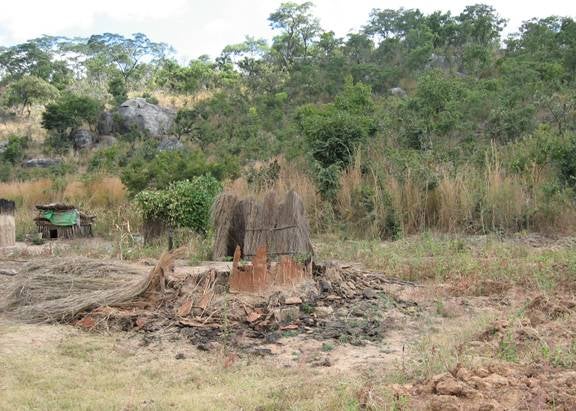 Civil society organizations and victims and eyewitnesses from areas affected by the violence inform Human Rights Watch that hundreds of people are now living in the bush, grouping together for security at night.90 Human Rights Watch researchers visited the burnt homesteads of several MDC activists and those perceived to have voted for the MDC in Mashonaland West and Mashonaland Central provinces.
In Karoi district, reports from local partners and victims indicate that more than 600 people were displaced by the violence in April.91 In Harare more than 200 people sought shelter at MDC Headquarters at Harvest House after escaping violence in rural areas across the country in April.92 By May 21 there were 350 displaced persons at Harvest House. In Manicaland more than 500 people were displaced and sought shelter at the MDC provincial headquarters in Mutare and were later moved to various safe locations around Mutare.93 Victims in Harare informed Human Rights Watch that hundreds of other people had fled into Mozambique from Mashonaland East and from Manicaland.94  Further violence in May saw the number of displaced reach more than 3,000.95
A 22-year-old man from Mudzi, Makanjera Village, Mashonaland East told Human Rights Watch that on April 11 at 9 p.m., several ZANU-PF supporters broke into his shop at Makanjera shopping center, attacked him and took property from his shop:
There was a knock at door. I did not answer. A man and a woman broke the door and dragged me out. They used burning grass to burn my hands and face. They started beating me with wooden logs.  Outside, two women and six men in ZANU-PF attire were waiting and accused me of "selling out," of being a member of the MDC . The women then entered the shop and began to loot all stock, they also broke all shop windows and took all wares from shop.

I know some of those who attacked me; it was a team of father and his two sons who l know very well, but I do not know the women. A police car passing by stopped and took me and four others to Kotwa hospital. At Kotwa Hospital we were not treated, we were simply transferred to Harare on the same day. I suffered a broken left hand, four broken fingers on my left hand on four different places, and on my right hand l broke an index finger and thumb, and have burn wounds on both hands. I am too scared to go back home now.96
In another example, Mapengo Mapengu, campaign manager for the losing MDC MP candidate for Mutoko South constituency, Mashonaland East lost all his property when ZANU-PF youths destroyed his home. He told Human Rights Watch:
We campaigned and went for elections. Soon after the elections we started receiving threats. On Saturday [April 13] I drove to my rural home and 10 minutes after a group of more than 300 ZANU youths and "war vets" came to the gate. They came to the first gate and placed barricades of stones and trees. Some friends of mine were in my home with me. They started stoning us. We waited two minutes. They approached the second gate. I got inside my house and got my rifle 303 to defend myself. I shot the first bullet in the air to clear them but they didn't. As I was planning to shoot a second time I was hit by a stone from a catapult. I shot twice more and they started running away.

My leg was injured from the stoning. We went to my friend's home in village 93 and we rested there. My friend later went to my home to collect my truck. When he got there he found my mother was severely beaten. My vehicle was destroyed. My home was destroyed with iron bars. The window panes were broken. The fridges, bedroom suite, wall unit, kitchen unit, were all destroyed. I had more than 70 pigs and only 33 are now left but they killed the rest. Yesterday I received a call from the police and they told me that the youth were taking animals from my home. The police are scared. My money was stolen. My mother is in great pain and she is with my sister.97
A 54-year-old woman from Makoni North in Manicaland province told Human Rights Watch:
On 16 April ZANU-PF youths came to my house at 12 noon and began beating me and family for voting MDC because my husband is an MDC village chairman. They beat me and my whole family with wooden logs. They broke my left foot, six of us, my husband, son and his wife, daughter and my young sister. Our homestead was burnt down; three huts in total were burnt down. We reported at Mayo Police Station at 2 p.m., police came at 3 p.m. on 17 April.98
The woman's 33-year-old son continued the account:
l fainted during the beatings. I was also struck on the forehead by a stone fired from a catapult by one of the ZANU-PF members who came to beat us. We know the perpetrators, they are ZANU-PF, they were over 200 of them who came to beat us, they shouted to each other, "Surround the homestead!" I ran into my hut to get an axe to defend my family, we tried to fight them and drove them back for about 200 meters, my wife ran to police—who did not respond, saying they did not have a car to come to our rescue, although it is a walking distance to our home. Soon, they [ZANU-PF members] overpowered us and begun to beat us. We lost cash and a mobile phone. They burnt down a bag of tobacco, a ton of maize and family blankets were burnt to ashes. We as a family do not know where to start now, we lost everything. I sustained three open wounds, catapult inflicted, on forehead, left leg and left hand, also my right hand was broken during the beatings.99
A 41-year-old man from Makoni North in Manicaland told Human Rights Watch:
More than 20 ZANU-PF youth came and caught me and handcuffed me and begun beating me. I was taken to their base. A few of them went to my home and burnt down my kitchen and destroyed my seven-room house. Everything was burnt. My wife and children all run away when I was captured and I do not know where they are. I must go and look for them.100
The overwhelming majority of attacks documented by Human Rights Watch were being carried out by ZANU-PF and its allies. However, MDC activists have been implicated in a few attacks involving the burning of homesteads belonging to ZANU-PF officials and supporters. For example, an MDC activist whose home was burnt by ZANU-PF supporters in Mashonaland West told Human Rights Watch that on April 11 he had helped burn the homesteads of seven ZANU-PF supporters.
---