Corporal punishment is used disproportionately against certain groups of students, including boys, African-American students, and special education students. For instance, African-American students make up 17.1 percent of the nationwide student population, but 35.6 percent of those paddled.316 Even while overall corporal punishment rates have declined during the last 30 years, disparate rates of physical punishment of African-American students have persisted.317
Some might argue that this discrepancy exists because there is a higher percentage of African-American students in states that paddle heavily, and so they are overrepresented in national statistics on corporal punishment. Yet when we examine data from only the 13 states that paddle more than 1,000 students per year,318 disproportionality of paddling of African-American students persists. Among those 13 states, African-American students are 1.4 times more likely to get paddled than might be expected given their proportion of the student body. Likewise, among those 13 states, Native American students make up 1.2 percent of the student body, but 2.4 percent of those paddled, a disproportionality of two to one.319
These disproportionalities impinge on students' right to non-discrimination in access to education. In addition, they further undermine the learning environment of the school, and create a hostile environment in which minority groups may struggle to succeed.
Boys are subjected to corporal punishment at much higher rates than girls: nationwide, boys make up 78.3 percent of those paddled, while girls make up 21.7 percent.320 Boys are paddled more than girls in all states that use corporal punishment. For instance, in Mississippi, 74.2 percent of those paddled in schools are boys, while in Texas, 78.7 percent of those paddled are boys.321
One high school teacher suggested one possible reason for the gender disparity in paddling, noting that at her school it was common practice to "stay away from hitting the girls. I guess they're more fragile, and a lot of them could be pregnant and we wouldn't know it."322 A father of two boys and a girl felt that it was more acceptable for boys to be paddled than girls. He explained, "My little girl—don't you put your hands on her…. As far as my boys, I am super hard on them. For one, they are young black men and they are faced with different obstacles in life. I get on them every day, and I know they say, 'Man, my dad is tough.'"323
Many interviewees reported that boys were beaten more harshly than girls. A middle school boy in Mississippi observed that one of his teachers "paddle the boys real hard and when he paddle the girls he don't really hit them."324 One student reported that there are smaller paddles for girls: "They use a short one for girls and a long one for the boys."325 One middle school student, however, told us that "[s]ome girls that act fast like they're gay or something … they'll get hit real hard. When they be trying to feel other girls."326
Figure 2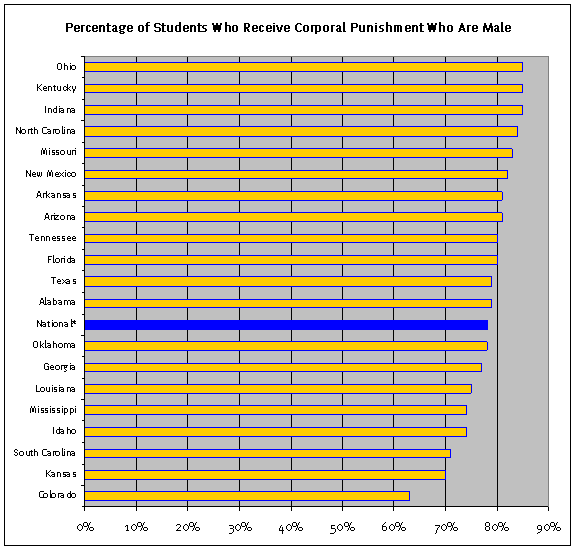 * "National" statistics refer to data from the states that permit the use of corporal punishment in schools.
Nationwide, African-American and Native American students are beaten in public schools at disproportionate rates, violating their rights to be free from physical violence and to equal protection under the law. While the use of corporal punishment has declined overall in the past 30 years, the disproportionate rate at which African-American students are corporally punished has stayed the same or increased.327 The most recent statistics available demonstrate that, when compared to relevant percentages of the nationwide student population, both African-American boys and African-American girls are significantly more likely to be punished than their white counterparts. African-American students make up 17.1 percent of the nationwide student population, but 35.6 percent of those paddled.328
As mentioned above, the discrepancy in the rates of paddling of African-American students cannot be explained merely because there is a higher percentage of African-American students in states that paddle heavily, and so they are overrepresented in national statistics on corporal punishment. Looking at data from only the 13 states that paddle more than 1,000 students per year,329 in order to compare accurately the proportion of students punished to the overall student body, disproportionality of paddling of African-American students persists. Among those 13 states, African-American students make up 24.8 percent of the student population but 35.9 percent of those paddled,330 meaning that African-American students are 1.4 times more likely to get paddled than might be expected given their proportion of the student body. Likewise, among those 13 states, Native American students are paddled at more than two times the rate that would be expected given their proportion of the student body.331
The disparate use of corporal punishment against African-American students was noted by some of our interviewees. One high school girl in a racially diverse school in Mississippi observed that "every time you walk down the hall you see a black kid getting whupped. I would say out of the whole school year there's only about three white kids who have gotten paddled."332
Because boys are beaten more often than girls, this disproportionality is even more stark when one separates out the data for boys. When looking at the 13 states with high rates of paddling, African-American boys are 2.1 times more likely to be paddled than might be expected given their proportion of the student body; Native American boys are 3.2 times more likely to be paddled.333 White boys are also beaten at disproportionate rates, though the disparity is less stark: white boys are 1.6 times more likely to be paddled than might be expected given their proportion of the student population in these 13 states.334
The disparities for African-American boys are not uniform across states. In Mississippi, one of the two states focused on in this report, white boys are 1.2 times as likely to be paddled as might be expected given their proportion of the student body, whereas African-American boys are 1.7 times as likely to be paddled.335 In Texas, the other state focused on here, however, white boys are 2.3 times as likely to be paddled as might be expected, whereas African-American boys are 2.1 times as likely to be paddled. 336
While girls are paddled less than boys as a group,337 African-American girls are more than twice as likely to be subjected to paddling than their white counterparts. In the 13 states that paddle more than 1,000 students per year, African-American girls are 2.07 times as likely as white girls to be corporally punished.338 This disparity persists in the target states for this report, though to a lesser degree in Texas than in Mississippi. In Texas, African-American girls are 1.35 times as likely as white girls to be paddled.339 In Mississippi, African-American girls are 2.22 times as likely as white girls to be paddled, a number that exceeds the 13-state average.340
Figure 3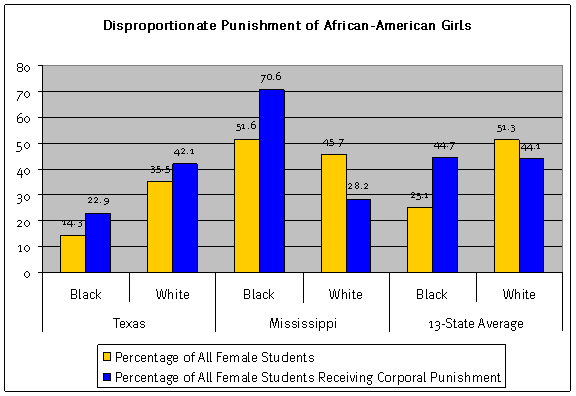 A former member of the Jackson (Mississippi) Public School Board of Trustees cited the disproportionate treatment of black girls as one of the reasons for abolishing corporal punishment in Jackson: "Some of the white teachers, male teachers, were spanking black girls but not white girls. If they could spank black girls, then why couldn't they spank white girls? So that was another issue. It was not being executed fairly. We have to have the same policy for everybody."341
Some might argue that African-American students are punished more because they commit more serious disciplinary infractions, or because they commit a higher number of minor disciplinary infractions. The US Department of Education, Office for Civil Rights, the main source for information on rates of corporal punishment, does not collect data on the underlying infraction; the question of whether black students commit more serious infractions that would explain their disproportionate punishment cannot be answered in this report. Neither can we determine whether black students commit more (as opposed to more serious) infractions than white students, and therefore receive corporal punishment more frequently.342 Existing data do establish that African-American students receive corporal punishment at vastly disproportionate rates, and that the disproportionality has persisted over time.343
The disparate use of corporal punishment creates a hostile school environment in which students of color may struggle to succeed; students, teachers, and administrators are conscious of these discriminatory patterns in their day-to-day lives. A 17-year-old girl spoke of the atmosphere produced by the disparate use of corporal punishment at the high school she used to attend in rural Mississippi: "It feels to me like we're back in slavery."344 A proclamation opposing school corporal punishment, signed by 20 national African-American leaders, including Kweisi Mfume, Marc Morial, and Reverend Jesse Jackson, Sr., observes that "corporal punishment in schools is disproportionately used on African-American children, and … all children deserve to be able to learn in a safe and supportive learning environment free from corporal punishment."345
Some of our interviewees believe corporal punishment was administered with discriminatory motives. A teacher in a rural Mississippi school described how, even among African-American students, darker-skinned students were punished more severely, in part because of the belief that there was less risk that heavy bruising would be visible:
I've heard this said at my school and at other schools: "This child should get less whips, it'll leave marks." Students that are dark-skinned, it takes more to let their skin be bruised. Even with all black students, there is an imbalance: darker-skinned students get worse punishment. This really affected me, being a dark-skinned person myself.346
One father and one guardian in separate Mississippi towns voiced their concerns that their African-American sons "needed" corporal punishment because of the discriminatory environment they would face as adults. The guardian stated, "For young black males, if you can't listen to authority, you're headed to jail. Discipline needs to come from people they love to prevent that."347 This corresponds with the opinions of a high school boy in Jackson, Mississippi, a district without corporal punishment, who believes that corporal punishment would have helped make his classes more orderly: "Corporal punishment shows [kids] how they can make it in the world—it teaches them about life after school."348 Yet, there are other ways to teach children how to deal with the challenges they will face later in life; a nurturing school environment structured with positive discipline models can help deliver this self-confidence.
In interviews with Human Rights Watch, students and parents repeatedly linked the use of corporal punishment in schools to slavery, characterizing hitting young African Americans as classroom discipline as a dehumanizing reminder of techniques used to control slaves on plantations.349 One fifth-grade African-American boy commented that "[i]t comes from the time of slavery. They used to tie a black slave up and make another slave beat him."350 Another student, exasperated with paddlings for not wearing the school uniform, told us she felt like asking, "Okay, are you still in slave mentality, Coach?"351
Experienced educators also see links between corporal punishment and submissiveness, which in turn they relate to domination by whites over blacks. One superintendent observed that corporal punishment "has its origins in the times of slavery when slaves were tied up and whipped as a means of control. But because you get compliance does not mean you have control."352 A school board member in a Mississippi town reflected on this issue:
I see corporal punishment as a form of slavery. Beating on the slaves was how the headman got them to do something. Racism is not about hatred, it's about domination … we're focused so much on making kids do what we want. Think about the mental capacity that this kind of treatment leaves our children with. We are telling them we don't respect them. They leave that principal's office and they think, "They don't consider me a human being." That young person loses self-respect.353
While girls are paddled less than boys, many teachers and parents we spoke with said they had particular concerns about the sexual overtones of subjecting teenage girls to corporal punishment. In addition, as already noted, some interviewees expressed unease over the link between corporal punishment and domestic violence. These interviewees argued that it was wrong to teach children in school that it is permissible for someone in authority to strike a weaker person who cannot hit back.
Allison Guthrie, a recent high school graduate in the Dallas area, was paddled when she was 17. She was sent to detention three times in one week for being late, and was given the choice of in-school suspension or "swats":
"The principal was male. I think he used to be the athletic director, he was maybe 300 pounds…. I had to get parental consent, my mom had to sign off on the swats. She actually came up to the school to sign off on that. She decided to leave it up to me, I guess she figured I could decide for myself….
"My mom left, and I went into the principal's office and there was a female there, like a secretary, a female witness. He gave me a chair and said hold onto the chair. The paddle had holes in it. Then he just did three swats … I was hit on my buttocks…. There were holes in the paddle to make it go faster. There was a bit of a pause in between each swat. The whole thing was a minute. The principal didn't say anything to me…. It hurt very much. There were definitely red marks and then swelling. I remember it being red on my buttocks. Almost welt-like markings. It didn't last for more than a couple days….
"It was strange back then and it was even stranger when I got older. It was like, 'Wow, you were a 17-year-old girl and got hit?' But it was not out of the ordinary then because people got swats. It left me feeling very humiliated. I think there were several levels of emotion. Physical pain, mental humiliation. One, it felt a little unjustified—just for being late? And being a female at that age, it was like there was this older man hitting me on the butt. That's weird. Very strange at that age. Even at that age I knew it was inappropriate, this being a man that I don't know. It was this instinctual knowing that it was inappropriate….
"I have talked about it since then, but we didn't talk about it as being inappropriate then. I think it took me a while to realize why I was so ashamed by it and how inappropriate it was."354
One twelfth-grade Texas girl told us she had been paddled in eleventh grade for being tardy: "It seemed normal at the time, but now it seems weird that a man was hitting a teenage girl…. Well that's just what I thought was supposed to happen. Weird to look back on it, though."355 Another twelfth-grade girl echoed that sentiment: "Can you believe it, I got paddled by a male teacher? It was for little stuff, like talking out loud. It was just a tap on my behind. But why does a man have to tap a girl? That's why I think he's a pervert."356 One expert felt that because corporal punishment is now more often practiced in private (in the principal's office, as opposed to in the classroom), it is more likely to have sexual overtones.357 A Mississippi teacher summarized the sense of discomfort:
I know, as a 24-year-old male, I would feel very uncomfortable paddling a 14-year-old female on the butt … I don't know, there are sexual connotations with paddling on the butt. It's not a storyline I want to be involved in.358
While no child should ever be beaten in school, special education students359 are exceptionally vulnerable to harm from corporal punishment. OCR data show that nationwide, 41,972 special education students received corporal punishment in the 2006-2007 school year.360 In Mississippi and Texas, the states targeted in this report, special education students receive corporal punishment in large numbers. In Mississippi, 5,831 special education students were recorded as being physically punished in the 2006-2007 school year; while in Texas, the figure was 10,222.361
Special education students are beaten in disproportionate numbers when compared to the general student population, according to data from OCR. Focusing on students who qualify for special education under the federal Individuals with Disabilities Education Act (IDEA),362 IDEA students in Texas made up 18.4 percent of the total number of students who were beaten statewide.363 However, IDEA students in Texas made up only approximately 10.7 percent of the statewide student population,364 meaning that they were almost twice as likely to be beaten as might be expected.In Mississippi, IDEA students made up 15.1 percent of those beaten in the 2006-2007 school year, but only 12.2 percent of the statewide student population.365 Louise P., a former special education teacher in a Mississippi Delta high school, argued that some special education students are paddled more than other students in part because their particular needs are not being met by the school.366
Paddling and other forms of physical punishment can be particularly harsh for special education students. Johnny McPhail, the father of a girl with autism in north Mississippi, described a combination of aggressive techniques used to control his daughter: "In kindergarten, they'd pop her, and put her in a closet. It's isolation. They'd pop her on the hand first. I didn't find out until later."367
The R.'s, parents of a boy with Tourette Syndrome, obsessive compulsive disorder (OCD), and bipolar disorder, described an early incident in which he was restrained and spanked:
When he was in kindergarten, they would have meetings and decide they would have a time-out room for him. Time out—they basically just cleaned out a closet and would put him in there … for hours…. And even though they weren't supposed to touch him, they did. They carried him in there. But these people were not trained to do any restraint holds or anything like that…. He came home several times with bruises and red marks. He was spanked on his behind, with an open hand, by the teacher. It happened—the times he told us about it—at least five or six times. At least.368
The R.'s reported that their son sustained serious injuries when he was punished as a fifth grader for using the wrong utensils and cursing at the assistant principal. His mother described the situation:
He was eating lunch in the special ed room…. They had mashed potatoes and pineapple that day…. He had a fork, but he was saving it for his pineapple because he didn't want to get his fork dirty. And they told him not to eat his potatoes with his fingers … The teacher grabbed his hand, and that's what started it…. [The assistant principal] asked [my son] to go with her … she grabbed him and started dragging him down the hallway by his arm…. The assistant principal reached around and [my son] turned around, he was all mad … and accidentally hit her in the stomach. So she pinned him to the floor, and he bit her because he kept telling her to get off, because she was hurting him.369
The police came and handcuffed the fifth grader. Mrs. R. reported, "His wrists were so tiny that he just pulled the cuffs off." 370 Mr. R. added, "he had bruises on his upper ribs, across both his arms, and down both of his legs, for at least a week."371
The experience of the R. family also illustrates how, on occasion, special education students may be punished with force for "acting out" behaviors connected with their disabilities. Mrs. R. noted that her son's Tourette Syndrome induces physical "tics." As she explained:
One of his tics was balling up his fists like this, and that was seen as aggression and he would get in trouble with it. He would be put in time out and he didn't understand why. He would try to explain that it was a tic, and he couldn't control it, but they see that as him escalating it. So now they have in him in restraints and then they're giving him sedatives and calling for me to come pick him up. They had a closet and he would go in there and that's where he was hit.372
Incidents such as these—in which force is used to punish special education students—may occur because teachers lack understanding of the student's condition. As Mr. R. concluded, "I honestly believe that most of the teachers believe that [my son] had a behavioral problem and needed to be spanked. A couple of them have told us that, that he just needs a good spanking."373
Mrs. R., who is also a special education teacher, said she intervened when her school suggested applying corporal punishment to a student with ADHD who regularly failed to do his homework: "The approach was, 'each day you come in and don't bring your homework, then you'll get paddled. Maybe that will help you remember.'"374A school board member in a major Mississippi town stated, "I'm concerned that the teachers are not reading the children's individual learning plans…. The child with a discipline problem may not be acting out of his behavior problems but rather out of his disability."375
Corporal punishment can be particularly harmful for special education students, as it can exacerbate the student's underlying condition. Johnny McPhail, the father of a Mississippi girl with autism, felt paddling was extremely detrimental: "An autistic child never forgets a paddling. They have total recall, programming needs to be the same. If you hit her, she'd be hitting, it's hard to talk her out of it."376 Beverly Shields, the mother of an autistic boy in Mississippi, fought hard to have her son excluded from the punishment: "Corporal punishment to an autistic person is just not acceptable in any fashion. He wouldn't know why they were doing it."377 Mrs. R. witnessed a student with Asperger's Syndrome and a bipolar condition receive corporal punishment, and noted the student's adverse reaction: "He was just crying and just broke down, a kind of helplessness—'I don't know what to do.'"378
In addition to causing extensive physical and mental harm, corporal punishment can create further barriers to education for this already disadvantaged group of students. Louise P. felt licks were especially detrimental for her special education students: "A lot of my kids had discipline problems. They'd universally miss first period, they'd be in the office, waiting for their licks. That would harm their education. Depending on the teacher, they'd try and make up the lesson…. But the same kids would be hard to get in after school … [and] it was hard to get them to graduate."379
---