Data on Corporal Punishment
223,190 students nationwide received corporal punishment at least once in the 2006-2007 school year, according to data from the Office for Civil Rights (OCR) at the United States Department of Education.174
Figure 1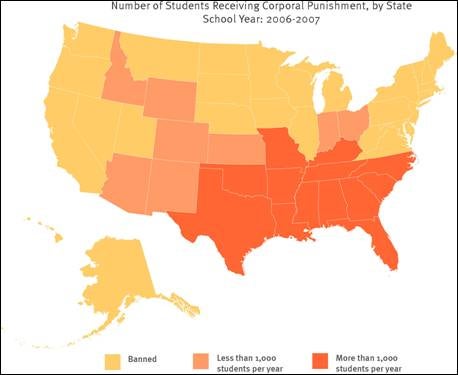 While corporal punishment is legal in 21 states,175 Table 1 shows that it is used more heavily in some states than others. In Texas alone, OCR data show that 49,197 students were subjected to corporal punishment during the 2006-2007 school year, more than in any other state.176 In Mississippi, 7.5 percent of schoolchildren were paddled at least once during that same school year, the highest percentage in the nation.177
Table 1: Nationwide Prevalence of Corporal Punishment
| | | | |
| --- | --- | --- | --- |
| State | Number of Students Paddled During the 2006-2007 School Year | State | Percentage of Students Paddled During the 2006-2007 School Year |
| Texas | 49,197 | Mississippi | 7.5% |
| Mississippi | 38,131 | Arkansas | 4.7% |
| Alabama | 33,716 | Alabama | 4.5% |
| Arkansas | 22,314 | Oklahoma | 2.3% |
| Georgia | 18,249 | Louisiana | 1.7% |
| Tennessee | 14,868 | Tennessee | 1.5% |
| Oklahoma | 14,828 | Georgia | 1.1% |
| Louisiana | 11,080 | Texas | 1.1% |
| Florida | 7,185 | Missouri | 0.6% |
| Missouri | 5,129 | Florida | 0.3% |
Corporal punishment was widely accepted in US public schools in the latter part of the 19th century and the early 20th century.178 While New Jersey banned corporal punishment by statute in 1867,179 many other US states, including Michigan, Connecticut, and Nevada, did not enact a ban until the late 1980s or early 1990s.180 In the present decade, the number of students subjected to corporal punishment in US public schools has been steadily dropping. OCR data indicate that 342,038 children in US public schools were paddled in the 2000-2001 school year;181 by the 2004-2005 school year, the figure had dropped to 272,028 students.182 In 2006-2007, the most recent school year for which data are available, the numbers fell to 223,190.183 Any level of corporal punishment is too high; the fact that the numbers are dropping shows that districts still using paddling are becoming the exception, making it all the more imperative that they change their discipline policies.
Boys are subjected to corporal punishment more than girls: nationwide, boys make up 78.3 percent of those paddled.184 African-American students are paddled at more than twice the rate than might be expected given their percentage of the student population: African Americans constitute 17.1 percent of the nationwide student population, but 35.6 percent of those paddled.185 Though girls as a group are paddled less than boys, African-American girls are more than twice as likely to be subjected to paddling as their white counterparts.186
Special education students187 are also subjected to corporal punishment, even though the behavior that leads teachers or administrators to beat them may result from their disabilities rather than any lack of discipline.188 Nationwide, OCR data indicate that 41,972 special education students received corporal punishment in the 2006-2007 school year.189 In the two states examined in detail for this report, Mississippi and Texas, large numbers of special education students were among those receiving corporal punishment. In Mississippi, 5,831 special education students were beaten in the 2006-2007 school year.190 In Texas, 10,222 special education students were beaten, amounting to approximately one-fifth of the total number of students who were beaten statewide.191
While these figures and rates may already appear quite high, they do not reflect the full extent of the problem. First, the data record the number of students hit each year, not the number of incidents.192 In other words, the data show that 223,190 individual students were beaten in the relevant school year, but do not show how many incidents of corporal punishment occurred. Because many students likely were beaten more than once in a school year—a reasonable assumption given the evidence collected from our interviewees—the overall number of beatings administered each year undoubtedly is far higher.
The data also very likely undercount the number of students beaten each year because some school districts fail to report all incidents to the federal government. Corporal punishment is often seen as a quick form of discipline: a former high school teacher recalled that "paddling was just a fast way to deal with it and not write it down."193 Records are not always kept for corporal punishment: a high school teacher noted that discipline is "completely haphazard … many teachers don't even bother with writing referrals anymore."194 One superintendent of a major Mississippi school district told us the reported numbers were low:
[W]e probably do it twice as much as reported…. [T]here is no documentation you have to send to the central office to say that you did it…. [It's] an option where you don't have to do so much documentation, It's much easier than signing the suspension form and giving it to the parents or any of that. I'm speaking realistically.195
Incidents of corporal punishment may not be recorded when they do not take place in the principal's office (or the school's "main" office). A Mississippi teacher told us:
I know that there are paddlings that aren't reported…. A concrete example: during my planning period, I spent a considerable amount of time in this one teacher's class. I've seen the teacher ask students to get the paddle from the corner, wait outside for him, the students are paddled, they come in, and class resumes. No paperwork is filled out. I'm sure if you ask teachers, they wouldn't be able to tell you how many students they paddled at the end of the day.196
Informal referrals from teachers to coaches might not be recorded. Another Mississippi teacher reported that "[w]here the coach is giving licks, the coaches don't report to the office. It's sort of part of the coaching, [the coach's] rights, which contributes to the lack of data on corporal punishment."197 The lack of record-keeping may be particularly evident when students are paddled in hallways or classrooms. One former Mississippi teacher, who frequently saw her principal administer corporal punishment in the hallway, noted, "Oh yeah, he [the principal] never reported it. He never took names; he didn't know who all these kids were."198 It is unlikely such instances of informal, unregulated corporal punishment are recorded by the administrator upon return to his or her office.
Routine, high levels of paddling in schools can indicate a threatening, violent environment.199 A former assistant principal in charge of discipline at a middle school in Meridian, Mississippi, recalled that he received 19-23 referrals for paddling every day; one day he had 37 students sent to his office to receive a beating.200 Interviewees described long lines of students waiting to get paddled outside the principal's office.201 One teacher noted his elementary students were punished so often it had become routine: "The kids would put their hands on the back of the chair, stick their butts out, and the principal would start hitting."202
Corporal punishment is so commonplace in certain public schools in Texas and Mississippi that students reported high levels of paddling in casual tones. A high school boy in Texas recalled, "I was paddled in elementary, yeah. Too many times to count."203 A Mississippi high school girl observed that she was paddled "at least three times a week" in the ninth and tenth grades.204 She estimated that "at least 60" students are paddled daily at her school, noting, "A lot of kids get paddled. Every class block you will hear a list of students being called [to the office for paddling] on the intercom."205
We received reports of students of all ages receiving corporal punishment, from pre-kindergarten to high school. A Mississippi middle school boy recalled receiving three blows as a kindergartener for making another child eat dirt in the playground.206 Another Mississippi kindergartener was beaten three times for stepping on another student's feet.207 An east Texas kindergartener was paddled for pulling a chair out from underneath another student.208 Among our interviewees, paddling was no less common in older grades. We received reports of paddlings administered to a twelfth-grade girl in Mississippi,209 an eleventh-grade girl in Texas,210 and a 17-year-old boy in Mississippi.211 A former teacher recalled that one of her high school students was paddled despite being "a really big kid … [for whom] the paddle just seemed kind of silly."212
---