Corporal punishment in US public schools10 usually takes the form of a student hit on the buttocks and upper thighs with a wooden paddle. David F., an eighth grader in Texas, was beaten in seventh grade against his mother's expressed wishes. It happened when David and another student were sent by their teacher to the principal's office for shooting rubber bands at each other. Though school policy required an adult witness in addition to the paddler, David said:
[The Principal] did it on his own. When I went in we didn't talk. He just yelled, "What the heck were you doing that for?" and then he said "I get two swats." So I had to bend over and put my arms on the hands of the chair … it probably hurt for at least another school period.11
The mechanics of corporal punishment in public schools help to illustrate why it is a poor choice for disciplining children. The instruments used and the position of the child during the beatings are designed to cause pain and humiliation to the child. This, combined with the fact that blows are administered by mostly male school officials who are supposed to set an example, lead to an atmosphere of humiliation, violence, and degradation. This atmosphere, in some cases tinged with sexual undertones—as when teenage girls are paddled by men—is not conducive to creating a learning environment characterized by safety and mutual respect.
As in David F.'s case, described above, students are typically hit on their buttocks with a wooden paddle, approximately 15 inches long, between two and four inches wide, and one-half inch thick, with a six-inch handle at one end. The size of paddles can vary. For instance, one teacher in a Mississippi high school stated that his "principal uses a paddle with a flat head and a thin neck and handle. It's about four feet long and it's made of wood."12 The South Delta School District, a different Mississippi district, specifies dimensions in its official policy: paddles must be 14-15 inches long, two inches wide, and 1/4-3/8 inches thick.13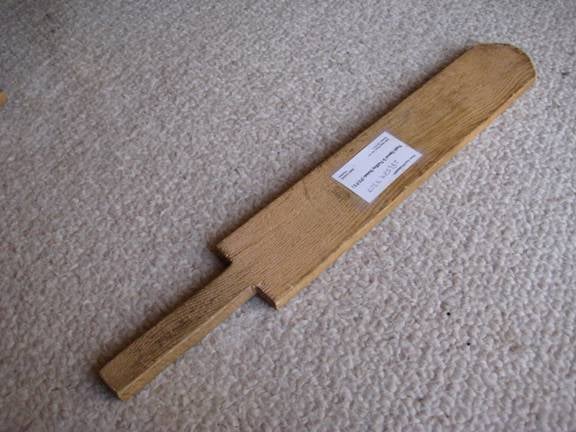 Students describe the paddle as "a big ole long wooden thing with a handle,"14 and say "the paddle looks like an oar, but smaller."15 One student noted, "They use a short one for girls and a long one for the boys."16 One former teacher in Texas told Human Rights Watch that he found shaved down baseball bats that were being used as paddles, similar to those depicted in the following photograph.17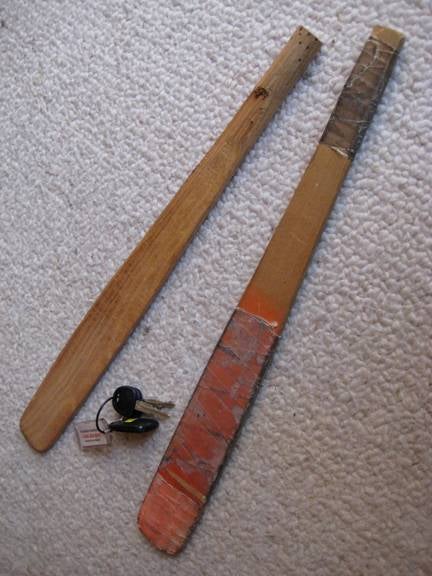 As analyzed later in this report, international human rights standards state that the use of force against students is only permissible as a restraint in exceptional circumstances, and even then only to a minimal degree.18 Any force with intent to punish is impermissible,19 meaning that the use of corporal punishment in public schools in the United States violates international human rights law.
In a vain attempt to limit the suffering caused to children by paddling, some school district policies specify that the type of paddle used must not injure the child. For instance, the Rankin County School District in Mississippi specifies, "Any instrument used to administer corporal punishment shall be such as not to cause either temporary or permanent physical injury."20 Likewise, the Meridian Public School District in Mississippi specifies that the administrator "should use an instrument approved by the principal which will produce no physical injury to the child."21 A former administrator in Meridian commented on the logical inconsistency of his district's policy: "that's a catch-22. Essentially … any striking of a child that causes pain would be an injury."22
Sometimes the paddle is modified to improve the paddler's swing or to inflict greater pain. The paddle might have holes in it,23 allowing it to move faster and therefore hurt more. One student noted, "It has holes in it, so the air can just woosh through."24 Part or all of the paddle can be covered with duct tape to prevent the wood from splitting or to improve the paddler's grip.25 A middle school boy in Mississippi reported that this contributes to the pain of the impact: "They duct tape all around the paddle and it makes it have a grip and that's why it hurts."26
Paddles are not commonly available from school supply companies for purchase,27 and educators may keep their paddles for a number of years.28 One Mississippi superintendent noted, "You're not going to find them in school supply stores, they don't want to be sued. They're mostly made in woodshop."29 We received multiple reports of students making paddles as a part of their woodworking ("shop") class. One high school teacher reported, "the kids would make them in shop class and have all their friends sign them."30 A former principal noted, "I made my paddles myself, in woodshop. There were no specifications that I knew of for dimensions, wood, etc."31 Another teacher noted that a student gave a teacher a paddle: "One of her students had a woodshop in his family and he gave it to her as a gift."32 The fact that students might make paddles themselves underscores the extent to which corporal punishment has become part of school culture.
Sometimes teachers give their paddles nicknames such as "Dr. Pepper."33 A student told us that "one man had a big, big paddle with a print on it that said, 'Mr. Whoopin.'"34 A former teacher in Mississippi reported that one of her colleagues "had Big Bob and Little Bob,"35 while another former teacher noted that his colleagues referred to paddles as "their 'boards of education.'"36
When a student is paddled, he or she is typically told to stand with his or her hands on a desk or a chair, so that the student is bent over, exposing the buttocks.37 One former student in Texas described being hit in ninth grade: "This one time, like the other times, I had to stand up, and put my hands on the chair … and then, 'pop, pop.'"38 These stances are submissive, placing the student in a position with no opportunity for self defense, even though they are being subjected to violent blows. In addition, the experience of being hit on the buttocks, an inherently private part of the body, can be particularly humiliating.
Occasionally, students might be paddled in other positions. For instance, students might be paddled against the wall when a principal is patrolling the hallways.39 One boy who was paddled in the second grade for laughing when his friend threw something at a teacher, said, "[The principal] took me into the office and gave me three licks…. He made me hold onto the wall and he paddled me. It hurt for about two hours, it felt like fire under my butt."40
Some students are paddled in even more submissive positions. One sixth-grade student who was paddled in gym class was forced to line up with other students and bend over with her hands on her knees.41 An elementary school student reported seeing two peers paddled: "My teacher left the door wide open … I could see what was happening. [The teacher] had her legs wide open and then she closed them and put their head in between her legs. The kids had to get on their knees on the floor and she holds you down."42
Students are required to remain in position throughout the administration of the beating; this condition is hard to meet as moving is a natural defense to physical violence. A Mississippi boy reported that "some teachers ask for hands in pockets—so you can't move."43 A teacher at a Mississippi high school noted that it is difficult for children to stay still when being beaten: "I saw the principal giving licks once in the hallway. He was paddling a girl…. He would hit her and she would jump away and shout that it hurt."44
If students move during beatings they may receive additional blows and injuries. One eleventh-grade girl in Mississippi reported that in the course of a beating, her wrist was injured: "One time I got hit on my wrist with the paddle, and he told me, 'I told you not to be sticking your hand back there.' Well, I had my hands on the table and he was about to swing and hit me, and I reached back and he hit my arm with the paddle by mistake ... it hurt!"45 Another Mississippi girl told us, "[The principal] reared back and paddled me once and I stood up and he said, 'No, bend over.' And I said, 'No, I can't take no more—that really hurt.'… [H]e paddled me again."46
While Human Rights Watch did not receive any reports of students being asked to undress completely from the waist down prior to paddling, some students reported that they were told to hold their pants tight across the buttocks or that the paddler used one hand to tighten their pants. The fact that paddlers initiate this tightening of the fabric demonstrates the intent to cause pain or discomfort, a prohibited act under international law.47 A Mississippi high school girl stated that the principal "tightened my pants and paddled me. He … went 'pow.' He grabs pants to make them tighter on your behind. It hurts more then."48 A Texas student agreed: "The principal pulled my pants tight—it gives you a wedgie. By making things tight, it hurts more."49
Students take steps to mitigate blows, well aware of the painful punishments they may face. One middle school boy who receives regular beatings reported that "I wear two pairs of gym shorts under my pants to protect against the paddling," and that during one paddling in sixth grade, all of his clothing except for the second pair of gym shorts were removed.50
Some school districts' corporal punishment policies limit the number of blows a student can receive. For example, the Marshall Independent School District in Texas limits corporal punishment to two swats.51 Students in the Grand Prairie Independent School District near Dallas, Texas, cannot receive more than three licks per day.52 Drew School District in Mississippi states that "[n]o more than five (5) licks will be given to elementary students and no more than seven (7) licks will be given to students in grade 7-12."53 The South Delta School District in Mississippi specifies that "[n]o student shall receive more than a maximum of five (5) licks of the paddle and only to the fleshy parts of the buttocks."54
In other districts, we received reports of students being subjected to large numbers of consecutive blows, and/or accelerating numbers of blows. A former high school teacher in the Mississippi Delta noted that students might accumulate a number of licks: "Say they had 30 licks, they could choose 10 today, 10 more the next day."55 Some students reported accelerating punishments. One Mississippi high school girl said, "If it's your first time, then you get like, three licks. And then if you continue to go, it'd increase to like, three, five, seven, ten."56 Another girl noted, "He got to give you from three to nine licks. And most time for curses, he's got to give you three licks for every letter in the curse word you say…. You got to be beat down."57 Corporal punishment always carries some risk of serious harm;58 increasing the number of blows exacerbates that risk.
Human Rights Watch received some reports of students being struck with objects other than a paddle, including rulers and a belt. We heard multiple reports of students being hit by teachers with rulers, especially among younger children. A Mississippi middle school boy was hit in fifth grade with a set of rulers taped together: "I was talking, it was a group of students and she [the teacher] told us to come up to her desk and she popped us on our palms … this was with four rulers taped together."59 A girl in Texas noted that "in kindergarten … they hit us with rulers on the hands … I saw it all the time in class."60 One former teacher in rural Mississippi reported that hitting children with rulers was prevalent in her school, noting that "in my district, this happened all the way through high school."61
Human Rights Watch received reports that students were subjected to other forms of physical force in addition to paddling. A Texas middle school boy, for example, reported that, after some gym students were misbehaving, his teacher made the whole class perform "'gut checks,' where we bear crawl" across the yard; the dry grass left some students bleeding on their hands and knees.62 Because corporal punishment is defined as any punishment involving physical force "intended to cause some degree of pain or discomfort,"63 such punishments, seemingly portrayed as part of routine physical education, amount to corporal punishment because of the intent to cause pain.
Students are typically beaten by administrators (principals, vice principals, or assistant principals)64 and in some cases, by coaches.65 Students are usually referred to the principal's office (or the discipline office) by a teacher; teachers also administer corporal punishment,66 particularly among younger students.67 According to our interviewees, coaches beat students on their teams68 as well as non-athlete students referred to them by teachers.69 One recent graduate explained, "In high school, it was usually the coaches who paddled. Everyone had P[hysical] E[ducation] or was on a team, so everyone had contact with the coaches…. If a teacher had a problem, they'd send that person to the coaches."70
The majority of paddlers in incidents described by our interviewees were male. One Mississippi teacher and mother noted that the "swats are given by grown men; some of them [are] good swingers."71 One former teacher reported that at her Mississippi Delta high school, the female basketball coach administered corporal punishment to the girls.72 One teacher noted there was a policy of having a female witness whenever girls were hit,73 though this was not common in other districts we visited.
Given these school environments, in which corporal punishment is an accepted means of punishment, and in which teachers and school administrators are perceived as community leaders entitled to respect, it is not surprising that Human Rights Watch received multiple reports of parents and guardians who cooperated with administrators by coming to school to beat their children themselves.74 One mother in rural east Texas described one such situation:
There was an incident the last year when the principal asked me whether she could paddle my child. I said no, but said that I would come over there and use the paddle myself…. I don't remember what he did but I gave him two pops and told him to cut it out. I used her paddle in the principal's office, she was there.75
Parents may discipline their children on school premises to show their commitment to the child's education. One teacher and mother in Mississippi reported, "Some parents get called in and they will give their child swats in front of the administrators to show that they take discipline seriously."76 A teacher noted that parents might also volunteer to paddle their children at home for infractions committed at school: "If I call parents about a kid with a discipline problem, 80 percent of the time the parent will say, 'Okay, I'm gonna give him a few good licks.' It's a way of showing respect to the teacher."77 It is natural that parents want to engage in their children's education, and show their commitment to helping their children succeed. However, endorsing this sort of punishment undermines the learning environment by sending the message that violence and humiliation are appropriate and tolerated.
The size and shape of paddles, the identity of persons administering corporal punishment, and the bodily positions of children, as discussed above, all contribute to a school atmosphere of harm and degradation. Beyond these mechanical elements, corporal punishment can set a tone of intimidation and humiliation in schools, as other students see and hear the punishment.
Students are constantly aware of the possibility of being beaten, a threat that discourages an open, trusting relationship between students and educators. One mother noted, "[my sons] talk about it all the time. It's always there in the school, and even in the classrooms. Some of my sons' teachers like to walk around holding their paddle."78 Some teachers display paddles while making verbal threats. A seventh-grade boy in Mississippi reported that a teacher had a paddle: "He used to have it in the cabinet but he brought it out when kids started acting out towards the beginning of the school year. It gives us the signal that if we talk some, we going to get a whuppin.'"79 One fifth-grade girl said her teacher leaves the paddle on her desk: "I feel [it] ain't supposed to be there because I don't like paddles, I just don't."80
Many students report specific threats of violence. For instance, a tenth grader reported she was told by her principal, "'Y'all go back to class before I tear you all up.'"81 A recent graduate recalled that her cheerleading coach threatened her with a sorority paddle.82 Some parents instructed the school not to paddle their children, but those students were nonetheless threatened: a fifth-grade boy reported that his principal "told me that 'if I could paddle you I would beat you black and blue.'"83
In some instances, the administration of corporal punishment requires that another adult at the school witness the beating. Neither Texas nor Mississippi law requires such a witness, since both states delegate responsibility to school districts for determining the parameters of the administration of corporal punishment.84 However, the school board associations in both states provide sample policies that individual districts may use in drafting their discipline policies and those sample policies call for a witness.
The Mississippi Association of School Boards recommends that any paddling be witnessed by at least one certified school employee at all times.85 The Texas Association of School Boards suggests that "[c]orporal punishment shall be administered in the presence of one other District professional employee."86 One teacher in Mississippi reported that the witness rule existed in her district in order to ensure the paddler is not hitting "in anger,"87 but the presence of an adult witness cannot guarantee lack of anger on the part of the individual administering the blows.
Sample policies in Texas specifically dictate that corporal punishment should occur "in a designated place out of view of other students,"88 and many school districts we visited adopted that language.89 Sample policies in Mississippi do not give the same guidance, but some individual districts in Mississippi also require students to be paddled "not in the view"90 of other students.91
Despite these attempts to preserve the privacy of students, many students we interviewed in other districts had witnessed their peers being beaten. A fifth-grade girl in rural Mississippi described witnessing a friend's paddling because "my teacher left the door wide open." She noted, "It made me mad, angry, and sad to see her get hit by a paddle."92 Frequently, students are beaten in hallways: one middle schooler saw students paddled in the hallway through the crack of a door.93
Even in districts that prohibit students from witnessing paddling, students nonetheless hear their peers being beaten. An 18-year-old remembered high school paddlings: "I didn't see it but I could hear it. Licks would be so loud and hard you could hear it through the walls. You could hear the moans and yelling through the walls."94 Allowing students to hear beatings may have been intentional, according to one former Mississippi high school teacher:
One time [the principal] was paddling this kid and put it on the loud speaker. It was on the intercom in every class in the school. You could hear him paddling this kid, talking bad to this kid. Oh yes, he did it on purpose. It lasted a minute or two. He was trying to send a message. I don't know … like, "you could be next."95
Some students are forced to wait for their own punishment while listening to the beatings of others, as one Mississippi middle school boy described, "You have to stand in line for like 30 minutes, waiting to get paddled while you're listening to everyone else."96 As another middle school boy noted, "sometimes you hear five or six licks, and you're like, damn."97 A tenth-grade girl in Texas noted that in ninth grade, "there was this separate waiting room. We'd hear it, the other kids getting hit. It sounds like dropping books on the floor. We'd all laugh, be like, 'damn, that's hurtin' today.'"98
Some students and teachers have seen or heard paddling so often that they are no longer outwardly affected by the experience. A former Mississippi teacher described how another teacher came into her classroom and paddled a student. The rest of the class's reaction was "normal. They got quiet and watched. For a select few I know they feared, but most of them laughed."99 Another teacher noted, "Once you've been in it for a while, I don't know … you get immune to it happening around you."100
In many districts, students are given a choice of corporal punishment or another punitive form of discipline. Students in both Mississippi and Texas may be asked to choose between corporal punishment and detention,101 in-school suspension102 or out-of-school suspension.103 We also heard reports of elementary students being asked to choose between getting beaten and losing recess,104 and of high school students being asked to choose between being paddled and getting worse grades.105
In some districts, the alternatives to corporal punishment, such as out-of-school suspension, are not desirable for students or for educators who prefer to keep their students in the classroom setting. In other cases, schools have such limited resources that alternative disciplinary measures are not an option, thereby increasing the frequency of corporal punishment. Whether or not students are mature enough to make these decisions, they should never be put in the position of bargaining away their human right not to be beaten by school officials.
Typically, interviewees reported that three to five blows are equivalent to one day of in-school or out-of-school suspension.106 The "exchange rate" of physical strikes to alternative punishment can vary, however. At a high school in Mississippi, students were given the choice between five blows or five days away from school.107 At another Mississippi high school, students were asked to choose between five blows or 15 minutes in lunch detention.108
Our interviews indicate that students often choose beatings over other forms of punishment. This is not surprising since the costs of refusing to be beaten and taking a suspension instead can be high. If a student is suspended, he or she is forced to miss class and teachers are not obliged to provide make-up work, meaning that students may fail. An 18-year-old boy in Mississippi noted that at his high school, "my friends who refused to be paddled got ISS [in-school suspension] or a zero day—that meant your parents had to bring you back [to school]."109
In fact, proponents of corporal punishment often justify their views by citing the undesirability of suspension, and pointing out that corporal punishment means the student returns to class faster. For example, one superintendent asked if a student is home alone, suspended from school, "is that really what's best educationally?"110 This argument ignores the students' basic rights, and the fact that other options are available. Ultimately, schools should not be forcing students to make this difficult choice, and should instead be using effective positive discipline measures.111
Students may be induced to use corporal punishment as a bargaining chip. One interviewee in Texas took paddling to reduce the number of days in detention: "The principal said I could take two licks and get some of the days reduced. I didn't want to stay for the after-school detention, so I took the deal."112 A seventh-grade boy in Mississippi watched a teacher paddle his peers in class: "He [the teacher] gave them the option of getting one lick in or three licks out. This was Social Studies. The kids were talking too much…. He told them to come up and he said 'do you want one in here or three out the door?' So they chose one lick. The class started laughing."113
Students we interviewed chose corporal punishment for reasons that ranged from wanting to keep good grades to wanting to keep their parents from finding out; some simply did not know how much paddling would hurt. A twelfth-grade girl said she chose paddling the first time because "that meant I got my lunch detention erased." She noted, however, "I would have made a different decision if I had known how much it would hurt."114
Many students said they chose corporal punishment in order to avoid missing classroom instruction or suffering other academic consequences. A recent graduate in Texas told us, "I chose licks. If I had got written up, and suspended, I would have had to play catch-up. I would have missed class."115 One student saw paddling as the better academic option: "I would take the paddling because I ain't trying to flunk out or anything."116 An honors student at a Texas high school explained the calculation she and her friends make:
[My school] uses corporal punishment as a way to get out of SAC [Student Assignment Center, or in-school suspension] … it's three swats to get out of SAC…. My freshman year, two friends of mine—they were girls—chose to get the swats…. It meant they could still "exempt the exam"… that means you use your [classroom grade point] average instead of taking the final. So my friends chose to get swats so they wouldn't have SAC and they wouldn't have to take the exam. I mean, who wants to take an exam if you don't have to?117
Some students, especially younger students, might think that the alternative punishment is more unpleasant than the beating. These students simply do not have the maturity to make such a decision, and should not be put in this position. A mother whose 10-year-old was paddled felt her son wasn't old enough to make that choice: "The principal said he asked my son whether he wanted two pops or two days of ISS and no field trip. He always wanted to go on field trips…. So how are you going to ask this child whether he wants two pops when he is 10 years old?"118
Male students may choose paddling in part because of a desire to meet perceived societal expectations of masculinity. One former high school teacher in Mississippi noted, "It's always one bad thing versus another bad thing—which one are you ready for? And with masculinity and the pressures to be tough and unfeeling, often the young man is going to want to take the licks. Take it like a man. It's almost a show when you offer the bargain."119 This attitude affects even young children, according to one former teacher in Mississippi: "There's a certain amount of bravado that comes with it, you want to take your licks like a man, not crying or anything."120 He emphasized, "with boys, it's a badge of courage to choose corporal punishment over ISS."121
A parent in rural Mississippi noted some obstacles to choosing suspension above corporal punishment: "Their parents have jobs. Their moms have jobs. They say they can't sit home [with the child]."122 A superintendent in a district that uses paddling described the complications of this dynamic: "When you tell a parent we have to send the child home for a day, the parent will ask, 'can you not paddle them? I'm going to be at work. They'll be home by themselves.'"123
Sometimes schools do not tell parents about beatings and so, unlike with a suspension, the student's parents do not find out about the underlying infraction; this motivates students to choose corporal punishment. One Mississippi mother's son had been paddled when he was 17 years old; she did not find out until he was 22:
The school did this thing where they told the kids to take the paddling, don't tell anyone, and it would be over … [my son] says he got paddled almost every day…. That was an example of how they covered it up so the parent didn't know. I had signed the card for no paddling … I think they went so far as to tell [my son] that we'll just give you some licks and it will all be over and we won't have to call your mom.124
Many parents, like this Mississippi parent, disagreed with this scheme: "Your kid can get a paddling and you wouldn't know it…. Let me know. That's only right."125
Teachers and coaches sometimes directly pressure students not to tell parents about beatings. For instance, student athletes, for whom paddling can be a routine part of their training, might keep the abuse from their parents. One recent high school graduate noted, "for boys in the football program, they get licks without telling the parents. [The coach would give] them a choice—take your licks and we won't call your parents or we'll drop your grade and your parents will find out. It's your choice, it's up to you."126
Some students prefer to be paddled rather than have parents informed of the infraction because they feel punishment at home might be worse. A former high school teacher felt that her students' attitude was: "You get three smacks on the behind, you shed a tear, and it's over. Your parents don't know and they're not going to beat you."127
While students should not be subjected to abuse at home, this is not a reason to give the student the option of "buying" the school's silence by submitting to physical harm as a form of discipline. It is a recognized principle of human rights that children should have a voice in the policies and procedures to which they are subjected.128 However, in this context, providing children a choice between physical beatings or another disciplinary option is not a rights-protective policy. Providing students a choice in this context is fundamentally exploitative, preying on vulnerable young people with underdeveloped decision-making capabilities.
---