II. The Range of Prison Facilities at Guantanamo
Although the detainee population has declined significantly from its May 2003 peak of 680 detainees, 270 prisoners remain at Guantanamo, most of whom have been in US custody without charge for more than six years.  Among those still held, there are some 70 people who have been cleared for release or transfer.1
Guantanamo's 270 prisoners are held in several different prison units, and conditions vary significantly from one to the next.
At the outset, in early 2002, detainees arriving at Guantanamo were held in the open air, barbed-wire-enclosed Camp X-ray—a site that became the iconic image of Guantanamo.  But Camp X-ray closed that April, and was replaced by a series of much less makeshift and generally more-restrictive prison facilities.
In February 2003 the military opened Camp 4 in an effort to ease restrictions and allow detainees who do not pose disciplinary problems to congregate more freely.  Designed to resemble a prisoner-of-war lockup, Camp 4 includes 10-cot bunkhouses, communal showers and toilets, a soccer field, and a common outdoor area where detainees eat, pray, and play games together.  Movies are regularly provided as entertainment; select news is posted on bulletin boards in common areas; and some detainees have reportedly been given the opportunity to attend Pashto, Arabic, and English classes.2
Camp 4 has space for approximately 175 detainees, but was virtually emptied in May 2006 after a group of detainees reportedly attacked the guards with improvised weapons, including broken pieces of light bulbs, and caused significant damage to the facility.3  Three suicides followed a month later.4  Now some 50 detainees are housed there.5
Most detainees, however, are not provided anything close to the kinds of privileges afforded the detainees housed in Camp 4.  The vast majority of detainees held in Guantanamo are housed in extremely restrictive and isolating conditions, in what are labeled Camps 3, 5, 6, and 7.  In all, some 185 prisoners live in these four camps.
Opened in 2002, and temporarily closed in 2006, Camp 3 now reportedly serves as a punishment unit.  Detainees are held in single cells that are 8 feet long, 6 feet 8 inches wide, and 8 feet tall.  Cell walls are partially constructed of metal mesh material that lets in filtered light and air, with a steel roof.  Each cell has its own flush-toilet and sink.
Detainees report that they spend at least 22 hours a day in their cell, that they are not housed adjacent to one another so cannot speak to each other.  A giant "noise machine"—presumably a generator—reportedly runs all day long, making it impossible for them to communicate with each other even by yelling.  Between that and the sound of soldiers walking by on metal planks, they say they can hear little else.  Detainees are allowed a Koran in their cell but virtually nothing else.  They are reportedly taken out alone for their recreation time so that their isolation from each other is complete.6
Approximately six detainees are believed to be held in Camp 3.7
Opened in May 2004 and modeled after a maximum-security prison design used in the United States, Camp 5 is a 100-bed high-security detention unit designed for those "deemed to be the highest threat to themselves, other detainees or guards."8  Detainees generally spend 22 hours a day in 12-feet-long, 8-feet-wide, and 8-feet-tall concrete cells, furnished with a combination toilet-sink and a sleeping shelf, and with small opaque window slits.  Meals are slid through slots in the cell doors and eaten alone.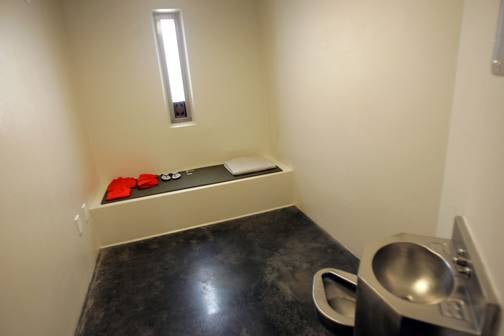 Lights are kept on 24 hours a day, and detainees are constantly monitored by guards who peer in through the windows of the floor-length steel cell doors.9  Detainees are given eye masks so that they can sleep in spite of the lights.10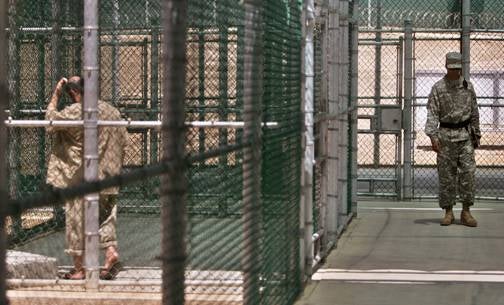 Recreation—up to two hours a day—takes place either in individual 8-by-20-feet pens, or in 20-by-20-feet recreation areas that are sometimes used to hold two detainees at a time.11  At least one detainee has told his lawyers that even in the larger pens they are forbidden from physically interacting with each other.12
Detainees in Camp 5 also report that they are often only offered recreation opportunities at night.13  A JTF-GTMO official told Human Rights Watch that there is simply not enough time to bring all the detainees out during the day, and that often detainees do not want to go out for recreation in the middle of the day as it can be brutally hot.14
Approximately 60 detainees are currently housed in Camp 5.15
Completed in November 2006, Camp 6 is a $37 million high-security detention unit with a maximum capacity of about 160 detainees.16  Modeled after a county jail in Lenawee, Michigan, it was originally designed as a medium-security facility where detainees could mingle in communal eating and recreation areas.17  It was refitted in June 2006, however, following three suicides and the reported attack on guards in Camp 4.18  Recreation areas were divided into individual cages; the communal eating area was declared off limits; and additional security provisions were installed.19
Most detainees in Camp 6 now spend at least 22 hours a day in windowless  6 feet 8 inch-by-12 feet concrete and steel cells, with solid steel doors, that contain a single bed and a combination sink-toilet.  They eat all their meals in their cells, and are only allowed out for individual recreation (up to two hours a day, often at night), showers, interrogations, and attorney, medical, or ICRC visits.20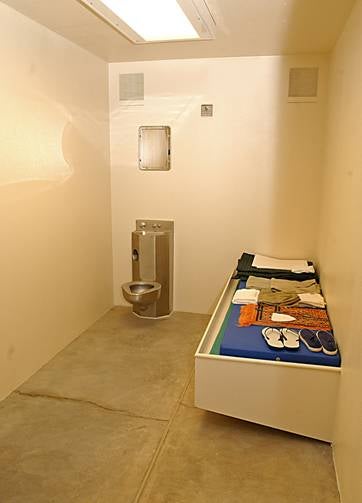 Detainees have told their lawyers that the walls around the recreation areas are approximately two stories high, meaning that they rarely receive direct sunlight, even if they are taken out for recreation during the day.21 
Several detainees have reported that when they are offered recreation during the night, which happens frequently, they are often discouraged from taking it.22  Detainees have also said that, depending on the guard who is on duty, they may be punished for touching each other through the chain-link fences that enclose their recreation pens.23  They can only communicate with each other at recreation time or by yelling at each other through the gaps in their cell doors.24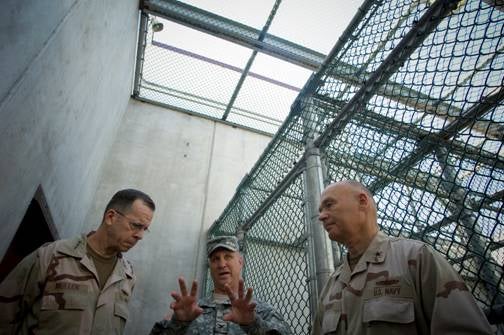 Approximately 100 detainees are currently housed in Camp 6.25
Very little is known about Camp 7, which houses the so-called high-value detainees who were transferred to Guantanamo from the custody of the Central Intelligence Agency (including 14 who were transferred in September 2006).26  To judge by the little information that is available, however, conditions at Camp 7 are even more restrictive than those at Camps 5 and 6.
Approximately 15 detainees are believed to be held at Camp 7.27
*          *          *
In addition, another 15 or so detainees live in shed-like buildings in Camp Echo that were previously used as interrogation and isolation units, but are now primarily used to house detainees deemed unsuitable for communal living in Camp 4.  Doors to the sheds have reportedly been replaced with bars that allow in natural light, and detainees are reportedly allowed to move freely between the cell, shower area, and small interrogation room in each shed.28
An additional 25 or so detainees are reportedly housed in Camp 1, which is similar in construction to Camp 3, with wire mesh cell walls that let in fresh air and light.  Unlike in Camp 3, detainees are housed in adjacent cells and can communicate with each other.  Guantanamo military officials report that most detainees prefer Camp 1 to Camps 5 and 6, even though some have complained about the total lack of privacy in the cells.29
While conditions vary significantly from unit to unit at Guantanamo, some restrictions apply to all prisoners.  Most importantly, none of the men currently held at Guantanamo has ever been allowed to receive a visit from a family member or friend, and few have even been allowed to make a phone call home.30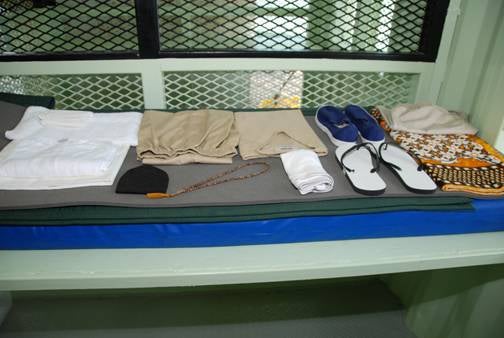 The consequences for family relationships are devastating.  Except for censored letters (which are not much comfort to illiterate detainees), detainees have been cut off from their families for years, having almost no contact with wives, children, parents, and other loved ones.  Some detainees have children whom they have not seen or spoken to since their birth, or whom they only saw years ago as infants.  The policies on family contact at Guantanamo are even more restrictive than those at the detention center at the US air base in Bagram, Afghanistan—which has for the past several months allowed detainees to communicate with their families by video conference calls.31
The inability to make phone calls also undercuts the ability of military commission defendants to build relationships with their attorneys, and participate in and help control their own defense.  While attorneys can write their clients, an exchange by mail can take several weeks—time that cannot always be spared as filing deadlines approach.  The lack of phone access, coupled with the logistical difficulties of traveling to Guantanamo, has no doubt contributed to problems in establishing trusting attorney-client relationships, as evidenced by the high number of commission defendants who have at some point fired their attorneys.32
When Ibrahim al-Qosi, a 47-year-old Sudanese man accused of serving as Osama bin Laden's driver and bodyguard in Afghanistan, appeared before a military commission on May 22, he told the judge that he wanted to hire a civilian attorney, as allowed under the military commission rules (so long as the attorney is a US citizen and passes the security clearance).  When the military judge asked if al-Qosi had a particular civilian lawyer in mind, al-Qosi explained, "I've been in prison here for six and a half years.  I've had no contact with the outside world.  I have no information about that."  He asked to be allowed to call his family so they could help him find a civilian lawyer through the Sudanese Bar Association.  The court ordered the government to arrange the call by no later than July 1—the first opportunity al-Qosi will have had to speak to his family in his six-plus years in Guantanamo.33
Another common factor is a dearth of useful activities—rehabilitative or educational programming—with the exception of language classes provided to detainees in Camp 4.  Even access to reading material is limited to just one book at a time.  The Department of Defense claims that Guantanamo's library now holds approximately 5,000 books, including several books in Arabic and other languages spoken by detainees.34  Yet several lawyers for non-Arabic-speaking prisoners have complained that, at least in the past, their clients have had very inadequate access to books in a language they can read.35  In addition, many detainees are illiterate, marginally literate, or able to read in only one language.  The one-book-at-a-time policy means that detainees cannot keep both a dictionary and another book in their cell at the same time, making it very difficult for detainees to teach themselves or progress to another reading level.36
In general, detainees who follow the rules are allowed certain comfort items, including a thermal shirt, pen, paper, and library privileges, in addition to the basic items that all detainees are provided.  Detainees who do not follow the rules can be punished with the removal of these comfort items.37  (They are allowed to keep a copy of the Koran.)  One detainee—a self-styled poet—told his lawyer it was nearly impossible to write poetry anymore because the prison guards would only allow him to keep a pen or pencil in his cell for short periods of time.38
The Department of Defense claims that detainees are placed in Camp 5 and Camp 6 based on their behavior, and cites a range of misconduct, including throwing "cocktails" of feces and urine at guards, head-butting guards, and staging riots, as the basis for detainees' placement in the high-security units.  JTF-GTMO officials also say detainees could earn their way to Camp 4 or other less-restrictive living environments if they were to behave properly.  But whereas JTF-GTMO officials describe a "vetting process" involving multiple prison staff providing input about a particular detainee, there is no regular review process by which detainees are informed of their status, no set time period for the reviews, andnoset rules or guidelines informing detainees of what they need to do, or how long they must exhibit good behavior before earning additional privileges.39  Several detainees have told their lawyers that they do not know why they were moved to Camp 5 or Camp 6 and believe they have little hope of moving elsewhere.40
The Department of Defense also notes that these detainees at Guantanamo are not technically in solitary confinement because they can yell at each other through the gaps underneath their cell doors, they can talk to one another during recreation time, and they are allowed periodic ICRC and lawyer visits.  The US government points to the fact that detainees are housed in cells that contain an arrow pointing to Mecca and provided regular, high-calorie meals that all meet the halal dietary requirements as evidence that the detainees are treated with sensitivity and care.  It also claims that they pray under the guidance of a detainee chosen to lead prayers.
But while these measures are positive accommodations to detainees' needs, they cannot themselves equate to "humane" treatment in view of the isolation imposed.  The reality is that these men live in extreme social isolation, with little outside stimuli, and little to do all day but stare at the walls.  And despite claims to the contrary, the facility has not had an imam since September 2003; and while Guantanamo officials allow detainees in Camps 5 and 6 to pray in unison, led by a chosen detainee representative, all of the detainees still remain locked in their cells.41
Some military officials at Guantanamo recognize the problems inherent in limiting detainees' social interaction, recreation time, and educational opportunities, and have told Human Rights Watch they intend to make improvements within the year.  Specifically, one Guantanamo official told Human Rights Watch that he would like to change the way Camp 6 operates so that detainees can congregate in the pods between their cells, and are provided additional recreation time as well as language classes and other educational opportunities.  Ultimately, he would like to create a tiered detention system, with much more regular and formalized reviews, and a "step-down program" modeled after federal prisons, whereby detainees could earn their way from Camp 5, to a modified Camp 6, to Camp 4.  But the official warned that it would be too dangerous to allow detainees and guards to mix freely in the open pods between the cells, and that JTF-GTMO first needed to construct a safe space (presumably a catwalk) whereby guards can monitor the detainees without being at risk of attack.42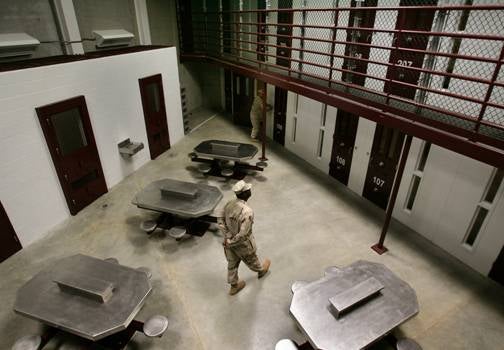 In the interim, most Guantanamo detainees remain locked in their cells 22 hours a day, with little in the way of recreational, vocational, or educational outlets.
---