Although Article 1.2 of ICERD states that the treaty's prohibition on discrimination does not apply to "distinctions, exclusions, restrictions or preferences made by a State Party to this Convention between citizens and non-citizens," the Committee has narrowed this exclusion. The Committee has clarified that states parties are obligated to prohibit and eliminate "racial discrimination in the enjoyment of civil, political, economic, social, and cultural rights."82 Except for certain political rights, such as the right to participate in elections, which may be confined to citizens, "[s]tates parties are under an obligation to guarantee equality between citizens and non-citizens in the enjoyment of these rights."83
As the Committee notes, any policies of differential treatment between non-citizens and citizens will constitute discrimination "if the criteria for such differentiation, judged in the light of the objectives and purposes of the Convention, are not applied pursuant to a legitimate aim, and are not proportional to the achievement of this aim."84 Human Rights Watch believes that the US government's failure to protect the family unity and nonrefoulement rights of non-citizens during deportation after a criminal conviction violates this requirement of the treaty.
In particular, the policy of the United States to subject hundreds of thousands of non-citizens to summary deportation after they have finished serving their criminal sentences for a vast array of crimes directly and unequivocally violates the Committee's instruction that:
Punishments targeted exclusively at non-nationals that are additional to punishments under ordinary law, such as deportation … should be imposed only in exceptional circumstances and in a proportionate manner, for serious reasons related to public order which are stipulated in the law, and should take into account the need to respect the private family life of those concerned and the international protection to which they are entitled.85
In 1996, the United States implemented legislation that requires deportation of non-citizens convicted of a crime, for both serious and minor offenses, after they have served their criminal sentence.86 Under this legislation, some 672,593 immigrants in the US, many of whom were legal residents—some with families, who had lived in the US for decades, and who had committed nonviolent offenses—have been deported from the country as shown in Figure 4. As a result of these deportations, Human Rights Watch estimates that approximately 1.6 million adults and children residing in the US have been separated from their spouses and parents since 1997, when the 1996 laws went into effect.87 Based on the US Census, we estimate that out of these 1.6 million family members left behind by deportees, 540,000 were US citizens by birth or naturalization.
Figure 488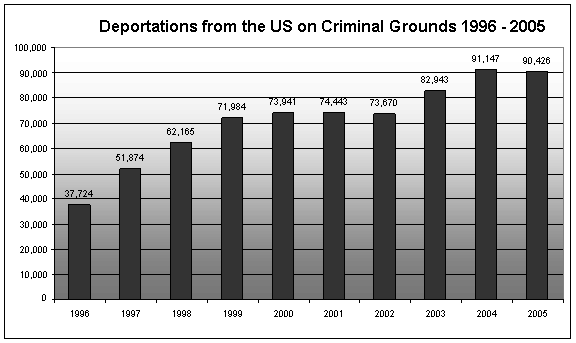 For reasons that are unclear, regular press updates by US Immigration and Customs Enforcement (ICE) always tout the deportations of violent criminals, but keep vague the other categories of immigrants deported.89 Despite the fact that the relevant laws were passed ten years ago, data on the underlying convictions for deportations were released for the first time by ICE at the end of 2006 for fiscal year 2005. Illustrated in figure 5, these data show that 64.6 percent of immigrants were deported for non-violent offenses, including non-violent theft offenses; 20.9 percent were deported for offenses involving violence against people; and 14.7 percent were deported for unspecified "other" crimes.
Figure 590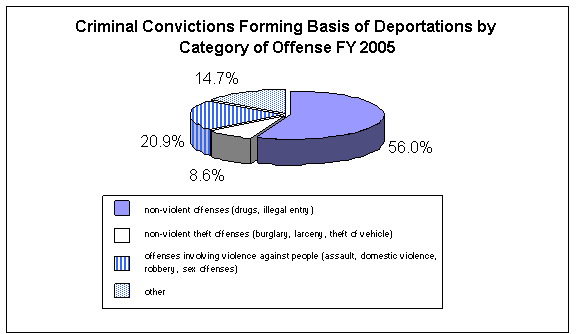 Applying these percentages from 2005 to the aggregate number of persons deported allows us to estimate that 434,495, or nearly a half million people, were non-violent offenders deported from the United States in the 10 years since the 1996 laws went into effect. In addition, we can estimate that 140,572 people were deported during that same decade for violent offenses. Based on these data, the deportations appear to fail the CERD requirement that deportation should only be imposed "in exceptional circumstances and in a proportionate manner."91
In fact, the 1996 immigration law and its implementation violate the United States' obligations under ICERD in at least three ways. First, non-citizens are deported without any administrative or judicial oversight that would allow an assessment of proportionality. Second, these laws apply not only to serious crimes, but also to minor offenses, and do not take into account whether the non-citizen has lived in the US legally for decades, building a home and family. This omission violates the Committee's instructions to "take into account the need to respect the private family life of those concerned" prior to deportation.92 Finally, deportation proceedings do not allow for consideration of whether a non-citizen has a well founded fear of persecution upon return to his or her country of origin.
ICERD makes clear that differential treatment between citizens and non-citizens may only occur if it is pursuant to a legitimate aim and proportional to the achievement of that aim.93 While the United States may have legitimate reasons for seeking the deportation of individuals convicted of crimes who may pose a danger to society, there is no process under which the necessity or proportionality of the deportation can be assessed. The 1996 legislation prevents judges from considering whether minor crimes should not trigger deportation, whether a particular non-citizen shows evidence of rehabilitation, or if there are other compelling reasons for an individual non-citizen to remain in the US.94 
The Committee has made clear that deportations "should be imposed only in exceptional circumstances … and should take into account the need to respect the private family life of those concerned."95 The legislation does not allow judges to strike a balance between the reasons for deportation—i.e., the seriousness of the crime—and the length and breadth of an immigrant's ties to the United States. While it may be fair, for example, to deport an immigrant who commits murder within six months of his arrival in the US, it may be grossly unfair to deport a parent of young children who has lived legally in the US for 30 years and who was convicted of passing a forged check. Again, there is absolutely no procedure under US immigration law for most non-citizens convicted of crimes to bring these issues before a judge for review. 96
Finally, CERD General Recommendation 31 states that the US should ensure that deportees will not be sent back to a country or territory where they would run the risk of serious violations of their human rights.97 But many non-citizens are subject to deportation after serving their criminal sentences without consideration of the risk that they would be returned to persecution. These non-citizens have no opportunity in deportation proceedings to assert a fear of persecution based on one of the grounds that may establish refugee status. This is true despite the fact that under international law it is expected that judges will have an opportunity to consider not only the individual's fear of persecution, but also whether his or her criminal conviction is particularly serious as well as whether he or she "constitutes a danger to the community."98 None of these factors can be weighed in deportation proceedings for non-citizens convicted of certain crimes in the United States.
Deportation is a necessary part of every country's enforcement of its immigration laws. But as explicitly discussed in the Committee's General Recommendations 30 and 31, the exercise of the power to deport must be governed by fair laws narrowly tailored to protect legitimate national interests.
Human rights law recognizes that the privilege of living in any country as a non-citizen may be conditional upon obeying that country's laws. However, a country like the United States cannot withdraw that privilege without protecting the human rights of the immigrants it previously allowed to enter. Human rights law requires a fair hearing in which family ties and other connections to an immigrant's host country are weighed against that country's interest in deporting him. The 1951 Convention Relating to the Status of Refugees and its related Protocol also require a hearing into a non-citizen's well founded fear of persecution prior to deportation. Unfortunately, that is precisely what US immigration law fails to do.
In this respect, the United States is far out of step with international human rights standards, including its obligations under ICERD.
Urge the United States to reinstate hearings that would allow immigrants facing deportation the chance to ask a judge to allow them to remain in the United States when their crimes are relatively minor and their connections (especially their family ties) to the United States are strong.
Require the United States to uphold its obligations to refugees by giving all persons subject to deportation an opportunity to raise their fears of persecution, and ensuring that only refugees who have been convicted of a "particularly serious crime" and who "constitute a danger to the community" of the United States may be returned to places where they fear persecution.
Require the federal government to evaluate the kinds of crimes that render people deportable in order to prevent permanent and mandatory banishment from the United States for relatively minor non-violent crimes like theft or drug possession.
---