In the weeks following the start of Tibetan protests in Kathmandu on March 10, 2008, Human Rights Watch observed 18 demonstrations. In all 18 demonstrations, Nepali police used unnecessary or excessive force against protesters. Police used unlawful force during arrests and in attempting to disperse demonstrations. In nearly all of the protests, Tibetans demonstrated peacefully; we are aware of only one case in which protesters reportedly used violence, a March 10 protest in which Nepali youth, who appear to have been fake protestors, threw rocks at police.
The Nepali authorities have not provided a legal basis for breaking up the demonstrations and arresting participants. Nepali law does provide regulations on public gatherings. Under the Local Administration Act, 1971, the chief district officer (CDO) has primary authority for the maintenance of peace and security at the district level.11 While Nepali law does not require a permit from the government to engage in peaceful assembly, the Local Administration Act allows the chief district officer to prohibit gatherings in specified areas. These are areas declared to be riot affected areas12 and specified public roads where "obstruction" is prohibited.13 However the chief district officer has not declared any areas to be riot affected, and no Tibetan protests have taken place in the three existing specified public roads.14
The Local Administration Act also allows the chief district officer to "issue an order for not allowing the gathering of more than five persons at the same place with the purpose of hooliganism or turmoil in such area and time."15 Such an order appears applicable only to specified individuals gathering at that time and area,16 and no such order is known to have been issued to any Tibetan protester.  
International law protects the right of peaceful assembly.17 Restrictions for reasons of national security or public order may be imposed, but only when in conformity with the law, where they serve a permissible purpose, and are necessary and proportionately applied.18 Non-nationals lawfully in a country are entitled to the same rights of assembly as nationals.19
Even if the police actions against the demonstrators were a warranted infringement on the right to peaceful assembly, the authorities have used unnecessary and excessive force against protesters. International human rights law places restraints on the use of force by police and other security forces. According to the UN Basic Principles on the Use of Force and Firearms by Law Enforcement Officials, police should use force only when unavoidable and, even then, should exercise restraint and act in proportion to the seriousness of the offense and the legitimate objective to be achieved. The force used must minimize damage and injury.20 The unlawful use of force by police can amount to violations of the prohibition against cruel or inhuman treatment.21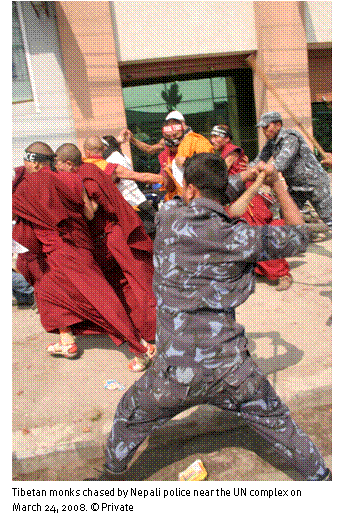 In our observations of police use of force in response to demonstrations by Tibetans after March 10, we found that Nepali police used unnecessary force against peaceful demonstrators and excessive force against demonstrators resisting arrest. Every one of the more than 90 Tibetan demonstrators interviewed by Human Rights Watch had either been beaten during a protest or had observed friends being beaten.
The manner in which police used force appeared to change over time. Initially law enforcement authorities aimed to focus on dispersing the crowds and openly used brutal force, such as beatings to the head and body with lathis (wooden canes of approximately 1.5 meters used by police throughout South Asia for crowd control), and kicking and punching. As reports of this ill-treatment began to surface in the media the authorities appeared to change tactics. Beginning in late March, protesters reported that police had begun to hit them on lower parts of the body with lathis; to encircle and kick individual protesters; to target punches to the kidneys; to hold protesters by the neck, cutting off air; and to pinch, scratch, and pull the protesters' hair.
In the first week or so of protests, crowd dispersal was more common than mass arrests.22 Small numbers of people were arrested, but large numbers were dispersed using unnecessary and sometimes excessive force. During this period, the police would first ask the crowd to disperse before using force; this practice seemed to stop as the demonstrations continued.
Following are some specific incidents from the first week of demonstrations.
March 10
Between 700 and 1,000 Tibetans gathered at Boudha Stupa on the morning of March 10 to carry out their annual peaceful protest to commemorate March 10, 1959. As the procession left the gate of Boudha Stupa and began to move west along Boudha Road towards Kathmandu, Nepal Police moved in and within a few minutes prevented the procession from proceeding further. Tibetan protesters report that they then witnessed Nepali youth pretending to join the protest throwing stones in the direction of police, which swiftly led to a police lathi charge. Nima Tsering, age 61, reported being beaten on March 10:
On March 10, when I was going along the road, my aim was human rights, not to disturb Nepal or China. When I reached Pasang Lama Chowk I was beaten with a stick on my legs and back and was unconscious for 15 minutes.23
A nun from Swyambu told Human Rights Watch about what happened to nuns on March 10:
Some [policemen] hit the nuns, not only nuns but many Tibetan people. They were hit very bad and they got wounded. Around 15 nuns were hit on the back and now they are black and still they hurt. We asked them to check with the doctor but they said, 'It's ok, we did the protest for our country.'24
Tashi Tsomo, age 49, reported that police pushed her with such force that she fainted.25 Others have reported seeing Tibetans beaten with sticks and kicked. One man was beaten so hard on his head that he was taken to hospital by his friends.
The force used on March 10 appears to have been focused on dispersing the protesters, and both those arrested and those who fled the location of the protest reported the use of force against them.
March 14
On the evening of March 14, police used unnecessary force against 70 to 80 peaceful protesters, three of whom were arrested. The group was standing just outside Boudha Stupa Gate between 6:30 and 7:00 p.m. when approximately 50 Nepal Police and Armed Police charged them with lathis. As the protesters attempted to run away, police chased them and hit them with lathis, shouting, "We have to hit them!"26
Nima Phuntsok, age 25, was seriously injured on this occasion:
I was hit on the head by police and fell to the ground. I was then hit with lathis on the feet and legs by three policemen before they ran off and I was helped home by a passerby.27
Nima Phuntsok had fractures in both feet and learned that his left foot is so badly injured that it will never fully recover.28 He has not reported his torture to the police or filed a claim under the Torture Compensation Act, as he fears retaliation by the police.
March 15
On March 15, police broke up a peaceful gathering of more than 100 protesters in front of UN House in Pulchowk and arrested 12. The protesters had asked the Nepal Police to allow them to protest for 10 or 15 minutes, but the police stated that they had received orders from senior authorities and immediately charged the group. The police focused their attention on a small group of hunger strikers sitting quietly off to one side. After this group was arrested, Human Rights Watch observed the police disperse the remaining protesters by charging them and beating them with their lathis.
March 17
On March 17, a large group of Tibetans began a peaceful protest around 10:30 a.m. After approximately one hour, the police began beating and arresting the protesters. The police then allowed the remaining protesters to demonstrate in front of the UN House sign on Pulchowk Road for about an hour. The police then surrounded the protesters and fired tear gas into the crowd, particularly targeting a group of 11 hunger strikers. The crowd immediately dispersed, and those who fled in a northerly direction were chased by the Lalitpur district police until they crossed Bagmati Bridge (approximately two kilometers), where Kathmandu district police took over the chase.29
Individual participants in the demonstrations gave detailed accounts of their treatment by police.
Tenzin Wangpo, age 23, told Human Rights Watch that he has joined most of the protests since March 10, and on every occasion has been assaulted by the police. He said that police hit him with lathis; kicked, pinched, and scratched him; pulled his hair; and hit him on the back of the knees with a lathi, forcing him to the ground. He alleges that police on two occasions kicked him in the kidneys. He said he was hit twice on the head with a lathi and once in the mouth. He said that on more than one occasion he was pushed onto the ground near a police van while as many as five police officers stepped on his stomach and chest and another six or seven surrounded him to block the view of the media. He said he was also verbally abused by the police.30
Dukar Gyal, age 30, reported that the police kicked and hit him with sticks on the back and shoulder before they arrested him on March 10.31 Dawa Tsering, age 25, said he was severely beaten, including on the head, before being arrested and taken to Kamal Pokhari Police Station on March 10.32 Tenzin Gyaltsen, age 27, alleged being hit with a lathi by the police on March 10.33 Tsering Pinchok, age 36, has reported being kicked in the stomach on March 15.34 Nima Tsering, age 61, said police hit him on the head on several occasions.35 All said they had been peacefully protesting when the police assaulted them.
Sherab Dolma, age 22, reported seeing police beat protesters on the legs, back, and buttocks on March 24. Disturbed by seeing a police officer beat and push a woman to the ground, she got out of the microvan in which she was traveling and joined the protest, only to be arrested herself.36
After March 28, the police appeared to change their tactics against individual demonstrators. In place of lathi attacks to the head and upper body, there were significant increases in reports of police beatings on lower body parts with lathis, punches and kicks to the kidneys, and pinching, scratching, and hair pulling. Namcho Rimpoche, age 29, told Human Rights Watch that on March 30,
I was lying on the ground and many police officers made a circle around me, and the police started hitting me and kicking me down low. They punched and kicked me in the kidneys and upper ribs. They also pinched me.37
On March 29, following arrests of peaceful protesters outside the Chinese Embassy Visa Section, Human Rights Watch observed bruises and bleeding scratch marks on men and women detained at Ghan II Police Barracks. These included major bruising on a nun's leg resulting from being beaten with a lathi, and a monk with bleeding and loose teeth after a police officer punched him in the face.
Tashi Dolma, a 25-year-old woman, told Human Rights Watch,
On March 31, I was protesting at the Chinese Consulate and I was kicked in the back of my ribs while they arrested me. Then in the police jeep I was held strongly by the neck.
Tashi Dolma, who has epilepsy, reported that this treatment resulted in her having an epileptic fit while in detention. She also reports that on a separate occasion three female police officers held her while a male police officer hit her with a lathi. She also said that police officers had kicked her in the groin, the back, and the buttocks.38
On March 31, Samphel, age 24, a Nepali monk, was beaten on his kidneys by three police officers while a fourth police officer held him tightly by the neck.39 Penpa Dolma, age 15, reported seeing police beat a group of young men using punches to the kidney area on April 2.40
Police have beaten a number of protesters so badly that they required medical attention while in detention. On March 17, Tenzin Dolkar, age 39, and Nwang Tenzin, age 25, were both taken to the police hospital for treatment. Tenzin Dolkar's arms were X-rayed, as they had been beaten with lathis when she tried to protect her head.41 Nwang Tenzin had similar injuries on his arms, and had also fallen to the ground and been beaten on the back of his ribs with a lathi. He told Human Rights Watch,
The police took my friend, so I tried to hold onto him. Then the police tried to hit me with a lathi, so I put my arms up and now I have a damaged arm. Then I fell to the ground and the police beat me while I was on the ground, and now I have this large bruise on my back. My friend picked me up because I couldn't walk and then the police put me into the van.42
On March 24, a Tibetan welfare officer reported being called to Jawalakel Police Station because two monks had been badly beaten on the head and required medical attention.43 On March 25, Thupten Tashi, age 26, and Nawang Chogyang, age 25, were X-rayed for injuries to the head and ribs, respectively, and Nawang Rabjor, age 38, was treated for soft tissue damage. All three were unable to walk unaided. Dichen Dolkar, age 18, had her shoulder X-rayed and was given injections in both hips to reduce pain on March 30.44
Protesters attempting to protect others being beaten have also been beaten and arrested by the police. Lobsang Jinpa, age 26, was arrested after he asked the police to stop beating a monk on March 20.45 Tenzin Jinpa, age 37, saw a group of women being beaten with lathis on March 15, so he put his arms around the women, and was subjected to a harsh beating to his exposed back. On March 24 he saw five police officers beating his friend on the back and legs with a lathi, so he tried to intervene and three police officers kicked him two or three times on his back, slapped his face, and then beat his hip.46 Police also beat two foreign journalists who questioned police officers during protests about the use of force against peaceful Tibetan protesters.
Nepal Police and the Armed Police have also caused physical harm to Tibetan protesters following their arrest during transfer in vans, trucks, and jeeps to places of detention. This physical abuse appears to be intentional. The observed shift from visible assaults to less visible abuses was accompanied by increased reports of beatings inside police vehicles, more frequent use of vehicles without windows (such as large Armed Police Force trucks), and police vans with closed tinted windows.
On one occasion Human Rights Watch observed Nepal police holding a protester by the neck while another police officer hit him inside a police van. Namcho Rimpoche, age 29, reported seeing two women hit in the back of a truck after protesting at the Chinese Embassy Visa Section on March 27.47 Tashi Tsomo, age 49, reported that while being transferred from the protest on March 31  police officers held her on the floor of a police truck while four or five male police officers walked on her body. She said,
A friend tried to help me get up but the police just kept doing it. I still have pain in here [pointing at her chest]. There were no women police in the truck with us, even though most of us in the truck were women.48
On numerous occasions, particularly after March 28, Human Rights Watch received reports of police trucks being driven recklessly with the apparent intention of throwing about passengers in the back of the truck and causing them injury. On one occasion a protester had to be taken to the hospital after reaching Ghan II police barracks.49
Nepali police have physically attacked and harassed journalists and sought to intimidate human rights defenders monitoring abuses against the Tibetan community in Nepal.
Nepali police physically assaulted journalists on at least two occasions. On March 17, a foreign journalist who was attempting to photograph arrests of protesters was punched in the face by a Nepali police officer outside the UN complex.50 On April 17, Human Rights Watch observed a police officer manhandle, kick, and punch a foreign journalist.
On April 18, two Tibetan journalists covering a protest were arrested. Police specifically targeted Tenzin Choephel and Thupten Shastri51 out of a group of five Tibetan journalists a few minutes after the protest had finished. When Choephel and Shastri asked the reason for their arrest, a senior officer replied, "I don't know the reason, but it might be because if there are many Tibetan journalists, then there are more Tibetan protesters coming."
Foreign and Tibetan journalists and human rights workers observing protests have been photographed at close range (one meter) by what appear to be Nepal intelligence officials and also questioned.
Nepali police have repeatedly sexually assaulted Tibetan women during arrest. Women, including girls under 18 years of age, reported male police officers groping their breasts and buttocks inside and outside their clothing. Some said they had been struck in the groin with a lathi. Sexual assault is never a legitimate law enforcement method. The numerous, strikingly similar cases reported, and the failure of the authorities to denounce such actions, let alone investigate those responsible, strongly suggest that sexual abuse of Tibetans by the Nepali police is systemic and tolerated.
Tashi Topgyal, age 17, said she was arrested at both UN House and at the Chinese Embassy.  She told Human Rights Watch that policemen touched her breasts and buttocks outside her clothes and also tried to touch her breasts inside her clothes. She said she could not identify the police officers who assaulted her because two or three men were all restraining her and touching her while they arrested her and put her into the police van. When she asked the police why they were touching her, they laughed at her.52 Tashi Dolma, age 25, reported that on several occasions the police touched her on the breasts and buttocks while they put her into a police van.53 Dawa Tsering, age 25, said that a police officer groped her while she was not fully conscious after she had fainted at a protest.54 She also reports being groped during arrest on several other occasions.
Nima Tsering, age 38, said that she had her breast squeezed so forcefully by the police that she could not breathe properly. She said it was difficult to know which policeman did it, as there were so many policemen touching her through her clothes.55 Pelkyi, age 35, reported having her breasts groped.56 Tenzin Jinpa, age 37, said that a group of girls who protested with him on March 15 at the UN House told him that the police touched their breasts.57 Tsering Tsomo, age 30, reported that on March 24 a policeman tried to hold her breast, so she screamed; the following day another police officer tried to hold her breasts. Tashi Tsomo, age 48, said that policemen tried to grab her breasts on March 24 when she was protesting at the Maitighar Mandala. At a protest on March 24 at UN House, an 18-year-old woman reported that the police touched her breasts and groped her groin area and tried to tear her clothes. She also reported that on March 28, seven or eight policemen attempted to sexually assault her while arresting her, and when she resisted they verbally abused her and her friends with sexually harassing language.58
On March 29, following a demonstration at the Chinese Embassy Visa Section, Tibetan women told Human Rights Watch that policemen had been trying to put their hands inside women's trousers and touch them. Similar behavior was also reported following a protest at UN House on March 21.
Several women also reported being kicked or hit in the groin with a lathi, in some cases resulting in urinary tract injuries. Tashi Dolma, age 25, was kicked in the groin on March 24 while protesting at UN House.59 Nima Sangmo reported being kicked in the groin on March 25.60 Tsering Tsomo's friend was kicked in the groin on March 24.61
---