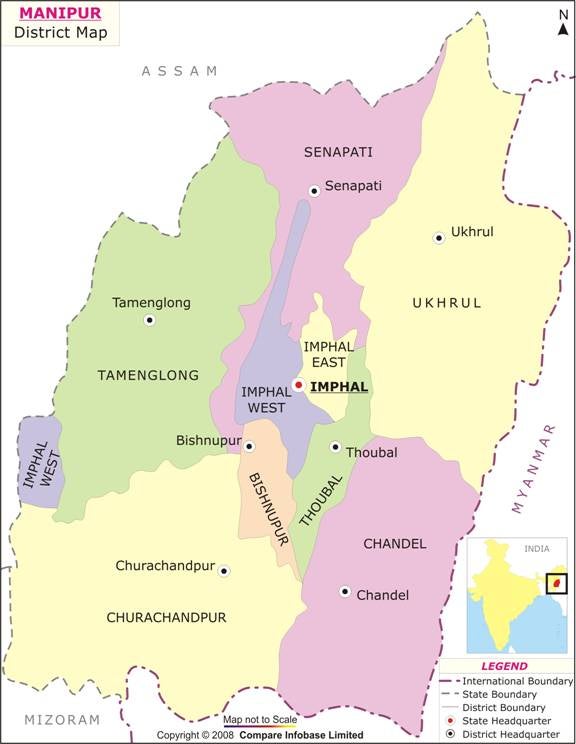 It takes us a long time to raise our children. Then, when they grow up, they are shot. This cannot go on. We no longer want to look for our children in the morgue.

—Yumlembam Mema, women's rights activist in Manipur
A woman is arrested at her home at night. The authorities provide her family a signed document acknowledging her arrest. The next morning, villagers find her bullet-ridden corpse some four kilometers away from her home. There are widespread protests following the woman's death. Promises are made by the highest authorities of the country, and yet, after four years, justice remains undone. No one is punished for this crime.
This is the story of Thangjam Manorama Devi, a 32-year-old resident of India's Manipur state. The paramilitary Assam Rifles suspected her of links to an underground separatist group and detained her on July 11, 2004. The soldiers raided her home in Bamon Kampu village a little after midnight, asking the family to wait outside while they questioned her. They then signed an "arrest memo," an official acknowledgement of detention put in place to prevent "disappearances" and took her away. Her body was found outside a nearby village. She had been shot through the lower half of her body, raising suspicion that bullets had been used to hide evidence of rape.
Human rights violations by security forces engaged in counter-insurgency operations in Manipur state have occurred with depressing regularity over the last five decades. Separatist militants have also committed widespread human rights abuses. According to the police, nearly 3,000 civilians have died in the conflict since 1990. At least 1,300 militants and nearly 1,000 members of the security forces have also been killed. According to unofficial sources, at least 20,000 people may have died due to violence since the conflict began in the 1950s. But Manipur, a small state of two million people, is tucked away in the country's remote northeastern region. Not much that happens there makes the national news—unless it is a particularly brutal attack by militants.
However, the security forces' clear role in Manaroma's killing captured widespread media attention. Protests erupted in Manipur, while domestic and international human rights groups demanded an immediate investigation and the prosecution of those responsible. Concerned that the government would fail to hold soldiers accountable for the killing, as had repeatedly been the case in the past, for several weeks Manipuris took to the streets. Students, lawyers, traders, mothers, journalists, and human rights activists marched every day, demanding justice. One man committed self-immolation in protest, several others attempted suicide.
The paramilitary Assam Rifles claimed that Manorama was shot dead while trying to escape. In later affidavits, the soldiers implicated said that she was helping the army locate another militant when she instead tried to escape. It is a difficult account to accept: an unarmed, handcuffed woman, wearing the tightly-bound Manipuri sarong that does not lend itself to big strides, supposedly managed to escape the custody of an armed escort. And if she did, it does not explain why the soldiers were unable to catch her and had to shoot to kill. There has also been no explanation why Manorama had not been handed over to police custody by the arresting officials of the Assam Rifles, as the law requires. Or why no female official had been brought in at the time of this night arrest, as is the rule.
Soldiers were able to arrest Manorama because they are empowered to do so under India's Armed Forces (Special Powers) Act (AFSPA), the 1958 emergency law under which the armed forces are deployed in internal conflicts and enjoy broad powers to arrest, search, and shoot to kill. This 50-year-old law also provides security forces immunity from prosecution and has thus protected members of the Assam Rifles—as well as soldiers in Jammu and Kashmir, and other states in India's northeast—responsible for killings such as Manorama's from being brought before a civilian judge to be prosecuted for murder and other offenses.
Manipuris have long campaigned for the repeal of the AFSPA. Demanding that the act be scrapped, human rights activist Irom Chanu Sharmila has been on hunger strike for nearly eight years. Her protest began after Assam Rifles gunned down ten civilians on November 2, 2000. She remains in judicially ordered custody, force-fed through a nasal tube.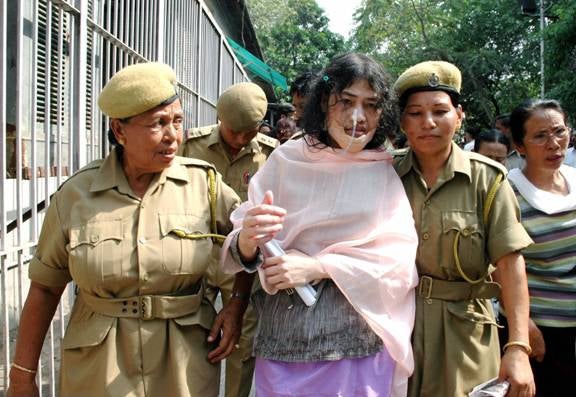 After Manorama's killing, 32 organizations formed a network called Apunba Lup in a campaign to repeal the AFSPA. The most heart-wrenching protest was by a group of Manipuri women, members of the Meira Paibi ("torch bearers"), who on July 15, 2004 stripped naked in front of the Assam Rifles camp in the state capital, Imphal, wrapped in a banner that said, "Indian Army Rape Us."
Forced to respond, the state government of Manipur ordered a judicial enquiry by retired district judge C. Upendra Singh. Judge Upendra Singh submitted his report in November 2004. Almost four years later, the report is yet to be made public. As court proceedings continue, no action has been taken.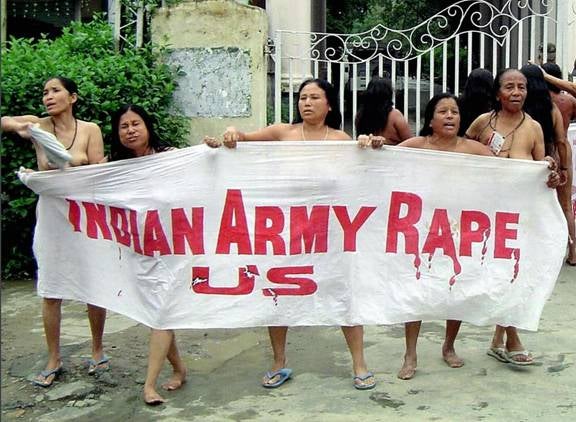 Indian Prime Minister Manmohan Singh meanwhile promised justice in the Manorama case and a review of the AFSPA. In November 2004, he set up a committee headed by B.P. Jeevan Reddy, a retired judge of the Supreme Court. The report was submitted in June 2005. While the Jeevan Reddy committee report has also not been made public, the contents were leaked, and it is now known that the committee recommended repeal of the AFSPA. The report however remains with the cabinet in New Delhi for consideration, and no action has been taken.
In the Manorama case, Assam Rifles said that it ordered an internal inquiry. The army and paramilitaries never reveal the findings of internal inquiries, and thus it remains unknown if any member of the Assam Rifles was found responsible for Manorama's killing and whether they were appropriately punished. Making a concession to public outrage, the defense ministry did release a statement on July 28, 2004 saying only that the court of inquiry had found some "lapses" by Assam Rifles personnel. In an interview with Human Rights Watch, a spokesman for the Assam Rifles said he could not say what action was taken by the court of inquiry "because the concerned officials from that time are no longer in Manipur and the records are not available."
Meanwhile, Manorama's family is still waiting for justice to be done. It may be a long wait. Political leaders and government officials may privately agree that Manorama's killing was unlawful, but the Indian state has failed, yet again, to hold soldiers responsible for a serious human rights violation accountable.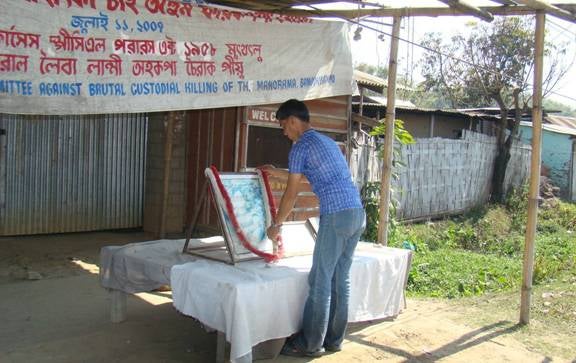 After Manorama's death, the security forces appeared to curtail their human rights violations. This did not last long. Since 2006, extrajudicial killings, torture, and other abuses have once again become common practice. According to Human Rights Alert, an Imphal-based voluntary group, in 2006 there were 17 cases in which security forces allegedly extrajudicially executed civilians; in 2007, 12 cases were documented by the group; and as of July 2008, at least 23 such cases had been listed.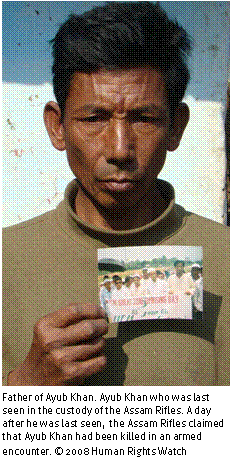 For this report, Human Rights Watch investigated several cases of alleged extrajudicial killings committed by the security forces since 2006. In one case, Mohammad Ayub Khan and six others, traveling in a van, were stopped during a routine check by the 19th Assam Rifles on August 26, 2007 at Gwaltabi in Ukhrul district. The soldiers found that Ayub Khan, a mason, was carrying a large sum of money. He explained that this was cash to pay his workers. The soldiers insisted that the van, with all its passengers, be driven to the Assam Rifles camp at Litan. At the camp, Ayub Khan was separated from his co-passengers, who were released. When Ayub Khan's family heard of the detention, they went to the camp but were not allowed to enter. His brother filed a missing person complaint at the Litan police station, saying that Ayub Khan was last seen in the custody of the 19th Assam Rifles.
On August 30, 2007, the Litan police contacted the family. They said that the Assam Rifles had informed the police that a person had been killed in an armed encounter. They suggested that the family check to see if the unidentified person was their missing relative. The family identified the person as Ayub Khan. The Assam Rifles issued a statement claiming that a suspected militant had been shot in an armed exchange and weapons had been recovered from him. Ayub Khan's father, Mohammad Karimuddin, told Human Rights Watch that the Assam Rifles are lying:
How can there be an armed encounter with someone who is already in custody? There are witnesses who saw my son being detained. If they [Assam Rifles] thought my son was a militant, they could have arrested him. But they only wanted his money and did not want the truth to come out. So they killed him. They know that no one questions the army in Manipur.
The behavior of the army appears to have encouraged the Manipur state police to act similarly. The culture of violence has become so deep-rooted that the police have in recent years committed the same abuses as the army and paramilitary forces. In several of the recent cases documented by Human Rights Watch, the alleged perpetrators belonged to the Manipur police. The Manipur state police chief, Yumnam Joykumar Singh, told Human Rights Watch: "My people have been told not to commit human rights abuses and none has occurred." However, in the same conversation claiming that many of the militants were not political fighters but petty extortionists, he also said, "I have told my people. These fellows must be eliminated. Nothing else can cure us of this disease."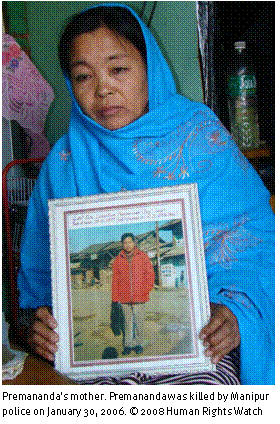 The message to eliminate militants seems to have resonated with the police. Human Rights Watch was repeatedly told that police commandos were among the worst human rights violators in Manipur. Leitanthem Premananda was picked up on January 30, 2006 and, according to relatives, executed later that same day. Together with their neighbors and friends, the relatives formed an action committee to protest the killing; the police threatened retribution. On February 10, 2006, two leaders of the protest committee, Pechimayum Yaima Singh and Leikapokpam Bisashini, were arrested by the Manipur police. Pechimayum Yaima Singh remained in custody for two months. "My family was very worried," he said. "Finally, we were released. But we had to promise that we stop the protests, and were threatened that we would be arrested again if we followed up on this case."
Abujam Shidam, a well-known member of the opposition Manipur People's Party, was arrested on January 7, 2008. While in custody, he says he was tortured by police commandos claiming to be members of a joint interrogation cell.
I was blindfolded. They started beating and kicking me, saying that I must admit I was a member of the PLA [militant group called People's Liberation Army]. They filled buckets of water and poured it on my face. They pressed on my joints with their boots. I kept shouting that I was not a militant, but they would not stop.
While the legal impunity under the AFSPA does not formally extend to the state police, police commandos now routinely get away with serious crimes including torture, and fake "encounter killings." As one activist described it to Human Rights Watch, "The long-term pernicious influence of the AFSPA on Manipur society is its trickle-down effect. One can argue that the rampant corruption in civil administration is a fallout of the climate of impunity generated for many decades by AFSPA in Manipur."
Indian officials and many Manipuris point out that the armed groups, commonly called "UGs" (short for "underground"), also commit serious human rights abuses. Some of these groups have a tremendous hold over Manipuri society, with ordinary citizens forced to build alliances with one group to ensure protection from the rest. Many impose a variety of diktats, including a ban on some television channels, on women wearing western clothes, the use of drugs, tobacco, or alcohol and implement such orders with force. Some groups have been responsible for attacks on ethnic minorities. For example, in March 2008, militants killed 14 migrant laborers from other Indian states and left behind a note warning others to leave Manipur. In January 2006, armed cadres belonging to United National Liberation Front (UNLF) and Kangleipak Community Party (KCP) allegedly raped 21 Hmar tribal girls in Manipur's Churachandpur district. Militants have also been responsible for the indiscriminate use of landmines, bombs, political killings, and attacks upon those they consider to be informers or traitors.
Manipuris complain most about militant groups' culture of extortion. The state is unable to provide protection from these extortion demands—in fact, many government officials pay themselves. Recently, there has been a spate of abductions by militant groups to recruit children into armed groups involved in fighting. At least 24 school children were reported missing in June and July 2008, leading to widespread protests. One faction of the militant group People's Revolutionary Party of Kangleipak (PREPAK) admitted that that they had recruited some of the missing children.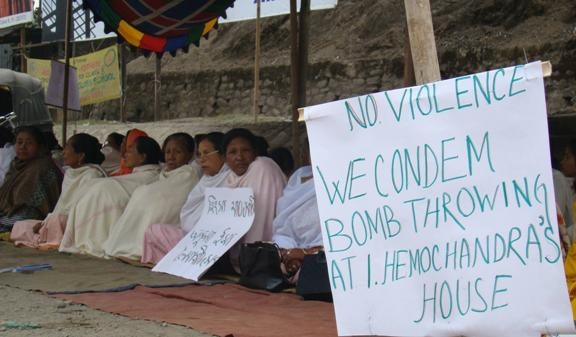 Manipuri activists do not dispute the need for strong law enforcement to end the violence perpetrated by militants. Some want the army to remain deployed to combat the UGs, while others want the army withdrawn. But all want the AFSPA to be repealed because of the open license it provides for abuses.
More fundamentally, Manipuris want the culture of impunity to end. Not only has the failure to punish Manorama's killers shattered any existing faith in the justice system, many Manipuris feel it has also emboldened security officials to take the law into their own hands and to believe they can get away with murder. As one government official admitted to Human Rights Watch, "Known criminals are sometimes killed, but it never happens to innocents." In this way the security forces have become judge, jury, and executioner—and have become comfortable in adopting this role.
The more or less free rein given to government forces for decades in Manipur and other parts of the northeast has had a significant impact on the country generally. Similar polcies have since been adopted to stamp out armed separatist movements in various other parts of India. Some argue that this is the only way to ensure that separatists who they "know" are guilty do not evade justice. But in the world's largest democracy, many in the security forces appear to believe it is easier to kill suspects than to gather evidence to secure convictions, while others kill for money or promotions, as they are often rewarded for their actions.
The Indian government, while claiming a firm commitment to the protection of human rights, has consistently ignored violations by its security forces, at best attributing such acts to a few "bad apples." As this report demonstrates, however, the problems are systemic and require systemic changes in law, policy, and practice. And even assuming the problem is "bad apples," they are rarely investigated, let alone tried and convicted. This culture of impunity, fostered both by a lack of political will and by laws shielding the perpetrators, has led to an atmosphere where security forces believe they can get away with the most serious crimes without the threat of punishment.
Not only has the Indian government disregarded the demands of Manipuris and the findings of its own government-appointed committees, it has ignored concerns and recommendations by United Nations human rights bodies. For example, in 1997 the UN Human Rights Committee said that the continued use of the AFSPA in Manipur was tantamount to using emergency powers and recommended that the application of these powers be monitored to ensure compliance with the International Covenant on Civil and Political Rights (ICCPR).
The UN Special Rapporteur on Extrajudicial, Summary or Arbitrary Executions, Philip Alston, reported to the UN Human Rights Council in 2007 that despite the government of Manipur ordering "numerous inquiries into the alleged extrajudicial executions, none of them ultimately reached any meaningful conclusions." In 2007 the Committee on the International Convention on Elimination of All Forms of Racial Discrimination called for India to repeal the AFSPA and to replace it "by a more humane Act" in accordance with the recommendation contained in the leaked Jeevan Reddy committee report. The Committee on the Convention on the Elimination of All Forms of Discrimination against Women in February 2007 urged India to provide information on the steps being taken to abolish or reform the AFSPA and to ensure serious investigations and prosecutions of acts of violence against women by the military in so-called disturbed areas.
The government of India, the state government of Manipur, and all militant groups should place human rights protection mechanisms at the center of any attempt to resolve the conflict and ensure compliance with international human rights and humanitarian law.
The government of India should repeal the Armed Forces (Special Powers) Act, 1958 as recommended by the government-appointed Jeevan Reddy committee.
The government of India and the state government of Manipur should investigate and prosecute government officials, including members of the armed forces, police, and paramilitary, responsible for human rights violations.
The government of India should arrest and prosecute to the fullest extent of the law all those found responsible for the 2004 murder of Thangjam Manorama Devi.
Armed groups should publicly denounce abuses committed by any militant group and ensure that there is appropriate accountability for such abuses.
Armed groups should immediately stop the abduction and recruitment of children into their forces.
In early 2008, Human Rights Watch travelled to Manipur to investigate the human rights situation. With the assistance of human rights activists and lawyers, we investigated 18 cases of torture and extrajudicial killing since 2006. We interviewed government officials, army officers, police officials, politicians, lawyers, journalists, and human rights defenders. We conducted over 60 interviews in Manipur and supplemented with follow-up research through August 2008.
For Manorama's case, we met with Manorama's family, the lawyers who are pursuing her case, and Judge Upendra Singh, who conducted an investigation into the incident.
Most interviews with victims or their families were conducted privately. In some cases we used local NGO partners as translators. We also held group discussions with some activists, such as the members of the Meira Paibi. 
Since there is an ongoing dialogue between the government and some of the groups operating in the hill districts of Manipur, counter-insurgency operations have reduced in scale. Most of the operations are in the Manipur valley to contain the Meitei and Muslim groups. Our investigations were thus limited to the valley areas.
In order to protect victims and others who might face reprisals by either side for speaking about them, names and any information that might identify them, such as places where interviews were held or specific dates of those meetings, have in certain cases been withheld.