III. US and NATO Bombing and Civilian Deaths
The US and NATO are using airstrikes in an "economy of force" battle against insurgents. Instead of having a large ground footprint, they use a relatively small number of ground forces supplemented with airpower. The airpower manifests itself in a graduated scale of force, ranging from flyovers, intended to have a deterrent effect, to direct air attacks with canon rounds or bombs. Human Rights Watch defines an airstrike as the use of aerial munitions, and not simply as the number of close air support missions flown.
Human Rights Watch has tracked each reported airstrike from late 2005 to July 2008 to gauge trends. As can be seen from the chart below, airstrikes were low in number from late 2005 when the data first became available through June 2006. However, in July 2006 there was a sudden spike in airstrikes corresponding with a NATO offensive called "Operation Mountain Thrust," against Taliban forces in the southern part of the country, the traditional heartland of the mostly Pashtun Taliban movement. This was followed by a decrease in airstrikes during the winter of 2006-2007, corresponding with a lull in fighting as Taliban forces took refuge during the harsh Afghan winter and operating conditions became difficult because of the snow pack. The spring thaw brought an increase in airstrikes and a corresponding increase in civilian casualties. The winter of 2007-2008 broke past trends. Airstrikes increased even as the ground fighting lulled. 2008 has continued the upward trend, with June seeing an astronomical increase, more than doubling the prior highest monthly total for bombs dropped.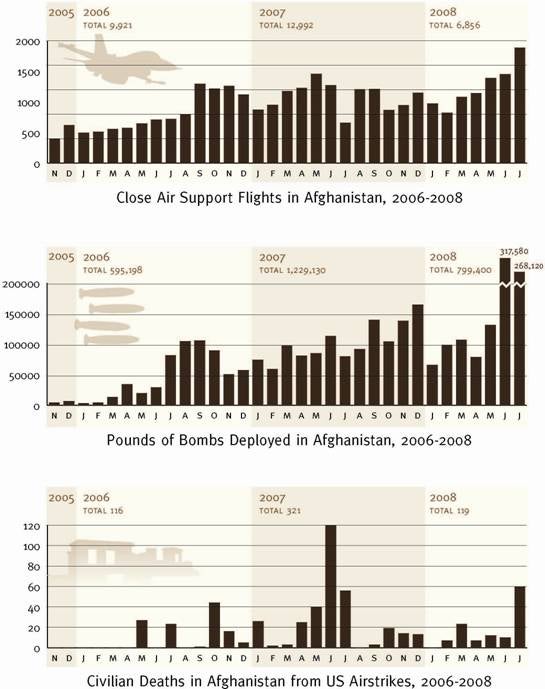 In 2006, a minimum of 929 Afghan civilians were killed in fighting related to the armed conflict. Of those, at least 699 died during Taliban attacks (including suicide bombings and other bombings targeting civilians) and at least 230 died during NATO or US attacks. Of the latter, 116 were killed by NATO and US airstrikes, and at least 114 were killed by NATO or US ground fire.7
In 2007, a minimum of 1,633 Afghan civilians were killed in fighting related to the armed conflict. Of those, at least 950 died during attacks by the various insurgent forces, including the Taliban and al-Qaeda. At least 434 civilians died during US or NATO attacks in 2007—321 killed by airstrikes, and 113 by US or NATO ground fire.  Another 57 civilians were killed in crossfire, and 192 died under unclear circumstances.8
Thus, while attacks by the Taliban and other insurgent groups continue to account for the majority of civilian casualties, civilian deaths from US and NATO airstrikes nearly tripled from 2006 to 2007 (from 116 to 321).9
Despite the high numbers for 2007 as a whole, there was a sharp decrease in civilian casualties from airstrikes in the second half of 2007. That is, 49 civilians were killed during airstrikes in the latter half of 2007, representing just 16 percent of the total civilians killed during US and NATO air operations in that year. During the same period in 2006, 66 civilians were killed in airstrikes, which was well over half the total number of civilians killed during air operations that year.
The drop-off in the rate of civilian casualties caused by airstrikes in the second half of 2007 may be due to a number of factors. One prime reason is that, for military operational reasons, airstrikes shifted to Taliban targets in sparsely populated mountainous areas where civilians were less likely to be present. Another possible reason is that NATO implemented changes in its bombing policies in late summer 2007. After a review of airstrikes requested by General Dan McNeill, the former commander of ISAF, the US and NATO scaled back their use of air attacks in "Troops in Contact" (TIC) situations. According to US planners, they were directed not to resort to immediate airstrikes when faced with a TIC. They claim they now employ other options, such as withdrawal when possible. However, the changes implemented do not appear to have made a systematic difference as large numbers of civilians continue to die in airstrikes.
So far in 2008 there has been a return of high civilian deaths from airstrikes. This year at least 173 Afghan civilians have been killed in NATO and US operations. Of these, 119 died during US airstrikes, and 54 from fighting on the ground.
Human Rights Watch analyzed information on several specific airstrikes in which a large number of civilians died. The difficulty in obtaining detailed information concerning civilians present as well as the actions of insurgents makes analysis under the laws of war difficult. Nonetheless, the cases do provide insight into why civilians lost their lives, and thus the basis for avoiding such deaths in future operations. As noted above, a common thread was that the airstrikes were not planned missions, but occurred in fluid situations where intelligence was limited and the fog of war was high. These situations often occurred when small Special Operations Forces teams were in contact with much larger groups of insurgent forces, and when US or NATO forces were in pursuit of insurgent forces.
On March 4, 2007, nine  civilians—five women, three children, and an elderly man—were killed when their mud house in Kapisa province, just north of Kabul, was hit by two 2,000 pound bombs dropped by US aircraft.10 A survivor of the airstrike, Mujib, age 7, told a journalist, "I saw my mom, my sisters, and my brother and my grandfather were dead. And our house was destroyed."11 US forces said they were targeting two insurgents seen entering the house after they had fired a rocket at a US military outpost. 
According to press accounts and a US military press release, around 9 p.m. on March 4, a local Taliban leader and others fired a rocket at a military outpost near Nijrab, missing it and causing no casualties. The US military reported that US pilots spotted "two men with AK-47 rifles leaving the scene of the rocket attack and entering a compound" in the village. US forces from the outpost responded with an hour-long mortar barrage. This culminated in a strike by a US Air Force aircraft dropping two GBU-31 bombs on the main house of a five-building compound, said to include the home of a Taliban leader. 
The US announced that it had killed the two Taliban fighters who had been targeted.  But a provincial Afghan official suggested the two men were injured and escaped, and journalists at the scene reported no evidence of the two among the nine victims. The Afghan government reportedly sent a delegation to investigate the incident, and both NATO and the US forces said they were investigating.12
Military spokesperson Major William Mitchell told the media: "The terrorists attacked a fire base and then retreated at a place where, unknown to us, there were also civilians." No US ground forces were in contact with Taliban fighters on the ground, but US forces conceded their troops had been at the village the day before, said a relative of the family, "The Americans came here the day before they bombed, they searched the whole house and saw women and children in the house."13
The available information about the attack—in particular evidence suggesting that US forces knew the house was inhabited by civilians and that only two lightly armed fighters may have been present—raises serious concerns that the airstrikes violated the international humanitarian law prohibition against disproportionate attacks. The absence of hard evidence that Taliban fighters were even at the house at the time of the attack raises the possibility that it was unlawfully targeted merely because it was known to be the home of a local Taliban leader.14
The civilian deaths caused by the Kapisa air attack fueled anti-government demonstrations in Kabul that originally had been organized to protest another serious incident the day before. On March 3, 2007, in Kapisa, after a suicide bomber attacked a US convoy, Marine Special Operations Forces fired repeatedly on fleeing civilians, killing at least ten.15
On April 29, 2007, at least 25 Afghan civilians were killed during OEF airstrikes in support of US Special Operations Forces operating in the Zerkoh Valley in Heart province. An investigation by the Afghan government also found that two battles over a three-day period resulted in the destruction of numerous homes.16
Afghan government officials said that they counted 42 civilians dead from the bomb attacks. They said that they found no evidence of Taliban forces in the area and that local residents were adamant there were no Taliban forces there at the time. However, a small insurgent group with ties to the Taliban in Helmand was known to be operating in the Zerkoh valley.17 A provincial government spokesperson blamed civilian losses on "a lack of coordination between international forces and our forces."18 
The civilian deaths led to demonstrations against the Afghan government. In media interviews at the time, residents expressed their anger:
The bombardments were going on day and night... They didn't care if it was women, children or old men.19
Following the attack, President Karzai complained about the lack of coordination between US and Afghan forces that he believed led to the civilian deaths. Karzai said, "Unfortunately that cooperation and coordination, as we tried it, has not given us the results that we want, so we are not happy about that and we can no longer accept the civilian casualties the way they are occurring."20
According to media reports, Coalition forces initially stated that 87 Taliban fighters had been killed during the 14-hour-long battle and said there were no reports of civilian casualties. Later it announced it would conduct an investigation.21
In May 2007, Brigadier General Perry Wiggins, deputy operations director of the Joint Staff, reported on the legal findings into the incident and stated that US ground forces were "continuously engaged by intense enemy fire after entering an area of known Taliban activity." Conceding that no accounting was done of civilian casualties, Wiggins defended the actions of the commander on the scene. "All targets were positively identified as hostile, [and] were under observation at the time of the engagement," he said. "The on scene commander used appropriate level of force to respond to the continuous enemy threat and protect his unit."22
At least 21 Afghan civilians were killed in OEF airstrikes in Sangin district, Helmand province, on the night of May 8, 2007. Twenty-one bodies were presented for examination, most of which were women and children.23 Residents disputed the reported number and claimed upwards of 80 dead.
The following day, the US Army Special Operations Command issued a news release that made no mention whatsoever of civilian casualties:
Members of 1st Kandak, 1st Brigade, 209th Afghan National Army Corps combat advised by U.S. Special Forces were engaged with small-arms, mortar, and rocket propelled grenade fire from an unknown number of Taliban fighters 25 kilometers (15.5 miles) northeast of the Sangin District Center in Helmand Province on May 8.

The combined force returned fire at Taliban fighters near the village of Lwar Malazi, and then pursued retreating fighters. During the pursuit, the friendly force continued to receive enemy small-arms, RPG, and mortar fire from the western side of the Helmand River. The ANA and Coalition force maintained contact with the enemy as Taliban fighters took cover in compounds or continued firing on Coalition forces. Coalition close air support aircraft destroyed three enemy command and control compounds including an enemy underground tunnel network located along the upper Sangin River Valley.

During the 16-hour battle, ANA and Coalition forces fought through three separate enemy ambush sites while dozens of Taliban fighters from Kajaki and Lashkar Gha reinforced enemy positions. Over 200 Taliban fighters massed on the combined ANA and Coalition forces throughout the engagement.24
General Dan McNeil, commander of NATO forces at the time, told the media that the airstrikes were called in after US special forces were ambushed by what he called "a far superior force." He said, "It does appear there were civilian casualties—exactly what caused them, we're working our way through all that."25  
Abdul Nasir, a resident of the bombed village, told The New York Times: "It was around 4 p.m. when the foreign vehicles came through on the main road. The Taliban shot at them and they turned back. Then airplanes came and bombed the village at 10 p.m." He said that Taliban forces were in the village during the day, but not at the time of the air raid.26 
According to the villagers, the high loss of civilian life led to violence between the Taliban and local villagers. One villager told The New York Times that villagers had pursued the Taliban commander who led the ambush, Wali Mahmud, to the village of Heratian and had killed him. Another villager said he had heard that when Taliban fighters came to a village near Sarwan Qala with the aim of attacking international forces, a group of tribal elders asked them not to attack out of concern that the village would be bombed; after an argument, the leader of the tribal elders killed the Taliban commander and two of his bodyguards.27
Two months after the raid, a man named Mohammadullah told a journalist that the airstrikes had killed 20 people in his village after Taliban fighters had come through. He said the bombing had killed six members of his family, including his children's grandmother, and wounded five. He believed the village was bombed in mistake because at the time insurgents were fighting US forces well below the village. Villagers were so angered by the bombing that many men from the village reportedly left to join the insurgents. Support for the international forces "depends on the behavior of ISAF," he said. "If they treat the civilians well, they will win."28
Another villager expressed similar sentiments, though he confused the NATO forces that normally operated in his area with the US forces actually involved in the bombings. "Why do NATO lie to us?" a 25-year-old named Agah Lalai told a journalist from a hospital bed in Kandahar. "They say they can differentiate between the Taleban and civilians, but they destroyed my family, my home, my life. I have nothing left. NATO cannot rule us like this. So long as there is just one 40-day-old boy remaining alive Afghans will fight against the people who do this to us." Lalai said that his grandfather, grandmother, wife, father, three brothers, and four sisters had died in the bombing. The youngest victim was 8, the oldest 80. He said that only his mother and his two sons, aged 5 and 3, survived, though both boys were wounded.29
According to the Pajhwok Afghan News agency, a US military commander made apologies to the families of 19 Afghan civilians killed and 50 wounded and offered payments of about US$2000 for each death. Coalition forces also reported that they would conduct a joint investigation into the incident.30
On June 22, 2007, NATO airstrikes killed at least 25 Afghan civilians, including women and children, in an attack on insurgents in two residential compounds in Gereshk district, Helmand province. The provincial police chief reported that these deaths included nine women, three babies, and the mullah of a local mosque. He said about 20 insurgents died in the attack. The insurgents had reportedly fled to the compounds after an attack on a police station in the area.31 
President Karzai immediately criticized the attacks, saying it is "difficult to accept or understand."32 According to the Associated Press, Karzai said the incident in Gereshk was an example of NATO troops using disproportionate force and exposed a "serious lack of coordination with the Afghan government."33
Responsibility for the high civilian losses in this case may rest with the Taliban, NATO forces, or both. But NATO spokespersons were quick to disclaim any responsibility or placed the blame entirely on the Taliban before an investigation was even conducted. A British military spokesperson for ISAF, Lieutenant Colonel Charlie Mayo, said: "If civilians had been identified in the area, the air strike would not have gone ahead."34
"We are concerned about reports that some civilians may have lost their lives during this attack. However, it must be noted that it was the insurgents who initiated this attack," said NATO spokesperson LTC Mike Smith, who blamed the deaths entirely on the insurgent forces. "The risk to civilians was probably deliberate. It is this irresponsible action that may have led to casualties."35
NATO Secretary General Jaap de Hoop Sheffer said, "We continually have to look at our procedures and that is what's happening. We continually have to look at rules of engagement."36 Human Rights Watch contacted ISAF in Kabul to determine if a review of procedures had been completed and was told:
In the summer of 2007, NATO-ISAF reviewed its tactics, techniques and procedures. We committed ourselves to undertake rigorous and constant investigations of incidents involving possible civilian casualties. In particular, the Commander of ISAF mandated that the greatest possible use be made of precision systems and that, when taking fire from an Afghan house, on-scene commanders satisfy themselves that every effort had been made to confirm that the Afghan facility did not shelter innocent civilians. In addition, SACEUR mandated that enhanced and timely After Action Reviews identify lessons learned and that there be a strong system of reporting from investigations when deemed necessary.37
In US airstrikes on June 27-28, 2007, one week after the airstrikes above, residents of the town of Haderabad in Gereshk district claimed that from 45 to 65 civilians and about 105 insurgents were killed.38 An investigation by the Afghan government concluded that 45 civilians had been killed, though NATO disputed this and stated that about 12 civilians were killed.39
The airstrikes occurred after Taliban forces ambushed a combined US-Afghan army force in Haderabad and destroyed two US military vehicles with mines. A firefight ensued and US-Afghan forces called in airstrikes in response to heavy small arms and mortar fire. Coalition spokesperson Major Chris Belcher stated the airstrikes targeted Taliban firing positions in the village.40 According to a NATO spokesperson, "Remains of some people who apparently were civilians were found among insurgent fighters who were killed in firing positions in a trench line."41
The New York Times contacted residents of the area about the bombings. Haji Zahir, a tribal elder who said he had spoken to residents from the bombed villages said, "People tried to escape from the area with their cars, trucks and tractors, and the coalition airplanes bombed them because they thought they were the enemy fleeing. They told me that they had buried 170 bodies so far."42
Hajji Assadullah, another tribal elder, said that 35 villagers who were fleeing in a tractor-trailer had been hit by an airstrike, "There were only two survivors, an old man and his son, and the son was seriously injured, and I saw them with my own eyes."43
On the morning of July 6, 2008, a wedding party was hit by an OEF airstrike as it traveled to a wedding near the village of Kacu in Deh Bala district in Nangahar province.44 
The US military swiftly denied civilian casualties, blaming them instead on militant propaganda. On the day of the attack, Haji Amishah Gul, the chief government official in Deh Bala, said the wedding party was attacked on its way to the groom's house. "They stopped in a narrow location for rest. The plane came and bombed the area. There were between 80 to 90 people altogether. We have carried six of the injured to this hospital, and more might be coming. The exact number of casualties is not clear."45 However, the US spokesperson, 1st Lieutenant Perry, said, "Whenever we do an airstrike the first thing they're going to cry is 'Airstrike killed civilians' when the missile actually struck militant extremists we were targeting in the first place. At this time we don't believe we've harmed anyone except for the combatants."46
An investigation ordered by President Karzai and led by members of the Afghan senate soon found the death toll to be 47 members of a wedding party, which was also confirmed by human rights officials. Karzai visited the small village on July 17, where he met relatives of the victims, highlighting the problem of civilian casualties in the war in Afghanistan.47 
---