In addition to the company's tactics to derail worker organizing efforts that largely comport with US law, Wal-Mart has repeatedly used tactics that run afoul of US law and directly infringe on workers' right to freedom of association.  Time and again, Wal-Mart managers have failed to heed the warning provided to them on "little pink cards" in trainings across the United States and explicitly stated in the Manager's Toolbox: "As long as you do not threaten, interrogate, promise or spy on your associates, Wal-Mart, through your efforts, will be able to share its view on unionization in an open, honest and legal manner."491
Between January 2000 and July 2005, NLRB regional directors issued thirty-nine "complaints" against Wal-Mart.  The complaints consolidated 101 cases, combining those charges involving the same stores and, in some cases, combining charges against stores located near each other.  An NLRB complaint is a formal act, like an indictment in criminal law, which sets the stage for a "hearing" before an NLRB administrative law judge at which lawyers representing the NLRB, workers, and the accused company present evidence and witnesses.  Four of these complaints were withdrawn, and two are still pending.  Thirteen were resolved by settlements that required Wal-Mart to remedy the alleged violations, including by posting and complying with notices promising not to engage in the unfair labor practices charged.  The company did not admit guilt as part of the settlements, however.492  US labor law authorities heard the remaining twenty. 
At this writing, fifteen decisions finding that Wal-Mart engaged in unfair labor practices between January 2000 and July 2005 are still standing against the company, six of which are pending on appeal before the Board.493  The fifteen cases cover ten states, and each involves multiple NLRA violations.494  The flow chart below tracks the progress through the US labor law system of all cases filed against Wal-Mart between January 2000 and July 2005.495 
NLRB Cases Against Wal-Mart Filed Between January 2000 & July 2005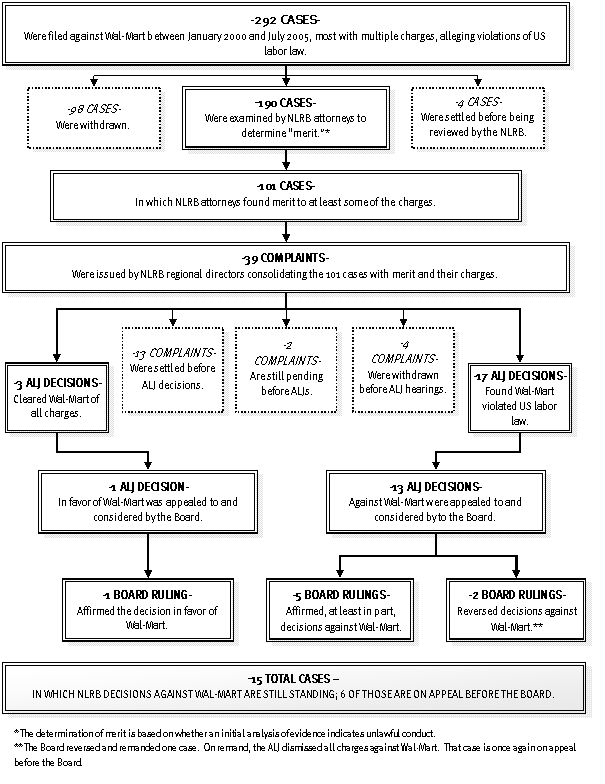 Human Rights Watch has compared Wal-Mart's recent history before the NLRB with that of the company's key US competitors and other large US retailers: Albertsons, Costco, Home Depot, Kmart, Kroger, Sears, and Target.  We calculated the total number of cases filed against these companies between January 2000 and July 2005 in which NLRB rulings finding unfair labor practices are still standing.  Human Rights Watch found a combined total of only four such cases, only 27 percent of the number of cases still standing against Wal-Mart alone.  Nonetheless, with combined revenues of $337.14 billion in fiscal year 2005, these seven companies together were 7 percent larger than Wal-Mart.496  With roughly 1.6 million workers, their combined workforce was roughly 26 percent greater than Wal-Mart's.497  The chart below summarizes our findings.
NLRB Cases Against Wal-Mart's US Competitors Filed Between January 2000 & July 2005
| | |
| --- | --- |
| | Findings of Illegal Conduct* |
| | 15 |
| Albertsons | 1 |
| Costco | 0 |
| Home Depot | 0 |
| Kroger | 2 |
| Kmart | 1 |
| Sears | 0 |
| Target | 0 |
*These findings are still standing against the companies, though some may be pending on appeal.
Wal-Mart has not publicly addressed the large disparity between its record before the NLRB and that of its competitors.  The difference can likely be explained by a variety of factors, including Wal-Mart's aggressive strategy to defeat worker organizing combined with Wal-Mart workers' significant and concerted attempts in the early 2000s to organize US stores.  As part of the organizing campaign, unions and workers filed 292 cases against Wal-Mart alleging US labor law violations.498
Human Rights Watch has observed a pattern of unlawful tactics, forbidden under US as well as international law, that Wal-Mart has repeatedly used to prevent workers from exercising their internationally recognized right to freedom of association.499  We detail each of these tactics below, as described in decisions by US labor law authorities and by current and former workers and managers.    
Despite growing concern that in the 2000s the NLRB has become increasingly hostile to workers' claims of employer unfair labor practices, Human Rights Watch has not included in the discussion that follows any allegations of unlawful activity that were dismissed by the NLRB.  We have, however, included charges of illegal conduct that were not explicitly raised before the NLRB but which current and former workers and managers described in interviews with us.  These new allegations were raised by workers and managers who did not testify at NLRB hearings or who testified but omitted important charges.  It is difficult for regional NLRB attorneys and union supporters to convince current and former workers and managers to testify in legal proceedings openly and comprehensively against their company, as they may fear reprisals even after leaving their charged employer.  As a result, NLRB attorneys may be unable to interview current or former employees with critical information or may fail to uncover all possible unfair labor practices during their interviews and investigation.  This repeatedly occurred in cases against Wal-Mart.
The portrait that emerges from our research is of a company that repeatedly has engaged in illegal action to stop workers from deciding for themselves whether to organize.
Since 2000, Wal-Mart has discriminated against union sympathizers on a number of occasions.  The company has disciplined them for breaking company rules that were not enforced against other workers and stood by while union opponents harassed them in violation of Wal-Mart policies.  Wal-Mart has threatened workers with dismissal, refused to hire them, and fired them because of their union-related activity.  US labor law bans such employer "discrimination in regard to hire or tenure of employment or any term or condition of employment to encourage or discourage membership in any labor organization."500 
In July 2000, the director of operations at the Spring Mountain Road, Las Vegas, Nevada, Sam's Club disciplined Alan Peto for "carrying a concealed tape recorder" and threatened Peto with dismissal if any workers "complained about his conduct."  Peto testified at the ALJ hearing that he carried the tape recorder primarily because "I felt that I would be interrogated or questioned again about the petition" he was circulating about "possible unfair wage and training practices" and because "I felt I was being targeted because of prior union activity."  Affirming the ALJ's finding in the case, the five-member Board found that the discipline and threat were unlawfully "motivated by animus toward [Peto's] protected activities," which included circulating the petition.501  The NLRB noted that Peto "was an exemplary 7-year employee," who had received a glowing performance review "days before [Wal-Mart] learned that he was circulating the wage petition."  The NLRB further found:
Had the Respondent produced a rule or policy prohibiting taping or similar conduct, Peto's discipline might have been explained as merely an instance of the Respondent following its own guidelines, as opposed to a reprisal directed at Peto's protected, concerted activity. . . .  [T]he absence of such evidence here is telling under the circumstances, given [Wal-Mart's] unlawful motive and Peto's exemplary record.

. . .

Telling Peto . . . that he would be terminated if any associates complained about his conduct, after coercively interrogating him about circulating the wage petition and giving him the impression that that protected activity was under surveillance, would reasonably lead him to believe that he risked discharge if he engaged in protected activity in the future.502
The following year, union activity began at the Spring Mountain Road Sam's Club and nearby at the Serene Avenue, Las Vegas, Nevada, store.  "Dina Eldridge," a Spring Mountain Road Sam's Club worker, and Cory Butcher, a former Serene Avenue Sam's Club employee, recounted to Human Rights Watch that they perceived that union supporters were being disproportionately and discriminatorily fired after organizing began at stores.  In particular, they believed that suspected union supporters were regularly being transferred to the cash registers, where they were more likely to be found violating company policy, grounds for termination. 
"Dina Eldridge" explained:
I saw so many people wearing pins get terminated. . . .  Wearing your pin made you very vulnerable. . . .  So many people got fired because of that. . . .  The best way to get rid of someone is to put them on the cash register.  You have no control.  They come by and take things.  Then, you see, you come to work the next day and [you're] $100 short. . . .  They did this to a lot of union people. . . .  To fire union supporters, the majority [are put] on registers.  That's the easiest way to get rid of them.503
Butcher told a similar story:
Perfectly good employees that did not have problems before, if [they were] seen with [the] union, got problems. . . .  All of a sudden, cashiers had shortages in drawers—only the ones who had talked to the union, as far as I know. . . .  That was the main trick for the cashiers.  They never had to count money in front of people. . . .  A bunch were fired.  [This was] one of their main intimidation factors with cashiers.  This [happened] at all stores. . . .  This one girl in produce, they sent her up to be [a] cashier—easy picking.  She was fired for [a] shortage in [her] cash register.504
These claims are difficult to prove, however, and Human Rights Watch was unable to independently verify "Eldridge's" and Butcher's allegations.  The NLRB administrative law judge hearing the case did not address the general practice, described by "Eldridge" and Butcher, of transferring union supporters to cashier positions and discriminatorily firing them for register discrepancies.  Instead, the judge dismissed the more narrow, specific charge that Sandra Mena, an open union supporter who started as a cashier long before the organizing campaign began, was discriminatorily fired for register discrepancies that the company tolerated with her anti-union colleagues.505
An NLRB administrative law judge found that at Wal-Mart's Port Orange, Florida, store, in response to union activity initiated in April 2000, the company unlawfully fired union supporter, Edward Eagen.  Despite Wal-Mart's three-phase disciplinary program, Eagen received no discipline before he was fired.  The five-member NRLB affirmed the ALJ's finding that "the record as a whole supports an inference of animus and unlawful motivation."  In her decision, the ALJ noted that, at the time of his firing, Eagen was "the only employee specifically known to have signed a union card" and that "Eagen was the only known union supporter and he was terminated less than six weeks after he made his support known."506  She held that Eagen was fired for his union activity and noted that "[t]he most persuasive factor in finding an inference of animus is the timing of Eagen's discharge."507   
Similarly, Angie Griego, an open and active union supporter, applied for a pharmacy cashier position at Wal-Mart's East Tropicana Avenue, Las Vegas, Nevada, store in 2001 and was denied, though she "was clearly the best-qualified applicant based upon her lengthy experience in the job and having completed the computer training applicable to the position."508  Instead, Wal-Mart selected one of Griego's co-workers, who had been hired only one month earlier in another department, had not taken any of Wal-Mart's pharmacy computer training, and had no prior experience at the position.  The NLRB administrative law judge hearing the case found that Wal-Mart illegally passed over Griego for the pharmacy cashier post, holding "The timing of the denial of the job to Griego was during the same time period she was zealously engaged in union activities.  I conclude that the Government has proven the necessary elements to establish that the denial of the pharmacy cashier position to Griego was based upon her union activities."509
Managers would sit in there [the break room].  They didn't used to.  Before the union activity, managers would not be in the break room. . . .  Normally, they would not eat with us.  They started hanging out in the break room, eating there, doing work. . . .  It was apparent several times that managers were writing down what I was doing in the break room.  It was so stressful.

—Norine Sorensen, former worker and union supporter at Wal-Mart's South Rainbow Boulevard, Las Vegas, Nevada, store.510
Human Rights Watch research indicates that, in many cases since 2000, Wal-Mart has engaged in unlawful surveillance of workers' union activities and illegally created the impression among workers that it was doing so.  Under US law, employers, generally, may observe any open, public union activity on or near their property.511  They may not, however, "do something out of the ordinary" to spy on workers' union activity or even to give the impression that they are doing so.512  That includes altering surveillance cameras so that they are "purposefully directed at protected concerted activity."513  US law holds that "employees should be free to participate in union organizing campaigns without the fear that members of management are peering over their shoulders, taking note of who is involved in union activities, and in what particular ways."514  Employers can legally maintain surveillance cameras while union organizing is underway, but they cannot photograph, videotape, or otherwise use cameras, hand-held or security, to monitor workers' union activity without "proper justification," such as "a legitimate security objective" or a "reasonable basis to believe misconduct would occur."515  US law considers that, in particular, "[p]hotographing and videotaping clearly constitute more than 'mere observation'" of union activity "because such pictorial record keeping tends to create fear among employees of future reprisals."516  
Wal-Mart store manager Ed Hohlt "clearly wrongfully created the impression among employees that the employees' union activities were under surveillance" by informing workers, at a series of shift meetings, that Wal-Mart "was getting detailed information respecting which employees were supporting the Union, when and where they were meeting and what they were doing at meetings" at the Stapleton, Colorado, Wal-Mart store in September 2002.  The ALJ hearing the case noted, "All of this was done in an address that included a reminder to employees that [Wal-Mart] was 'strongly opposed' to its employees being represented by a labor organization."  The judge concluded, "Hohlt's statements made it clear that [Wal-Mart] was obtaining detailed, specific reports respecting employees union activities and, indeed, was likely to continue to do so.  This is sufficient in my view to sustain the violation alleged."517
In June 2000, the store manager at the Spring Mountain Road, Las Vegas, Nevada, Sam's Club also unlawfully "created an impression that employees' protected activities were under surveillance."  Store manager Greg Roberts told worker Alan Peto that "he had heard that Peto was circulating a petition about associates' wages."  Affirming the decision of the ALJ in the case, the five-member NLRB found, "Roberts' telling Peto that he 'heard Peto was circulating a petition about wages' leads reasonably to the conclusion that [Wal-Mart] had been monitoring Peto's activities.  Peto did not circulate the petition openly, and Roberts never revealed how he came by the information."518
Union activity reportedly began the following year at the Spring Mountain Road Sam's Club, and union supporters with whom Human Rights Watch spoke explained that they felt that their activities and those of their co-workers, particularly in the Sam's Club break rooms, were also under surveillance.  The NLRB administrative law judge hearing the case dismissed the charges of unlawful surveillance contained in the NLRB general counsel's complaint, but the specific allegations that workers made to Human Rights Watch were not raised with the NLRB and, therefore, not addressed by the ALJ.  Marsha Wardingly, a worker at the store, recounted to Human Rights Watch:
Being for the union turned my life into a living hell. . . .  It was terrible. . . .  We all had to whisper all the time. . . .  You felt like you were being watched and talked about. . . .  I felt like I was being watched because they watched all the people to make sure they were not talking to anyone about the union. . . .  The managers would watch us. . . .  All of a sudden, managers would make sure that at least one would have lunch with associates in there [the break room], watching our conversations, watching literature. . . .  They stopped smokers from going outside.  Union organizers would come up to them outside.  So, they moved [the] table and smoking ashtrays. . . .  They made a smoking break room to keep everyone under their wing.519  
"Dina Eldridge," Wardingly's co-worker speaking on condition of anonymity, agreed, noting, "Associates knew they were being watched."  She added, "They [managers] started spending more time in the break room.  They came for meals and lunches.  They didn't do that before."520 
One of the most effective ways to defeat worker organizing is by manipulating the composition of the proposed "bargaining unit," a group of workers united by a "community of interest" that seeks to form a union and then bargain collectively with an employer.521  If an employer can ensure more anti-union than pro-union workers in the unit, the union will not win the representation election.  According to current and former workers and managers, Wal-Mart has on several occasions transferred union opponents into proposed bargaining units to "pack the unit" in order to dilute support for the union and transferred pro-union workers out to reduce the total number of union supporters.  US law bans such transfers unless the employer has "a good business reason for the timing and number of employees hired" and workers transferred.522  Despite multiple charges against Wal-Mart for "unit packing" and anti-union transfers, however, in only one case since 2000 has the NLRB found Wal-Mart guilty of such staffing manipulation to undermine worker organizing.  The NLRB dismissed the other charges.523
Charges of unit packing and illegal anti-union transfers are notoriously difficult to prove.  Staffing decisions are made by management-level employees, whose testimony is often essential to demonstrating unlawful conduct.  In many cases, only management-level testimony can reveal the anti-union motivation behind such decisions and debunk alleged business justifications offered by employers.  Management-level employees, however, are also often the most reluctant to testify at hearings against their companies.  Finding such witnesses is extremely difficult.  James Porcaro, one of the attorneys who successfully argued at an NLRB hearing that Wal-Mart engaged in unlawful unit packing and worker transfers at its New Castle, Pennsylvania, facility in late 2000, explained that in that case, "we had Steve Grimm [assistant bakery manager], . . . a smoking gun.  We rarely have this."524  That is why, he believes, the NLRB administrative law judge ruled against Wal-Mart in that case.  
Two former management team members at the Kingman, Arizona, Wal-Mart described to Human Rights Watch the store's efforts to ensure that all workers hired or transferred into the TLE during the fall 2000 union campaign opposed the union.  Former assistant manager Tony Kuc explained, "They were trying to put people in the TLE, putting in people least likely to be union."525  A former management team member speaking on condition of anonymity elaborated:
If I was changing tires and they needed a new [person] to fill the spot, they were careful in picking a person.  They didn't want anyone with a union background. . . .  Let's say they were going to replace me.  They would get two or three candidates, . . . and they would talk about the applicants and had to get the okay from the big boys.  Every morning at 6:00 a.m., Vicky [Labor Relations Team member] had to report to [her] supervisor. . . .  From that point on, managers couldn't hire anyone.  They couldn't bring in new associates unless they met their requirements because you never know who [the] union [might] try to slip in.526  
The management team member speaking anonymously to Human Rights Watch did not testify at the ALJ hearing, and although Kuc testified, he did not address the issue of unit packing.  For reasons unknown to Human Rights Watch, allegations of unlawful unit packing were not explicitly included among the charges of unfair labor practices filed against Wal-Mart in the wake of the 2000 organizing drive at the Kingman, Arizona, TLE.  Although the NLRB did not rule on the issue, the ALJ hearing the case nonetheless observed that "during the campaign period, all personnel actions for TLE employees had to be cleared through the [Labor Relations] team.  Therefore, it is clear . . . that whether a TLE employee was pro-union, or anti-union, was of paramount importance to [Wal-Mart]."527   
If Wal-Mart finds out about a union, they are there right away.  They want to know what's wrong, what the problems are, and then they just fix them, and the employees are thinking, "Why do we need a union?  Wal-Mart just fixed our problems." . . .  They fly in and fix problems as quickly as possible, and the whole time they're telling workers that they don't need a union.  What would they need a union for? 

—James Porcaro, attorney for the UFCW in an NLRB case against Wal-Mart alleging unfair labor practices at its New Castle, Pennsylvania, store.528
Human Rights Watch has found that, on several occasions, Wal-Mart has reacted to union organizing by suddenly addressing workers' complaints, improving their working environment, and seeking out and responding to their concerns.  It is illegal under US law for an employer to shift from virtually ignoring employee complaints to bending over backwards to identify and remedy them when the new-found solicitousness is motivated by anti-union animus.529  
At first glance, this may seem counterintuitive.  How can an employer's change in attitude that brings about greater benefits for workers be illegal?  The US Supreme Court has explained, "The danger inherent in well-timed increases in benefits is the suggestion of the fist inside the velvet glove.  Employees are not likely to miss the inference that the source of benefits now conferred is also the source from which future benefits must flow and which may dry up if it is not obliged."530  Workers may fear that if they choose to organize, their anti-union employer will retaliate in anger, no longer being so solicitous and even rescinding benefits already granted or failing to fulfill promises already made.  
As a result, under US law, there is an inference that any benefits granted and any solicitation of worker grievances made during an organizing drive are coercive and designed to influence workers to vote against union representation.531  The inference can only be rebutted "with an explanation other than the pending election, for the timing of the grant of benefits" or the solicitation of complaints, including consistency with past practice or evidence that the benefit was planned before organizing began.532  It is notoriously difficult for unions to file unfair labor practice charges alleging such illegal conduct because the resolution can present a conundrum for workers and unions: an employer can settle the case by withdrawing the workplace improvements or recanting the promises, returning to the status quo ante and blaming the union, thereby further undermining support for the union.
NLRB administrative law judges found that in late 2000 and 2001, Wal-Mart acted illegally by remedying concerns and granting benefits to workers in response to their union organizing activity at the company's facilities in Kingman, Arizona; New Castle, Pennsylvania; and Aiken, South Carolina.  In Kingman, Arizona, Wal-Mart repaired the TLE cooling system and installed new oil grates shortly after union activity began at the store.533  In New Castle, Pennsylvania, the company removed an unpopular district manager, installed new equipment, and added workers to address inadequate staffing.534  In Aiken, South Carolina, Wal-Mart promised to improve employee wages and then granted widespread pay increases.535  US labor law authorities concluded in each case that Wal-Mart had unlawfully interfered with workers' organizing efforts. 
In addition, workers also told Human Rights Watch that Wal-Mart improved facilities and working conditions in response to worker discussions of union formation in February 2005 at the Kingman, Arizona, Wal-Mart and organizing efforts at the Loveland, Colorado, store in late 2004.  John Weston, an hourly manager at the Kingman, Arizona, store observed, "When you mention the word 'union,' everything starts to get taken care of because they're afraid of it. . . .  The only time they listen to the ideas of associates is when the talk of the union comes in.  Then they run around."536  No charges of unfair labor practices were filed in either case, however, so the NLRB has not addressed these allegations.  All five cases are discussed in greater detail below.
Wal-Mart has also illegally solicited employee grievances during organizing campaigns and, in some cases, remedied them.  For example, in March 2000, district manager David Eugene Craig asked a worker at the Lubbock, Texas, Wal-Mart store to submit her concerns and complaints during an organizing campaign.  Craig met with the worker in one of the store manager's offices and asked her "how she was doing in her new job and if she liked her new job" and "if she needed help with any problems in the store."  An NLRB administrative law judge held and the five-member Board affirmed:


This appears to have been the first occasion when District Manager Craig had the employees into a management office, one at a time, to ask them about any problems they might have with the Company and whether they needed help with those problems. . . .  [I]t is well established that when an employer institutes a new practice of soliciting employee grievances during a Union organizational campaign, which is what was happening here, there is a compelling inference that he is implicitly promising to correct those inequities he discovers as a result of his inquiries, and, likewise, urging on his employees that the combined inquiry and correction will make Union representation unnecessary.  So I am persuaded that the Company, through District Manager Craig, unlawfully solicited an employee to submit grievances to the Company.537
Wal-Mart management and Labor Relations Team members often left workers with the understanding that they would lose certain benefits if they organized, according to US labor law authorities and current and former Wal-Mart workers.  In some cases, workers reached this conclusion after being informed that, during collective negotiations, "everything (their wages, benefits and working conditions) would go on the bargaining table. . . .  They could get more, they could get the same, or they could get less."538  This is technically true, and Wal-Mart does not violate US law by presenting this view of bargaining.  In other cases, however, Wal-Mart threatened workers explicitly with benefit loss if they voted to form a union.  This practice is illegal.  Under US law, employers are prohibited from withholding benefits or threatening to withhold benefits or otherwise "depart[ing] from preexisting policies" in response to union activity.  Instead, to avoid unfairly influencing the union election, "[a]n employer must grant the preexisting benefit as if the union were not on the scene."539  Specifically, "expectations of upcoming benefits created by the employer either by promises or through a regular pattern of granting benefits cannot be disappointed without proof of a union-neutral justification."540  
Greg Roberts, the general manager at the Spring Mountain Road, Las Vegas, Nevada, Sam's Club, told workers that "merit raises would be suspended pending the [union] election so as to avoid the appearance of [Sam's Club] attempting to buy votes" in early 2001.  Roberts failed to inform workers that the raises would be "resumed regardless of the election result," however.  An NLRB administrative law judge found that Roberts' statements "could reasonably lead them [workers] to conclude that resumption of the wage increase would depend on voting against the Union."  The ALJ, therefore, concluded that Roberts' conduct violated the NLRA.541
At the nearby East Tropicana Avenue, Las Vegas, Nevada, Wal-Mart, an assistant store manager told union supporter Valerie González in December 2000, that "if the store went union, she would not be able to do things like let González leave work early or let her pick up her paycheck early."542  The NLRB administrative law judge hearing the case found that Wal-Mart illegally threatened González with the loss of these privileges if workers organized. 
A member of Wal-Mart's Labor Relations Team told workers at Wal-Mart's Alliance, Ohio, store in 2001 that "if they select the union to represent them the open door will be closed."  Wal-Mart regularly extols the merits of its Open Door Policy, communicating to workers that the policy is a valuable asset and contributes to a positive workplace environment.  As a result, losing the "open door" could reasonably be seen as a benefit loss by some workers.  An administrative law judge found, "The threat to close the open door if the union is selected was a threat that violated [the NLRA]."543
Wal-Mart has also violated workers' right to organize on a number of occasions by coercively interrogating them about their and their co-workers' union or union-related activities and sympathies, according to current and former Wal-Mart workers and NLRB decisions against the company.  Under US law, interrogating workers about these matters is not, per se, illegal and casual discussions and informal employer questioning about organizing that may occur during a workday are generally considered lawful.544  Nonetheless, if "either the words themselves or the context in which they are used . . . suggest an element of coercion or interference," the interrogation is illegal.545
An assistant store manager interrogated union supporter Valerie González about her union sympathies at the East Tropicana Avenue, Las Vegas, Nevada, facility in December 2000.  The assistant manager "asked her if she had anything to do with the Union," and when González answered affirmatively, she "questioned González as to why she wanted the Union."546  González told Human Rights Watch that the assistant store manager said to her:
"Why would you want to do that?" . . .  She says, "I thought we were friends.  Why would you do this?  I thought I treated you good. . . .  Look at the things I do for you.  You wouldn't be able to do any of that with the union.  If Wal-Mart went union, everything would go by the book."547
The NLRB administrative law judge in the case found that the assistant store manager's interrogation of González was unlawful because it was accompanied by the coercive threat "that if the union represented the employees their existing benefits would be lost to them."548
The five-member NLRB in Washington, DC, upheld an ALJ decision that a Wal-Mart district manager also "overstepped the bounds of legality" when he asked a worker "if she had heard about anything going on in the store" at Wal-Mart's Lubbock, Texas, store in March 2000.  The NLRB held:
In the context of the time, the Union activity going on, the fliers and the other meetings, I don't think it is incumbent on him [the district manager] to have to ask, "Have you heard anything about the Union going on in the store," because as soon as he mentioned it, Gómez [the worker] immediately responded about the Union fliers and about the [union] meetings at Spearman's house. . . .  I am persuaded that the interrogation violated the Act because it took place in the management office by a very high official of the company.  There was no valid purpose explained for seeking out the information.549
At the Spring Mountain Road, Las Vegas, Nevada, Sam's Club in June 2000, a store manager likewise interrogated Alan Peto after he began circulating a petition "complaining of possible unfair wage and training practices."  The store's business manager Donna Burton summoned him into the office of store manager Greg Roberts for questioning: 
Roberts asked Peto, "What's going on?"  When Peto feigned ignorance, Roberts said that he had heard that Peto was circulating a petition concerning wages.  Peto said he did not want to discuss the matter.  Roberts then reminded Peto that [Wal-Mart] had an open door policy and advised that he [Roberts] could not address employees' concerns unless they were brought to his attention.550 
An NRLB administrative law judge found the questioning coercive:
Roberts' question, "What's going on?", was an open ended demand that Peto tell Roberts what he knew about the petition.  The question was accusatory in tone and, considering the hostile atmosphere, the question impliedly threatened possible adverse consequences to Peto because of his activity. . . .  Roberts' suggestion that Peto use the "open door policy," under the circumstances, did not serve to lessen the coercive effect of the interview.  Rather, it conveyed the message that concerted activity was not favored and that Peto should abandon his protected activities and evince that abandonment by bringing his concerns to Roberts.551
The five-member NLRB in Washington, DC, affirmed.552
Wal-Mart has also warded off organizing activity by illegally prohibiting communication among workers about working conditions at its stores.  It is well settled under US law that section 7 of the NLRA provides that "employees have the right to engage in activity for their 'mutual aid or protection,' including communicating regarding their terms and conditions of employment" to colleagues, customers, and others.553  
In April 2001, during a union campaign at Wal-Mart's Alliance, Ohio, facility, the store manager told a worker in the store's break area that she was not allowed to discuss working conditions while on break.  The administrative law judge hearing the case found, "Employees on non-work time in non-work areas cannot be prohibited from discussing terms and conditions of employment, etc., with each other," and ordered Wal-Mart to post a notice in the store promising not to ban employees from discussing "terms and conditions of employment with other employees on non-work time in non-work areas."554 
Because the posting was limited to the Alliance, Ohio, facility, however, workers at stores across the country did not receive the same message.  Twelve current and former Wal-Mart workers and managers from four different Wal-Mart stores in Aiken, South Carolina; New Castle, Pennsylvania; and Loveland, and Greeley, Colorado, told Human Rights Watch that they believed that they were banned from discussing their salaries with their co-workers.  Most explained that they had understood managers' instructions when they were hired or at new-employee orientation as prohibiting salary discussions.  For example, "Chris Davis," an Aiken, South Carolina, Wal-Mart worker speaking to Human Rights Watch on condition of anonymity, stated, "We're not supposed to talk about what we make with other associates."  She explained that when she was hired, "they said it was store policy that you're not supposed to talk about wages.  I assume it's still the policy."555  "Davis'" co-worker "Pat Quinn," also speaking anonymously, similarly told Human Rights Watch, "They don't want you to talk about your salary.  They tell you when you're hired that you're not supposed to talk about salary."556  Jared West, a Greeley, Colorado, Wal-Mart worker, likewise recounted, "We were told this when we were hired—part of orientation.  You're not supposed to talk about evaluations or salary."557
A company came in during [a] morning meeting to talk about a fitness plan we could join.  At Christmas time, we brought in gifts for an organization for children.  Clothing [was] brought in and donated for another organization.  All this [happened] during morning meeting[s].  People came in to talk about the organizations. . . .  Someone from outside came in and talked about the organization for clothing donation. . . .  If people from UFCW entered the store, they were told they have to leave or if [management] allowed them to stay, [they] would follow them around.

—Cory Butcher, former worker at the East Serene Avenue, Las Vegas, Nevada, Sam's Club.558
Wal-Mart's internal policy documents define "solicitation," in relevant part, as "[t]o request or seek, in writing or orally, donations, help, or the like for any cause."  "Distribution" of literature is defined as "[t]he act or process of giving out or delivering leaflets, pamphlets, or other written material."559  The company's solicitation and distribution policy, in pertinent part, states:

Associates may not engage in distribution of literature during working time.  Distribution of literature is not permitted at any time in selling or working areas.560  Associates may not engage in solicitation in any selling area of the facility during business hours or in working areas when Associates are on working time.561  This applies to activities on behalf of any cause or organization, with the exception of corporately sponsored charities.  These charities are:

Children's Miracle Network
Corporate United Way Campaigns. . . .
America's Second Harvest Campaigns.

. . . 

Solicitation and/or distribution of literature by non-Associates is prohibited at all times in any area of the facility, including the vestibule.



. . .

The Facility Manager may approve . . . solicitation and/or distribution of literature outside the facility for all other groups and organizations. . . .



. . .

An area must be designated for all organizations to use that is at least 15 feet from the entrances and exits. . . .



. . .

Any organization that requests to solicit or distribute literature should be provided two copies of the Solicitation and Distribution of Literature Rules.562
The NLRB has generally held that Wal-Mart's solicitation and distribution of literature policy for employees and non-employees complies with legal standards on paper.  Under US law, employers may generally ban union organizers from soliciting and distributing literature on company property as long as the ban "does not discriminate against the union by allowing other distribution."563  For example, if employers ban union representatives from leafleting in the parking lot, employers must also ban local high school students from distributing flyers requesting donations to fund a field trip.  As an NLRB administrative law judge explained in a case against Wal-Mart, "Whether [Wal-Mart] lawfully prohibited the Union's unapproved activity depends on whether, as alleged, [Wal-Mart] discriminatorily applied its . . . solicitation/distribution policies."564  Similarly, while employers may generally also prohibit their workers from soliciting and distributing union literature during "working time" and, in some cases, in work areas even on non-work time, they may also not do so discriminatorily.565
Nonetheless, on a number of occasions, the company has applied its valid solicitation and distribution policy discriminatorily both against Wal-Mart workers inside its stores and union organizers outside, according to NLRB rulings against the company and testimony of current and former workers and managers to Human Rights Watch.  In some cases, Wal-Mart managers and staff have even called or threatened to call the police against union representatives leafleting outside company stores. 
Wal-Mart has refused to allow union representatives to distribute handbills outside company stores, while permitting staff of other organizations to hand out information.  For example, at two Wal-Mart stores in Orlando, Florida, in June 2000, Wal-Mart banned union handbillers from its premises, while allowing "solicitation by the Girl Scouts, the Salvation Army, and other local non-profit charitable organizations that may have a need to raise funds, such as performing car washes on the Company's facilities."  At the East Colonial Drive, Orlando, Florida, store, a security guard told a union handbiller "to leave" and "[g]o out by the street," and an assistant store manager ordered the handbiller to "go to the street or to go off the property by the road."  Similarly, an overnight assistant manager at the South John Young Parkway, Orlando, Florida, store instructed a union handbiller to "move off the premises or go to the end of the store" or he would call the police.  The NLRB administrative law judge hearing the case against the company ruled that Wal-Mart had illegally discriminated against the union organizers at both stores.566
Store management asked union handbillers outside a Noblesville, Indiana, Wal-Mart to leave and when they failed to do so, called the police and instructed the officer to warn the handbillers that they were trespassing in August 2000, even though the company's policy states that people can distribute handbills if they stay fifteen feet from the store.  The NLRB found that Wal-Mart broke the law because the company discriminated against union members when it "violated its own recently-adopted solicitation rule . . . when presented with an instance of union solicitation."567  
In March 2001, Wal-Mart falsely claimed that its property lease banned union handbilling in front of the East Tropicana Avenue, Las Vegas, Nevada, store.  Assistant store managers told Angie Griego, an employee distributing union literature in front of the facility, that she was not allowed to handbill in front of the store and would have to leave or management would call the police.  One of the managers explained that KSK Properties, with which Wal-Mart had a lease agreement, prohibited handbilling outside the store and that Wal-Mart was compelled to uphold the KSK policy.  The other assistant manager called Wal-Mart's Union Hotline and was instructed to enforce the lease agreement.  At the NLRB administrative law judge hearing in the case, a store security guard also claimed he had orders from KSK Properties to prohibit handbilling outside the store.568
The ALJ found, however, that the "record does not show that the lease agreement between [Wal-Mart] and its landlord contained any restriction on handbilling outside the East Tropicana store" and concluded that the prohibition of union handbilling "was an unlawful promulgation and enforcement of a no solicitation rule."569  Griego commented to Human Rights Watch:
The security guard that Wal-Mart hired, he said that it wasn't Wal-Mart's rule, that the property management didn't want us distributing literature.  But why doesn't the property manager stop people from putting stuff on cars? . . .  He said [it had] nothing to do with Wal-Mart—[it] has to do with company manager.  I want to know why it's different for the union.  At that time, there was someone asking for donations.  What about selling cakes?  What about selling Girl Scout cookies? . . .  It was just me. . . .  Wal-Mart was claiming that they didn't own the property, but if it was really property management, it wouldn't just be the union; it would be everything else.  There was stuff on my car every day.570
Wal-Mart management at the East Tropicana Avenue store even illegally prohibited workers from handing out pro-union pens on the store floor.  For example, Griego stopped to ask Josephine Ross, her co-worker, "if she would testify for the Union if Griego's pending unfair labor practice charges went to trial."  During the conversation, Griego gave Ross a brightly colored union pen.571  Assistant manager Connie Commitor had seen Griego hand a pen to a co-worker earlier that day, and after witnessing her give the pen to Ross, told Griego, "[T]his is not allowed on the sales floor.  You need to take it to the break room."572  Griego commented to Human Rights Watch:
I was given pens from everywhere, so why couldn't I give her a pen that said "UNION, YES"?  But it was just the issue that I was giving the pen and [it] said "UNION."  But so many times when casinos come in and give casino pens, . . . everyone took them.  Why can't I give out one that says "UNION YES"?573 
Commitor acknowledged at the NLRB administrative law judge hearing in the case that employees were allowed to use their own pens at work, could ask co-workers for pens, and could use any pens they wanted.  The judge concluded that Commitor's conduct, therefore, unlawfully discriminated against union activity.574 
An NLRB administrative law judge found that the company discriminated against the distribution of union materials at another Las Vegas, Nevada, store, as well.  At the South Rainbow Boulevard store, the company "did permit solicitations involving nonunion matters in work areas" and, therefore, acted unlawfully when it disciplined an employee on July 12, 2000, and again on August 30, 2000, for distributing union literature in a work area.  The judge held:
[T]he discipline given . . . was disparate treatment by discriminatorily applying [Wal-Mart's] valid no solicitation rule . . . based on . . . union activities. . . .  [H]e was disciplined for engaging in union solicitation and distribution on work time while [Wal-Mart] allowed other nonunion solicitations to occur without consequence.575
The company also discriminated against union solicitation at the Spring Mountain Road, Las Vegas, Nevada, Sam's Club in early 2001.  The ALJ hearing the case found that while Sam's Club banned union solicitation, a television advertisement admitted into evidence suggested:
[Sam's Club's] parent company, and author of the no solicitation policy, not only condones but encourages a variety of activity which would generally come within the no solicitation ban inside its buildings during store hours—including bingo games, marching bands and clowns.  The TV ad clearly shows that activity which would clearly be as disruptive as union solicitation is condoned and encouraged as a matter of policy.  Therefore, I conclude that as construed, the no solicitation policy discriminates against soliciting for unions.576
In some cases, Wal-Mart has promulgated additional rules on solicitation and distribution that discriminate, even on paper, against union-related activity.  Under US law, rules banning solicitation during all "work hours," including lunch and break periods, are presumed invalid and illegal, as are rules prohibiting workers from wearing union insignia on clothing, buttons, pins, lanyards, and other similar items.577  Such activities can only be legally limited if an employer shows that "a special circumstance exists which requires restrictions of this right," for example, "to maintain production, reduce employee dissension or distractions from work, or maintain employee safety and discipline."578  Wal-Mart has reportedly issued just such bans without demonstrating any "special circumstances" to justify them.
On September 19, 2001, Jamie Duran, facility operations manager at the Spring Mountain Road, Las Vegas, Nevada, Sam's Club, prohibited talking about the union while on the clock, according to workers who testified at the ALJ hearing in the case.579  Duran denied making the announcement.  The administrative law judge rejected Duran's denial and found that he had unlawfully announced that workers were banned from discussing the union "on the sales floor, the parking lot or outside the store in the smoking area."580  Spring Mountain Road workers who spoke to Human Rights Watch also recalled believing that a general ban on union discussions was in effect.  "Gail Hass," a union opponent and former Spring Mountain Road store team leader and current worker speaking on condition of anonymity, explained to Human Rights Watch that there was "no talking about the union on the clock."581  "Dina Eldridge" added, "Managers . . . only stopped saying you can't talk about the union after the charges were filed [with the NLRB]. . . .  After management said [you] can't talk about the union anywhere in the store, [we] pretty much stopped."582
In June 2001, in the wake of increased union activity at the Sam's Club stores in Las Vegas, Nevada, the executive vice president of operations for Sam's Club announced a new name-badge policy.  The policy "prohibited employees from having other than an approved badge backer; required employees to wear the badges on lanyards approved by the company with the company's logo; and prohibited employees from wearing pins on their lanyards."583  As a result, workers were no longer permitted to wear union lanyards or attach union buttons to their lanyards.  An NLRB administrative law judge found that there was "no evidence that employees . . . wearing a union lanyard or wearing union buttons on their lanyards had any kind of detrimental effect on customers, or that such affected production or store discipline" and, as a result, held that Sam's Club's new policy was unlawful.584  
Managers at Wal-Mart's Tahlequah, Oklahoma, store likewise told a worker that "the message on his T-shirt was a form of solicitation and that he would have to leave the store immediately" in January 2001.  The T-shirt read, "'Union Teamsters' on the front and 'Sign a card . . . Ask me how' on the back."  Upholding an ALJ decision against Wal-Mart in the case, the five-member NLRB found that the T-shirt "[m]ust be treated as simply the wearing of union insignia" and, therefore, Wal-Mart "could not lawfully apply its no-solicitation rule to prohibit [the worker] from wearing the T-shirt on its premises, absent a showing of special circumstances."  The NLRB held that having failed to show such "special circumstances," Wal-Mart acted illegally by ordering the worker wearing a pro-union T-shirt to leave the store.585
When I would distribute union literature in the break room, they would throw away all the literature.  As soon as I put it down, they had someone throw it away.

—Angie Griego, former worker at the East Tropicana Avenue, Las Vegas, Nevada, Wal-Mart.586
When Wal-Mart has failed to prevent distribution of union literature on its property, the company has often illegally confiscated the pro-union materials.  Under US law, employees have a "protected right to receive union literature" and confiscation of union literature unlawfully interferes with that right "even where the union literature was unlawfully distributed."587 
A union organizer who distributed literature at the East Colonial Drive, Orlando, Florida, Wal-Mart store in June 2000 testified at an administrative law judge hearing in the case that "assistant store managers told employees they didn't need this trash, referring to the handbills, and to throw it away[,] . . .  and one of the department managers told the two women taking the flyers, you should not take that trash, and later one of the department managers 'snatched it out of the hand of one of the women and crumpled it up and threw it away.'"588  The judge accepted the organizer's testimony and found that Wal-Mart managers illegally "told employees who accepted Union handbills that they should not have done so."589 
Scott Miller, co-manager of a Wal-Mart store in Henderson, Nevada, likewise "took handbills from employees as union representatives distributed them" in October 2002.  Store manager Yvonne Garza "told two employees who had accepted handbills, 'You know what to do with that,' a clear directive to destroy or otherwise disregard the material."590  According to the ALJ's decision in the case, "After she [Garza] spoke to them, the two employees threw the handbills away."591  The judge held, "In taking handbills away from employees and implicitly telling them to destroy them, Scott Miller and Ms. Garza, respectively, interfered with, restrained, and coerced employees in the exercise of their . . . rights in violation of . . . the Act."592 
In December 2000, Norine Sorensen, a former worker at the South Rainbow Boulevard, Las Vegas, Nevada, Wal-Mart, was handbilling outside the West Craig Road, Las Vegas, Nevada, store when co-manager in training Tiffani McClendon approached her and asked if she was a Wal-Mart employee.  According to the ALJ decision in the case, when Sorensen answered affirmatively and tried to hand McClendon a handbill, McClendon angrily asked, "'[W]hat are you out here doing this for?'"  McClendon then grabbed all the handbills, got in a waiting car, and left.  The judge held, "McClendon took all of the union handbills from Sorensen without authorization while angrily castigating her for engaging in union activity.  I find that McClendon's actions were coercive and an unlawful interference with employees' union activities."593
According to several workers—Sorensen, Marsha Wardingly, and "Dina Eldridge," workers at the Spring Mountain Road Sam's Club nearby; and Cory Butcher, a former Serene Avenue, Las Vegas, Nevada, Sam's Club worker—managers also confiscated union literature handed out by union representatives or left in the stores' break rooms during the 2001 organizing drives at their stores.  Sorensen recalled, "In the break room, I put [union] brochures down—one with rights at work. . . .  The managers in the break room would take away the materials."594  Butcher remembered that at the Serene Avenue store, "If someone from the union came to pass out stuff from the union, my team leader would take the stuff away.  She would turn it into Jeff [general manager] and others to make herself look good."595  Wardingly and "Eldridge" recalled that managers also threw out union literature placed in the break room of the Spring Mountain Road store.  "Eldridge" explained that she and a union representative distributed literature in the break room "and as soon as management or a team leader walked into the break room, they would pick it up and put it in the trash."596  Wardingly added, "Associates put it [union literature] on the table in the break room, and it ended up in the trash.  Management did it at first, and then they had associates throw it out for them."597  
The allegations that managers at the Spring Mountain Road and Serene Avenue Sam's Clubs and South Rainbow Boulevard Wal-Mart illegally confiscated union literature were not explicitly included in the charges of unfair labor practices filed with the NLRB for reasons unknown to Human Rights Watch.  Therefore, those allegations were never specifically addressed by the Board.598
Wal-Mart did not respond directly to Human Rights Watch's questions about its use of unlawful tactics to defeat union formation.  Instead, the company noted in a letter to Human Rights Watch that "over the last two years, the UFCW has had far more unfair labor practice charges filed against it than has Wal-Mart."599  The number of charges of unlawful conduct against the UFCW, however, has little relevance to the legality of Wal-Mart's anti-union conduct.  And while it is true, as already noted above, that the number of charges against Wal-Mart has dropped since early 2005, that drop correlates directly with the similarly sharp decline in workers' efforts to organize using the NLRB-sanctioned process at Wal-Mart stores across the country, also described above. 
---