Separatist militants, particularly Pejuang Kemerdekaan Patani, have frequently attacked civilians to achieve various aims. These include instilling fear in the civilian population (both Buddhist Thais and ethnic Malay Muslims), pressuring and discrediting the Thai government, avenging perceived wrongdoings by the security forces and government officials, discouraging ethnic Malay Muslims from supporting the Thai authorities, diverting government resources from military tasks, impeding public services, and provoking a heavy-handed response.
This has led to unprecedented and, in Thailand, seemingly unthinkable levels of violence.  According to Intellectual Deep South Watch, a Pattani-based research center affiliated with the Prince of Songkhla University, 3,056 of the total 4,152 militant attacks during the period from January 4, 2004, to July 31, 2007, targeted civilians or civilian objects, both Buddhist and ethnic Malay Muslim. During the same period there were approximately 530 attacks targeting various military units and their personnel, and 566 attacks targeting police units and their personnel.78
Of 2,463 deaths since January 2004, Human Rights Watch counted 2,196 civilians killed in bomb attacks, shootings, assassinations, ambushes, and machete attacks. Civilians have been killed or injured while they were going about their daily activities—on the way to work, picking up their children from school, herding cattle, buying food in a market, or eating in a restaurant.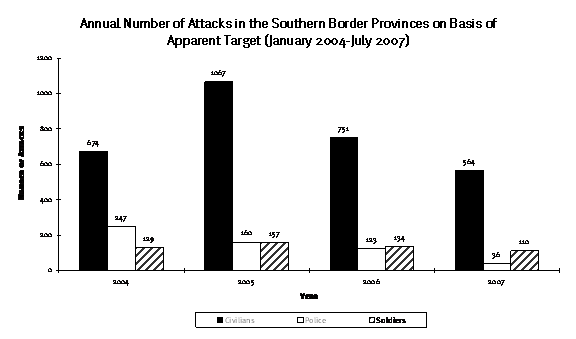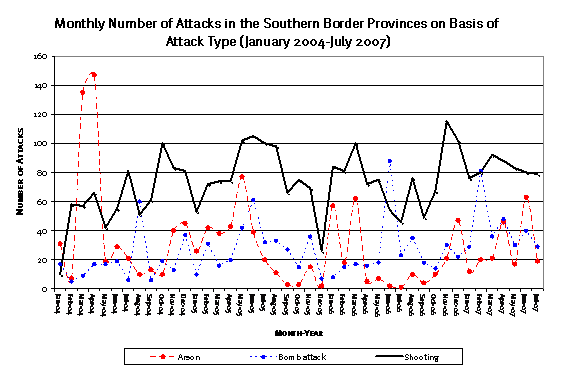 The stories below are just some of those collected by Human Rights Watch.
Separatist militants have claimed that the southern border provinces are places Buddhist Thais should not live. They have termed the area a religious conflict territory.
To all Thais
You think soldiers and police can protect you, but you are wrong. We kill your soldiers and police every day. We give you three days to leave. There will be no more warning. Anyone of you who remain here, young or old, men, women, or children will all be killed. If we see you, we will kill you. We will shoot you, cut off your heads, and burn down your houses.
This is your last warning.
Patani Freedom Fighters
At least 29 people have been beheaded and more than 40 have been hacked to death since January 2004. This trend started to become visible in Bannang Sta district and other remote areas of Yala.
One woman, Prapaiporn, told Human Rights Watch that, according to police investigation, her father Arom Burananak, a 67-year-old Buddhist former local administrative official, was hacked to death by militants in Ban Muang Mai, Mu 3, Tambon Bannang Sta, Bannang Sta district, Yala.
My father was heading home on a motorcycle and had less than half a kilometer to go when the militants attacked him, around 10 p.m. on July 21, 2004. He was struck hard twice with machetes. One to the back of his neck and his throat was slashed. He died on the spot.
Prapaiporn noted that the killing has terrified her village, where Buddhists and Muslims once lived peacefully together. "Now most Buddhist villagers think it is no longer safe to stay here," she said, adding:
There were shootings and explosions in other villages in Bannang Sta district. But the situation here was not too bad. Muslims and Buddhists were friends for generations, and in spite of the ongoing violence, they continued to be so. My father was a true believer in this. As a village chief and later chairman of this Tambon [sub-district] Administration Organization, he forged ties between Buddhists and Muslims through various community activities. I cannot understand why they would want to kill him. He was a friend of Muslims, not their enemy. Many Muslim villagers came to his funeral, and they clearly sympathized with our family. But after my father's death, they seemed to keep their distance from us and other Buddhists. And for us, it is getting harder to trust them. I do not know anymore what is in their head.
Local residents, both Buddhists and Muslims, felt that their lives had been seriously affected by Arom's death.  According to Prapaiporn's account:
People are scared. Shops no longer open late at night and evening hawkers and food stalls are nowhere to be seen. It has been like this for two years now. We are surrounded by red zones [where separatist militants have taken control of the territory]. In this village there used to be about 30 to 40 Buddhist families from the north and northeast [of Thailand] who came to work here as hired hands and share-croppers at rubber plantations. But they all moved out after my father was killed. The production of our rubber plantation has gone down because of the absence of these helping hands.79
Sommai Khamparanai, a 72-year-old Buddhist rubber tapper, was attacked by alleged militants with machetes on March 16, 2005, in Ban Buesu, Mu 6, Tambon Bannang Sta, Bannang Sta district, Yala. He suffered serious injuries, but survived. Sommai told Human Rights Watch what happened to him on that day:
It was Wednesday, around 5:30 a.m., I was out jogging not far from my house. Then out of nowhere, someone hacked me very hard in the back of my head. It put me out, unconscious, for four nights. I was put in an ICU [intensive care unit]. It was a miracle that I survived the attack, but the cut left a big scar. It got 37 stitches.
After the attack, Sommai still stayed in his village. He told Human Rights Watch that he was terrified, but had nowhere else to go. In January 2006 a group of militants opened fire on his house and tried to burn it down, leaving behind a threatening leaflet.
The machete attack was not the end of it. My house was attacked on January 6, 2006, by a group of about five militants armed with automatic rifles. I think they were planning to torch my house. I was watching television with my family. It was about 7:30 p.m. when bags full of gasoline were tossed into my house, followed by many rounds of gunshots. We immediately hit the floor. My wife and my grandchildren were all face down. But luckily, one of the village defense volunteers was nearby and stepped in to help us. He fired back and hit one of the militants. That forced them to retreat. There was a long trail of blood. I do not know who they were, or where they came from.
After the attack on his family Sommai said one thing has become very clear to him—that the militants want to drive all Buddhists out of his village:
On that day, when they attacked my family, they dropped leaflets in Thai and Jawi saying, "This is my mother's country. I will take it back." 
Thai authorities gave the land ownership in Ban Buesu, where Sommai lives, to 50 Buddhist Thai families more than a decade ago and helped them set up a Buddhist Thai village cooperative. Many ethnic Malay Muslims in that area remain landless until today. For decades Thai government policy has been to increase the number of Buddhist Thais in the South by resettling them from the northeast in many village cooperatives.
Sommai believes that he and other Buddhist Thais have to look after each other to survive the hostile surroundings.
We are now too afraid to go out and tap the rubber alone. It is just too remote and dangerous to go out to the plantation. I just look after a few cows and hang out with the neighbors, so we can stay in a group. We go as a group and stay as a group. We also stay within the eyesight of the armed village defense volunteers. It is tough making a living nowadays amid the violence.80
For all of his life, Kamol Chunet, a 65-year-old Buddhist retired teacher, lived in Mu 2, Ban Mulong, Tambon Ratapanyang, Yaring district, Pattani. Alleged militants murdered and beheaded him inside a hut near his fish ponds on June 15, 2005.
The nature of the killing—a beheading in which there was no sign of robbery and a message suggesting a political motive, apparently by two men dressed in the black clothes frequently worn by separatist militants—strongly indicates an insurgent attack.
His sister, Supat, said Kamol had never suspected that he would become the victim of militant attacks:
Kamol was very friendly to everyone. Buddhists and Muslims all liked him. After his retirement from a local government school, he lived alone in a small hut by the fish pond in his orchard. His hut had no fence. He never thought anyone would hurt him, and he only kept books in the hut. There was nothing worth stealing or robbing. How could they attack a helpless, friendly old man like Kamol? It was very brutal. His killers left a message, a piece of paper, with my brother's head inside the plastic bag. It said, "You killed one innocent person, I will take two." I do not know why my brother was chosen for this. If it was a revenge on the authority, they should go after soldiers or police—not a harmless, unarmed man like Kamol.
Supat described what soldiers told her about Kamol's death: 
That night, when Kamol was murdered, I was at home with my husband. Soldiers at our village checkpoint in this village saw two teenagers dressed in black approaching them on a motorcycle, and one of them was carrying a plastic bag. Soldiers ordered them to stop. But they tossed the bag and escaped on the motorcycle. Soldiers opened the bag and found a human head inside. It was my brother's head.  The soldiers who took the first look inside the bag said it was horrible. They said what they saw still haunted them. It has stuck in their memory.
The police investigation of the murder scene found no sign of struggle in Kamol's hut. It stated that Kamol had a head wound; the killers probably struck him first with a machete and knocked him out, before cutting his head off with a very sharp knife.
The news of Kamol's death shocked the entire community. It was the first beheading case in Yaring district. Three days later, migrant workers from Laos in a nearby village were killed and beheaded. They were husband and wife who worked in a chicken farm owned by a Muslim family. Their murder was very much similar to what happened to Kamol.81 Their headless bodies were found inside a house, no sign of struggle. It took the police two days to find their heads—dumped on the road less than one kilometer away. Their heads were put in a plastic bag together with a piece of paper written in Jawi that "We will kill innocent Buddhist people for every innocent Muslim killed."
According to Supat, the police suspected that Muslim teenagers from a nearby village killed Kamol, but they could not get enough evidence to press charges against them. "Kamol's killers are still at large," she said. "Who will be the next victim?"
There has been too much news about Buddhist villagers being shot, hacked, or blown up over the past two years. I pray every night for my family to be safe. I have small children. I want them to go to schools in downtown Pattani, but the roads are too dangerous for them to travel back and forth. But keeping them in a local school here does not make me feel any relief. I always tell them to come home quickly, and do not allow them to play outside for too long. We are surrounded by Muslims. Some of them might be Kamol's killers. I do not know if I can trust any of them anymore although I know them—two or three generations of their families. We requested soldiers to station in the village temple to protect us. But with only eight soldiers, I am not very confident that they will be able to fight off militants.82 
Chua Thongaram, a 63-year-old Buddhist former village chief, was hacked to death in Mu 1, Tambon Napradu, Kokpho district, Pattani. The attack took place on the morning of February 1, 2006, while he was traveling to his rubber plantation. His body was found on the side of the road, face down. According to the police investigation, he was hacked four to five times on the head with machetes. The killers took his handgun, which Chua carried for self-defense, but left his motorcycle behind. The fact that Chua was a former official and that his motorcycle was not taken in the attack suggests that the killing was politically motivated.
Chua was described by his family as a harmless man who has been friendly to both Buddhists and Muslims for all his life:    
Chua was a former village chief. He left the post about 15 years ago. For the past five years he had been spending more of his time on his small rubber business. It kept him busy and gave him something to do. He often traveled alone, going here and there doing his daily routine. It had never crossed anybody's mind that anybody would want to hurt him. He got along with everybody well.
A relative described the concerns of Buddhist Thais in the area:
What happened from April [2006] up to now is the opposite of peace. About six people have been shot dead. They were all Buddhists. No one has been arrested. These killings took place on the main road, sometimes in broad daylight, not far from security checkpoints or outposts. That was the opposite of peace. Anyway, with the declaration of a peace zone, soldiers that were positioned here to protect our village were pulled out. In the past, rubber tappers used to go out at 2 a.m. Now it is 6 a.m. We used to close our shops at 7 p.m. Now we close at 5 p.m. In the past there were some villagers who set up their food stall after dark. But now it is all quiet. Children do not play outside anymore. Our eyes are constantly on the lookout.83
Human Rights Watch found that separatist militants carried out summary executions of civilians based on ethnicity. The most horrific case in nearly four years of violence took place on March 14, 2007.  A passenger van, which ran between Yala and Songkhla, was ambushed in Yala's Yaha district. That day, at around 8 a.m., separatist militants stopped a passenger van running from Betong district in Yala to Hat Yai district in Songkhla. Nine Buddhist Thai passengers were singled out and shot at pointblank range, killing eight of them.
Supawan Sae Lu, who survived the attack that killed her 18-year-old daughter, recalled:
The driver saw that the road was blocked. He tried to reverse the van back. But then there were armed men, armed with assault rifles and dressed in green, came out from the roadside. They announced that all Buddhists would be killed, and started shooting at us one by one. My daughter was trying to lean to me when she was shot in the head. They also shot me in the head. I knew later that the driver, a Muslim man, could escape. But he was shot too. I am struggling to recover from the loss of my daughter, and also from my injury. The bullet damaged the right side of my face. I am now partially blind. After five months in the hospital, my right ear still cannot hear very well. It has become difficult even to speak. I am a teacher, but I cannot go back to teach anymore. My students would be scared if they saw me in this condition. Sometimes, I wished that it [the attack] did not happen, or that my daughter survived that day. But on the other hand, being shot in the head like that, she would have been the same condition as me if she survived. She was still very young, only 18, with a bright future. She just passed the university entrance examination. But her life was taken away.84   
The most visible impact of deadly attacks is mass migration of Buddhist Thai villagers, hundreds of people from entire communities. For example, in November 2006, at least 300 Buddhist Thai villagers from Ban Santi 1 village in Yala's Bannang Sta district and Ban Santi 2 village in Yala's Than To district left their homes and sought refuge in Wat Niroth Sangkharam Temple in town. This sudden, unprecedented scale of internal displacement of Buddhist Thais captured public attention across Thailand, showing the serious magnitude of violence, as well as the underlying message of separatist militants that the southern border provinces are no longer a place for Buddhist Thais to live. The liberation of Patani Darulsalam, in this context, will mean the end of coexistence between Buddhist Thais and ethnic Malay Muslims there.    
Thongchai Iamnirand, a Buddhist villager whose wife and father-in-law were killed on November 5, 2006, by alleged separatist militants in Ban Santi 2 village, told Human Rights Watch that Buddhist Thais and ethnic Malay Muslims have lived together for many decades. But now separatist militants are severing that relationship and forcing Buddhist Thais to leave their homes.85 He said:    
Was I wrong to be born in this place? I have the right to live here as much as those Muslims. We [Buddhist Thais] have never hurt any Muslims. Why suddenly we have become their enemies? Why do they [separatist militants] want to chase us from our homes? How will they feel if we [Buddhist Thais] do this to them too, telling them that that Muslims cannot live here anymore, and anyone who refuses to leave will be killed? All I have left is my son, after my wife and my father-in-law were killed. They [separatist militants] also burned down our house. 86  
Thongchai added that the brutality of separatist militants and the failure of government forces to protect Buddhist Thais are the main reasons why he and most of his neighbors do not want to return home.
I have to flee. We are now becoming refugees. Of course, I am very bitter and angry. This is Thai territory and something like this is still taking place. Government forces cannot protect us. Senior government officials from Yala and Bangkok, as well as army officers, keep telling me and other Buddhists it is all right to go home, back to our village. Some of them said that having hundreds of Buddhists seeking refuge in a temple like this has made the government look really bad. But the safety of me and my son is more important than the reputation of those officials. Clearly, they cannot guarantee that they [separatist militants] will not attack again? So, I want to be resettled somewhere else, safe from the violence.87
Separatist militants see civilian employees of the Thai authorities, both Buddhist Thai and ethnic Malay Muslims, as legitimate targets because they represent the occupation of Patani Darulsalamby infidels.
Anek Ngernmoon, a 29-year-old Buddhist local administrative official, was beheaded by alleged militants while out on duty. His mother, Jitra, told Human Rights Watch that the murder took place on November 23, 2005, in Tambon Tuyong, Nong Jik district, Pattani. She said,
That day, Anek took me to the local market and brought me back home. I last saw him about 10 a.m.; he was returning to his office. The village chief at Mu 7 village also saw him and talked briefly with him. I started to get worried when Anek did not return home that night. A neighbor called the police on my behalf to report that Anel went missing. The next morning at about 6 a.m. somebody saw his decapitated body in Tadan village. His head was later found in another village, Manao Ton Deaw, about 2 kilometers away. His head and body were dumped on the side of the road. The killers also took his gun, his mobile phone, and his motorcycle.
Jitra believed that Anek was among many Buddhist Thais who were killed and beheaded by separatist militants since January 2007. She says she thinks her son was targeted because he worked for the government as a local administrative official and a village defense volunteer.
Anek was in charge of collecting taxes and monthly water fees from villagers. He had to travel around almost every day on his motorcycle. I told him to be careful because many government officials have been attacked. My Muslim friend also warned me about three months before Anek's death that he should be careful when traveling. There are red zones [where militants have taken control of the territory] all around here. But my son wanted to do his job. He was proud of it. He had been in that position for more than two years, and was about to take a promotion examination to become a district official.88
Separatist militants have often singled out for attack ethnic Malay Muslims working with Thai authorities, including those signed up in a temporary employment scheme.89 The victims often found leaflets of Pejuang Kemerdekaan Patani in front of their houses or in their neighborhood telling them to stop working or cooperating with infidels, or they would be killed. Said one such leaflet: "You are not the enemy of pejuang kemerdekaan Patani, but if you still cooperate and support Siamese kafir who invaded our sovereignty and killed our people, then what you are doing is the equivalent of declaring war against us. You are nothing but loyal dogs to kafir. Your life will be destroyed, your family will be destroyed, all your belongings will be destroyed."
Guheng Sa-e, Ban Kuan Lamae village chief, is one of those ethnic Malay Muslims who have become targets of assassination because of his employment with the Thai government. His village is located in Tambon Na Ket—a "red zone" in Pattani's Panare district where separatist militants have largely taken control of the population and openly challenged the Thai authorities. 90
Guheng explained to Human Rights Watch how separatist militants justify the killing of ethnic Malay Muslim government employees.
There is no peace here since pejuang have stepped up their activity. They have spread twisted and radical teaching. For them, violence committed in the name the liberation [of Patani Darulsalam] is halal [permissible]. They killed Buddhist people, as well as Muslims who collaborate with the authorities or oppose separatism. They believe their violence will guarantee their place in heaven. That kind of thought has made me and many other Muslims who work with government officials, or munafig as they call us, their targets.91
He recollected the attempt on his life as follows:
After giving me several oral warnings, they placed a bag filled with rice and eggs [locally used as a funeral offering to dead people], as well as bullets, in front of my house. That was a final warning that I have been marked for execution. Soon after that, they tried to kill me. It was on December 16 [2006]. That night, I was sitting outside my house alone, having coffee after the evening prayer. My wife, my mother, and my children were inside. I saw a group of men crawling quietly towards my house. When they started to climb over the fence, I heard them shouted, 'Alahu akbar!' [God is great!], 'Kill him, kill him!' After that, they began to open fire. It happened so quickly. I grabbed my gun and shot back. At that point, I feared that they would not stop after killing me, but would also kill everyone in my family. So I fought hard. Their bullets hit me, but I kept firing at them. My neighbor took his gun and came out to help me fight. After 20 minutes, they began to retreat leaving behind two dead men—both were villagers here [Ban Kuan Lamae village]. One was a worker in our village mosque. Another one was a son of the former village chief. I found a plastic gallon container filled with gasoline. Clearly, they wanted to kill me and everyone in my family, and then burn down my house. Those two dead men dressed up in police and army uniforms. I think they planned to let the Thai authorities take the blame for what happened that night. If they succeeded, my death would easily turn moderate people here against government officials. They must have thought that they could surely kill me and my family. The attack was well-planned. They split into two teams attacking me and my friend Ma, a local politician. All the roads coming to this village were blocked to stop soldiers from coming to help us. I was very lucky to survive that attack. I am now constantly on alert. I will not run away, otherwise pejuang will completely take over this village. I will not let that happen.92
Lek Pongpla, a 34-year-old Buddhist cloth vendor, was shot and beheaded while he was sitting in a teashop in Ban Buketamong, Mu 7, Tambon Bukit, Joh Airong district, Narathiwat, on June 22, 2005. Villagers said that Lek described himself as coming from Nan in northern Thailand. According to one villager, the local BRN cell suspected Lek of being a police informant:  
Lek came to this village several times. It was just too odd for him to try to sell cloth here, where there were not many customers. I saw that he always traveled in a pickup truck, which dropped him off at the police station. And he was picked up from there. BRN militants thought that Lek was a police informant. That, I think, was the reason why he was killed.
This villager described how Lek encountered his killers:
That day, around noon, Lek arrived in this teashop. It was quite crowded. He ordered his drink. While Lek was drinking tea in front of the teashop, two men on a motorcycle arrived and the pillion rider shot him in the back and hip. As Lek tried to escape, one of the attackers pulled out a machete and chopped off his head. They then put the head in a bag and fled. About half an hour later Lek's head was found in a canal about two kilometers from here.93
"Lek was killed, but I think the message was clear," said another villager. "Now we do not have to worry about strangers coming in to spy on us anymore."94
Eakasak Wisetsuwanaphum, a 29-year-old Buddhist man, was beheaded on July 26, 2005. His head was found inside a plastic bag on a road in front of a community building in Mu 2, Tambon Laharn, Sai Buri district, Pattani. His father, Police Senior Sergeant Major Narong, said Eakasak was identified by separatist militants as a police informant and was killed for that reason:
Admittedly, I have made enemies in my line of duty. As a plainclothes detective, I have identified and arrested many members of insurgent groups. For that reason, I always warned Eakasak to be careful. Militants must have this thought that Eakasak was working for me to infiltrate into their groups when he went out to hang out with Muslims. But he argued that his Muslim friends should understand that he had nothing to do with my undercover work. But he was wrong, and the result was deadly. They killed him, and cut off his head. I never found his body.
Eakasak's father told Human Rights Watch that he warned Eakasak to be careful of his Muslim friends, as some of them have been listed by the authorities as members of insurgent groups. "The militants are brutal and would not be reluctant to kill even their Muslim friends or their relatives," he said. "My son was naive to believe that they would not hurt him simply because they were friends."
Police Senior Sergeant Major Narong told Human Rights Watch that the militants have improved their intelligence information about Thai security personnel, including plainclothes officials and informants. "They know who we are, and they are taking us down one by one," he noted. He has decided to move his family from Pattani to Songkhla, where most of the districts have not been affected by the violence. "I have had enough with it," he said. "Now I want my wife to be able to live safely."95 On the day Human Rights Watch met Narong, two of his neighbors were moving out, saying that the violence was beyond the government's ability to control.
Settlers from Thailand's northeastern province of Nakhon Phanom lived together in Tambon Talokapo, Yaring district, Pattani. But since the escalation of insurgent attacks in January 2004, many of these settlers have been killed by separatist militants. On November 3, 2005, around 6:40 a.m., the severed head of Jirawat Manurat, a 36-year-old jewelry trader, was found inside a plastic bag on the road near Ban Tha Pong School not far from where he lived. Jirawat's head was shaved, and had deep knife wounds.
According to the village chief, Jirawat was killed and beheaded for two reasons. 96 First, the militants suspected that he was an informant for the security forces—many jewelry traders and garbage scavengers from Thailand's northeast have also been attacked and murdered since 2004 for this reason. In addition, because the militants suspected that Jirawat worked for the Thai authorities, they left his head to terrify Buddhist and ethnic Malay Muslim villagers who signed up to the government's temporary employment program. "Many collaborators [with the Thai authorites] have been killed around here," said the village chief.
The village chief also said the situation became more complicated when the authorities began to suspect that ethnic Malay Muslims, including local administrative officials and politicians, were involved with militant groups. They have been listed and pressured to report to the district office. Some of them have then been sent to attend army-run reeducation programs for several weeks.97
Doing that to us is like signing our execution order. The militants will immediately come to question us when we return from the district office or reeducation camps. They often charge that we have collaborated with the authorities. And if we fail to prove our innocence, we will surely be killed.98 
On the evening of July 25, 2006, around 7:30 p.m., separatist militants murdered Tain Sroisuwan, a 72-year-old Buddhist farmer and former deputy village chief of Mu 4 in Ma Ruad village, Tambon Kok Krabue, Panare district, Pattani. Tian was hacked with a machete on his forehead and his throat was slashed. The attackers then set his body on fire. The incident took place at the entrance of his village.
His son, Thanat, told Human Rights Watch that Tian strongly opposed the new generation of separatist militants and gave information about their activity to Thai security forces, which made him a target of threats from separatist militants before he was murdered.
My father was born here, and he lived here all of his life. He always told me that, even at the peak of separatist activity some 20 years ago, Buddhist Thais had never been treated with brutality like this. Never before have we had to cow in fear that separatists, who live with us in the same village, would shoot us and torch our houses. That was why my father stood up against the new generation of separatists. He knew this village and many parts of Panare district inside out, as well as the movement of separatists around here. He gave his information to soldiers and police, hoping that it would lead to the arrest of those separatists or at least stop them from attacking Buddhist Thais. But that had made my father a main target of separatists. They told my father to shut up, or he would not be allowed to live anymore. But my father did not stop. Then one night they threw firebombs inside our house. After that, everyone in our family became very careful. We never left the house unattended, and we always traveled in company.
According to Thanat, everyone in his village—Buddhists and Muslims—now has to live with the terror of Tian's death without any protection from Thai authorities.
That day, my father went out to herd our cows back from the field. I went to a funeral with other people in our family. I thought my father would wait for me to come back first, but he decided somehow to go to the field alone. I came back and did not see my father. Not long after that, our neighbors came to our house and told me that my father was attacked. They did not give me any details. I rushed out with them, hoping that he was only injured. I found my father's body near the bridge at the entrance of our village. He was hacked in his head, and his neck was almost severed. His body was doused with fuel and set on fire. The smell of burning flesh was so strong I could not get rid of it from my head. It was horrible to see my father being killed like that, worse than an animal. I think that was the message from separatists: 'You stand in our way, and you will be dead like your father.' Today, we have to keep our head down in fear. No protection from the government has been provided to my family. No one from the police station, army camps or district office even bothered to come to my father's funeral. I am not even sure whether they will ever manage to arrest those responsible for my father's death.99
For the first time in the history of separatist insurgency in Thailand's southern border provinces, Buddhist monks and novices are now among those killed and injured by militants.
Pra Juladet Jalarakpawin, a 25-year-old Buddhist monk from Wat Chalermnikhom Temple, Tambon Lam Mai, Muang district, Yala, was hacked with machetes and seriously injured by alleged separatist militants on January 24, 2006. He gave details of the attack to Human Rights Watch:
In January I was an acting abbot of Wat Chalermnikhom Temple. On the morning of January 24, 2006, I took two monks with me to take alms. We were walking along Petchakasem Road, the main road in front of our temple, as usual. I saw four Muslim men riding on two motorcycles towards my group. When they rode past us, they stopped their motorcycles. Then they started hacking me with machetes. Another monk was punched in the face. Small children, who always followed me along when I took alms, saw the attack. They ran away, and went to hide underneath a pickup truck on the roadside. At that point, I was also worried about their safety. Buddhist villagers went out to see what was going on. They saw the attackers escaping on their motorcycles. They then rushed me to the hospital. When I recovered from the injury, I decided to move to Wat Kuhasawan Temple. But honestly, nowhere is safe.100 
The abbot of Wat Chalermnikhom Temple told Human Rights Watch that Buddhist monks have been targeted by insurgent groups since the escalation of violence in January 2004:
Pra Juladet took that route every day to take morning alms. He always walked slowly with other monks from this temple to collect food from Buddhist villagers. I think the attackers must have followed his routine for some time. And also back then, the government did not send soldiers to guard monks and temples. We were easy targets. These militants are clearly different from their predecessors. Three decades ago, there were many separatist militants active in Yala's mountainous areas. But they never hurt Buddhist monks or innocent people. The new generation of militants is more ruthless. They want to get rid of all Buddhists, and spare no one—young, old, men, women, villagers, or monks. Muslim youths around this temple show no respect to me and other monks. They spit at us, or point their feet at us [a sign of disrespect]. They say Buddhists are oppressors. That should be kept in history books, not as a reason to attack us. It is very much different from before when Buddhists and Muslims lived side by side.101
Nen Kittisak Nusanad, a 13-year-old Buddhist novice at Wat Waluwan Temple, Tambon Sataeng, Muang district, Yala, was hacked to death also on January 24, 2004. His teacher and abbot of the temple talked to Human Rights Watch about the attack:
Nen Kittisak was my best student among the 500 children who became Buddhist novices in 2004. He studied hard and observed the daily routine strictly. He never missed the alms-taking. That was when the militants killed him. It was January 24, 2004. Buddhist monks from Wat Chalermnikhom Temple and Wat Kuhasawan were also attacked on that day. Villagers told me that the attackers arrived on motorcycles. They rode passed Nen Kittisak on Waeluwan Road near Phongthai brick factory. They struck Nen Kittisak several times in his head and neck. He died on the spot.
The abbot of Wat Waluwan Temple said that the Buddhist community has been left unprotected by the authorities, while the brutality and lethality of insurgent attacks has escalated alarmingly.
I still could not come to understand it. What kind of people would be so ruthless as to kill a child, not to mention that he was also a Buddhist novice? These militants want to drive us out. They are not happy to see Buddhists living here. Some of them have been trained specifically in sword fight. They hacked and beheaded Buddhists to scare us to the point that we would run away. This never happened before. In the past, 20 to 30 years ago, I saw various insurgent groups. PULO and BRN were very powerful. They ruled the jungle. But they never attacked Buddhist monks and novices. They also did not go around killing innocent people arbitrarily like this. Insurgent groups today have been radicalized. I do not think all existing measures of the Thai authorities will make us safe. Also, I doubt if the National Reconciliation Commission or any dialogues with militants will lead to a sudden peace. This time they seem to be here for a long fight and are willing to do anything to achieve their goal.102  
After 78-year-old Buddhist monk Pra Kaew Panjapetch was hacked to death and set on fire by militants who raided Wat Prom Prasit Temple in Mu 2 Tambon Ban Nok, Panare district, Pattani on October 16, 2005, Buddhist monks in Panare district were very angry. One of them told Human Rights Watch that Thai authorities were too soft in dealing with insurgent groups: 
There is no law around here. Buddhist people have been killed every day. But police cannot arrest anyone. … They should be tough in dealing with Muslim militants, otherwise soon there will be no Buddhists left here in Pattani and other southern provinces. There used to be 20 Buddhist monks in my temple. After Pra Kaew was killed, most of them have packed up and gone.103
In response to attacks on Buddhist monks and novices, the government has arranged security escorts to protect them while collecting morning alms. Most Buddhist temples also have security units stationed around-the-clock to prevent arson attacks. But there are questions whether this will make Buddhist monks and temples more likely to be attacked by separatist militants. Pra Chatchai, deputy abbot of Wat Bang Nara Temple, said:
I have become more nervous now when soldiers escort us to take morning alms. If militants want to ambush those soldiers, they can easily learn the timing and route that we use every morning. An ambush plan can be put together very easily. When militants open fire or detonate a bomb, they can hurt both soldiers and us at the same time. This is like killing two birds with one stone.104
Despite various measures put in place by government forces to protect Buddhist monks, many Buddhist temples in the southern border provinces are now empty. Buddhist monks, novices, and nuns are leaving, fearing that they will be attacked. For example, in July 2007, the abbot of Wat Hua Saphan Temple in Yala's Muang district decided to move out after receiving a series of threats from separatist militants and growing hostility towards Buddhist monks by ethnic Malay Muslim teenagers in the surrounding community. 105
He told Human Rights Watch,
First, they [Muslim teenagers] hurled rocks into the temple; then they fired at the residential quarter in the temple; and now they came inside the temple and killed many dogs that I kept. I have lived here [in Wat Hua Saphan Temple] for 15 years, and I do not want to abandon it. There used to be five Buddhist monks and many nuns in this temple. One by one, they began to leave, saying that this area has become dangerous. In summer, during school break, many Buddhist children used to come here during their summer vacation to become novices and learn about Buddhist teaching. But parents no longer want to let their children become novices, because their children can be killed [by separatist militants]. Now the temple will be empty after I leave. Buddhism is being pushed out because of violence. I have tried my best to maintain the presence of Buddhism. But it is getting clear that they [separatist militants] will soon come to kill me. They may even burn down this temple. They tried to do that before in Pattani.106    
Public health services in the southern border provinces—where the number of doctors and nurses per capita is among the lowest in Thailand—have been seriously affected by the growing violence since 2004.107 Unlike their predecessors, Pejuang Kemerdekaan Patani regard medical personnel and public health centers as legitimate targets in the attempt to eradicate the Thai state's presence in Patani Darulsalam.108 According to the Public Health Ministry, at least 60 public health volunteers and hospital staff have been killed and injured and 19 community health centers burned down or bombed since January 2004.109 As a result, many community health centers have reduced their working hours and close their gates early to avoid attacks by separatist militants in the evening. For the same reason, doctors are becoming less willing to visit patients outside the hospital, leaving frontline daily public health work in the hand of paramedics and public health volunteers. 110  
Ayu Gaza, chairman of public health volunteers in Pattani, told Human Rights Watch about the increasing danger in his daily work:
We used to believe that public health volunteers would not be targeted, because we serve the entire community—both Buddhists and Muslims. We never faced discrimination before. And most of us are locals—we have lived in the community for many years, or generations in some cases. So even when Muslim teenagers are taking up weapons and becoming pejuang, we still did not think that they would hurt us. But we were wrong—I was wrong about that too. More and more public health volunteers have been threatened and killed. In Pattani, I think nine of us have been killed—including my colleague from Momawi village [in Pattani's Yarong district]. He was warned several times by pejuang to quit his job. Although he eventually resigned, he did not stop helping people in his village. He just kept giving them basic treatment and referring them to doctors in town. So one day, he was shot and killed. Another colleague from Panare district [in Pattani] was chased by pejuang out of the village. From time to time, we received telephone calls or warning letters threatening to stop working. Now all of us have to be more careful. But we cannot abandon people in the village, particularly since doctors and nurses are no longer willing to go out of the hospital to visit patients in the village. We have to fill in this gap. We do not know when they [separatist militants] will attack us when we are on the road.111
Since 2006 at least three community health centers in Pattani have been completely destroyed by separatist militants. One of them has been closed down indefinitely, while staff in the other two places continue to provide their services from makeshift offices.
Human Rights Watch spoke to staff of a community health center in Mu 2 village of tambon Panan in Pattani's Mayo district, which was burned to the ground on December 7, 2006.  According to Ma Kolae:
Although there had been a series of arson attacks on government offices in this village and neighboring areas, no one thought that they [separatist militants] would destroy a community health center. I know who they [separatist militants] are, but always keep my mouth shut. I never prohibited their families from receiving medical treatment. At the same time, I also tried to ask the imam to tell villagers every Friday that public health care would be provided to everyone. I told other staff to keep their heads down to be able to stay here safely and carry on with the work. That is rule number one to survive in an area controlled by them [separatist militants]. But they [separatist militants] did not spare us. Even more disturbing was that no one in this village dared to protect the community health center. There was a village defense volunteer unit, with a checkpoint right in front of my office. But that night, on December 7 [2006], no one was manning the checkpoint. Other villagers were hiding in their houses when they [separatist militants] set fire on the community health center. No one came out to put the fire out either. Not only was my office burned down, but also medicine, medical supplies, and the public health database of villagers here. Everything was destroyed. Some of my female colleagues were so scared and wanted to quit or move to other areas. But I told them that we must try to keep our service running from this makeshift office, even without proper equipment. Each day we have about 10 or 12 patients. If we withdraw from this village, what will happen to those people?112    
Since the resurgence of insurgent violence in January 2004, Pejuang Kemerdekaan Patani have put the Thai education system as their primary target, calling it a symbol of infidel occupation and suppression of ethnic Malay Muslim identity. To date, 71 teachers from government schools have been murdered and more than 100 injured in attacks carried out by alleged separatist militants, while 170 schools have been burned down. Thai security forces have struggled unsuccessfully to protect schools, teachers, and students. The lack of security has occasionally forced government schools in a district or even an entire province to close down. Against the backdrop of growing attacks on teachers and schools, General Surayud announced on June 18, 2007, that he had ordered the closure of schools in remote and violence-prone areas across the southern border provinces.113
Warning!
To all Patani Muslims
Now Patani Muslims are at war with the occupying forces of Siamese infidels. You must be aware that our attacks on the symbols of their occupying forces—such as burning of schools—are carried out to completely destroy the Siamese infidels' rule. You are warned not to send your children to their schools. They will convert your children, and take away their awareness as Patani Muslims. You must send your children to ponoh. You are warned not to cooperate with and not to help—by providing money or labor—the occupying forces of Siamese infidels to rebuild their schools. Any assistant to the occupying forces of Siamese infidels is a sin, and will be severely punished.
From Pejuang Kemerdekaan Patani
On the night of January 4, 2004, when the raiders of the army weapon depots at the Narathiwat Rajanakarin Camp shouted "Patani Merdeka! Patani Merdeka!," other groups of separatist militants burned down 20 government schools in Narathiwat in a series of near-simultaneous attacks. By January 27, 2004, nearly 700 schools (out of the total 925) across the southern border provinces had to be shut down temporarily as a result of growing fears of insurgent attacks. Somjit Makmingjuan, a teacher at Khao Tanyong School, told Human Rights Watch that such a level of attacks on government schools was unprecedented.
I am so angry. Why did they attack us? This was supposed to be the first day for children to come back to school after a long New Year break. Now the children will be so sad to see what happened to their school. I was born here and have been teaching at this school for many years. But I have never seen anything like this before. Militants are coming back, I know that. But we are not their enemies. Everyone, Buddhists and Muslims, can come and study here. We have no restriction against Muslim children. The school is part of this community. I have hundreds of Muslim students graduated from this school. Some of them are now sending their own children to my class and are always willing to support school activity. Many Muslims came to talk to me this morning saying that they were so sorry that the school was burned down. They said all they could do would be to help us clean up the place and build temporary classrooms for students. Some of them promised to help guard the school, but others said they could not do anything to stop militants from attacking us again. I do not know what the government can do to protect us? My friends and I are thinking about carrying guns for our own protection.114
Satit (not his real name), a student at Khao Tanyong School, recalled how he felt when he learned about the arson attack:  
My father woke me up, it was still very early in the morning. He told me our school was burned down. We got dressed and went to see what happened together. I was crying all the way to school. I do not understand why they burned my school down. I saw my teachers were crying, my friends were crying. My father took off to help teachers and other parents cleaning up the mess. My friends and I tried to search the trash and ashes [to see whether] there was anything undamaged by the fire, but everything was destroyed. Where will we study now? Our teachers and parents were discussing about setting up tents for us. But they were very worried about our safety. Do you know someone who can come here quickly to rebuild my school and protect us?115
A teacher at Khao Pra School in Narathiwat disagreed with the Thaksin administration's claims that schools were not direct targets of insurgent violence:
Thaksin called them small-time bandits. How could bandits do this, burning down 20 government schools and attacking an army camp simultaneously? The government should take this problem more seriously. Thaksin said he wanted more lights to be installed around the schools to prevent attacks. I do not think that is the right solution. Militants are determined to attacks us. Nothing can stop them. When teachers and students from vocational schools came to our village offering to help rebuild the school, they were threatened by militants. Those militants said government schools and teachers have been part of the government's oppression of Muslims. Therefore, they must attack schools and teachers.… Many Buddhist parents already told me that they wanted to move their children to study outside [the southern border provinces]. This has never happened before. Buddhists and Muslims are friends, and they used to live together, help each other. If these Buddhist children are moved out, I am wondering if they will still think that they can trust and be friends with Muslims when they return to their homes again.116
On June 7, 2004, Jai Inkapo became the first teacher killed by alleged separatist militants since the escalation of violence in January 2004. He was shot in front of Sasana Samaki School in Pattani's Nong Jik district. Kusuman, his wife (also a teacher), said she learned from the police investigation that her husband was attacked by militants. She recalled the incident:
Jai just finished a meeting and was about to get in his car when they shot him four times in his head and his chest. Witnesses said the gunman was riding on the back of a motorcycle and shot Jai in cold blood in front of many students. My husband was badly injured. He died on the way to hospital. I was completely shattered when I heard the news. Until today, I cannot get over the sadness. This is the greatest loss for me. Jai was a good man. Teachers used to be respected and loved. Even badly behaved children would not think about hurting their teachers. That is changing. Now teachers feel that they are constantly in danger. We never go out alone. We travel in groups, sometimes with police or soldier escort. But well, militants can carry out attacks killing both teachers and their protectors. Some teachers also start to carry guns. What choice do we have, quit teaching and leave the south? I do not think many teachers can afford to do that. It is becoming more difficult to find vacant positions elsewhere.  Also most teachers have settled down here, having family and children. Moving out will involve moving children to new schools, you have to find a new job, and so does your partner. That is not easy. I have decided to stay here, but it is getting very difficult to concentrate on teaching when you do not know when someone will walk into your classroom and kill you.117
Ethnic Malay Muslims who worked in government schools were also targeted by separatist militants. Maripeng Nadingwae, a 53-year-old teacher, survived an assassination attempt in December 2004, only to be shot and killed on November 12, 2005. According to his daughter, Maripeng never gave up his teaching career even after he was seriously wounded in the first assassination attempt.
My father used to teach at Ban Kok Titae School [in Narathiwat's Muang district] until he was shot on December 17, 2004. That day, he was riding on his motorcycle to go to work. He told me that he saw two Muslim men riding on a motorcycle, following him. And then he was shot. The gunman, sitting on the pillion, shot my father in his groin. My father said he was bleeding badly, but was still conscious. He called for help from villagers in a teashop nearby. My family had to struggle a lot when my father was in hospital. He was the only one who earned income to feed our family. I was glad to see that he recovered quickly. But when he told me he would go back to teach again, I became very much worried about his safety. Even though my father moved to teach at a school closer to home [Ban Kalupae School in Muang district], I was still worried. That village, Ban Kalupae, is in a red zone, where militants are active. But my father kept everything to himself. He never told me or anyone if he ever feared for his safety. On the day he was killed, my father was about to go to the mosque to attend a morning prayer. He was shot in front of our house. Police said my father was shot with [an] M16. I do not know what kind of gun is that. But his head and his body were blown open by the bullets. It was horrible. I cannot forget what I saw on that day. Now I have to take up my father's role to feed my family. I have seven younger brothers and sisters. My family received financial assistance from the government, but I know that the money will run out one day. I do not know what I can do. I do not want to go to work in town—it is becoming more dangerous to travel back and forth. But at the same time, the village is no longer safe either. Yesterday, militants came here again and burned down the school [Ban Kalupae School] where my father used to teach before he was killed.118
Some teachers became targets of reprisal for alleged abuses committed by Thai security forces. On February 3, 2006, separatist militants ambushed four teachers from Ban Luemu School in Yala's Krong Penang district. Pairoj Srimuang was driving his pickup truck to take his colleagues home after school. While he was waiting for a team of security escorts at the intersection of the Krong Penang and Bannang Sta roads, two gunmen opened fire at the pickup truck, seriously injuring Pairoj and three other teachers, Jintana Thingpan, Paradi Pinyo, and Anand Sulong.
According to Surapon Phitak, director of Ban Luemu School, the attack took place after separatist militants gave warnings that they would kill teachers in revenge for the murder of ustadz Hamayidin Kalatae and the arrest of ustadz Ibroheng Kase in Bannang Sta district of Yala.     
Two days before Pairoj was shot, we were warned by local officials that militants might be preparing to attack teachers to avenge the murder of their leader, ustadz Hamayidin, in Bannang Sta district. Militants believed that the ustadz was assassinated by soldiers. The warning became more serious when villagers told us that they saw militants dressed up as Muslim women, with their heads and faces covered, near our school. I thought they were checking on us to study our security arrangement and find if there would be any chance for them to attack. Usually we had soldiers from a local army unit to escort teachers and students to and from their homes. But that day, when Pairoj was shot, the teachers left school earlier. They were traveling alone. That was the moment the militants were waiting for. They opened fire at Pairoj's pickup truck. The bullets hit Pairoj and three other teachers inside. They were badly injured, but very lucky to survive the attack. I think Pairoj should have taken all the warnings more seriously. Perhaps he thought no one would want to hurt him. He was a good teacher. People around here, even Muslims, all liked him very much. But later when villagers showed me leaflets they found near the intersection [where the teachers were ambushed], I knew that the ambush was a retaliation attack. Those leaflets, written in Thai, said, 'You killed our ustadz, we kill your innocent teachers.'119
On November 24, 2005, Non Chaisuwan, the 48-year-old director of Bang Kao School in Pattani's Sai Buri district, was shot by two separatist militants armed with AK-47 rifles as he was about to leave the school in his pickup truck that evening. Terrified students and teachers who witnessed the killing told Human Rights Watch that Non was still alive when the attackers doused his body with gasoline and burned him to death. The murder led teachers in Pattani, Yala, and Narathiwat to close 944 schools for one week, as the government struggled to come up with better protection measures for teachers and schools.
Teachers were sometimes held hostage to pressure Thai authorities to release separatist militants or suspects who had been arrested by police or soldiers in connection with insurgent violence. For example, on December 19, 2005, nine teachers were held hostage by their students and villagers in Ban Ai Batu village in Narathiwat's Su Ngai Padi district after two ethnic Malay Muslim men were arrested in connection with the shooting of a deputy village chief on the same day. One of the teachers recalled that the school was suddenly surrounded by angry villagers, including some of her students:
Threats against teachers are nothing new. There have been posters, letters, leaflets, and verbal abuses against us over the past two years. But when it happened to me, the fear was much more than I could ever imagine. It was very scary. The villagers, even my own students, became so angry and aggressive. I looked in their eyes, and it was like they were someone else that I did not know anymore. Some of my colleagues could escape before the school was completely seized. But I and another eight teachers, including the director, could only make it to the front gate. We were stopped there by protesters. There were about 500 of them. Women and children were at the front line, encircling the school. Male protesters were grouping further away, armed with axes and machetes. Some of them hollered out that any teacher making an attempt to leave the compound would be hacked to death. I heard announcements from the village mosque ordering protesters to hold us as their hostages. But I did not know who was giving that order. We were all then put inside a room and locked there. At that point, I feared that we would be killed. Protesters also held teachers at Ban Laharn School, not far from here, hostages as well. The siege lasted about three hours until police agreed to release the two young men who were arrested in connection with the shooting of Aseng Madiya [deputy village chief]. After that incident, the relationship between teachers and villagers has changed forever. I do not know who to trust anymore. Some Muslims are members of insurgent groups who incited the protest and might even be involved in many attacks that took place in this area. Even some students are changing, becoming very aggressive. They are so full of hatred and anger towards teachers. These are the same children we have taught for years, but someone brainwashed them. Their parents cannot stop that. Many villagers might not be militants, but they have been controlled by militants. They are afraid of militants. This is a red zone. Many villagers have lost faith because of the government's inability to bring the violence under control and nobody wants to antagonize the militants. This village is now under the control of militants. We can be under attack again, and we might not be lucky to walk out of it safely again this time. Now we have soldiers staying here 24 hours. But turning this school into an army barracks does not mean much when the entire community is not with you anymore. I even fear that the presence of soldiers might attract insurgent attacks and that we may get caught in the crossfire.120
An ethnic Malay Muslim villager from Ban Ai Batu village told Human Rights Watch that many villagers were forced by separatist militants to join the protest on December 19, 2005:
It has been very awkward for the community and the teachers. Bitterness and resentment is still high. They just do not know how to come to terms with the incident or to patch up their differences. Honestly, I did not want to do any harm to those teachers. They are here to teach our children. But I did not have any choice. Those pejuang have taken control of the village. They are living among us, and watching us all the time. Any defiance of their orders can mean death. Our lives are bad enough to deal with pressure from pejuang. After the incident [when teachers at Ban Ai Batu School were held hostage], soldiers gave us an order to ensure the teachers' safety and also told us that we would be held accountable for anything that happens to the teachers and the school. How can we do that? We cannot even be certain about our safety. The pressure is too much to bear now. Some villagers decided to leave, going to Malaysia, to get away from this terrible situation.121                
On May 19, 2006, a hostage incident at Kuching Reupah School in Narathiwat's Ra Ngae district turned violent when two female teachers were severely beaten by their captors. One of them, Sirinart Thavornsuk, gave details of how she and her colleague, 24-year-old art teacher Juling Pangamoon, came under attack:
The incident had erupted during the lunch break when about 50 villagers, mostly women, gathered near the school entrance, but she had not thought much of it. I thought they were heading to the mosque for Friday prayers. But then, when I almost finished my lunch, I heard an announcement from the mosque in Jawi. A Muslim teacher turned to me and said she sensed there would be trouble. She said the villagers were angry over the arrest of two men earlier that day, and that they were going to take teachers hostage in return for the release of those two men. My colleague told me to put on a traditional Muslim headscarf as the crowd rushed to the food shop where we were eating. One woman snatched the scarf from my head and tried to take me away. My friend tried to stop them, begging them to spare me, but one of them pushed her to the ground. Muslim teachers were separated and taken away. The villagers also seized our mobile telephones. Some of the women slapped me many times while forcing me to go to a room on the school's second floor. I saw that Juling was already in the room. The villagers then took Juling and me outside again. We were dragged to the village's child development center, about 400 meters away from the school. There were people, Muslim men, attending prayer at the mosque, but no one came to help us. They surely saw that we were in trouble, being slapped and beaten, and heard our calls for help, but they just carried on with the prayers. Juling and I were put inside a storage room. Our friends, Muslim teachers from the school, tried to comfort us through the back window but were chased away by those villagers. Soon afterwards, a group of about 10 men entered the room and began to beat us with their hands and sticks. We had never seen them before. We tried to crawl under the bed, but they pulled us out. Juling started fighting back, but that caused the men to beat her even more. She eventually passed out. When they left the room, I took Juling's hand and looked to see if she was conscious; [there was] blood gushing from nasty wounds on her head. I thought her bones were broken too. Not long after the men left, the village chief and his deputies broke into the room to rescue us and took us to hospital. Juling was undergoing intensive care, and the doctors told me it would take a miracle for Juling to recover from the head injuries she suffered in the beating.122
After eight months in a coma, Juling Pangamoon died in January 2007, becoming one of the best known victims of militant brutality.
Since the escalation of violence in January 2004, the use of improvised explosive devices (IEDs) has become one of the main insurgent tactics. IEDs are used specifically for targeting civilians and civilian objects, as well as against Thai security forces in populated areas without regard to minimizing or avoiding death or injury to civilians. Although the use of IEDs by separatist militants is not new in the southern border provinces, the most recent available statistics show their sheer destructiveness and lethality. Of the 5,348 militant attacks that took place from January 2004 to July 2007, there were 1,152 bomb attacks. The methods of bomb attack by separatist militants in the southern border province can be categorized as follows:
Remote bomb—an explosive device, buried in the ground or hidden in a cart, box, or basket, detonated remotely or with a timer.
Vehicle Bomb or "Vehicle-borne Improvised Explosive Device" (VBIED)—an explosive device placed inside a vehicle, usually parked and unoccupied, detonated remotely or with a timer.
Officials from the Thai intelligence agencies told Human Rights Watch that in most cases IEDs used by separatist militants relied on a base of commercially and locally available substances—ammonium nitrate (used for rock quarrying) or urea fertilizer (used for agricultural purposes). To expand the force of the explosion, bomb makers have often turned to dynamite and Powergel emulsion plastic explosive (both commercially available and used widely for rock quarrying), with the occasional addition of C4 military-grade plastic explosives.
Nails, metal rods, ball bearings, and the links of motorcycle chains have also been added to the 5-10 kilogram explosive mix packed inside PVC tubes, metal boxes, cooking gas tanks, or fire-extinguisher tanks to inflict more severe wounds and damage. More powerful bombs (20 kilograms or larger) have been used to damage railways and bridges, or ambush military convoys. Bombs have also been hidden inside fuel tanks of motorcycles or underneath pickup trucks or cars.
Smaller bombs with no shrapnel have also been used. These bombs have often been hidden in handbags, biscuit cans, cooking pots, plastic food containers, and hollowed-out books. When placed in public locations across many districts and set off simultaneously, these bombs can effectively send a message of terror and panic without inflicting large casualties.123
A powerful bomb exploded in a busy market in Songkhla's Saba Yoidistrict on May 28, 2007, killing four people, including two young girls, and injuring 26 others. Among the dead was Nit Jombadin's two-year-old daughter Napaswan. Nit told Human Rights Watch,
I was holding my daughter in my arms, talking to her and playing with her. As I was asking her what kind of jelly she wanted to buy, a bomb exploded behind us. I saw shrapnel ripped through her body. My daughter was killed instantly. I saw another little girl in school uniform lying not far from my daughter. She was dead too. People who came to help sending me to hospital told me that they had to leave my daughter behind because the market had to be evacuated quickly as militants might plant another bomb. My daughter's body was left lying on the road for many hours. I was crying my eyes out. I felt my heart stopped beating. How could they do this, planting a bomb in the market? What do they get from attacking innocent people? There was not a single soldier or police there when that bomb went off. The place was packed with children and parents after school, as always. I wanted to ask them, those who did this, to stop, please stop. We are not their enemies, when will they stop attacking us? I requested the doctors to allow me to come to this temple everyday to attend my daughter's funeral. I wanted to spend as much time with her as possible before we cremate her body. Now I am asking my daughter's spirit to protect us from violence.124 
A large number of civilians have been killed and injured when separatist militants have detonated bombs in crowded areas to harm security personnel. For example, on October 22, 2006, a unit of marines was ambushed with a roadside bomb while escorting Buddhist monks in Narathiwat's Muang district. One marine was killed, and four others were injured. But five Buddhist monks and three villagers (two Buddhist Thais and one ethnic Malay Muslim) were also wounded. Human Rights Watch interviewed Pra Somchai, abbot of Wat Prom Niwas Temple, who was injured in this attack:
I do not think that the bomb was targeting us [the Buddhist monks]. We just happened to be there with marines, who were the target. If militants wanted to kill us, they could just attack us directly. That would be easy. We could not fight back. In fact, Buddhist monks from this temple have been attacked many times before. Even my room was shot at, at least once a month. They fired across the road and the bullets hit the wall and the ceiling. I think they wanted to show me that they can take my life at any time. But attacking armed marines, or soldiers, or police is much more difficult. Those security personnel are well trained and will fight back. Militants are afraid of death, too. They do not want to suffer casualties when they launch an attack. That is why they choose to attack security personnel when they are busy with other tasks or distracted, like when they are escorting us or guarding teachers and students. Innocent people are always harmed by this brutal tactic.125   
On July 14, 2006, two female students were badly wounded in a bomb attack targeting soldiers guarding Thai Rath Wittaya 89 School in Narathiwat's Su Ngai Padi district. An eyewitness recounted the incident to Human Rights Watch:
There were five soldiers guarding this school in the morning and afternoon. In my opinion, those soldiers might give protection to teachers and students. But at the same time, we [people in the community] always feared that one day they [the soldiers] would become a target of insurgent attack. That day, July 14 last year, the soldiers were standing in front of the school as usual.  It was almost 8 a.m. Parents were still dropping their children off. The place was crowded. One soldier then spotted a black plastic bag near the school entrance. He told other soldiers to get everyone out of that area. It was like slow motion to me. Soldiers were rushing teachers, students, and parents out to a safe distant. Suddenly there was a big explosion. I saw one soldier was bleeding badly, with an open wound in his stomach. Two girls, both of them students, were lying on the ground. One of them was hit by shrapnel in the head, another one was hit in her leg. It was very scary. I was shaking. People were screaming in panic. That bomb was packed with metal rod cut in small pieces about the size of construction nails. I was very lucky that shrapnel did not hit me too. The militants surely knew that students and their parents, as well as teachers, would be hit by the bomb. They were cowards. In the past, I mean 30 years ago, militants were fighting with soldiers in the mountains. They never put innocent people at risk. But these militants—those killing and injuring people now—do not care about that. They do not care how many innocent people, even Muslims, will get hurt when they attack soldiers or police.126 
Royani Doloh, whose 12-year-old daughter was injured in the attack, told Human Rights Watch that his family is living in trauma from this distressing experience:
Until today [nearly a year after the bombing], my daughter is still crying. Doctors can treat her injury, but they cannot heal her mind. I do not know what to do. My daughter does not want to go to school anymore. In fact, she does not want to leave the house at all. I can understand that. I am not even sure about my own safety. We can be killed or injured anytime by insurgent attacks. We may not be their direct target, but the militants will not care if their attacks kill us too. Look at what they did to my daughter, they did not care that innocent students would be hit by their bomb attack.127
Human Rights Watch has documented disturbing cases in which separatist militants murdered civilians or burned down schools in order to lure security forces out and ambush them with bomb attacks. For example, police and reporters were injured by a bomb when they went to examine a crime scene in Yala's Muang district on May 22, 2007.  A local reporter told Human Rights Watch about the attack:
That morning, around 6 a.m., I heard an incident report on police radio that a man was shot dead, and his body was set on fire. The incident took place in Tambon Lam Mai in Yala's Muang district. When I arrived, there were already police and other reporters there—including two foreigners from Time magazine. The victim was Prapet Srisamai, an official at Yala municipal center. He was shot in the head. Then the militants put his body on a motorcycle, and set it on fire. It was a horrific picture. But I thought something was wrong about the whole incident. That man was shot in front of the mosque. Why did the militants have to bother to put his body on a motorcycle, drag it for about 300 meters, and then set it on fire? That was a lot of work. I did not feel right about it. So, I was very cautious when I approached Prapet's body. I tried to warn other reporters to be careful too. As I was doing that, I heard a mobile telephone ringing. Then there was an explosion. The impact hit me in my chest, and my ears went dead. I saw police, reporters, and villagers lying on the ground, about 10 or 12 of them. I have heard about this tactic for years, but did not expect that it would happen to me. This is the reason why soldiers and police cannot rush out to help survivors or examine the incidents. They are worried about secondary attacks like this.128   
Over the past three years, it has become clear that separatist militants are capable of coordinating simultaneous bomb attacks across the southern border provinces. Examples include simultaneous bomb attacks at Hat Yai Airport and other places in Songkhla's Hat Yai district on April 3, 2005; nearly simultaneous bomb attacks at more than 60 locations in Pattani, Yala and Narathiwat on June 15, 2006; simultaneous bomb attacks at 22 commercial banks in Yala on August 31, 2006; simultaneous bomb attacks in Songkhla's Hat Yai district on September 16, 2006; simultaneous bomb attacks at car showrooms in Yala's Muang district on November 9, 2006; and simultaneous bomb attacks in Songkhla's Hat Yai district on May 27, 2007. These simultaneous attacks, targeting civilian locations, may not cause high casualties or serious damages to property, but they have tremendous psychological impact on people living in affected areas.
One survivor of a bomb attack on June 15, 2006, in Pattani's Kok Po district told Human Rights Watch how the bomb attack has affected him:
I have become paranoid, getting very nervous when I leave the house. I feel that I can be killed anytime by those bombs—no one is safe anymore in the South. Thousands of government forces are here but they [separatist militants] can still launch attacks over wide areas in three provinces. They [separatist militants] are taking control of the South. Next time if they make bigger bombs and target bigger targets, more people will die. That can happen anytime and anywhere. Government officials, soldiers, and police all said they have information [about simultaneous bomb attacks on June 15, 2006], but they failed to prevent the attacks. That has happened again and again. Can we still trust them to protect us? 129 
On January 26, 2004, at around 4:30 p.m., two alleged militants attacked Madhadi Jaema, a 15-year-old Muslim student from Atarakiya Islamiyah School with machetes and axes. The attack took place near the entrance of Bang Nara Dam Mu 2, Tambon Kaluwoe, Muang district, Narathiwat, while he was traveling back home from school with his friend on a motorcycle. Madhadi survived the attack, but was badly injured. He spoke to Human Rights Watch about what happened on that day:
I was riding on my motorcycle back from school with my friend, Anek. Anek lived not far from me, and I always gave him a lift. Also I thought it would be safer to have a travel companion in today's situation. That day, around 4:30 p.m., I saw four Muslim men waving at me from the roadside. One of them was from my village. My thought at that moment was that they might have problems with their motorcycles. So I stopped my motorcycle to see if there was anything I could do to help. But just when I was walking towards them, they drew their weapons—machetes and axes. I heard them shout, 'Let's hit them now.' I was struck in my head and back. One machete still stuck in my back when I escaped on my motorcycle. My friend was also hurt badly, with big wounds in his back. Luckily, there was a car passing by. I think it was a school bus. When the attackers saw that, they ran away. 130    
Madhadi suffered a concussion as a result of this attack, and had to drop out from his school. His friend, Anek, moved out from the village after he was released from hospital.
Usman, Madhadi's father, told Human Rights Watch that the attack might have been intended to send a message to him, as a village chief, not to oppose the militants:            
I know those responsible for the attack. They are around 10 Muslim youths in this village who join the militants. They have been trained to become guerilla fighters. They do not like me for many reasons. First, I never support these senseless killings. It is wrong to hurt innocent people, no matter who they are—Buddhists or Muslims. Those victims have not committed any sins or been anti-Islam. Second, I am a village chief. I have to recruit villagers to serve as village defense volunteers. That is my job. But I have never reported insurgent activities to the authorities. That will certainly lead to reprisals. I used to think that I would be able to maintain this balance. But then they attacked my son and his friend. There was no warning. The militants might have thought that I could alert the authorities to arrest them if they gave me a warning. After the attack, my villagers look down on me. They said I could not protect my own son, then how could I be able to protect them? Some of them even said that it might be practical to give support to the militants to ensure their safety. Soldiers and police patrols come and go. But, they will not be here when the militants attack. That is the survival logic among villagers here. I keep my head low now, and just live quietly.131
Buraheng Ase, a 42-year-old Muslim tadika teacher, was attacked by a man with a machete on April 9, 2004, on his return from a local mosque in Ban Su Ngai Bala, Mu 5, Tambon Managtayo, Narathiwat. Buraheng was badly mutilated. Deep cuts severely damaged muscles and tendons in both of his arms. 
He recollected the attack in an interview with Human Rights Watch:
It was around 8 p.m., I was coming back home on my motorcycle from the village mosque. I saw a man, dressed in black [common clothing of militants], standing on the roadside. That man struck me with a machete in my head when I was riding past him. I fell off the motorcycle but still tried to defend myself. I knew he would go for my neck. So I put my arms up. He then struck my arms many times so hard that my arms and my hands were almost cut off. He stopped hacking me when I pretended to be dead.
Buraheng said he believed that he was targeted as a result of his opposition to miltant violence.
I have no enemies. The only thing I did that might upset some people in this village was that I never supported separatist groups. When I taught at a local tadika, I always made a clear stance against the use of violence—by the militants and the security forces.132
Abdulloh Daha-ara, a 15-year-old Muslim student, was stabbed and hacked to death by alleged separatist militants in Ban Baluasano, Mu 4, Tambon Tapoyo, Yi Ngo district. His sister, Sithi, told Human Rights Watch that Abdulloh never agreed with the use of violence, although the militants have increasingly become visible in her village.133
I never thought that my brother would be killed. Before that there was a road sign that was torched but nothing more than that. Abdulloh's murder was the most violent incident this community has seen. We think we know who did it. We know who killed Abdulloh. It is a young man who lived down the road and was Abdulloh's friend. His name is [name withheld]. He left the village about eight years ago and returned twice or three times a year. He would return with two or three of his friends. We believe that they were involved with militants. But my brother never associated with them. He did not like violence. Abdulloh was a young teenager who pretty much kept to himself and never went out of the village.
Sitha recollected what happened on May 13, 2006, when her brother was killed:
Before Abdulloh was murdered, he was at the village teashop. People saw [name withheld] come by and asked my brother to get on his motorbike. That was the last time anybody saw him. Later that evening somebody saw Abdulloh lying dead on the side of the road in the village. His body was hacked badly on his legs, neck, and face. He was also stabbed in his back. Police arrived at the scene about 30 minutes later. Police found my brother's blood on [name withheld's] motorcycle, but he was nowhere to be found—he fled. [Name withheld's] mother even came over and expressed her sorrow and said she knew nothing about this. She nearly passed out.
Asuma Jema, a 42-year-old housewife, was the first known case of machete attack apparently by separatist militants against an ethnic Malay Muslim woman in the southern border provinces. She was murdered inside her house in Mu 1 Toh Deng village, Tambon Toh Deng, Su Ngai Padi district, Narathiwat, on the morning of July 24, 2006. Her husband, Abdul Roya, told Human Rights Watch that his family has lived in a stronghold of separatist militants safely for many years. They became concerned after villagers began saying that Asuma talked to outsiders about the activity of separatist militants when she went to the market in Su Ngai Padi district:
This village is controlled by separatists. They live among us. But as long as we keep our mouth shut and cooperate with them, there would be no problem. My family also played by this rule until other villagers began to complain that Asuma was talking too much. They said she always told people in Su Ngai Padi market what was going on in this village. I knew a rumor like that was very dangerous. Asuma and I tried to explain to other villagers that she did not cause any trouble, just some street talks. At the same time, we hoped that separatists would forgive my wife. We settled down in this village for many years, even before some of the separatists were born. But in the end, my wife was killed.
Abdul Roya recalled the details of the moment when he found that his wife was killed:
That day, I came back from sending our children to school. I parked my motorcycle in front of the house. Usually, Asuma would respond to my 'salam.' I found it was strange that she did not come out to greet me. So, I went inside and saw that Asuma was dead. She was sitting on her chair in front of a sewing machine. I do not think she saw what was coming when she was hacked. The sowing machine was still on, with an unfinished shirt. Asuma was attacked from behind. She was hacked on both sides of her neck. The wounds were very deep. Her throat was also slashed. There was only a bit of skin that kept her head attached to the body. I held her body and cried out loudly. Neighbors came to see what was going on and inform the police. I agreed with the police that this was not a robbery. Asuma had jewelry, gold necklaces, and cash in the house, but they were left untouched. The attack had only one objective—to kill Asuma. Although other villagers sympathized with me and my children, none of them was willing to give information about the attack to the police. There were people working in the rubber plantation in front of our house. Our neighbors were also home. Our houses are lined up in a circle. It would be impossible for the killers to escape unnoticed. But everyone said they did not see or hear anything when my wife was attacked and murdered.134 
A deputy village chief in Mu 1 Toh Deng village told Human Rights Watch that two years before Asuma's murder, a Buddhist man was beheaded in a rubber plantation only about 500 meter away, apparently as an attempt by separatist militants to intimidate Buddhist Thais, but that now no one was safe:
That was two years ago, I think it was in May 2004 when Chieng was beheaded in this village. He was a Buddhist, but we all liked him. He treated us with respect. I still remembered that he always bought candies for children. When the situation became more violent and it seemed that Buddhist Thais were targets of new attacks, I warned Chieng to be careful. But one night, he was beheaded. Since then, all Buddhist Thais in this village have moved out, abandoning their rubber plantation. Everyone was terrified. Now Asuma was killed, and it has become clear that even Muslims—even a woman—would no longer be spared if they get in the way of militants.135
The resurgence and expansion of BRN-Coordinate in the southern border provinces are not taking place without opposition from the ethnic Malay Muslim community or other separatist groups. Resistance and disagreement to the recruitment and other operations of BRN-Coordinate has often resulted in a violent response, including execution by shooting or hacking.
Dear all Muslims. You must not work for Siamese infidels. You must not assist them, or give information to them. You must not betray your God and your homeland.
Munafig will not be tolerated. They will be punished—condemned to death. They are nothing but filthy dogs. Their bodies will not be buried. No one will go to their funerals. They will not be welcomed in heaven. 
Please keep this in mind.
Sori (not his real name) told Human Rights Watch about how his father confronted separatist militants in his village in Narathiwat before he was killed on February 21, 2006:  
My father was a village chief before militants killed him. They had been upset with his refusal to quit his job with the Thai authorities. But he obviously crossed the line when he stepped in and negotiated the release of nine school teachers who had been held hostage. They [separatist militants] orchestrated an uprising, using some 500 villagers to seize the elementary school and held those teachers hostage in exchange for the release of their members arrested earlier by the police. On that day, a nearby village was also facing the same situation with at least 300 villagers holding teachers hostage. Some militants threatened my father immediately at the scene when they saw that my father was trying to help free those teachers. My father said those teachers were here to teach children in our village, and had nothing to do with the abuses of our people [ethnic Malay Muslims]. He also said causing an uprising like that would only put our village in a hot spot—soon more troops would be here, sweeping the village for militants and sympathizers, then we could no longer live peacefully. But they [separatist militants] did not listen to my father. I believed that many villagers agreed with my father, but they did not dare to speak up. My father said it was his job to keep people in this village out of trouble. Militants called my father munafig and gave him letters containing death threats at the front gate of our house. My father tried to hide those letters from me and my mother. He did not want us to be scared. But we saw those letters. Not so long after that, in February 2006, my father was gunned down by our neighbor who was in command of militants. That man who killed my father lived in this village on the other side of the road, opposite of my house. After they killed my father, they told us not to receive any assistance from the government, otherwise we would all be considered as munafig and face the same consequence as my father too. I was so angry with the militants because they killed my father, and also angry with the government because the government told us to be patriotic by becoming village defense volunteers. The government could not protect us from militants at all.136
---