We all go abroad because of poverty, to earn money. [I] request that the government make sure that whoever goes abroad should be safeguarded and given food and clothes, and prevented from committing suicide, and protected from sexual abuse and harassment. The government has to locate the people who have gone through problems and provide them with compensation.331

—Paramitha E., age 29, a former domestic worker in Kuwait
Governments have an obligation to end abusive practices by employers and recruitment agencies. International human rights law places positive obligations on states to protect the rights of individuals against acts, including ill-treatment and discrimination, committed by private persons or entities. States must take appropriate measures (in some places referred to as "due diligence") to prevent, punish, investigate, or redress the harm caused to individuals' rights by private persons or entities. States must also provide effective remedies to those so harmed.332
Relevant human rights treaty law ratified by some or all of the states addressed in this report include the International Covenant on Civil and Political Rights (ICCPR), the International Covenant on Economic, Social and Cultural Rights (ICESCR), the Convention on the Elimination of All Forms of Discrimination against Women (CEDAW), the International Convention on the Elimination of All Forms of Racial Discrimination, and the Convention on the Protection of the Rights of All Migrant Workers and Members of their Families (Migrant Workers Convention). 
International human rights law establishes the security of person and the right to be free from cruel, inhuman, and degrading treatment.333 In the Declaration on the Elimination of Violence against Women, the United Nations stated that governments have an obligation to "prevent, investigate, and in accordance with national legislation, punish acts of violence against women, whether these acts are perpetrated by states or by private persons."334 A state's consistent failure to do so amounts to unequal and discriminatory treatment, and constitutes a violation of the state's obligation under CEDAW, to which Saudi Arabia, Kuwait, Lebanon, the UAE, and Sri Lanka are party, to guarantee women equal protection of the law.335 The Migrant Workers Convention, to which Sri Lanka is a party, provides that migrant workers have a right to security of person and "shall be entitled to effective protection by the State against violence, physical injury, threats and intimidation, whether by public officials or by private individuals, groups or institutions."336
The International Covenant on Economic, Social and Cultural Rights (ICESCR), to which Kuwait, Lebanon, and Sri Lanka are party, recognizes "the right of everyone to the enjoyment of just and favourable conditions of work."337 Such conditions must ensure "(a) Remuneration which provides all workers, as a minimum, with: (i) Fair wages and equal remuneration for work of equal value without distinction of any kind in particular women being guaranteed conditions of work not inferior to those enjoyed by men, with equal pay for equal work; (ii) A decent living for themselves and their families in accordance with the provisions of the present Covenant; (b) Safe and healthy working conditions; (c) Equal opportunity for everyone to be promoted…; (d) Rest, leisure and reasonable limitation of working hours and periodic holidays with pay, as well as remuneration for public holidays."338 Regarding non-citizens' rights at work, the Committee on the Elimination of Racial Discrimination's General Recommendation No. 30 states that once an employment relationship has been initiated and until it is terminated, all individuals, even those without work permits, are entitled to the enjoyment of labor and employment rights.339
The ILO has developed a comprehensive body of conventions that address virtually every aspect of workers' rights. These include ILO Convention No. 95 on the Protection of Wages, which Sri Lanka and Lebanon have ratified, and the ILO Convention on Forced Labor, No. 29 and ILO Convention No. 111 concerning Discrimination in Employment and Occupation, both of which Saudi Arabia, Kuwait, Lebanon, the UAE, and Sri Lanka ratified.340
As ILO members, the governments of Saudi Arabia, Kuwait, Lebanon, the UAE, and Sri Lanka have an obligation to realize fundamental rights in the conventions.341 The ILO Declaration on Fundamental Principles and Rights at Work (ILO Declaration) has recognized the "elimination of discrimination in respect of employment and occupation" as one of the "fundamental rights," which all ILO members have an obligation "to respect, to promote and to realize," even if the member has failed to ratify the core ILO conventions governing those rights.342
Transnational labor movement requires international cooperation. Cooperation between Sri Lanka and the countries of employment is necessary to craft mutually enforceable and recognized employment contracts that provide substantive protections, create effective complaint mechanisms and investigation procedures, and provide redress for abuses.
An SLBFE official explained that the SLBFE has pressured the Sri Lankan government to negotiate and sign bilateral Memoranda of Understanding (MOU) with countries of employment. The SLBFE official said, "Service agreements formulated by Sri Lanka are not accepted by receiving countries, so service contracts developed here in Sri Lanka are not accepted by Saudi Arabia, et cetera. We want MOUs to incorporate service contracts."343 The director of the migrants' rights NGO Action Network for Migrant Workers (ACTFORM) told Human Rights Watch, "Bilateral contracts, government-to-government contracts, are needed. We have multilateral contracts between agencies. These current multilateral contracts are between the agencies in the receiving country, the SLBFE, and workers. But they are only in English or Arabic language; the workers don't understand... Whatever agreements there are here, the question of enforcement in the receiving countries is non-existent. They don't enforce in the receiving country…. Government-to-government contracts are needed because otherwise the multilateral contracts aren't recognized."344
In the UAE, service agreements signed in Sri Lanka between workers and recruiting agencies are not binding unless they are created pursuant to a bilateral agreement with the sending country.345 On May 27, 2007, the UAE's Ministry of Labour signed an MOU with Sri Lanka, at last creating a bilateral contract for Sri Lankan domestic worker in the UAE. Before the two countries signed the MOU, recruiting agencies provided Sri Lankan workers with seemingly valid contracts that were not legally binding in the UAE. An MOU between Lebanon and Sri Lanka was pending at this writing,346 but because the content of the new MOU was not publicly available, it remained unclear whether it would provide substantive protections or whether it would legitimize the inadequate systems currently in place.
While such bilateral agreements are helpful in setting standards, they often provide weak protections and have few mechanisms for enforcement and redress. Because of the increasing number of countries now sending people abroad to perform domestic labor and the discriminatory belief in receiving countries that domestic workers do not warrant the labor law protections afforded to other categories of workers, Sri Lanka is in a weak position with the countries of employment to obtain agreements that adequately protect the rights of migrant workers. The difficulty of enforcing bilateral agreements, even when they provide adequate protections, points to the importance of such agreements committing states to create domestic legal reforms. To avoid a "race to the bottom," where labor-sending countries compete with each other by offering fewer labor protections, labor-sending countries should pursue regional agreements with agreed-on minimum standards that conform with international law.
As a labor-sending country, Sri Lanka has taken several important steps to comply with its obligations under international law to protect and enforce migrant domestic workers' rights. However, it continues to fall short of its legal obligations under the Migrant Workers Convention and other international treaties to which it is a party.347 Strategic reforms in key areas could transform the fate of Sri Lankan domestic workers and provide greater guarantees for their safety and dignity while migrating.
Sri Lanka's labor recruitment industry requires more stringent monitoring and regulation. While the Sri Lankan government has taken important steps to create a regulatory system for recruitment agencies, there are still important gaps, and the regulations that do exist are not adequately enforced.
Existing laws require labor recruiters to be licensed by the SLBFE, forbid labor agencies from directly charging prospective migrant workers, and require labor agencies to conduct their business "in a morally irreproachable manner."348 Charged with monitoring and controlling the activities of the over 580 licensed recruitment agencies operating in Sri Lanka, the SLBFE has the authority to conduct inquiries into recruitment agencies' practices, inspect documents related to job placements, and require agencies to compensate workers when an agency has failed to take steps to ensure that an employer complied with a migrant worker's contract conditions.349 The SLBFE has the power to cancel the licenses of recruitment agencies, which has the effect of blacklisting them,350 and it can instruct Sri Lanka's foreign missions not to approve job requests by certain foreign agencies after the agency has been warned.351
These are useful initial measures; however, because the SLBFE does not monitor labor agencies regularly or rigorously, the identification and penalization of labor agencies that violate the Sri Lanka Bureau of Foreign Employment Act regulations is rare. Additional needed measures include unannounced inspections, accessible complaint mechanisms for domestic workers, an accreditation mechanism for labor agencies that meet certain standards and have a record for ethical business, and a monitoring mechanism in which migrant workers are asked before departure the amount they paid in recruitment fees. The SLBFE is the institutional mechanism to regulate private recruitment agencies, but its objectives also include assisting and supporting foreign employment agencies in growth and development.352 The SLBFE's mandate to foster the growth of foreign employment agencies appears to conflict with its role as regulator for the industry.
Another key area for reform is enhanced regulation and monitoring of subagents. The government should promulgate and implement strong regulations about the conduct of subagents and create significant penalties for violations. Licensed agencies currently hire and delegate duties to subagents, but bear no responsibility for the illegal actions of the subagents they hire. Because licensed agencies frequently work with a consistent roster of subagents and pay them commissions, a licensing and regulation system by which licensed agents register their subagents is possible to implement. Numerous migrants' rights NGOs told Human Rights Watch that they have called on the Sri Lankan government to implement such a registration and monitoring system. A migrants' rights leader said, "We are telling the government to change their laws, so that they have licensed agents take the subagents under their responsibility. We want amendments to the SLBFE Act; we need to extend agents' responsibility over subagents."353
The Sri Lankan government continues to fail to regulate, monitor, or punish subagents' illegal recruitment practices, and one official has said the government has no plans to license subagents or to hold licensed agencies accountable for the actions of their subagents. An SLBFE official told Human Rights Watch, "We do not have any plan for registering subagents right now… They are key actors in the industry, we have to accept it. They are acting in an ad hoc way. Their activities are not stuck to one place. If we give them more recognition it will create more problems."354
The Sri Lankan government's introduction of a mandatory pre-departure training program for migrant domestic workers is a step in the right direction. However, there are significant shortcomings in the current program that the government needs to address: existing trainings provide inadequate or incorrect information about domestic workers' rights and insufficient coursework in the Arabic language. Domestic workers reported that during the compulsory SLBFE training for domestic workers bound for the Middle East, the only information about their rights that trainers provided was the advice that they should run away to the Sri Lankan embassy. Trainers provided the phone number of the embassy, but little else. Many domestic workers were misinformed about their rights, and some interviewees were unaware they could leave abusive employers before their contract period ended. Domestic workers told Human Rights Watch that additional Arabic language training is necessary, in order to negotiate better working conditions, gain contractually-promised wages, and better protect their rights overall.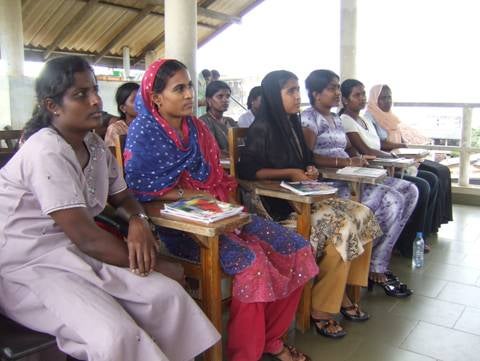 The SLBFE training is compulsory only for women migrant workers. There are 34 training centers, 11 of which are run by private licensed agencies but which use SLBFE instructors and follow the same syllabus. The 12-day training for domestic workers bound for the Middle East is compulsory only for first-time women migrants to the Middle East. Its eight modules include instruction on basic Arabic language skills, use of household equipment, traditions and customs of the countries of employment, and counseling on how to protect themselves from HIV infection, and "how to mentally adapt to socially sensitive topics."355 The final day of the training includes a briefing for domestic workers' spouses on adjustment and potential problems their spouses may confront abroad.356 Only three to four hours of the 12-day course are devoted to migrant domestic workers' rights.357 According to a SLBFE official, the session on domestic workers' rights includes a briefing about how domestic workers "should look after themselves if they confront sexual abuse and harassment," and the telephone number of the embassy.358
Lawyers from the Legal Aid Commission, which provides legal assistance to about 100 domestic workers each year, runs an awareness program for migrant workers, and began participating in the SLBFE training in early 2006, criticized the training program. One lawyer said, "Not enough propaganda has been done in Sri Lanka about the rights [domestic workers] have under the ILO conventions and the Migrant Workers Convention."359 A labor agent with over 30 years' experience recruiting Sri Lankan women as domestic workers to the Middle East said, "I think the training programs are useless…. What the government should do is to educate the women how to face the problems…. The housemaid going there should know how to read and write, and how to contact people on phones, so she should have the numbers of her people here and of the employer there."360
One domestic worker who had worked in Kuwait said of the rights component of the training, "In the training they told us that if you face any problems, there is a Sri Lankan embassy and you can get help from the agent. That's all we were told. They gave us the address and number of the agent. And after going there they gave us the number of the Sri Lankan embassy."361 Another domestic worker who had migrated to Dubai and Lebanon said, "I have been through the training here. I was kind of told about rights in training. I was advised to call either the Sri Lankan embassy or [my] agent, but I did not have the Sri Lankan embassy number, just the number of the agent in Dubai. I called the agent but he did not help me. Basically, I was told about the Sri Lankan embassy and the agent. They told me whatever problems you have, try to contact these two authorities, but when I was working, wherever I have worked, I was not allowed to make calls."362 In an October 2002 survey of 400 households, the University of Colombo and Migrant Services Centre found that only 12 percent of the returned migrant domestic workers surveyed were aware of their rights as workers when they first left for employment.363
Domestic workers also told Human Rights Watch that the language component of the training should be expanded. A domestic worker who had worked in Dubai and was undergoing the SLBFE training for Cyprus at the time Human Rights Watch interviewed her said, "I think we need to develop the training. The training should develop language, because I think that is where the problems begin."364
Presently the SLBFE training program does not officially hire trainers with experience as domestic workers. Instead, they are from the health, banking, and linguistics sectors. In a probationary pilot program, the SLBFE has recruited some trainers with over five years' experience working as a domestic worker abroad, and is evaluating their performance.365
The Migrant Workers Convention provides that "Migrant workers and members of their families shall have the right to be informed by the State of origin, the State of employment or the State of transit as the case may be concerning their rights arising out of the present Convention."366 It also provides that "States Parties shall take all measures they deem appropriate to disseminate the said information or to ensure that it is provided by employers, trade unions or other appropriate bodies or institutions."367 A UN General Assembly resolution similarly "urge[s] concerned Governments, in particular those of the countries of origin and destination, to support and allocate appropriate resources for programmes aimed at strengthening preventative action, in particular information for target groups, education and campaigns to increase public awareness of this issue at the national and grass-roots levels, in cooperation with nongovernmental organizations."368 The UN General Assembly also has encouraged member states to adopt "measures to inform women migrant workers of their rights and the benefits to which they are entitled."369
In a misguided response to concerns about the welfare of Sri Lankan migrant domestic workers and their families, the government of Sri Lanka has proposed a migration ban on mothers of young children. On March 7, 2007, Sri Lanka's ministerial cabinet approved a proposal by the Minister for Child Development and Women's Empowerment that would ban women with children under five years of age from migrating for work. The regulation would also require mothers with children aged five or older to obtain approval from a government committee after submitting proof that they can provide appropriate caretakers for their children.
The Sri Lankan government's stated rationale for the proposed migration ban is its concern about the social impact of migration on children who are unable to accompany their mothers abroad. In a press release issued on March 8, 2007, the government justified the policy on the grounds that migrant women's children "have become helpless and vulnerable, and lack nutrition and healthcare."370
Sri Lankan migrants' rights groups protested the proposed ban, and the Sri Lankan Minister of Foreign Employment Promotion and Welfare announced that the government was reconsidering the ban in light of the protests.371 At this writing, the ban had not yet been ratified by Parliament. Rather than further restricting migrant women workers' rights by implementing the ban, the government should instead enhance economic and educational opportunities for women in Sri Lanka so that domestic workers can migrate based on choice rather than desperation. The proposed ban would prevent many mothers from supporting their children by banning them from the only form of work they can find. Many women with young children told Human Rights Watch that their children's survival depended on income earned abroad, such that migration was in fact their best option. One mother of five said, "I did not find anywhere to work in Sri Lanka, so there was no income and I had to borrow money to eat and to cover other daily expenses. My children were very small and there was nothing in the house when I left [to migrate]."372
Sri Lanka has obligations under its constitution and international law to protect women from discrimination, including in employment. The Sri Lankan Constitution provides, in article 12, that no citizen may be discriminated against on the basis of sex.373 International human rights treaties to which Sri Lanka is a party also ban discrimination against women. The Convention on the Elimination of All Forms of Discrimination against Women (CEDAW), which Sri Lanka ratified in October 1981, requires states to eliminate discrimination against women in the field of employment, including by providing the right to free choice of profession and employment.
If the embassy in every country where the Sri Lankan maids are working get involved personally and wholeheartedly to see if the Sri Lankan maids working in those countries are facing any problems and need any help, then I think Sri Lankan maids will not have to face any unnecessary problems... The embassies ask [the maids] to call if they have any problem, but some of these embassies don't [check on the maids], both to follow up on particular cases or to make sure the maid is doing okay.374

—Susanthika W., former domestic worker in Lebanon, Kuwait, and Jordan
Largely excluded from local justice mechanisms, migrant domestic workers sometimes flee to their embassies or consulates in the countries of employment in a desperate bid for assistance. Sri Lankan missions in countries of employment typically receive several complaints each day and may shelter more than one hundred women workers in distress at any given time.
Human Rights Watch's research documented gaps in the services provided to Sri Lankan domestic workers who seek assistance from the Sri Lankan embassies and consulates in Saudi Arabia, Kuwait, Lebanon, and the UAE. Sri Lankan foreign missions provide shelter to domestic workers who have run away from their employers, assist detained migrant workers, and assist in repatriation of Sri Lankan migrant workers. Gaps include failure to provide rescue assistance to domestic workers who contact the foreign mission for assistance escaping from or obtaining transfer from an abusive employer; lack of follow-up on cases after workers have sought assistance from the foreign mission; failure to provide information about avenues for redress available to domestic workers who have suffered abuse; shortcomings in provision of assistance to domestic workers seeking redress; lack of counseling services to traumatized domestic workers; and poor conditions in embassy and consulate shelters.
In comparison with Sri Lankan embassies, the Philippines has extended stronger protections to Filipina domestic workers through the Philippines Overseas Employment Administration and its diplomatic corps.
Sri Lankan foreign missions in Saudi Arabia, Kuwait, Lebanon, and the UAE do not provide rescue assistance to domestic workers who contact them for assistance escaping abusive work situations. Numerous domestic workers who contacted the Sri Lankan embassy or consulate in search of assistance when they experienced workplace abuses were told simply to run away. For domestic workers forcibly confined in the workplace, this form of assistance is inadequate. In some cases, Sri Lankan domestic workers suffered ongoing abuse because they did not receive assistance from their embassy when they confronted abuse and were confined in their workplace or were afraid of the consequences of fleeing on their own. Jayanadani A. tried to seek assistance from the Sri Lankan embassy in Saudi Arabia and was unable to escape her employer's home where she was later raped and impregnated by her employer's son. She said,
I called the embassy people and spoke to the embassy people in Sinhala and they told me to somehow run away from that house and come to the embassy…they told me they cannot come in search of me... I did not run away because I was scared…. They did not tell me anything except to ask me to come to the embassy. I thought [about it] and I was scared to go to the embassy alone and I feared there would be trouble on the road to the embassy besides the trouble I already faced. So I decided not to run away.375
Another domestic worker who has worked in the Middle East five times, for over 10 years, recommended, "There should also be a system where the housemaids can get help from the embassy when they need it… We should be given the telephone number of a particular office or person. If we call, that person should be able to locate us in that house."376
Consular officials often do not follow up on cases in instances where domestic workers have contacted the embassy to request assistance. An official who has worked for the SLBFE for over eight years made the following recommendation to Human Rights Watch:
The embassy should know all the details about each [migrant worker airplane] passenger. Every passenger who goes abroad to work as a maid, get their details before they depart. The embassies have to look at what's happening and call them to check on how they are doing. If they discover all these things, the embassy can help. They must have [the] ability to coordinate with that worker. If the domestic worker calls and says, "I have a problem," the embassy must immediately call her back and follow-up.377
Sri Lankan consular officers often failed to provide information about options for redress available to domestic workers who suffered abuse. Several domestic workers reported that embassy and consulate officials did not provide them with information about lodging a formal complaint against abusive employers or labor agents. A migrant domestic worker who experienced abuse at the hands of her employer and labor agent in Dubai said,
I have lodged a complaint at the embassy. When I went to the Sri Lankan High Commission I spoke with a Sir and he asked me why I am going and I said, "I have been beaten by my employer and by the agency, and I want to go back." He did not write down anything I said. I am not satisfied with the complaint because I knew that if I was not happy with a particular employer I could go home, but he did not make a note or report.378
Welfare officers stationed in the foreign missions are charged with taking legal action against employers to recover domestic workers' unpaid wages or personal belongings in the employer's custody, but none of the domestic workers Human Rights Watch interviewed had successfully recovered unpaid wages with the assistance of consular officials. 379 One domestic worker who sought the assistance of a Sri Lankan consular official in Lebanon to recover 12 months of unpaid wages said, "I told the officer at the embassy that the employer did not pay my salary. The officer told me that since I have run away from the house they would not pay me anything. He did not write anything down, and he did not tell me anything. He just listened… I still have received nothing."380 An SLBFE official told Human Rights Watch, "The Foreign Relations Division, through the consulate, takes legal action against the sponsor—the employer. That is very weak on that side."381 Another SLBFE official noted that welfare officers require additional training on pursuing legal actions, "We have appointed officers to embassies to look after women with complaints…but we have to educate them on how to handle complaints."382
If there is to be any hope of redress for affected workers, Sri Lankan consular officers must inform them that they need to pursue cases of unpaid wages and other abuse while still in the country of employment. The director of the migrant workers' desk of the Legal Aid Commission, which provides legal aid to about 100 domestic workers each year, said, "If a migrant has a problem abroad, after she comes back there is no provision to get the money…we can't get their salaries back… Unpaid wages and physical abuse are not covered by the welfare fund. We have no authority to recover wages…for nonpayment, so far we couldn't [recover any unpaid wages]."383 An SLBFE official stated, "Action should be taken at the foreign embassy. Once the woman arrives here it is late to take action…. It is very difficult to get anything from abroad, to try to get damages for physical abuse, harassment, money for break of contract (non-payment of wages usually)."384 A Ministry of Foreign Affairs official added, "For long-term unpaid wages, we take [employers] to court if they are still in-country, but it's impossible to pursue a court case after she's back in Sri Lanka."385
Human Rights Watch research revealed that there are gaps in provision of trauma counseling services to needy domestic workers in embassy and consular shelters. A domestic worker who suffered extreme physical and psychological abuse by her employers in Kuwait said, "I was at the embassy for two months…. There was no counseling… I lost all my hospital records. I don't know what to tell the doctor here."386 Domestic workers also reported that conditions in the Sri Lankan embassy and consular shelters often were poor. A domestic worker said: "There was a lack of food, no cup of tea, no sugar, cockroaches here and there, it was a dirty place… [In the embassy] they gave me an iron bed, it was hard for me to sleep there…. Even the food was not enough. There were 200 ladies there… They promised to provide a dress, but they didn't give that either."387 Another domestic worker told Human Rights Watch, "There is no place in the Kuwaiti embassy for us to sleep… We should be given a better place."388
The case of Rizana Nafeek, a 19-year-old Sri Lankan domestic worker sentenced to death in Saudi Arabia, has drawn international attention to the need for improved consular assistance to detained domestic workers. First arrested in 2005, she did not have access to legal counsel until after a Shari'a court in Saudi Arabia sentenced her to death in June 2007, ruling that she had murdered an infant in her care. 389 At this writing, she had filed an appeal of the judgment with the assistance of legal counsel and was awaiting a decision on her appeal.390 Many detained migrant domestic workers do not have access to interpreters, legal aid, or basic information about their cases. When receiving governments do not provide migrants with access to interpreters and lawyers, the response of Sri Lankan foreign missions becomes critical. Although Sri Lankan foreign missions sometimes are not informed when nationals are detained, at other times consular officers delay or fail to provide needed assistance, as in Rizana Nafeek's case.
The Migrant Workers Convention provides that, "Migrant workers and members of their families shall have the right to have recourse to the protection and assistance of the consular or diplomatic authorities of their State of origin or of a State representing the interests of that State whenever the rights recognized in the present Convention are impaired."391
Sri Lanka's ability to comply with the Migrant Workers Convention's provisions concerning consular services depends heavily on the cooperation of the countries of employment. Cooperation between the Sri Lankan foreign missions and the countries of employment is necessary to rescue domestic workers in distress, systematically record complaints of abuse, launch and carry out investigations of abuse of migrant domestic workers, and ensure detained migrant workers' legal rights are protected.
The Sri Lankan government has instituted complaint mechanisms and victim services to help returning migrant workers obtain redress when their rights have been violated. The government provides assistance to some returning workers through its Workers Welfare Fund insurance scheme, launched in October 1994 to provide insurance for death, disability, repatriation expenses, and health care in specified conditions to migrant workers registered with the SLBFE.392 However, in practice these measures have been far from adequate.
A primary area for reform is the services and information provided at the SLBFE counter located in the arrivals area of the international airport in Sri Lanka to assist returning migrant workers, and at the SLBFE's Sahana Piyasa ("Place of Relief") shelter located near the international airport to provide services to returning migrant workers. While these programs are an important step in providing assistance to abused domestic workers, they represent lost opportunities to provide domestic workers with information about complaint mechanisms and services available to them, and to initiate efforts to obtain redress for domestic workers. None of the women Human Rights Watch interviewed had received information at the SLBFE airport desk or shelter regarding the existing institutions and programs that provide counseling, medical services, or legal assistance for domestic workers wishing to pursue legal action against labor agents or employers. Most women reported that SLBFE officials provided little, if any, information about complaint mechanisms available to them, and many complained that SLBFE officials did not adequately record their grievances.
For example, a domestic worker who was raped and impregnated by her employer's son in Saudi Arabia told Human Rights Watch she received little assistance at the SLBFE airport counter:
After arriving at the Katunayake [Bandaranaike International] airport in Sri Lanka, I told the Bureau of Foreign Employment ladies at the counter [about what had happened to me, and that I was pregnant]... At the Bureau of Foreign Employment desk at Katunayake airport, they did not write anything about my case. They did not give me any information except that they gave me a telephone number and told me that if you really want to hide and live, then call this number, but you'll have to pay. I called but did not know the place or the charge…. The Bureau of Foreign Employment, they did not tell me where else to go, did not give five cents to me, did not bother to follow my case… I did not contact them again, because it is hopeless.393
A domestic worker who suffered physical abuse and was not paid for all 10 months of work in Saudi Arabia similarly reported that SLBFE staff at the airport counter did not provide any information about pursuing a complaint. She said, "I made the complaint at the airport. They [at the SLBFE desk at the airport] got only my address and my flight number. They did not write any information about the salary matter, or the details of my employer or of the agency. They did not tell me anything or ask me [for] more information, they just said go in the bus to a different place, they will pay your bus fare to your house."394
At the Sahana Piyasa shelter, SLBFE staff people provide tea, a meal, and transportation assistance to most migrant domestic workers who return in distress. They do not provide detailed information about pursuing complaints or services available to victims of abuse. Officials record some information about women's experiences abroad, but these interviews are very brief. In cases of severe medical need, SLBFE officials arrange for ambulance transfer to a hospital for treatment. An official at the Sahana Piyasa shelter explained the limited services they offer: "We pay for passage to go straightaway home, 200-625 rupees [US$1.78-5.55]. Other people come here—we give them transport here, give them refreshment, bath, meals, tea. If they need rest, we can accommodate 40 people at once. People who can go home, we give them money to go home. We send them to the central bus stand in Colombo or Negombo. We have a bus and a van to provide transport. We will inform parents to pick them up here."395 In a single month, September 2006, the shelter provided welfare services to 454 women (759 migrants total) returning from abroad, and provided bus fare to 323 women (628 total).396
Just before leaving the SLBFE shelter for her home, an 18-year-old who was subjected to physical abuse and sexual harassment in Saudi Arabia told Human Rights Watch, "I just arrived [at the shelter] and I haven't gotten anything other than lunch. They haven't told me anything yet. No one here made promises about [giving me or getting me] money. I would want to make a complaint."397 Another domestic worker who suffered sexual harassment, unpaid wages, and forced labor in her place of employment in Saudi Arabia, and was raped after she escaped from her employers said SLBFE shelter staff did not provide her with information about pursuing a case against her employers. She said,
The flight landed… [Officials at the shelter] asked about my problems in Saudi Arabia, and I told them. They wrote down [what I said] but they told me that if I had faced any problems I should have gone to the embassy… I had only 10 minutes to talk to them, because their office closes at 5 p.m. and they have to talk to others as well. I wanted to tell [my whole story], but the time was restricted for me, therefore I did not tell them about that incident [of rape]. They didn't tell me I could spend the night and talk in the morning… They did not tell me how to do a complaint about the other problems… I wanted to make a complaint because I did not feel shy about exposing. I am affected and I don't want other Sri Lankan women to be affected."398
In most cases, women workers Human Rights Watch interviewed did not pursue complaints because the SLBFE had provided them with no information about how to do so. In the few cases in which women pursued complaints with the SLBFE conciliation division, they encountered obstacles to obtaining any redress, including unsupportive SLBFE officials and lengthy travel time and high costs to travel to SLBFE offices. In Kumari Indunil's case, the SLBFE did not recover any of the eight months' unpaid wages owed to her. She filed complaints at the Sri Lankan foreign mission in Kuwait and at the SLBFE in Sri Lanka. She said, "Once I got a call from the Bureau of Foreign Employment asking for my insurance number. They called me to come to a meeting to share my experience… They did not ask me to bring any documents and did not promise me any financial support… They did not give me an opportunity to talk at the meeting, because lots of people come to the meeting and the ministers select who can talk... I asked for an opportunity to talk."399
In another case, Nalinika M. found that the complaint procedure was extremely burdensome and entailed high travel costs:
I went to Colombo for meetings with the SLBFE six times. They asked me to be there at 12 p.m. Because it is a long journey I had to leave the night before to be there by noon. I had to leave at 6 p.m. for Galgamuwa, I reached there at 7:30 or 8 p.m., and had to spend [part of] the night there. Then I took the train to Colombo at midnight, and arrived 5:30 a.m. to the railway station in Colombo. For one trip I had to pay 1,000 rupees [US$9] at least, because I can't go [to Colombo] all alone. I told the officer at the SLBFE about my expenses. They did not give me a single cent. Sometimes the agent did not turn up, so I would wait and the SLBFE would tell me to go home. Only three times the agent turned up, the rest I had to come home empty-handed. The times the agent turned up, the agent was late. By the time they came to the office it was 2:30, 3 p.m., and because it was so late I had to stay in Colombo a second night, paying from my own pocket.400
Nalinika M. further explained, "I think the officers at the Bureau, they are not helping me wholeheartedly. I travel a long way to Colombo, but they do not push the agent to come to the meetings. Whatever the agent says, the officer at the Bureau just says yes. [The SLBFE] are not putting pressure on the agent or the boss to come to the meetings. They have the authority to put pressure on the boss."401
In 2005, the SLBFE Conciliation Division received 6,994 complaints from returning domestic workers. Only 5,027,285 rupees [US$44,647] was paid in compensation to the 8,823 female and male migrant workers who lodged official complaints, averaging only US$5 per migrant worker in compensation.402 The director of the Legal Aid Commission, which provides legal aid to 100 domestic workers each year, said that the SLBFE frequently fails to act on complaints the Legal Aid Commission files. He said, "Whenever the complaints come we write to the Foreign Ministry…but their attitude is based on the numbers and income for the state, not the human rights… We get a reply: 'We have considered the matter, we have written a letter to the foreign office.' It's not much of a help."403 He continued, "Mostly it is no use; we satisfy the migrant worker by counseling…50 percent of cases end with a letter to the Bureau."404
The SLBFE provides no counseling services at its shelter located near the international airport. Services at the SLBFE Sahana Piyasa airport shelter are limited to contacting the migrant worker's relatives and sending her home. Human Rights Watch observed SLBFE shelter staff shuttling numerous women showing obvious signs of distress away to their families after perfunctory intake interviews without providing trauma counseling services or referrals for these services. An official at the Sahana Piyasa shelter reported the shelter receives "less than 10 serious cases per month, sometimes three to four" women who have suffered extreme abuse, cases that surely warrant counseling or referral services.405 In another case, SLBFE shelter staff did not provide a sick and abused domestic worker with any information about medical services. She said, "I came to the airport today early in the morning, around 3 a.m. When I arrived at the airport I said I cannot move alone because I have a bag and am not feeling healthy, so some people arranged a van and brought me here [to the SLBFE shelter]…. I am scared and want to go see the doctor. And in the morning blood comes out… These people here are not telling me anything about the doctor."406
There is no limit of working hours for domestic workers; there are no such conditions for housemaids and houseboys. For others, eight hour limit, plus overtime, and days off on Fridays.407

—President of Sri Lanka's Association of Licensed Foreign Employment Agencies (ALFEA)  
The labor laws of Saudi Arabia,408 Kuwait,409 Lebanon,410 and the UAE411 categorically exclude domestic workers from legal protections, including provisions on payment of wages, hours of work, paid holidays, and workers' compensation. Depriving domestic workers of basic labor protections encourages the mistreatment of workers by giving improper labor practices the imprimatur of the state.
The UAE labor law explicitly excludes domestic workers from protection under the Labor Law No. 8 of 1980.412 While the UAE is currently considering revisions to the 1980 labor law, the draft law opened for public review and comment in February 2007 explicitly excludes from protection all domestic workers employed in private households. The UAE introduced a standard contract for domestic workers which went into effect on April 1, 2007, and provides for some protections of domestic workers, but it contains no limit on working hours, no provisions for a rest day or overtime pay, no workers' compensation, and only provides for unspecified "adequate breaks" and one month of paid vacation every two years.413 The standard contract does not serve as an adequate substitute for extending equal protection to domestic workers under the labor law, which contains much stronger protections, including an eight-hour limit on working days, and guarantees a weekly rest day, daily one-hour rest periods, overtime pay, one month of annual paid leave, and workers' compensation for occupational injuries.414
After a decade-long process to create a revised labor code, the Kuwaiti government thus far has failed to include domestic workers in its draft labor law, which categorically excludes domestic workers from its protection.415 On October 1, 2006, Kuwait's Ministry of Interior put into effect a standardized domestic labor contract that specifies a minimum wage and forbids passing fees on to workers, and that must be signed by the worker, the Kuwaiti recruitment agency, and the employer. Although the implementation of the standard contract is an important step, the protections it affords migrant domestic workers fall short of those provided to other workers under the labor law. As in the UAE, the government of Kuwait's standard contract for domestic workers is not an adequate substitute for extending the protection of the country's labor laws to include domestic workers.
The provision of separate and weaker protections for domestic workers has an impermissible discriminatory impact on women workers. The exclusion of domestic workers from standard labor law protections constitutes unjustifiable disparate impact discrimination on the basis of sex, as prohibited under non-discrimination principles enshrined in international law. The Convention on the Elimination of All Forms of Discrimination against Women (CEDAW), the International Covenant on Civil and Political Rights (ICCPR),416 and the Migrant Workers Convention prohibit discrimination on the basis of such distinctions as sex, language, national or social origin, or other status. Lesser protections for domestic workers that may appear neutral on their face have disparate impact on migrant women, who make up the vast majority of domestic workers.
The exclusion of migrant domestic workers from the labor laws of Saudi Arabia, Kuwait, Lebanon, and the UAE constitutes double discrimination, on the basis of their status as non-citizens as well as their sex. The ILO has noted that "women migrant workers suffer from double discrimination in employment: first because they are foreigners and hence subject to the same discrimination as male migrant workers; and second because they are women and as such often victims of entrenched traditional attitudes in their country of origin or of employment."417 In general, non-citizens are entitled to freedom from discrimination on the basis of their status as aliens. With a few exceptions that do not apply to labor protections, the non-discrimination guarantees of the ICCPR prohibit discrimination on the basis of nationality.418 The UN Human Rights Committee, charged with interpreting the ICCPR, has explained, "The general rule is that each one of the rights of the Covenant must be guaranteed without discrimination between citizens and aliens. Aliens receive the benefit of the general requirement of non-discrimination in respect of the rights guaranteed in the Covenant."419
International law also guarantees equality before the law and equal protection under the law.420 Under the ICCPR, all people subject to a state's jurisdiction are entitled to equal protection under the law.421 These protections include non-citizens and women. Therefore, protective legislation on working conditions or wages, such as labor laws, must be applied equally to non-citizens and women.422
The kafala, or sponsorship, systems in Saudi Arabia, Kuwait, Lebanon, and the UAE limit migrant domestic workers' ability to transfer from one employer to another, such that their occupational mobility is highly restricted. These "sponsorship laws" tie migrant workers' visas to a specific employer, or "sponsor," rendering workers at high risk of ongoing abuse and exploitation. These immigration regulations severely circumscribe migrant domestic workers' options when they face abuse.
Under the sponsorship laws of Saudi Arabia, Kuwait, Lebanon, and the UAE, migrant workers require a local sponsor in order to obtain a visa to work in these countries, and sponsors have authority over migrant domestic workers' legal identity cards. Because sponsors control the renewal of worker's visas, employers can terminate migrant domestic workers' contracts by allowing the work visas to expire. Employers also have control over whether migrant domestic workers can leave their employment. The initial sponsor must provide a transfer paper releasing the migrant domestic worker in order for her to change employment, leaving domestic workers at risk of arbitrary denial of their request to transfer employment, even in cases of abuse. Because migrant domestic workers' visas are tied to a specific employer, if a domestic worker flees an abusive employer, she loses her legal immigration status and faces the risk of detention or deportation.
In Saudi Arabia, sponsors even have control over whether and when migrant domestic workers can leave the country. The government of Saudi Arabia requires domestic workers to obtain an exit visa, which is controlled by the sponsor. A labor agent with over 30 years of experience recruiting Sri Lankan domestic workers for work in the Middle East explained that after the first three months of employment, domestic workers who wish to leave their contract early require an exit visa and a court order to do so: "In Saudi Arabia, the maid goes to the embassy and the embassy takes her to court and the judge has to decide whether to release her from the contract. The employer signs and then the Ministry of Foreign Affairs stamps the contract, this is called 'legalization.'"423 The Ministry of Social Affairs also runs special shelters for domestic workers where they process exit visas for domestic workers who are unable to secure their employers' consent. Migrant workers cannot obtain an exit visa to leave the country of employment without the approval of their sponsor. By so empowering sponsors, the Saudi government is violating the domestic workers' right to freedom of movement. Arbitrary denials of exit visas can also place domestic workers in situations that amount to forced labor.
The UAE has recently been reviewing many of its labor regulations and introducing positive reforms. Despite recent changes in the UAE's transfer laws, limitations on migrant domestic workers' ability to transfer employment to a new sponsor expose migrant domestic workers to abuse. In the UAE, a February 2006 reform of the country's transfer laws withdrew a one-year work ban on migrant domestic workers who wished to transfer sponsors. Under the previous system, migrant domestic workers could not change sponsors, as leaving their sponsor's employment resulted in cancellation of their visas, and those wishing to change employers were banned by law from working in the UAE for one year. However, even under the revised transfer laws, domestic workers can change sponsors only if they obtain a "no objection certificate" from the original employer or have completed their work contract, and domestic workers must pay visa transfer fees that range from 1,500 dirhams [US$408] in Dubai and 500 dirhams [US$136] in the other emirates.424 According to Sharla Musabih, a director of the UAE's only shelter for domestic workers abused by their employers, "[M]any previous sponsors punish their employees by not issuing a no objection certificate, forcing them to exit the country. Others put a ban on [workers] from several months to one year, which prevents them from entering the country or finding work during this period."425 Although the law does provide an exception for workers who can prove they have not received their salary for two months or have a labor case in the courts—allowing them to request a sponsorship transfer without approval of the original sponsor—in practice it is difficult to prove non-payment of wages and few domestic workers' cases are pursued in the courts.
In Kuwait, the Ministry of Interior's standardized domestic labor contract, put into effect on October 1, 2006, changed the sponsorship regulations for migrant domestic workers and instituted a total ban on transfer of sponsorship, which is likely to have a disastrous effect on domestic workers wishing to flee abusive work conditions.426 Under the standardized domestic labor contract, domestic workers are no longer allowed to transfer residence to another employer or find other jobs while in Kuwait, but instead are to be immediately deported if they leave their employer or if their employer terminates them.427 Hashem Majed, General Manager of the Kuwait Union of Domestic Labor Offices (KUDLO), an association of labor recruitment agencies, has criticized the provision.428 Although the government of Kuwait announced in 2005 that it intended to reform the sponsorship law, a revised sponsorship law had not come into effect as of this writing.429 The Social Affairs and Labor Ministry has reported that three studies are underway to examine possible reforms to the sponsor system, to be considered by Kuwaiti ministers, but it is unclear whether these reforms would supersede the standardized contract's transfer provisions.430
Human Rights Watch documented several cases in which authorities in Saudi Arabia, Kuwait, Lebanon, and the UAE failed to investigate and prosecute abuses reported by Sri Lankan domestic workers, despite the existence of directly applicable criminal laws. Domestic workers who experience abuse encounter numerous obstacles to the investigation and prosecution of abuses. Domestic workers face the threat of countercharge for theft if they lodge a complaint against an abusive employer. In many cases, domestic workers do not know their employers' full names or addresses, making it difficult for the authorities to locate employers against whom complaints have been lodged. One worker said, "The embassy staff asked for Baba's phone number, they are trying to call the police and catch him…. They told me, we have no telephone number, no address, what can we do? I don't know the employer's telephone number."431 Employers and labor agents sometimes fail to register changes of address, and the Sri Lankan embassy loses track of workers when employers do not register a change of employer or address, similarly making it difficult to locate abusive employers.
Several migrant domestic workers Human Rights Watch interviewed reported that when they sought assistance from the authorities in their country of employment, these authorities returned them to the very employers from whom they had escaped. Ponnamma S. tried to run away from her employer in Saudi Arabia and told Human Rights Watch that police returned her to her employer against her wishes:
Once I escaped, I went to the police. I told them to take me to the embassy. This happened on the 22nd of last month [November 2006]. They took me back to the employer and the employer went wild. They kept me at the police station for awhile. Then a senior officer came.

I complained about the marks [bruises]. I complained that Baba had beaten me up. Baba claimed that he was not there at the time. Then they asked if Baba paid me. I said, for one and a half years I have not been paid. I refused to go back to Baba. I insisted to go to the embassy house. The police told me, "We will drop you to the embassy, not to Baba's house."

The police told Baba to drop me at the embassy, but he took me back to the house. I asked Baba, why are you taking me to the house, he said I don't have the cash to send you home. I said, if you have no cash, why did you employ me? The lady beat me really badly. She told me, "Anywhere you go in Saudi Arabia, they'll return you back here. Even if we kill you, the police won't say anything to us. If you hadn't run, we would have killed you and thrown you in the trash."

My body aches. I couldn't bear the pain.432
She later ran away a second time, and went to the Sri Lankan embassy instead of the police because a Sri Lankan warned her that the police would return her to her employer again.
In some cases, domestic workers do not receive assistance when they seek help from police. These authorities sometimes return the domestic worker to her employer against her wishes, or fail to investigate the reported abuse. Selvakumari W., a 26-year-old domestic worker, told us that after nine months of enduring sexual harassment by her employer and employer's son, she ran away and sought assistance from the police in Saudi Arabia. She told us the police returned her to the custody of her employer:
I gave a statement to the police. I complained to the police, my employer does not have a good character…. The police officer threatened me, "How did you come to me?" with a big baton in his hands. I said, "I came alone with no help." The policeman wrote my complaint and gave me again to Baba. The police explained that they will transfer me to another house. But they gave me back to Baba.433
Domestic workers also confront other obstacles to prosecution. When they seek assistance from authorities in Saudi Arabia, Kuwait, Lebanon, and the UAE, or in the Sri Lankan foreign missions, they often do not receive information on how and where to present a complaint. Domestic workers also have to stay in the country, not working, while a criminal case is pursued. They face the threat of counterclaims by employers falsely accusing them of theft or adultery, and they face the threat of prosecution for adultery or fornication if they have been raped. The International Confederation of Free Trade Unions (ICFTU) reports that although theoretically domestic workers can turn to the courts in the UAE, "more often than not, legal fees and the fear of reprisals or even expulsion deter them from taking any official action."434 Another factor that hinders prosecutions is lack of evidence, because abuse cases take place in the private sphere and police lack training on identifying potential abuse cases and collecting relevant evidence.
---