Human Rights Watch identified three primary areas in which prospective women migrants face abuse and exploitation in Sri Lanka. First, agents and subagents overcharge prospective women migrants for migration-related services or documents, causing domestic workers to incur significant but avoidable debt that they struggle to repay throughout their employment period. Second, agents and subagents deceive prospective domestic workers about the nature and conditions of work they will perform, their wages, and the country in which they will be employed, exposing women migrants to the risk of exploitation and trafficking. Third, Sri Lankan authorities require prospective migrant domestic workers to undergo discriminatory pre-departure medical testing without their informed consent and in a manner violating their right to privacy.
In a positive measure to respond to reports of abuse of migrant Sri Lankan workers, the Sri Lankan government in 1985 enacted the Sri Lanka Bureau of Foreign Employment Act, which established the Sri Lanka Bureau of Foreign Employment (SLBFE) as the institutional mechanism to regulate and promote the recruitment of Sri Lankans for employment abroad.42 The SLBFE is a self-financed public corporation funded by migrant workers' recruitment fees and commissions paid by employment agencies.43 Under the purview of the Ministry of Foreign Employment Promotion, the SLBFE licenses recruitment agencies, runs training programs for prospective migrant workers, registers migrants, administers an insurance scheme for migrant workers, and runs a welfare program for migrants' families that includes a scholarship fund for migrants' children.
Sri Lankan women wishing to work as domestic workers abroad can migrate through a recruitment agency or through personal contacts.44 The majority initially make arrangements with agencies through a local subagent located in their village, although some go directly to agency offices in district capitals.45 Women traveling through personal contacts usually learn of an open position through a relative or friend already working in the Middle East, and contact employers directly to obtain a ticket. Employers or labor agencies in the Middle East who wish to hire a Sri Lankan domestic worker must register a job order or individual recruitment request to obtain clearance from the Sri Lankan foreign mission in the country of employment.46 Approval must be obtained from the foreign mission before an employment contract is signed, whether hiring domestic workers through personal contacts or a recruitment agency.47
When recruitment agents in Sri Lanka receive a job order request from a labor agent in the Middle East, they must submit a cover letter and copy of the order to the SLBFE for approval of its terms.48 Under SLBFE procedure, the SLBFE should not grant approval of job order requests if the terms and conditions of employment are not satisfactory, or if workers would be exposed to serious risks to their lives because of civil war or other political disturbances.49 Because Sri Lankan recruitment agents must obtain job approvals before any recruiting action can be taken, agencies generally obtain approvals in blocks, even if they cannot guarantee placements for all workers they recruit. After the SLBFE approves the job order request, Sri Lankan labor agents may begin recruiting and selecting prospective domestic workers.
A 1995 SLBFE policy announcement requires all migrant workers to register with the SLBFE prior to departure.50 Labor agents or their subagents usually assist selected domestic workers with the registration process, which begins with obtaining a passport.51 Prospective migrant domestic workers are required to undergo a pre-departure medical examination, and those with no prior experience working in the Middle East must complete the SLBFE's 12-day free training course. A certificate of completion of the training or six months' experience in the Middle East, original passport valid for two years, a bank receipt for SLBFE charges, a valid visa, and an embassy-approved work agreement are required for registration of all migrant domestic workers.52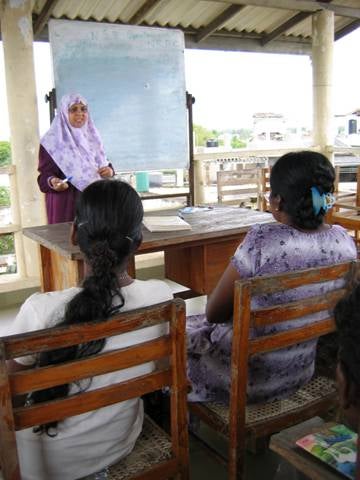 After the prospective migrant domestic worker has completed the training course, the Sri Lankan agent must obtain final departure approval from the SLBFE.53 The agent or the agent's representative must go in person to the SLBFE to show the worker's original passport, the service contract from the foreign embassy, and the worker's training or experience certificate.54 The SLBFE cross-checks this information with the foreign mission until the foreign mission grants approval, ensuring there is no duplicate for the job request. 55 The SLBFE records its grant of final departure approval in a computer database so that the foreign mission may cross-check whether SLBFE approval has been granted.56 The SLBFE maintains a desk at the departure lounge of the international airport to verify registration of outbound migrant domestic workers or to complete on-the-spot registration for unregistered migrant workers.57
When domestic workers are registered, the SLBFE records information about their visas, wages, contact information for next of kin, and the employer's contact information in its database.58 If the domestic worker registers the employer's contact information, the SLBFE dispatches this data to the foreign mission in the country of employment.59 Both the SLBFE and the foreign mission in the country of employment are required to have the name and address of the domestic worker and the employer.60 Either the prospective employer or the labor agent registers the job order at the Sri Lankan embassy in the country of employment, but this registration does not necessarily include the employer's complete contact information.61 If the domestic worker changes her sponsor legally, the new sponsor has a responsibility to register the visa change with the foreign mission, but the SLBFE has no procedure for tracking domestic workers when their employers fail to comply with this requirement.62
Labor recruiters often falsify workers' passports in order to meet age requirements for jobs abroad and often alter passports to bear Muslim names and religious designations because of many employers' preference for Muslim domestic workers. Domestic workers who are unfamiliar with immigration regulations may be unaware that labor agents have made these alterations or have misrepresented them to potential employers. When passports contain incorrect names and ages, it can be difficult to find accurate personal data or locate workers' families when necessary.
The subagents say they want money for the passport, registration fee, et cetera. The passenger doesn't know that the agent has already paid for these.63

—A Sri Lanka Bureau of Foreign Employment official
Recruitment-related debts haunt domestic workers throughout the migration process. Labor agents and subagents generally extract fees from prospective domestic workers for recruitment and placement services, and at times exorbitantly overcharge them for these services. These fees place domestic workers at risk of later exploitation by employers, because domestic workers feel trapped in abusive employment situations as a result of the debts they must repay to labor agents, subagents, banks, and moneylenders.64
Padma S.'s story illustrates the consequences of high recruitment fees for migrant domestic workers. To pay the 22,000 rupee [US$195] recruitment fee demanded by a subagent for a job as a domestic worker in Saudi Arabia, Padma S. borrowed 15,000 rupees [US$133] from a local moneylender. She also borrowed a gold chain from a woman in the village to use as collateral against a bank loan carrying 700 rupees' interest per month. She also sold her furniture, television, and VCR for the travel expenses, and the subagent confiscated her mobile phone at the airport as a deposit until she paid the remaining balance.65 After her employer's brother tried to rape her, Padma S. returned to Sri Lanka before she received any salary, with an unpaid debt of over 15,000 rupees [US$133]. She remarked, "I was thinking that I would be able to make money, but it's the other way around."66
In about 75 percent of the 100 cases documented in this report, domestic workers like Padma S. incurred heavy debt burdens because of overcharging by local labor agents and subagents. Sri Lankan law permits labor recruiters to charge migrant domestic workers only for the SLBFE's official registration fee, which ranges from about US$50 to $100. We found that the actual fees women paid were as much as US$315, much higher than official fees. Given that many of these women support their households on only US$20-50 per month, these fees represent a significant financial liability. In most of these cases, labor agents and subagents overcharged prospective migrant domestic workers by inflating costs, such as visa and government registration fees, or levied large fees in exchange for their placement services, in violation of the Sri Lanka Bureau of Foreign Employment Act.67
Table 1 – Official and reported recruitment fees paid by prospective domestic workers:
Item

Official cost

Actual amounts prospective domestic workers pay, as reported to Human Rights Watch

Agent or subagent's commission

0 rupees

UAE: 10,000-16,000 rupees [US$89-142] to subagent; 35,000 [US$311] to agent

Kuwait: 7,500-16,000 rupees [US$67-142] to agent; 13,500-20,500 [US$120-182] to subagent

Lebanon: 10,000-20,000 rupees [US$89-178] to subagent; US$100-$300 (1-3 months' salary) to agent

Saudi Arabia: 0-22,000 rupees [US$0-195] to subagent; 0-15,000 rupees [US$0-133] to agent

SLBFE registration fee

5,980 rupees [US$53], for salaries below US$90

8,855 rupees [US$79], for salaries US$90-$180

11,730 rupees [US$104], for salaries above US$180

Included in commission fee above

SLBFE insurance

2,500 rupees [US$22], included in SLBFE registration fee above68

5,000-8,000 rupees [US$44-71]

Passport

2,500 rupees [US$22], or 10,000 rupees [US$89] for replacement passport

2,500-10,000 rupees [US$22-89]

Visa

N/A

Kuwait: 4,000 rupees [US$36]69-US$4070

Saudi Arabia: 1,500 rupees [US$13]71

Medical testing

500 rupees [US$4]

1,500-7,500 rupees[US$13-67]

Travel to Colombo for medical testing and appointments with agent

N/A

5,000-10,000 rupees [US44-89]

Return plane ticket

0, in most cases72

0-3 months' salary

Total

8,980-14,730 rupees [US$80-131]

UAE: 16,000-35,000 rupees [US$142-311]

Kuwait: 12,000-20,500 rupees [US$107-182]

Lebanon: 10,000-33,255 rupees [US$89-$295]

Saudi Arabia: 5,000-22,000 rupees [US$44-195]
Human Rights Watch's research indicates that both recruitment agents and subagents charge migrant domestic workers inflated recruitment and placement fees. Subagents charge more exorbitant fees and do so more consistently than agents. Licensed recruitment agencies are generally located in city centers, far from the villages where prospective migrant domestic workers live. Subagents are unlicensed and unregulated job brokers who serve as intermediaries between migrant domestic workers and licensed agencies. There are over 580 registered agencies in Sri Lanka, and informed observers estimate there are 10,000-20,000 subagents operating throughout the island to link migrant workers with these agencies.73 One licensed labor agent estimated that "75 to 80 percent of maids are channeling through subagents."74
Prospective domestic workers frequently make their initial arrangements to migrate through subagents because subagents live nearby, and prospective migrants generally trust these known neighbors to assist them to migrate. One domestic worker described the role of subagents: "A subagent is known in a village like a fish market; everybody knows where a fish market is in a town, likewise everybody knows where and who the subagent is. Then the subagent goes from house to house asking if anyone wants to work abroad."75 An SLBFE official explained, "Most migrants go to a subagent… They are the people who persuade people to go abroad... The subagent comes to the passenger…[t]he passenger thinks, 'The subagent is a fellow villager, I know him well, I trust him.'"76 A labor agent added, "The women trust the subagents in their village more than the agent. Women might have an agency in mind, but they will still go through the subagent because they trust the subagent more and if anything happens, it is easier for her people to contact the subagent."77 Some women also expressed concern about traveling to the capital Colombo alone to obtain a passport or to undergo compulsory pre-departure medical testing, because they were unfamiliar with the procedures and because of the stigma of traveling without male accompaniment. One domestic worker who paid 23,000 rupees [US$204] to a subagent to migrate to Kuwait explained, "I went through a subagent because I don't have anybody, a male, who can accompany me to the agency in Kurunegala [the district capital] and to accompany me to the medical [tests]… [A]t the time I didn't know where to go, how to do it."78
Domestic workers are at the mercy of subagents who regularly charge workers more than officially sanctioned rates. Because many domestic workers are unable to make arrangements directly with labor agencies or are unaware of this option, and because they do not have access to information about Sri Lankan government policies regulating recruitment fees, they pay subagents the inflated amounts they demand.
Human Rights Watch documented cases of overcharging by registered labor agents as well. Prospective employers in the Middle East generally pay very high fees to hire a Sri Lankan domestic worker, ranging from US$450-1,600, and these fees are meant to cover the agents' commissions, as well as offset domestic workers' airfare and other placement costs.79 In practice, recruitment agents in Sri Lanka sometimes pocket substantial portions of the fees paid by employers, and transfer placement and migration costs to migrant domestic workers. In a seminal study on the migration of Sri Lankan domestic workers to the Middle East, anthropologist Michele Gamburd noted that in other cases, "in order to pay competitive commissions to Arab recruiters, agencies in Sri Lanka charged higher fees from prospective migrants."80 While from 1976 to 1985 employers paid prospective migrant domestic workers' airfare, passport, and medical costs, as a result of recruitment agents' practices, "by 1994 migrants footed most of these charges as well as job agents' commissions; fees increased more rapidly than inflation."81
A migrant rights' activist working at the Sri Lankan NGO Action Network for Migrant Workers (ACTFORM) explained how the fee system works in practice: "For example, for Saudi Arabia, a month's pay is given to the agent [to pass on to the worker] for purchase of the ticket and to ensure the woman comes. The agent doesn't necessarily tell the woman, and demands money and makes the woman pay the fee, and she ends up in debt."82 One domestic worker observed, "The agents are getting money…for selling us... The employers pay this to the agents. The agents are trying to make money from both the parties."83 Sri Lankan government officials maintained that labor agents charge women for migration to the UAE and Lebanon, where the fees employers pay are substantially lower than in Saudi Arabia and Kuwait, but officials did acknowledge that, "sometimes the agent recovers the cost from the women" bound for Saudi Arabia and Kuwait  as well.84  
In interviews with Human Rights Watch, licensed labor agents revealed that they are aware that subagents overcharge prospective domestic workers, but they claimed that all instances of overcharging were not attributable to the labor agents who hire them. This argument that labor agents bear no responsibility for the illegal actions of subagents is specious at best. Labor agents pay a commission to subagents for performing necessary tasks, such as identifying prospective migrants, obtaining passports for prospective domestic workers, or accompanying them to mandatory pre-departure medical tests. Subagents' practice of illegally overcharging prospective migrants for these services is well-known. One SLBFE official noted, "The people in the agencies say they don't like subagents, but they keep hiring them."85 An ILO official predicted that labor agencies will continue to hire subagents to supply recruitment services at the local level: "The subagents have been filling a vacuum that exists… You can't say that just by opening up [licensed recruitment agency] offices in districts will help, because they will probably just get the subagents to run their offices."86
In most of the cases Human Rights Watch documented, labor agents and subagents overcharged women before they left the country. However, in some cases labor agents made arrangements to deduct fees from women's salaries once they arrived in the country of employment. One domestic worker told us that a licensed labor agency claimed her entire first three months' salary in Saudi Arabia: "I paid 5,000 rupees [US$44]. I went through [agency name withheld]; they said they will never deduct our salary. After I went there, they deducted three months' salary."87 Because prospective employers in Lebanon pay much lower fees to hire a domestic worker as compared to employers in Saudi Arabia, Kuwait, and the UAE, labor agents often make arrangements for deductions of the salaries earned by Sri Lankan domestic workers in Lebanon. Domestic workers who had recently worked in Lebanon told Human Rights Watch that labor agents deducted one to three months' salary to cover recruitment fees. One domestic worker told Human Rights Watch, "I went through an agent which was registered in the Sri Lanka Bureau of Foreign Employment, in Anuradhapura district. I went to the agency in person; with the help of that agent I have come to Colombo to prepare my passport. I had to pay three months' salary, US$300 (US$100 a month). I did not pay the agent directly; the first three months I was working, my employer did not pay me and they sent the money to my agency here."88
Because of overcharging by agents and subagents, domestic workers often incur large debts at high interest rates. Prospective migrant domestic workers generally do not have the capital to pay inflated recruitment fees outright and must borrow from local moneylenders or pawn jewelry to cover these fees. Many of the women Human Rights Watch interviewed had obtained loans from moneylenders who provide loans to domestic workers at a 20 percent interest rate per month. These debts limit women's ability to flee abusive employers. Because of high monthly interest rates on these loans, domestic workers whose employers paid their salaries irregularly suffer spiraling debt. A migrant rights' activist explained, "A key problem is that when women get into debt before they go and they can't repay it, because of the debt they go back to work another time, or a third time, or lose their property or whatever is mortgaged. Or the agent says, 'Don't worry, we'll deduct your salary from the receiving country,' but there's no written agreement about the amount of the debt, so three, four months she's losing pay and has no idea for low long or how much the debt is."89
Dayani S. borrowed 40,000 rupees [US$355] to cover fees to a subagent for her job in Saudi Arabia. She told Human Rights Watch:
I got the money from two different [moneylenders] for 20 percent interest, in my same village…. Although they paid my salary in Saudi Arabia they did not pay me on time. They paid me for two months when I finished five months working there. Here [in Sri Lanka] the interest was just growing. Finally I managed to pay the capital only, to settle the capital without interest. But I did not manage to save any money for me from my Saudi trip… The interest was 20 percent per month on 40,000 rupees [US$355]. I still pay, and I have to settle 20,000 rupees [US$178] still. I am not paying any interest [yet].90
For her job as a domestic worker in Abu Dhabi, Manaranjani S. borrowed 17,500 rupees [US$155] to cover the recruitment fee charged by a subagent in her hometown. The terms of the loan are typical of those taken out by other migrant domestic workers we interviewed: "For 1,000 rupees we pay 200 rupees interest and if you don't pay the interest on time you have to pay 500 rupees per 1,000 rupees."91 Over time interest rates cause these debts to multiply. One domestic worker said, "I borrowed the money from someone, I asked to borrow 5,000. Five months ago that person asked me to repay 11,000 for that 5,000."92
In practice, as noted above, these heavy debts and high interest charges make it difficult for domestic workers to leave abusive work situations and return to Sri Lanka. One domestic worker completed her entire contract period in Dubai working in conditions that amounted to forced labor, despite facing ongoing and severe physical abuse by her employer and labor agent in Dubai, because otherwise she would have been unable to repay her debt of 30,000 rupees [US$266], 10,000 rupees [US$89] of which was interest. She said, "We have given my mother's place, the house, as collateral. If I did not settle the money which I borrowed, with interest, we agreed that he could take the house…. Although I wasn't happy with where I worked for two-and-a-half years, I knew I had to settle the debt plus interest, and there was no way I could return to Sri Lanka and [earn enough to] settle it here."93
Human Rights Watch interviewed a 32-year-old domestic worker who had been raped by her employer in Saudi Arabia, gave birth to a child as a result of the rape, and was living in an SLBFE-run shelter at the time Human Rights Watch interviewed her. She was unable to return to her husband and four young children because she needed to go abroad again to repay the debt she incurred to migrate to Saudi Arabia in the first place. She said, "I feel sad that I am unable to return to be with the rest of the family…. I borrowed 17,000 rupees [US$151, to go abroad], but with one-and-a-half years' interest it will be 50,000 rupees [US$444]. I got the 17,000 from a person from my village…. If I go back without paying the debt that will be a problem."94
International labor law places strict limits on labor agencies' and subagents' practice of levying recruitment and job placement fees. ILO Convention No. 96 on Fee-Charging Employment Agencies, which Sri Lanka ratified in April 1958, requires the progressive abolition of fee-charging agencies within a period of time determined by the competent authority of states parties, and requires that for-profit employment agencies and other intermediaries charge fees only "on a scale submitted to and approved by the competent authority."95 Wage deductions to cover recruitment costs are prohibited under international law as well. ILO Convention No. 95 on the Protection of Wages, which Sri Lanka and Lebanon have ratified, specifies that, "Any deduction from wages with a view to ensuring a direct or indirect payment for the purpose of obtaining or retaining employment, made by a worker to an employer or his representative or to any intermediary (such as a labor contractor or recruiter), shall be prohibited."96 The Convention prohibits deductions from wages for payments to fee-charging agencies for the purpose of obtaining or retaining employment.97
I was told by the agent I would have to look after an old lady, but after I got there [to Saudi Arabia] I found out I had to work for four houses.  I was not aware that I would be working for four houses, and I was getting only one salary from one house, 400 riyals [US$107] a month… The agent must have cheated me.98

—Noor F., age 36, worked as a domestic worker in Saudi Arabia
Workers told us that labor agents and subagents who recruit Sri Lankan women to work as domestic workers in the Middle East regularly make false promises about the country where they will work, the conditions of work they can expect, and the salaries they will receive. Workers also told us that recruitment agents and subagents frequently fail to provide full information to prospective migrant women about their job responsibilities, their salary, or their rights. In 2004, the SLBFE received 1,112 pre-departure complaints from prospective migrant workers against recruitment agencies.99 Deception and lack of information during the recruitment process place migrant domestic workers at risk of exploitation and trafficking into forced labor.
Human Rights Watch documented several cases in which labor agents and subagents deceived women workers about the true location of their work. In these cases, agents and subagents had promised prospective domestic workers they would be working in Kuwait, the UAE, or Lebanon, but placed these workers with employers in Saudi Arabia. One domestic worker who had recently fled her abusive employers in Saudi Arabia said, "I didn't know that I was not going to Dubai, I only found out on the day that I was leaving. When they handed me the ticket I saw that I was going to Riyadh."100 An 18-year-old domestic worker told us she was sent to work in Saudi Arabia, although the labor agent had agreed to find her employment in Dubai: "I paid 22,000 rupees [US$195] to the agent to go to Dubai, but he sent me to Saudi Arabia; he played it wrong [tricked me]."101
Profit is a likely motive for this form of deception; labor agents earn a higher profit for recruiting women for employment in Saudi Arabia, because employers there pay higher recruitment fees.102 Labor agencies in Sri Lanka receive US$800-$1,000 to recruit one domestic worker for work in Saudi Arabia, yielding a significantly larger profit margin than for recruitment of workers to other countries.103 The commission subagents earn for recruiting women to work in Saudi Arabia is seven to nine times higher than for the UAE, three to five times higher than for Lebanon, and two to four times higher than for Kuwait.104 A labor agent acknowledged that profit is a motive in deception regarding women's country of employment: "She may want to go to country X, but the subagent may want her to go to a different country Y to get more benefit, and he may cheat her by hook or crook to send her to that country."105
Recruitment agents and subagents frequently misinform prospective migrant domestic workers about their working conditions. Some domestic workers told Human Rights Watch that the agent or subagent promised they would work only eight-hour days or receive a weekly day off, conditions of employment none of the migrant domestic workers Human Rights Watch interviewed received in practice. Sathi R. said, "Both the subagent and the agent…verbally told me I'd usually work eight hours, but sometimes I'd have to work more."106 In practice, Sathi R. worked 14-18 hours each day. Another domestic worker told us her agent deceived her about working conditions in Lebanon: "The agency said I can get leave on Sunday, but I didn't get it. I quarreled with [my employers], I said 'I want a day off,' but [they] wouldn't give it to me. They said, 'You don't have any holiday, the agency lied to you.'"107
In other cases labor agents and subagents made false promises about workers' job responsibilities, deceiving them about the size of the household or whether their jobs would entail childcare. Lakmini J., a domestic worker who experienced horrific physical abuse in Kuwait, said, "The subagent promised that I would only do housework, but I had to cook and take care of babies. I had to do all of the work."108 In another case, Selvakumari W., age 26, said, "[The subagent] said there are three people in the employer's house and it's good. There were actually seven people and the kids were not good."109 In an additional case, a labor agent deceived Chitra G. about the size of the household for which she would work in Saudi Arabia. She said, "I came here to work for only one family, but instead, there were three families in the house."110 Chitra G.'s agent also made false promises about her workload and salary; she never received a day off as promised, and was paid two-thirds the salary the labor agent guaranteed. A licensed labor agent acknowledged that subagents engage in these deceptive recruitment practices. He said, "A problem is the subagent lies. He says to the maid, this [employer has] just two children, just two rooms [to clean, even if there are more]."111
In many cases, labor agents and subagents promised domestic workers salaries that were higher than what they actually received. A domestic worker who had worked abroad five times in Kuwait and Saudi Arabia told us that before she last migrated to Saudi Arabia in 2005, "[The agents] told me [the salary] was 500 riyals [US$133], but when I went it was 400 [US$107]…. I asked why not 500 and [my employers] showed me some type of book, 'We only have to pay this amount. Your agency lied to you.'"112 Labor agents in Sri Lanka revealed that they are aware that actual wages often are lower than the wages stipulated in labor contracts.113 The president of the Sri Lankan professional association of labor agencies acknowledged that deception about wages is common: "Take a housemaid, maybe the salary is US$125, but the subagents will say it is US$150, $200."114
In other cases, subagents made false promises to domestic workers about the salaries they would receive, and informed them their actual salaries would be much lower only after preparations for their trip were complete. For example, a 28-year-old domestic worker who worked in Dubai, UAE, said, "The subagent promised I would earn 750 dirhams [US$204] a month…. The subagent came along with the contract and the ticket on the day of departure and it was then that I came to know that I would be paid only 450 dirhams [US$123]… I asked him, 'Why did you promise I would be paid 750 dirhams?' and we got into an argument, and since the ticket was paid for, I had to leave. I didn't have any option."115 She was paid only 450 dirhams.
Labor agents and subagents at times also deceive workers by using employment contracts written in languages the woman does not know. In some cases, labor agents and subagents translate only a portion of the work contract, such as the provision stipulating salary, into a language the worker understands. In other cases, domestic workers had to sign a new contract upon arrival in the Middle East, even if they had already signed a contract in Sri Lanka. In all of these cases, the contract was in Arabic and workers did not receive a copy of the contract, making it difficult to ascertain later whether the terms differed from the original contract the worker signed or the terms orally promised to her. Chandrika H. explained, "The agent there [in Dubai] told me that this is your contract from your employer. It was in Arabic so I did not know what it said. He said put your signature, so I put my signature on it. On arrival [in Dubai] they came to the airport, picked me up, brought me to the agency, and had me sign the contract, all on the same day. He did not tell me the terms of the contract. He did not give me a copy... Before I left the subagent promised me I would be paid 500 dirhams [US$136] a month, but I was paid only 400 dirhams [US$109] a month."116
Recruitment-related deception and lack of information contribute to exploitation, as domestic workers have little negotiating power once they arrive in the country of employment. One domestic worker who had previously worked in Kuwait before migrating to Saudi Arabia said, "I didn't know it would be like this in Saudi Arabia before I left Sri Lanka… [M]y agent didn't tell me anything."117 In Saudi Arabia, she experienced heavy workload with no rest, forced confinement, and verbal abuse. In another case, Mahilam G.'s subagent and agent did not inform her of her salary or provide a work contract before she migrated to Saudi Arabia. The subagent had approached her at the tea plantation where she worked and told her only, "the place [you are] going is very good":
I learned my salary only after I arrived there [in Saudi Arabia], when my employer told me…. My salary was 400 riyals [US$107] a month. It was not enough because it wasn't enough for my children's education and meals. I asked for more salary; [my employers] refused and told me to go back to Sri Lanka and come again, and then they would increase my salary… I did not have any idea how much I would be paid before I left Sri Lanka.118
Many domestic workers Human Rights Watch interviewed reported they never signed or received a copy of a work contract. Subagents generally do not provide work contracts; usually prospective domestic workers sign work contracts at the offices of the licensed agent, and prospective migrants who do not meet the agents handling their migration often do not sign work contracts at all.119 Susanthika W., a domestic worker who migrated to Lebanon, said, "I asked the agent whether I should sign an agreement and he told me, 'Do not worry, I will take care of everything with the employer.' He said, 'Don't be afraid, your salary will be US$125; if you have any problems you can call us and we will sort it out.' He told me he had signed a work agreement with the employer for all the domestic workers who went through that particular agent… I asked the agent if I would be cheated and he said no."120 In practice, Susanthika W. was paid only US$100 per month.
In other cases, recruitment agents or subagents misinform domestic workers about their rights in the country of employment. A domestic worker who migrated to Lebanon said, "Both the subagent and the agent….didn't tell me about my rights to change employers or leave… They told me that I would not be able to come back before the contract ends, in two years and 90 days—no other explanation."121 Recruitment agents or subagents at times ask domestic workers to sign undertakings that renounce their rights to terminate the work contract and return to Sri Lanka before the contract is completed. These undertakings are separate from the work contracts. Dilinekaa M., a migrant domestic worker to Kuwait, said, "At the agency I signed a piece of paper where it stated I would stay until the end of the contract, even if I face some difficulties, and the agent will not take me back for whatever reason. I did not sign any other paper with information about my duties or salary."122
Some of these cases of deception during recruitment may amount to trafficking into forced labor.123 Trafficking is characterized by the presence of force, coercion, or deception at some stage of the migration process. Although these cases of deception took place during legal labor recruitment, some of the cases Human Rights Watch documented may meet the definition of trafficking. Deception or coercion during the recruitment process, high recruitment fees and resulting debt, misinformation about one's rights as a migrant and as a worker, and lack of legal protection in countries of employment expose migrant women to the threat of trafficking and to the workplace abuses documented later in this report. In cases of labor trafficking through legal recruitment, agents may misinform, deceive, or coerce women workers after they decide to migrate, and trafficked women experience grave workplace abuses following their job placement.
For example, Praveena A., a 24-year-old mother from the war-torn northern region of Sri Lanka, had been long separated from her six-year-old child and family. When she returned to Sri Lanka from working as a domestic worker in Saudi Arabia, Praveena A. wished to rejoin her family in India, but she was deceived into resuming domestic work in Saudi Arabia, where she worked for one-and-a-half years in conditions of forced labor. She explained:
When I came [back to Sri Lanka] in May 2004 I had nobody. I met a lady at the airport. She promised that she would be able to get me a visa, she took my passport and money and took everything and kept it…. I didn't know [I was being sent back to Saudi Arabia] and I wasn't willing. That lady made all the arrangements. She didn't give me the passport when we got to the airport. The man [at the airport counter] told me "You're going to Saudi Arabia, not India." Once you get to the [airport] counter there is nothing you can do—you can't go back. I didn't know of any officials who could have helped me at the airport. The lady [employer in Saudi Arabia], refused to send me back…. I was not able to leave at all and when I asked they said no and they locked me up.124
In another case, Noor F.'s employer in Kuwait required her to serve tea and coffee to men in a café, in addition to her responsibilities cooking for 20 people and cleaning their five-story house.125 Her agent in Sri Lanka had assured her a job placement as a domestic worker, not a waitress. She said, "I went directly to an agent and dealt with him. An agent met me at the airport [in Kuwait]…he did not send me to the home in the photo the agent showed me earlier, the house where he had said I would be working… On the fifth day I called the agent and I said I don't want to work here. I told him I came here to work [as a domestic worker]. The agent told me to wait some more time. I decided to run away."126
When states fail to regulate employment agencies' and subagents' recruitment practices, migrant workers are at greater risk of becoming trapped in exploitative and abusive work situations that may rise to the level of trafficking in forced labor. While precise figures are impossible to obtain, the International Labour Organization (ILO) estimates that globally at least 2.45 million trafficking victims are currently working in exploitative conditions amounting to forced labor, and represent about 20 percent of victims of forced labor worldwide.127
Prospective migrant domestic workers undergo pre-departure medical testing, often without their informed consent or access to the test results. Some women also told Human Rights Watch that labor agents forced them to take long-term contraception to prevent pregnancy during employment.
All prospective migrant domestic workers undergo mandatory pre-departure medical testing at private medical clinics based in Colombo128 for a range of health conditions, including pregnancy, human immunodeficiency virus (HIV) infection, and elevated cholesterol levels.129 They also undergo chest x-rays to test for tuberculosis, and eye, speech, and hearing tests.130 According to a Ministry of Foreign Affairs official, the tests are to ensure that workers are "physically fit to work."131 Women who test positive for pregnancy or HIV are declared unfit and are not permitted to migrate.132
Most migrant women workers Human Rights Watch interviewed said they were not informed about what tests were being performed, and none received pre- or post-test counseling. Informed consent and confidentiality of medical information are cornerstones of medical ethics, yet neither is respected when it comes to prospective migrant workers in Sri Lanka. Most women we spoke with were told they were being tested for "any diseases," but received no information specifying those diseases. For instance, a domestic worker who had recently undergone medical testing before migrating to Lebanon told Human Rights Watch, "I was not told why I was doing the medical."133 A Sri Lankan migrants' advocate told Human Rights Watch, "Many times they don't tell people why the blood is taken."134
Most migrant domestic workers interviewed for this report did not receive the results of their medical tests, and assumed the medical clinic instead disclosed the test results to their labor agents and/or employers. One woman told Human Rights Watch, "The reports [from the medical tests] were given to the employer. They did not tell me anything about the results."135 Another domestic worker told us, "They tested my blood, urine, took my x-ray. They don't give us the results; they gave [the results] to the agent."136 The director of the Sri Lankan NGO Action Network for Migrant Workers (ACTFORM) told Human Rights Watch that patient confidentiality is commonly violated.137 A Ministry of Foreign Affairs official confirmed that there are no procedures for protecting the confidentiality of test results for migrant domestic workers: "The doctor will inform the agent whether she is HIV-positive… The test results are sent to the agents. If [the women] really want a copy, it will be given. They are [usually] just informed they are cleared."138 As described, the procedure for disclosing test results violates patients' right to confidentiality of test results under international law and Sri Lankan ethical guidelines for medical professionals.139
Human Rights Watch documented cases in which female prospective domestic workers have been administered injectable contraceptives without their informed consent and, in some cases, against their expressed will. The right to bodily autonomy and integrity guarantees the right of all individuals to refuse unwanted medical treatment.140 In some cases, clinic personnel told prospective domestic workers the injection was to prevent pregnancy, and in other cases, medical personnel did not tell domestic workers anything until after they administered the injection. One domestic worker said that at the medical exam,
They asked me to get an injection, but I refused. The doctor told me at the medical center that I had to take an injection which prevents me from giving birth to a child if anything goes wrong. I refused and the doctor called the agent... He told me….that if anything [sexual] happens without my consent they would not be responsible, because I refused to take the injection.141
CARAM Asia, a regional network working on migrant health issues, confirms that a number of prospective female migrant workers in Sri Lanka have been given the contraceptive medroxyprogesterone during mandatory pre-departure medical tests.142
Several women told Human Rights Watch that their labor agent or subagent coerced them into getting the birth control injection. In some cases, labor agents told domestic workers that if they declined the injected contraceptive, the agency would not assist them if they became pregnant, even in case of rape by their employer. For example, Paramitha E. said, "I did not have any choice. I was told if I went without the injection and if I get pregnant, then I would have to pay my own way and the agent wouldn't be responsible. But if I went with the injection and anything happened then the agent would be responsible."143 Another domestic worker explained,
The main agent instructed me to go to a private doctor…and get the injection…they did not tell me I had a choice not to get the injection. They did not force me, but on the other hand I didn't have a choice… [T]he main agent told me that you may have to face some problems in the house where you will work and the employer may give you trouble, so if you get this particular shot you won't get pregnant. By problem he meant sexual harassment by the males.144
An SLBFE official confirmed that the SLBFE is aware "there is a tendency" for contraceptive injections to be administered to prospective domestic workers during the compulsory medical exam,145 although it is not a government policy.146 The SLBFE reports it has received no complaints from migrant workers about the administration of contraceptives.147 Some domestic workers reported that they did not complain about the administration of contraceptives because they were not aware of their right to refuse the injectable contraceptive and in some cases did not know what medication had been administered.
---