Indications of possible Tamil evictions from Colombo became public on June 1, 2007, when Inspector General of Police Perera told reporters, "Those who are loitering in Colombo will be sent home. We will give them transport." He continued, "We are doing this to protect the people and because of a threat to national security."121
At about 4 a.m. on June 7, police and army forces conducted sweeps of lodges and boarding houses where Tamils from outside the capital frequently stay. In most cases, people were not allowed to use toilets and were given as little as 30 minutes to pack their bags. The authorities put 376 Tamils on board buses that drove to the predominantly Tamil town of Vavuniya, about 250 kilometers to the north, near the boundary with LTTE-controlled territory.
Human Rights Watch interviewed three people who were evicted from different Colombo lodges. According to one evicted man,
There were nearly 20 policemen and 15 army soldiers. They asked me what I was doing in Colombo. I told them I was working here as a driver for nearly four months. They checked my identity card and told me to pack my bags.122
A Jaffna resident and his mother had been in Colombo lodges since December 29. He told us,
We are here to get our visas. In between my mother got very sick so we could not go back to Jaffna. They forced both of us on the buses. My mother was crying, she could not walk. In Jaffna, the situation is very bad. There is no security for us. We are scared to go back there.123
A lodge-owner who had 29 out of 36 lodgers evicted on the morning of June 7 told a similar story:
Three weeks before the incident, I got a verbal order from the Wellawatte [a section of Colombo] police station asking me to close the lodge because of security reasons. When we went to talk to the police, they told us to start packing off people who had been in Colombo for more than a month.

On June 7 morning, the police and army arrived in jeep-loads and said they want to do 'checking.' Within minutes they lined up everybody and asked them to pack their bags. There were old women with medical certificates and people with embassy appointments. They were all asked to get into buses which came in a few hours. Some people had return flight tickets to Jaffna; they were also sent on the buses to Vavuniya.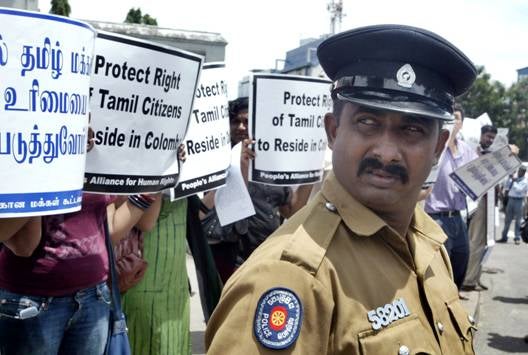 According to the Ministry of Defence, the police told these 376 Tamils, including 85 women, to leave for their homes in Vavuniya, Batticaloa, Jaffna, and Trincomalee because they could not provide "valid reasons" for being in Colombo. The police sent these people in buses to their home towns in northeastern Sri Lanka after they "expressed consent to go home if free transportation was provided" a statement dated June 9 said. "The resulting action by the police is required considering security demands such as the recent Tamil Tiger bomb explosions resulting in several innocent lives lost, and severe damage to property," the statement said. "Investigations have also confirmed that those responsible for these brutal killings have hatched their brutal plans and executed them from these lodgings."
The forced evictions sparked a domestic and international outcry.124 "While we are full cognizant of the current security situation and the need to maintain close surveillance of the city and its environs," a group of eight Sri Lankan nongovernmental organizations said in an open letter to President Rajapaksa, "in terms of the human rights principles that guide us in our work as human rights defenders, we are convinced that the above process is NOT capable of guaranteeing security and rather creates further polarization between the different ethnic communities that share this island, and heightens the sense of marginalization and alienation of Tamil people of this country." The organizations stressed the principle enshrined in Sri Lanka's constitution that "guarantees all Sri Lankans the right to choose their own residence (temporary or permanent), and freedom of movement and maintain that what has taken place in Colombo today is a flagrant violation of this principle, and a disgrace to humanity."125
One of the signatories to the letter, the Centre for Policy Alternatives, filed a fundamental rights application with the Supreme Court to halt the expulsions, arguing that evicting Tamils from Colombo was "wrongful, unlawful and illegal and violates the fundamental rights of those persons who were so evicted."126 The Supreme Court issued an interim order on June 8, directing the Inspector General of the Police, Defence Secretary Gothabaya Rajapaksa, and eight other respondents to halt the expulsions. The interim order also stopped the government from preventing Tamil citizens from entering or staying in any part of Colombo.127
That evening, President Rajapaksa ordered IGP Perera to open an immediate inquiry. "Allegations that officials exceeded their authority in implementing this initiative will be thoroughly investigated and appropriate remedial action taken, including disciplinary action against any wrong doing on the part of any government official," a statement from the president's office said.128
Two days later, Prime Minister Ratnasiri Wickremanayake apologized for the evictions, saying "it was a big mistake." He told reporters, "I express regret and apologize to the Tamil community on behalf of the government."129
That same day, the Sunday Leader published details of the government's decision, including the directive to the police on the expulsion, entitled "Directives issued by State Defence Ministry Secretary following the discussion on 31.05.2007" and signed by Defence Secretary Gothabaya Rajapaksa. According to this, the decision had been made at a top-level meeting at the Defence Ministry presided by Gothabaya Rajapaksa on May 31, the paper said. Others present reportedly included IGP Victor Perera, Army Chief of Staff Lawrence Fernando, and Colombo Deputy Inspectors General Rohan Abeywardene and D.W. Prathapasingha.130
Defence Secretary Rajapaksa, meanwhile, defended his decision, saying the police had taken action against only a small proportion of the 17,000 ethnic Tamils he said were living in Colombo. He explained the decision to reporters on June 12: "So you tell them, 'You don't have any legal business in Colombo, there is a security problem in Colombo, you are the people who are suspected of
The Sri Lankan constitution states that all persons are equal before the law, and no citizen shall be discriminated against on the grounds of race, religion, language, caste, sex, political opinion, place of birth or any such grounds (article 12). The constitution also grants "the freedom of movement and of choosing his residence within Sri Lanka" (article 14).
Sri Lanka is a party to the International Covenant on Civil and Political Rights, which guarantees freedom of movement and choice of residence to all lawfully within a country.132 While this right may be restricted to protect national security, restrictions must be lawful and consistent with the other protected rights. Policies that are arbitrary and discriminatory are not permitted or considered legitimate restrictions under international law.
---