The fighting since April 2006 has caused large-scale internal displacement in the country's north and east. In addition to the economic and psychosocial impact, displaced persons in some areas are vulnerable to intimidation, violence, and abductions by paramilitary groups. In some cases the government has forced internally displaced persons (IDPs) to return to their homes against their will and without adequate security or humanitarian assistance. While some displaced persons have moved in with relatives elsewhere in the country, many have gone to displaced persons camps or other places of refuge, where conditions are typically poor. Some of them have been displaced multiple times.
According to the United Nations, some 315,000 people have been displaced due to fighting since August 2006. In March 2007 alone 100,000 civilians fled their homes. This is in addition to the 200,000-250,000 people made homeless by the 2004 tsunami and the approximately 315,000 displaced by the conflict prior to 2002. More than 18,000 Sri Lankans are new refugees in India, most of whom entered the country by boat.17
The Sri Lankan government retains primary responsibility for ensuring the protection and security of displaced persons within the country. The LTTE is responsible for the protection of displaced persons in areas under its control (more than 45,000 displaced persons are in LTTE-controlled Killinochchi district alone18). In addressing the concerns of displaced persons, including those displaced by the 2004 tsunami, the government and the LTTE should act in accordance with the UN Guiding Principles on Internal Displacement.19
International humanitarian law prohibits parties to a conflict from displacing civilians under their control unless the security of the civilians involved or imperative military reasons so demand. Imperative military reasons cannot be justified by political motives or used to persecute the civilians involved. Whenever displacement occurs, the responsible party must take all possible measures to ensure that the displaced population receives satisfactory conditions of shelter, hygiene, health, safety, and nutrition, and that family members are not separated. All parties must permit humanitarian assistance to reach the displaced population, as they must in respect of all civilians.20
As fighting raged between the government and LTTE in the districts of Trincomalee and Batticaloa in late 2006, the LTTE at times prevented civilians from fleeing the conflict zones, probably because the presence of civilians made it easier for the LTTE to conceal its members and hindered the government from an all-out attack. The civilian population also remains a source of ongoing LTTE recruits, both voluntary and forced.
In December the Sri Lanka Monitoring Mission accused the LTTE of preventing civilians from leaving the Vaharai area. "The LTTE has failed to protect civilians in Vakarai [Vaharai] by restricting their movements," a statement from the SLMM said.21
Three displaced persons told Human Rights Watch how LTTE fighters had blocked their path as they tried to leave Vaharai for government-controlled territory in November.22 LTTE forces stopped civilians from crossing the Pannichchankeni bridge south of Vaharai, forcing hundreds to take arduous jungle routes. Groups including children and the elderly arrived in government-controlled territory with wounds on their legs and feet from the multi-day treks.23
In mid-December at least six civilians drowned trying to make it by overcrowded boat to government-controlled territory.24 Many of these displaced persons had fled previously from areas to the north and east, such as Mutur, Sampur, and Kantale in Trincomalee district.
Four displaced persons who fled Kathiravelli told Human Rights Watch how the LTTE tried to prevent them from leaving for government-controlled areas. One man explained how the LTTE blocked a large group of civilians, first firing into the air and then shooting one IDP in the leg:
Near Pannichchankeni at Murgan Temple they stopped us. We were about 560 families. They were about 150 armed LTTE. They said, 'Don't go, you must stop here and go back to your village.' We said, 'We're suffering from the shelling and there's no security here….'

We pushed ahead past the temple but the LTTE came from behind and assaulted some people. They shot one person in the leg and they hit people with palmyra [a kind of palm tree] strips and gun butts. I don't know the guy who got shot. He was about 30 years old and he was trying to push an LTTE soldier.25
The LTTE has restricted IDP movement at other times over the past year, most notably on August 4, 2006, when about 27,000 civilians—Muslims and Tamils—fled shelling in the Mutur area in Trincomalee district, and headed by foot towards Killevedi town. En route, LTTE forces stopped them, claiming the road ahead was mined, and directed them towards Kinanthmunai in LTTE-controlled territory. Along the way, LTTE cadres separated the men from the women and children and forced the men to walk past two masked informants, who were apparently looking for members of Muslim armed groups or the Karuna group, which had been active in Mutur. The LTTE removed from the line at least 32 mostly young men, nearly all of them Muslims, tied their hands behind their backs and pushed them to the ground. After an altercation in which an LTTE cadre shot and killed one of the civilians, the army was alerted to the LTTE presence and began to shell the area. The shelling reportedly killed several LTTE cadres (including the LTTE commander) and one of the masked informants. Everyone fled the scene. Families became separated, including parents from their children. Another civilian of this group died—a woman—but the circumstances are not known.26 The surviving displaced persons all eventually reached camps in the vicinity of Kantale.
More than 150,000 Tamil displaced persons are currently staying in IDP camps and private houses along the coast in Batticaloa district.27 The government has failed to provide them with the security and protection they need. The main threat for those in government-controlled areas comes from the Karuna group, which throughout late 2006 and early 2007 has intimidated, threatened, and at times abducted displaced persons.
The Karuna group's presence vastly expanded in early 2007 with the group's political party, Thamil Makkal Viduthalai Pulikal (TMVP), opening new offices around the district, some of them staffed with abducted children and young men. Armed members of the group are routinely visible along the main coastal road and in Batticaloa town. International humanitarian workers reported seeing checkpoints near TMVP offices in Batticaloa town run by men and boys in civilian clothes.
According to displaced persons and humanitarian aid workers who spoke with Human Rights Watch, armed members of the Karuna group have been seen in and around various Batticaloa area camps, threatening and sometimes using violence against displaced persons. An international humanitarian worker told Human Rights Watch that on January 17 the Karuna group briefly detained four displaced persons from Sampur in the Savukady camp.28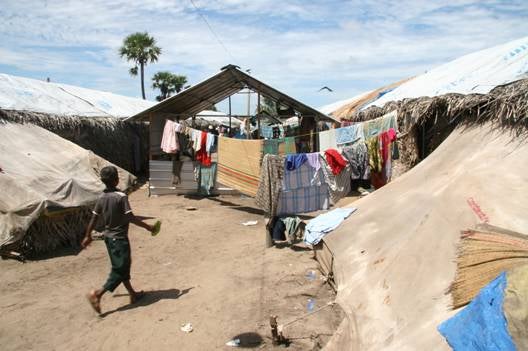 The Karuna group is known to have abducted at least four children from displaced persons camps in Batticaloa district in the first four months of 200729 (at the same time, the LTTE is known to have abducted at least three children from camps in areas under its control). In one reported incident, on March 9, armed men, allegedly belonging to the Karuna faction, tried to pull a 15-year-old boy into a white van at a temple near an IDP camp in Batticaloa district while Sri Lanka soldiers watched. The boy managed to get away.30
The Sri Lankan police are reluctant to patrol the IDP camps—in large part due to fear of the LTTE—or to investigate alleged Karuna crimes. On January 7 police arrived at the Savukady camp in Batticaloa to investigate the presence of Karuna group members in the camp. The Karuna group members opened fire, wounding three policemen, an international humanitarian worker with knowledge of the incident said.31
(For discussion of cooperation and complicity between Sri Lankan security forces and the Karuna group, see Chapter IX.)
Continual fighting between government forces and the LTTE led to large-scale displacement of civilians from Trincomalee to Batticaloa district from the latter half of 2006 into 2007. In September 2006 the government sent between 15,000 and 25,000 displaced persons back to their homes in and around Mutur in Trincomalee district. A government spokesman said the initiative came from the displaced persons themselves. Representatives for the displaced reportedly said that all wanted to return, but many families said they wished to wait for guarantees that the area was safe and that fighting would not resume. International organizations monitoring the returns said the returns were problematic due to the threat of renewed hostilities, the likelihood that unexploded ordnance remained, the lack of habitable homes or temporary shelter, and the shortage of government and international emergency assistance.32
The next wave of forced returns took place over roughly a one-week period in March 2007, when the government forcibly returned displaced persons from eastern Batticaloa district to areas around Trincomalee. Some returned to their original homes, if they were not destroyed, but hundreds of displaced persons from Sampur and East Mutur, forced to flee during fighting in August, were placed in a makeshift camp in Killevedi, a cramped series of sites about three hours drive from Trincomalee town and surrounded by Sinhalese communities. According to aid workers who have visited the sites, food and security are major concerns. The events are described in more detail below.
The UN Guiding Principles on Internal Displacement provide that every internally displaced person has the right to liberty of movement, the right to seek safety in another part of the country, and the right to be protected against forcible return to any place where their safety would be at risk.

On June 18, Human Rights Watch asked the Sri Lankan government about its plans to resettle displaced persons from Sampur and East Mutur currently residing in the Killevedi site, and plans for compensating and otherwise assisting persons from areas where residents will not be allowed to return. The government replied that, due to the establishment of a High Security Zone in Mutur (see below) some civilians would be relocated elsewhere "in consultation with the wishes of the residents and the choice would also be given to even move to Batticaloa."33
March 2007 forced returns from Batticaloa
Beginning March 12, the government returned people from at least six divisions in Batticaloa district. More than 900 individuals were sent to Trincomalee district as part of a plan to return approximately 2,800 internally displaced persons.
The returns were accomplished with a range of abuses. The government notified some displaced persons slated for return one or two days in advance by placing lists of names at camp sites. The lists identified persons who had refused to sign letters consenting to return and those who said they were scared or unwilling to return.34 To pressure individuals to return, government officials and military personnel threatened to withdraw humanitarian aid, food, and other essential supplies.35 Some officials threatened families that they would revoke their family cards, which entitle them to food rations. In some cases, the security forces reportedly have said that they would no longer be responsible for the security of the displaced persons who stayed behind.
On March 12 government authorities organized more than 21 buses to transport displaced persons from Batticaloa camps, with a heavy presence and participation of the Sri Lankan army, police, and police Special Task Force (STF) at the IDP sites. At one location, Zahira College, an STF armored vehicle entered the site and led the convoy, one witness told Human Rights Watch.36
Between March 15 and 17, armed members of the military, police, and STF increased pressure on displaced persons to return. At sites in Chenkalady, north of Batticaloa town, displaced persons told humanitarian workers that the army threatened to beat or kill them if they did not return. At two sites the military beat displaced persons with sticks to force them onto buses. At at least one site the military prevented displaced persons who said they did not wish to return from getting off a bus. Armed and unarmed Karuna cadres were present in several sites, and at least one these cadres threatened displaced persons with violence if they did not return.37
The government gave many of these displaced persons no advance warning about their returns. Officials simply told them to pack their bags, sometimes while children were in school and other family members were at jobs outside the IDP camps.38
In addition to returns to Trincomalee, beginning March 14 the government returned an additional 200 families to the Vaharai area. It remains unclear to what extent those returns were voluntary because of little international monitoring. However, in February Human Rights Watch interviewed more than a dozen displaced persons from Trincomalee and Vaharai, and they all said they feared going home. Most cited security concerns, particularly if fighting resumed between the government and the LTTE. Some said they were worried about reprisal killings by the military after an LTTE attack, as well as communal violence from neighboring Sinhalese communities. They mentioned abductions by the LTTE as another prominent concern.
"We can't go back to Mutur, our homes are all destroyed," one IDP from Mutur said. "We want to go back but the problem is our security. Every day there are killings."39 Another IDP who had left his home in Kunjalkalkulam near Vaharai on November 1, 2006, told us, "We want to go home but the problem is if the fighting begins again our security is not sure." He continued, "Our home is near the jungle. If the government gives us full security [we would go home] but they're not giving us this. The government is trying to get us to go home but it's not safe."40
After an initial silence, the forced returns prompted an outcry from UNHCR, which along with dozens of nongovernmental organizations (NGOs) has been serving Sri Lanka's displaced. On March 13, 2007, UNHCR said that "heavy pressure has been applied on internally displaced people," and cited local authority statements that assistance would be stopped if they stayed in Batticaloa.41

On March 16 UNCHR said the government had provided renewed assurances that the agency would be involved in any IDP returns. In a statement, UNHCR urged that "all return movements are voluntary, without undue pressure or duress."42
Shortly thereafter, the UN distributed leaflets in Sinhala, Tamil, and English on the rights of the displaced. "If you want to go home, it is important that you know it is safe to do so and that you will be able to start your life at home again with dignity," the pamphlet said.43 This move sparked some criticism of the UN as ordinary people felt they had no one to complain to when their rights were violated and blamed the UN for printing leaflets and doing little else.

In mid-May the government began a new round of returns from Batticaloa district to areas previously under the control of the LTTE.44 According to media reports, officials were set to resettle 4,000 displaced persons back to their homes in Vellaveli. A group of international relief agencies coordinated by the UN complained that the resettlement was risky due to the tenuous security situation in Batticaloa. "Military and civilian authorities have been registering IDPs in the southern divisions of Batticaloa in view of planned resettlement towards the western part of Batticaloa," the aid agencies said. "However, the resettlement plan has not been presented yet and the humanitarian community fears that the lack of proper planning might put returnees in a situation where safety and dignity are not ensured in the villages."45
On May 15, however, UNHCR announced that it had begun helping some 90,000 displaced persons return to western Batticaloa, and that the returns appeared to be voluntary. "Our staff monitoring the situation on the ground say the majority of people are eager to return home, the returns are voluntary and in line with international protection standards," a UNHCR spokesperson said. She added that "UNHCR will continue to monitor the returns and report directly to the government on any problems regarding the voluntariness and any deviation from the civilian characteristics of the move." She called on the government to improve access for international aid agencies to western Batticaloa, where displaced persons were returning, so they could provide necessary assistance.46
Despite UNHCR's public statements, other reports indicate different conditions. According to humanitarian workers present at the sites, between May 14 and 17 the police and STF maintained a heavy and coercive presence during the returns. According to one humanitarian agency on the ground, STF officers told some displaced persons that they would face "trouble" if they did not return and implied that refusing to return would mark them as connected with the LTTE. At one site the STF told displaced persons that if they refused to go home they would never be allowed to return. Also, extremely poor conditions in the Batticaloa IDP camps are pushing some people to return despite a lack of information and their fears of unsafe conditions.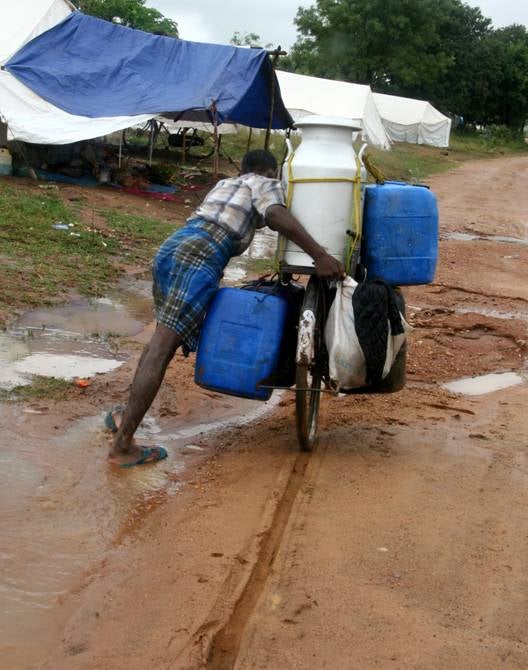 On May 29, UNHCR commented on the government's resettlement program, which it said had been in operation for the previous two weeks, involving the return of some 30,000 displaced persons to their homes in Vellavelly DS division, with 90,000 more returns planned in the coming months. "Our staff have made several assessment missions and generally have seen that conditions are conductive for return," a spokesperson said. "Most of the returnees seem happy to be home but had received little prior information about the conditions in the areas of return."47
Aid workers on the ground told Human Rights Watch that the return process, coordinated by the Ministry of Resettlement and the STF, was much improved from the forced returns in March, with no reported cases of physical abuse. However, many displaced persons were not properly informed of the return process and their rights, and some complained of intimidation from government security forces.
The Sri Lankan military captured the Sampur area in Trincomalee district in September 2006. "Our armed forces have captured Sampur for the welfare and benefit of the people living there," President Rajapaksa declared on September 4.48
Eight months later, on May 30, 2007, the president established a so-called High Security Zone in the areas of Sampur and East Mutur, encompassing approximately 90 square kilometers.49Government regulations forbid any person, including local residents, from entering or remaining in the newly designated area without written permission from the competent authority, currently Maj. Gen. Parakrama Pannipitiya.
In the past, the government has established High Security Zones to protect military camps and strategic installations from LTTE attack.
One month later, a Colombo-based NGO, the Centre for Policy Alternatives (CPA), challenged in court the establishment of the High Security Zone. On June 29 CPA filed a fundamental rights petition against Rajapaksa's decision, claiming that the establishment of the zone violated the constitutional rights to equality before the law and freedom of movement.50 The government had demonstrated no military necessity to justify preventing or hampering nearly 15,000 residents from accessing to their land and property, CPA said.51
The creation of a High Security Zone has serious livelihood implications for the residents of these areas. In Mutur, for instance, the area declared a High Security Zone includes approximately 50 percent of the present Mutur Divisional Secretary's Division. This area covers 28 villages, which has 19 schools and 88 minor water tanks that irrigate farming lands of the predominantly agricultural community.52
The CPA petition drew attention to the fact that lands covered in the High Security Zone also come under the Trincomalee Special Economic Zone.53 The petitioners state that although commercial activity is allowed in the Special Economic Zone, thereby enabling commercial enterprises to enter and remain in the area, the High Security Zone prohibits ordinary residents from entering and residing on their lands.
On July 17, the Supreme Court rejected the CPA's petition, and accused the organization of trying to "create news for international consumption."54  Chief Justice Sarath N. Silva called on the petitioners not to bring sensitive issues that affect national security before the judiciary.
In its communication to Human Rights Watch on July 12, the Sri Lankan government said that, due to the establishment of the High Security Zone, civilians from 12 Grama Niladari Divisions (the smallest administrative unit in Sri Lanka) would be relocated elsewhere over the coming weeks.55
International law provides that persons internally displaced by armed conflict or other reasons have the right to voluntary return to their land in safety and dignity.56 International humanitarian law prohibits the displacement of civilians except for their own security or in case of military necessity. Political motivations cannot be used to justify military necessity.57 In this case, the government has not provided reasons to show military necessity or security concerns to justify preventing civilians' access to their land and property.
---