If you look at the last five years, you had a really great opportunity to really improve basic living standards, especially in the Niger Delta. But in fact, nothing much has changed. It's very sad.
–Donor agency official, Abuja131
Nigeria has some of the worst socioeconomic indicators in the world and the overall picture has not improved since the end of military rule. Government's failure to address the urgent health-related needs of its population over the years has had particularly devastating consequences. Many African countries have made important progress in cutting their infant mortality rates in recent years, but Nigeria is not among them; Nigeria has more than 255,000 newborn deaths each year, as against 1.16 million for the entire continent of Africa.132 Donor agencies estimate that one in five Nigerian children dies before the age of five,133 a statistic that translates into more than one million child deaths per year.134 Many of those children die from diseases that are either preventable or treatable at low cost.135 Maternal mortality is estimated at 7 per 1,000 births, and it is believed that Nigeria has the world's second-highest number of maternal deaths each year after India.136
Corruption is widely cited as a major impediment to government efforts to improve the situation.137 One 2005 World Bank assessment noted that:
The long decades of military rule weakened, politicized, and encouraged rentseeking in government bureaucracies, and the health system was no exception. The culture and incentives became such that their own economic interest is the first priority for many public employees.138
The same study noted that "In general, information…suggests that although salaries are usually met, there is little funding made available by the LGC for drugs, supplies, and maintenance."139
Primary education in Nigeria has also experienced a steady decline over the course of the past few decades. One assessment written in 2000 spelled out the extent of the problems of the education system as a whole:
The public perception is that the quality of education offered is low and that standards have dropped. These perceptions are based on lack of adherence to acceptable educational practice. Teacher qualifications are low. The learning environment does not promote effective learning. Basic facilities, teaching and learning resources are generally not available. Teacher-pupil ratios are high. General performance in examinations is poor and the graduates have low levels of competencies in the work environment.140
These problems have remained intractable despite well-publicized government efforts to tackle them. DFID's current Country Assistance Plan notes that "[i]n the 1980s, Nigeria had one of the best education systems in Africa, with near-full enrolment in some parts of the country," but says that "the education system has declined considerably since then" and that "many emerging from primary school are not functionally literate."141
In Rivers State, corruption and the gross mismanagement of government funds stand out as one of the most important reasons why many local governments have continued to neglect their obligations to provide basic education and primary health care.142 Corruption first leads many local governments to allocate insufficient funds to health and education, and in some cases leads even to the theft of those that are allocated. One former state government education official told Human Rights Watch that:
When allocations are made, it is at the local government level that…they now see this money as money that has come just gratis to be shared out among political friends and members of the ruling party. The result is that after paying salaries they scarcely have enough to do anything else…When you go to remote areas and see what is there, you wonder if government even considers that they exist.143
Such sentiments are echoed by the people living in many Rivers communities. One teacher in a Riverine community in Akuku/Toru local government complained to Human Rights Watch that, "It isn't just the schools—we don't feel their [local government's] impact at all in this community—let alone providing us with a decent school. They don't do what they are supposed to do."144
The following pages will provide a brief overview of the devastating impact that local government neglect—fueled in large measure by corruption—has had on basic health and education services in many Rivers State communities. The two case studies that follow will use the examples of Etche and Khana local governments to describe the problem in greater depth.
Box 1: Etche Health Center
The following are excerpts from interviews with the staff at a comprehensive primary health center in Etche local government:
"We treat minor ailments including malaria, tuberculosis, leprosy and dysentery. Communities up to six kilometers away use this place. Some of them will walk or use bicycles…but in one week only 15 or 20 people will come here for treatment. We have not done even one delivery here—no woman would like to come here because of the conditions. Instead they travel far to go to hospital."

"Our facilities are not adequate at all. We are lacking many things. We have beds but no mattresses; the patients must bring their own. We have no toilet; patients will use the toilets of the people who live nearby to here. We have no running water. The pump is there but it is out of use for two years. We have no light; we are not even wired [to the power lines running through town nearby]…When it rains the place will flood—the environment of this clinic is one of our major problems."

"They are paying us now but they are still in arrears. They are owing us about three or four months salaries and leave bonus for about five years. At times they say they have no money to pay [our salaries]."
State government officials estimate that Rivers' local governments operate some three hundred primary health care facilities.145 Human Rights Watch visited more than a dozen primary health care centers in five different local government areas. All but a few lacked even a basic supply of medicines and other equipment and did not have access to a reliable supply of water, any sort of toilet facilities or electricity. Some were housed in structures nearing the point of actual collapse and others had simply been abandoned by their demoralized staff. The few health centers visited that had access to even the most basic amenities were located within the walls of local government secretariats.
According to both state and local health officials, such conditions are in no way atypical in Rivers State. Officials and health care workers in all but one of the local governments visited by Human Rights Watch said that their local government provided their primary health care facilities with neither medicines nor any funds with which to purchase them.146 Many local governments once maintained a modest "revolving loan scheme" that their primary health centers could draw on to purchase needed drugs, but these had been long abandoned in all but one of the local governments surveyed.147     
Much of this neglect is directly linked to the problem of corruption in one way or another. As has been discussed above, many local government budgets are designed around large, discretionary and often indecipherable allocations to the local government chairman.148 Local governments spend significant amounts on health sector salaries, but often provide almost nothing for any other health-related purpose, even on paper. Where funds are allocated to improve the provision of health care, they often end up being diverted to other purposes or channeled into "projects" that are never executed.
Health care workers' salaries and allowances are also affected by government corruption. In several local governments, health workers said that while their base salaries were typically paid in a timely manner, they were occasionally withheld without any reason being given. Health care workers in most of the local governments visited by Human Rights Watch said that their salaries were consistently 3-4 months in arrears or more.149 In Khana and Etche local governments, local authorities had failed to pay leave allowance for health sector staff for more than five years running, even though funds had been set aside in their budgets to make those payments.150 
Many local government civil servants and health care workers were quite forthright in their belief that their neglect by local government was due largely to corruption and the LGC chairmen's need to please political patrons more powerful than themselves. As the Primary Health Care Coordinator of one local government put it, "The chairmen are all politicians and they have to please the people who brought them into office."151 
Staff in several health centers reported that these problems had demoralized them, and many expressed frustration with their local governments' failure to give them the tools they needed to do their jobs. A member of the staff at one health center told Human Rights Watch that the problems affecting his own health center "affect [the staff] greatly…when there are no resources everything is looking paralyzed—no one is interested to come here and work."152 The one service that most health centers were able to perform reliably was administering the government's immunization program; the federal government has largely taken over the responsibility for ensuring the availability of needed vaccines from the local governments.153
Perhaps the most obvious consequence of the health centers' problems is that some of them are avoided by the very populations they are meant to treat. Staff in many health centers said that they treated no more than a handful of patients each week despite serving several different communities across an expanse of several kilometers. As the head of one local government's immunization program put it, "If you go to the health centers you will not see anyone, frankly speaking."154 Human Rights Watch visited one health center that had, in fact, been completely abandoned by its staff.155 In one recent survey, four out of ten households in Rivers reported that they had no access to health services.156
Some Rivers residents patronize more expensive private health care facilities instead of visiting government-run health centers; others simply do not seek care at all or do so only sporadically.157 One resident of Akuku/Toru local government, asked whether he had visited the government-run primary health center near his house, replied, "Why would we go there?  There is nothing inside of that building—no staff and no medicine. So why would we go there?"158 
Trading Blame in Obio/Akpor Local Government
Recent controversies in Obio/Akpor local government, possibly the wealthiest local government in Rivers State,159 provide a good illustration of how corruption has undermined the provision of health care. Officials in Obio/Akpor have done almost nothing to support the local government's 12 government-run primary health care centers. However, what makes Obio/Akpor unique is the fact that its administration has publicly acknowledged this fact. Local officials even admit that their health care facilities have been run into the ground by corruption and mismanagement.
The local government chairman, Ezenwo Nyesom Wike, placed the blame for these failures squarely on the shoulders of his deputy, who also served as the local government's "supervisor for health." As part of an (ultimately successful) attempt to have his deputy impeached, the chairman accused him of offenses that included the theft of some N11.7 million ($90,000) and of having "vividly shown gross and persistent lack of interest" in his health-related responsibilities. The alleged result, as stated in the notice of impeachment filed against the deputy chairman, was that:
[T]he health sector has suffered tremendous neglect and condemnable inactivity as vital health policies and programmes are left unimplemented or pursued much to the detriment of the well being of the ordinary people of the local government area.160
In an interview with Human Rights Watch, then-deputy chairman Lawrence Chuku denied all of these allegations, claiming that they were part of campaign of violence and slander that the chairman had embarked upon in order to crush his own political ambitions.161 He did agree that "despite massive allocations" the quality of health care offered to his constituents was "the worst," and stated that "My local government, from 1999 to date, has not spent one kobo on drugs." He alleged, however, that this was due entirely to the corrupt activities of chairman Wike, who he accused of having "siphoned off massive funds" meant for health-related activities and other purposes. In particular, he accused the chairman of grossly inflating the cost of Obio/Akpor's recently-constructed and surprisingly large local government secretariat. 162
Asked to describe the quality of health care on offer in the local government, the LGA's primary health care coordinator said that in only two primary health centers was it possible to obtain "some moderate level of care" and one of those was within the walls of the brand-new local government secretariat. He also told Human Rights Watch that the chairman had made no funds available for the purchase of basic medicines or other amenities.163 
Obio/Akpor's budget allocated more than N125 million (some $961,000) for the "upgrading/expansion and renovation" of health centers in 2005 and 2006,164 but the Coordinator, who had never seen a copy of the budget, told Human Rights Watch that no such work had been carried out or even planned. The coordinator nonetheless expressed his belief that the local government chairman was "trying" to improve the quality of health care on offer. The chairman declined to meet with Human Rights Watch.
Box 2: Primary Schools in Akuku/Toru and Khana LGAs
The following are excerpts from interviews with two teachers at primary schools in Akuku/Toru and Khana local governments, respectively:
"The local government doesn't do what they are supposed to do, extending resources to all communities. They only concentrate their work on their LGA headquarters. We started to produce oil in 1957 here but look at the town--government has done nothing for us. In October at high tide the whole community floods and we move about like fish…Local government is supposed to help the school but they don't. They have not given us any support…The most important things we need are textbooks, instructional materials, and a toilet…"

"The standard is lower than what it was in our days. But today Nigeria has more qualified staff, so the quality should have improved. One problem is management- the staff and the children are not very well cared for. Teaching materials are lacking up to even desks and textbooks. And there are insufficient classrooms…The local government has not done anything to support the schools. We have applied to them for help but nothing is done."
In a refrain heard time and time again from a variety of sources, one high-ranking official in the Rivers State Universal Basic Education Board (SUBEB) told Human Rights Watch that:
In general, all over the state, it is fair to say that the LGAs are doing almost nothing to support UBE [Universal Basic Education]. What they are supposed to do, they don't do. So what do they do with the money that is provided to do these things?  I don't know what really happens. They are supposed to be doing a lot to help education, but they don't.165
As discussed above, the federal government deducts primary school teachers' salaries from local government allocations "at source."166 Beyond that, many local governments allocate next to nothing in their budgets to support primary education, and much of the money they do allocate disappears. This problem exists throughout Nigeria; one recent World Bank study found that while "Very good mechanisms to control expenditure at all levels of government already exist in [Nigeria's] education sector," those mechanisms "are not being properly used and the actual control of expenditure is very weak."167 
Most local governments allocate funds for school rehabilitation and maintenance in their budgets. While the amount is often a tiny fraction of what is needed, even that money is often not spent in pursuit of any legitimate purpose. In most of the local governments visited by Human Rights Watch, local education officials and civil servants said that their chairmen had not renovated or repaired a single school building during their entire tenures of three years or more.168 Some claimed that they were not even aware that such allocations had existed on paper to begin with. The secretary of one local government's Education Authority, asked why the local government had not begun renovating any of its schools despite budgeting more than N22 million ($169,000) for that purpose in 2004 and 2005, replied, "How should I know what the chairman does with his money?"169
Local government neglect, fueled by corruption, has had a devastating impact on primary schools throughout the state. This is perhaps most obviously reflected in the schools' crumbling physical infrastructure. Human Rights Watch visited eleven primary schools in Rivers State; some had actually collapsed altogether and others were on the verge of doing so.170 Many others are nothing more than the empty shells of schoolhouses, with nothing being done to maintain or equip them to even the most minimal of standards. UNDP's recent Niger Delta Human Development Report found that "Nearly all school facilities [in the Delta] are in a state of extreme disrepair, requiring major rehabilitation."171
Most primary schools, especially in rural areas, are simple structures. Many blocks of "classrooms" do not have partitions between the classes, leaving teachers to shout above each other as their classes sit packed alongside each other in one large room. Most schools visited by Human Rights Watch did not have blackboards, with teachers writing their lessons on writing surfaces that are painted on the wall. Such basic infrastructure would not require enormous investments to maintain in a safe and usable condition, but many Rivers local governments have failed to invest anything at all in the maintenance of their schools. In the handful of visited schools that had been renovated, the work had been paid for either by the state government or foreign donor agencies.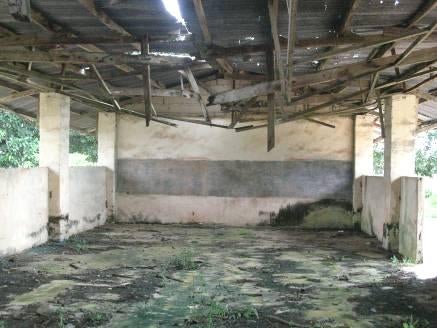 Most of the schools visited by Human Rights Watch had neither textbooks nor any other form of teaching materials; an LGEA official in one local government burst into laughter when asked whether his local government's schools had any books at all.172  Only one of the schools visited by Human Rights Watch had any textbooks, and those were more than ten years old.173 Only one of the schools visited had desks, something that could be procured locally and at minimal cost by local governments. None of the schools visited by Human Rights Watch had outhouses, running water or electricity and some even claimed to be running short of chalk.
State and local officials confirmed that such conditions prevail across most of the primary schools in the state. The Rivers State government has announced plans to remedy some of the basic material shortfalls through the activities of its State Universal Education Board (SUBEB).174 In August 2006, SUBEB officials told Human Rights Watch that they had received initial shipments of textbooks and other teaching materials for distribution to primary schools around the state, but this had not yet begun to happen; SUBEB's operations only got under way in 2006.175 While such efforts may hold out real promise, they are late in coming and cannot by themselves counteract the near-total neglect of education shown by the tier of government directly responsible for running the state's primary schools.
Aside from the physical decay of the schools and the lack of basic materials, local government neglect has left many teachers profoundly demoralized. One donor agency official who had spent several years working in Rivers State told Human Rights Watch that:
[Teachers] are so demoralized, the basic facilities are not there. Very basic things that the local governments could deliver if they wanted to. They always complain about money, but it isn't about money; it's a question of will…They bring proposals here and there, asking for millions to achieve simple objectives. The students have the zeal, but the guidance—money is not the real issue—it's people waking up to their responsibilities.176
The head teacher in one school in Akuku-Toru local government presented a long list of improvements he said his school needed in order to provide a decent learning environment. Asked whether the school had ever asked the local government for any of those, he replied, "They won't do it. So why ask?"177 In one government-run survey only 44 percent of all Rivers households reported satisfaction with the quality of primary education received by their children.178
As is true of the state's primary health care system, many citizens of Rivers State have deserted the public schools in favor of private-sector alternatives. Rivers State officials estimate that nearly a quarter of the state's one million primary school students are enrolled in private schools.179 But for many Rivers residents, private education is simply too expensive to be a viable alternative.
The Kingsley Leh Impeachment Controversy
Khana local government area is situated southeast of Port Harcourt in the Ogoni region of Rivers State. An intractable dispute between Khana's local government chairman and his legislative council left its government completely paralyzed throughout much of 2006. The origins of the dispute are contested, with both sides producing different explanations as to how it came about. The one thing both sides agree on is that the dispute began in earnest with the local government's failure to pass a budget for 2006.
The chairman, Kingsley Leh, alleges that the legislative council refused to pass his budget because he would not pay the substantial bribes they had demanded in exchange for their votes. Leh's press secretary told Human Rights Watch that the entire controversy came about because Leh took a principled stand as a man who has always "refused to pay a bribe to any person."180
The councilors who rose up against the chairman tell a different story, alleging that Leh never submitted a budget for 2006 to them at all. They also claim that the chairman had channeled large sums of money into dubious or non-existent projects and diverted other revenues directly into his own pockets. He is alleged to have passed some of that stolen money on to thugs he used to enforce his will in Khana.181
Other sources provided an account of the dispute somewhere in between these two extremes. Several well-placed individuals told Human Rights Watch that the real reason for the dispute between Leh and his council was a disagreement over the amount of the "payment" that the councilors sought to claim.182
In accordance with the Rivers State Local Government Law, the State House of Assembly constituted a judicial panel of inquiry to investigate the councilors' allegations. In May 2006, that panel came to what it called "the irresistible conclusion" that Kingsley Leh was guilty of acts of gross misconduct. Its report produced a number of detailed findings in support of that conclusion.183
In spite of this, the attempt to remove Kingsley Leh from office ultimately came to nothing. Following the procedure set down by law, the panel of inquiry referred the matter back to the State House of Assembly. The House voted to throw out the entire complaint against the chairman on a technicality and reinstate him to his office.184  Leh's opponents were undeterred by their failure to have him removed from office and lodged a complaint against him with the EFCC, which detained Leh for several weeks.185 He was ultimately released following a preliminary investigation and is not currently facing any charge.
This controversy led to an increased level of violence and insecurity in Khana local government. In mid-2006 opponents of the chairman burned out a small section of the new local government secretariat in one nighttime attack, and the overall climate of insecurity has led Leh and some of his councilors to avoid travel to the area whenever possible.186 As one local source put it, "The chairman and his opponents are at loggerheads and they pose a security threat to one another, so neither comes to their local government headquarters."187 
Whatever their motives, the councilors' very public revolt against Kingsley Leh has helped to cast a harsh and very public light on the manner in which Khana has been governed. Evidence that emerged during the attempt to impeach the chairman, coupled with Human Rights Watch's own investigation, paints a stark picture of rampant government malfeasance and its impact on the health and education sectors.
Leh's "Phantom Projects"
Kingsley Leh's opponents in the legislative council asserted that between assuming office in 2004 and the end of 2005, he "ha[d] received the sum of N1,243,295,330 ($9.56 million) and has nothing to show for it."188 Leh disputed the precise total amount of Khana's revenues, but as Human Rights Watch has found, the facts of the case support the contention that much of Khana's total revenues have in fact been squandered or outright stolen.189
As is true of other local governments in Rivers, a large proportion of Khana's revenues has been channeled directly into the chairman's hands for purposes that were either opaque or questionable for other reasons. In 2005, the last year that Khana managed to produce a budget, the chairman was allocated the remarkable sum of nearly N49 million ($376,000) for his own salary and "allowances," in apparent contravention of state law.190 That was nearly half the total amount allocated for the wages and allowances of Khana's 325 health-sector workers.191
Total allocations to the office of the chairman and the legislative council totaled more than N200 million ($1.54 million) for the year, nearly 20 percent of the government's total annual allocation.192 Such expenditures constituted an enormous drain on the local government's resources, but even the limited funds that were left for other purposes seem largely to have disappeared.
Khana local government has nearly completed construction of a new local government secretariat with offices for several hundred workers.193 Aside from this, the judicial panel of investigation was able to identify only four "projects" that had been completed by the chairman since 2004 and found that these were "not commensurate with the sums that had accrued to him."194 It also identified a number of "phantom projects" that the chairman had allegedly used to siphon off and steal substantial amounts of money. These included a "demonstration fish pond," a "school for the physically challenged," and a "football academy."195
Human Rights Watch was not able to secure a meeting with Kingsley Leh, who would not disclose his whereabouts when reached by phone.196 The chairman's press secretary defended Leh's record in office, denied all allegations of corruption and said the chairman had accomplished a number of things with the local government's allocations prior to the "crisis" in 2006.197 The press secretary acknowledged that the local government had accomplished "nothing" during the first eight months of 2006, but said that this was because the State Ministry of Finance had withheld nearly all of the local government's funds because of Khana's failure to produce a budget.198 
As achievements, the press secretary pointed to the construction of Khana's new local government secretariat. He also said that some of the projects the judicial panel of inquiry had labeled "phantoms"—the football academy, the fish pond, and the school for the physically challenged—were "fully operational."199 Human Rights Watch visited each of the three sites, however, and found that all three "projects" had either been abandoned or did not exist.
Construction had not begun on the "football academy," although the local government had cleared a plot of land for its construction.200 While the structure itself does not exist, the chairman was found by the panel of investigation to have spent more than N7.2 million ($55,000) for what it termed "peripheral issues connected with this project." These included an "international press conference" to announce the academy's inauguration; the unexplained purchase of 1,000 World Cup qualifying match tickets; and a trip to the northern city of Kano by the chairman and several councilors to meet with players on Nigeria's national football team.201
The "demonstration fish pond," which cost several million Naira to construct, was theoretically a facility that would be used to teach Khana residents the basics of small-scale commercial aquaculture. It consisted entirely of two long rows of shallow basins constructed out of cinderblocks. Although it had been commissioned only in late 2005 and the chairman's press secretary told Human Rights Watch that it remained "operational," the site had clearly been abandoned for some time.202 The fish pond's concrete basins contained neither water nor fish, and the path to the "pond" had been completely overgrown with a dense tangle of grasses and weeds.203    Local civil society partners told Human Rights Watch that the pond had been abandoned almost immediately after being inaugurated in late 2005.204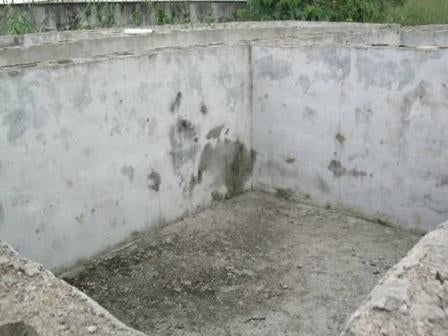 The "School for the Physically Challenged" was commissioned only in late 2005 but nearby residents said that it had never opened its doors to any students and had no staff.205 It was accessible from the adjacent road only by leaping across a steep and muddy ditch. The structure itself was already suffering from disuse; several of its windows were broken, and weeds had sprouted up through some of the classrooms' concrete floors.
The local government also allocated N29 million ($223,000) for the construction of a "mini stadium" in 2005.206 This stadium also reportedly does not exist, and it is not clear what became of the funds that were meant to be used for its construction.
Little Left Over for Health Care and Education
Between the "phantom projects" and the enormous allocations to the chairman and his council, little was left over for health care and education (see table 3). According to local officials, teachers and health workers, however, even the inadequate funds set aside for those two sectors were largely squandered.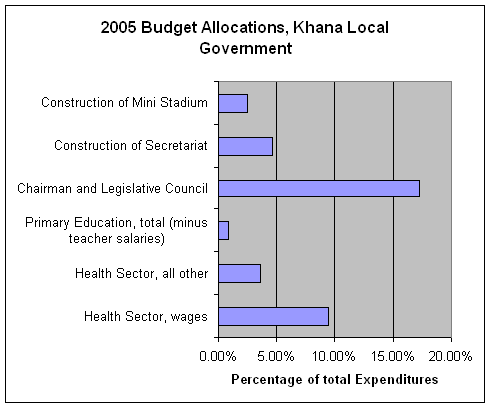 Primary Education
Khana set aside only N750,000 ($5,770) to cover the overhead expenses of all of the local government's 112 public primary schools in 2005: roughly N6,700 ($51) per school.208 The budget also called for N10 million ($77,000) to be spent on the "renovation and furnishing" of primary schools.209 The Secretary of the Local Government Education Authority, however, told Human Rights Watch that no schools had been renovated in either 2005 or 2006. He attributed this failure to "the people who are causing trouble for the chairman."210 
Asked whether any of the LGA's primary schools had pit latrines or supplies of water, the LGEA Secretary replied, "You should begin by asking whether they even have classroom facilities, not to speak of toilets and water! How can you have toilet facilities when you do not even have classrooms?" Asked about the availability of textbooks, he said, "There is nothing like that."211
The LGEA Secretary nonetheless defended the chairman's record, stating that he honestly believed that "the man is trying."212 The teachers in the several primary schools visited by Human Rights Watch felt differently, however.213 The headmaster of one remote community's school complained that "the local government doesn't provide anything for us." He claimed that since 2004 the LGC had even stopped providing the school with chalk and said that in a meeting he had attended along with staff from other schools in 2005:
The chairman said the allocation given to them was not enough—that after paying staff salaries, security and a few other projects, they would have nothing left for primary education…Maybe they are deceiving us. We don't know.214
Those complaints were echoed at other schools. As one teacher in another community put it, "As regards local government, I don't think they are doing anything tangible for the improvement of the schools or to allow schools to progress."215
None of the four Khana schools visited by Human Rights Watch had desks, toilet facilities, textbooks or a supply of drinking water. Many school buildings were in an advanced state of physical decay similar to those seen in other local governments. And, as was also true in other LGAs, many teachers complained that these conditions had severely impacted on their ability to provide an adequate education to their students. One teacher lamented that "We cannot measure up to the standards we would like to reach."216 Another confirmed, "The quality of schooling is not good because of a lack of all amenities. We want it to improve."217
Health Care
In 2005 Khana budgeted fairly substantial sums for the operation of its 23 Primary Health Care Centers.218 Again, however, much of that money appears to have been lost. Health-sector civil servants and health care workers at a number of different health centers said that their salaries were eight months in arrears. They also complained that some of the allowances that make up part of their compensation had not been paid in five years even though funds had been budgeted to make those payments in both 2004 and 2005.219 
The 2005 budget allocated N35 million ($269,000) for the renovation and purchase of necessary materials for the local government's existing health centers and the construction of new facilities. High-ranking local government civil servants working in the health sector, however, said that no renovation work had been done in recent years.220 One high-ranking health official said that they had requested less than N20 million ($154,000) to run all of Khana's health centers but had received almost nothing for the year. The official added, "The money is there, but it is not being spent on health care."221
Workers in four health centers visited by Human Rights Watch also complained that they were given no funds to procure medicines or any other materials. Many said that the only thing they received regularly were shipments of vaccines as part of federally-coordinated immunization programs. Some health centers had no supply of medicines at all; in another, the community had pooled funds to allow the local health center's staff to purchase some basic supplies.222
Many health workers told Human Rights Watch that the standard of care they were able to offer to their patients was generally substandard and had fallen over time. A member of one remote health center's staff complained that, "The health delivery is very poor. The public is not getting adequate services."223 In another community, a nurse complained that their health center "used to be at the forefront. Many people were going there to deliver [babies]. Now no one wants to go to such a place to deliver."224 
Many of Khana's health centers had closed their doors altogether, abandoned by their demoralized staff. One health official in Bori told Human Rights Watch that some of the health centers in Khana "exist in name only—many of them are nonfunctional because of these problems."225 He said that this problem had developed partly because of the non-payment of salaries and allowances but also because "they lack the means to do their job—it's like asking a farmer to work without any implements."226
Human Rights Watch visited one such health center, in a community called Wiiyaakara not far from Bori. The doors were padlocked and one nearby resident said that "[t]he last time I saw anyone here was two months ago….we don't know why they are picking their salaries without coming to work."227 One young man who had grown up in the community recalled that when he was a boy, the health center had been a busy and well-run place that he had often visited to seek treatment for his asthma.228
In spite of the near-total lack of local government support, staff in some health centers had worked heroically to keep their health centers up to some sort of reasonable standard. A Health Technician at another health center in Khana told Human Rights Watch that the closure of some nearby health centers had come about because, "Staff salaries are eight months in arrears, and the system has started to collapse."  Asked why his own clinic had remained open, he replied simply, "Those of us who are interested in doing our jobs cannot allow this place to close."229
Violence, the Misuse of Government Revenue and Corruption in Etche
Etche Local Government Area is situated just north of Port Harcourt, and it is the only LGA in Nigeria where the Etche ethnic group is demographically predominant. In recent years Etche has earned a degree of unwelcome notoriety due to allegations of corruption, thuggery and murder leveled against its current chairman, Ephraim Nwuzi.
Chairman Nwuzi was elected to office in 2004. By the end of 2005 he had become embroiled in a dispute with several local government councilors, who charged that he was misappropriating a large proportion of what they referred to as the "huge monthly financial allocations to the council."230 Not least among their grievances was the chairman's alleged failure to pay salaries and other allowances they said were due to them.231
The councilors also alleged that Nwuzi had made use of "thugs equipped with dangerous weapons" to intimidate them into abandoning demands that he account for what had happened to the local government's funds during his first 18 months in office. Among other things, they alleged that some councilors had been forced by the chairman's "boys" to sign loyalty oaths and that some had even been "taken to juju shrines to make oaths never to call for accounts any more."232
In late 2005 the chairman's opponents ultimately filed a complaint against him with the Economic and Financial Crimes Commission, which detained Chairman Nwuzi in its Port Harcourt offices but ultimately released him without charge. The EFCC did not respond to Human Rights Watch's requests for clarification on this case. No other organ of the state or federal government has conducted any investigation into the allegations against the chairman.
Human Rights Watch was not able to substantiate the specific allegations of corruption against chairman Nwuzi. However, very few resources have been devoted to health and education in the local government even as comparatively large allocations have been funneled into various projects and other expenditures of questionable merit or directly into the office of the chairman. Substantial funds that were allocated for school rehabilitation in at least one year appear to have been diverted to some unknown purpose. Numerous sources including civil society organizations and one former high-ranking state government official also alleged that the Rivers State Commissioner for Sport—also from Etche—acts as the chairman's political "godfather" and claims a large share of the local government's monthly allocations as his own.233
The allegations of violence leveled against the chairman fit into a pattern of similar abuses. According to more than a dozen eyewitnesses interviewed by Human Rights Watch, Chairman Nwuzi killed one of his constituents in the town of Ulakwo on June 22, 2006. A heated confrontation between Nwuzi and a crowd of local residents had developed over the chairman's alleged failure to replace a broken electrical transformer.234 A meeting to discuss the matter ended in recrimination, and the chairman's police escort dispersed the angry crowd with tear gas.
Observers said that the chairman regained his automobile and began driving towards the edge of town, but that the vehicle stopped quite suddenly some 200 meters away from where the initial confrontation had taken place. According to the witnesses interviewed by Human Rights Watch, the chairman then alighted from his vehicle and without any warning began wildly firing his handgun into a smaller crowd of people that was still lingering about near the center of town.235 
One young man was killed instantly by a bullet from the chairman's gun, and two others were seriously wounded. One of the wounded men was still in hospital in Port Harcourt when Human Rights Watch visited two months later.236 An examination of the scene of the incident revealed buildings on both sides of the road with walls pockmarked from bullets.
Nwuzi told the media that he fired those shots in self defense.237 Eyewitnesses to the incident with whom Human Rights Watch spoke unanimously and independently disputed that claim. They also said that the police escorts he had with him did not fire a single shot.
The shooting was widely reported in the local press, and the chairman was briefly invited by the police for questioning. No charges were filed, however, and no serious investigation was carried out.238 The Nigerian police did not respond to requests by Human Rights Watch for comment on the case.
Allegations that the chairman employs a group of thugs as political muscle were also widely substantiated by Etche residents. Several people provided Human Rights Watch with what they said were lists of those young men.239 One resident complained that "the chairman's boys are known for causing trouble. They move day and night causing trouble and nobody will arrest them."240 One elderly man told Human Rights Watch that in April 2004 his wife had been accidentally shot and wounded in the street by one of the chairman's "boys," who the man said had started firing into the air after an afternoon of heavy drinking. When the man went to the police to file a complaint, he said that "they told me I should go back to my village, and there was no arrest."241 
These and other interviews conducted in Etche painted a picture of local governance that had devolved into a form of criminal activity that entails not only the theft of public monies but also a pattern of violence and intimidation directed against critics of the chairman. Nowhere was the impact of government's failures more stark, however, than in its neglect of its official responsibilities.
Health Care
The local government has badly neglected the 30 health centers it is charged with operating. 242 As of 2004—the most recent year for which Human Rights Watch was able to obtain a budget—the local government employed more than 240 people to administer and staff its network of health centers, but budgeted only 5 million Naira ($38,500) to cover all of their operating expenses.243 This was less than one percent of total government spending that year and slightly less than the combined "entertainment and hospitality" budgets for the chairman and the legislative council.244
It was not possible to obtain more recent budgets for Etche because Chairman Nwuzi declined to meet with Human Rights Watch. However, figures published by the federal Ministry of Finance indicate that the local government's monthly allocations have increased substantially between 2004 and 2006, following the trend across all of Rivers' LGCs.245 But according to local health officials and staff at several primary health centers, this has not translated into any increased government interest in the health sector. One local civil servant with a supervisory role over the LGA's primary health centers told Human Rights Watch that:
They don't really take us as their baby. We know all of this money is there in the allocation they send to the local government…I don't think they accept their obligation to really support primary health care. If we apply for money they say it is our own fault because we are not generating funds.246
The result of the local government's neglect has been the near-collapse of its primary health care system. According to Etche's primary health care coordinator—the highest-ranking local official in the health sector—most of the LGA's 30 health centers are in an advanced state of physical decay and some have even been abandoned as a result. Only one clinic—located within the walls of the local government secretariat in Okehe—has running water or electricity. No more than two or three have any sort of toilet facilities, even pit latrines.247 
Several local health officials acknowledged that not one health center in all of Etche has been renovated or repaired in recent years. One local health official attributed this to "the attitude of the chairman."248 The only recent investment the chairman had made in health infrastructure was for the construction of two new health centers: one inside of the local government secretariat and the other in his home town. Staff salaries at all clinics are 3-4 months in arrears, and some allowances have not been paid in nearly five years.249
The local government does nothing to help its primary health care centers procure basic medicines. Etche's primary health care coordinator told Human Rights Watch that many health centers' only supplies of medicine had expired as far back as 2000. The result, she said, is that "people do not come to the health centers because they know we have no drugs." What limited medicines some health centers do have are donated by foreign donors and UN agencies.250
Human Rights Watch visited three primary health centers in Etche. In one of these the floor was literally covered with garbage and other filth; staff said that the building flooded with each heavy rain, and when Human Rights Watch visited the floors were caked with mud and strewn with waterlogged boxes of ruined polio vaccines.251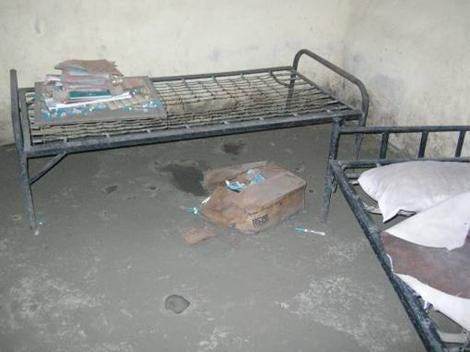 Staff said that the Center was meant to provide for overnight patients,252 but its rusty bed frames had no mattresses and the place had no water supply, electricity or toilet facilities. The nurse on duty said that one mattress had been donated by the Etche diaspora in the United States but had yet to arrive, and the staff had negotiated an agreement with a neighboring household to allow them and their patients to use that family's outhouse. The compound had a water pump, but this had been broken for more than two years and never repaired.253
The center also boasted a "labor room" for deliveries, but the only equipment on offer for this purpose was a dirty wooden table, a pillow, a plastic tray and a sponge. One member of the staff told Human Rights Watch that, "we have not done one delivery here. No woman would come here because of the conditions." She also said that they had repeatedly petitioned the local government for funds with which to purchase a pair of forceps, but without success. 254
The staff present when Human Rights Watch visited the health center unanimously agreed with one of their colleagues when he described the standard of care they were able to offer at the center as "not adequate at all." Although they theoretically served several communities in roughly a six-kilometer radius, staff said that they rarely saw any patients. The traditional ruler of the nearest community confirmed this, stating that local residents did not patronize the health center because it was "not conducive to health."255
The other two health centers visited by Human Rights Watch were somewhat better off, more on account of the personal investment of their staff than anything else. One health center had managed to pull together some beds and mattresses along with some basic medical equipment. The staff had pooled their own money and used it to purchase a supply of basic medicines which they sold to their patients.256 Nonetheless, they lacked many basic amenities including a reliable supply of clean water. Asked what the local government had done to support them in their work, the nurse on duty replied, "nothing." To prove the point, she walked through the entire clinic and explained how they had managed to procure each and every item in the place without any sort of government assistance.257
Education
According to local education officials, Etche has 89 primary schools with an enrollment of nearly 30,000 students, one of the largest student populations in Rivers State.258 The local government's neglect of these schools mirrors its treatment of the health sector. An official with Etche's Local Government Education Authority (LGEA), the body responsible for running the local primary schools, told Human Rights Watch:
We don't even talk of resources because we don't have any. The allocation for local government—teacher's salaries are deducted at source [by the federal government]. After that there is only enough money left over for the local government to attend to its own needs.…

I don't say there is nothing available to be spent by the local government because I am not in charge of it. Only that it is not there in the budget.
The official declined to comment further, saying only that, "We don't get anything— you have to put these questions to the chairman."259
In its 2004 budget Etche allocated only N9,800,000 ($75,300) to cover the overhead expenses—including maintenance, staff training and other expenses—of all of these schools; roughly N110,000 ($845) per school.260 By contrast, the local government allocated the substantial sum of N35 million ($270,000) for the renovation of ten primary schools throughout the local government.261 Unfortunately, local education officials acknowledged that none of that work had been undertaken and that despite large allocations on paper, in fact not one LGC-funded school renovation had occurred in recent years.262 There is no way to determine how or if the money allocated for this purpose was actually spent because neither the local nor the state government makes such information available to the public.
The consequences of the government's neglect are stark. Many schools are falling apart; the Secretary of Etche's LGEA confirmed that "some classrooms are so dilapidated that no one can use them." He also said that no more than a handful of schools have either running water or any sort of toilet facilities.263
LGEA authorities said that no school in the entire local government has a single textbook for the use of its students or any other teaching materials, and the LGEA Secretary stated that "there are some schools that have not enjoyed any supplies since they started."264 Only one school out of the 89 has desks for its students, and those were provided by the state government. LGEA officials told Human Rights Watch that the chairman had asked them to "apply" for funds from elsewhere to obtain these.265 
Human Rights Watch visited three primary schools in Etche local government. All consisted of simple blocks of classrooms that had been left to fall into varying states of decay. In one school in Ulakwo town, up to three classes at a time were being taught inside of a "building" with no partitions between the classrooms and only the crumbling remnants of exterior walls. Community members told Human Rights Watch that several years prior they had used their own money to install a water pump and a block of toilets on the school campus; the pump had since broken and the toilets had been damaged during a storm and had then been almost completely reclaimed by the surrounding brush.266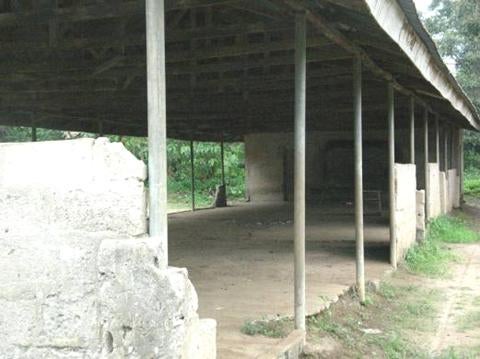 In another Etche community called Akwu/Obuor, the primary school had collapsed during a rain storm in 2004. The school's more than 100 students had since been left to take their lessons outside underneath a tree. The main problem with this arrangement, one parent explained, was that "If it rains they will just go home. And it rains almost every day."267 A teacher at the school said that the local government had not indicated that it had any plans to repair the school, explaining with a shrug that "We do not have any politician people; we are not strong politicians."268
Teachers at each of the three schools visited by Human Rights Watch complained about the difficult conditions they were made to work under.269 The LGEA Secretary told Human Rights Watch that many teachers had not had access to any sort of training in more than twenty years on the job, and described many of the local government's teachers as demoralized. "Our teachers are not taken care of," he said, "and so they in turn do not take care of the children."270
---